WHAT TO SEE AT BOSEONG GREEN TEA FIELDS? WHEN IS THE BEST TIME TO VISIT BOSEONG GREEN TEA FIELDS? IS BOSEONG GREEN TEA FIELDS WORTH A VISIT?
Among the best things to see in South Korea, Boseong Green Tea Plantation is in our top 10! We absolutely recommend to visit this place if you are in Korea.
This is one of the places that impressed us the most in Korea. The tea fields are absolutely stunning! There are a few hills fully covered with tea plantations and it is possible to visit them!
Boseong Green Tea Fields is absolutely stunning!
This county in the southern region of Korea, is actually known to be home to award-winning green tea plantations.
During our stay in South Korea, Boseong was clearly one of our most memorable trips. In this post, we share with you all you need to know about Boseong Green Tea Fields!
Watch this video for a glimpse of what Boseong Green Tea Fields look like:
After watching this video, you probably can't wait to visit Boseong Green Tea Fields. Here is all you need to know to prepare your visit:
---
WHY ARE THE BOSEONG GREEN TEA FIELDS WORTH A VISIT?
Boseong is a district of South Korea, in the Jeolla region, famous for growing high-quality green tea. It is even the largest tea-producing region in the country, with nearly 40% of total production, for nearly 6 million plants. Impressive!
The tea production in Boseong is linked to its favorable climate (winters less severe than in the north of the country), the richness of the soils, and the differences in temperature.
But also to its hilly aspects which allow cultivation in terraces. These factors are therefore conducive to growing tea, and the main reason for its distinct taste and aroma.
There are other areas in South Korea where tea is grown, all in the southern area and especially on Jeju Island.
Boseong official site: here
---
WHAT TO SEE AT THE BOSEONG GREEN TEA FIELDS?
1. Visit Daehan Dawon in Boseong: Korea's Most Famous Tea Plantations
Daehan Dawon tea estates are the largest and oldest in Boseong County. Their exploitation dates back to the 1930s when the first green tea trees were planted by the Japanese colonialists.
The terrace tea plantation is magnificent and attracts many tourists. This site is really big, so you can enjoy some peaceful time wandering through the terrace.
This is THE best thing to see in Boseong! The photos that illustrate this article probably speak for themselves. The visit consists of hiking through the tea plantations by following the available trails.
Make sure to check the following interesting points of interest at Daehan Dawon Boseong Tea Plantation:
A large staircase leads up to the tea plantations, which then leads to other paths.
An observation platform, above the plantation terraces.
A point of view at the top of the hill allows to also see the sea and other surrounding tea plantation
Beyond tea plantations, there are also tree species such as cedars, cypresses, and maple trees
At the end of your visit, dip your feet in the cold water of the stream flowing down the plantation. You can also buy a delicious and refreshing green tea ice cream at the shop at the bottom of the hill. Yummy!
---
Useful information about Daehan Dawon tea estates in Boseong:
Website: here
Price: KRW 4,000 (adult), KRW 3,000 (children)
Opening hours: 9:00 – 18:00
---
2. Boseong Bamboo Forest, another great thing to see in Boseong Tea Fields
Boseong Bamboo forest is located at the entrance of Daehan Dawon Tea Plantation. When you reach the entrance, the forest is on the left, there is a small sign leading to it. This bamboo forest has no real connection with the tea plantations, but it is there and worth a visit!
A bamboo forest is always impressive to discover because of the density of these large stems. All in the shade as they are very high and therefore hide the sun.
Bamboo forests are known to be particularly good places to take photos. And the forest in Daehan Dawon is no exception to this rule.
Don't expect a long walk, as it is relatively small, but still very enjoyable things to do in Boseong.
---
3. Visit the Boseong Tea Museum
A tea museum has been built not far from the Daehon Dawon site. It is one of those buildings that you can hardly miss when you arrive in the area. This museum allows visitors to learn more about the life cycle of the tea leaf, how it is cultivated, how it is consumed, etc.
It is open from 10 a.m. to 6 p.m., and it takes KRW 1,000 to enter.
The site around the tea museum is also magnificent with other tea plantations on a terrace. A nice way to enjoy a few more hours in nature.
More information here
---
4. Enjoy a cup of green tea at Boseong Tea Farm Observatory
One of the best sights to admire tea plantations in Boseong is located near Daehan Dawon, on the side of the road less than a kilometer away.
This site is easily accessible and free. The most interesting part of this place is the magnificent view, especially at sunset as you can see in the photo above which was taken from there.
It is easily accessible because you can park by the side of the road in a parking lot. This also allows you to go to a tea room which is there, with a magnificent view of the plantations.
This is one of the best things to see in Boseon Green Tea Fields, and it is free 🙂
Location: here
---
5. Visit Yulpo beach and Yulpo fishing village near Boseong Green Tea Fields
Boseong is located very close to the coast. The road from Boseong to Yulpo fishing village is really scenic, driving through the valley, surrounded by tea plantations and gorgeous trees on the side of the road, is beautiful!
When you reach Yulpo fishing village, you will feel a sense of relaxation, as the pine tree forests and fresh breeze of the ocean blends perfectly with hints of fresh green tea.
If you want to enjoy some beach time, head to Yulpo 1.2 kilometer-long beach which also attracts many tourists over the summer. The area has become a family summer resort, fully equipped with accommodation and leisure facilities.
We decided to head to the Yulpo small fishing port and stroll on the pier to check out the local fishermen and their catch of the day. It was such a pleasant surprise, as the view from the pier is simply gorgeous.
To finish the day, walk into 1 of the many restaurants located near the port or near Yulpo Beach to enjoy some Korean sashimi.
---
6. Go surfing in Goheung near Boseong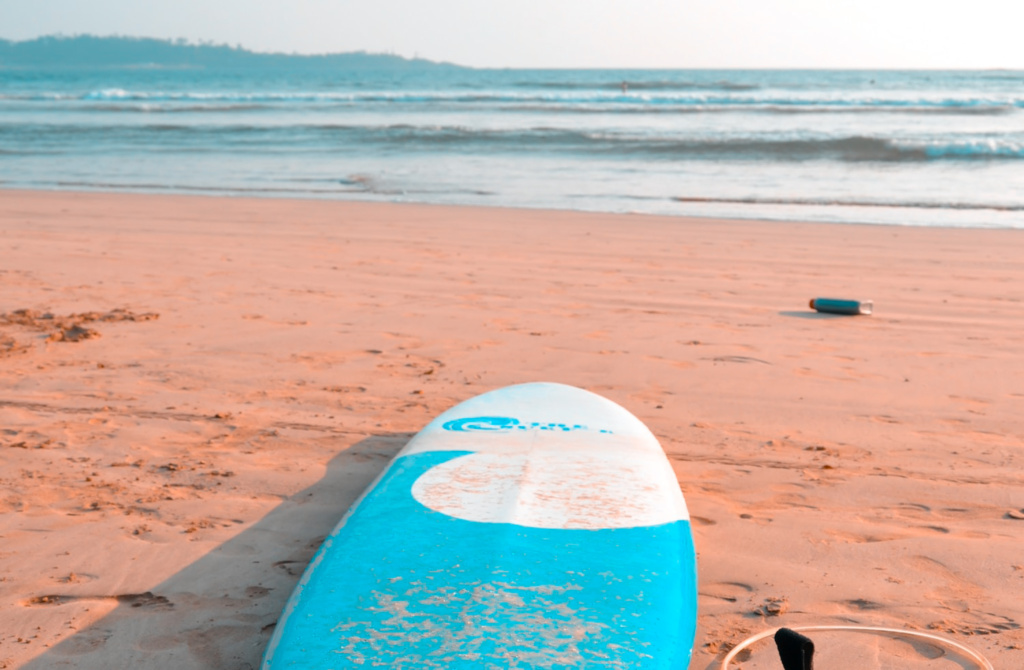 As you know by now if you've been reading our blog, we LOVE surfing! And Korea is full of great surf spots (READ: BEST SURF SPOTS IN KOREA).
And about 1h drive south from Boseong, you can reach a place called Goheung. Although not as popular as other places in the southern part of Korea, Goheung is a beautiful upcoming tourist destination that is worth a visit. You will be surprised by some of the beautiful sights by simply driving around the area.
As we always love a bit of action, we decided to head to Goheung Surf Beach, at Nangman Surf House.
Over the recent years a surfers community developed in Goheung. Nangman Surf House offers simple accommodations, surfboards rentals and lessons for beginners.
Adding a stop at Goheung, was the best decision we made while visiting Boseong. The waves were perfect for a bit of action during our trip.
---
7. Naganeupseong Folk Village (낙안읍성)
Northeast of Suncheon Bay, Naganeupseong Fortress is home to a fortified village, inhabited since the 14th century. It takes about 40min to drive from Boseong.
Naganeupseong was designed to resist Japanese invasions, frequent in these fertile plains of Jeollanam-do province. It is a very beautiful place, still alive since its 110 houses are still occupied today. Although the village today relies heavily on tourism to continue to exist, it has retained an authentic charm, with its thatched-roof houses sheltered behind a thick stone wall.
"Nagan" is a word for a pleasant and serene place. Walking through the very quiet alleys of this traditional Korean village is indeed a unique experience in South Korea.
Website: here
---
How to get to Boseong Green Tea Fields?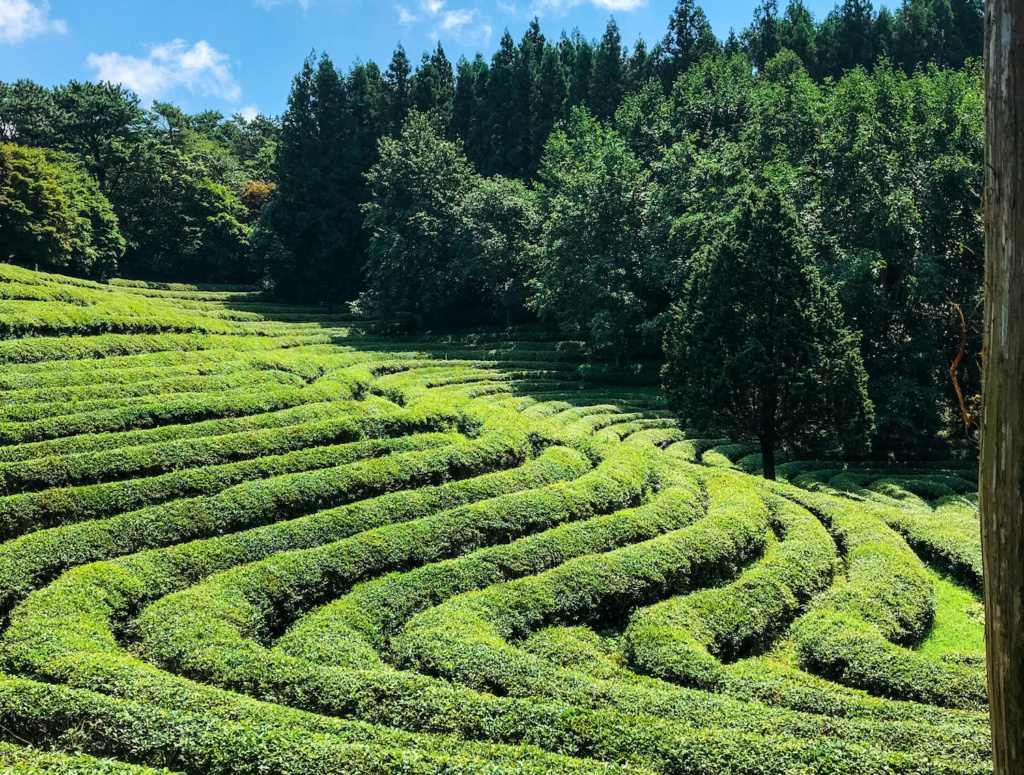 By Car
The easiest way to get to Boseong Green Tea Fields is by car. That way you can also see more of the Jeolla region and its surroundings. It will take you about 5h to drive to Boseong from Seoul.
If you are traveling as a group, it could make sense to hire a driver for the day with a van. You can do so here.
---
Getting to Boseong Green Tea Fields by Public Transportation
But for those who wish to take public transport the best option would be to take the train to the nearby town of Suncheon then take the inter-city bus to Boseong bus station (check schedule and book tickets here).
From Boseong Bus Station, take a taxi or the local bus that runs from Boseong to Gunhak every hour. And get off at Daehan Dawon stop.
---
Where to stay in Boseong?
For more convenience, we strongly recommend staying as close to the tea plantations as possible. There are more options in the town of Suncheon, but we feel you would miss out on the whole countryside experience.
Since there aren't many hotels, we strongly advise you to book in advance, as it gets often very full. Here are our top 2 recommendations:
---
Golmangtae Pension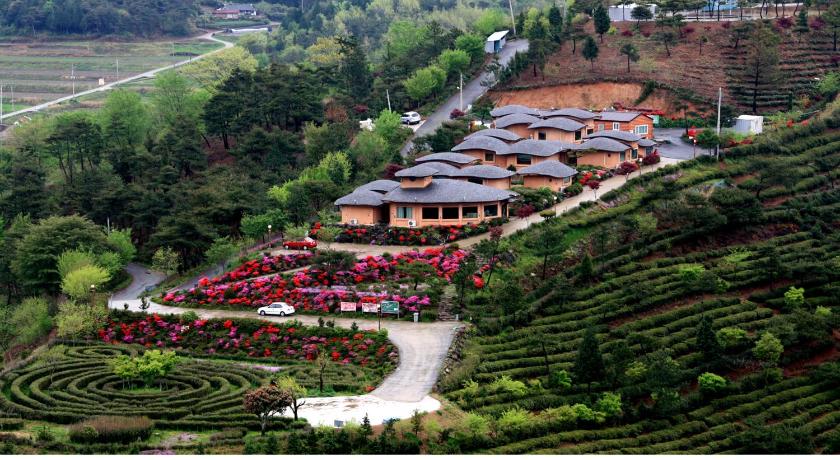 Golmangtae Pension, located on the hillside right by tea plantation is the ideal stay when visiting Boseong. The room are spacious, and the owners really friendly. This is our top recommendation in Boseong. You can book here.
---
Boseong Greenville Bed and Breakfast
Just a few hundred meters away from Daehan Dawon, the main tea plantation in the area, Boseong Greenville Bed and Breakfast is a simple pension but filled with all necessary amenities and especially the really nice owner who offers all its guest a free green tea tasting from their own tea plantation.
This is the true Boseong experience. Book here.
---
Where to buy green tea?
The tea grown on Boseong plantations is considered to be the best in South Korea.
It is possible to buy this tea in a few shops. Daehan Dawon Tea plantation sells tea directly on site. If you decide to stay at Boseong Greenville Bed and Breakfast, you can also buy green tea directly from the small shop at the property for KRW 10,000 a box.
There are different varieties of green tea (called "nokcha" in Korean). The difference between these teas comes from when it was harvested during the season and the size of the leaf.
Ujeon, made from the thinnest and most tender branches, on tea leaves collected before mid-April (before the first rains). Sejak, is made from leaves harvested in late spring (usually May). Joongjak, is made from leaves picked in early summer. Daejak, is made from leaves picked during the summer.
---
When is the best time to visit Boseong Tea Fields?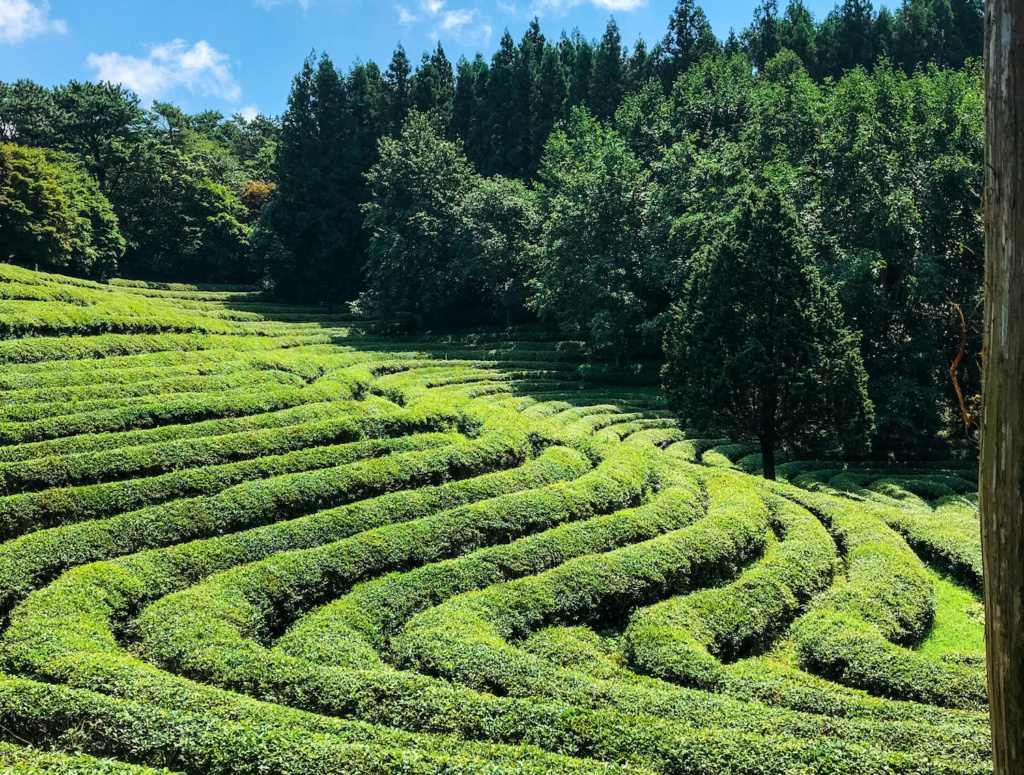 From a visual standpoint, the Boseong tea plantations are most interesting around May when they are really green. The rest of the year, the sites are still stunning and the landscape is similar, but the green color is less pronounced.
We went there in August, and were blown away by the beauty of the site. We can't imagine what it would be in May!
In May, the Boseong Green Tea Festival takes place, during which you can attend tea-themed events. For example, picking demonstrations, the preparation of tea, the tasting of tea-based dishes, a light show at night in the plantations, etc.
---
In conclusion about a visit to Boseong Green Tea Fields
Boseong Green Tea Fields was definitely one of our best visits during our stay in South Korea.
We were pleasantly surprised by the beauty of the site, and the tranquility of the countryside. We could also combine our trip to Boseong with the seaside town of Yulpo. Visiting Boseong should, be part of your itinerary for a first trip to South Korea.
After Boseong we continued our journey to the beautiful island of Namhae (check out our post here) as well as another one of our favorite places in South Korea: Geoje Island (our post here).
If you are planning to visit Boseong and still have questions, feel free to leave a comment below this post.
For more posts about South Korea click here.
---
Read Also
99 BEST THINGS TO SEE IN SOUTH KOREA
21 AWESOME THINGS TO VISIT IN SEOUL
THE BEST THINGS TO SEE IN JEJU ISLAND
VISIT GYEONGJU THE ANCIENT CAPITAL OF KOREA