IS PHOENIX PARK SKI RESORT IN KOREA A NICE RESORTS? HOW IS THE SNOW AT PHOENIX SKI RESORTS? WHERE TO STAY NEAR PHOENIX SKI RESORT?
Phoenix Park Ski Resort in Pyeongchang in South Korea is undeniably our favorite place to snowboard and ski during winter.
It is one of the largest ski resort in Korea, with the best quality of snow, and most diverse resort with a freestyle park including Olympic size half pipe, steep alpine slopes as well as moderate to easy slopes for beginners!
In this post, we describe all you need to know about Phoenix Park Ski Resort in Pyeongchang, South Korea.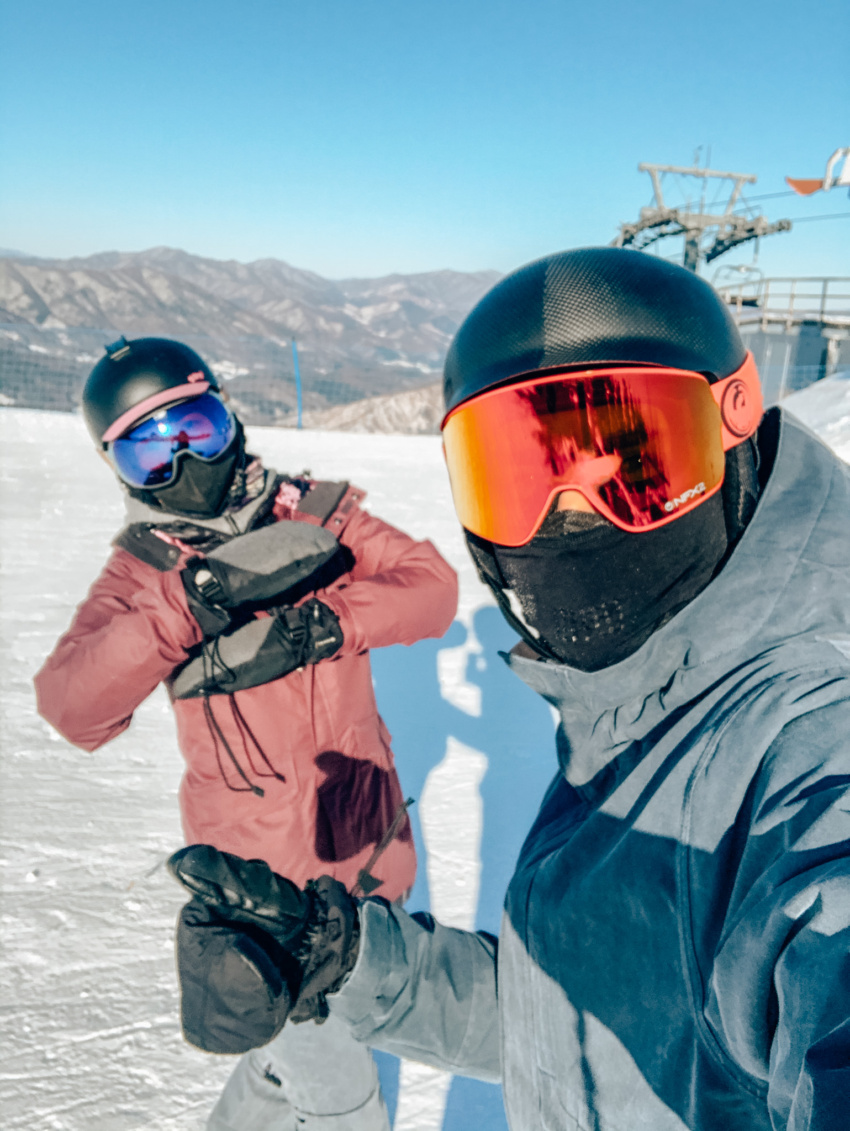 Established in 1995, Phoenix Park is one of the most important ski resorts in South Korea. Located in the Pyeongchang region, 2 hours from Seoul. Phoenix Park is organized as an amusement park that operates over 2 seasons:
Winter, from late December to mid-March, mainly for skiing and snowboarding and Spring/Summer for playing golf as well as the water parks which are lots of fun.
Here is our vlog about Phoenix Park Ski Resort:
HAVE FUN SHREDDING THE SLOPES AT PHOENIX PARK IN KOREA!
Here is all you need to know about the ski resort:
---
How to get to Phoenix Park?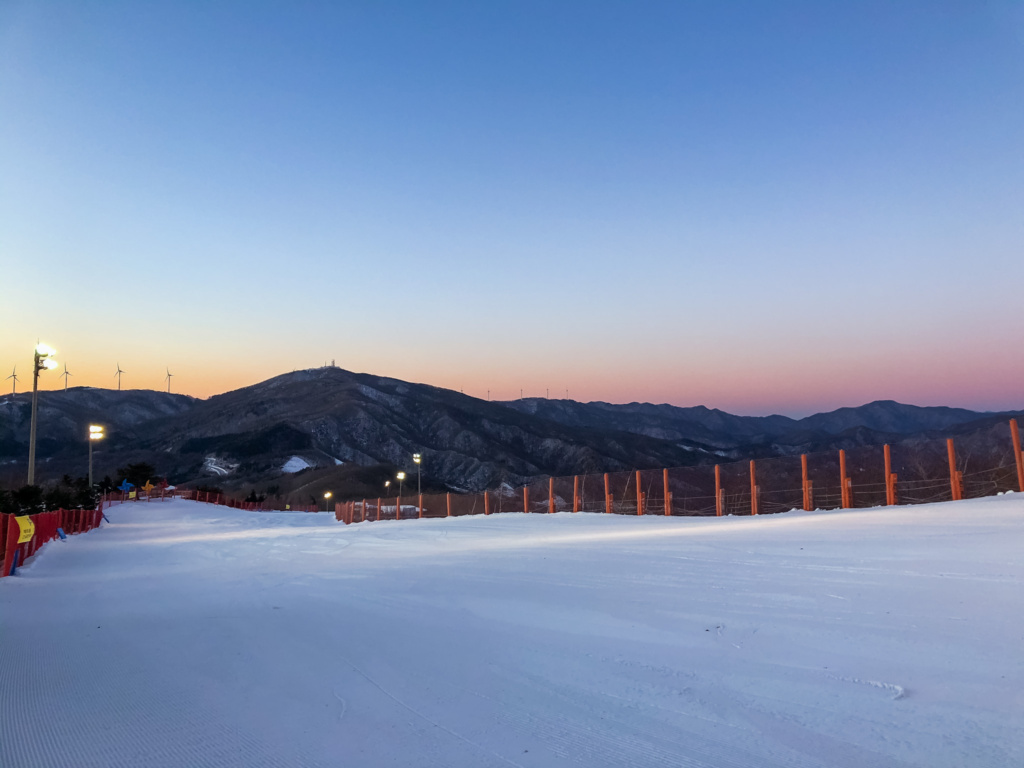 Address:
Gangwon-do, Pyeongchang-gun, Bongpyeong-myeon, Taegi-ro 174, Phoenix PyeongChang
강원도 평창군 봉평면 태기 로 174 휘닉스 평창)
Going to Phoenix Park by Public transportation:
It's easy to get to Phoenix by public transportation. We recommend to take the Gangneung KTX line from Seoul and to stop at Pyeongchang Station. It takes about 90 minutes. BOOK THE TRAIN HERE.
From Pyeongchang station, take the free shuttle bus which will stop right in front of the ski resort. It's that easy!
Getting there by car:
From Seoul, count 2 to 2.5 hours to get there. It's about 150km from the capital. You can easily park in front of the resort as there are many free parking.
If you need to rent a car while in Seoul, check the prices here, usually
Tour group
Another option is to take a shuttle bus from Seoul. We recommend using Trazy, as their price are usually cheaper and their service reliable. You can book here.
For a full package including hotels and a trip of 2 days / 1 night or 3 days / 2 nights, you can also book, here.
---
Overview of Phoenix Park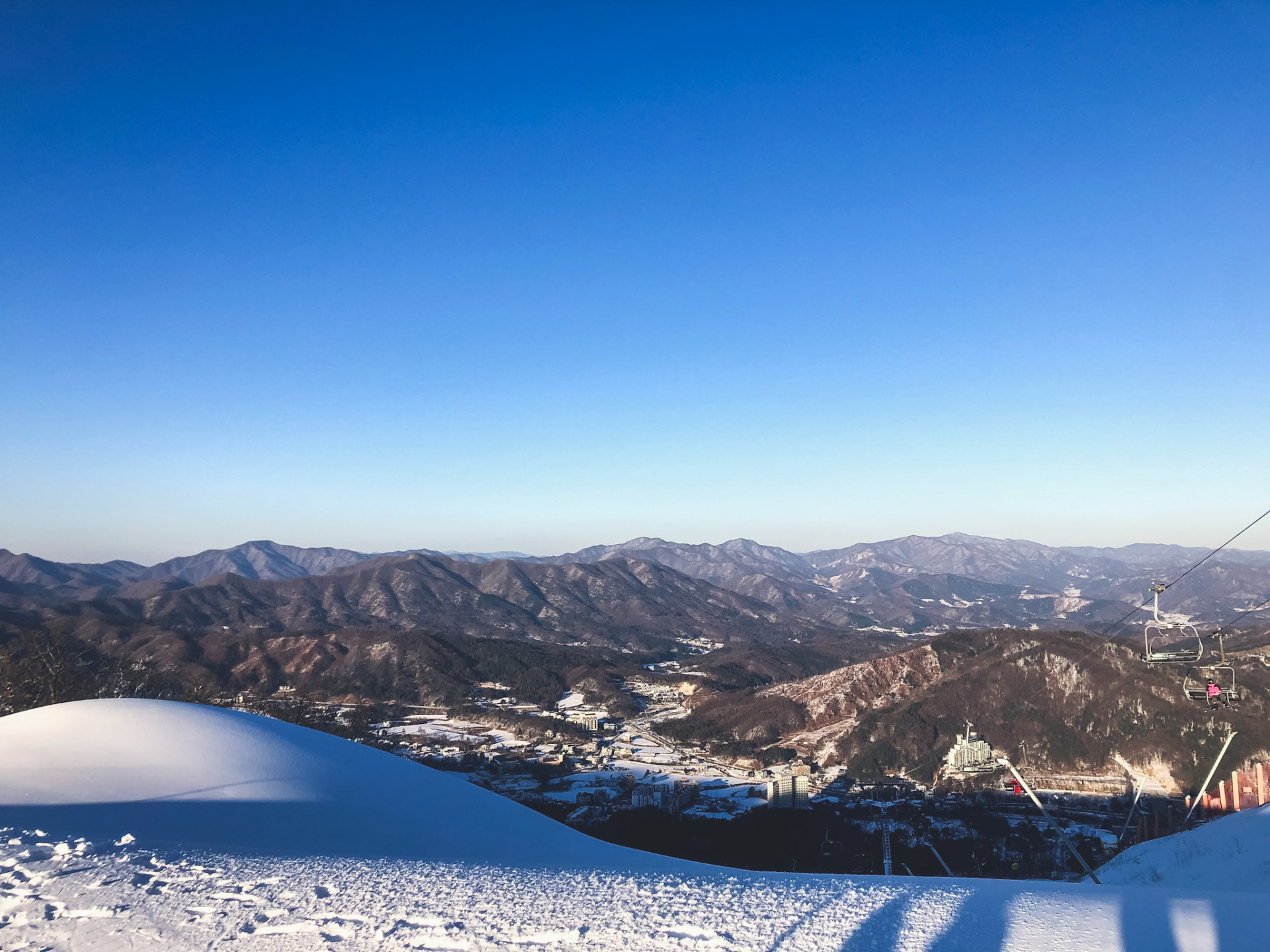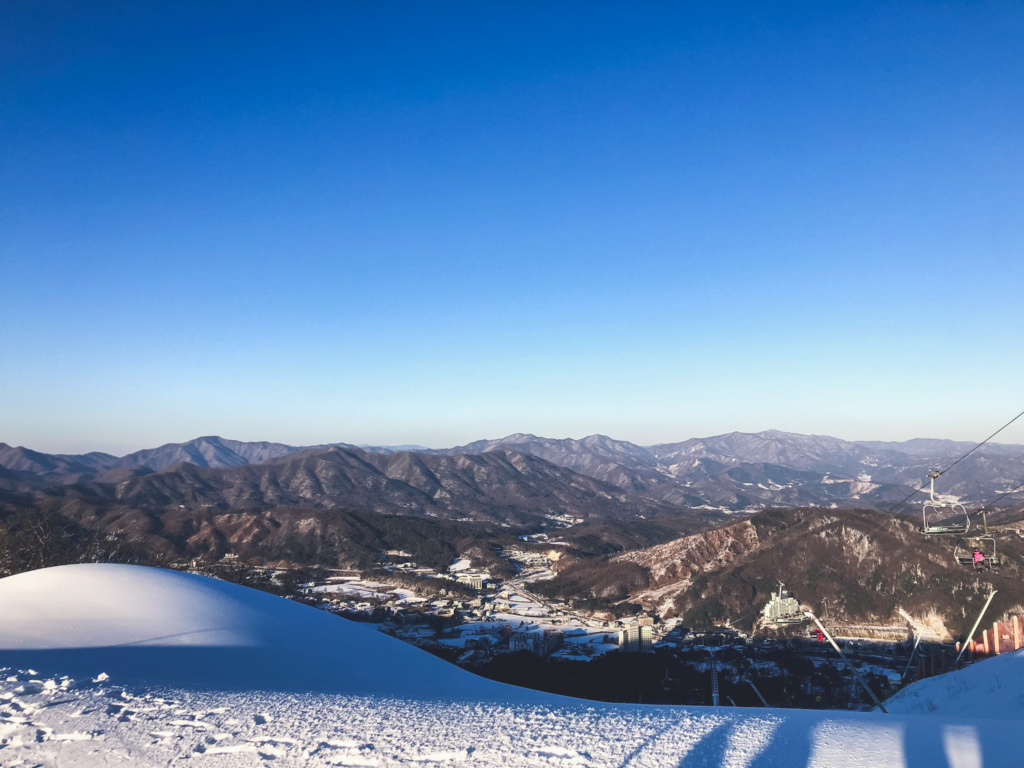 Introduction
Nestled in the beautiful surroundings of the Korean mountains, Korea's ski resorts offer a wide variety of slopes for everyone from beginners to advanced skiers and snowboarders. In addition to the ski facilities, they have very modern equipment. We've tried almost every ski resorts in Korea, and Phoenix has always been our favorite one.
The station is managed on the North American model. Thus, all the activities (the ski area, the ski school, equipment rental, catering, hotels, transport, etc.) is run by the same company. Which makes it a very well integrated and convenient resort.
When you arrive in Phoenix Park ski resort, you will be greeted in a large building containing a shopping arcade, restaurants and rental store, as well as hundreds of individual lockers and changing rooms. Indeed, it is common in Korea to at the station with your normal clothes and changes inside before going to ride.
Ski Area
The ski area extends between 650 and 1050 meters above sea level and is equipped with 9 ski lifts. Phoenix Park is divided into two sectors: one dedicated to learning skiing, and an upper part with more slopes.
Phoenix Park Ski Resort is not only popular for its many slopes (21 to be exact), but also for the quality of its snow. While the resort offers slopes for all levels, it is also famous for its Extreme Park area (halfpipe tabletop, round quarter, ramps, etc.).
The resort also hosted various events during the PyeongChang Olympic Games in 2018, such as giant slalom and slopestyle.
Opening hours:
The winter season being short, the resort finds its balance thanks to very extended opening hours: during the day from 8:30 am to 4:30 pm, then in the evening and at night from 6:30 pm to 4:30 am (Yes! practically 24/7).
Many types of packages are offered on these different time slots. In addition, practically all the tracks are equipped with lighting allowing a night opening.
During the breaks, the slopes are being groomed.
Ski and snowboard rental:
You can rent your ski and snowboard and even clothes directly at the resort main building. To get the best deal, combine your ski lift and equipment rental. This would be the most affordable option. We found that the equipment was very well maintained and relatively new.
Another option, is to rent your equipment at one of the many rental shops outside the resort. They usually have discount on the ski pass as well.
Price (in 2022):
Lift Pass only: Adult 59,000 KRW / Children 29,800 KRW
Lift Pass + Equipment rental: Adult 89,000 KRW / Children 59,000 KRW
Snow Village Ticket: Adult and Children: 26,200 KRW
Check the official website for more information: here
For Kids
Kids can either join a ski school to take lessons during the day. For more fun, kids can also enter the snow village where many activities awaits them such as a 30-meter sledding slope.
---
Pros and Cons of Phoenix Park Ski Resort
Pros:
Quality of snow
21 slopes including 6 with Olympic standard
Extreme freestyle park and half pipe (used at the 2018 Olympics)
Late opening hours until the middle of the night
Many activities for kids
Cons:
Perhaps the variety of restaurants for lunch, but it is still fine for us.
There isn't much to dislike in Phoenix Park. It is definitely one of the best resort in Korea.
---
Other activities nearby
First of all within Phoenix Park, you can also enjoy a pretty big park with indoor and outdoor pool facilities. It's called Blue Canyon. You can enjoy the thrilling experience of Korea's first 140m slide and Korea's longest Extreme River that spans 201m.
If you want to explore the area outside the resort we recommend the followings:
Other ski resorts nearby, such as Yongpyong and Alpensia: you can check our the best resorts in Korea – here
Daegwallyeong sheep farm (대관령 양떼목장). The farm spans across195 k㎡. There are several farms open for visitors in Pyeongchang but Daegwallyeong is the only sheep farm (and our favorite farm in Korea). Check it out here.
Gangneung, for a trip at the sea. At the foot of the Taebaek and Odaesan mountains, Gangneung is a maritime city with several cultural and historical treasures, such as the folk festival Danoje (recognized by UNESCO). It is also a young and dynamic place, with concerts, trendy coffees, surfing spots and the beautiful sea of Korea. More info here.
Yangyang, a cool town, popular for surfing in summer. Full post here.
---
Best Hotels in Phoenix Park
Phoenix Hotel
Phoenix Hotel is the nicest hotel in Phoenix Resort in our opinion. Located right in front of the ski lifts, it is practically a ski-in / ski-out hotel with Valet Service. The rooms are directly looking at the slopes. They also have many restaurants. We especially enjoyed Abeto, overlooking the slopes in a nice setting, and a band playing at night.
Phoenix Hotel is also convenient if you have kids, as there is also a kids play lounge open every day.
---
With Land The Story Residence
With Land The Story Residence just opened in 2020. We stayed there for the first time in December 2020 and really loved it. The price is much more affordable than the resorts right by the slopes.
The rooms are very modern and the hotel location is also convenient (2min drive to the resort or 15/20 min walk). The With Land Residence doesn't have facilities for kids or restaurant so it's more suitable for couple. There is a kitchen inside the room for cooking.
---
We strongly recommend going to Phoenix to enjoy winter in Korea. The resort is relatively at close distance from Seoul, has some of the best snow and most modern facilities. What's not to like?
South Korea, however, mostly uses fake snow in Winter, as it usually doesn't snow enough during the season. However, like we always say to guests coming here, is that South Korea has some of the best fake snow in the world 🙂
We hope that you enjoyed reading this post. For more information about South Korea, check out all our posts here. We tried to explore all secret places, less known places in Korea and share it with all of you. South Korea is a great country with so many things to see.
---
Links to related articles
GANGNEUNG ON THE EAST COAST: HERE
BEST SKI RESORTS IN KOREA: HERE
DAEGWALLYEONG SHEEP FARM: HERE
BEST DAY TRIPS FROM SEOUL: HERE
99 BEST THINGS TO DO IN SOUTH KOREA: HERE
BEST ADVENTURES NEAR SEOUL: HERE
BEST TO DO DURING WEEKENDS IN SEOUL: HERE