WHAT TO SEE AT KLCC PARK? ANY ACTIVITIES IN KLCC PARK? IS KLCC PARK A GOOD PLACE TO RUN?
Without a doubt, KLCC Park is the best park in Kuala Lumpur, Malaysia.
This urban oasis is a must-visit for nature lovers and city explorers alike. It is also from there that you can catch some of the best views of the Petronas Towers. Indeed, the park is located right behind the Twin Towers.
"KLCC park boasts a beautifully designed landscape that seamlessly blends lush greenery, water features, and modern architecture."
As you walk around the park, you'll be able to take in the breathtaking views of the Petronas Twin Towers. One of the park's main attractions is the Lake Symphony, a water fountain show that is synchronized to music and light in the evening.
It's a perfect way to relax after a long day of sightseeing and take in the vibrant atmosphere of the city.
There are plenty of activities to keep you entertained at KLCC Park, such as jogging, picnicking, or simply strolling along the various paths and walkways.
There's even a playground area for children to enjoy and a free swimming pool for kids.
---
BEST ACTIVITIES AT KLCC PARK
1. Check out the light show at Lake Symphony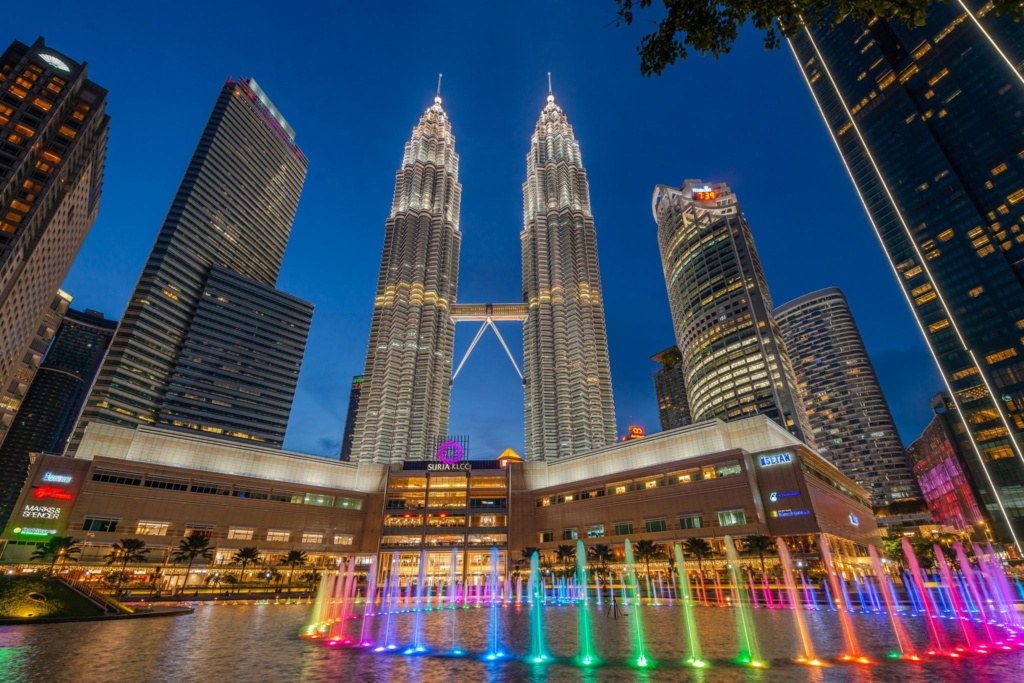 Watching the light show at night at KLCC Park is one of the best attractions. Right outside the shopping mall Suria KLCC, you will find this man-made Lake.
In the evening, many people come and hang out around the lake to enjoy the cooler temperatures.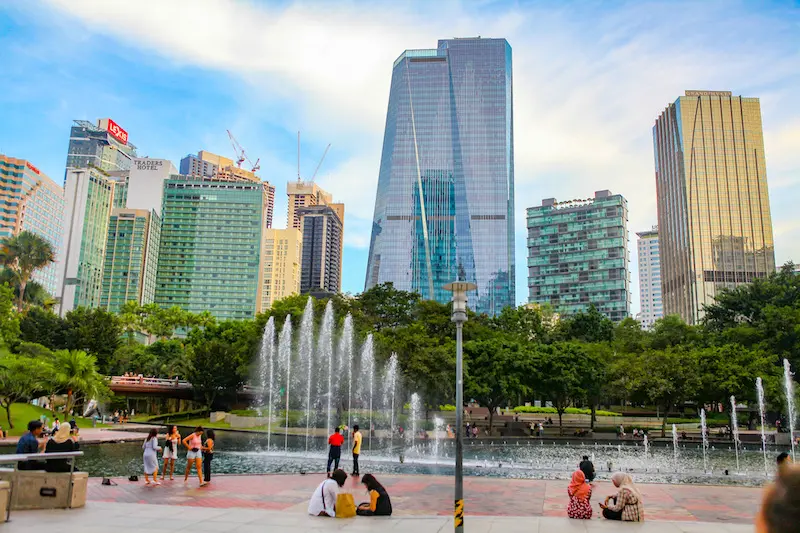 Every day at 8pm, 9pm and 10pm you can enjoy a magical performance of sound, light and water. Don't miss it if you are visiting Kuala Lumpur.
Location: here
Website for more information: here
---
2. ENJOY THE BEST VIEW OF THE PETRONAS TOWER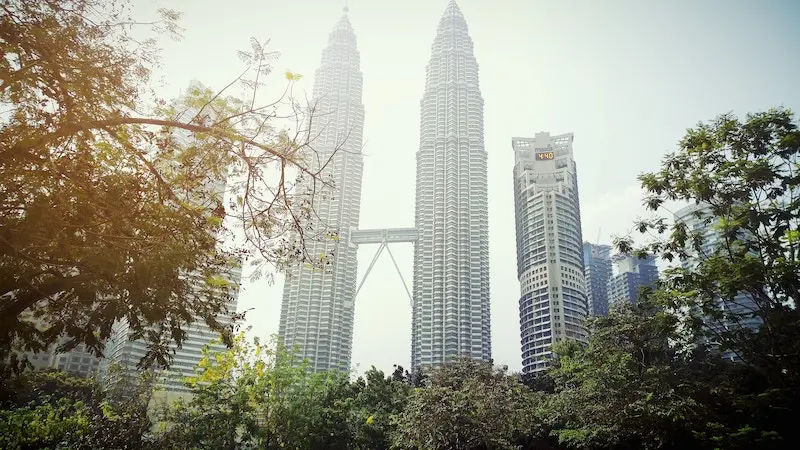 KLCC Park offers some of the best views of the Petronas Towner. There are multiple viewpoints. 1 is the KLCC Photo Point (here) located on a small hill right by the lake.
Another great spot to take photos of the Petronas Tower is from the Arch Bridge (here).
---
3. FOR THE KIDS, ENJOY THE FREE SWIMMING POOL AND THE PLAYGROUND
This free swimming pool is a great way to spend an afternoon with the kids. The water level never exceeds 1.5 feet, so it is relatively safe for kids. Be aware that there are no lifeguards here.
There is also a beautiful man-made waterfall and lots of water sprays and other various features in the water in order to have fun!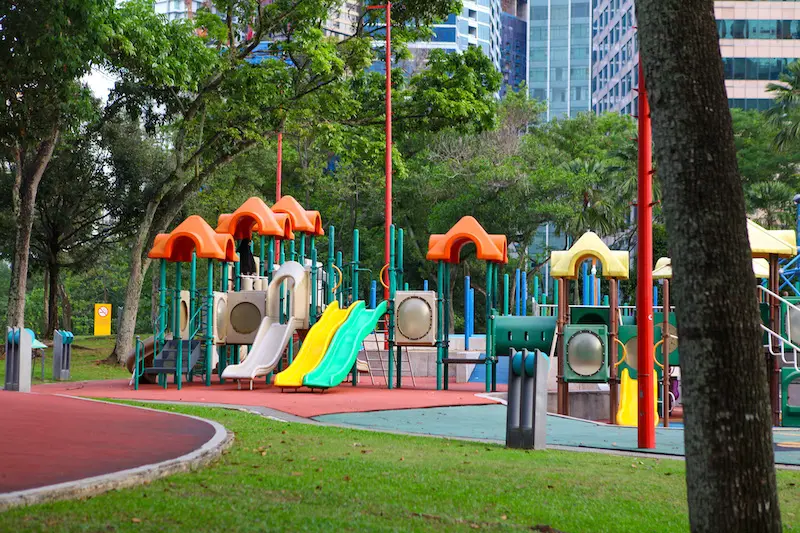 The swimming pool is equipped with toilets and changing rooms, which makes it very convenient.
The pool is open from 10 am until 7:30 pm.
Location: here
Besides the swimming pool, there is also a huge playground for kids with lots of fun activities.
---
4. KLCC PARK IS THE BEST PLACE FOR A RUN INSIDE THE CITY
If you don't like to run in the gym, then KLCC Park is the best alternative! There is an awesome running track all around the park, perfect for those looking to do easy track workouts.
1 round is roughly 1km, which makes it easy to keep track of your performance! Go there in the evening and follow the flow of runners on the track.
At the same time, you will have a great view of the Petronas Towers!
---
5. If running isn't your thing, then enjoy a walk through the park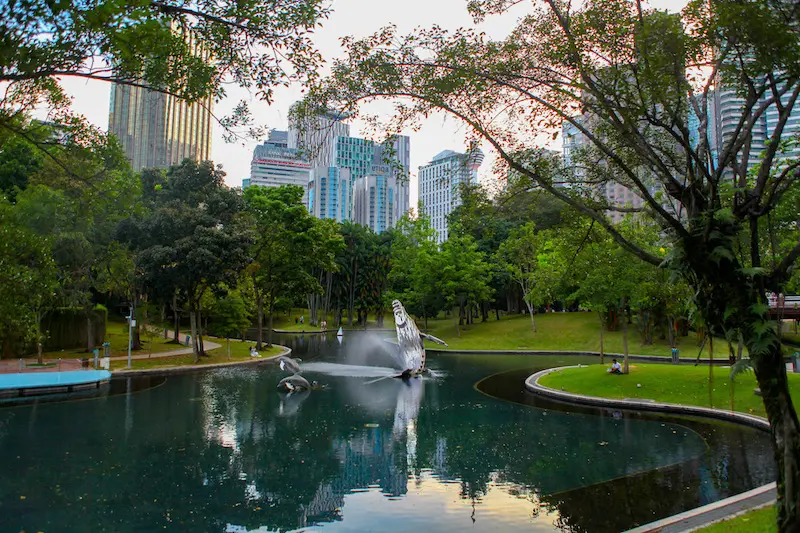 There are many nice features inside the park and plenty of places to chill, have a picnic and so much more.
Enjoy the beautiful whale sculpture coming out of the water, the arch bridge, or the many flowers and trees at KLCC Park!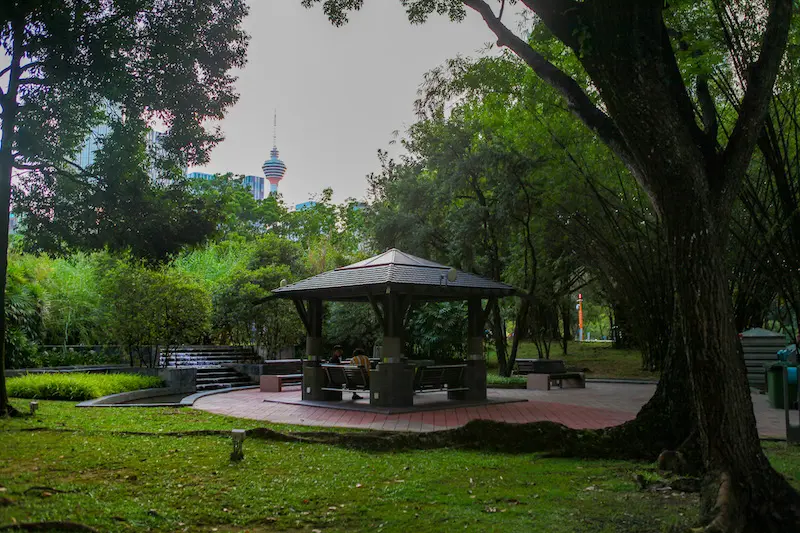 The atmosphere is excellent at KLCC Park and worth taking a walk around the place.
---
6. HAVE FUN AT KLCC AQUARIUM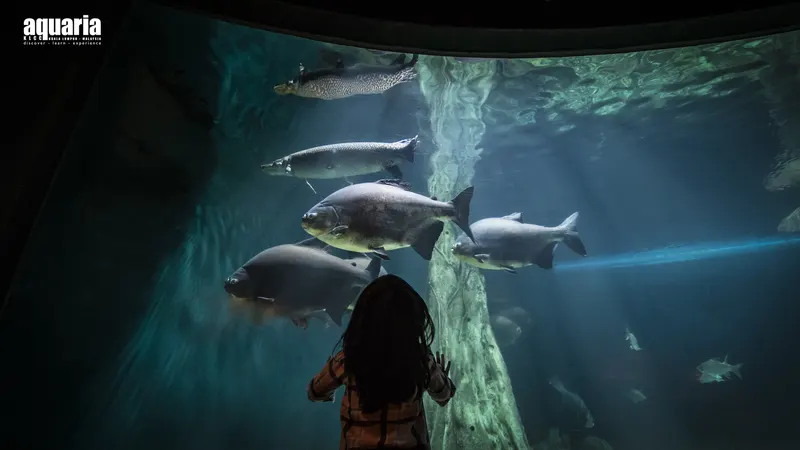 Aquaria KLCC is located right beside KLCC Park.
Aquaria KLCC is a great place for kids to learn and have fun! Here you can admire a wonderful underwater world. They have a very long tunnel, where you just walk underneath the fish! You'll see sharks, turtles, sting rays and so many more fishes.
The feeding show is also really impressive and fun to watch. There are so many fish, it's captivating.
Location: here
Website: here
Buy your ticket online for a cheaper price and to skip to the queue: here
---
7. ENJOY SOME FOOD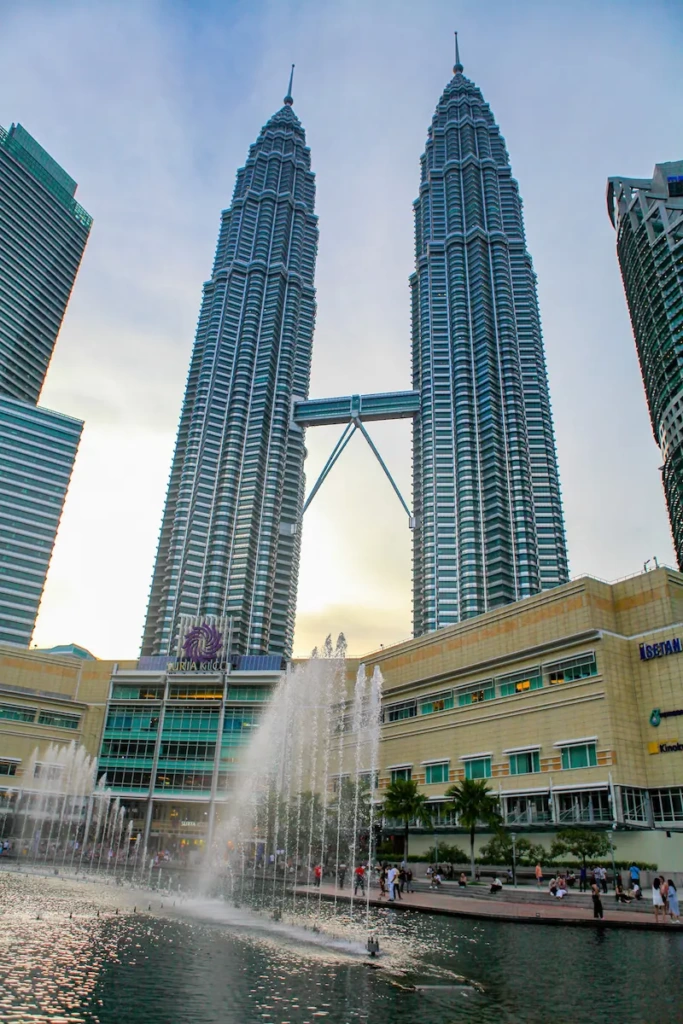 If you're feeling hungry, there are a variety of restaurants and cafes located around the park, offering a range of cuisines and dining options.
Suria shopping mall offers countless of options! More info here
KLCC Park is a beautiful and peaceful spot that provides a welcome respite from the hustle and bustle of Kuala Lumpur.
---
IMPORTANT INFORMATION ABOUT KLCC PARK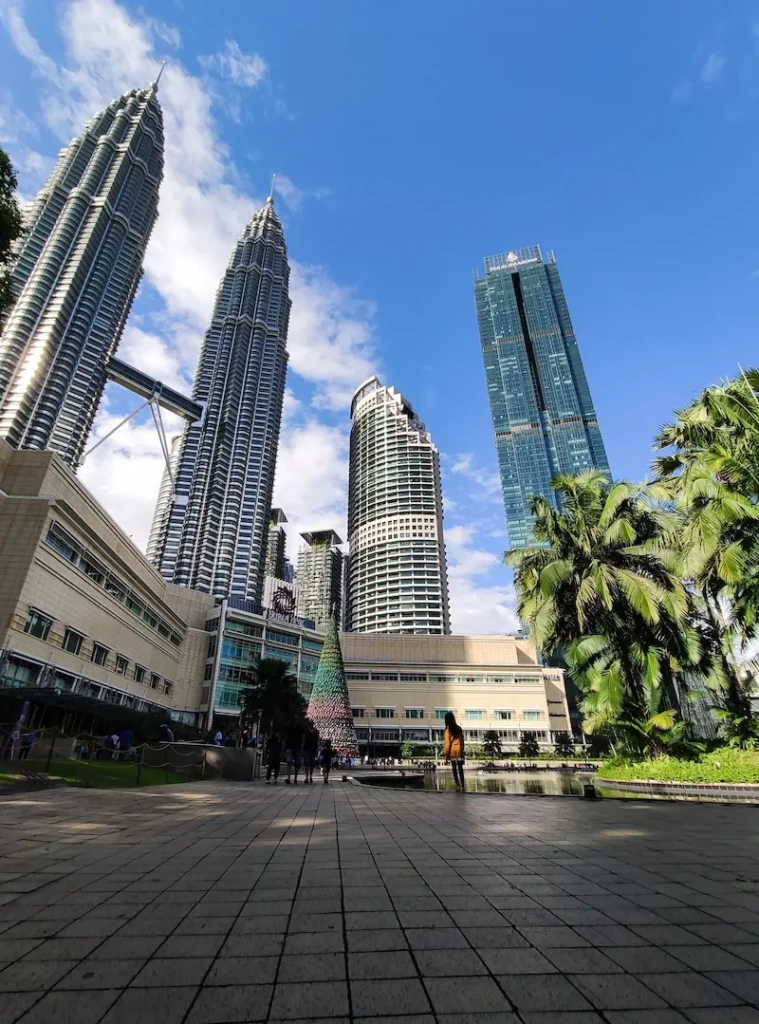 How to get to KLCC Park?
The best way to access the park by public transportation is to take the subway via the red line and stop at KLCC.
Like always, another good option to travel in Malaysia is via GRAB (#1 ride-hailing app).
The park is located here.
OPENING HOURS AND ADMISSION FEE?
The park is free and open 24H.
PARK RULES
No Pets allowed (sadly…)
Skateboarding, roller-skating, ball games are also not allowed etc.
No riding bicycles, e-scooters, or other motorized vehicle
WHERE TO PARK
If you come by car you can either park at the outdoor park right besides the park here, or at SURIA Mall.
---
Related posts
GUIDE TO VISITING BATU CAVES NEAR KL
20 BEST THINGS TO SEE IN PENANG, MALAYSIA
BEST THINGS TO DO IN GENTING HIGHLANDS
BEST PLACES TO STAY IN KUALA LUMPUR
DISCOVER THE VIBRANT DISTRICT OF BANGSAR
AWESOME PLACES TO SEE IN LANGKAWI
30 BEST CAFES AND BRUNCH IN KL
BEST THINGS TO DO ON TIOMAN ISLAND, MALAYSIA
DISCOVER THE SUMPTUOUS BLUE MANSION OF CHEONG FATT TZE IN PENANG
VISIT THE CLAN JETTIES IN PENANG!
VISIT COLMAR TROPICALE NEAR KUALA LUMPUR
DISCOVER THE JAPANESE GARDEN IN BUKIT TINGGI
15 FUN FACTS YOU DIDN'T KNOW ABOUT MALAYSIA!
FULL GUIDE TO VISIT KEK LOK SI TEMPLE
DISCOVER THE BEAUTIFUL KL BIRD PARK
BEST THINGS TO DO IN SINGAPORE