WHAT TO SEE AT EUNPYEONG HANOK VILLAGE? HOW TO GET TO EUNPYEONG HANOK VILLAGE?
Eunpyeong Hanok Village (은평한옥마을) is a beautiful village near the Bukhansan National Park.
Tucked away in the charming neighborhood of Eunpyeong in Seoul, South Korea, lies a hidden gem that encapsulates the beauty and tranquility of traditional Korean architecture and culture: Eunpyeong Hanok Village.
"Eunpyeong Hanok Village showcases the Korean traditional architecture and culture"
This well-preserved village showcases a collection of hanok, traditional Korean houses, offering visitors a glimpse into the rich history and heritage of the country.
In this post we describe all you need to know about Eunpyeong Hanok Village.
What is a Hanok?
A hanok (한옥) is a traditional Korean house built in wood around a patio. This is truly what represents South Korea. We love those little and beautiful Hanoks.
In Seoul, the Bukchon Hanok Village, located on the heights of Jongno is a district well known to see well preserved Hanoks used mostly as private accommodations. Bukchon Hanok Village became famous with many Korean dramas produced there.
The second well known location to visit Hanoks is the Namsangol Hanok Village. This one is a re-creation of a Hanok village. Although interesting, we found a bit less charming.
And now we have a third one in our list of best Hanok Village: Eunpyeong Hanok Village. In order to promote and preserve Korean culture, the government is investing in many projects. The village was built as a part of the Hanok subsidizing project. Some hanoks open to visitors to experience living in a hanok and participate in making traditional Korean handicrafts. There are also cafes, restaurants, and a famous Buddhist temple.
First impressions of Eunpyeong Hanok Village
Here is all you need to know about Eunpyeong Hanok Village.
---
How to get to Eunpyeong Hanok Village?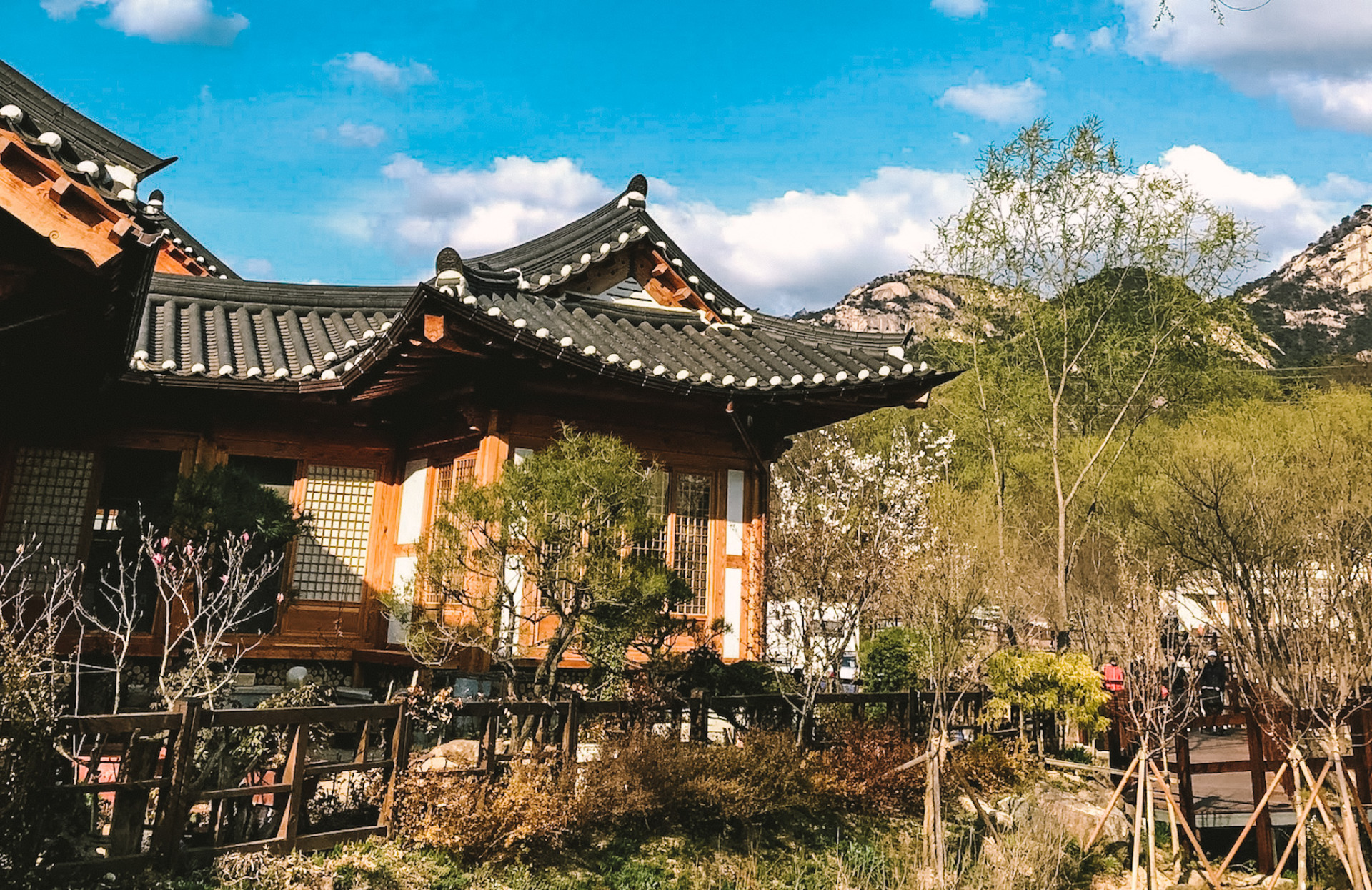 Address:
127-27 Jingwan-dong, Eunpyeong-gu, Seoul (서울 은평구 진관동 127-27)
Public transportation:
Eunpyeong Hanok Village is easiliy accessible by Public Transports from Seoul.
Subway + Bus: Yeonsinnae Station (line 6 and 3), exit 3 + bus 701 or 7211, Hana High School stop, Samchunsa Temple, Jingwansa Temple Entrance (하나 고. 삼 천사. 진관사 입구).
By Car:
About 10 to 15km from Jongno-Gu, Eunpyeong Hanok Village is easily accessible, with a big car park near Jingwansa Temple.
---
What to do at Eunpyeong Hanok Village
1. Embrace the Architecture and History of this beautiful Hanok Village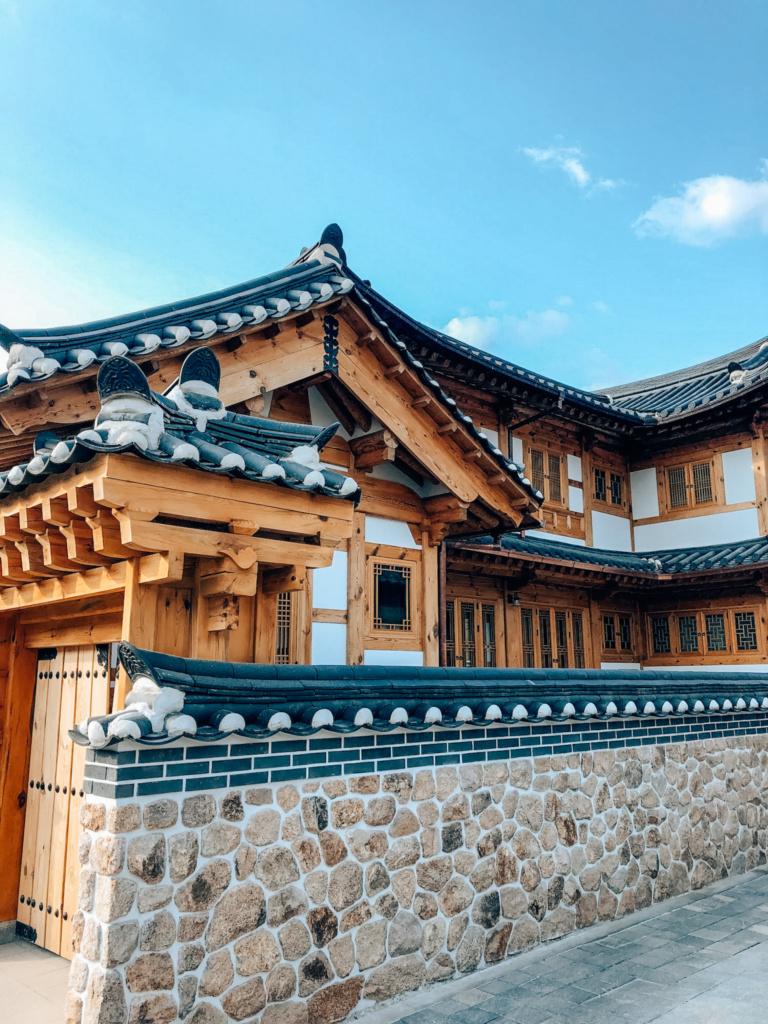 Eunpyeong Hanok Village boasts a collection of well-preserved hanok, reflecting the architectural styles of the Joseon Dynasty.
As you stroll through its narrow lanes, you'll encounter beautiful houses with curved roofs, elegant wooden pillars, and intricate detailing.
Take your time to appreciate the craftsmanship and the harmony between nature and architecture. Some hanok have been converted into museums, galleries, and cultural centers, providing insights into traditional Korean lifestyles and history.
Immerse yourself in the village's serene ambiance and let the stories of the past whisper in your ears.
The village is located at the foot of the Bukhansan Mountain.
---
2. Visit the Eunpyeong History & Hanok Museum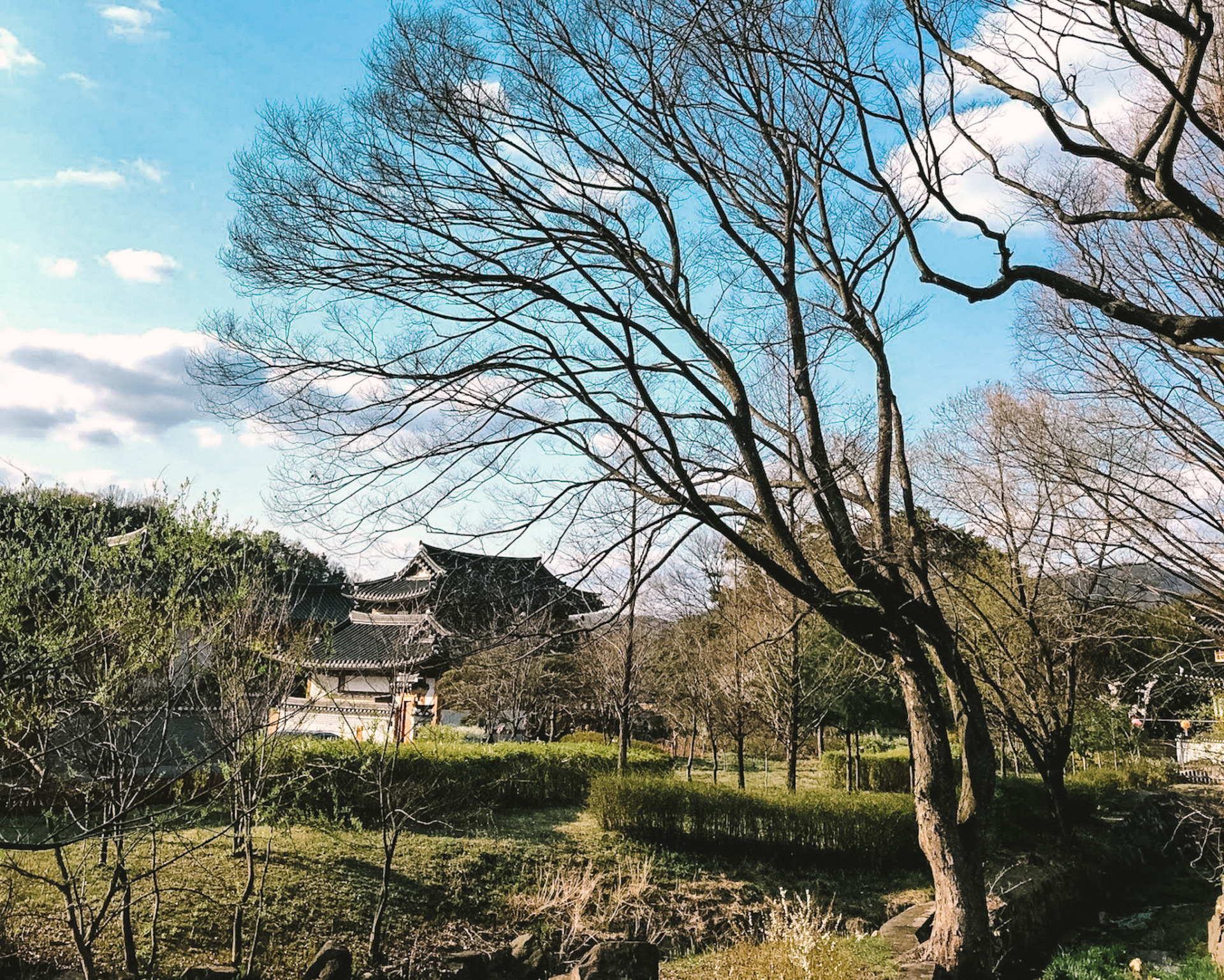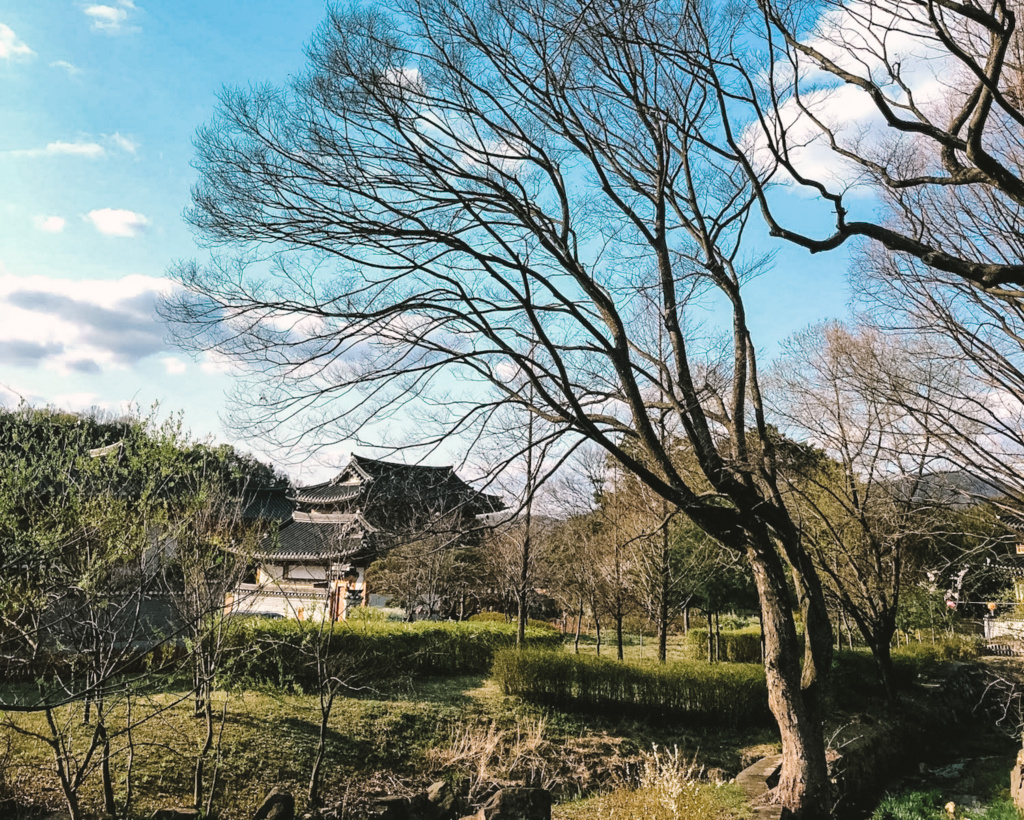 After strolling through the village and taking plenty of pictures (oh for sure you will!), head to the Eunpyeong History & Hanok Museum.
The building is not as pretty as the Hanoks, but worth a visit while inside. It is divided into 3 floors. On the first floor, there is a toy library, pond and rest area. Then head up to learn more about Korean history and cultural heritage. The top floor is an exhibition hall for Hanok. Lastly, don't miss the rooftop for a great view of Eunpyeong Hanok Village and the Bukhansan.
Admission: Adults 1,000 KRW; Children 500 KRW.
---
3. Experience Hanbok Dressing at Eunpyeong Hanok Village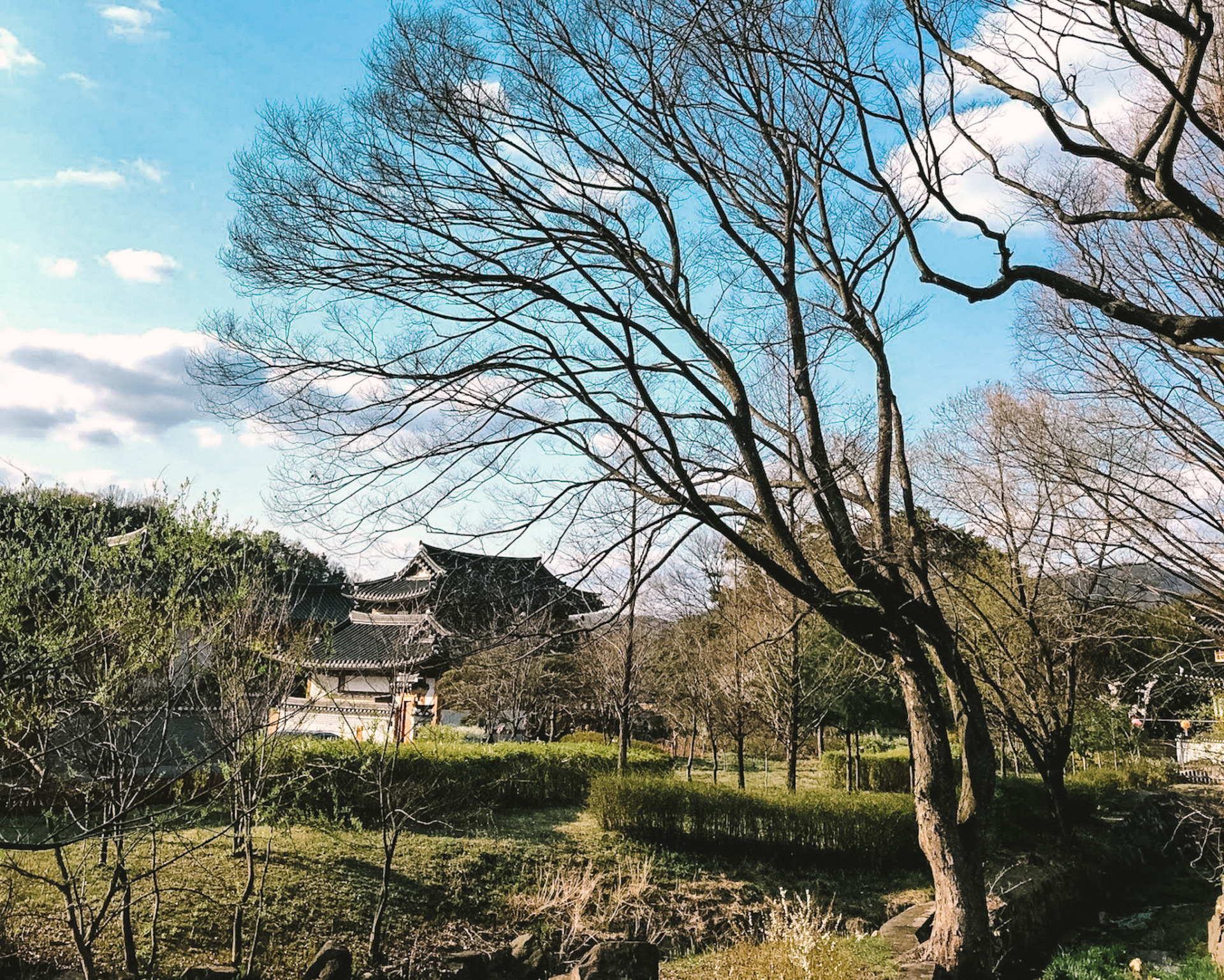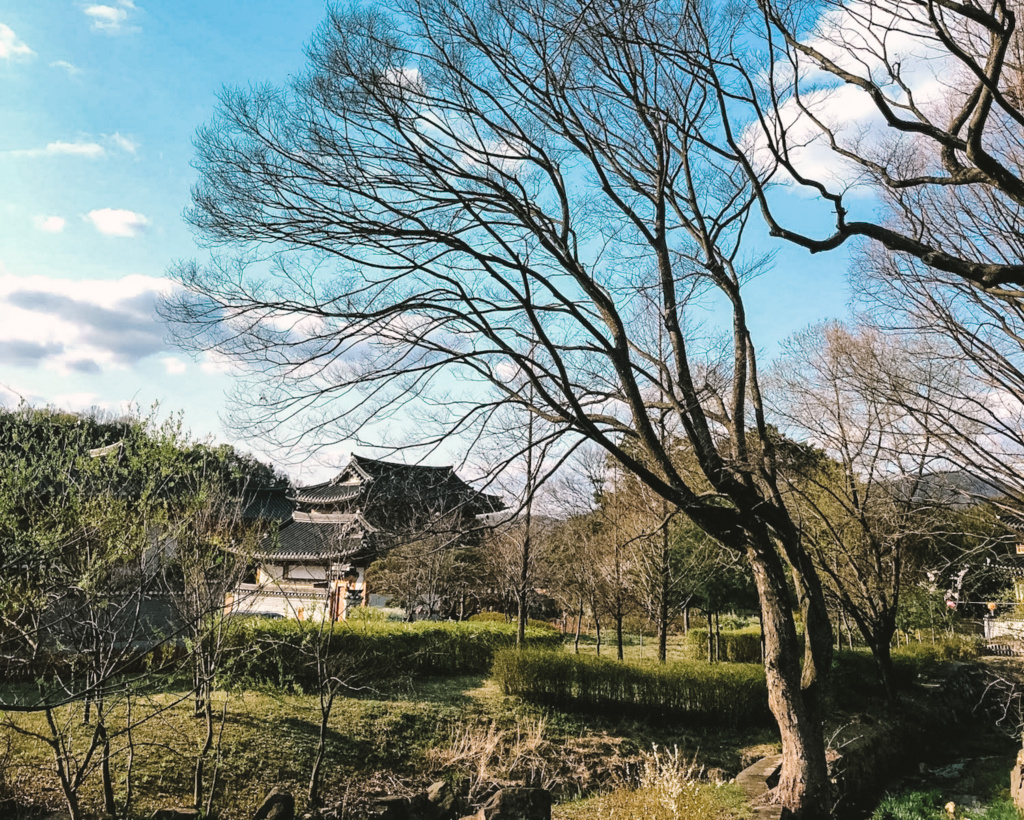 To truly immerse yourself in the traditional Korean culture, seize the opportunity to dress in hanbok, the traditional Korean attire.
Several hanok in the village offer hanbok rental services, allowing you to choose from a wide range of vibrant and elegant hanbok designs. Donning this beautiful attire, you can explore the village in style and feel like you've stepped back in time.
Capture memorable photos against the backdrop of picturesque hanok houses, creating lasting memories of your visit to Eunpyeong Hanok Village.
---
4. Participate in Cultural Workshops
Eunpyeong Hanok Village offers a variety of cultural workshops where you can learn traditional Korean arts and crafts.
Join a calligraphy class and discover the art of elegant brushwork, or engage in a traditional paper-making session and create your own hanji, Korean handmade paper.
You can also try your hand at making traditional Korean snacks like tteok (rice cakes) or learn the art of tea ceremony. These workshops provide a unique opportunity to delve deeper into Korean culture and gain hands-on experience in traditional crafts and practices.
---
5. Visit Jingwansa Buddhist Temple
A 5-10 minute walk from Eunpyeong Hanok Village is an absolutely splendid Buddhist temple, which we discovered by chance, while parking our car. We then learned that Jingwansa Temple (진관사) is one of Seoul's four most major and famous temples.
In the heart of the Bukhansan, this temple enjoys a unique environment. Jingwansa Temple also offers Temple Stay program, which allows you to spend a night at the temple.
Jingwansa Temple is very popular with foreign visitors and even ambassadors from all over the world. The temple is famous for its work in preserving the Buddhist gastronomic tradition. Famous cooks from around the world stayed there to learn Buddhist cuisine from the monks.
The temple even has a research institute for Buddhist cuisine. Based on vegetables without chemical ingredients, the meal at Jingwansa temple allows you to get closer to nature.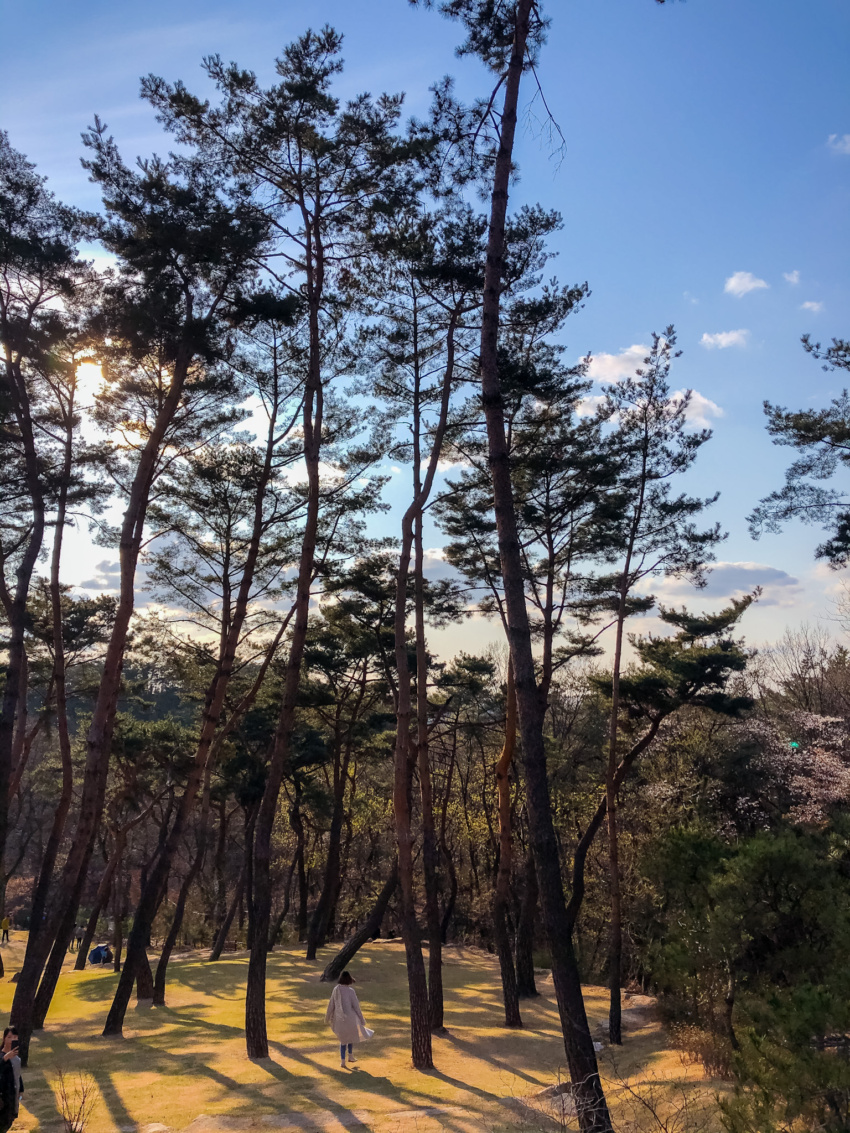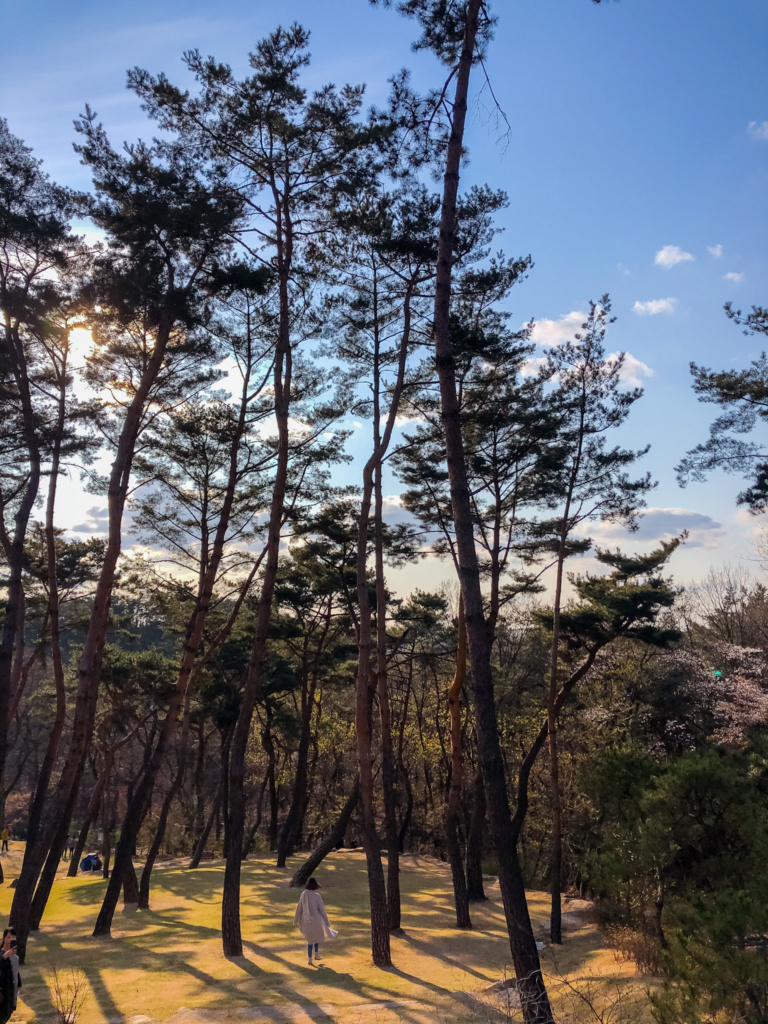 After visiting the temple head to the forest, to see beautiful pine trees. There are also many hikes in the Bukhansan which starts (or ends) nearby.
Jingwansa Temple is a must see and located only at 10min walk from Eunpyeong Hanok Village.
Address: 73 Jingwan-gil, Jingwan-dong, Eunpyeong-gu, Seoul
READ: Full post about Jingwansa Temple here.
---
6. Enjoy a coffee in one of the beautiful cafes of Eunpyeong
Cafe 1 (인 1 잔):
The cafe is located on top of a building, constructed like a Hanok. Cafe 1 offers a beautiful views looking at Eunpyeong Hanok Village with the Bukhansan in the background.
Take your order from the ground floor and head to the 4th floor to enjoy the view. The wooded decoration and its low tables are very traditional. The large windows overlooking the mountain reinforce this very soothing atmosphere
You can also head to the rooftop and enjoy your drink outside. The cafe sells standard drinks but also traditional rice cakes.
Address: 127-27 Jingwan-dong, Eunpyeong-gu, Seoul (서울 은평구 진관동 127-27)
---
Bukhansan Aterlier:
This new cafe, right by Eunpyeong Hanok Village, is one of our favorite cafe in Korea, where you can also sit outdoor. Check out our top outdoor cafes in Seoul – here. Bukhansan Atelier is really big, with plenty of space. The bakery treats are fantastic. There is usually quite a lot of people there on weekends, so expect a bit of queue. However, it's all so worth it.
---
Conclusion about visiting Eunpyeong Hanok Village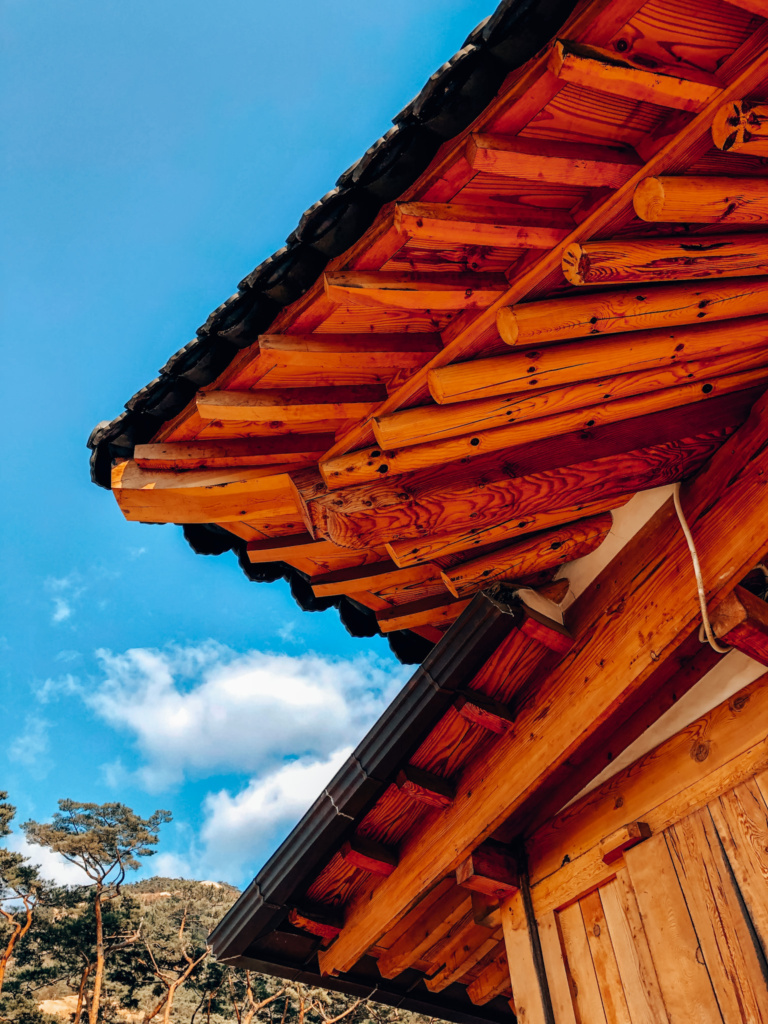 Escape the bustling city and find tranquility amidst the peaceful surroundings of Eunpyeong Hanok Village.
The village is dotted with beautiful gardens, courtyards, and pavilions, providing serene spaces to unwind and recharge.
Take a leisurely walk along the meandering paths, breathe in the fresh air, and admire the seasonal beauty of blooming flowers or autumn foliage. Find a quiet spot to sit and reflect, or simply enjoy the calmness of the village while embracing the harmonious blend of nature and tradition.
Eunpyeong Hanok Village is a true hidden gem.
---
Links to related articles
JINGWANSA Temple: located next to Eunpyeong Hanok Village: here
JEONJU: if you are interested to discover more Hanok, we recommend a trip to Jeonju: here
MOST BEAUTIFUL OUTDOOR CAFES: discover some stunning cafes in Seoul: here
BUKHANSAN: we've listed some of the best hikes in the Bukhansan: here
ADVENTURES: top adventures within 1h from Seoul: here
THINGS TO DO IN WEEKENDS IN SEOUL: not sure what to do this weekend? check out some cool ideas: here.
BRUNCH: best brunch in the city: here