Located near the Hanok Village of Eunpyeong District (see full post here), Jingwansa temple (진관사 (서울)) is one of Seoul's four most famous temples.
In the heart of Bukhansan Park (see full post here) and at the crossroads of two valleys, this temple enjoys a beautiful surrounding environment.
Jingwansa also offers Temple Stay program, allowing you to stay overnight and participate in the temple's daily activity. To find out more about Temple Stay program, check out the official website here.
Jingwansa temple is popular with foreign visitors and even ambssadors from all over the world. The temple is famous for its work in preserving the Buddhist gastronomic tradition. Even cook from the White House stayed there to learn Buddhist cuisine from the monks. Jingwansa temple even has a research institute for Buddhist cuisine. Based on vegetables without chemical ingredients, the meal at Jingwansa temple allows you to get closer to nature.
Jingwansa temple was built in 1011 by King Hyeonjong, the eighth king of Goryeo, which was built for the monk Jin Gwan who protected him from the fall of Queen Cheonchu.
So knowing all that, now you must be curious to know more about Jingwansa Temple. No worries, here is all you need to know about it.
---
How to get to Jingwansa Temple?
Address:
73, Jingwan-gil, Eunpyeong-gu, Seoul
Public transportation:
Subway + Bus: Yeonsinnae Station (line 6 and 3), exit 3 + bus 701 or 7211, Hana High School stop, Samchunsa Temple, Jingwansa Temple Entrance (하나 고. 삼 천사. 진관사 입구).
By car:
About 10 to 15km from Jongno-Gu, Jingwansa is easily accessible, with a big car park near Jingwansa Temple. Unlike most of the mountain temples in Korea, Jingwansa is easily accessible and doesn't required a long hike to reach it. Hence, it is one of the most visited temple in Seoul.
---
1. Jingwansa Treasure Trail
After crossing the entrance gate there is a bridge called Gukrak and a well maintained wooden deck right next to it. Take this path for about 100 meters, it is the Jingwansa Treasure Trail where you can experience the fresh greenery of the Jingwansa Valley. Be sure to walk there when entering or exiting the temple as the atmosphere is very special.
---
2. Enjoy a good cup of tea at Yeonjiwon
When you cross the Gukrak Bridge and go up to the center of the Jingwansa Temple, you pass the Sesimgyo Bridge, the bridge that clear your mind. On the left side there is Yeonjiwon, where you can taste traditional tea. It is a nice place to gather. It was created as a place where anyone can come and drink a nice cup of tea.
---
3. Jingwansa known for its food
Behind Yeonjiwon is the scent of Hyangjeokdang and Jeho. This is the pride of Jingwansa Temple, and it is a unique tourist element and a place where you can experience temple food (vegetarian and no use of onions, garlic, leeks, soy sauce – wondering about the taste ? No worries it's super yummy and tasty !).

Jingwansa boils the seasonal vegetables as they are, preparing them carefully according to the teachings of Buddha. The food is really healthy and delicious. If you come to Korea, make sure to try some temple food. If you watch Netflix, we strongly recommend to watch "Chef's Table" featuring Jeong Kwan, a temple food master. She cooks at Baekyangsa Temple. However, Jingwansa is another famous destination for trying Korean temple food. Don't miss out on this great opportunity.
---
4. Visit the beautiful pine tree forest at Jingwansa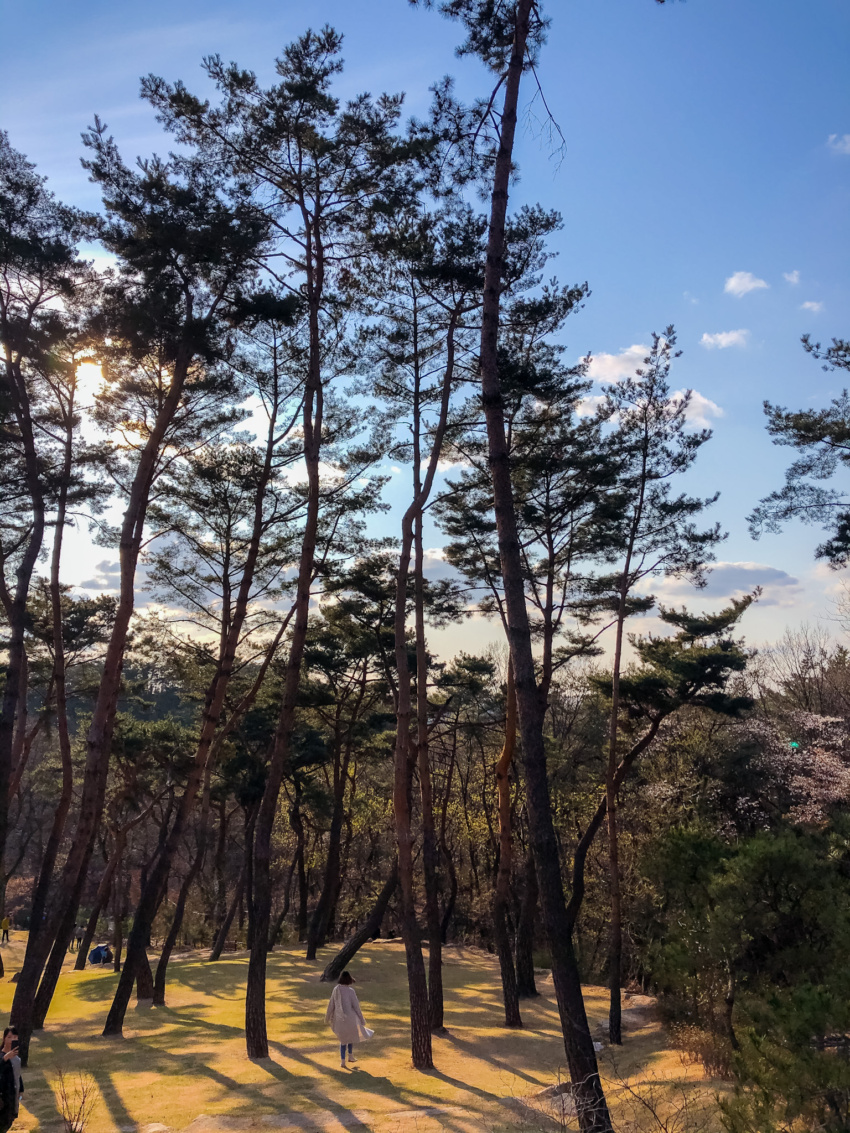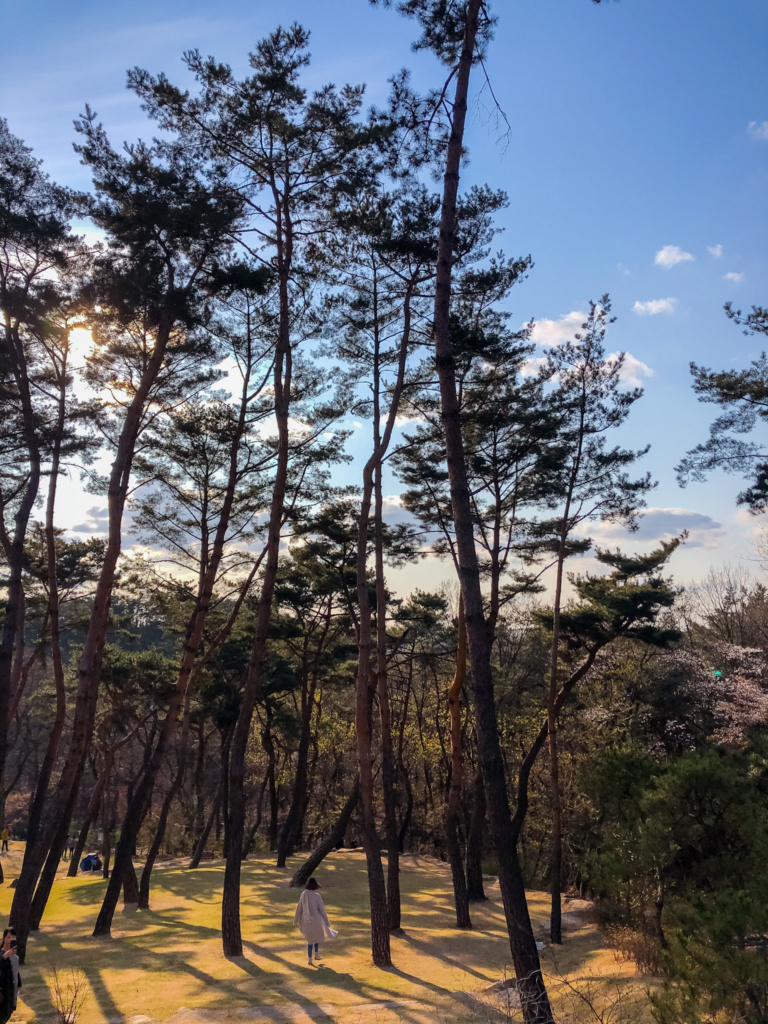 After visiting the temple head to the forest, to see beautiful pine trees. There are also many hikes in the Bukhansan which starts (or ends) near
---
5. Visit the main sites of Jingwansa Temple
Before entering the courtyard of Daeungjeon Hall, you can see the Buddhist temple and the gardens of the Jingwansa temple in harmony with the Bukhansan mountains in the background.
After looking around Daeungjeon descend to Sesimgyo in front of the prison. There cross the bridge and head towards Hamwoldang and Templestay History Hall. The Hall, which shines at the first prize of the Seoul Architecture Prize, is a beautiful and elegant space combining traditional Hanok with sophisticated and modern interior.
---
We hope that this post made you want to visit Jingwansa temple. For us it was such a great visit, and would recommend it to anyone. Even if you are not into temple, history or Buddhism, the sight and the Bukhansan in the background makes is a stunning place.
---
Links to related articles
GYEONGJU, the most beautiful place in Korea: here
JEONJU: if you are interested to discover more Hanok, we recommend a trip to Jeonju: here
EUNPYEONG HANOK VILLAGE: a gorgeous place right next to Jingwangsa Temple: here
BUKHANSAN: we've listed some of the best hikes in the Bukhansan: here
ADVENTURES: top adventures within 1h from Seoul: here
THINGS TO DO IN WEEKENDS IN SEOUL: not sure what to do this weekend? check out some cool ideas: here.
---
Other temples worth visiting in Korea
NAKSAN TEMPLE, a beautiful temple on the east coast: here
HAEDONG YONGGUNGSA, the most beautiful temple in Korea located in Busan: here
JEONDEUNGSA TEMPLE in Ganghwado near Seoul: here