WHAT TO DO IN JEONJU HANOK VILLAGE? HOW TO GET AROUND IN JEONJU? JEONJU ON A DAY TRIP? WHERE TO STAY IN JEONJU?
Jeonju in South Korea is famous for its old town called Hanok Village. Hanok means traditional Korean houses, which are usually beautiful. Visiting Jeonju should absolutely be on your travel itinerary in South Korea. In this post, we listed the 10 best things to do in Jeonju.
Guide to Jeonju in South Korea
Expect a romantic village, amazing food, peaceful temples, a surprisingly beautiful cathedral, and great parks.
We were pleasantly surprised during our visit on how gorgeous is Jeonju. You can visit the main sites in a day trip from Seoul (READ: 21 AWESOME DAY TRIPS FROM SEOUL), but spending 1 night in Jeonju is really worth it, especially if you choose to stay in a Hanok. This could be a unique experience during your trip in South Korea.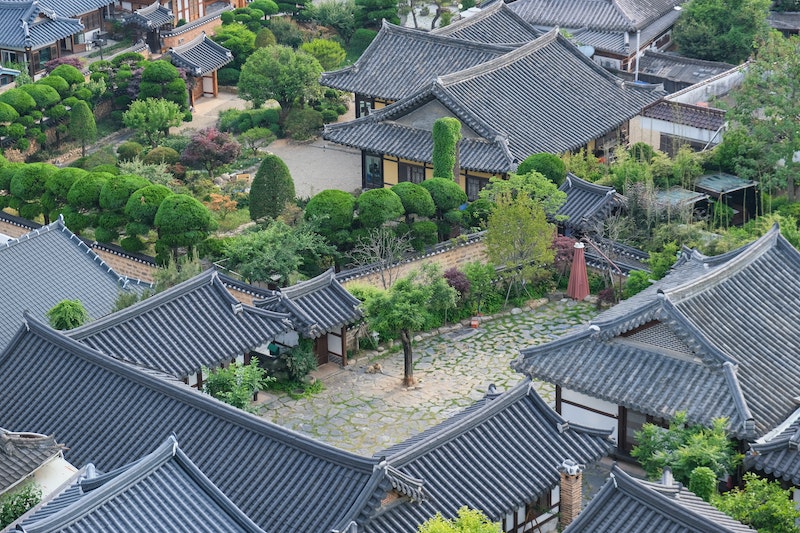 Jeonju City (전주시 in Korean) is considered a major cultural site in South Korea. During the Joseon period, it was considered the spiritual capital of the country.
Jeonju cuisine is also very famous for South Korean. Besides, Jeonju's famous bibimbap (Korean dish), the gastronomy in Jeonju is much more than only this dish.
The city of Jeonju is even listed in UNESCO in the gastronomy category. We love Korean food in general, but our culinary experience in Jeonju, reached another level of deliciousness.
Here is a glimpse of what to expect when visiting Jeonju:
---
BEST THINGS TO SEE IN JEONJU HANOK VILLAGE
1. Wander through the Hanok Village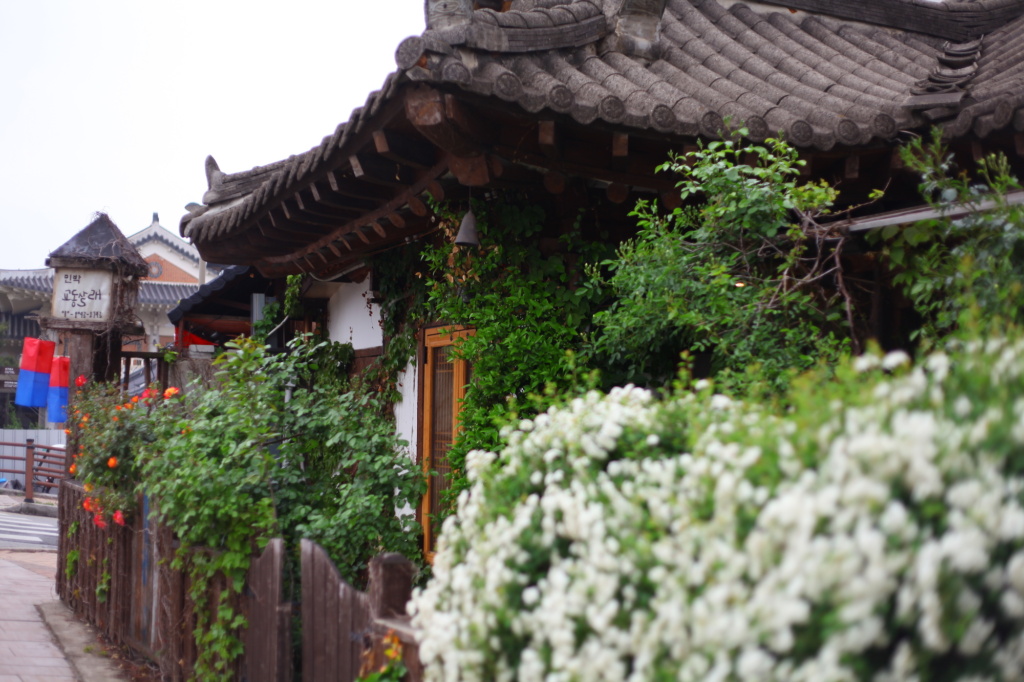 Jeonju Hanok Village is the heart and the old part of Jeonju city (Jeonju is one of the 10 biggest city of South Korea). The Hanok Village spans accross several streets and alleys. There, you can see beautiful Hanoks everywhere, which now forms shops, restaurants, cafes, museums, galleries. It's the nicest neighborhood in Jeonju.
Rent a Hanbok: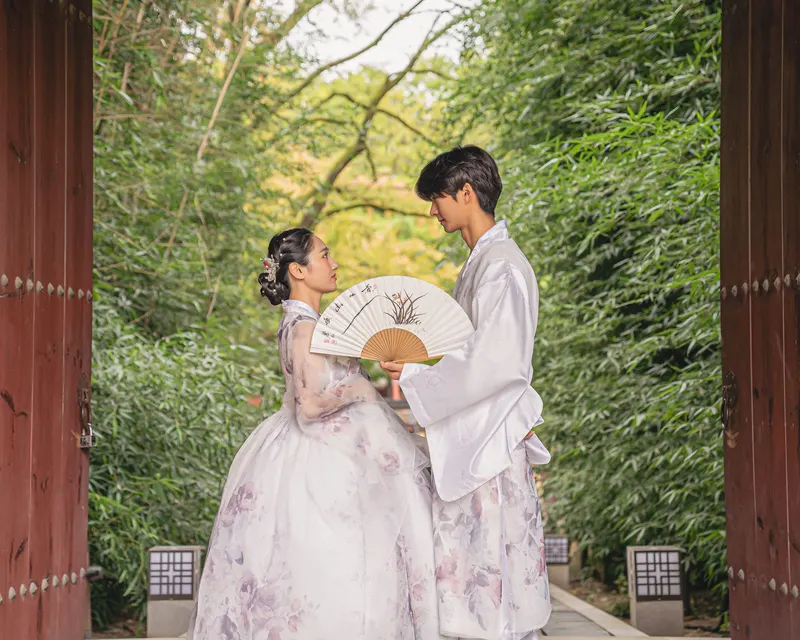 Adventure yourself in small and hidden alleys to discover beautiful and romantic spots. South Korean likes to rent Hanboks (Korean traditional clothes) and walk around with it the entire days. This is a fun experience, which you can book HERE.
It makes it a perfect place for photography. Although we do not like to compare, it reminded us a lot of Kyoto in Japan.
Local Tips
Most tourists will visit Jeonju Hanok Village by day. However, we highly recommend a stroll through the village at night. With beautiful lights everywhere, it's even more romantic.
---
2. Visit Jeonju Gyeonggijeon Shrine
The Gyeonggijeon Shrine is located just outside the hanok village. Gyeonggjieon is one of the best things to see in Jeonju!
This Shrine was built at the very beginning of the 15th century, a few years after the death of King Taejo, founder of the Joseon dynasty.
The purpose of the building was to house a portrait of King Taejo. Other shrines had been built in the country for the same purpose. They were all destroyed by the Japanese but rebuilt later on.
In addition to visiting the Shrine itself, you can also visit the Royal Portrait Museum. This is where you can see the portrait of King Taejo among others.
There is a fee for visiting the Gyeonggijeon shrine (경기 전 in Korean). The entrance ticket costs 3,000 won per person for adult.
---
3. Hyanggyo Confucianism school
Founded during the Joseon Dynasty (1392-1910), Jeonju Hyanggyo is another Historic Site of South Korea and one of the best things to see in Jeonju!
Hyanggyo were national educational establishments in the provinces which provided Confucian teachings during the last Korean dynasty. The Jeonju Confucian school was originally located around the holy place of Geonggijeon, but it was moved to its present location in 1603.
Composed of many different buildings, this school is one of the largest educational establishments. It is a beautiful and peaceful site to visit.
---
4. Eat some local delights, one of the best things to do in Jeonju
Bibimbap
You've surely heard of "bibimbap" before even coming to Korea. It's one of those internationally renowned dishes. Bibimbap should be your culinary priority, as apparently it was invented in Jeonju.
It is a rice dish with a lot of vegetables, beef (but they also have a vegetarian option), and sauce, topped with an egg. Many Koreans say that the best bibimbap should not contain less than 10 ingredients and that the real bibimbap contains 29!
Once you get your bibimbap, mix all the ingredients together, and there you go, it's ready to eat!
Gukbap
Gukbap is a delicious soup renowned for its high-quality of bean sprouts. This is due to the high quality of the soil where the beans are grown, as well as the quality of the water.
You can enjoy it at many restaurants in the city. We went to Hyundai-ok Hanok Village branch, which was recommended by a local friend. It was really delicious.
Koreans recommend pairing this dish with Moju, a light alcoholic local rice wine.
Makgeolli
Makgeolli is an alcoholic drink made from fermented rice with a milky texture.
If you order a bottle of Makgeolli, you will be served several side dishes. And when you ask for another one, you're usually served a variety of different dishes.
Jeonju even has Makgeolli street located at Seosin-dong. It's a fantastic place with many restaurants serving great food and of course great Makgeolli
---
5. Jeondong Cathedral
Jeondong Cathedral is a Roman-Byzantine-style Catholic cathedral. It was built by a French priest at the start of the 20th century. Jeondong is classified among the Korean historic sites.
It is possible to visit it for free.
If you plan to visit on a Sunday, be aware that there are several masses during the morning and it's usually full. So remember to visit it on another day or outside of mass hours. Christianity is the most widely practiced religion in the country. Even though Catholics are a minority.
Jeondong Cathedral is located on the edge of the Hanok village, close to the Gyeonggijeon Shrine.
---
6. Pungnam Gate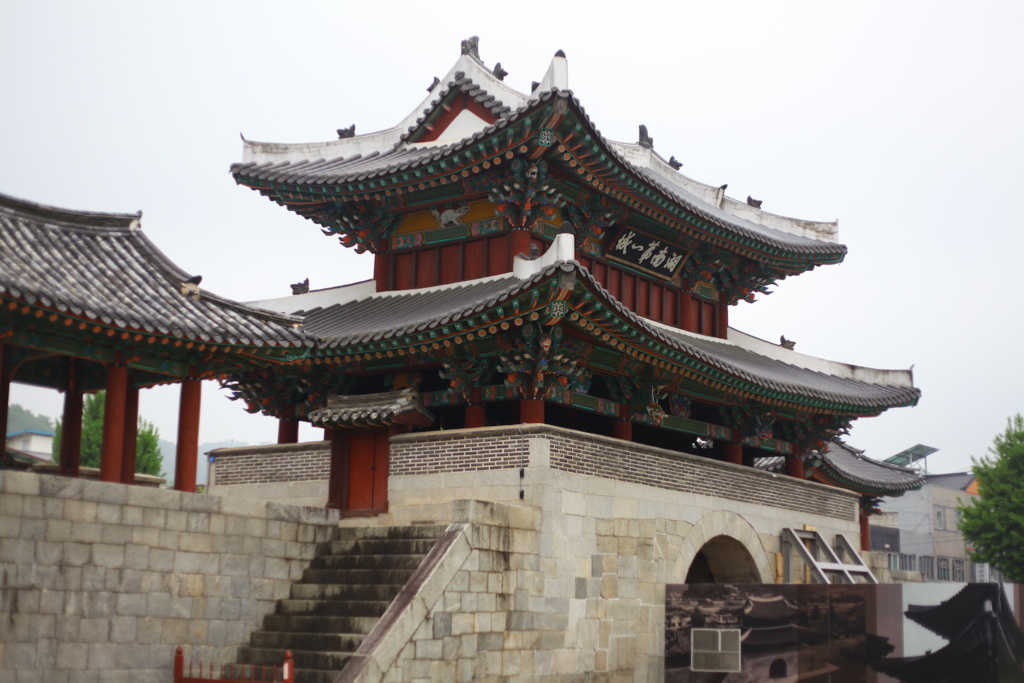 Pungnam Gate or Pungnammun is one of the 4 gates that marked the entrances to the old city. It is the only door that remains visible today.
Pungnam Gate was built during the Joseon Dynasty, like most places of historic interest in Jeonju. Its construction dates back to the year 1768.
Illuminated in the evening, it is probably at this time of day that it is most impressive. Pungnammun is more of a photography stop than a visit to Jeonju. It is not possible to climb to the top of the door.
---
7. Jaman Mural village
Right next to Jeonju Hanok Village, you can visit Jaman Mural Village which is a charming village situated on the hillside of a mountain with a great view of Jeonju.
The walls of the village were painted by local artists which then became a popular attraction in Jeonju. There are also great cafes with a fantastic panorama of Jeonju Hanok Village.
For us, this is one of the best things to see in Jeonju!
---
8. Climb the hill to Omokdae and Imokdae for the best view of the city
On your way to Omokdae and Imokdae, 2 Shrines situated on top of a hill, you can take great photos of Jeonju Hanok Village.

At the very top, you will find Omokdae and Imokdae. These are two places that have a connection to history. Indeed, King Taejo (who called himself at the time Lee Song-Gye) organized a feast at this place after a great victory.
Finally, this was also the place his great-grandfather lived before leaving Jeonju.
All and all, this is by far the best view of Jeonju Hanok Village! So make sure to check it out.
---
9. Nambu Market
Right besides the Hanok Village, we recommend to take a little tour at the Nambu traditional Market.
It's the biggest market in town. It breaks down into several parts: a covered part, a second outdoor with shops that overlook the street. And there are also smaller stands outside.
The market is also open in the evening. It's a good place to eat local delights in Jeonju.
Nambu market is located southwest of Pungnammun Gate, between the gate and the Jeonjucheon river.
---
10. Visit free museums in Jeonju
Many museums in Jeonju are actually free.
We recommend the Jeonju Korean Traditional Alcohol Museum. It isn't very big, but you can see the tools and machines used for manufacturing alcohol, as well as exhibitions of traditional Korean alcohol.
The most interesting areas of the museum are considered to be the alcohol preparation room and the fermentation room. Thanks to the speakers in these two rooms, you can hear the amplified sounds of alcohol during the fermentation process. You can also enjoy the seductive aromas of traditional Korean liquor.
Another Museum we recommend is The Jeonju Traditional Crafts Exhibition Center. It not only allows visitors to experience the beauty of Korean traditional crafts but also to create something. Visitors can create their own craft with rice paper sheets, pottery, millwork, embroidery, etc. In addition, it is possible to buy crafts made by professionals.
---
WHERE TO STAY IN JEONJU?
While Jeonju can be done in a day trip from Seoul, we recommend spending 1 night in Jeonju and truly appreciating this beautiful city.
Without a doubt, we highly recommend staying in the Hanok Village, for a unique experience. Besides the Hanok Village at night is very romantic with great lighting everywhere.
There are several options available in the Hanok Village. Here is our top 3 Hanok stays in Jeonju:
Hanok Dream
Hanok Dream is one of the most beautiful Hanok hotels in Jeonju. The hotel is perfectly located, within walking distance to Jeonju Hanok Village! Hanok Dream is often ranked as one of the best hotels in Jeonju, providing a unique and unforgettable experience! CHECK IT OUT!
---
Gaeunchae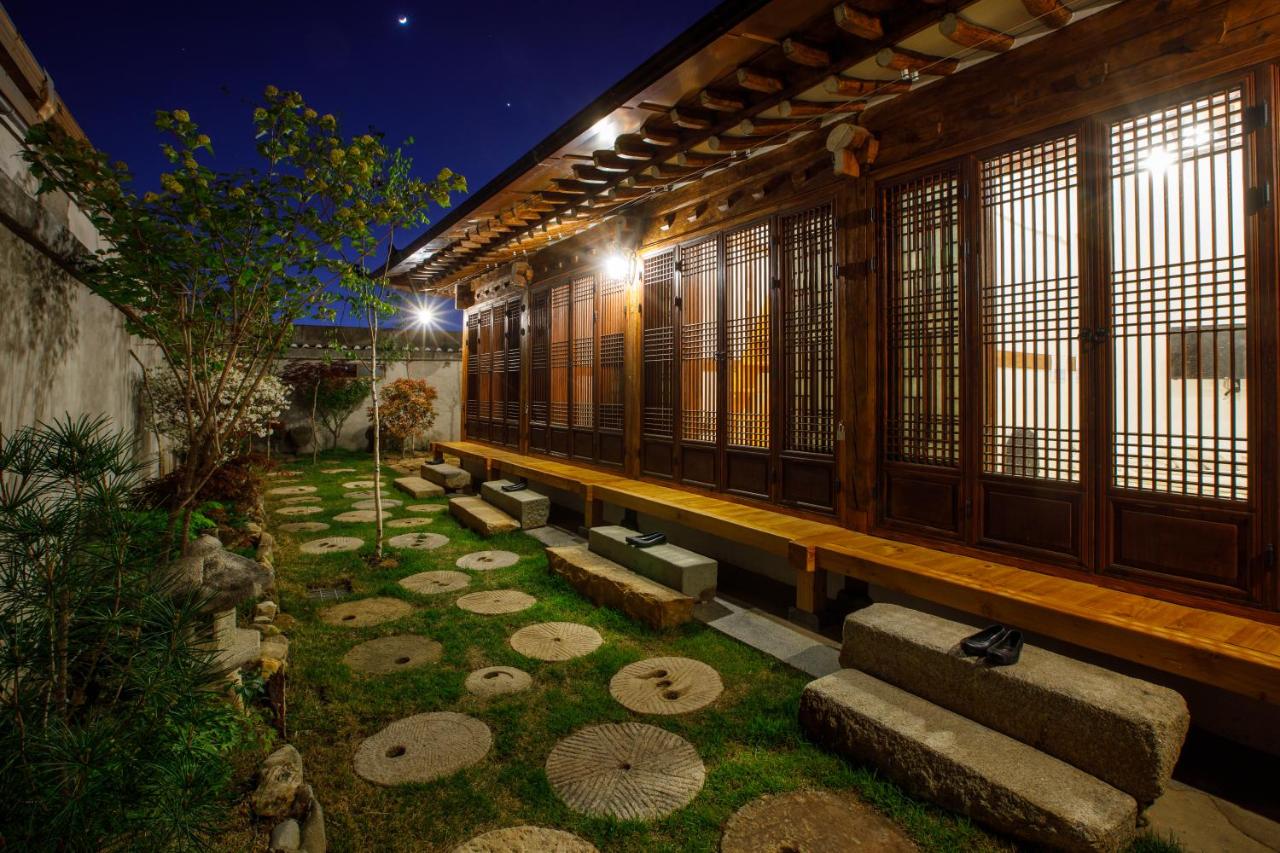 Gaeunchae is also one of the most beautiful Hanok guesthouses that we have seen in Jeonju. It is perfectly located, newly renovated, and has great amenities. You can book here.
---
Jungdam
Our final recommendation is the charming Jungdam Hanok hotel. Perfectly located, with private bathrooms, a beautiful garden, Jungdam Hanok is one of the best places to stay in Jeonju Hanok Village! BOOK HERE
---
WHAT ELSE TO SEE OUTSIDE JEONJU?
1. Geumsansa Temple
This stunning temple is located about twenty kilometers southwest of Jeonju. If you plan to stay more than a day in Jeonju, visiting Geumsansa is really worth it. The easiest to get there would be by car (25 minutes), however there are also buses.
As with most Buddhist temples in South Korea, Geumsansa is located in nature, outside the city in Moaksan Provincial Park.
This very old temple was founded in 599. It is well known throughout South Korea, especially because it houses a relic of Buddha. The temple is quite large and the different buildings are spread over several levels. From the temple you can enjoy a magnificent panorama of the mountains and surrounding nature. In autumn, the place is majestic!
The entrance to the temple is 3000 won per person.
---
2. Hike in Moaksan Park
It is also possible to take several hikes in Moaksan Park, starting from Geumsansa. The nature and mountains are beautiful, which makes it a pleasant day out.
---
3. Deokjin Park
Deokjin Park is located in the northern part of the city. The park is really nice. It is a park with a large pool of water where you can see hundreds of lily pads. The park is very popular with locals, for walking or doing sports.
---
HOW TO GET TO JEONJU?
There are several options to get from Jeonju
By car:
The car is the best option because it allows you to visit the surroundings of cities without wasting too much time on the public transport. By car, count at least 3 hours or more depending the traffic to get out of Seoul. Parking could be a bit tricky though, so check with your hotel if they have free parking.
You can also opt for a private tour by car with departure from Seoul. This is a good option if you are traveling as a group. CHECK IT OUT!
By train:
Jeonju is easily accessible by train, especially from Seoul. You can also do a day trip from Seoul, if you take the train in the morning and leave in the evening.
It only takes 2 hours and it's a direct line. However you will need to book in advance, as trains in Korea often gets full. Take the high-speed train, called KTX. BOOK YOUR TICKET IN ADVANCE HERE
---
IN CONCLUSION – IS JEONJU WORTH A VISIT?
Visiting Jeonju should, be part of your itinerary for a first trip to South Korea. The city is really pleasant to discover and is not limited to Jeonju Hanok village. The rest of the city is also nice and there are lots of great restaurants.
If you are planning to visit Jeonju and still have questions, feel free to leave a comment below this post.
You can also find more information on the Jeonju Tourism Website.
---
READ ALSO
VISIT GYEONGJU, THE FORMER CAPITAL OF SOUTH KOREA
EUNPYEONG HANOK VILLAGE NEAR SEOUL
99 BEST THINGS TO SEE IN SOUTH KOREA
AWESOME THINGS TO DO ON JEJU ISLAND
INCREDIBLE ADVENTURES NEAR SEOUL