WHAT ARE THE BEST DAY TRIPS FROM SEOUL? BEST DAY TRIPS FROM SEOUL BY TRAIN OR BUS? BEST BEACH NEAR SEOUL?
After spending some time in the capital, Seoul, the city can get quite overwhelming. Sometimes we need a short break!
You can find a lot of things to do in South Korea within 2 hours from Seoul. Some are more off the beaten track than others. So we've listed our day trips from Seoul in this post.
THERE ARE SO MANY DAY TRIP OPPORTUNITIES FROM SEOUL
Fortunately, due to Seoul's incredible public transportation system, you can easily take day trips from Seoul without spending hours on the bus or subway.
From Art Village, Alpaca farm, and Island hopping, to UNESCO World Heritage sites, amusement parks, and beautiful nature sites, we listed our favorite day trips just outside Seoul.
Most sites can be reached by bus or train, but for some having a car will make your life easier.
---
WHAT ARE THE BEST DAY TRIPS FROM SEOUL?
1. Heyri Art Village in Paju
Heyri Art Village is located northwest of Seoul in Paju. Heyri Art Village is like a fairytale. You have many galleries, restaurants, and museums all around in a beautiful village. Some buildings are more traditional whereas others are in very modern architecture.
You can also visit the French-style Provencal village, a peaceful botanical garden, a fresh wine farm, the Pinocchio museum, and much more! In Paju, you can also go shopping in their big outlet mall, located a few minutes from Heyri Art Village.
Paju has quickly become one of Korea's most popular tourist spots after being featured in a few Korean dramas like "The Master's Sun", "My Love from the Star" and "The Girl Who Sees Smells".
Paju is located just outside of Seoul, so easily accessible by taking the Gyeongui-Jungang line from Seoul (1h and about 2500 won one way). We arrived at Heyri Art Village, right before lunch and had a relaxing day out.
More info
ADDRESS: here
---
2. Jeonju and its Hanok Village is one of the best day trips from Seoul!
Jeonju is located 2 hours from Seoul with the KTX. It is a must-see in South Korea to immerse yourself in Korean history. In this village, you will see beautifully restored Hanok (traditional Korean houses). The village has existed since 1930.
There are many things to see in Jeonju besides the Hanok Village. Also, make sure to try the food there, as Jeonju serves some of the best food in Korea.
We really fell in love with Jeonju Hanok Village and would recommend taking at least a day trip to visit the main sites. We actually wrote a full post about Jeonju, here.
More info
ADDRESS: here
---
3. Visit Alpaca World near Seoul
Around 2 hours from Seoul, you can visit the Alpaca World. It is the ideal place to spend good times surrounded by farm animals such as Alpaca, Sheep, Birds, Deer, and camel,… Alpaca World is the largest forest farm in Korea. Adults and children will have fond memories of this place.
The Alpaca World is nestled in the mountains area of the Gyeonggi Region, which makes a perfect and beautiful day trip from Seoul.
They do have cafes there, however, the food options are rather limited. So eat before in one of the local restaurants.
Overall, the Alpaca World is a fun day trip from Seoul.
More info
INSTAGRAM: here
WEBSITE: here
ADDRESS: here
BOOKING: here
---
4. The Beautiful Suwon Hwaseong Fortress
Do you like history? Wondering where to go in Korea? Then Suwon is the place for you! Suwon is located 30 minutes by KTX train from Seoul and is known for its UNESCO World Heritage Palace and Hwaseong Fortress. The palace was the largest palace dating from the Joseon dynasty. It was built in 1796 and completely surrounded by defensive walls, now the walls have wide hiking trails, which are perfect for an afternoon stroll on a sunny day.
You can get to Suwon from Seoul by taking the KTX from Seoul Station (30 minutes and around 8000 won one way) or take the metro line 1 towards Sinchang (60 minutes and around 2000 won in one direction). From Suwon station, you can take the bus to the fortress from exit 4 or 5. You can also take bus 3000 from Gangnam station, or bus 7700 from Sadang station.
More info
ADDRESS: here
---
5. Pocheon Art Valley another great day trip from Seoul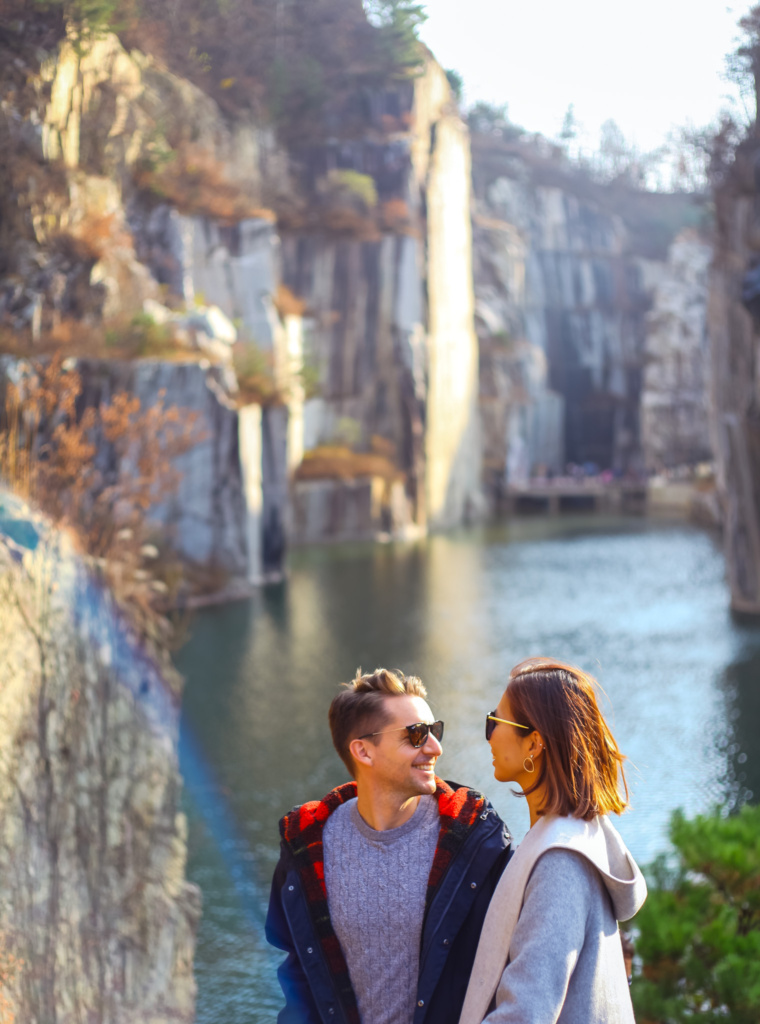 Former granite quarry, Pocheon Art Valley has now become a space dedicated to art and culture. The valley has an observation deck, an art gallery, and a performance hall. Also, there is a cafe, walking trails, a monorail, etc.
Lake Cheonjoho in Pocheon Art Valley has the distinction of being very pure. Indeed, the lake water is formed from spring water and rainwater which flows through the granite quarry. A magnificent place to discover especially in winter when the lake is frozen!
Check out our full post for Pocheon Art Valley here.
More info
INSTAGRAM: here
WEBSITE: here
ADDRESS: here
JOIN A TOUR: Going to Pocheon is not really possible via Public Transport. Hence the only option is to go by car or join a tour here.
---
6. Majang suspended bridge and Majang Lake
Located in Paju, the Majang Suspension Bridge is 220 meters long and 10 meters high, which makes it the longest suspension bridge in South Korea.
The beautiful bridge blends perfectly with the surrounding nature. There is a scenic walking trail around the lake, which makes it a perfect day out from Seoul. There are also nice cafes and restaurants around the lake, check out Red Bridge Cafe, the view from the cafe is stunning.
The flooring of the bridge changes from wood panels to glass floor for some thrills. It's really fun to walk on the glass panel and see the water at the bottom. Majang Lake is a relaxing day trip from Seoul.
More info
WEBSITE: here
ADDRESS: here
---
7. La Petite France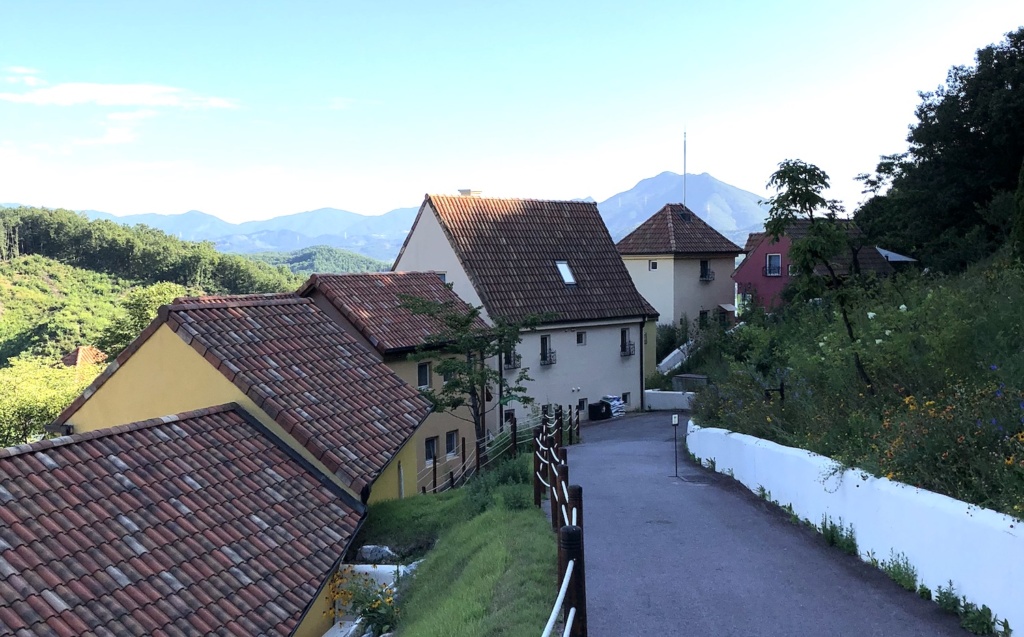 La Petite France is a theme park located in South Korea near Seoul, where visitors can discover French culture. The whole village is focused on the concept of the "Little Prince". There are many decorations, and statues from the universe of the Little Prince, as well as an exhibition dedicated to Antoine de Saint-Exupéry.
In addition, the interior decoration, the building materials, the roof, the windows, and the floor are all French.
Going to La Petite France is a pleasant day trip from Seoul. Just about 1.5 – 2h drive from Seoul. We enjoyed it a lot and took the rest of the day to drive around the beautiful area of Gapyeong along the river.
More Info
INSTAGRAM: here
ADDRESS: here
BOOKING: Organized tour which combines other great sights around Gapyeong
---
8. Edelweiss Swiss Theme Park
Just like La Petite France, Edelweiss Swiss Theme Park is great for discovering the culture of Switzerland. The park is also located in Gapyeong, just a bit further from Seoul than La Petite France.
Edelweiss Swiss Theme Park became very popular amongst locals. It offers beautiful scenery with the mountain surrounding the village. Here visitors will discover more about the food and culture of Switzerland. Within the village, there are a few museums such as the Cheese Museum and Chocolate Museum.
We enjoyed spending our day at Edelweiss Swiss Theme Park. Make sure to also explore the beautiful Gapyeong area and the gorgeous Bukhan River.
More info
ADDRESS: here
BOOKING: here
---
9. Korean Folk Village
The Korean Folk Village (한국민속촌) is a great place to learn and experience the Korean culture and the Joseon era. The park expands to over 245 hectares. You can admire old thatched and tiled houses along a pretty river.
Also, throughout the day, enjoy various performances: Traditional music, martial arts on horses, traditional dances, traditional wedding ceremonies, etc. Please note, that some shows are only available in certain seasons. Don't forget to check out their website.
Finally, you can also eat in a vintage setting and try out various experiences. For example, hanbok fitting, pottery, cotton weaving, bamboo braiding, etc.
Korean Folk Village is located in Yongin near Suwon, easily accessible from Seoul, which makes it a perfect day trip from Seoul.
More info
INSTAGRAM: here
WEBSITE: here
ADDRESS: here
---
10. Garden of the Morning Calm, a peaceful gateway from Seoul
The Garden of the Morning Calm (아침고요수목원) It is the largest and oldest private garden in Korea. It is home to almost 5,000 types of plants, including 300 varieties from the Baekdusan Mountain, known to the Koreans as a spiritual mountain.
The flowers are blooming from March to November. Therefore, the garden is generally more visited during this period. In addition to the magnificent plantings in the garden, many festivals and exhibitions are organized throughout the year.
In the winter you can go at night, to see the majestic garden full of light. This is a unique experience.
The Garden of the Morning Calm is located in Gapyeong, about 1.5h drive from Seoul.
More info
WEBSITE: here
ADDRESS: here
BOOKING: here
---
11. Visit the stunning Nami Island
Nami Island (남이섬) is one of the most popular excursions near Seoul. It is well known for its row of picturesque trees, but also for being the location for the famous drama "Winter Sonata" (2002).
The island is really beautiful in autumn when the rows of pines and maple trees turn red as well as when the Ginkos take on their golden robes. Take advantage of this getaway to unwind and take a bike ride on the beautiful trails of Nami.
Nami Island is one of our favorite day trips from Seoul. Check out the full post here if you plan a visit to Nami Island.
More Info
WEBSITE: here
ADDRESS: here
BOOKING: We advise you to book in advance so that you do not have to queue up to get your entry ticket. You can do so with Klook, here.
---
12. Everland Park
Everland Park is undoubtedly the best-known park in Korea with its many attractions and its animal park. The park is famous for thrill seekers with its big roller coasters. Everland is also great for kids and has a lot of animals. There are also many shows and various attractions during the day. Everland's Flowery Park is also very popular with couples regardless of the season.
A day spent in Everland is guaranteed fun and one of the best day trips from Seoul. We highly recommend this fantastic place near Seoul. Make sure to book in advance to avoid the queue at the entrance. You can do so here.
More info
WEBSITE: here
BOOKING: here
ADDRESS: here
---
13. China Town in Incheon
The only official Chinatown in Korea, Incheon Chinatown was established in 1883. Indeed, the area was known at the time for its stores selling products imported from China. Unsurprisingly, you will find in this area many Chinese restaurants, small shops selling products of all kinds, and cafes.
We recommend you to go to C27 cafe. Quite known in Seoul, this café also exists in Incheon. We particularly like this one because it is on several floors and each one has its own decoration in totally different styles. Also, you can go to the roof terrace and take the opportunity to take pictures of the neighborhood. It is a very nice place to discover.
Apart from the great Chinese restaurants and strolling around the area, we recommend visiting Jjajjangmyeon Museum (짜장면박물관), Samgukji Mural Street (삼국지 벽화거리) and Uiseondang Temples (의선당).
More info
ADDRESS: here
---
14. Gangchon Rail Park
Have you ever cycled on rails? No? So go to Gangchon Rail Park (강촌 레일파크). Go aboard small carts and pedal along the old railroad tracks while admiring the magnificent landscapes. The journey takes around 40 minutes and you will pass through several tunnels with different themes. In addition, you can enjoy magnificent landscapes all along the route.
Then, at the end of the rail bike journey, you reach a rest stop where you can buy drinks and snacks. Finally, get on the Romantic Train. It is a short 15-minute train ride along the Bukhangang River. It's very nice to do with friends or family.
If you want to go there on weekends or holidays, book your places in advance here. During the week, try to come relatively early, as there is a limited number of departures.
More info
WEBSITE: here
INSTAGRAM: here
ADDRESS: here
BOOKING: here
---
15. Gwangmyeong Cave
The Gwangmyeong Cave (광명동굴) was opened to the public in August 2011. Originally, this cave was the largest metal mine in the region. Indeed, it mainly harvested gold, silver, bronze, zinc, and other minerals.
Today, the place has become a tourist. It now houses exhibitions and concerts. It mainly focuses on entertainment, with aquariums, sculptures, light shows, and many other attractions for children. A nice place to discover, especially in summer
More info
WEBSITE: here
ADDRESS: here
---
16. Visit DMZ, for sneak peak at North Korea
One of the most intriguing places in the world is the border between North Korea and South Korea, the Demilitarized Zone of Korea (DMZ). It is divided into several spaces. One of them is the JSA (Common Security Zone), a region where South Korean and North Korean soldiers meet.
It is also the location of unification meetings since the ceasefire was signed in 1953. In addition, you can visit the Dorasan Observatory, Dorasan Station, and the third tunnel.
More info
BOOKING: here
---
17. Muuido Island, one of the best beaches near Seoul
Muuido Island is perfect for a day out. Head to Hanagae Beach, the largest shore on Muuido Island, with a kilometer-long sandy beach. From Muuido you can also walk to Silmido during low tide and So-Muuido in the south via a walking bridge. Check out our full post here here.
Seonjaedo is another beautiful island located southwest of Seoul. If you head there at low tide around 10 am, the water will reveal a path that will lead you to Mokseom Island. Mokseom Island is a tiny island, only accessible at low tide.
Not far from Incheon International Airport, Eurwangni Beach is also one of the most representative beaches on the West Coast. In addition to its magnificent view and white sand, the shallow waters of the beach allow children to swim safely.
Do you want to check out other awesome beaches? Here is the list of the 25 best beaches in Korea!
---
18. Sindo, Sido and Modo Island
Sindo (신도), Sido (시도) and Modo (모도) islands are the perfect gateway from the busy city life of Seoul. Located off the coast of Incheon, these 3 islands are easily accessible by ferry. All 3 islands are connected by a bridge which makes it easy to visit them all within a day.
Expect sandy beaches, relaxing coastal roads, mountains, and delicious seafood on these 3 islands. Make sure to explore Sugi Beach and Baemikkumi Sculpture Park, the highlights of the 3 islands.
The biggest island is Sindo: 16.1 km long, 6.92 km² of land located 14 km northwest of Incheon.
READ: To find out more about Sindo, Sido and Modo islands, check out our full post here.
---
19. Go skiing in Konjiam Resort in the Winter
Located in Gwangju-si in the province of Gyeonggi-do, Konjiam station is the largest station outside of Seoul, at merely 45min drive. It offers 11 tracks of different levels, as well as 5 high-speed chairlifts. The resort also has a limited number of skiers (7,000 people maximum with less than 15 minutes waiting to access the slopes).
READ: 10 BEST SKI RESORTS IN KOREA
More info:
WEBSITE: here
ADDRESS: here
---
20. Have fun at Wolmido Island in Incheon
Wolmido Island (월미도) is located in Incheon and it's a perfect place to escape the busy Seoul. Many people go there during the weekend because of its proximity to Seoul and its easy access. Many cafes and seafood restaurants can be found along the coast. There are approximately 50 seafood restaurants in the same street.
Among the many points of interest in Incheon, the island of Wolmido is our favorite sight to enjoy the fresh air from the ocean, and delicious seafood restaurants but also go on a beautiful cruise during sunset.
Wolmido Island is located about 1h drive from Seoul and 1km from the coast of Incheon. A few years ago, a new highway was built to connect Wolmido Island to the mainland. By public transport take the subway to Incheon Station (line 1, exit 1). It takes about 1h from Seoul Station and no line transfer is required. From Incheon Station exit 1, take local bus 2, 10, 23, or 45 and get off at Wolmido City Tour Stop
READ: Check out our full post on Wolmido Island here.
---
21. Ganghwado Island, one of the most unique islands in Korea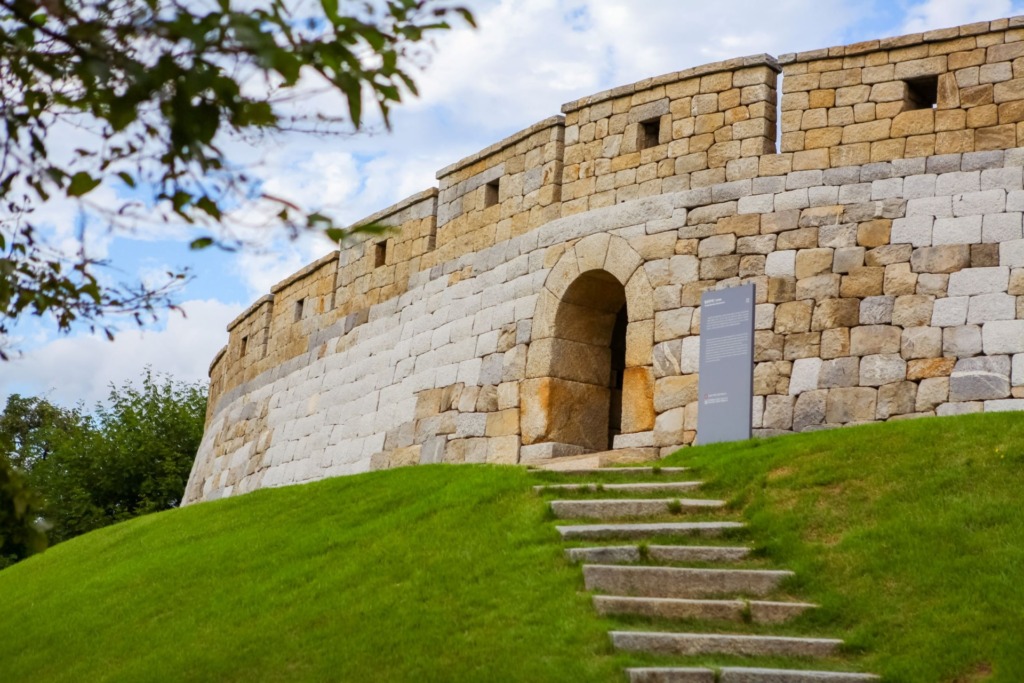 On Ganghwado, located just 1 hour from Seoul, you can see thousands year old dolmens, fortresses, beautiful temples and so much more history. Of course, you can also enjoy the beach at Dongmak Beach and explore one of the most amazing cafes, called Joyang Bangjik.
We wrote a full guide about Ganghwado here.
---
22. Visit Namhansanseong a UNESCO World Heritage Site
Namhansanseong is one of the largest Korean fortresses.
Due to its architecture, the building exudes surprising strength! You will be very impressed at the sight of it!
The two observation towers that you will see are palpable signs of the strategic role it played in the past. You will have the chance to appreciate numerous secret doors, and the exceptional contrast of the walls. So let's go and discover this highly strategic architectural gem.
If you do there in Autumn, your visit will be complemented with a beautiful fall foliage!
---
RELATED ARTICLES
BEST SUMMER ACTIVITIES IN KOREA
99 BEST THINGS TO DO IN SOUTH KOREA
25 BEST BEACHES IN SOUTH KOREA
EXPLORE THE GARDEN OF THE MORNING CALM NEAR SEOUL
ALL YOU NEED TO KNOW ABOUT JEJU ISLAND
DISCOVER GANGNEUNG ON THE EAST COAST