WHERE TO STAY IN SANTORINI? BEST PLACES TO STAY IN SANTORINI FOR COUPLES? IS OIA VS. FIRA WHICH ONE IS BETTER TO TO STAY IN SANTORINI?
---
Highlights about the best places to stay in Santorini:
FIRA: for the first-timers and best nightlife
OIA: for the most amazing view
IMEROVIGLI: most romantic place, best for couples
KAMARI: if you prefer a stay by the beach
PERISSA: perfect for families
PYRGOS: for a more authentic stay in Santorini!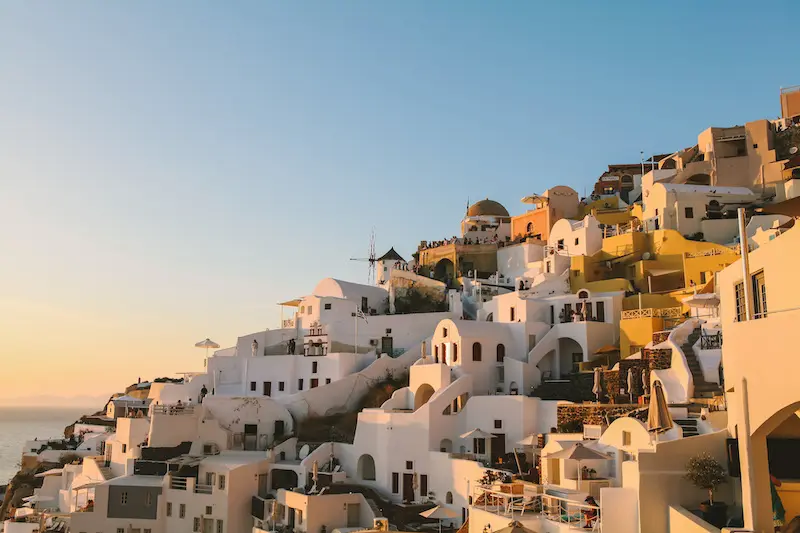 When you think of the Cyclades, it is usually the breathtaking landscapes of Santorini that come to mind. The contrast between the rugged dark cliffs, the deep-blue water, and the white and blue houses is striking. This makes Santorini one of the best places to visit in Greece!
To help you have an unforgettable stay on the island, we have selected for you the best places to stay in Santorini. There is no doubt that you will find a corner of paradise that suits you from our list!
---
How to choose the right accommodation in Santorini?

To be sure to choose the right place where in Santorini, it is necessary to know what the island has to offer, and what you want to do during your stay.
Staying on the West to the Caldeira Side: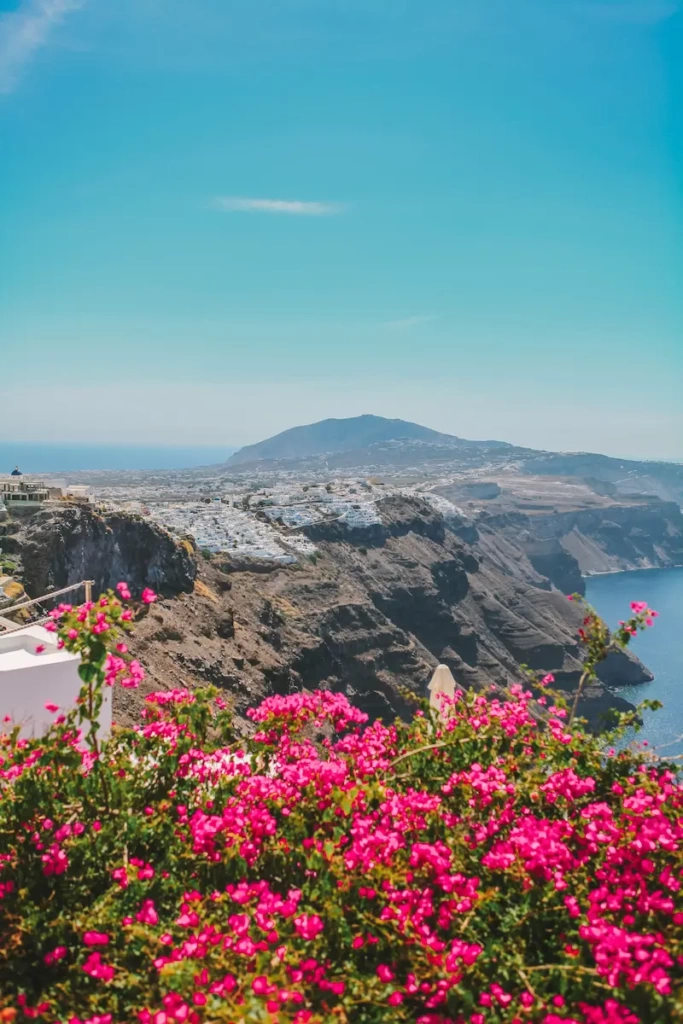 It is on the west coast that you will find the postcard landscapes that nourish the imagination associated with Santorini. You will enjoy the incredible view of this marvel that is the caldera, but also splendid sunsets.
You will also discover some of the most beautiful villages on the island, from the unmissable Oia to the capital, Fira. On the other hand, keep in mind that prices on the caldera side are particularly high because it is the most popular area for accommodation in Santorini.
---
Staying on the East to the Beach Side
The southeast shore is a good alternative for accommodation in Santorini. First of all, prices are significantly lower than on the caldera side.
Then, and above all, this coast also has its own riches, notably dark sandy beaches characteristic of the island. It is ideal for visitors who want a relaxing holiday in pretty seaside villages.
>> READ: 25 BEST THINGS TO DO IN SANTORINI
---
Where to stay in Santorini?
1. FIRA: for first-timers, and to experience the best nightlife
During your stay, you will certainly have the opportunity to visit Fira, the capital of the island. It has the advantage of being centrally located and only 10 km from the airport. It is also the central station for public transportation, so visiting the island from Fira is optimal!
This beautiful little town is also the ideal place if you want to do a little shopping or enjoy Santorini's nightlife. You can also visit Imerovigli on foot, perched on a cliff more than 300 meters high.
These assets therefore obviously make Fira a destination of choice for many travelers.
Best hotels in Fira:
Asteras villas Fira
Asteras Villas is an ideal accommodation, located in the heart of Fira. Perched above the cliffs, this establishment offers an exceptional view of the caldera, the famous volcano, the island of Thirassia and the magnificent village of Oia.
---
Doukas Caldera Suites
Doukas Caldera Suites is located a few steps from the Archaeological Museum of Thira and sites of interest such as the Metropolitan Orthodox Cathedral and the Prehistoric Museum of Thira.
>> CHECK IT OUT
>> READ: BEST THINGS TO DO IN FIRA
---
2. OIA: For the most luxurious experience
You cannot go to Santorini without visiting Oia, which is undoubtedly the most charming village on the island.
Although the views are already superb in Fira and other villages on the west coast, it is in Oia that you can enjoy the most beautiful panoramas of Santorini Bay. This village is a photography enthusiast's paradise.
Here are our top hotel recommendations in Oia:
Kaleidoscope cave houses
The Kaleidoscope Cave Houses is also one of the most popular places for visitors. It is perfectly located and offers studios with outdoor hot tubs and direct views of the caldera, one of the best things to see in Oia!
>> CHECK IT OUT
---
Marizan Caves & Villas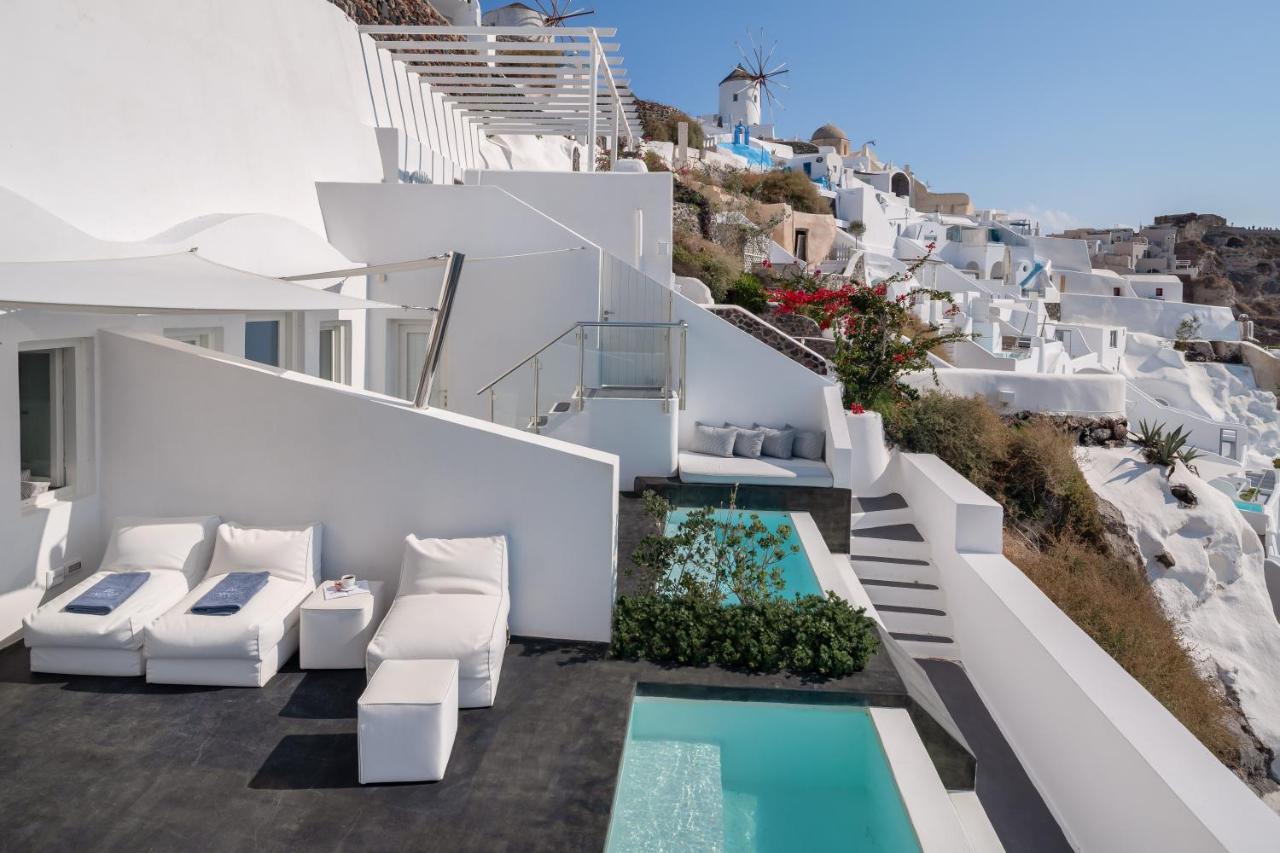 Marizan Caves & Villas is a complex made up of several villas each with their own pool and a stunning view on Oia! One of the best hotels in Santorini!
---
Canaves Oia Sunday Suites
This is another upscale hotel known for its elegance and breathtaking views. Canaves Oia Suites offers private plunge pools, spa services, and a fantastic restaurant.
>> BOOK NOW
>> READ: MOST AWESOME THINGS TO SEE IN OIA
---
3. IMEROVIGLI: our personal favorite place to stay in Santorini
Imerovigli is almost as beautiful as Oia but without the herd of people every day at sunset. Here you will find beautiful hotels with a magical experience in Santorini.
Here are our favorite hotels in Imerovigli:
Cocoon Suites – the most Instagrammable one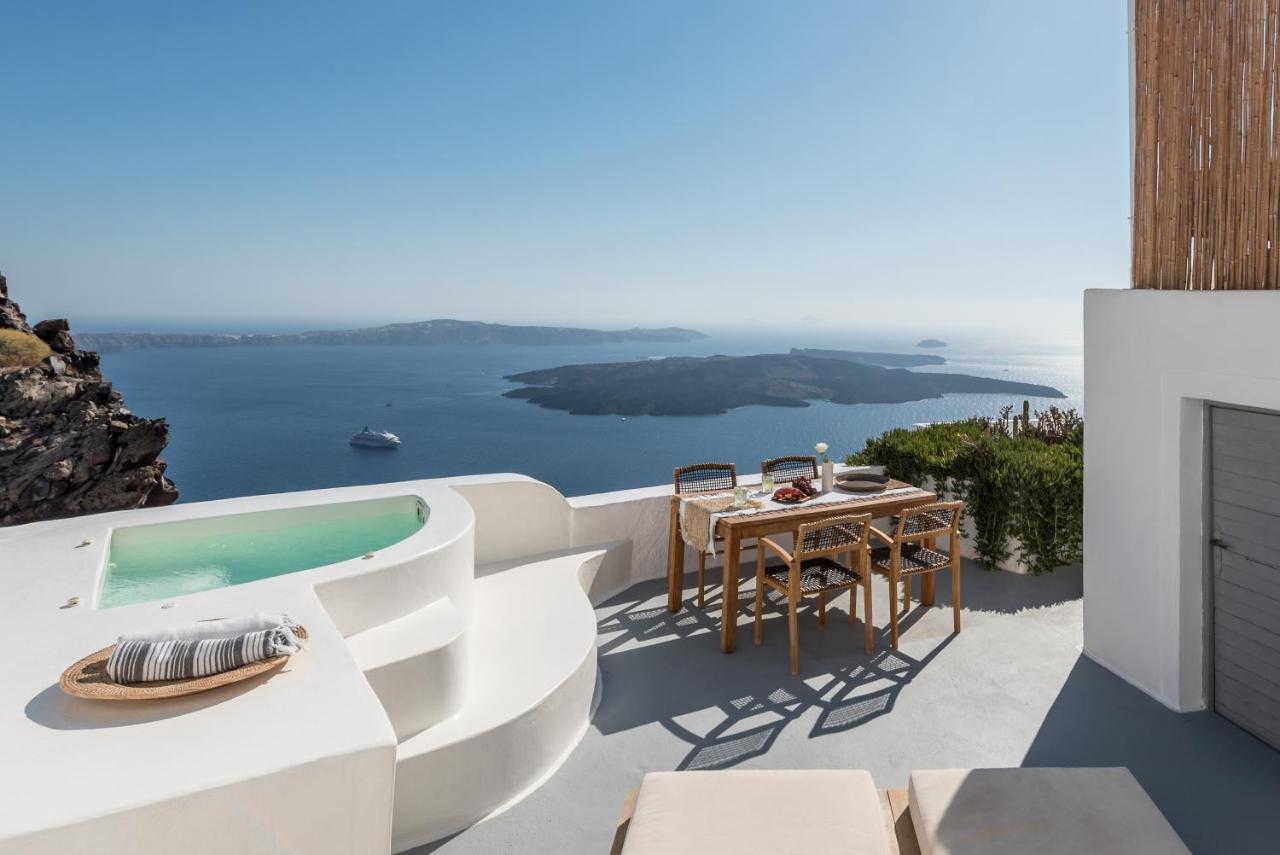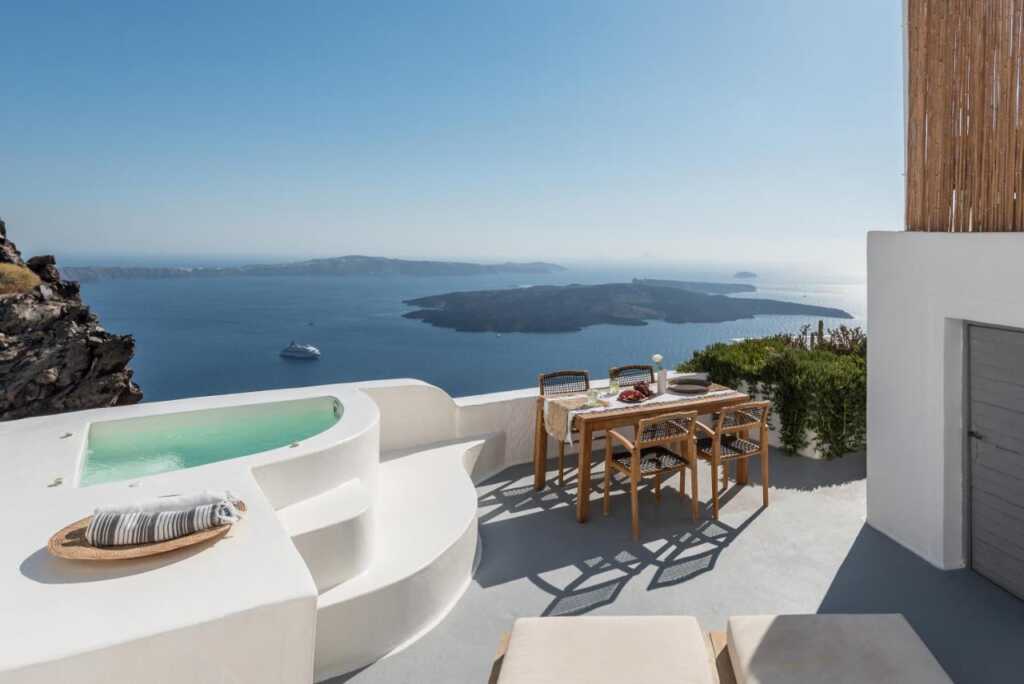 Perched on the cliffs, this hotel offers a range of suites with traditional Cycladic design. It has a lovely pool area and an open-air restaurant where you can savor Greek and Mediterranean dishes.
>> BOOK HERE
---
Galaxy Suites and Villas – the most luxurious one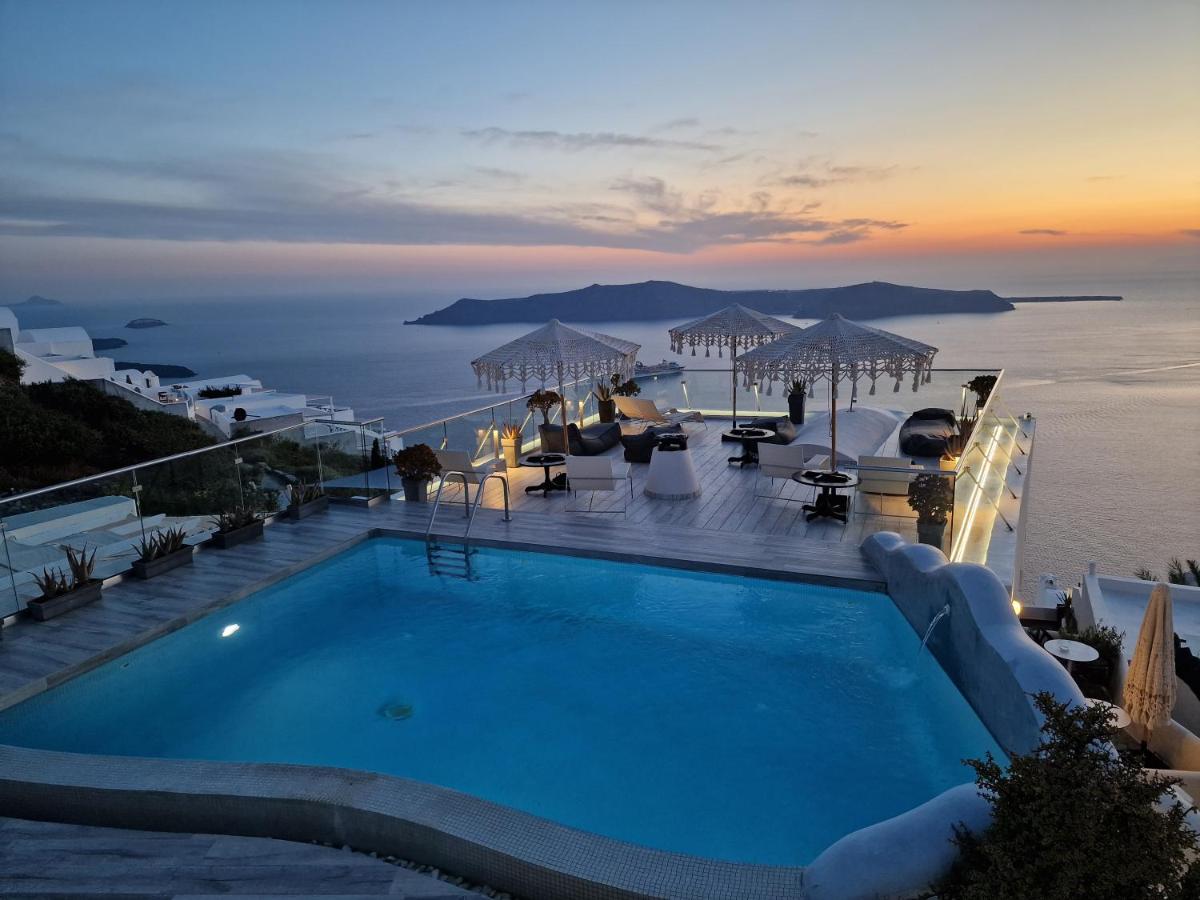 This boutique luxury hotel offers stunning views of the caldera and the Aegean Sea. It features stylish accommodations, a beautiful infinity pool, and a fine-dining restaurant.
>> CHECK IT OUT
---
Absolute Bliss Imerovigli Suites – best value for money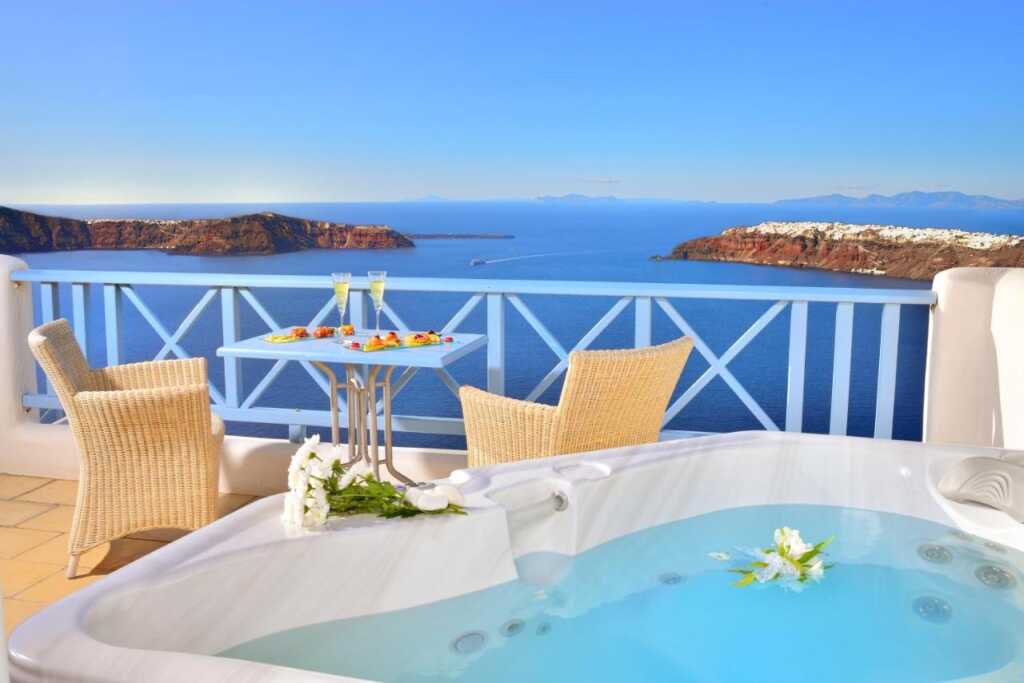 This hotel lives up to its name, offering suites with stunning views and private balconies or terraces. Guests can enjoy a complimentary breakfast and relax by the pool.
>> BOOK HERE
---
4. KAMARI: for beach lovers
Kamari is one of the best beaches in Santorini. great beach in Santorini. Probably the most popular one! This place is very active with lots of beach clubs and a great atmosphere overall!
Best places to stay in Kamari:
Santorini Kastelli Resort (Kamari)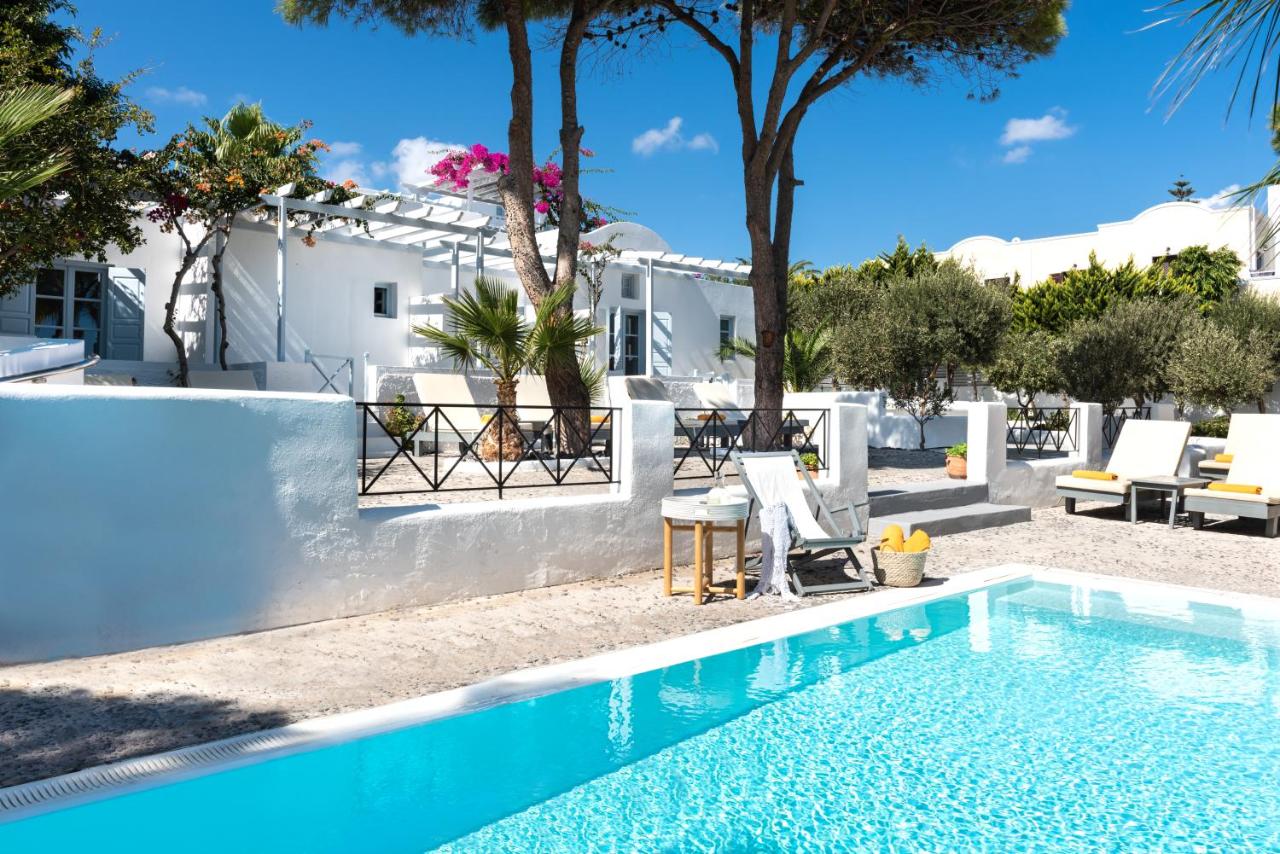 This 5-star hotel is located right on Kamari Beach and offers comfortable rooms, a swimming pool, and beachfront dining.
>> BOOK HERE
---
Thousand Stars Suites&Rooms (Kamari)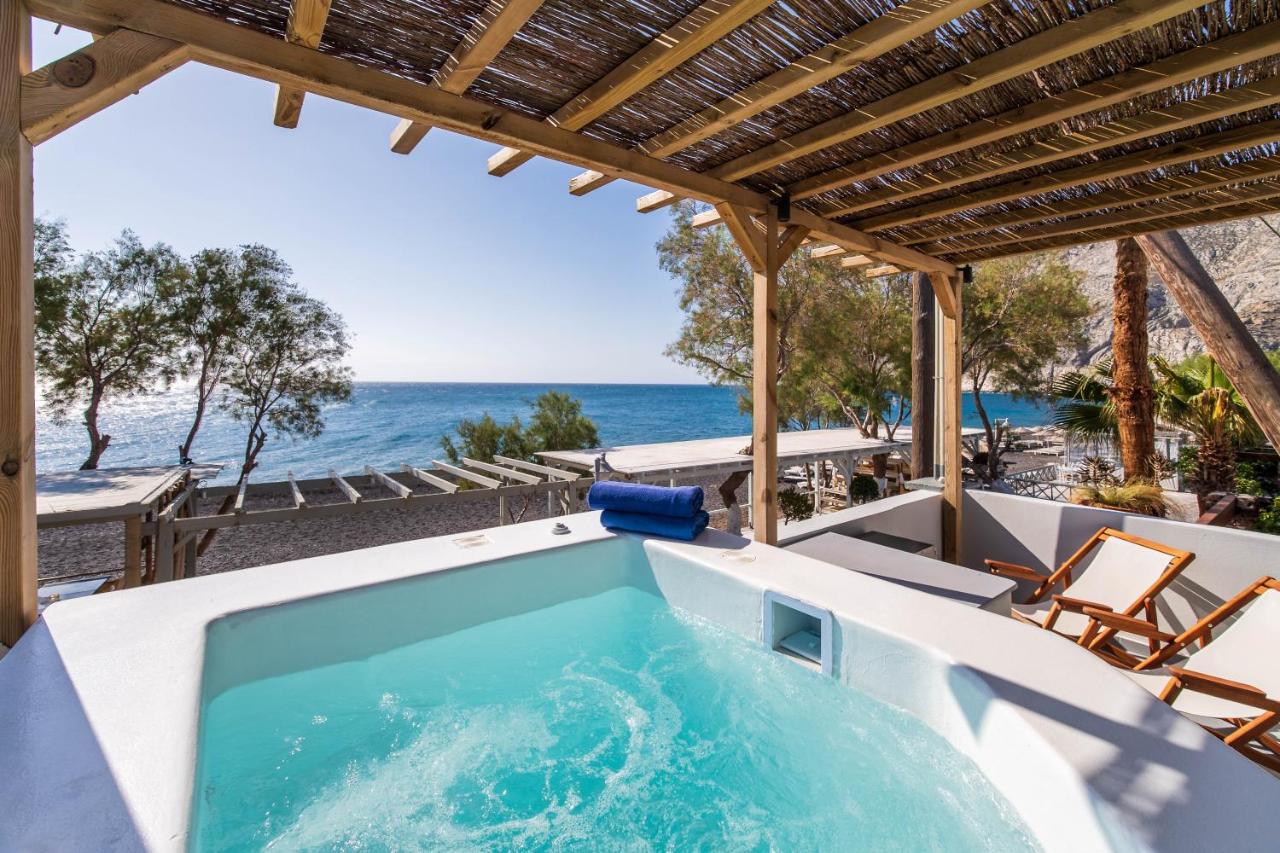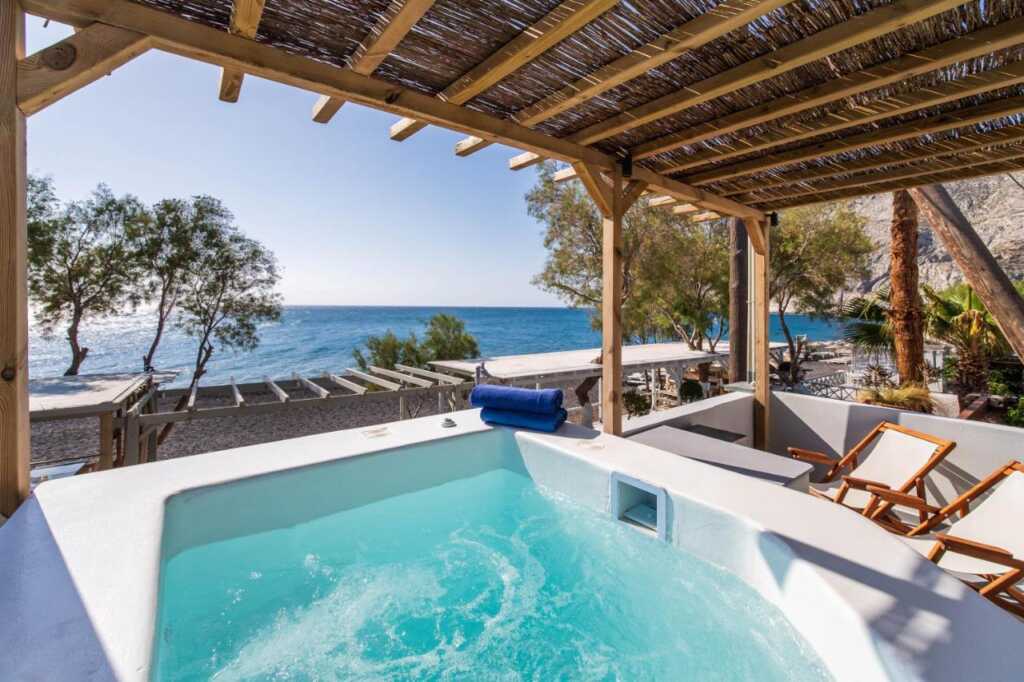 Located on Kamari Beach, Thousand Stars Suites&Rooms offers cozy rooms, a swimming pool, and easy access to the beach.
>> CHECK IT OUT
---
5. PEROVOLOS AND PERISSA: Perfect for families
To the southeast of the island, you can find a very long strip of black volcanic sand, on which the prettiest beaches in the region are located. Perivolos and Perissa are two very welcoming small seaside resorts, where you can spend a pleasant stay by the sea enjoying calm and clear water.
Best Hotels in Perovolos and Perissa:
Aqua Blue Beach Hotel (Perissa)
This beachfront hotel offers luxurious accommodations, a spa, and direct access to Perissa Beach.
>> BOOK NOW
---
6. PYRGOS: For the most authentic experience
Pyrgos is a small village perched on a hill. It is probably the most authentic village in Santorini. We highly recommend visiting Pyrgos during a stay in Santorini.
With its white houses, its white churches with blue roofs, and its medieval castle, it is a perfect place to discover another side of Santorini.
Where to stay in Pyrgos?
Carpe Diem Santorini
Carpe Diem Santorini is located on the outskirts of Pyrgos Village and offers panoramic views of Santorini. The view from the pool is absolutely stunning!
>> BOOK HERE
---
Voreina Gallery Suites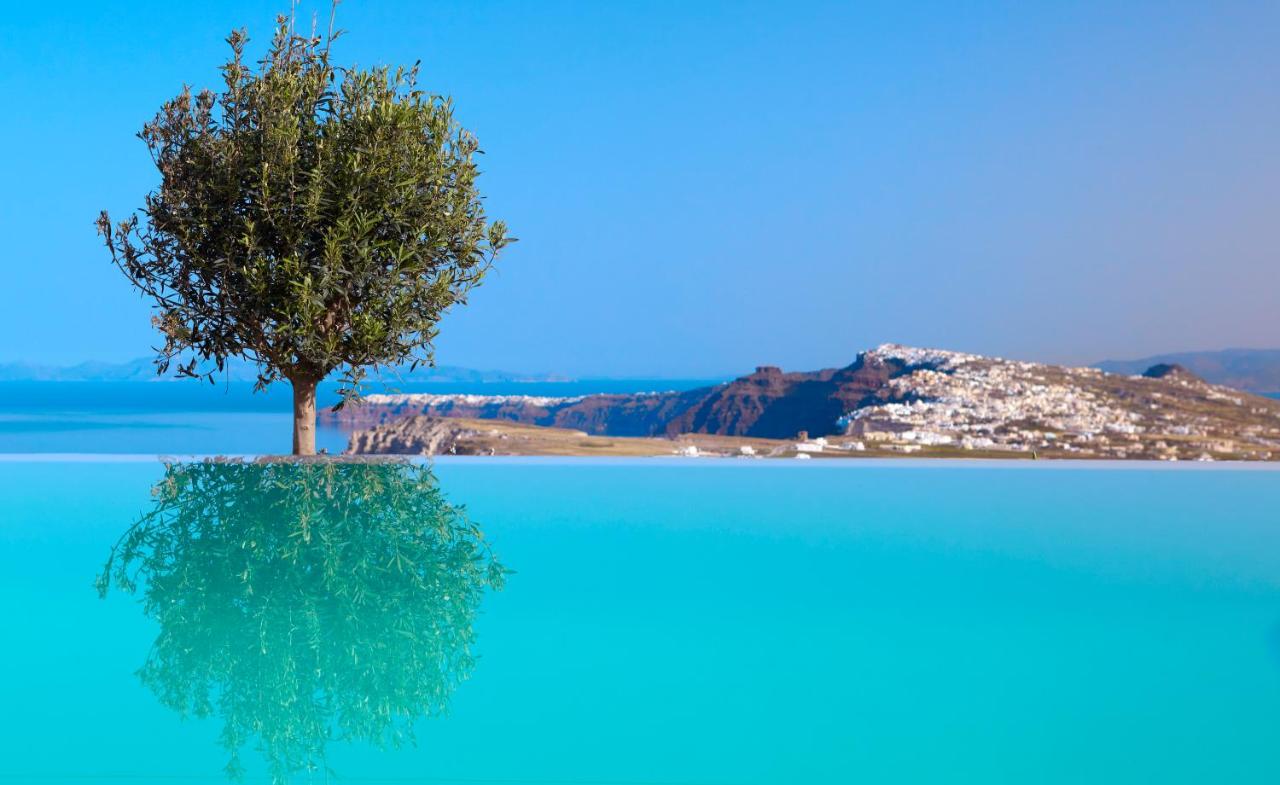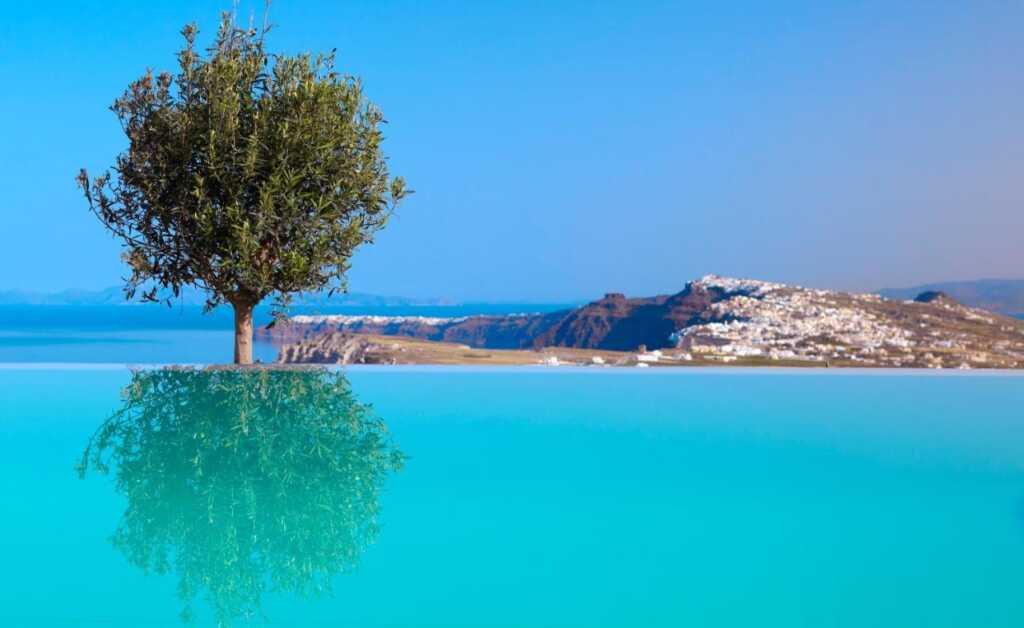 Voreina Gallery Suites is a very beautiful hotel located near the village center, in a very quiet natural setting.
>> READ: DISCOVER THE VILLAGE OF PYRGOS IN SANTORINI
---
Read Also
SANTORINI – 25 AWESOME THINGS TO DO
FULL GUIDE FOR HIKING BETWEEN FIRA AND OIA
BEST THINGS TO SEE IN OIA, SANTORINI
10 BEST THINGS TO SEE AT IMEROVIGLI
FULL GUIDE TO VISIT PYRGOS IN SANTORINI
HOW TO GET AROUND IN SANTORINI?
THE PERFECT 3-DAY ITINERARY TO VISIT SANTORINI
BEST THINGS TO DO IN FIRA, SANTORINI
TOP 10 REASONS TO VISIT SANTORINI
DISCOVER THE TRADITIONAL VILLAGE OF MEGALOCHORI IN SANTORINI
VISIT THE ANCIENT CITY OF AKROTIRI IN SANTORINI
6 BEST BOAT TOURS IN SANTORINI
BEST HONEYMOON DESTINATIONS [2023-2024]