RULES AND MANNER OF JAPANESE HOT SPRING BATH. ONSEN ETIQUETTE IN JAPAN. WHAT TO AVOID WHEN TAKING AN ONSEN IN JAPAN? ARE TATTOOS ALLOWED?
Onsen literally "hot spring" is a Japanese thermal bath. If you are planning a trip to Japan, you've probably heard and read the word onsen by now.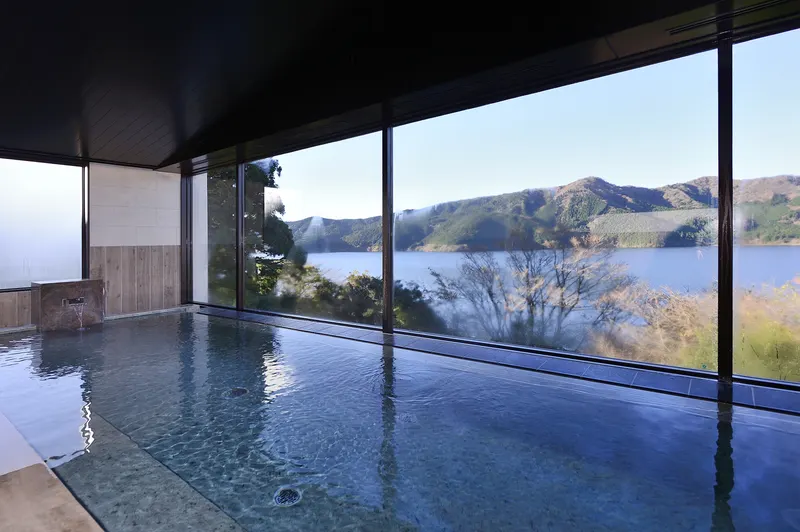 They can be found all over the country: indoors or outdoors, independent or part of a ryokan (traditional Japanese inn). Normally, the hot water for the bath comes from natural volcanic springs, sometimes known for their therapeutic properties.
And as we are in Japan, a country where the rules of politeness are of great importance, taking a bath in an onsen is not so simple, there are still a few things to know!
Here is the step by step guide of how to take an onsen in Japan.
---
1. Packing
You have found the onsen of your dreams, then start preparing your bag: bring a towel, or even two (one small and one large); if you don't have one, you can always "rent" one on site for a few hundred yen.
If you are going to an onsen inside your hotel, then towels will most likely be provided (be aware, often you need to bring the towels directly from your room).
All onsen have soap and shampoo (sometimes even conditioner) available. You can also bring your beauty products, scrubs, toothbrushes and hairbrushes: the onsen is certainly a place of relaxation, but it is also a place where you wash and pamper yourself.
---
2. Enter an onsen
Before entering the facilities take off your shoes and store them in a locker (simple shelf or cloakroom).
You must then buy your ticket (unless you are staying in a hotel which include free onsen): be careful, some establishments offer sauna packages in addition to the bath. Sometimes you will have to pay at the cash register, sometimes you will have to deal with a machine. In any case, don't worry, the staff is there to guide you.
Your ticket in hand, you will join the baths reserved for women (red curtains) or those for men (blue curtains). Yes, it's not so common to have mixed baths in Japan…
If you stay in a hotel where the onsen is included, then of course there is no need to buy anything…
Also note: some ryokans offer a private onsen for couples or families wishing to bathe together, it's called a Kashikiri Buro.
---
3. Take a shower first
You will then arrive in a cloakroom where you will have baskets or shelves available to deposit all your belongings (sometimes key safes are offered in addition for valuables).
You will have to undress completely (swimsuits are not allowed).
Once naked, you can go into the bathroom: you will see rows of individual showers facing mirrors with stools and basins. You will then have to sit down and wash yourself thoroughly (with shower gel, shampoo etc. not just a quick rinse!), because you cannot enter the bath(s) without being completely clean.
Take a small towel with you into the bathroom: however, it should never touch the water. You can put it on your head like the Japanese or keep it nearby to wipe yourself if needed.
---
4. And now the best part! Relax and enjoy the onsen
In an onsen, you don't run, you don't swim, you don't put your head under water, you simply relax, calmly.
As the water is very hot, people usually don't stay over 15min.
We particularly enjoy outdoor onsen, as most of the time there is a nice garden around or a beautiful view of the nature around you. At Kawaguchiko you can have onsens facing directly Mount Fuji! Spectacular!
---
5. Rinse yourself
Finally, when you've finished your bath, you can rinse off (or wash your hair if you haven't done so before), but you shouldn't go to the locker room completely soaked: sponge yourself up a bit with your small towel. You can finish wiping yourself with a dry towel in the locker room.
The other reason why it is not recommended to use shower gel after the onsen is that the water has many minerals and therapeutic properties. Those should remain on your skin after you finish the onsen.
Inside the locker room, hairdryer are normally provided with other products, such as body cream and cotton buds.
---
General informations
The heat
It is advised not to eat just before or immediately after an onsen.
The temperature of the water varies according to the establishment and sometimes according to the pools: be careful, it can be very hot, if you feel bad, do not hesitate to get out of the water and possibly take a lukewarm or cold shower ( sometimes, cold water pools are available).
Drink plenty of water to stay hydrated.
You can also take a hot bath in a sento (neighborhood public bath), but the water simply won't come from a natural spring.
The issue with tattoos in Japan
Most onsen are off-limits to people with tattoos (yes, even foreigners with a butterfly on their ankle). However, some are exceptions to the rule, just look well on the internet and / or inquire on site. No problem, on the other hand, for the sento who, for the most part, accept tattoos.
Why is that? Well tattoos in Japan are traditional reserved for the yakuza, in simple terms Japanese gangster. In historic times tattoo was also a form of branding and punishment for prisoners and criminals.
---
Famous onsen places around Japan
Noboribetsu in Hokkaido
Blessed with the sea, mountains, and lakes, the Noboribetsu area is full of unspoiled nature, typical of Hokkaido.
Visit the "Hell Valley", the beautiful Oyunuma Pond, Sengen Park, the National Ainu Museum and so much more.
Noboribetsu is located within the gigantic Shikotsu-Toya National Park. This is one of the most visited places in Hokkaido, and we understand why!
On top of being a spectacular place to visit, Noboribetsu offers amazing onsen! Some of the best in the country!
One of the best onsen is located at Dai-ichi Takimotokan hotel. Indeed, the onsen is directly facing Hell Valley. What a view while relaxing inside the onsen (see photo above). You can check it out here.
Noboribetsu is located near Lake Toya about 1.5 hours by car from Sapporo and 1.5 hours from the legendary ski resort of Niseko.
READ: 18 BEST THINGS TO SEE IN NOBORIBETSU
---
We stay in Hokkaido with Jozankei Onsen
Located an hour by bus from Sapporo in Hokkaido, the village of Jozankei is known for its many onsen (hot springs) in the heart of the mountains. If you go there in autumn, the surrounding forests will look like an explosion of colors with the magnificent show of momiji (Japanese Maple Tree).
In total, Jozankei Onsen has 56 hot springs dumping around 8,600 liters of water per minute at temperatures between 60 and 80 degrees Celsius, much of which is now easily accessible thanks to the many spas and resorts developed in the town.
150 years ago, Jozankei was still empty. In the midst of these virgin forests and steep mountains, the monk Miizumi Jozan discovered hot springs in this area. He started to develop Jozankei to make these hot springs available for ill or injured people.
He devoted his life to the development of onsen, so much so that the town bears his name today.
Hanamomiji is one of our favorite Onsen in Jozankei: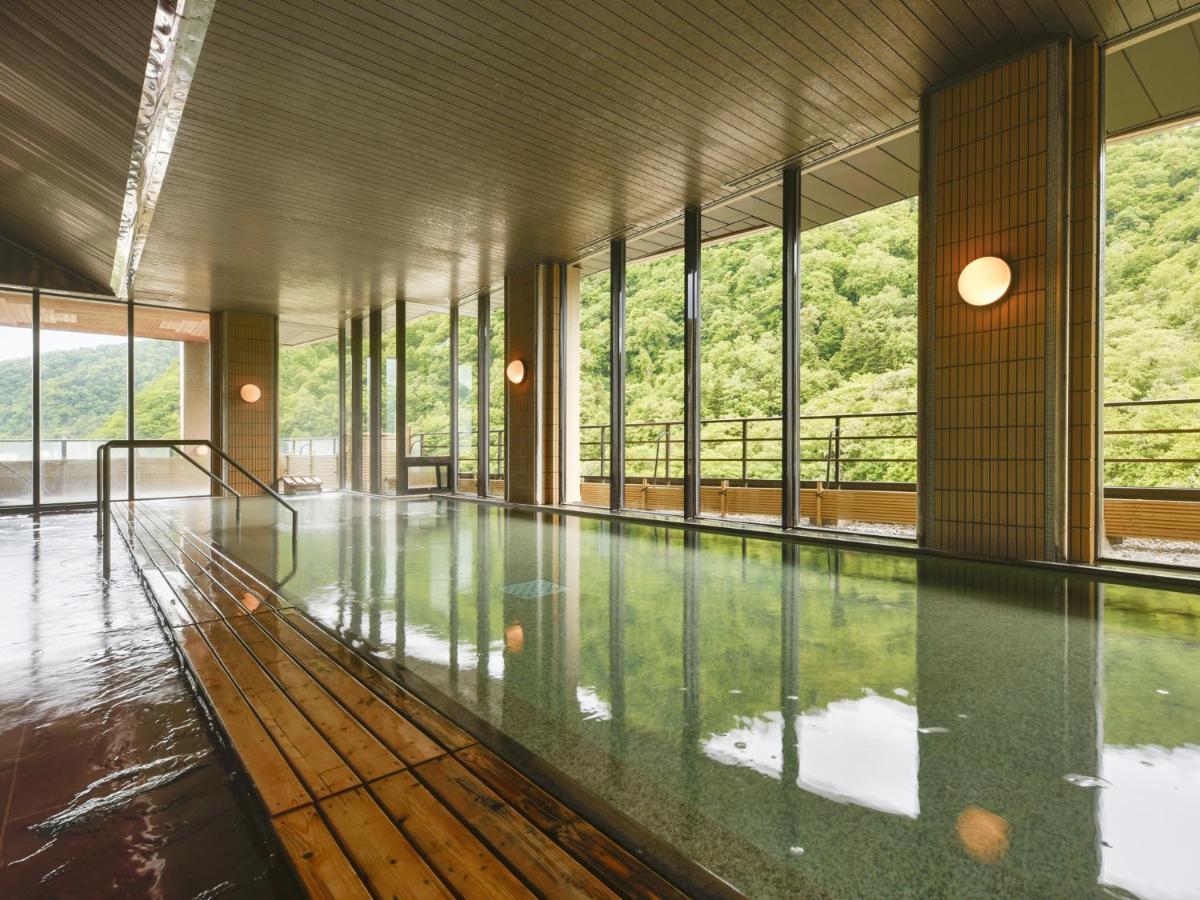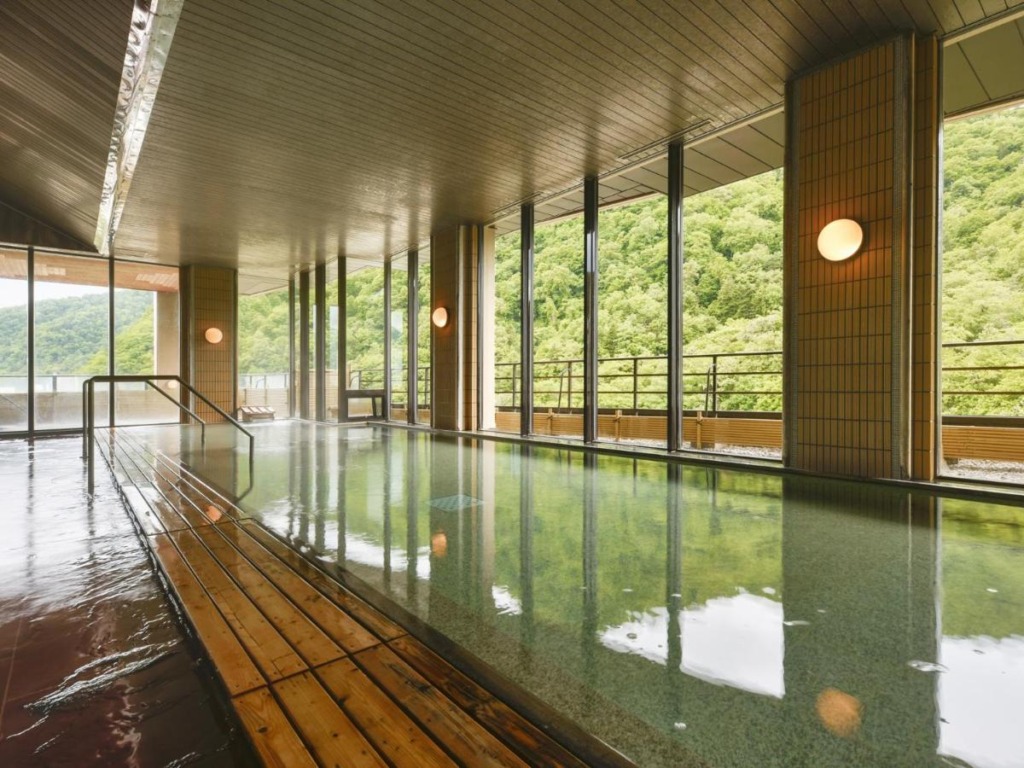 Hanamomiji is our personal favorite Ryokan in Jozankei. The rooms are spacious and beautifully designed in a japanese traditional style. The onsen area is absolutely stunning with amazing view of the nature all around.
And the food, simply delicious. If this place is available, don't hesitate book it right away. Check it out here.
READ: 16 BEAUTIFUL THINGS TO DO IN JOZANKEI ONSEN IN HOKKAIDO, JAPAN
---
Gero Onsen in the Japanese Alps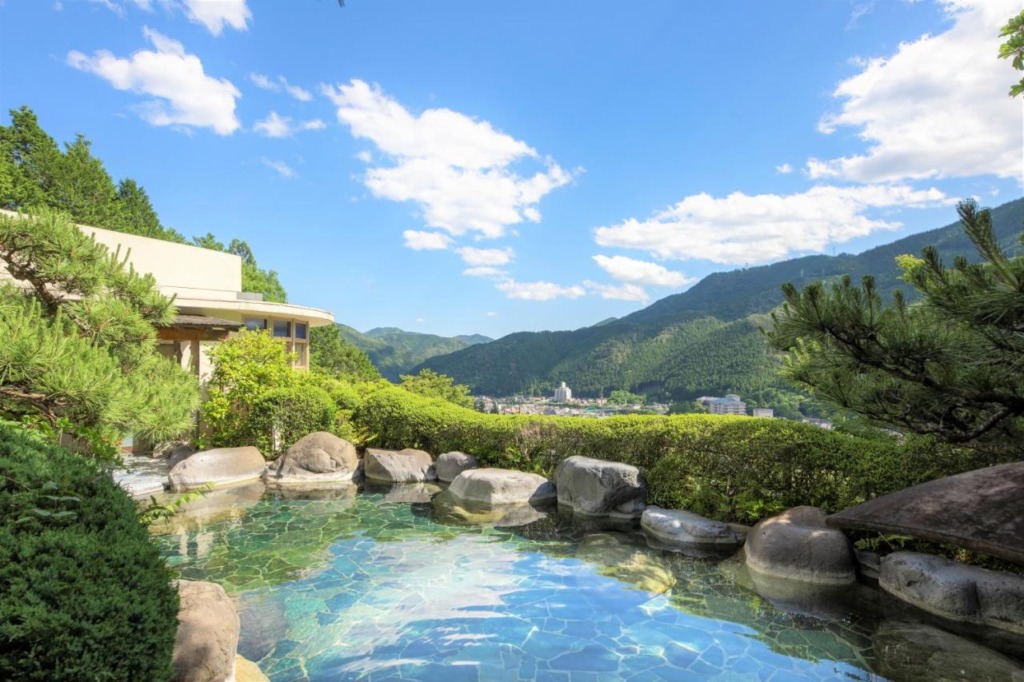 Gero Onsen is one of the most famous hot spring towns in Japan. It is located in the Japanese Alps.
Located in the heart of the Chubu region in Gifu prefecture, between Nagoya and Takayama, Gero Onsen has developed on a transparent alkaline hot spring whose properties have been known for nearly 1000 years.
The legends says that a white heron injured in one wing began to appear in Gero Onsen. The heron used to land tirelessly every day on the banks of the Hida River which ran lower in the Gifu Valley.
The inhabitants of the village, curious about the strange behavior of the white bird, descended into the valley to the bed of the Hida river where the bird came to rest daily.
One day, as the bird flew high in the sky, the villagers found a new clear and soft spring with a slight sulfur smell typical of onsen.
Joy spread to the village, which moved from its heights to rebuild the spa in the valley.
Suimeikan is most famous onsen in Gero Onsen:
Suimeikan is simply stunning! This serene place with certainly charm you forever!
The hotel offers different in-house onsen open till late. Their breakfast is outstanding and the location peaceful right next to a river!
READ: BEST THINGS TO SEE IN GERO ONSEN
---
Lake Kawaguchi near Mount Fuji
There are more famous onsen places in Japan, but not all offer a direct view of Mount Fuji! Hence, we highly recommend a visit of Lake Kawaguchi, also called Kawaguchiko.
One of the best places to see Mount Fuji. This is one of the main highlights during our 2 months trip through Japan!
When traveling in Japan, a day trip or weekend trip to Lake Kawaguchi to see Mount Fuji is simply a must! Lake Kawaguchi is located in a region called the Five Lakes.
Lake Kawaguchi is the most visited out of the 5 lakes (Yamanaka, Kawaguchi, Sai, Shoji and Motosu)
This area offers the best views of Mount Fuji! Most photos you've see about Mount Fuji come most likely from Lake Kawaguchi! This is one of THE MOST SCENIC spots in Japan.
Fuji Yurari Hot Spring is the place to be!
Head to Fuji Yurari Hot Spring for one of the most beautiful onsen experience at Lake Kawaguchi. The outdoor onsen has a view of Mt. Fuji. The whole area is nestled deep in the nature.
We absolutely love this place.
This is a public onsen, meaning you do not need to stay at the hotel, you can simply buy a pass to access the onsen.
READ: 15 BEST THINGS TO SEE IN KAWAGUCHIKO
---
Have you ever tried the onsen? Tell us about your experience!