WHAT TO SEE IN NOBORIBETSU IN HOKKAIDO? IS NOBORIBETSU WORTH VISITING? WHICH IS THE BEST SEASON TO VISIT NOBORIBETSU? HOW MANY DAYS TO VISIT NOBORIBETSU?
Blessed with the sea, mountains, and lakes, the Noboribetsu area is full of unspoiled nature, typical of Hokkaido. While Noboribetsu is most famous for its amazing onsen there is so much to see in this part of Hokkaido. Visit the "Hell Valley", the beautiful Oyunuma Pond, Sengen Park, the National Ainu Museum and so much more.
We spent 2 nights in Noboribetsu, and we had a really great time. This is one of the highlights during our road trip to Hokkaido, which we highly recommend to visit!
In this post, we listed the best things to see in Noboribetsu, which is one of the best places to visit in Hokkaido.
Noboribetsu is located within the gigantic Shikotsu-Toya National Park. This is one of the most visited places in Hokkaido, and we understand why!
Noboribetsu is located near Lake Toya about 1.5 hours by car from Sapporo and 1.5 hours from the legendary ski resort of Niseko.
Some beautiful impressions of Noboribetsu:
---
1. START YOUR VISIT AT JIGOKUDANI THE "HELL VALLEY"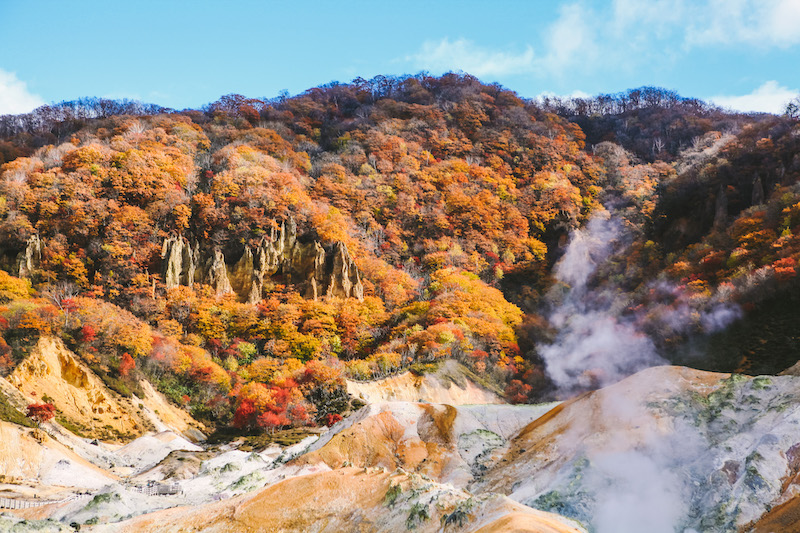 The Hell Valley, is THE highlight of a visit to Noboribetsu. We were in complete awe when we saw it for the first time.
The Hell Valley is a dramatic crater with a diameter of about 450m and an area of ​​about 11 hectares, created by the eruption of the active volcano Mt. Hiyori. Here you can walk through the crater in what looks like hell indeed! There is boiling water all around, smoke coming out of the soil a terrible smell of sulfur. It feels like the end of the world.
This drama, is what makes Noboribetsu so unique and one of the best things to see in Hokkaido. We've never seen anything like this before.
Besides we went there during autumn at the peak of the foliage. The Hell Valley was surrounded by an explosion of colors, it was unreal!
To top it of, there was a dear walking by himself in the middle of the valley. It was like a dream! (see 2nd photo above)
The good part, is that you can visit this amazing place for FREE! Yes for free! From the small town of Noboribetsu you can walk about 5min to reach the entrance of the valley. It's that easy! So make sure to check it out.
Also, make sure you walk all the way to Tessen Pond, there you can see a geyser and it's a great viewpoint of Hell Valley
Location: here
---
2. CONTINUE YOUR WALK THROUGH THE VALLEY UNTIL YOU REACH OYUNUMA POND
Oyunuma pond was created by the eruption of Mt. Hiyori, which is different from Jigokudani. The surface temperature is about 40 to 50 degrees Celsius, giving it a gray-black color, but at the bottom of the swamp, a sulfur spring with a temperature of about 130 degrees erupts.
The smell of sulfur fills the vicinity of Oyunuma Pond, and the steam rising from it is like a cauldron in hell. You can easily access Oyunuma pond by walking 20min from the Hell Valley. The trail is well indicated from the Hell Valley.
From there you will see Mt. Hiyori, it is said that if there is a lot of smoke coming out of Mt. Hiyori the weather will turn bad. So lookout for the smoke 😉
Oyunuma pond is one of the best things to see in Noboribetsu!
Location: here
Admission: Free
---
3. NEXT VISIT OYUNUMA RIVER FOR ITS NATURAL FOOTBATH
If you already reached Oyunuma pond on foot, then continue your visit to next best thing to see in Noboribetsu: Oyunuma river natural footbath.
From Oyunuma pond walk around the pond on the main the road. After a few hundred meters, turn on your right you will see a small trail leading to Oyunuma river. It is well indicated, you can't really miss it.
Walk for about 20min along the river and you will reach the natural footbath. Here people come to enjoy a free onsen. Just remember to bring your own towel, as you can't buy any there.
The water comes directly from Oyunuma pond, so it's still very hot, and it feels amazing!
Location: here
---
4. HEAD BACK TO TOWN AND VISIT SENGEN PARK
After taking a relaxing footbath, dry your feet and head back to town. Simply continue your walk along the river and you will reach back the heart of Noboribetsu Onsen. It's a great tour, as you can start from the Hell Valley and go through Oyunuma pond and Oyunuma river. You don't have to walk back the same way.
Located in the center of Noboribetsu Onsen town, Sengen park is a geyser which erupts vigorously with a powerful sound about every three hours. Sometimes the steam rises to a height of about 8m. It is truly exciting. Monuments of demons are set up in the park, and they are said to bring good health and financial luck.
The geyser that erupts with great force every 3 hours is simply spectacular! This is one of the best things to see in Noboribetsu.
Location: here
---
5. NEAR SENGEN VISIT YUZAWA SHRINE
Yuzawa, is a beautiful shrine, located in a peaceful hill right next to Sengen Park. Cross the big red Torii gate and climb the few stairs to reach the shrine.
Yuzawa shrine is surrounded by nature. As we visited Noboribetsu in autumn the scenery was fabulous and so relaxing. It doesn't take too long to visit the shrine, so we recommend to make a quick stop to check it out.
Location: here
---
6. VISIT ENMADO SHRINE ON THE MAIN SHOPPING STREET OF NOBORIBETSU
This is a hall where Enma Daio, the master of demons, is enshrined.
Enma of Noboribetsu Onsen appeared in 1993 to commemorate the 30th anniversary of the "Noboribetsu Hell Festival". This facility is located on Gokuraku-dori Shopping Street, the main street of Noboribetsu Onsen.
Normally, Enma sits with a calm expression, but it is completely different only during the "Hell's Judgment" six times a day. His face turns bright red and he judges the evil deeds of humans.
Location: here
---
7. YOU MUST BE HUNGRY BY NOW, CHECK OUT SOME OF THE BEST RESTAURANTS IN NOBORIBETSU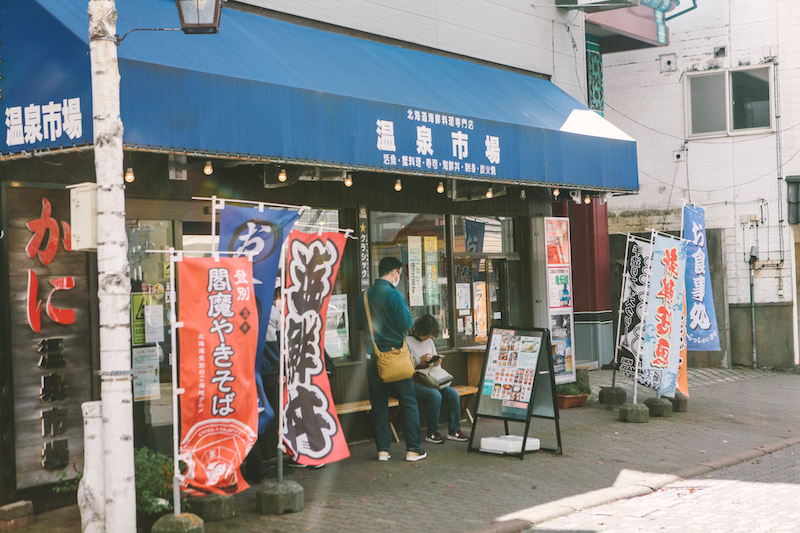 There aren't many restaurants outside the hotels in Noboribetsu. But there are a few great choices in Gokuraku-dori Shopping Street.
Onsen Ichiba is one of them, serving one of the best kaisendon, a must-eat dish in Hokkaido. There is also a very good ramen place, but only open in the evening. This is Isekura.They are famous for their milky ramen and charcoal barbecue.
If you are a bit tired of Japanese food, why not having a really good pizza at PIZZERIA ASTRA. They serve really good pizza, great beer and the best coffee in town!
---
8. NEXT, TAKE A CABLE CAR TO VISIT THE BEAR FARM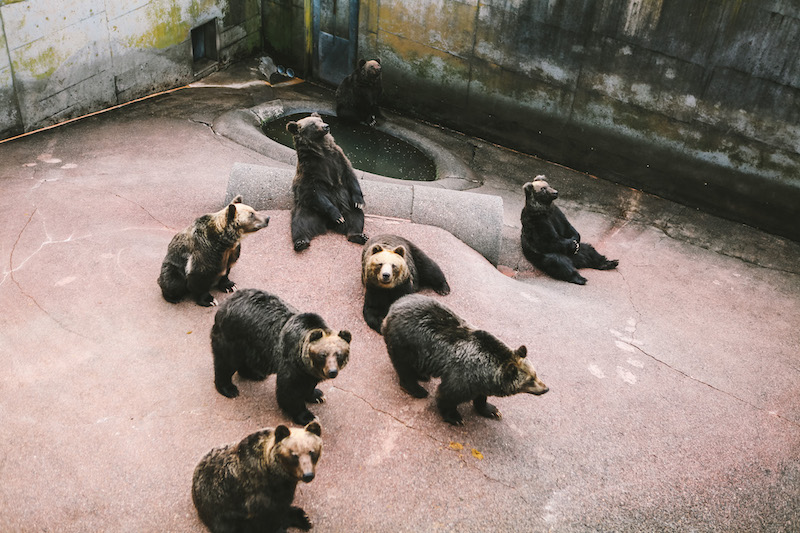 Visiting the bear farm is one of the most popular activity in Noboribetsu. Here you can see around 100 brown bears. You can see the bears full of individuality up close, and the glass-enclosed facility where humans can enter cages and observe bears is particularly impressive.
You will have to take a cable car from the center of Noboribetsu to visit the bear farm.
Now, if you want our opinion, don't go. Indeed, it feels really sad to see the bears in concrete cages. And it seems a bit overpopulated as well. For the sake of the animal, we wouldn't recommend going.
However, we also understand that it is exciting to see huge bears from so close. Especially if you have kids. So we leave this decision up to you, this is simply our opinion.
Location of the cable car station to access the bear farm: here
Website: here
---
9. ENJOY A RELAXING ONSEN
One of the best things to do in Noboribetsu, is to relax in one of the many Japanese Ryokan in town and enjoy their private onsen looking out the beautiful nature of Hokkaido.
One of the best onsen is located at Dai-ichi Takimotokan hotel. Indeed, the onsen is directly facing Hell Valley. What a view while relaxing inside the onsen (see photo above). You can check it out here.
READ: HOW TO TAKE AN ONSEN IN JAPAN?
---
10. SHOP AT DAIKOKUYA FOLK ART SHOP
If you want to buy souvenirs or local products, then head to Daikokuya on the main street. You will find a wide variety of local souvenirs and local product to choose from.
This is one of the best shops in Noboribetsu.
Location: here
---
11. VISIT LAKE KUTTARA
Drive a few minutes from Noboribetsu through a beautiful road and you will arrive at the stunning Lake Kuttara.
Lake Kuttara is known as the roundest lake in Japan. It is a caldera lake with a circumference of about 8 km. Kuttara also boasts one of the highest levels of water transparency in Japan.
The colors of the mountains, where the vegetation of relatively primitive Hokkaido remains, and the blue of the lake create a beautiful contrast, creating a mystical atmosphere.
On sunny days, the sky, clouds, and mountains can be reflected in fine detail like a mirror.
There are 2 main observatory to see Lake Kuttara, the first one higher up located here, and the 2nd one by the lake here.
---
12. LEARN MORE ABOUT NINJA AT NOBORIBETSU DATE JIDAI VILLAGE
Noboribetsu Date Jidai Village is a fun culture park which brings you back to the Edo period. The whole area looks like a traditional Japanese town.
The main attraction though, is the Ninja show. You can also visit a Ninja house full of tricks. There are other shows around the park not to be missed, such as historical drama comedy, a slightly scary maze and other fun activities. You can also visit old samourai homes and enjoy delicious traditional food.
This is one of best things to see in Noboribetsu, especially if you travel with kids.
Location: here
Website: here
Admission fee: 2,900 yen for adults and 1,600 yen for children.
BOOK: SKIP THE LINE ENTRANCE TICKET FOR NOBORIBETSU DATE JIDAI VILLAGE
---
13. HAVE FUN AT NOBORIBETSU AQUARIUM NIXE
The aquarium is located about 15 minutes by car from Noboribetsu Onsen town.
The premises have a Scandinavian atmosphere, centering on Nixe Castle, which was modelled after the beautiful water castle "Eesko Castle" that actually exists in Denmark.
The entire Nixe Castle is an aquarium. The dolphin show and sea lion show are especially popular with children. The most popular item at Noboribetsu Marine Park Nixe is actually the sardine exhibit. 10,000 sardines are bred in the aquarium named "Galaxy Tank".
Another highlight is the two aqua tunnels that reproduce cold and warm currents. You will feel as if you are walking under the sea with many fish swimming around you.
Location: here
Website: here
Admission fee: 2,800 yen for adults and 1,400 yen for children.
---
14. LEARN ABOUT THE AINU AT THE AINU MUSEUM, OUR FAVORITE MUSEUM IN HOKKAIDO
If you have to visit 1 museum in Hokkaido, then choose this one. The Ainu museum.
What is the Ainu?
The first residents of Hokkaido are actually called the Ainu. Indeed, Hokkaido wasn't a part of Japan until fairly recently in the history. The Ainu would actually be Siberians looking for a less hostile place to settle. They are physically very different from the Japanese, with characteristics that are closer to the Mongols (darker skin, more European eyes and curly hair; it is even said that some Ainu had blue eyes).
The Ainu way of life was then based on a harmony with nature: a population composed of hunters, fishermen and horticulturists. A final category would have developed over time: merchants, who traded with other peoples. This way of life would have lasted until about the seventh century.
What to see at the Ainu museum?
The indoor-outdoor museum boasts a huge area of ​​about 10 hectares. It contains a beautiful museum, a theater, traditional Ainu houses, and many shows are organized throughout the day. Here you will learn a lot about the Ainu, their culture, tradition and history.
The museum is located in a gorgeous park, with a massive lake and the mountains surrounding it.
This is Hokkaido's first national museum! We thoroughly enjoyed this visit and watched multiple Ainu shows. We highly recommend a visit to this museum.
Location: here
Website: here
Admission fee: 1,200 yen for adults and 600 yen for children.
---
15. TRY THE LOCAL BEER AT WAKASAIMO HONPO
Before leaving Noboribetsu, make sure you taste the local craft beer at Wakasaimo Honpo.
Craft beer made by Wakasaimo is famous all around Hokkaido. There you can sample the Noboribetsu's local beer Oni Densetsu. You can taste "Today's local beer" for free.
On the 2nd floor there is also a very good restaurant where you can compare three kinds of freshly brewed local beer at a reasonable price, so be sure to try it once.
Location: here
---
16. DRIVE THROUGH OROFURE PASS
Orofure Pass is located at a very high altitude of about 930 meters above sea level, is known as a scenic route when enjoying a drive between Noboribetsu and Lake Toya.
It is famous as a scenic spot where you can see the majestic scenery of Mt. Yotei, Funka Bay (Uchiura Bay), and Lake Toya while being surrounded by a deep forest.
The area around Orofure Pass is very cold in the mornings and evenings, so the autumn leaves change colors earlier. The color starts to change from the end of September every year, and the peak is from early October to mid-October.
---
17. VISIT LAKE TOYA
Lake Toya is located within the Shikotsu-Toya National Park, on the island of Hokkaido in Japan. This large caldera lake is blessed by nature. Volcanoes, waterfalls, forest, onsen (hot spring), there is so much to see and do in Lake Toya for nature lovers.
We spent quite a lot of time exploring the areas around lake Toya and wrote a full post here: 12 BEST THINGS TO SEE IN LAKE TOYA.
You can ride horse in the forest, take a boat trip to one of the islands in the middle of the lake, enjoy a free footbath around town, see a wonderful waterfall or even enjoy a helicopter ride on top of the lake and around Mount Usu, one of the most stunning volcanoes in Hokkaido.
---
18. SPOT ALL THE DEMON STATUES AROUND NOBORIBETSU
In Noboribetsu you will see Demon statues all around town. They are actually 11 of them!
The Demons have different meaning and functions. Some are used for good luck, some for marriage, good study, prosperity etc.
Try to spot them all while walking around town. Disclosure: we only saw 7 or 8 of them. We'll need to go again to find out about the 3 others!
---
HOW TO GET TO NOBORIBETSU?
By Train from Sapporo:
You can reach Noboribetsu by train from Sapporo. There are multiple options, but count around 2h to get there.
The best way to travel in Japan is by using their extensive railway infrastructure. Don't forget to buy your Japan Rail Pass, which is the cheapest option to travel by train in Japan. You can purchase your pass at a discounted price here. If you are only traveling in Hokkaido, then you can buy the Hokkaido JR pass only, check it out here.
By Car:
If you decide to rent a car in Hokkaido, then you can easily get to Noboribetsu from Sapporo. It takes 1.5 hours to get there.
If you decide to rent a car in Hokkaido, we recommend Nippon-Rent-A-Car, or Toyota-Rent-A-Car. They have many agencies around Hokkaido and their website/information are all provided in English.
You can also hire a chauffeur with a van. This is a great option if you are a group of people and don't want to bother driving in Hokkaido. For more info about hiring a chauffeur, click here.
READ: 30 INCREDIBLE THINGS TO SEE IN SAPPORO
---
WHEN IS THE BEST TIME TO VISIT NOBORIBETSU?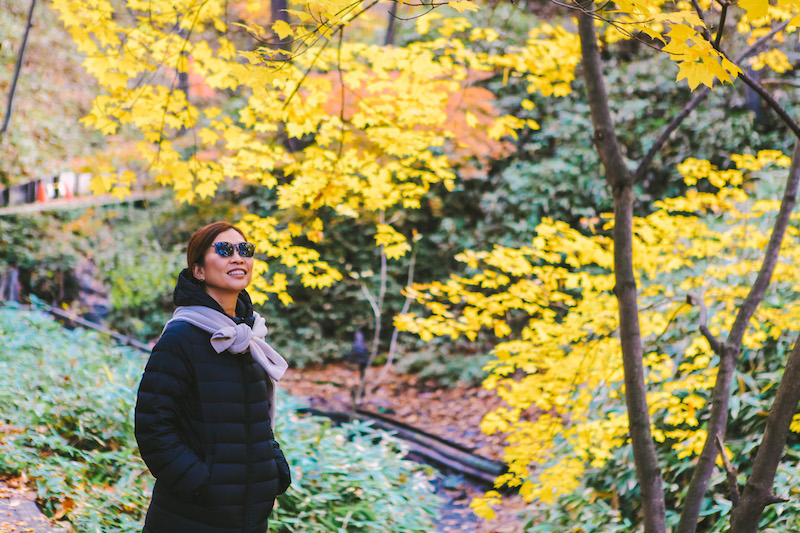 Noboribetsu can be visited all year round. However the best seasons would be Autumn for the magnificent colors and winter to see all the snow.
---
BEST HOTELS IN NOBORIBETSU
We highly recommend staying in a hotel with onsen facility to fully enjoy Noboribetsu. Here is a list of our favorite hotels in Noboribetsu.
1, DAI-ICHI TAKIMOTOKAN HOTEL
This is one of our favorite hotels in Noboribetsu. The view from their onsen is spectacular, directly facing the Hell Valley. The room rates usually includes breakfast and dinner, which is super convenient.
---
2. NOBORIBETSU GRAND HOTEL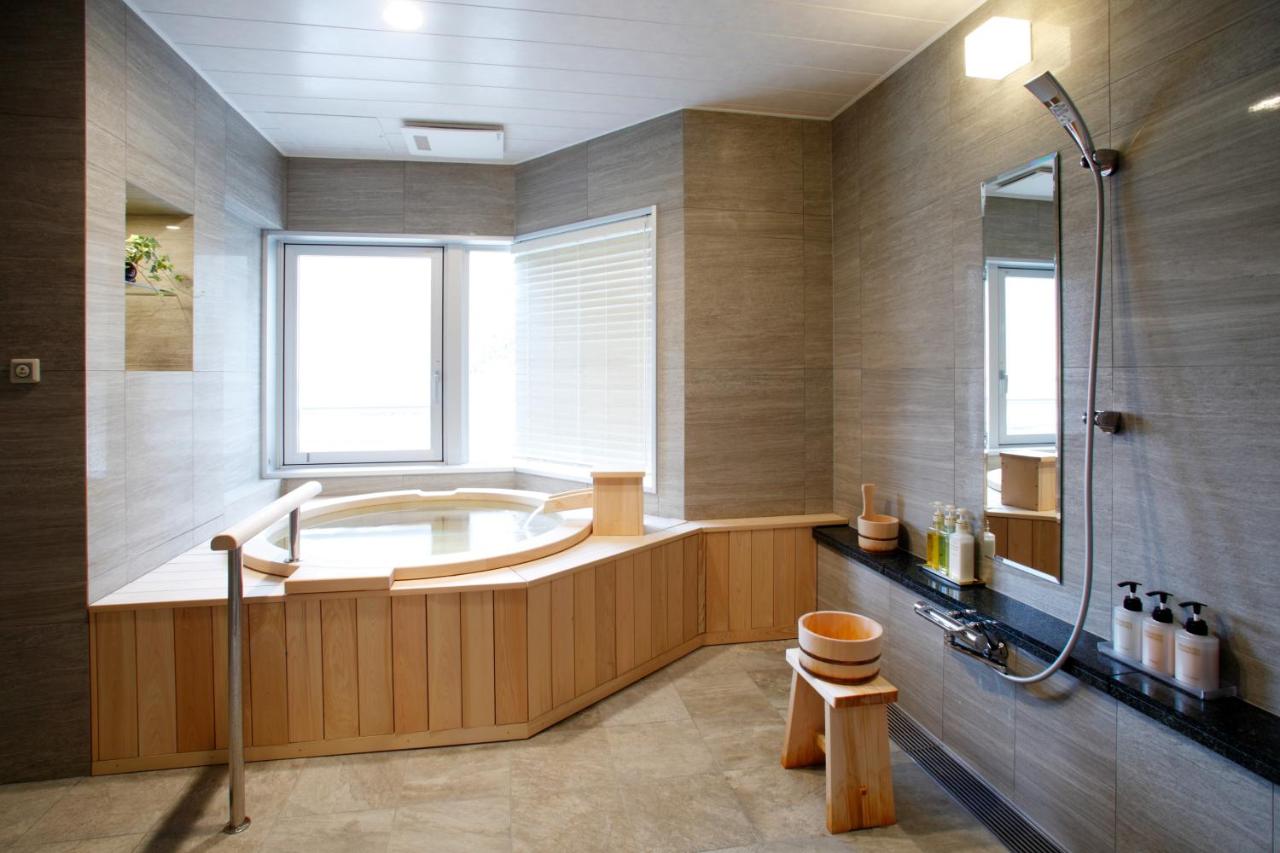 Another great hotel in Noboribetsu is the Grand Hotel. Here it's all about the onsen. They have many different options with really big places. You can also book a private onsen.
---
3. HOTEL MAHOROBA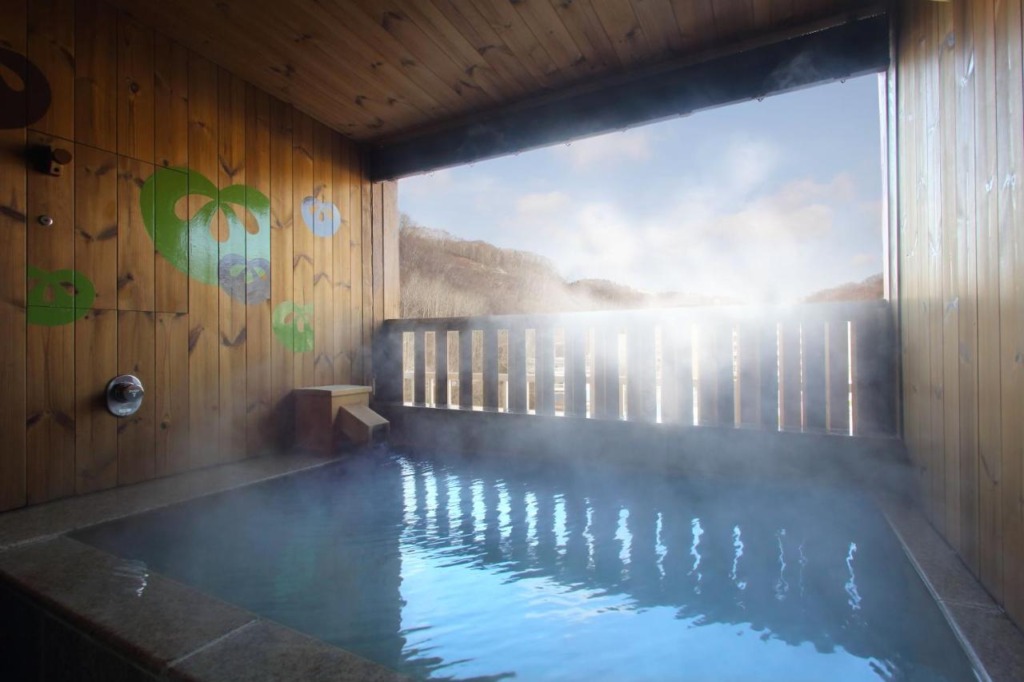 If you like outdoor onsen, Hotel Mahoroba has one of the most beautiful ones in the area. Here 30 different onsen are available. And Breakfast + dinner will be included in your room rate.
---
IN CONCLUSION: IS NOBORIBETSU ONSEN TOWN WORHT IT?
Without a doubt, our answer is a huge YES! What we love the most in Noboribetsu is the hell valley. The landscape is so unique, nothing quite like it in the rest of the world!
And then you get to relax in beautiful onsen, where everything is provided by the hotel, included buffet for breakfast and dinner. It's a great way to relax and connect with the nature of Hokkaido.
We recommend to stay 1 or 2 nights to fully enjoy Noboribetsu and visit the surroundings including the wonderful and instructive Ainu Museum.
We hope that you found this post useful. If you have any questions, feel free to write a comment below.
For more posts about Japan click here.
---
Related Posts
20 BEST THINGS TO SEE IN HOKKAIDO: here
12 AWESOME THINGS TO DO IN LAKE TOYA: here
20 GREAT THINGS TO SEE IN OTARU: here
16 BEST THINGS TO SEE IN JOZANKEI ONSEN: here
VISITING FURANO IN HOKKAIDO DURING WINTER: here
20 INCREDIBLE THINGS TO SEE IN HAKODATE: here
TOP 6 REASONS WHY SHOULD VISIT HOKKAIDO: here
30 BEST THINGS TO SEE IN SAPPORO: here
WHAT TO DO IN NISEKO, HOKKAIDO: here
VISIT MOUNT MOIWA IN SAPPORO: here
6 BEST SKI RESORTS IN HOKKAIDO: here
EXPLORE MONZEN-NAKACHO, A CHARMING NEIGHBORHOOD IN TOKYO: here
BEST THINGS TO SEE IN KYOTO: here
OBUSE, A BEAUTIFUL TOWN IN JAPAN WORTH A VISIT: here
FULL GUIDE FOR VISITING HAKUBA IN JAPAN: here