WHAT TO SEE IN JOZANKEI ONSEN? IS IT WORTH STAYING OVERNIGHT IN JOZANKEI? WHAT IS THE BEST HOTEL IN JOZANKEI ONSEN TOWN?
Located an hour by bus from Sapporo in Hokkaido, the village of Jozankei is known for its many onsen (hot springs) in the heart of the mountains. If you go there in autumn, the surrounding forests will look like an explosion of colors with the magnificent show of momiji (Japanese Maple Tree).
In total, Jozankei Onsen has 56 hot springs dumping around 8,600 liters of water per minute at temperatures between 60 and 80 degrees Celsius, much of which is now easily accessible thanks to the many spas and resorts developed in the town.
If you are staying in Sapporo we highly recommend a day trip to Jozankei, or even better to stay overnight to fully enjoy this onsen town and stay in a Ryokan, a Japanese traditional hotel.
We loved our visit of Jozankei Onsen. In this post we share all you need to know about Jozankei and the best things to see in town.
150 years of history at Jozankei Onsen
150 years ago, Jozankei was still empty. In the midst of these virgin forests and steep mountains, the monk Miizumi Jozan discovered hot springs in this area. He started to develop Jozankei to make these hot springs available for ill or injured people. He devoted his life to the development of onsen, so much so that the town bears his name today.
The hot waters of Jozankei are called "Netsu no yu", literally "waters of heat". Rich in sodium, the water adheres to the skin to warm from the inside.
To relax for a few moments, it is possible to dip your feet in public footbath onsen accessible to all for free in the middle of the town. The opportunity to share a moment of relaxation with the many Japanese families who come to rest there for a few moments will leave lasting memories.
Check out some beautiful impressions of Jozankei Onsen:
---
HOW TO GET TO JOZANKEI ONSEN?
By Bus:
From Sapporo: At Sapporo Station, take the Jozankei Bus, the Kappa Liner bound for Jozankei Onsen / Hoheikyo Onsen, bus stop number 12 at Sapporo Station. Get off at "Jozankei yu no machi". A trip at 770 yen, for about an hour by bus.
Be careful though, if you want to get there, it's quite difficult to find a seat on the bus if you haven't booked in advance. Indeed, Jozankei is a very popular destination especially for a day trip from Sapporo.
For a day trip take the bus at 10:00 am from Sapporo, and take the return bus at 3:00pm from Jozankei.
For more details check out Kappa Liner website: here
By Car:
If you decided to rent a car in Hokkaido, then you can easily get to Jozankei from Sapporo or from Otaru. There are plenty of free parking places around town. One of the largest parking is located here. From there you can visit Jozankei on foot. It doesn't take too long to walk around the town.
If you decide to rent a car in Hokkaido, we recommend Nippon-Rent-A-Car, or Toyota-Rent-A-Car. They have many agencies around Hokkaido and their website/information are all provided in English.
READ: FULL GUIDE FOR VISITING SAPPORO
Private transfer
If you are visiting Jozankei Onsen with a group of people, one of the best option to organize a private van for your trip. This would give you a lot more flexibility for your trip. You driver can pick you up from anywhere in Sapporo. More info here.
Now that you are all set for your trip to Jozankei, are you excited to visit this town? HERE WE LISTED THE BEST THINGS TO SEE IN JOZANKEI ONSEN TOWN:
---
1. START YOUR VISIT AT JOZANKEI GENSEN GARDEN
This place is located in the heart of Jozankei Onsen. Here go to the public footbath onsen. There will be other Japanese families around, it's a great way to exchange with locals and enjoy free onsen!
You don't have a towel? No worries, just a few meters from Jozankei Gensen Garden, there is a small shop (定山渓物産館中央店 – location). Here you can buy many souvenirs from Jozankei, but also a towel for your feet (cost: 150 Yen)
Behind the onsen, you will see the statue of the monk Miizumi Jozan, who discovered the first hot spring in this area and dedicated his life to the development of this place.
Location: here
---
2. BOIL SOME EGGS IN THE HOT SPRING
Right next to this foot bath there is a small spot for boiling eggs in the naturally warm waters of the hot springs. These famous "onsen tamago" cook slowly and generally retain a more liquid texture than boiled eggs. It's delicious, you should try!
You can also buy eggs at the same shop (here) and once the eggs are boiled you can back inside the shop to eat them. They have tables just for that.
---
3. WALK AROUND JOZANKEI FUTAMI PARK AND DISCOVER KAPPA THE SYMBOL OF JOZANKEI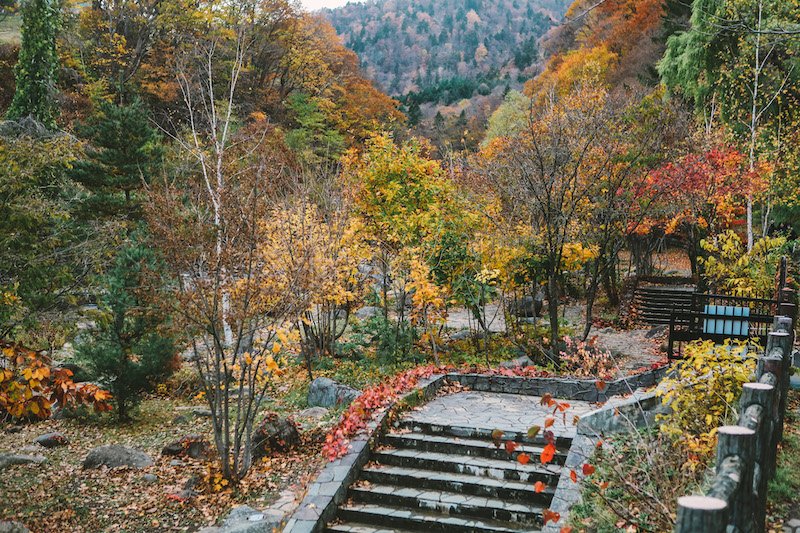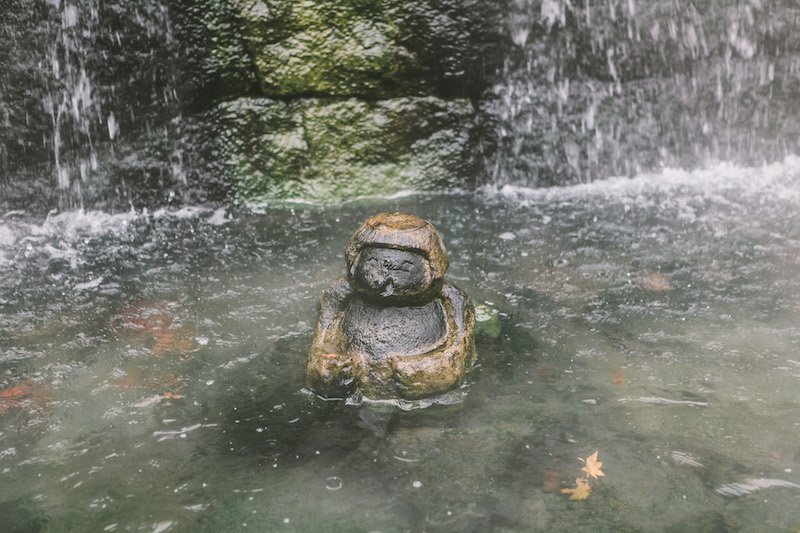 The symbol and guardian of Jozankei is a water genius called kappa (see above photo). These are imaginary and cute creatures that look like goblins with a funny hat. Many kappa inhabit this spa town and you will see mystical statues all around Jozankei, including the one of the great King Kappa in the Jozankei futami Park.
The kappa are said to be mischievous and not always friendly. However, they have a strong taste for cucumbers and you can appease them by throwing one or two into the waters where they live. You can buy souvenirs and toys featuring these unusual creatures at local shops.
Besides seeing the great King Kappa, the park is actually a beautiful place right by the river. It is especially stunning during Autumn thanks to the foliage where most trees are adorned with shades of yellow, orange and red.
Location: here
---
4. CROSS THE STUNNING SUSPENSION BRIDGE (FUTAMITSURI)
For us this is THE most beautiful spot in Jozankei Onsen.
This red suspension bridge in the middle of the mountains with a gorgeous river passing just under is unreal. The view from there is spectacular. Just for that, you won't regret visiting Jozankei Onsen.
To access the bridge, simply walk around 5-10 min from Jozankei Futami Park. After you cross the bridge, continue walking a few more meters and take the stairs down, you will reach the river bed. Another great spot to take nice photos of the bridge from behind!
Location: here
---
5. EAT A DELICIOUS APPLE PIE AT J-GLACEE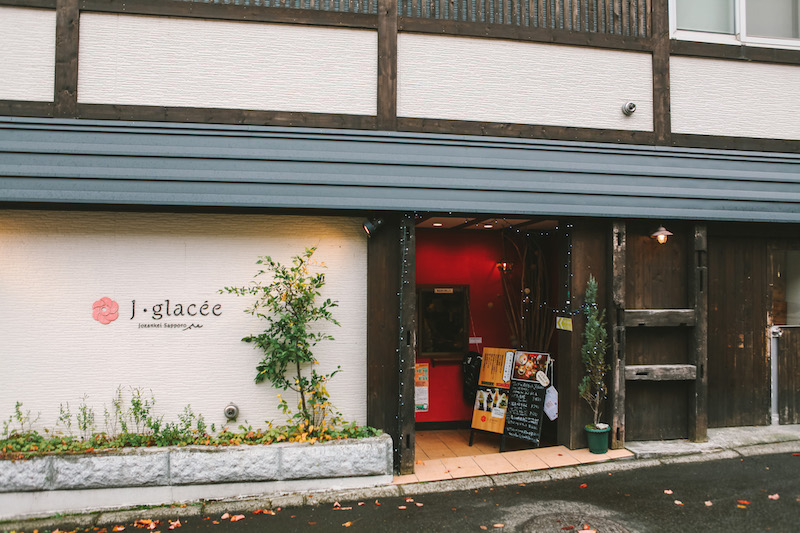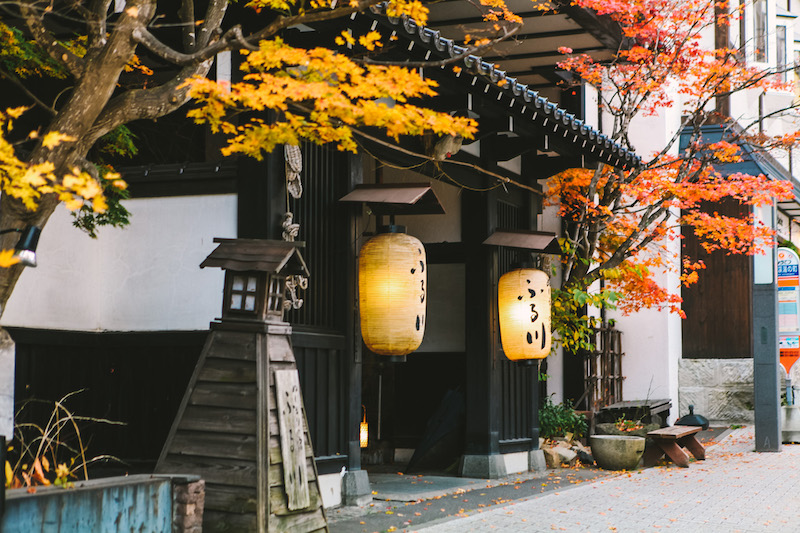 If this little walk to the bridge triggered your appetite, then not far from Jozankei Futami Park and Jozankei Gensen Garden, you will find a cute cafe serving the most amazing Apple Pie in Hokkaido.
The place is called J-Glacee (ジェイ グラッセ in Japanese). Make sure to try it out 🙂
Location: here
Website: here
---
6. CHECK OUT IWATO KANNONDO TEMPLE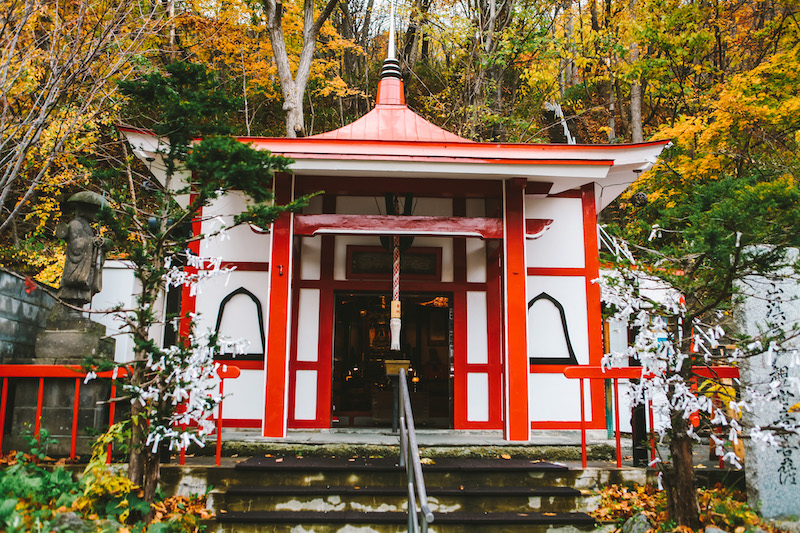 A little up the road from J-Glacee cafe, don't miss this cute temple called: Iwato Kannondo Temple.
It is a small buddhist temple that honor Kuan Yin , Goddess of Mercy. There is a small cave right beside the temple which can also be visited for 300 yen. The cave is full of Buddha's statues
Location: here
---
7. ADMIRE THE SHIRAITO FALLS
Located on the opposite part of town, a 10-15min walk will get you there. Not easy to find as not so well indicated, follow the strong sound of the waterfall to find it. There is a big sign written in Japanese (see above photo).
There isn't much to see in this area except for the waterfall. Shiraito falls is still very beautiful though with the surrounded by nature. During Autumn is was nice to see the surrounded trees with all these colors.
Location: here
---
8. VISIT TARO-NO-YU ANOTHER PUBLIC FOOTBATH ONSEN
Near the Shiraito falls, you can relax at another public onsen: Taro-no-yu Footbath for Friendship. Although we found the onsen at Jozankei Gensen Garden to be more scenic, this is a great place to take a break. Especially if your feet are getting cold during winter.
Why not soaking up your feet in hot water again (and for free)?!
Location: here
---
9. EXPLORE JOZANKEI SHRINE
This is a quiet, small but beautiful shrine. You will probably have the entire place to yourself during your visit. Not that many people make a stop to this shrine, which is a shame as it's a very pretty area.
The Jozankei Shrine is nestled in the middle of the forest in a quiet and serene. You can easily get to the Jozankei Shrine from the main road after climbing a few stairs and crossing a Tori gate. There are a lot of other smaller shrines you can walk to but this one is particularly beautiful.
There is also a 1-1.5 hour walking trail in nature that starts from the shrine on the left. Highly recommended, especially in Autumn.
Location: here
---
10. GET A COFFEE + FREE ONSEN AT EXCL.PAN CAFE (エクスクラメーションベーカリー)
This is our favorite place in Jozankei to get a coffee and pastry. They also serve amazing burger if you don't know where to go for lunch.
Not only this place is absolutely stunning, they also have their own private foot onsen, which you can use for free while drinking your hot coffee! How cool is that!?
If you are in Jozankei, you must visit this place! Note that there is another Japanese restaurant next to this coffee shop which looks similar and both don't have a name at the entrance. If you see the onsen in front of the cafe on the wooden deck, then you are in the right spot!
Location: here
Their instagram: here
---
11. STAY OVERNIGHT IN A RYOKAN
To fully enjoy Jozankei Onsen, we recommend spending a night in a Ryokan, a traditional Japanese hotel. There are many Ryokan in Jozankei, all of which have their own onsen, often reserved for customers of the Ryokan.
READ: HOW TO TAKE AN ONSEN IN JAPAN?
In a Ryokan you can experience the Japanese culture, sleep on a tatami and enjoy traditional Japanese food.
Hokkaido is renowned throughout Japan for the quality of its agriculture and seafood. The meals served in the Ryokan therefore give pride of place to its local specialties: crab, seafood, fish, etc. And the beer that accompanies them, can only be a Sapporo – the Hokkaido beer that participated in the industrial development of the island.
HERE IS OUR RECOMMENDATION FOR THE BEST RYOKAN IN JOZANKEI:
Jozankei Tsuruga Resort Spa Mori no Uta
Jozankei Tsuruga Resort Spa Mori no Uta is one of the best hotel in the area. It offers private onsen as well as excellent buffet. This place is often fully booked, especially during peak season. Check out the availability here.
Hanamomiji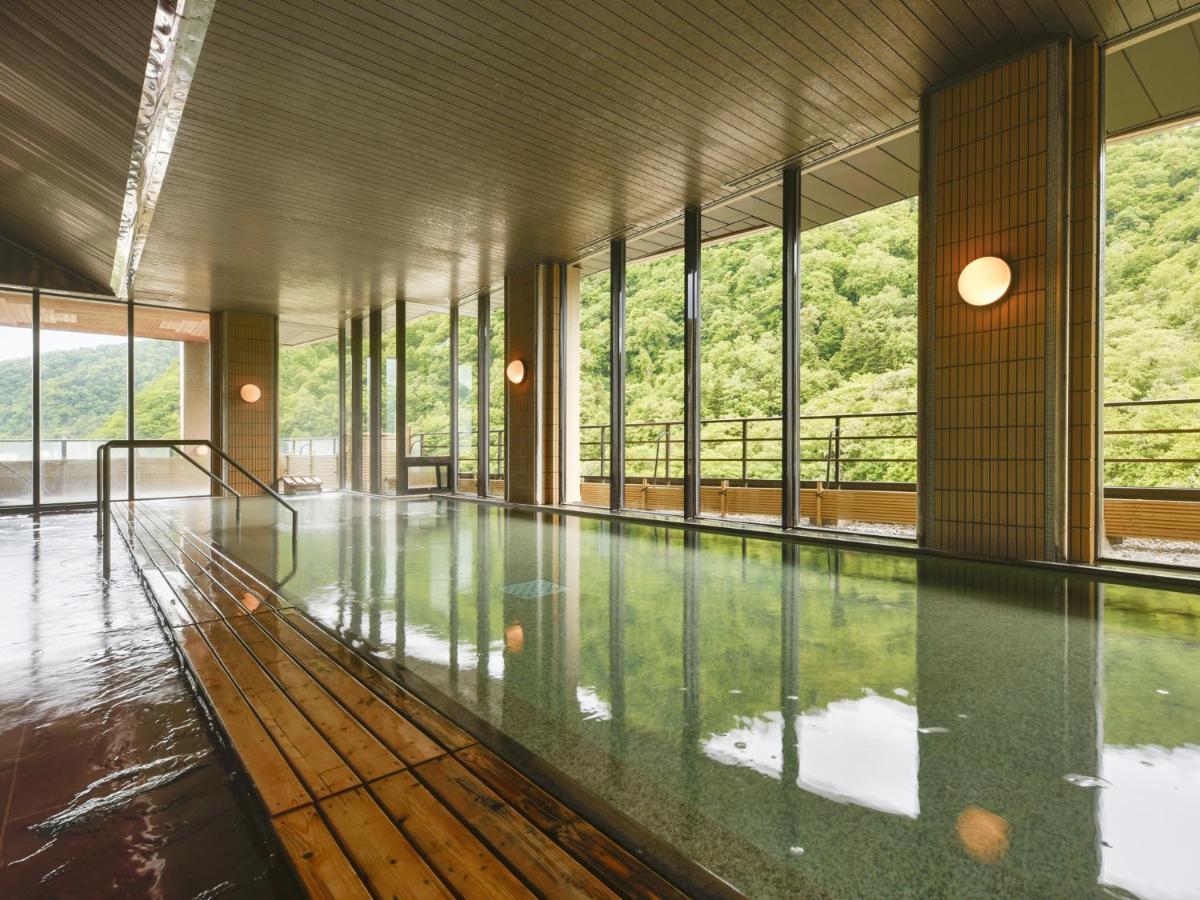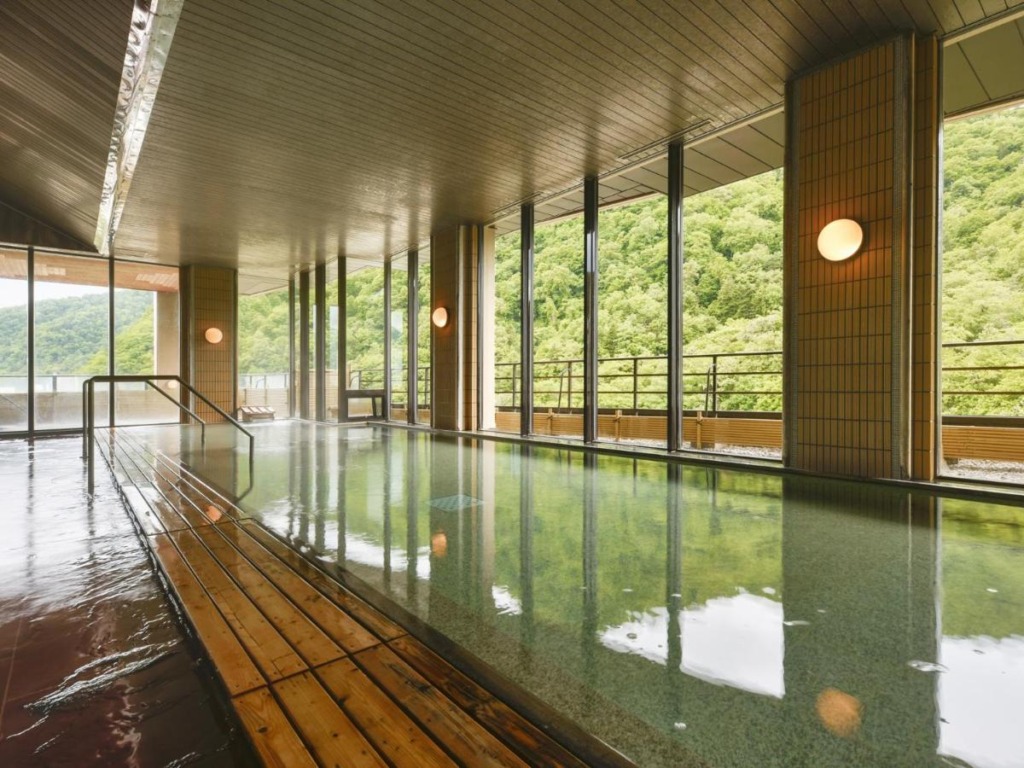 Hanamomiji is our personal favorite Ryokan in Jozankei. The rooms are spacious and beautifully designed in a japanese traditional style. The onsen area is absolutely stunning with amazing view of the nature all around. And the food, simply delicious. If this place is available, don't hesitate book it right away. Check it out here.
Chalet Ivy Jozankei
Our final recommendation of the best Ryokan in Jozankei is Chalet Ivy. This is the most stunning out of our 3 recommendations, but also the most expensive. This gorgeous hotel with great service and wonderful attention to detail will seduce you for sure. Everything about this Ryokan is exceptional! More information here.
---
12. WATCH THE LIGHT SHOW AT NIGHT
If you stay overnight in Jozankei, don't miss to watch the beautiful light show at night called Nature Luminarie.
The best place to see the magical lights in the night is at Jozankei Futami park. The whole park is illuminated with a light tunnel, or other fantastic installations on the trees. Head to the Futami Suspension Bridge for an unforgettable moment with creative lighting on the bridge. The light performance can be observed everywhere around town.
Jozankei is the perfect place for such a magical show, as it's nestled in the forest and surrounded by a beautiful nature. Watch the video above for more inspiration.
More information on the light show here.
---
13. TAKE A WALK IN THE NATURE AROUND JOZANKEI
Jozankei is located in the heart of wooded mountains. In Autumn the whole landscape is an explosion of red, yellow and orange colors.
Walking through the streets of Jozankei Onsen town, surrounded by the clouds of steam from the onsen, under the autumn leaves swirling in the wind, is in itself an unforgettable experience.
But there are many hiking trails starting from Jozankei to venture even deeper in the scenic nature. You can admire beautiful spots such as Jozankei Tengu-dake (here) for a half day climb.
Hokkaido being located in the very north of Japan, the momiji season starts there earlier than elsewhere in the country. It is recommended to go there around mid-October to fully enjoy the fall colors.
---
14. GO CANOEING ON THE RIVER IN JOZANKEI
If you visit Jozankei during summer or Autumn, there are many activities possible in the town. One of the most famous things to do in Jozankei is canoeing on the Toyohira River. While canoeing on the river you can observe the beautiful nature all around you and cool off during the hot summer days.
This activity is suitable for beginners, as the river is relatively calm in this area.
If you are interested in canoeing in Jozankei, you can book this activity here.
---
15. VISIT JOZANKEI DAM
If you have your own car, we recommend driving another 10 min north to check the Jozankei Dam. There you can admire Sapporo lake from 2 observatories on the side of the road.
The view from there is stunning and worth the little detour.
If you do not have a car, there is also a trail leading to the base of the Jozankei Dam. The hike takes about 30min one way.
Location of the observatory: here
---
16. ENJOY MANY WINTER ACTIVITIES IN JOZANKEI
Like the rest of Hokkaido, Jozankei is a winter wonderland. It is already stunning during autumn, but wait until winter comes and this place becomes even more magical.
You can enjoy plenty of activities in winter such as Dog Sledding, Snow Tubing, Snow Racket Hiking, you can even go Tree Hiking and Zip Line at Jozankei Farm (more information here about Jozankei Farm).
Watch the video above to make you want to visit Jozankei in winter. It's simply magical.
---
OTHER THINGS TO SEE NEAR JOZANKEI
OTARU
Just 45min drive from Jozankei, you can reach Otaru, one of the best things to see during a trip to Hokkaido.
Otaru is a port city with a romantic atmosphere along its canal. This town was once, Japan's major business, financial and trading centers during the Meiji and Taisho eras (1868-1926). Although it is no longer a financial powerhouse, it is now full of charm attracting many visitors all over the world!
Artists create handmade glass objects and beautiful handcrafted music boxes here, its natural setting inspires love and the ocean surrounding it promises delicious seafood. The area also hosts an onsen and you will have the possibility to practice various sports according to the season.
Location: here
READ: 20 BEST THINGS TO SEE IN OTARU
---
HOHEIKYO
Hoheikyo is one of the most beautiful places to admire the momiji in autumn. Between its huge lake surrounded by maple trees and the dam which offers a stunning view of colorful forests, Hoheikyo is a must-see in Hokkaido.
READ: 20 INCREDIBLE THINGS TO SEE IN HOKKAIDO
The huge man-made lake of Hoheikyo is located in the middle of the mountains southwest of Sapporo. This place is still relatively unknown as a tourist destination.
Location: here
---
WHEN IS THE BEST TIME TO VISIT JOZANKEI ONSEN TOWN?
Although Jozankei can be visited all year round, the peak season would be autumn to admire the beautiful foliage or winter to enjoy the onsen and all the winter activities around the town.
If you decide to go there during autumn, make sure you go there mid-October for the peak foliage period. The leaves change color sooner in Hokkaido than in the rest of Japan. We went there around the 3rd week of October and it was perfect. We even had 1 day of snow already (see 2nd photo). The timing was perfect!
---
IN CONCLUSION ABOUT THE BEST THINGS TO SEE IN JOZANKEI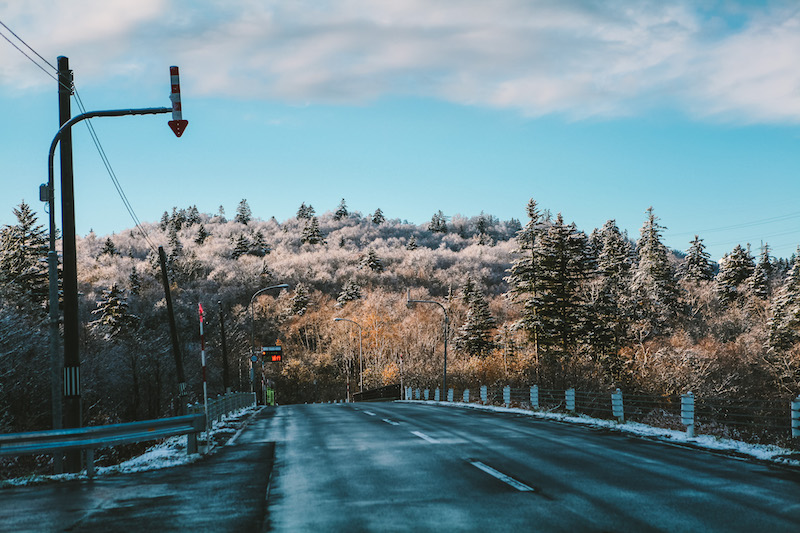 Autumn in the city is already beautiful, but deep in the nature it's even more wonderful. So if you are in Sapporo in October, make sure to make the trip to Jozankei Onsen.
This small town is easily reachable from Sapporo and everything can be visited on foot. Visiting Jozankei during a day trip is already a fantastic experience, however, spending the night in a Ryokan would be even better.
In Jozankei, make sure to visit the Futami Suspension Bridge. The view of the red bridge surrounded by the colorful forest and the river passing right under, is like a postcard.
We hope that you found this post useful. If you have any questions, feel free to write a comment below.
For more posts about Japan click here.
---
Related Posts
VISITING FURANO IN HOKKAIDO DURING WINTER: here
20 BEST THINGS TO SEE IN HOKKAIDO: here
20 BEST THINGS TO SEE IN OTARU, HOKKAIDO, JAPAN: here
18 AWESOME THINGS TO SEE IN NOBORIBETSU ONSEN: here
WHAT TO DO IN NISEKO, HOKKAIDO: here
12 AWESOME THINGS TO SEE IN LAKE TOYA, HOKKAIDO: here
30 BEST THINGS TO SEE IN SAPPORO: here
20 INCREDIBLE THINGS TO SEE IN HAKODATE: here
TOP 6 REASONS WHY SHOULD VISIT HOKKAIDO: here
6 BEST SKI RESORTS IN HOKKAIDO: here
EXPLORE MONZEN-NAKACHO, A CHARMING NEIGHBORHOOD IN TOKYO: here
BEST THINGS TO SEE IN KYOTO: here
OBUSE, A BEAUTIFUL TOWN IN JAPAN WORTH A VISIT: here
FULL GUIDE FOR VISITING HAKUBA IN JAPAN: here