CAN YOU TRAVEL BY FERRY BETWEEN THE CANARY ISLANDS? CAN I REACH THE CANARY ISLANDS BY FERRY? IS BETTER TO TAKE THE FERRY OR A FLIGHT BETWEEN THE CANARY ISLANDS?
Are you going to the Canary Islands? Find out how to navigate from one island to another by ferry with this guide.
We traveled to the Canary Islands by ferry for a few months. It was one of the best trips we actually went on! We wrote a full travel guide about the Canary Islands here.
An archipelago in the Atlantic Ocean attached to Spain, located off the coasts of Morocco and Western Sahara, the Canary Islands are made up of seven main islands of volcanic origin, distributed from east to west between Lanzarote, Fuerteventura, Gran Canaria, Tenerife, La Gomera, La Palma and El Hierro. 
Due to their sunny tropical climate, more than 13 million travellers visit each year the Canary Islands!
The good thing about the Canary islands, is that they are all connected by ferry, which transport passengers but also vehicles!
This makes it super convenient to travel to each of the Canary Islands without taking. single flight!
---
ALL FERRY ROUTES IN THE CANARY ISLANDS
There are many ferry routes between the Canary Islands connecting every single island! It's the perfect way and most pleasant way to explore every islands!
Lanzarote is connected to Fuerteventura, Gran Canaria, Tenerife as well as Cadiz in Spain (27 hour journey) – see schedule here. There are 2 main ports in Lanzarote Arrecife and Playa Blanca. There is also a ferry from Lanzarote to La Graciosa.
Fuerteventura is connected to Lanzarote and Gran Canaria with 2 main ports, Corralejo and Morro Jables.
Tenerife is connected to Gran Canaria, Lanzarote, La Palma, La Gomera, El Hierro via Santa Cruz or Los Christianos near Costa Adeje.
From Gran Canaria you can reach Fuerteventura, Lanzarote & Tenerife.
---
HOW TO TAKE THE FERRY BETWEEN THE CANARY ISLANDS?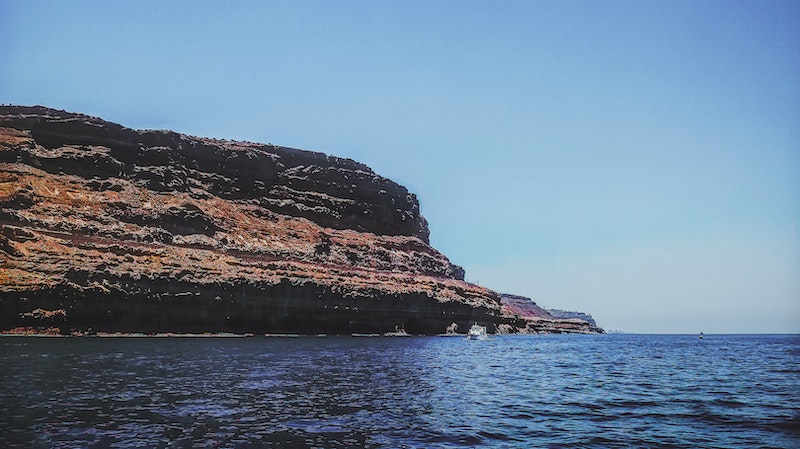 Traveling by ferry between the Canary Islands is a more economical mode of travel than the plane.
It also allows you to have a unique panorama, observing dolphins for instance but also admiring the beautiful islands from a different point of view.
There are several ferry companies that connect the Canary Islands.
The best way to compare the ferry tickets and purchase your tickets is via Direct Ferries.
---
PLAN YOUR FERRY TRIP IN THE CANARY ISLANDS
It is much better to plan your trip a bit ahead of time. Especially if you have a vehicle with you as popular routes might get full easily.
We recommend using Direct Ferries to compare ferry tickets, ferry companies, and best fare. You'll be guaranteed the best price this way!
On Direct Ferries, all you have to do is fill in your travel dates, desired times, car or without vehicle, the number of passengers and the comparator chooses the best ferry ticket for you.
---
WHAT ARE THE BEST FERRY COMPANIES?
There are three main shipping companies for island hopping in the Canary Islands: Fred Olsen (our favorite company with newest boats), Armas, Lineas Maritimas Romero.
Some smaller companies include Trasmediterranea, for the islands of Gran Canaria, La Palma, Lanzarote, Tenerife; Biosfera Express, for a ferry trip from La Graciosa to Orzola; Lineas Romero, 2 routes from Corralejo to Playa Blanca and from La Graciosa to Orzola;
---
TAKING THE FERRY FROM SPAIN TO THE CANARY ISLANDS
If you decided to go on a road trips (or with a camper van) you can travel from Spain in Cadiz to the Canary Islands directly! By doing so you will save lots of money from the car rental companies.
It is also a fun and unique way to travel.
The best and fastest way to reach the Canary Islands is by going to Arrecife. The journey takes 27 hours. SEE SCHEDULE
---
WHAT VEHICLE CAN I TRANSPORT ON THE FERRY?
You can transports all sorts of vehicles, including car, van, motorhome, campervan. motorcyle and bicyle.
Of course, the bigger the vehicle, the higher the price.
---
OUR JOURNEY BY FERRY TROUGH THE CANARY ISLANDS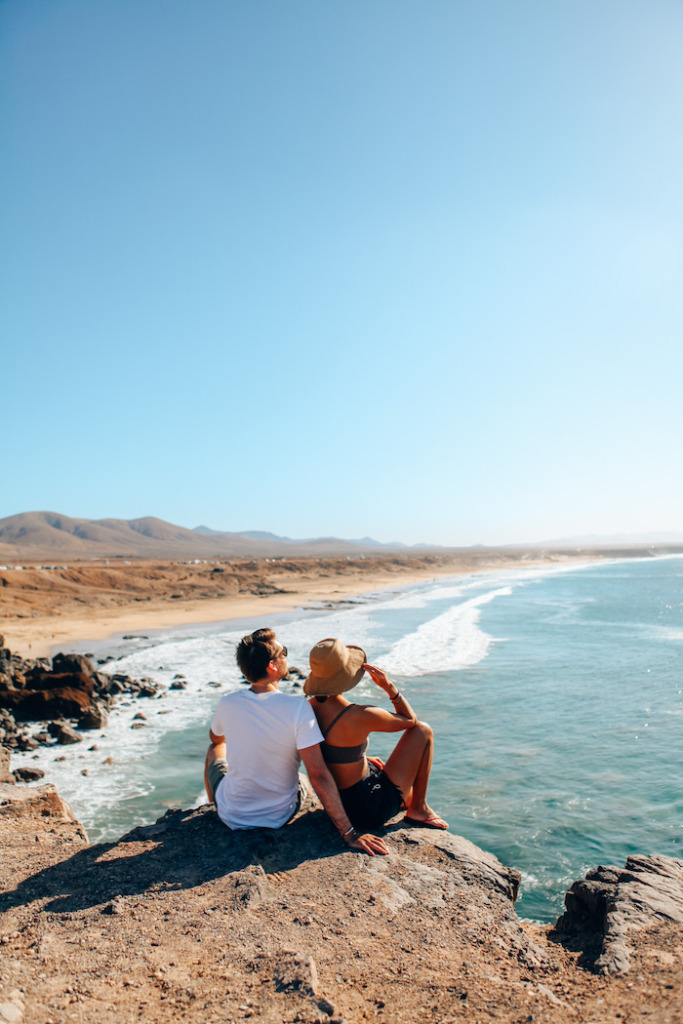 We started our road trip around the Canary Islands in Lanzatore. It was 2 fantastic weeks exploring this wonderful and unique island!
READ: THE BEST THINGS TO SEE IN LANZAROTE
We then took the 30min ferry ride to Corralejo in Fuerteventura. Another stunning island in the Canary! We surfed, hiked (see: best trails in Fuerteventura)
After 2 weeks in Fuerteventura, we took the ferry from Morro Jables to Gran Canaria.
From there we took the 30min ferry to Fuerteventura. From Fuerteventura, we took the ferry to Gran Canaria. As we love surfing, we spend nearly a month surfing in Gran Canaria. Especially in Las Palmas, the capital. (READ: BEST THINGS TO SEE IN GRAN CANARIA).
Our last journey was from Gran Canaria in Agaete to Tenerife.
Our trip to Tenerife, was absolutely amazing. Make sure to check the Teide National Park and Puerto de la Cruz!
---
Related posts
FULL TRAVEL GUIDE FOR VISITING THE CANARY ISLANDS
WHICH ONE IS THE BEST CANARY ISLAND TO VISIT?
BEST BEACHES IN THE CANARY ISLANDS
MOST AWESOME BEST BEACHES IN TENERIFE
10 BEST BEACHES IN GRAN CANARIA