The small village of Masca in Tenerife, is one of the best things to see on the island. With its mystical mist and white houses nestled in the middle of the mountain, the small village of Masca looks like Machu Picchu.
The first time you will see Masca, you may sincerely wonders how is it possible that such a place has survived for centuries. Going back even further in time, you may also wonder how and why the village has been built in such a remote area literally hidden in the mountain.
In addition to visiting the village, what is interesting is the main hike of Masca Raving. It starts from the village and goes down to the beach. It allows you to discover the valley and especially to walk through incredible gorges.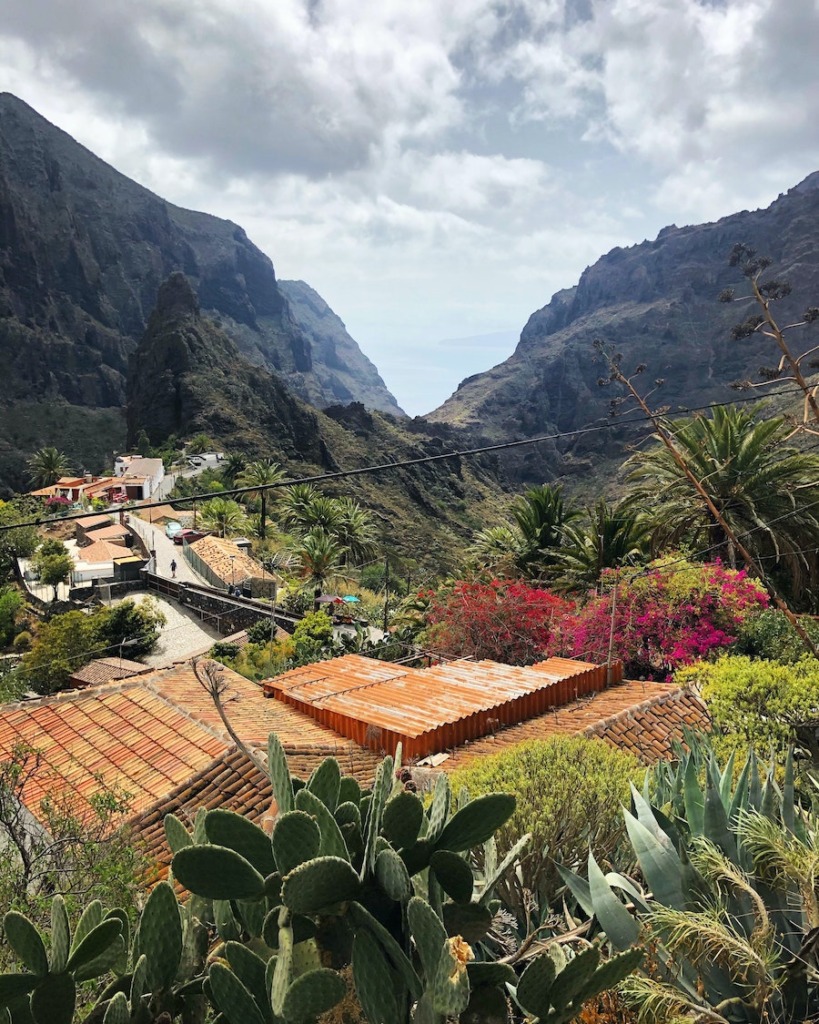 If you are planning a trip to Tenerife, then visiting Masca is a must.
We invite you to discover all you need to know about Masca in this post.
---
A bit of history about Masca
Masca is located in the southwest of Tenerife, between the mountains of the Teno Rural Park, an ancient volcanic area. With barely 100 inhabitants, Masca has always been a secluded, hidden and a forgotten corner in Tenerife. Until recently the village was still inaccessible by car.
It was not until the middle of the last century that electricity reached Masca and roads were built to connect the village to the rest of the island. Until then, it could only be reached on the back of a donkey or on foot.
Masca was one of the last dwellings of Guanches, the aboriginal people of the Canary Islands.
The Spaniard conquistadors seized Masca at the end of the 15th century. Masca always remained inhabited.
---
What to expect in Masca?
To reach Masca, it is quite a ride. You will drive for quite some times in a tiny and sinuous road on the side of the mountains. It won't be an easy drive especially if a bus full of tourists is coming from the opposite side. There is barely enough space for 2 cars, so imagine with a bus.
Well at the end, with a bit of sweat we made it. And let us tell you, it's absolutely worth it. The landscape at Masca is breathtaking.
Formerly dedicated to agriculture, the village of Masca has been transformed to welcome the thousands of visitors who discover its narrow and charming streets every year. There is even a museum dedicated to the place and traditional restaurants where you can taste delicious local food. Its 18th century church, built with volcanic stones, adds value to the historical atmosphere of Masca.
From the top of the village, the view is absolutely fantastic. This is where we felt this place looked like the Machu Picchu in Peru. From there you can observe the famous Masca Ravine, La Catana peak, one of the most impressive monuments in Tenerife, and all the surrounding mountains.
Walk through the entire village to feel the local vibes. There are some steep stairs at the beginning, but the rest is rather smooth. In the middle of the village we bought a few cactus flower to eat from a local farmers. And honestly, it was delicious. If the farmer is still there when you visit, ask him to try the cactus flower!
---
Hike the famous Masca Ravine Trail
Besides the village of Masca, many visitors come here for its famous hike through the gorges ending at the beach. It is one of the most important barrancos of Tenerife, for the beauty of its landscape, but also its diversity in terms of fauna and flora. Masca also has interesting plant landscapes, such as saucedas, as well as some endemic and endangered plants.
The hike from Masca to the beach takes about 3 hours 1 way. It isn't a very easy hike as some parts are rather steeps and very rocky.
There are three ways to hike Masca:
Easy (but expensive) option: Park your car at Los Gigantes, take a taxi to Masca (about 30€), and start your hike all the way down to the beach. From there take a taxi boat (10€/person) which will take you back to Los Gigantes. It's effective, but it costs around 50€…
Option for athletes: park your car in Masca and walk the full round trip. This will take you about 5 to 6 hours. Be aware that the way to the beach is entirely downhill and therefore the return journey is only uphill. The drop is about 600m.
Option for half-lazy people: this is the best option if you want to save some money and not hike too much. Parked your car at Masca and then walked down for about 1.5 hrs. During this 1.5 hours you will already have a great overview of the gorge and stunning view to the sea. Then make your way back to Masca.
If you are not sure about hiking alone in Tenerife, you always have the option to join a guided tour. Check it out here for more information.
READ: 10 BEST THINGS TO SEE IN LOS GIGANTES
---
How to get to Masca?
By car:
If you decide to visit Masca with your own vehicle, it is better to go as early as possible to avoid having too many cars on the tiny road but also to find a parking space in Masca. Indeed, parking spots are extremely limited in Masca.
If you want to rent a car in Tenerife, with the cheaper rate use Rentalcars.com. Check it out here for the best deals.
By bus:
Due to parking restrictions, a good alternative is to leave your car in Los Gigantes and continue by bus to Masca. You can check timetables and connections on the Titsa website. However to our knowledge the buses to Masca are not very frequent.
By taxi:
Another recommended option is to take a taxi from Los Gigantes and not worry about driving on complicated roads and the risk of not being able to park. Prices are around 30 euros.
---
Where to stay in Masca?
If you decide to spend a night in Masca, although not so common, there are actually some great options.
If for example you decide to go hiking for a full day, then you may not want to drive back late in the afternoon. In that case, staying in Masca would be a great option. If you also like peace and the feeling of being secluded in the mountain, then Masca is the perfect place.
Our Recommended Hotels/Vacation homes:
$$ – Sweet Home Masca
$$ – Casa Berna
$$ – Traditional Canary Cottage in Masca
---
In conclusion about Masca
In the village of Masca you will be surrounded by a landscape of spectacular shapes and infinite beauty. Due to its remoteness and small size, Masca is a quiet place that invites you to disconnect and fully enjoy nature.
It is also satisfying to be encouraged to discover the history of its former inhabitants, as well as to understand the reason why dozens of people still want to live in this village, secluded from the world, in the peaks of Tenerife.
We can't recommend enough a visit of Masca in Tenerife.
For more information on the best things to do and see in Tenerife, check out this post: 25 AWESOME THINGS TO DO AND SEE IN TENERIFE
Tenerife is a great destination to travel to. No wonder, why it is one of the most popular islands in the Canary!
If you have any question about Tenerife or Masca, feel free to leave a comment below.
All our posts about the Canary Islands can be found here.
HAPPY TRAVELS!
---
Related Posts
BEST THINGS to see in Tenerife: here
MOUNT TEIDE, your full guide: here
PUERTO DE LA CRUZ, the most beautiful town in Tenerife: here
SAN CRISTÓBAL DE LA LAGUNA in Tenerife: here
LOS GIGANTES, most impressive landscape in Tenerife: here
COSTA ADEJE, one of the best places to stay in Tenerife: here
GARACHICO, one of the prettiest towns in Tenerife: here
10 BEST BEACHES in Tenerife: here
BEST TIME to visit Tenerife: here
TOP 8 REASONS why you should visit Tenerife: here
BEST PLACES TO STAY in Tenerife: here
25 BEST THINGS to see in Lanzarote: here
25 BEST THINGS TO DO in Fuerteventura: here
BEST THINGS TO DO in Gran Canaria: here