WHAT TO SEE ON UDO ISLAND? HOW TO GET TO UDO ISLAND FROM JEJU? WHERE TO TAKE THE FERRY FROM JEJU TO UDO?
Udo Island is a small island located near Jeju in South Korea. The road around the island is only 17 km. 1,800 inhabitants live there, mainly from agriculture and fishing.
Udo Island travel guide
The island is known as a "mini-Jeju" and is a very charming place which we highly recommend to visit if you go to Jeju.
In this post, we will tell you all you need to know about Udo and the best things to see on the island.
Main highlights about a visit to Udo:
Visit Beautiful Beaches: Udo Island is renowned for its picturesque places
Admire Unique Natural Landscapes: volcanic rock formations, caves, Udobong Peak etc.
Taste Local Food: Udo Island is famous for its delicious seafood and peanut ice cream
Tranquil Atmosphere: Udo Island is relatively less crowded and developed compared to Jeju
Driving/Cycling/walking around the island is so much fun!
And so much more, which we listed in this post!
---
Here is a glimpse of what to expect during a visit to Udo Island:
---
HOW TO GET TO UDO ISLAND FROM JEJU?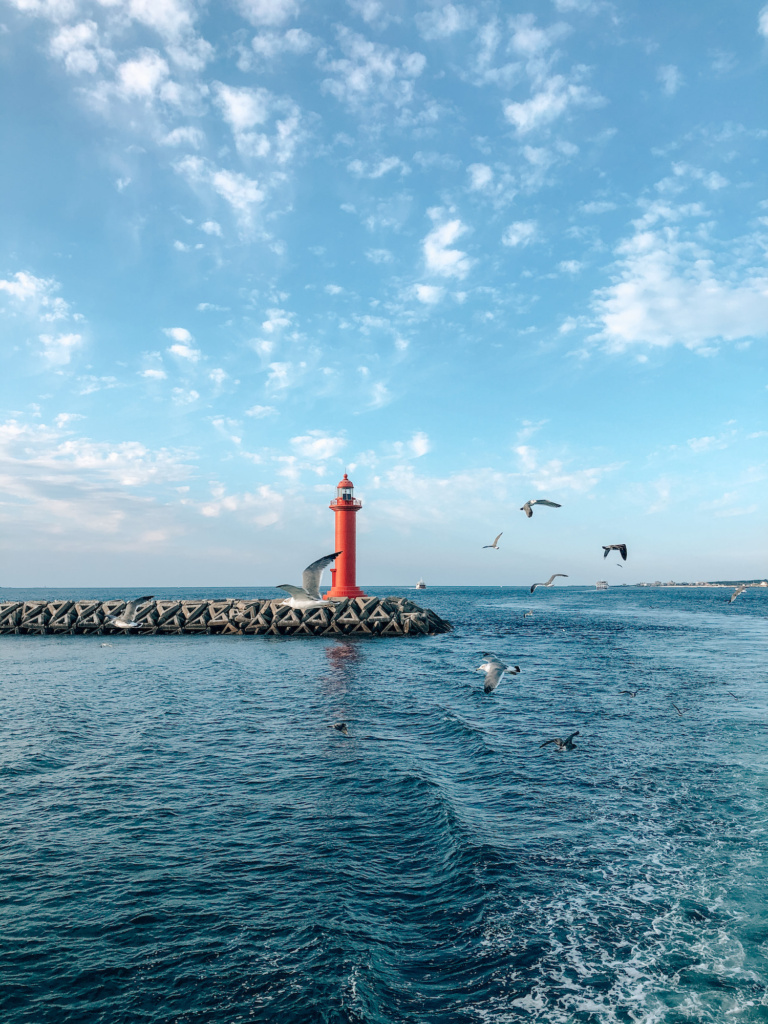 There is only 1 way to get to Udo, by ferry from Jeju Island. There is a daily ferry with a departure every 30min from Seongsan Ferry Port (location). The crossing lasts about 15 minutes.
You don't need to book your tickets in advance, simply go to the ticket office and buy your round-trip tickets directly there. You can simply hop on the next ferry and take 1 back at any time. Just make sure not to miss the last ferry!
When buying a ticket at the ferry terminal, remember to fill out the identification form and present it with your passport or Korean ID / ARC.
Ferry from Seongsan in Jeju to Udo:
Timetable: departure every day, except in case of bad weather. From March to October, the first ferry leaves at 7:30 am.
From November to February, the first departure is at 8 a.m. The last departure is at 5 p.m. in the winter, from 5.30 p.m. to 6.30 p.m. the rest of the year.
Prices: adults, 8,500 won; children, middle and high school students, between 3,200 and 8,100 won; children between 3 and 7 years old, 2,400 won
---
HOW TO GET AROUND UDO ISLAND?
1. Electric scooter/buggy:
This is by far the best way to explore the island. You will have a lot of fun driving around the island and you will be able to stop easily on the side of the road.
We loved our electric scooter, as you can see in the picture above 🙂 When you arrive at Udo there are many rental shops right in front of the ferry pier. Just choose one randomly they all have the same price pretty much.
Count at least 3 hours to go around Udo Island with multiple stops of course.
---
2. Bicycle (normal ones or electric):
if you are more sporty and have a bit more time to explore Udo Island, renting a bicycle is also a very good idea and a cheaper option. Consider a full-day trip if you opt for the bicycle.
---
3. Visit Udo by car (not recommended but possible)
If you have your own car, you can embark with your vehicle on the ferry and visit Udo Island. However, NO RENTAL vehicles are allowed. It must be your own car! So if you rent a vehicle in Jeju, you won't be able to bring your car. But it's ok, it's actually more fun to explore Udo without a car!
---
4. Visit Udo on foot:
Indeed, another way to get around the island is to walk. Udo is home to the "Olle Trail 1-1", which is approximately 12 km long. You pretty much follow the main road. The island is relatively flat, and the hike is not too difficult (allow 4 to 5 hours to go around).
READ: FULL GUIDE FOR HIKING THE OLLE TRAIL AROUND JEJU
Even if you have your own vehicle, we strongly recommend renting a scooter or buggy in Udo, it's so much more fun! This is what Udo is all about after all. Don't rush your visit.
---
BEST THINGS TO DO ON UDO ISLAND?
1. Sanho Beach (also called Seobinbaeksa)
So after taking the ferry, renting your scooter or bicycle, head to Sanho Beach, the first stop on Udo Island.
Sanho Beach is a superb coral beach with white sand, magnified by turquoise waters and black volcanic rocks. There are rare red algae fossils, also called corallinaceae, which also make this place so special.
Most people would usually take a lot of photos at Sanho Beach. But you can also jump in the water and refresh before visiting the rest of Udo.
---
2. Visit Tuksaenggot lighthouse on Udo Island
There are five lighthouses on Udo Island and this one is the northernmost. Its octagonal tower is painted white, which forms a nice contrast with the small black pebbles all around.
It is worth stopping for a few pictures and walking around the rocky coastline. We love this part of Udo Island!
---
3. Hagosudong beach
Another beautiful beach on Udo with fine sand, on the northeast coast is Hagosudong. This Idyllic beach, with crystal clear waters and numerous rock formations, is one of the best things to see on Udo Island.
It is very busy in the summer, thanks to the Watersport facilities and the presence of restaurants and shops.
We stopped there for a while and decided to eat lunch at one of the restaurants there. Abalone with rice! Yummy.
---
4. Biyangdo Island, one of the best things to see on Udo Island
Linked to Udo by a narrow bridge, we decided to head to Biyangdo Island.
There you can admire the wild nature and rugged coastline of Udo. As you arrive in Biyangdo, there is a place to the left where kids can hop on horses and do a small tour, it's very cute.
A visit to Biyangdo Island is one of the best things to do on Udo Island.
---
5. Eat a Peanut Ice Cream, the most delicious treat on Udo Island
Peanut ice cream is one of Udo's main specialties which you shouldn't miss. Indeed, this little peanut fruit is grown on-site!
With cinnamon and on top of a sorbet it is simply delicious. There are many restaurants and cafes which offer this famous dessert. Make sure to give it a try!
---
6. Geommeolle beach, a unique place in Udo
The next stop in the southeast of Udo: Geommeolle Beach, which means "black sand" in Jeju dialect.
The beach is not very big, but it an amazing sight with an impressive cliff right beside it.
It is possible to take a boat ride from Geommeolle (10,000 won). This is how you can approach the caves that can be seen inside the cliffs. Only one is accessible by foot, at low tide, called Dongangyeonggul.
---
7. Hike Udobong Peak, for the best view of Udo Island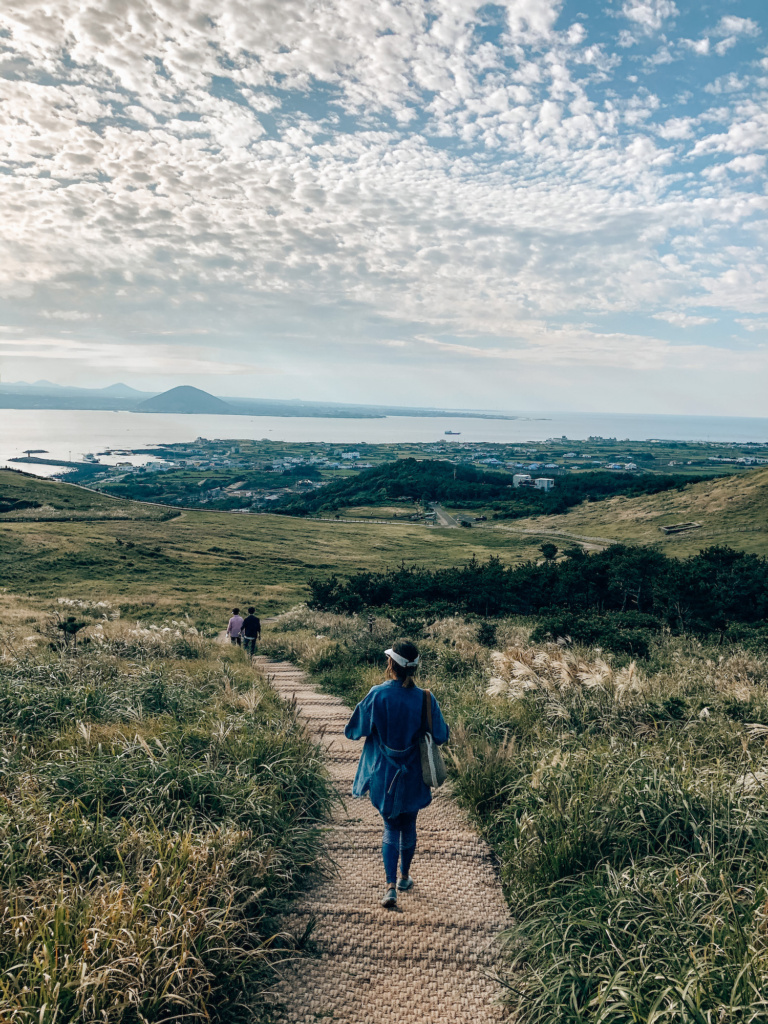 A few hundred meters away from Geommeolle Beach head to Udobong Peak. The highest mountain on Udo.
You can drive all the way to the parking and then hike the rest of the trail to the top. The climb is easy, the peak is only 130 meters high.
At the peak, you will reach a lighthouse. The view is stunning during the climb. Looking down, you can see the water crushing onto the cliff.
From the top, there is a panorama of this southern part of the island, which suddenly appears very rural. Allow an hour to make the round trip, and see a little more if you want to walk in the museum dedicated to some famous lighthouses.
---
SPENDING THE NIGHT ON UDO ISLAND? WHERE TO STAY ON UDO?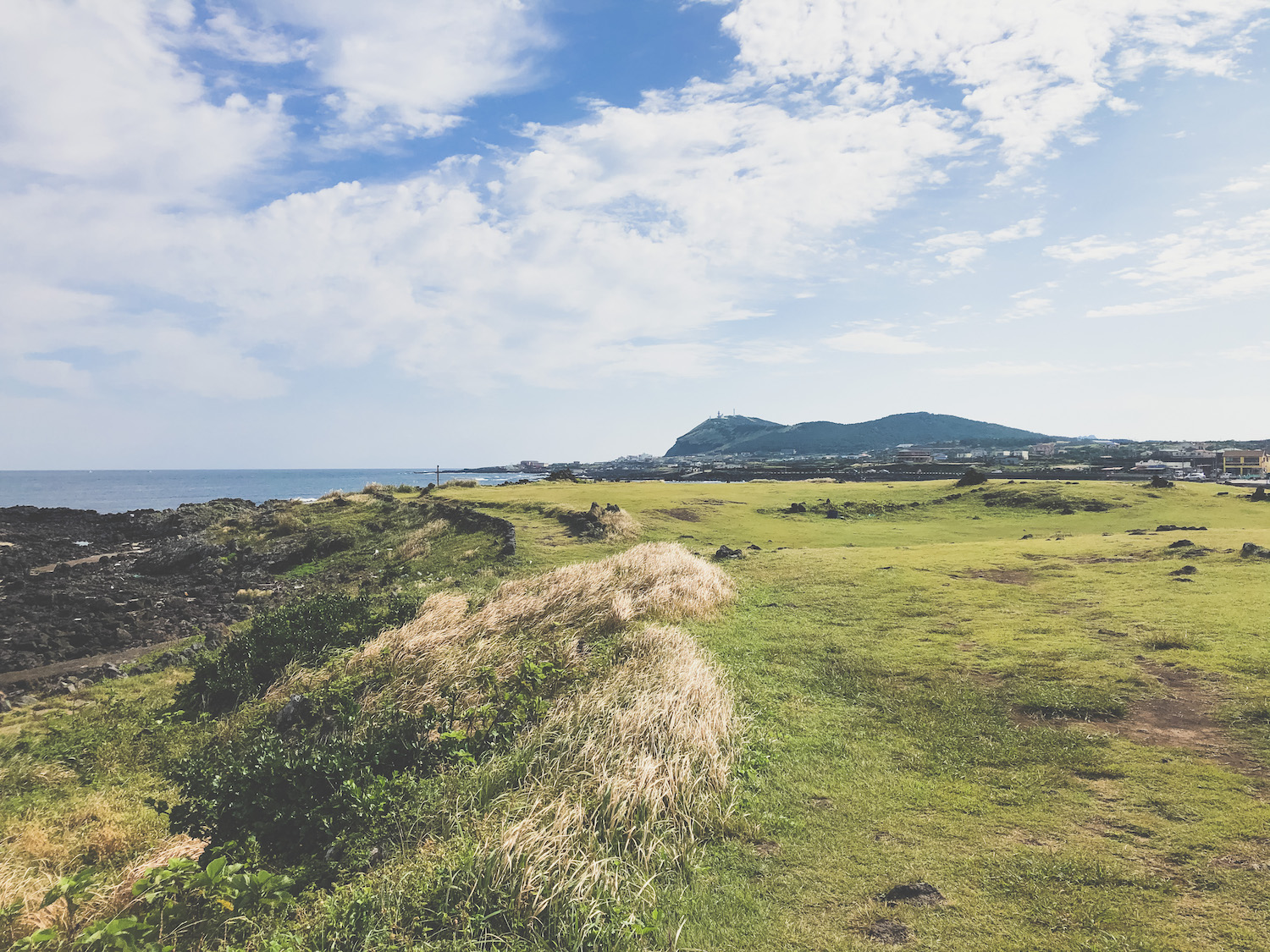 Yes, it's totally possible to spend the night a Udo Island! It's actually a really nice experience, as after the last ferry leaves, you will have the island pretty much to yourself!
We actually really love Udo Island and would 100% recommend spending a night on the island. There aren't many hotels though. Here is our recommendations:
Haumok-gil 52 Rent-a-House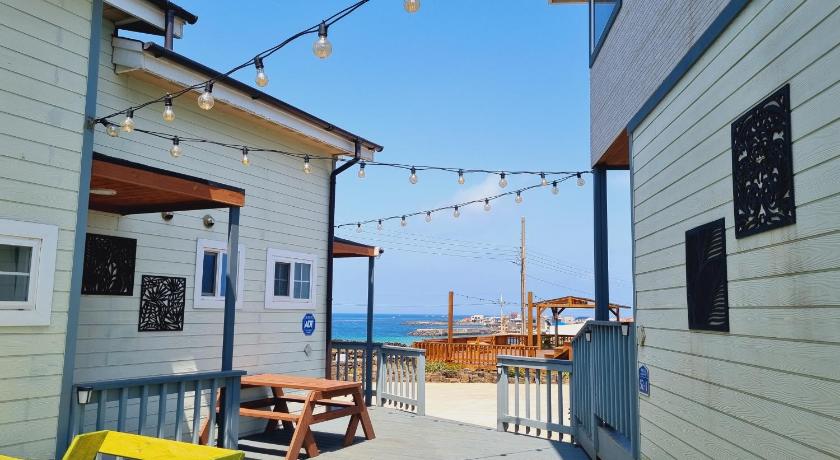 If you are staying on Udo Island, we recommend a place near the sea! The water around Udo is just stunning. A great place to stay on Udo is Haumok-gil 52 Rent-a-House. The value for money here is excellent. The place is super comfortable and near by the sea! A perfect stay on Udo island. BOOK HERE.
---
Udo Green
Udo green is another great option if you decide to spend the night on Udo Island during a trip to Jeju. Although the place is slightly older, the park around the hotel and the perfect location make up for it! CHECK IT OUT HERE.
---
IN CONCLUSION – IS UDO ISLAND WORTH A VISIT?
Udo Island is a fantastic destination for those seeking a relaxing, natural escape. With its beautiful landscapes, inviting beaches, and unique cultural experiences, you're sure to find plenty of things to do and explore on this charming island in South Korea.
Udo is like discovering a slightly different world, lost between sky and sea. We forget the frenzy of South Korea, we leave behind the civilization of Jeju. Some people compare the landscape of Udo with Scotland. It does feel similar at times.
So to the question, is Udo worth a visit during a trip to Jeju, the answer is 100% yes! It's actually one of the best things to see during a trip to Jeju!
So make sure to check it out.
---
READ ALSO
MOST AMAZING THINGS TO SEE IN JEJU
HIKE THE TOP OF HALLASAN MOUNTAIN IN JEJU
VISIT THE BEAUTIFUL HALLIM PARK
CHILL AT HAMDEOK BEACH THE MOST BEAUTIFUL BEACH ON THE ISLAND
ULTIMATE GUIDE FOR OLLE GIL TRAIL AROUND JEJU
VISIT MANJJANGUL CAVE, THE LARGEST LAVA TUNNEL IN THE WORLD!