Bulguksa Temple is one of the main masterpieces of Buddhist art among the ten remarkable historical remains that can be discovered in Gyeongju, the old capital of Korea (full guide here about Gyeongju).
Bulguksa Temple was listed on the UNESCO World Heritage, as a set of religious architecture of exceptional value, in 1995.
In this post we will explain all you need to know about Bulguksa temple, the main things to see at the temple, how to get there from Gyeongju and our impression of the Temple.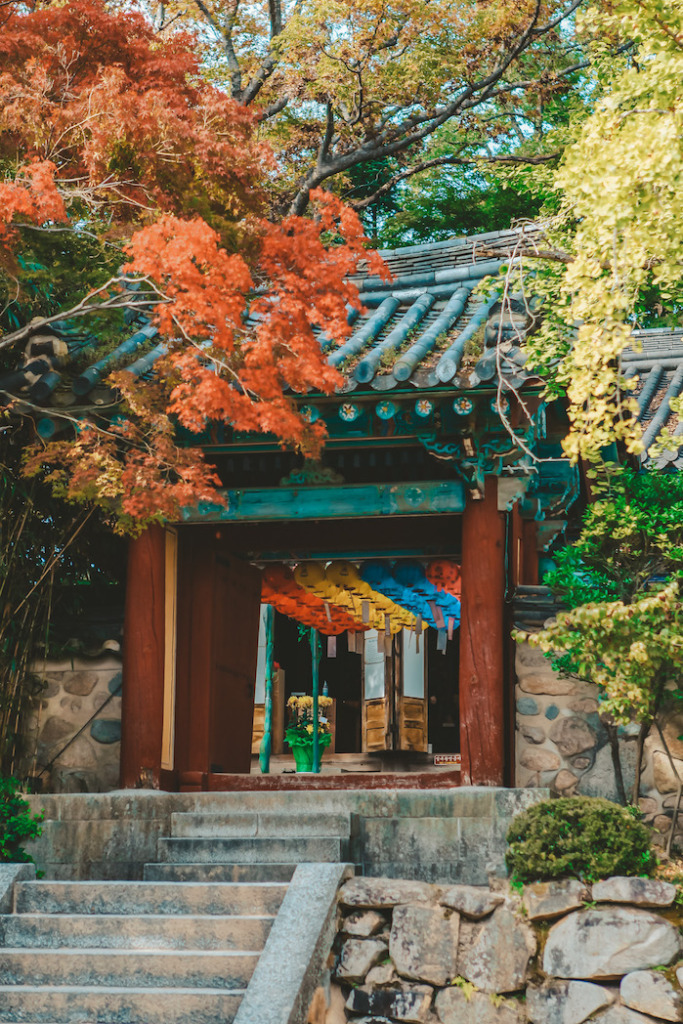 Bulguksa Temple is a complex comprising a series of wooden buildings built on raised stone terraces.
Its enclosure is divided into three parts: the Hall of Buddha Vairocana, Birojeon, the Hall of Great Awakening, Daeungjeon, and the Hall of Supreme Happiness, Geungnakjeon.
These areas and the stone terraces were designed to represent the land of Buddha. The temple is home to seven National Treasures of South Korea, including the stone pagodas Dabotap and Seokgatap, Cheongun-Gyo, the Blue Cloud Bridge, and two gilded bronze statues of Buddha.
---
History of Bulguksa Temple
The construction of Bulguksa began in 751, during the reign of Gyeongdeok, King of Silla. The latter is known to have strongly encouraged Buddhism in Korea. However, the construction of Bulguksa was initiated by the Prime Minister, Kim Dae-Seong.
In reality, there was already a temple in this place, built as early as 528 (Hwaeom Bulguksa or Beonmyusa), and Kim Dae-Seong was essentially responsible for rebuilding it and giving it its current final name.
---
How to get to Bulguksa Temple?
If you are visiting Bulguksa Temple, you are most likely staying in Gyeongju city. Bulguksa temple is accessible by bus no.10 or 11 from the Gyeongju express bus terminal, or by bus no.700 from Gyeongju station (allow between 40 and 50 minutes for the journey in both cases) + 10 min walk.
A taxi ride, will take you about 20 to 30min.
For more information on how to get to Gyeongju, you can check out our full post here.
Admission: Adults 6,000 won / Teenagers 4,000 won / Children 3,000 won / Preschoolers 2,000 won
Location: here
---
What to see in Bulguksa Temple?
Bulguksa Temple was built to represent the land of Buddha. As a result, the site is divided into three distinct areas. These include the Birojeon (Vairocana Buddha Hall), the Daeungjon (the main temple) and the Geungnakjeon (the hall of supreme bliss).
It is in Daeungjon that Shakyamuni Buddha is housed. As for the Birojeon, it contains National Treasure No. 26. Finally, the Geungnakjeon houses the famous bronze Buddha which has been designated as National Treasure No. 27.
At the heart of the Temple, you will find two stone pagodas which are the oldest elements of the temple. Indeed, these are the remains of the period of the reign of the King of Silla. These include the Seokgatap and the Dabotap which respectively represent the male and female elements, each symbolized by yin and yang.
1. The Seokgatap (Yang)
This three-story stone pagoda is located in the temple courtyard and dates to around 751, the period of the Unified Silla. It was built in honor of Sakyamuni Buddha. You should know that the oldest printed text in the world was discovered in the reliquary of this one.
2. Le Dabotap (Yin)
Its name can literally be translated as "the pagoda of abundant treasures". With its 10m high, the Dabotap faces the Seokgatap. Like the other pagoda, this one also dates from the Unified Silla period. It was built in honor of Buddha Prabhutaratha (Dabo).
3. Cheongungyo Bridge and Baegungyo Bridge
Cheongungyo Bridge and Baegungyo Bridge are the bridges connecting to Jahamun Gate that leads to Daeungjeon Hall. It symbolizes bridge connecting the people's world beneath and the Buddha's world above. This is one of the most impressive part of Bulguksa Temple.
4. Daeungjeon Hall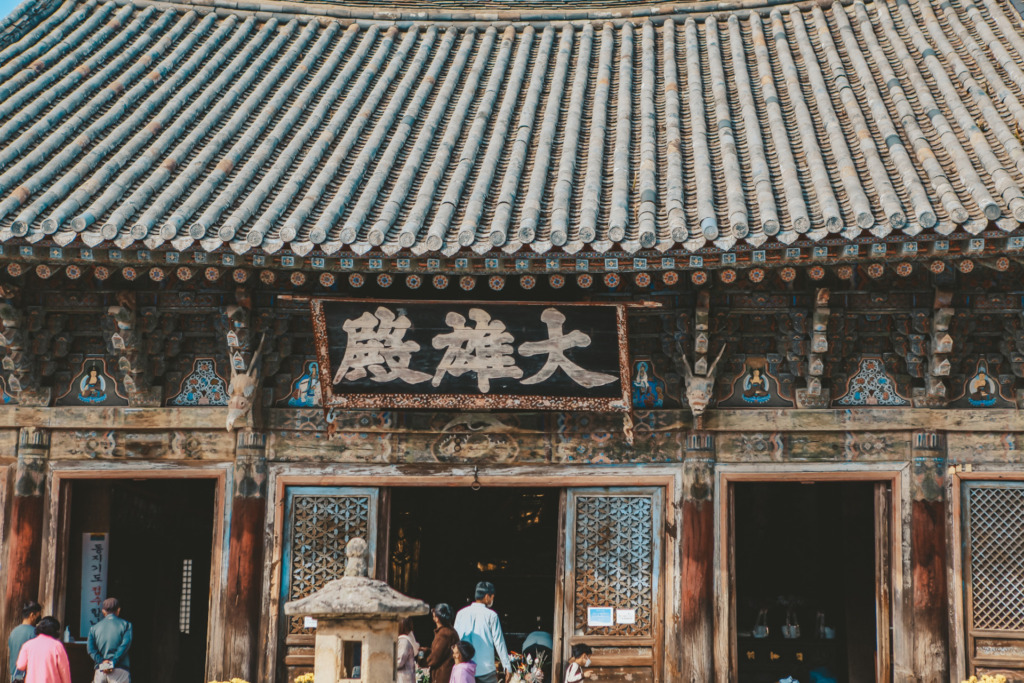 The Bridges open onto the Daeungjeon Hall, or Hall of Great Enlightenment (or Great Awakening), dedicated to Shakyamuni, the historical Buddha. He is the prince who discovered the suffering of his people, renounced his titles, and began a life of asceticism before attaining enlightenment.
5. Museoljeon Hall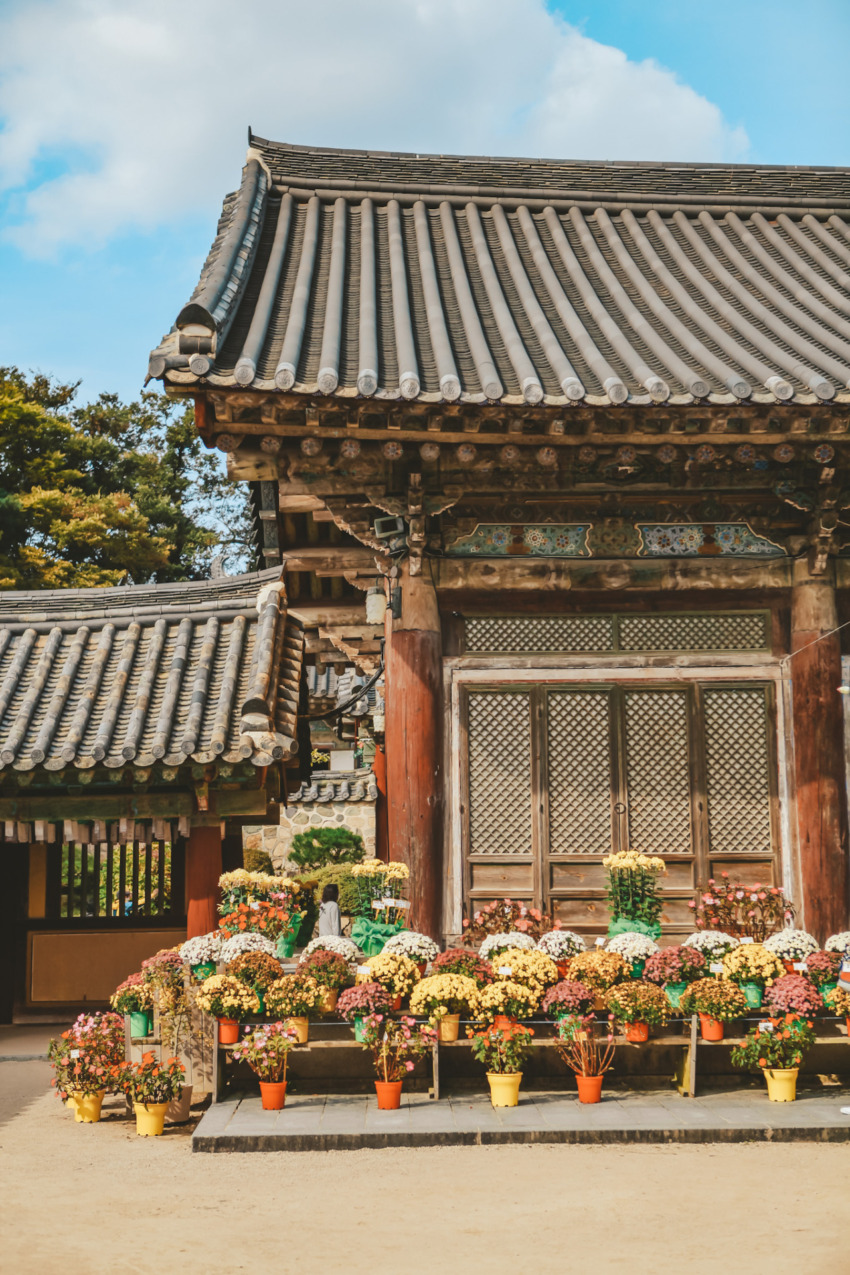 Behind Daeungjeon is the reading room, Museoljeon ("wordless" – don't we say that what Buddha teaches us can only be done with words alone?). Built in 670, it was mainly used for the teachings of the monk Uisang.
6. Yeonhwagyo Bridge and Chilbogyo Bridge
Go back, at the level of the main facade. On the left side of the temple this time, you will see Cheongungyo Bridge and Baegungyo Bridge, forming another impressive set of stairs: the Yeonhwagyo Bridge (of the lotus) and Chilbogyo (of the seven treasures) which allow you to pass the Anyangmun gate.
7. Geugnakjeon Hall
The bridges give access to the Geugnakjeon, or Hall of Supreme Happiness, therefore dedicated to Buddha Amitabha. Its golden statue is classified as National Treasure No. 27. Consider stroking the golden pig that faces the pavilion, so that luck and good fortune will bless you.
8. Gwaneumjeon Hall
Continuing west and climbing further steep stairs, one enters Gwaneumjeon, the hall of Bodhisattva Avalokitesvara, who embodies compassion and healing. He is known to be the one who listens to the cries of this world and who is dedicated to the well-being of all, always ready to help those who are suffering.
9. Saritap Pagoda
Among the other treasures of Bulguska temple, there is also the stone pagoda Saritap (treasure no 61), whose lamp shape is particularly original. The Japanese brought it to their country in 1905, before returning it in 1933 and settling it in its present place.
---
Our Impressions of Bulguksa Temple
We visited the temple during autumn and it was simply stunning. The whole area was absolutely gorgeous. The first set of stairs leading to the main gate of the Temple (Jahamun) are really impressive and a great spot to take photo. Bulguksa is one of the temple that we enjoyed the most in Korea.
Other temples worth visiting in Korea are Naksan Temple in Yangyang, Haedong Yonggungsa in Busan, Jingwansa in Seoul, and Jeondeungsa in Ganghwado near Incheon.
If you are in Gyeongju, a visit to Bulguksa Temple is a must.
If you have been following our blog and other posts about Korea, you know that we also recommend Temple Stay experience in Korea. Temple Stay program allows you to sleep at the temple and live the life of the Monks for a day or 2.
It is a unique experience in Korea which is worth trying if you are visiting the country. Here you can find more information about Bulguksa Temple Stay program.
---
Combining your visit with Seokguram Cave
If you visit Bulguksa Temple, most people will combine it with Seokguram Cave.
History of Seokguram Cave
For a long time the cave of Seokguram (national treasure n ° 24), formerly called Seokbulsa, was unknown to the general public. Although built in the 8th century at the same time as the Bulguksa Temple, it remained abandoned and gradually faded from people's memory.
Until a postman, seeking shelter from a storm in one of the many cellars in the region, rediscovered it by chance in 1909. The Japanese occupation authorities wanted to dismantle it and take it to Seoul, but fortunately, they could not carry out this senseless project.
An impressive 3.5 meters high Buddha inside the Cave
The cave houses the statue of Buddha, 3.5 meters high. Buddha is seated in a position known as the "mudrā of taking the earth to witness", the right hand resting on the knee, the fingers brushing the ground (a way of taking the earth as witness when Māra, personification of evil, denies awakening of Buddha, arguing that there was no one to confirm it).
Everything is perfectly symmetrical. Very impressive work!
The statue is surrounded by fifteen Bodhisattvas and disciples, whose representations are engraved on the walls in low relief. Unfortunately it is not allowed to take photo inside the temple.
How to get to Seokguram Cave?
Seokguram cave can be reached by bus number 12 from the "Bulguksa" stop (20 min journey) + 20 min walk. The walk to the cave from the parking lot is actually very pleasant with a nice view to the ocean.
Admission: Individual: Adults 6,000 won / Teenagers 4,000 won / Children 3,000 won
---
Where to stay in Gyeongju?
If you visit Bulguksa, chances are that you will be spending at least 1 night in Gyeongju. We therefore recommend staying in a Hanok to experience this place fully.
Hanok 1st Street
Hanok 1st Street is a beautiful Hanok Hotel located near the main sights in Gyeongju. This place is absolutely stunning and would make your trip to Gyeongju complete. If you travel to Korea, experiencing staying in a Hanok is a must. You can check Hanok 1st Street here.
---
Gyeongju Wadamjung Hanok Pension
Gyeongju Wadamjung Hanok Pension is located close to Gyeongju Gyochon Traditional Village. In other word, one of the best place to stay in Gyeongju. On top of the great location, this Hanok is beautiful and the garden at the center makes it a magical place to stay.
The other good thing about Gyeongju Wadamjung Hanok Pension, is that breakfast is included in the price. This place is often fully booked, however if it's still available during your stay, do not hesitate, book it right away. Check it out here.
---
Hwangnamkwan Hanok Guesthouse
Hwangnamkwan Hanok Guesthouse is located right off the main touristic street of Gyeongju. If you stay here, it will be easy to walk around the city and finding good restaurants for dinner. Therefore, we also highly recommend a stay at Hwangnamkwan Hanok Guesthouse. Book it here.
---
How to get to Gyeongju?
There are several options if you plan to travel from Seoul.
Train (KTX)
KTX is the fastest way to get from Seoul Station to Singyeongju Station. It would take about 2 hours. If you are planning to visit a few cities in South Korea like Busan, Jeonju, and Gyeongju, there is special discount pass which is only available to international tourists or foreign residents. These special passes allow unlimited travel on trains managed by KORAIL for a specified period.
Express bus
The cheapest way to get to Gyeongju is the bus from Seoul Express Bus Station in Seocho-gu to Gyeongju Express Bus Station. The approximate time to travel is 3 hours and 30 minutes.
By car
If you plan to visit Gyeongju by car, it wouldn't be a bad idea, as you will save some money traveling by taxi to Bulguksa Temple, or Yangdong village. However, without traffic count 4h to get there.
If you are traveling from Busan, the same options are available, either KTX or Express Bus. Both are very convenient as Busan is relatively close to Gyeongju.
---
In conclusion about Bulguksa
Bulguksa is a must-see if you are in Gyeongju which is also one of our favorite place to visit in Korea. Check out our full guide here for Gyeongju
The temple is especially beautiful during Spring and Autumn the most beautiful seasons in Korea.
We lived in Korea for 3 years and wrote many posts about things to do in this country. You can check them all here.
---
Related posts
GYEONGJU, the old capital of Korea: here
GANGNEUNG and the east coast: here
SOUTH KOREA: best things to do in South Korea: here
HAEDONG YONGGUNGSA, the most beautiful temple in Korea: here
TAEAN: amazing national park on the west coast of Korea: here
JEJU: All you need to know before you go to Jeju: here
JINGWANSA, one of the most beautiful temple: here
JEONJU Hanok Village: here
NAMSANGOL Hanok Village in Seoul: here