WHAT TO SEE IN IKSEON-DONG? WHAT ARE THE BEST CAFES AND RESTAURANTS IN IKSEON-DONG? IS IT ALSO NICE TO VISIT IKSEON-DONG AT NIGHT?
Finally we get to write a post about our favorite neighborhood in Seoul, Welcome to Ikseon-Dong!
Ikseon-Dong (not to be confused with Insadong) is a district slightly east of Insadong. It's a neighborhood with the cutest little alleys with many Hanoks, trendy boutiques, amazing cafes and great restaurants.
Some call Ikseon-Dong the hipster place of Seoul. It is certainly one of the trendiest and most up and coming neighbourhoods in Seoul. We simply love it!
In this post we wrote all you need to know about Ikseon-Dong. Enjoy the tour 🙂
Ikseon-Dong is a bit complicated to explain. It's a very small neighbourhood in which you feel relaxed, has a great vibe, and with lots of traditional Korean houses (Hanoks).
The atmosphere in the middle of these alleys with all these Hanoks is just fantastic! It is also an incredible place for your instagram photos. There are so many great angles from which you can take stunning shots.
The cool thing about the neighborhood is that the alleys are really small, so you feel like you're walking around a complete different part of Seoul. The fact that Ikseon-Dong is a pedestrian area also adds to the special atmosphere.
Recently we visited Ikseon-Dong at night and it was even cuter! Although some shops are closed, the restaurants, bars and cafes are still open.
Here is what to expect during a visit to Ikseon-Dong in Seoul:
---
How to get to Ikseon-Dong?
The Hanok Village of Ikseon-Dong is right in the center of Seoul located in Jongno-gu. Ikseon-Dong is not yet as known as Bukchon Hanok Village, but it is certainly gaining popularity over the last few years. We actually prefer spending some times in Ikseon-Dong rather than Bukchon as there are much more things to do… (just our opinion).
The easiest way to get there is to walk from Insadong. It's a bit hard to navigate and find your way to Ikseon-Dong. The best way to it use Kakao Map or Naver and point to a restaurant or cafe in Ikseon-Dong to find your way.
By subway:
Take Line 1 and stop at Jongno 3-ga Station. Then walk for 5-10 min. Since Ikseon-Dong is not only 1 street but a small area full of little alleys, it is sometimes not easy to get there. Just venture yourself in some of the small alleys, and you will normally end up in Ikseon-Dong. Try to follow where most people are heading to.
By bus:
If you head there by bus, stop at Changdeokgung, and then walk to Ikseon-Dong. It is about 5-10 min walk.
---
What to see in Ikseon-Dong?
Cute alleys full of Hanoks
Ikseon-Dong is often discovered by chance, walking to a narrow lane. Once there you will get pleasantly lost in a labyrinth of traditional houses (Hanok). Well, that's precisely why people come to Ikseon-Dong. Having a pleasant stroll through the alleys, forgetting about the busy life of Seoul and exploring all these great little shops.
Some of the Hanoks have been beautifully rehabilitated and turned to cafes, restaurants and boutiques. We love to go to Ikseon-Dong to spend a chill afternoon or pleasant evening after work. Just for the very beautiful houses and its really different atmosphere, we really advise you to visit Ikseon-Dong.
Ikseon-Dong can get very crowded in the afternoon. The best way to avoid the big crowd is to visit around 11:00am or in the evening after 18:00pm.
Hipster boutiques
Many local artists started to set their boutiques in Ikseon-Dong in the recent years.
Madang Flower Cafe is probably one of the most well known boutique of Ikseon-Dong and probably to the most "instagrammable" place. It owes its success to the absolute stunning decoration on the outside surrounded by small trees and colorful umbrellas.
Our next stop is Assibabgagan, a shop that has become popular for its antique furniture and cute interior. This shop mainly sells aroma diffusers, candles, and other scent related items. Even if you don't intend to buy anything a peek inside this boutique is really worth it.
There are many other boutiques in Ikseon-Dong, for jewelry, clothes, accessories etc. Simply explore all the alleys in Ikseon-Dong and you will discover some fantastic places.
Restaurants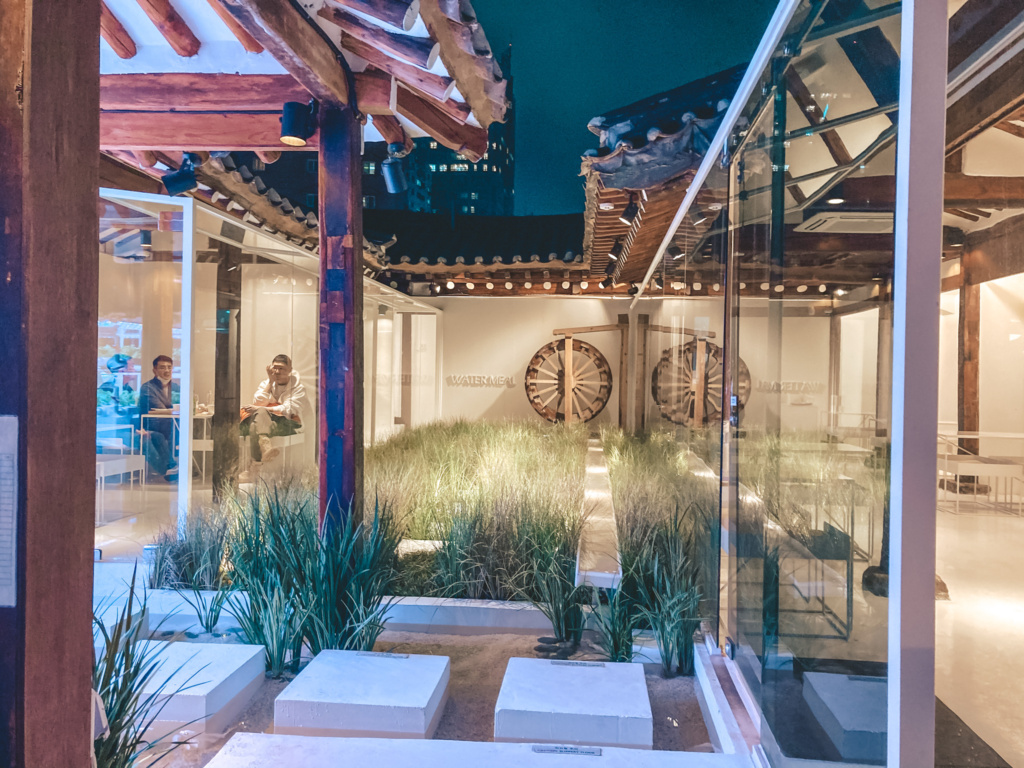 Our latest discovery was Watermeal! Wow, what a stunning place. See picture above. The food was so good, that we would definitely rank this place in our top 10 favorite restaurants in Seoul!
Another stunning place in Ikseon-Dong, is a Thai restaurant called Saladaeng Bangkok. The interior of this place is gorgeous. Big plants everywhere, water running in the middle of the restaurants, beautiful lights, and all these in a Hanok style house. The contrast is fantastic.
We highly recommend this place if you visit Ikseon-Dong. However, expect a bit of waiting time as it is very popular.
If you fancy great Italian food head to Zio cucina. They have amazing pizzas and pastas. Zio cucina is located right next to Madang with an equally colorful storefront.
The style is chic and elegant, with art-deco type chairs that blend in perfectly with the traditional style. But the most important thing is the food, which is excellent, and explains the very long queues at peak hours.
What is also very famous in Ikseon-Dong, are the souffles pancakes. DongBaek Bakery soufflé pancakes is one of the famous place for these delicious treats.
Cafes
Like everywhere in Seoul, cafes are a big part of the Korean culture nowadays. We wrote another post here about the best outdoor cafes in Seoul.
Ikseon-Dong is full of amazing cafes mixing modern and tradition in these Hanoks.
Midamheon is one of our favorite one. What we like about it, is the inner courtyard of this beautiful restored Hanok. Even if you can't find a place outside, just take a look at the patio. In the evening, it is even prettier with the light, with makes it a very cozy atmosphere.
Cheongsudang is simply WOW ! This cafes made us a feel like in a remote Japanese zen temple. With water running around the cafe, plants everywhere, and very delicate way of presenting coffees and desserts. Cheongsudang place is a really special place in Seoul. Check out their instagram here, you will understand why!
If you would rather try a traditional Korean tea, head to Tteuran, a traditional tea and dessert house. For those who don't like coffee, this is the place to go! Tteuran also offers traditional yummy desserts. The atmosphere is really nice and relaxing.
There are so many amazing cafes in Seoul in general but particularly in Ikseon-Dong, which makes it ivery difficult to only name a few.
---
Where to stay near Ikseon-Dong?
Staying near Ikseon-Dong, allows you to easily explore Seoul as this neighborhood is pretty much located in the heart of the city.
Makers Hotel would be a perfect base for your trip to the capital.
From this hotel you are at walking distance to Insadong, Gwanghwamun square, Myeongdong, Gwangjang market and Changgyeonggung Palace. The Makers hotel is very hip and modern with all the necessary amenities and comfort. You can check it out here.
---
In conclusion about a visit to Ikseon-Dong in Seoul
It is worth visiting Ikseon-Dong in Seoul? The answer is absolutely YES! In fact, Ikseon-Dong is where we always bring any of our visitors to Seoul. For us it is a must-see in the city.
Perhaps not a few years ago, but as we wrote this post in 2022, we can't recommend enough to check it out.
If you like Hanok Village, we recommend visiting Eunpyeong Hanok Village. It is another fantastic village in the north of Seoul, located by the Bukhansan mountain and right next to one of the most famous temple in Korea: Jingwansa.
We lived in Seoul for 3 years and loved exploring all these beautiful places in Korea. We wrote many posts about Korea, you can find them all here.
HAPPY TRAVELING !
Photo credit: © Seoul Metropolitan Government/Penta Press
---
Links to related articles