WHAT TO DO IN TENERIFE? BEST BEACHES IN TENERIFE? WHEN IS THE BEST TIME TO VISIT TENERIFE? BEST THINGS TO DO AS A COUPLE IN TENERIFE?
Are you planning a trip to Tenerife and wonder what are the best things to do on the island? You've come to the right place, as we describe all you need to know about Tenerife in this full guide.
"Tenerife is one of the most stunning islands in the Canary"
This post lists the best things to see on this beautiful island in the middle of the Atlantic Ocean. This little paradise on Earth part of the Canary Islands, has so much to offer.
READ: FULL GUIDE FOR VISITING THE CANARY ISLANDS
When we think of the Canary Islands, we mainly imagine seaside resorts and long sandy beaches. However, Tenerife is not limited to that…
Tenerife is the largest island in the Canaries with its 2,034 km2, and also the one with the highest altitude thanks to Mount Teide. Needless to say, Tenerife offers impressive landscapes all around the island.
The weather is good all year round. As you may already know the Canary Islands have an eternal spring weather, which allows you to enjoy a trip to Tenerife all year round.
In addition, this volcanic island has such a diversity of landscapes that a one-week stay will not be enough to cover it all.
Here is a glimpse of what to expect during a visit to Tenerife. Enjoy the video:
So let's break down all the places worth a visit in Tenerife. And enjoy your trip to this beautiful island!
---
WHAT TO DO IN TENERIFE?
1. Visit Mount Teide, the symbol of Tenerife
After we came back from our trip to Tenerife, our visit to Mount Teide was definitely the most memorable part of our holiday. Going to Tenerfie and not visiting Mount Teide would be a real pity. Even if you go to the Tenerife to relax at the beach, we highly recommend to take at least a half day trip to see this marvellous mountain. BOOK YOUR TOUR HERE.
Located at the center of the island, at an altitude of around 3,715 m, Mount Teide is listed as a UNESCO World Heritage Site since 2007. Mount Teide is today the most visited national park in all of Spain! Yup that's how striking this place is.
You can discover unique volcanic landscapes with craters, chimneys and large flows of solidified lava. Once you reach the foot of Mount Teide, several viewpoints have been installed to allow you to enjoy panoramic views of the island.
At the center of the park is Teide, the highest peak in Spain and the third highest volcano in the world. Impressive isn't it?
You can climb Teide on a long hike, or take the cable car to access breathtaking views of the entire region.
OUR TIPS TO VISIT MOUNT TEIDE:
Make sure to bring a jacket! It's definitely much colder up there.
Book your ticket to take the cable cars days in advance. It is a must! How to book it? Simply click here.
You do not have to go all the way to the top. There are beautiful hikes inside the National Park. The most popular one is las Roques de Garcia. This easy hike is breathtaking!
If you do not have a car, join a full day tour with a guide. To book, click here.
Be aware that this is the #1 attraction in the Tenerife. So it can get very crowded. Therefore we highly recommend to visit this place early in the morning.
Location: here (parking area)
READ: FULL GUIDE FOR VISITING TEIDE NATIONAL PARK IN TENERIFE
---
2. Visit Puerto de La Cruz, the most beautiful city in Tenerife
Puerto de la Cruz is one of the most touristic destinations in Tenerife. Located on the north coast of the island, this city has been attracting many travelers for more than two centuries now. In the old town, you can discover a rich historical heritage, and you will find many bars, restaurants and shops.
You will also have the opportunity to relax in the stunning Botanical Garden and have fun at Lago Martiánez, a large aquatic complex imagined by the legendary César Manrique.
Then head to the one of the beached at Puerto de la Cruz. You can choose between Playa del Costillo, Playa Chica, or Playa Maria Jimenez with a gorgeous waterfront area also designed by César Manrique. On the opposite side of town you also have the option to go to Playa Martiánez.
Location: here
READ: 25 BEST THINGS TO DO IN PUERTO DE LA CRUZ
---
3. Visit Loro Parque, one of the best things to do in Tenerife for families
In Tenerife take the opportunity to visit the Loro Parque, the best zoological park in the world according to Tripadvisor. Penguins, Orcas, Parrots etc. There are lots to see here.
If you are visiting Tenerife, this is the perfect opportunity to discover the Loro Parque, which you may have already heard of. Some even go on excursions from the island of Gran Canaria just to visit the park. This place is rather huge, so plan at least half day to see it all.
The park is located in Puerto de La Cruz.
BOOK YOUR TICKET IN ADVANCE HERE AND SKIP THE QUEUE
Location: here
---
4. Explore Masca, the most charming village in Tenerife
Masca is a small village which is quite difficult to reach, but the journey is absolutely worth it! Masca is one of the most scenic places in Tenerife. It will make you feel that you reach the end of the world.
Driving all the way to Masca it's a rather scary experience. There is only a very narrow road that leads to the village. And when you see a bus full of tourists coming the opposite way, you will think how is that possible to cross each other…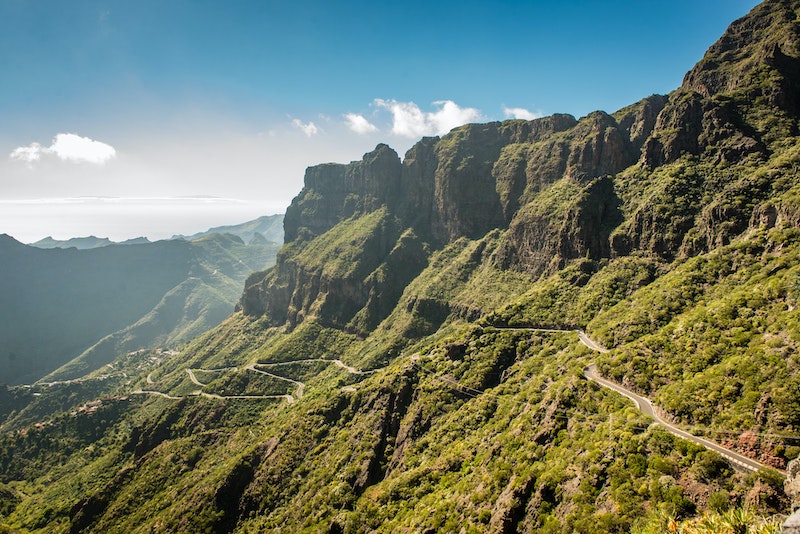 However, once you reach this place, you won't be disappointed. The landscape from this authentic village lost in the middle of the mountains is absolutely breathtaking. On a clear day you can even see the Atlantic Ocean from the village. Once you are there take a stroll through the village and eat at one of the local restaurants.
Visting Masca was one of our favorite things to see in Tenerife.
Location: here
READ: FULL GUIDE ABOUT MASCA HERE
---
5. San Cristóbal de La Laguna, the most historical town in Tenerife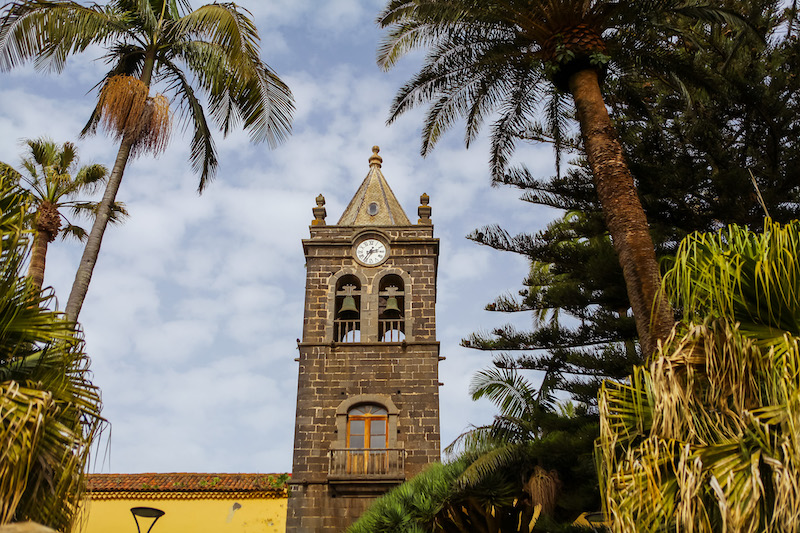 San Cristóbal de La Laguna is one of the most beautiful towns in Tenerife. La Laguna as it is most often called, was declared a Cultural Asset and World Heritage Site by UNESCO in 1999 for having preserved intact its original layout dating from the 15th century. This type of layout even served as a model for colonial cities in America.
A visit to La Laguna is a must because of the richness of its historical architecture, its monuments and its streets full of life and activity.
La Laguna was the former capital of Tenerife. In the past, it was an important center of political, economic and cultural power in the Canary Islands. The city is also the seat of the University of La Laguna, one of the most emblematic institutions of the island.
In La Laguna, make sure to visit the Catedral de la Laguna, the main streets of C. Herradores, C. Obispo Rey Redondo and San Augustin as well as the Square of the Supreme Council of the Canaries, Casa Salazar and Plaza del Adelantado.
Location: here
READ: 10 BEST THINGS TO SEE IN LA LAGUNA, TENERIFE
---
6. Discover Santa Cruz de Tenerife, the capital of Tenerife
Santa Cruz is the capital of the island of Tenerife. Located in the north of the island, this very charming city is a great place to explore in Tenerife. The city center is the perfect place for a short walk to discover the most beautiful monuments of the city, and for a shopping spree.
Go through Garcia Sanabria Park. This large space is located above the main street, where you can walk around and sit quietly. From there stroll along el Calle Castillo before taking a few steps on Plaza España.
1 place that will certainly catch your attention is the Auditorium Tenerife Adán Martín, resembling the famous opera in Sydney.
Location: here
---
7. Anaga Rural Park, one of the best things to see in Tenerife
Very close to Santa Cruz de Tenerife is the Anaga Rural Park. It is located in the heart of a mountain range that leads to the sea. Many trails in this park allow you to take superb walks in unspoiled nature. You will find there secluded coves with black volcanic sand beaches and steep cliffs. A paradise for hikers!
On your way to Anaga Rural Park there are multiple viewpoints where you can stop. Mirador De Jardina (here) or Mirador Cruz del Carmen (here) are beautiful places with stunning views!
One of the most famous and most beautiful hikes in Anaga Rural Park is the Faro de Anaga Lighthouse. This loop trail starts and ends at Chamorga village. Count at least 4 hours to cover the 9km journey. The hike is relatively easy and the views are stunning!
---
8. Playa de las Teresitas, the most beautiful beach in Tenerife
If you continue on the same road crossing Anaga Rural Park, you will end up in one of the most magical place in the Tenerife: Playa de las Teresitas.
Las Teresitas is the most emblematic beach in Tenerife. Located in the village of San Andrés, this golden sand beach is remarkable because it is full of palm trees making it look like somewhere in Thailand.
The tranquility of its water, thanks to the installation of breakwaters, makes it an ideal choice to spend a day at this beach with the family and to walk on its shore.
Las Teresitas is surely one of our favorite beaches in Tenerife. If you want to see a postcard-like beach, then spend a beautiful day at Las Teresitas.
Location: here
READ: 10 BEST BEACHES IN TENERIFE
---
9. Igueste, a village off the beaten track in Tenerife
Not far from Playa Las Teresitas, you can reach a pretty village called Igueste built on the edge of the mountain directly facing the sea.
If you are looking for a place without any tourists, this is the place for you. The typical white-painted stone houses on steep slopes can be found on the edge of a Barranco. On the steep slopes, there are many orchards and vegetable gardens. The fishing village offers a typical Canary local experience!
We absolutely loved it and highly recommend that you add this place to your itinerary of things to see in Tenerife.
On your way to Igueste, you will pass multiple secluded beaches such as Playa de Las Gaviotas and Playa Cueva del Agua. Worth a look if time allows.
Location: here
---
10. Los Gigantes, the most impressive cliffs in Tenerife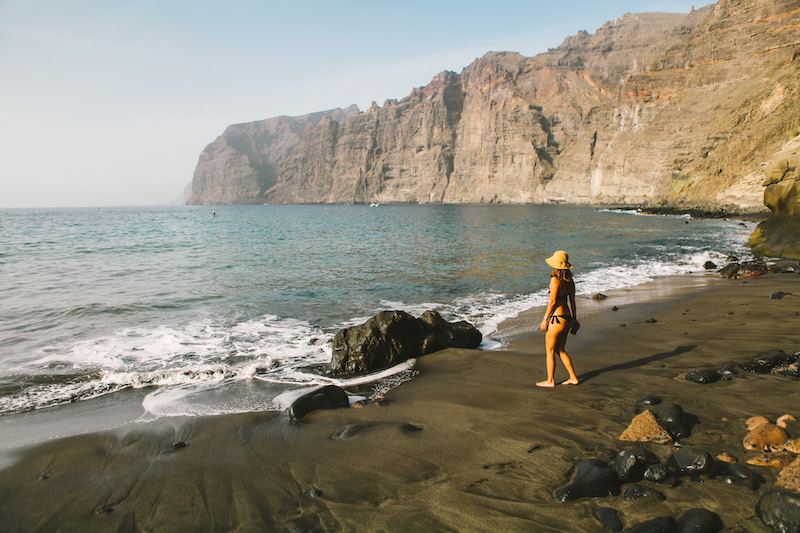 The cliffs of Los Gigantes are certainly one of the most spectacular landscapes in Tenerife. Located on the west coast of the island, Los Gigantes rises majestically from the sea in the form of vertical rock walls which, in some places, reach 600 meters in height.
In fact, Los Gigantes extends from the port of Los Gigantes to Punta de Teno, at the western end of the island, giving life to this spectacular basalt wall of volcanic origin.
The ancient aboriginal inhabitants of the island considered Los Gigantes a sacred area known as "Muralla del Infierno" or "Muralla del Diablo". For them, the rock formation represented the end of the world.
For us we were definitely quite impressed with the cliffs of Los Gigantes. We parked our car at the harbour, and wander through the marina and the town all the way to the beautiful Playa de los Guios.
Spending a day at Playa de los Guios is also a great idea. We loved it! On your way to Los Gigantes, you can also stop at the amazing viewpoint called Mirador Archipenque, which gives you a fantastic vantage point to the cliffs and the town.
Los Gigantes is also a great starting point for excursions by boat to watch whales and admire the splendid coastline. As boat tours are a popular attraction here, booking a few days in advance is required. Book your boat tour here.
Location: here
READ: 10 BEST THINGS TO SEE IN LOS GIGANTES
---
11. Santiago del Teide, a great starting point for hikers
Santiago Del Teide is a small and traditional village in Tenerife of only 500 inhabitants. If you drive to the village of Masca (as described earlier in this post), you will drive through Santiago Del Teide.
While most people would simply drive through the village, it is actually worth a visit. At the heart of the village, visit the main square Plaza pública de Santiago del Teide, the gorgeous church of San Fernando Rey, or enjoy lunch at one of the local restaurants.
Santiago Del Teide is also the starting point of many hikes, some of them even reaching Mount Teide National Park. The view of Mount Teide from Santiago Del Teide is also stunning!
Location: here
---
12. Costa Adeje, one of the main tourist resorts in Tenerife
The seaside resort of Costa Adeje is a great place to stay during your visit of Tenerife. Costa Adeje is undoubtedly the most prestigious resort in Tenerife. This is where you will find the most luxurious boutiques and hotels and the most beautiful beach in the area: Playa del Duque. This is one of our favorite beaches in Tenerife.
There are many activities in Costa Adeje, including staying at the beach of course, but also shopping or even golfing with a 40-hectare golf course.
From Costa Adeje you can easily access to the main sights in Tenerife. You will be close to Los Gigantes and even less than 1 hour drive to Mount Teide.
Location: here
READ: 12 BEST THINGS TO DO IN COSTA ADEJE
---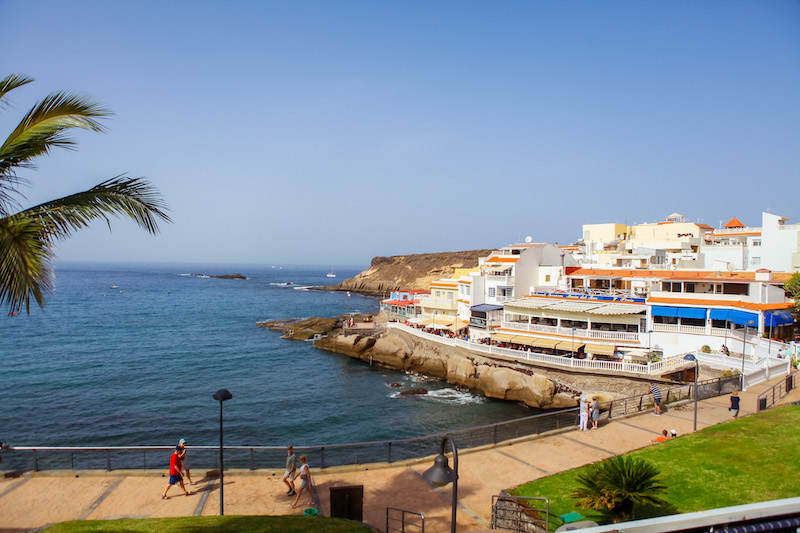 The charming fishing village of La Caleta is located right next to Costa Adeje. A short walk from Costa Adeje will get you there. Not many people are aware of this hidden gem in Tenerife. For us, La Caleta is actually one of our favorite places to visit.
La Caleta is a fishing village, which today has transformed itself into Tenerife's gastronomic hotspot, especially for seafood lovers. People head to La Caleta to sample the best seafood on the island, savor local wines and enjoy a relaxed atmosphere.
La Caleta is also a great place to enjoy a spectacular sunset. Every evening, people gather to watch the sunset behind the neighboring island of La Gomera.
Behind the mountains hide magnificent beaches, a little more north to La Caleta, accessible on foot. The first beach you will see is Playa Los Morteros – which a few years ago only a few locals knew about it.
After Playa de Los Morteros, you will arrive at Playa Diego Hernandez where you will have to descend a rocky and steep path to reach it. Playa Diego Hernandez has been repeatedly voted one of the most beautiful beaches in Tenerife. And yes, we absolutely agree with that! It is stunning.
If you continue your walk along the coast you will reach the next very cute village called El Puertito De Adeje. We stopped there for lunch, it was perfect!
We highly suggest that you visit La Caleta. It's one of the most charming coastal villages in Tenerife.
Location: here
---
14. Playa de Las Américas, one of the hotspots in Tenerife
Next to Costa Adeje, you will find another major tourist resort, called Playa de Las Americas. This place is rather busy with lots of hotels. However, the beach is stunning!
It is also one of the best spots in Tenerife to go surfing. If you've never tried surfing before, this would be a great place to start. There are many surf shops and surf schools along the coast.
Many think that Playa de Las Américas is for young travelers due to its surfing atmosphere and the many bars in the area. However, Las Américas is also very family-friendly and accessible to everyone.
Location: here
---
15. Los Cristianos, the party place of Tenerife
If you are going to Tenerife to party and relax at the beach, then Los Cristianos would be a good choice. There, you won't get bored and you will have many of options when it comes to bars, nightclubs, and restaurants.
There are also very nice activities to do in Los Cristianos such as kayaking in the middle of dolphins and turtles or go on a boat tour.
But there are also activities for adrenaline junkies such as offroad driving with a quad (look over here).
Location: here
---
16. Garachico, a must-see in Tenerife
In the north of Tenerife, you will find the small and charming village of Garachico. An absolute must-see in Tenerife!
This former fishing village has remained very authentic despite being completely destroyed after the immense volcanic eruption of 1706. Near the port, the castle of San Miguel dating from the 16th century is the only vestige to have survived the lava flow.
The houses of Garachico are typical of the traditional architecture of the Canary Islands. Simply wander through the cute streets of the village and you will understand the beauty of Garachico. Head to the main square at Plaza de la Libertad, to see most of the main sights such as Casa Palaciega de los Condes de la Gomera and Casa del Marqués de L Quinta Roja, We stopped there at the little central cafe to enjoy a delicious barraquito. Next, head to the nice garden at Puerta de Tierra.
However, what makes the charm of Garachico is also its surrounding natural swimming pools called "charcos". They come from an ancient eruption that formed natural pools, now separated from the ocean by volcanic rocks. These pools are a good place for a swim in calm water.
Location: here
READ: 10 BEST THINGS TO SEE IN GARACHICO
---
17. El Drago, the oldest tree on the island of Tenerife
El Drago is a tree several hundred years old that may even be almost 1000 years old. With a height of 20 meters and its imposing and sinuous trunk, this impressive tree is one of the icons of the island. It was declared a National Monument in 1917.
El Drago is located in the north of Tenerife, in Icod de Los Vinos, in the heart of a natural park called Parque del Drago. The majestic tree is here in a protected area and evolves near the "guardians of the Drago", other "dracaenas" type trees, endemic to the island, which now makes it possible to compare it and to study the growth of these trees.
Location: here
---
18. Cueva del Viento, the longest lava tube in Europe!

Cueva (cave) del Viento, located in the town of Icod near El Drago, is over 2000 years old and the largest volcanic tunnel in Europe!
Cueva del Viento is an underground volcanic tunnel of great geological importance that extends over 17 kilometers with three different levels. It also has a variety of unique species and rocks.
The cave is a natural, geological, biological and ethnographic heritage that you cannot miss on your trip to Tenerife.
So if you decide to visit El Drago, combine your trip with a visit to Cueva del Viento.
Location: here
Website: here
Price: 20 EUR per person
---
19. Teno Rural Park, a well-preserved natural park in Tenerife
This natural park is located in the northwest of Tenerife. It is on a road little used because it is less developed than the rest of the island. Its beauty and varied flora have been preserved for years thanks to this isolation. Here the vegetation of the island contrasts completely with the other side of the Tenerife which is much dryer.
The Teno Rural Park is one of the most impressive natural spaces in Tenerife. You can start several hikes along the 100 km of trails, especially along the sea to get to the Teno lighthouse. You can also walk to Monte del Agua or Monteverde for breathtaking panoramas.
Finally, the point of Teno is the westernmost point of the island and is a beautiful stopover to admire the volcanic cliffs by the ocean.
Location: here
---
20. Visit the mysterious pyramid of Güímar
The Ethnographic Park of the Pyramids of Güímar is located in the east of Tenerife. You can contemplate six stepped pyramids about four meters high. The origin of these buildings remains very mysterious even today.
On site, you can also visit a museum specially dedicated to the pyramids of the whole world, as well as the gardens where you can follow a path to admire many species of plants which are grouped by theme.
Location: here
---
21. El Médano the best spot for kitesurfing
Well known as the bohemian resort of Tenerife, El Médano is a paradise for windsurfers and kitesurfers. The resort benefits from almost constant winds creating the optimal conditions for water sports.
El Médano is a much quieter resort compared to Costa Adeje or Playa de Las Americas.
The beaches are the soul and spirit of El Médano, where most of the action happens. If you want to try windsurfing or kitesurfing, this is the best place in Tenerife.
Along the beaches, you will find a large number of surf shops, bohemian cafes, and Canarian restaurants where you can cool off and relax after your session in the water.
Location: here
---
22. Siam Park, the best water park in Tenerife
Siam Park is certainly the most impressive water park in Europe. Located in Costa Adeje, it is one of the main attractions in Tenerife.
The whole park is set in a Thai theme. It has 15 attractions ranging from relaxation to thrills. Giant slides, floating market, beaches, and restaurants, everything has been thought out so that you can live the most incredible experience during your visit.
Our favorite attractions are the Wave Palace, which is a huge wave pool reaching 3 meters high, a world record!. The Tower of Power is another awesome fun attraction. You can slide down from 28 meters high at a speed of 80km/h! Your adrenaline will for sure pump!
Location: here
Tickets: book here for cheaper price
Website: here
---
23. Visit Candelaria with its impressive church
Located on the east coast of the island of Tenerife, south of the capital Santa Cruz, Candelaria is a pretty town famous for the Basilica of Nuestra Señora de la Candelaria. Located near the TF-1 highway which runs the island from north to south, it is worth a visit. With its beach, its historic center, and its impressive church, Candelaria is perfect to discover the east of Tenerife.
Head to Avenida Maritima for a gorgeous a coastal promenade. There you will find many restaurants serving fresh seafood.
Next head to Plaza de la Patrona de Canarias. It is the largest square in the city, with beautiful architecture, inaugurated on January 31, 1959.
However, what is most impressive in Candelaria is the Basilica of Our Lady of Candelaria. It is the largest religious building in the Canary Islands. Majestic and elegant with its light colors and harmonious shapes, the Basilica is the work of the architect Enrique Marrero Regalado in 1959. Built on an old sanctuary, it is dedicated to the Virgin of Candelaria, Patroness of the Canary Islands.
Location: here
---
24. Take a nice stroll at Playa San Juan
Playa San Juan wasn't really on our itinerary in Tenerife. But while driving along the coast, we found this town to be very charming and relaxing.
If you want to escape the main tourist area, Playa San Juan is the perfect place. Its beachfront is stunning. There is actually a very long walk which you can do along the coast. The rock formations along the coast are absolutely stunning. Along the promenade, you will find many great restaurants and shops.
The beach itself at Playa San Juan is also very pleasant. However, you will find black sand and pebble.
Location: here
---
25. Visit the park Corona Forestal for some of the best hikes
If you like hiking or mountain bike, the Corona Forestal Natural Park is waiting for you. It is the greenest place and the largest protected area on the island. In this huge forest area covered with pines and high mountain vegetation, you can take long walks and get to know the endemic flora and fauna of Tenerife.
In addition to the forests, you will be able to cross valleys, contemplate impressive cliffs and ravines, and discover amazing volcanic landscapes.
Location: here
---
Practical information about Tenerife
Tenerife is the largest island of the Canary archipelagoTenerife is a Spanish volcanic island in the Atlantic Ocean
The highest peak in Tenerife is el Teide at 3,718m
The Surface of Tenerife is 80km long x 45km wide
2 sites are classified as World Heritage by Unesco: Teide National Park, the town of San Cristóbal de La Laguna
There is a biosphere reserve on the Anaga massif
The currency is the Euro €
Tenerife is the only island in the Canary archipelago that has two airports. The first (Los Rodeos airport) is in the north of the island near La Laguna and the second (Reina Sofía airport) in the south near Costa Adeje.
---
What budget to visit Tenerife?
Accommodation: 25-40€ in a Bed&Breakfast / 50-100€ in a reasonable hotel / per day
Food : restaurants 15-25€ per person. Local market €7
Car rental: 15€ / day
Tenerife Airport transfer: 5-10€ by TITSA public bus / 60€ for 4 by private taxi (book here)
---
Best time to visit Tenerife?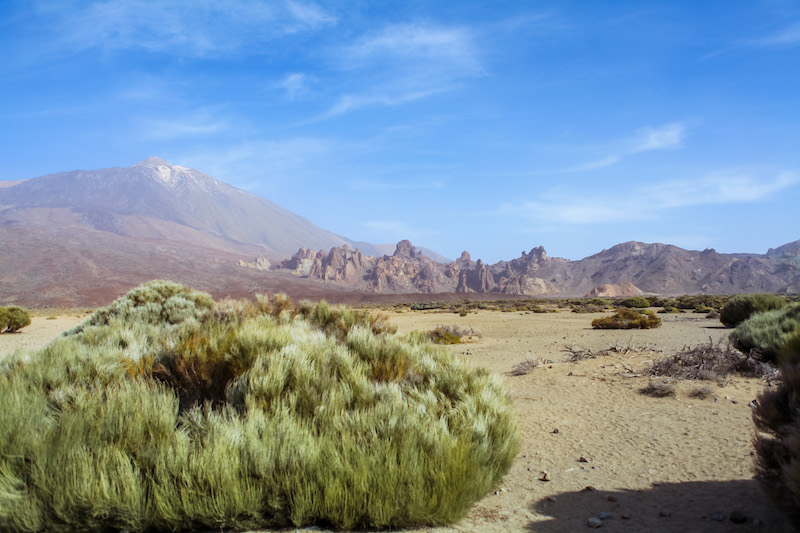 Tenerife enjoys a pleasant and stable climate all year round. It hardly ever rains Therefore, it is possible to visit Tenerife all year round with great weather!
The climate is classified as tropical, with a dry zone in the south and a humid zone in the north.
The temperature varies between 22°C and 15°C.
---
Why is Tenerife such a unique destination?
Tenerife is a tiny piece of volcanic rock lost in the Atlantic Ocean off the coast of Africa. The fact that the island is so remote, allowed it to preserve an eco-system and a special bio-diversity that we usually only observe in the Pacific islands.
The North is humid and covered with primary forest: perfect for hiking, discovering the fauna and flora
South is desert and volcanic: great for the amazing beaches and to access Mount Teide, the highest peak in Tenerife.
There are so many sports activities in Tenerife: kite-surfing, sailing, fishing, scuba diving, golf, hiking, surfing etc.
The Presence of dolphins and whales all year round: book a boat trip here.
Presence of endemic fauna and flora: many species have developed only on the island due to its isolation for millions of years.
---
Where to stay in Tenerife?
If you have already decided to spend your next vacation in Tenerife, the next step is finding an accommodation.
Are you looking for a quiet place where you can relax in the sun and enjoy the sea? or are you looking for places with lively beaches and nightlife? Or perhaps you are planning a family vacation and you are interested in a fun destination for the kids?
Tenerife is a very complete destination that offers you what you are looking for.
So here is the list of our recommended places to stay in Tenerife.
Costa Adeje / La Caleta
Costa Adeje is one of the main tourist destination in Tenerife. What we like about Costa Adeje is the beautiful beaches right in front of the main resorts. Especially Playa del Duque, one of the best beaches on the island.
Costa Adeje is perfect for families as you will find many things to do in the area. For couple or for someone who want something more quiet then La Caleta right next to Costa Adeje is another great places to stay in Tenerife. Our favorite hotel is the Royal Hideaway. This brand new hotel offers modern amenities and one of the best view in Tenerife.
Our Recommended Hotels:
$$$$ – Royal Hideaway Corales Beach – Adults Only (La Caleta)
$$$ – Hotel Riu Palace Tenerife
$$ – H10 Costa Adeje
READ: 12 BEST THINGS TO DO IN COSTA ADEJE
---
Puerto de la Cruz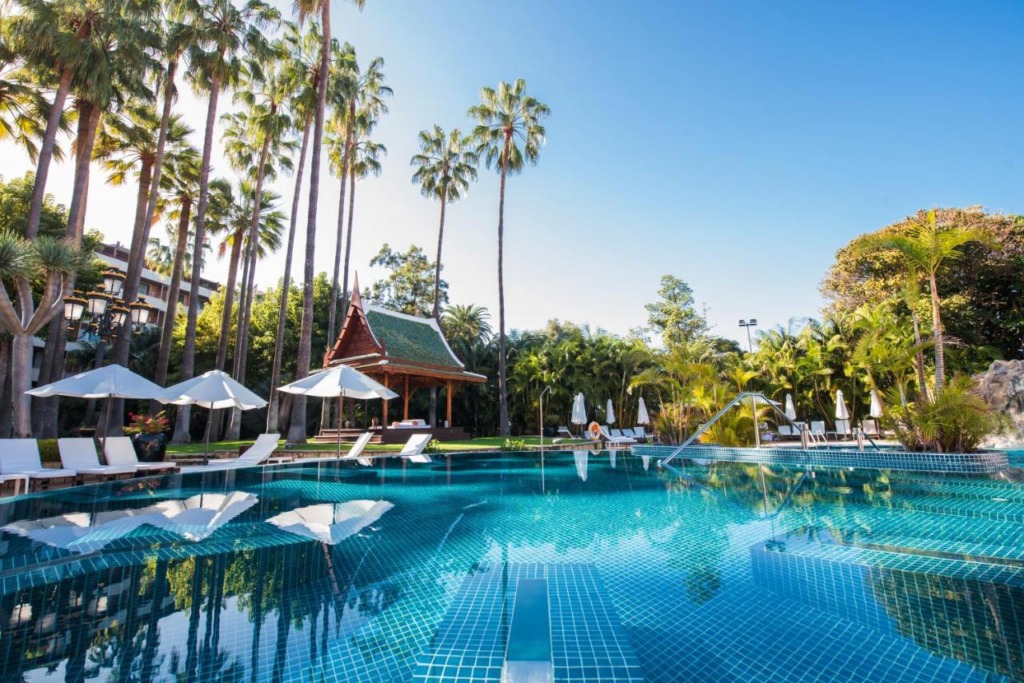 Puerto de la Cruz is the main tourist destination in the north of Tenerife.
Before gaining popularity in the 1960s, it was nothing more than a small fishing village, and the port town of La Orotava.
Today, it is the most sophisticated tourist area of the island. We absolutely love Puerto de la Cruz. From there you can easily reach Laguna, Garachico or Masca.
Our Recommended Hotels:
$$$ – Hotel Botanico y Oriental Spa Garden
$$ – Puerto Palace
$ – RF San Borondo
---
El Médano
El Médano has a more local and laidback atmosphere compared to the main tourist destination in Tenerife. So if you want to stay in a place off the beaten track El Médano is a great choice.
El Médano is also the most popular destination among surfers, kitesurfers, and windsurfers.
With its golden sands, beautiful coastal promenade, cozy bars and restaurants and numerous live music concerts, it is a destination that is becoming increasingly popular.
It is a good destination to stay in Tenerife. However, keep in mind that the wind is often strong. So if your intention is to just relax by the beach, then rather opt for Costa Adeje or Puerto de la Cruz.
Our Recommended Hotels:
$$ – Kn Hotel Arenas del Mar Adults Only
$ – Ashavana Hostel
READ ALSO: TOP 10 HOTELS IN TENERIFE
---
In conclusion about the best things to do in Tenerife
For us, Tenerife is a very special place, where we could come back again and again. The surf culture is everywhere in the south of the island, which gives it a great atmosphere and immediately makes you feel on vacation.
There are so many ways to experience this island. You can explore the north through many hikes, visit the impressive Mount Teide with its snowy peak during winter. On the west, there are many beautiful places to visit such as Garachico or Puerto de la Cruz. Tenerife is also a great place to go diving or snorkeling.
We definitely got a crush with Tenerife.
Tenerife is a great destination to travel to. No wonder, why it is one of the most popular islands in the Canary!
If you have any question about Tenerife, feel free to leave a comment below.
All our posts about the Canary Islands can be found here.
HAPPY TRAVELS!
---
Related Posts
AWESOME THINGS TO DO IN PUERTO DE LA CRUZ, TENERIFE
DISCOVER MASCA, THE MOST REMOTE VILLAGE IN TENERIFE
FULL GUIDE TO HIKE AT MOUNT TEIDE
EXPLORE SAN CRISTÓBAL DE LA LAGUNA IN TENERIFE
COSTA ADEJE, ONE OF THE BEST PLACES TO STAY IN TENERIFE
VISIT THE IMPRESSIVE LANDSCAPE AT LOS GIGANTES IN TENERIFE
GARACHICO, ONE OF THE PRETTIEST TOWNS IN TENERIFE
TOP 8 REASONS WHY YOU SHOULD VISIT TENERIFE