WHAT TO DO IN FUERTEVENTURA? WHICH ARE THE BEST BEACHES IN FUERTEVENTURA? IS FUERTEVENTURA A GOOD DESTINATION FOR COUPLES?
In this post you will find a complete guide with the best things to see in Fuerteventura and plenty of tips to help your prepare your trip to this amazing place in the Canary Islands!
FUERTEVENTURA: THE WILDEST ISLAND IN THE CANARY!
Located in the Atlantic Ocean and close to Morocco, Fuerteventura is the easternmost island of the Canary Islands. It is the second largest island of the Canary archipelago in terms of size.
It's population is more than 107,000 inhabitants. Fuerteventura attracts all sorts of tourists from couples, families, surfers, kiteboarders, retirees etc. You are looking for a romantic beach escape, the best waves or a resorts where to party, Fuerteventura has it all.
In 2022 we decided to travel the world, and after 1 month in Lanzarote (all about Lanzarote here), we took a ferry to Fuerteventura without any idea about what to expect. We ended up staying 3 weeks, completely in love with the island. (read: how to take the ferry in the Canary Islands)
We explored most of the places, hiked volcanoes, surfed some of the best spots on the islands, drove to hidden beaches (top 10 beaches in Fuerteventura) Indeed, we were so excited about discovering Fuerteventura that we kept very busy.
---
The "African" island
Fuerteventura is nicknamed "the African". The red color from its soil, its beaches as far as the eye can see, its blue and green waters, fantastic waves and its arid landscape makes it look more african than any other of the Canary Islands.
Fuerteventura attracts many tourists because of the perfect climate all year round. Very little rain and temperatures not lower than 15°C in winter makes this island an ideal location for your holidays.
In this post, we will let you know about the best things to do and see in Fuerteventura. We will start from the North of the island as this is where we arrived with our ferry from Lanzarote. We will finish in the very south, as this is where we left Fuerteventura to take a ferry to Gran Canaria. Enjoy your trip in this fantastic island!
---
Here is a glimpse of what you can expect during a visit of Fuerteventura
Here are the best things to do and see in Fuerteventura.
Enjoy your trip to this wonderful island!
---
Best things to do in Fuerteventura
1. Corralejo Natural Park and Sand Dunes, one of the most amazing things to see in Fuerteventura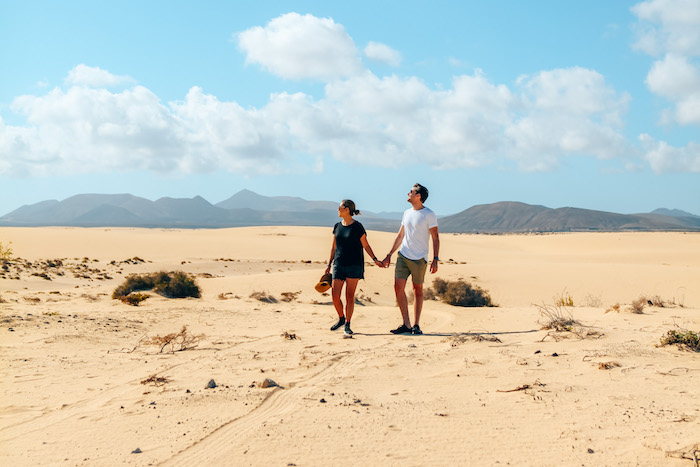 In Corralejo Natural Park, you will feel like in the Sahara. In the middle of the desert but with a fantastic beach all along. This is THE must-see in Fuerteventura. This is also why we were so excited about visiting Fuerteventura.
It is located in the north of the island, next to the city of Corralejo (more about Corralejo in the next part of this article).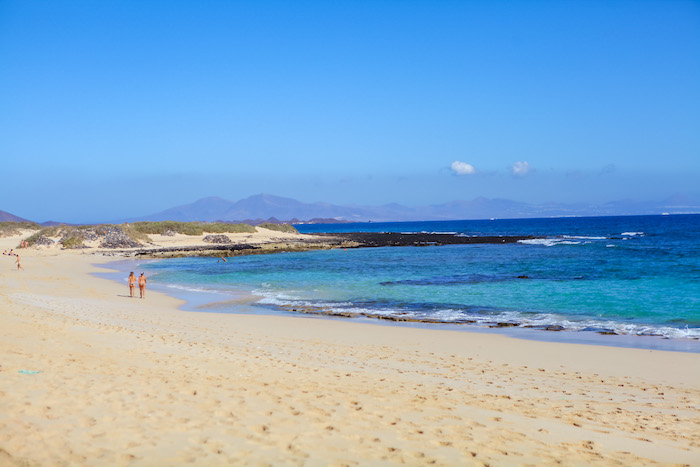 Corralejo Natural Park is a 10 kilometer long coastal area with huge dunes. If you want to spend a day alone by the beach, this is the place to be. You won't be disappointed, trust us 🙂
The natural park has two faces: to the north an expanse of sand with a seaside character, to the south wild spaces of intense beauty. By following the FV-1 road, you can discover this magical place. It also a famous spot for kitesurfing.
READ: full guide for visiting Corralejo Dunes Natural Park
---
2. Corralejo, the best place for entertainment and to join a surf camp in Fuerteventura
Corralejo is the largest resort on the island of Fuerteventura. The town is very popular due to its beautiful beaches, ideal weather, scenic countryside and festive atmosphere.
This is where we set our base for the first week in Fuerteventura. We would recommend it if you are staying in Fuerteventura for the first time, or if you arrive from Lanzarote.
Corralejo has it all and is for everyone. If you are visiting Corralejo with children you will enjoy attractions like aqua parks, mini-golf and the aquarium etc.
If you are in Fuerteventura for surfing, then Corralejo is probably your best choice. There are many surf school in the town. Also most of the best surf spots are located in the north of the island. However, it can get quite busy, so booking in advance is recommended. You can book your surf lesson here.
Corralejo is also a town where you will find many restaurants along the beach and great shopping experience in town. There is a wide variety of activities you can do in Corralejo, which makes it a great place to stay.
READ: the best outdoor activities in Fuerteventura and 8 best things to do in Corralejo
---
3. Take a boat trip to the majestic Lobos Island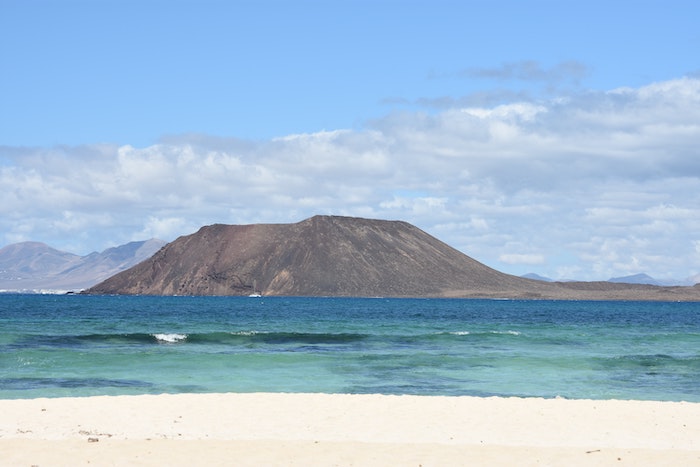 If you want to explore a wild island off the coast of Fuerteventura (and even spot some dolphins on the way), then take a trip to Lobos Island. Lobos Island is located at only 15min by boat from Corralejo.
The small Isla de Lobos offers a relaxing stopover away from the hustle and bustle of the largest seaside resort in the north. Bordered by crystal clear water, this island of barely 4.5 square kilometers is dominated by a huge volcanic cone, culminating at 127 meters.
Classified as a natural park, the Isla de Lobos (Island of the Wolves) is strictly forbidden to cars. Everything is done on foot.
In Lobos, you can hike to the caldera de la Montaña, you can visit the small village of Puertito de Lobos and the Lobos lighthouse. Finally there are several gorgeous beaches. Among the most beautiful, playa de Concha de Lobos and playa la Calera.
To get there hop on a ferry from Corralejo, which you can book here.
Lobos island is also a good spot to surf. Many surfers will take a day trip to hit some of the best waves in the Canary Islands.
---
4. Pop Corn Beach, the most instagrammable beach in Fuerteventura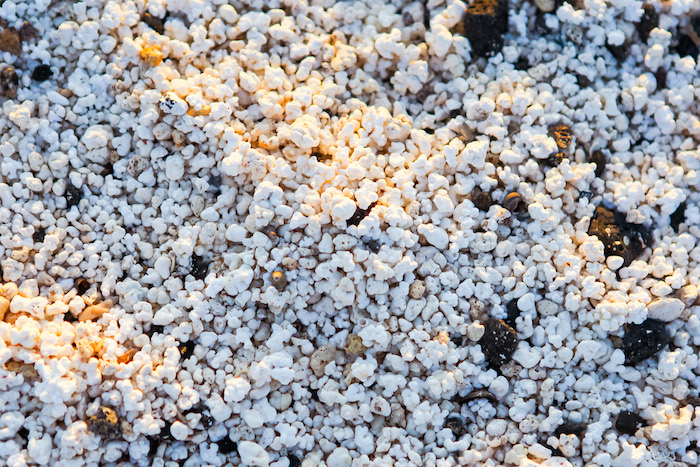 This beach was still unknown a few years ago, but thanks to social influencers, it became one of the best things to see in Fuerteventura. Why Pop Corn Beach?
Well, don't expect a sandy beach here, like most of the beaches in Fuerteventura. In this beach you will see algae which looks like popcorn. This beach is called El Hierro. It is just a few minutes drive from Corralejo. It is also one of the best surf spot in Fuerteventura.
The photos of this beach from many social influencers, made this place very popular. For most tourists a trip to Fuerteventura without visiting popcorn beach wouldn't be complete.
However, like many places in Fuerteventura, you need to drive through unpaved roads. If you rent a car, we highly recommend a bigger car a big car or 4×4.
We took the cheapest and smallest car at the agency, a Fiat 500, although it was super cute, we regretted it. It was quite scary to drive those unpaved roads in Fuerteventura sometimes for many kilometres. Every time we were praying for not having to change a tyre…
Listen to us on this one, adding a few bucks for a better car will make a huge difference in Fuerteventura.
Location: here (20min drive from Corralejo)
---
5. Visit El Cotillo with its amazing beaches. One of the best spot to watch sunset in Fuerteventura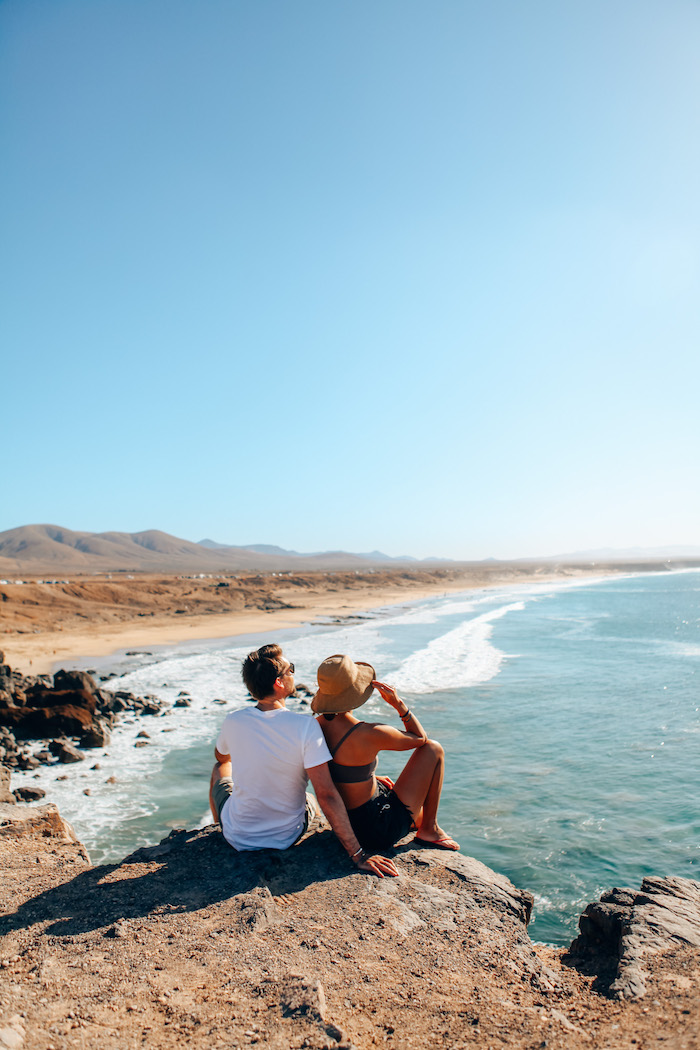 We continue on the north of the island to El Cotillo. A visit to Fuerteventura without visiting this old fishing village would be a pity. The village is bordered by 2 of the most beautiful beaches on the island, with golden sand where you can swim in the crystal clear waters.
In the surrounding area, many natural pools and lagoons dot the coastline, as is often the case in the Canary Islands. To the north of the village, Playa Marfolín looks like a tropical Southeast Asian beach: an ideal "spot" for sunbathing in the middle of Winter!
To the south, Playa del Castillo – named after the castle del Tostón which once protected the island from pirate attacks – is a haunt for surfers who come to enjoy the strong waves. Playa del Castillo (photo above) is actually one of our favorite beach in Fuerteventura. When we drove there for the first time, we were in complete awe! Make sure to check it out.
Location of El Cotillo: here (20min drive from Corralejo)
READ: full guide for visiting El Cotillo
---
6. Hike on top of the volcano Calderón Hondo, the best hike in Fuerteventura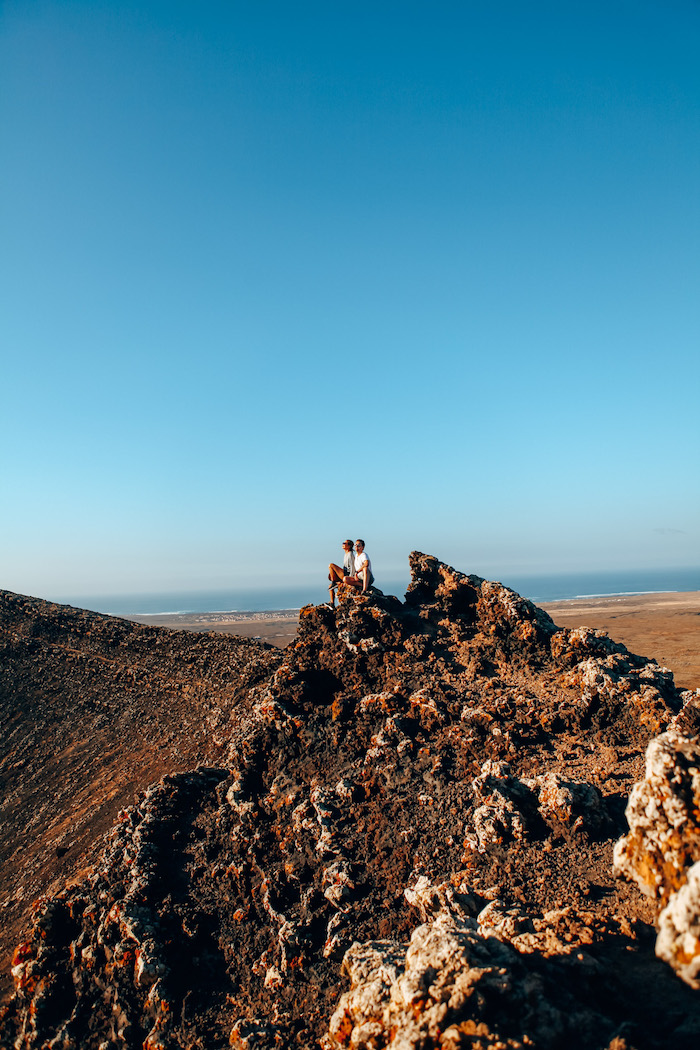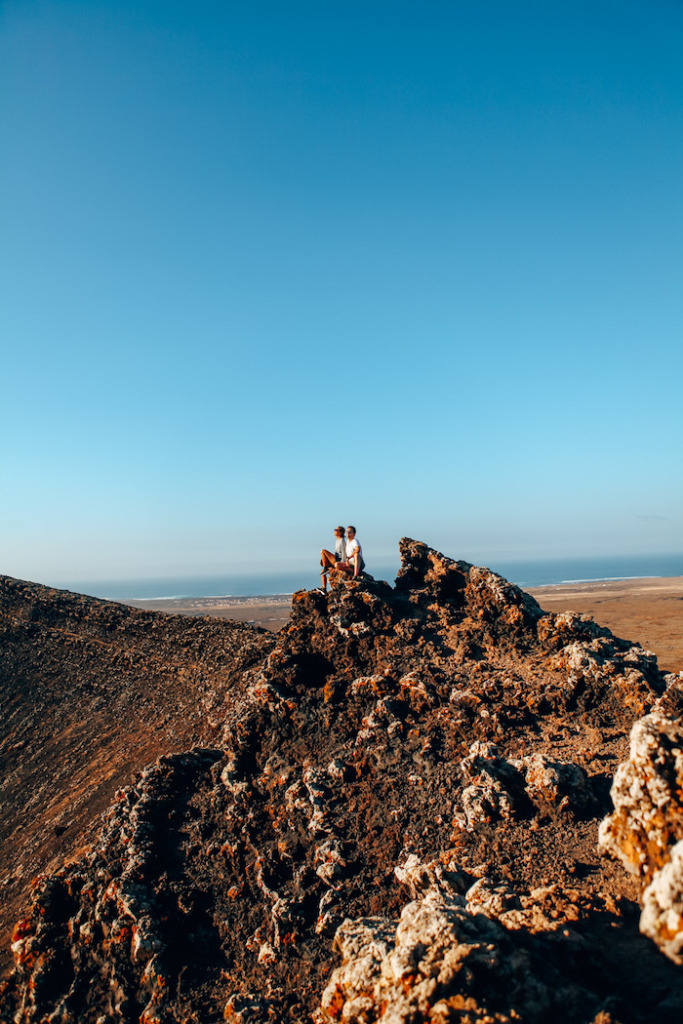 If you want to go on a hike in Fuerteventura, then pick this one. You can hike all the way up Calderón Hondo a gorgeous volcano to see its crater.
The access is simple and the hike relatively easy. The path to the summit is well marked. It only takes 40min to reach the top. Once at the top you can walk around the entire crater with incredible views. From there you can admire the whole northern part of Fuerteventura.
The best time to visit Calderón Hondo is just before sunset. The colors are amazing. On the way to the volcano you will see many chipmunks. Although it is not recommended, many tourists feed them.
We spot a lot of them at the parking lot and at the top of the volcano. They are definitely super cute!
To get to Calderón Hondo, you need to drive through an unpaved road for 15-20min (again get a bigger car, you won't regret it…). There is a parking at the bottom of the volcano. From there the path is well indicated.
Location of the parking to start your hike: here
READ: FULL GUIDE TO HIKE CALDERÓN HONDO HERE & BEST TRAILS IN FUERTEVENTURA FOR HIKING
---
7. La Oliva, to check out some impressive windmills
Still on the north of the island, after Calderón Hondo, you will head toward La Oliva. Pass through the Malpaís de la arena park, a natural park formed by the volcano and its lava. Make a stop at La Oliva.
It is a small peaceful village perched in the middle of the desert. The center of the village has a beautiful church worth a visit.
All around Fuerteventura you will also see those giant windmills. The mills of Villaverde, a neighboring town of La Oliva, are among the most beautiful one on the island. Worth a quick stop if you are driving by.
Location of La Oliva: here
Location of the Windmill at Villaverde: here
---
8. Check out la Casa de los Coroneles, the most historical sight in Fuerteventura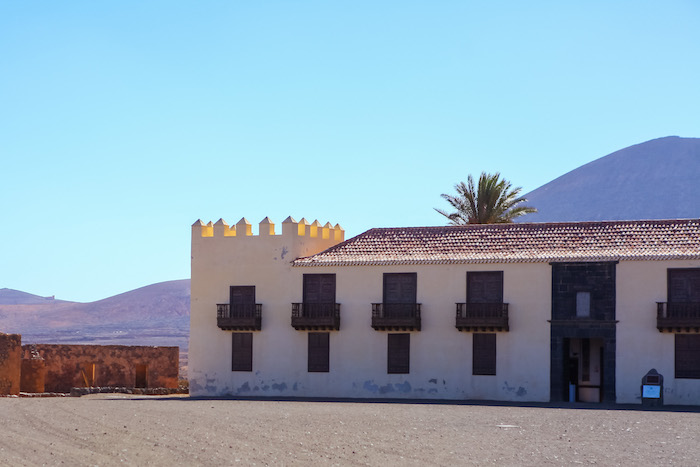 Casa de los Coroneles is located right on the outskirt of La Oliva. This is one of the main historical sight in Fuerteventura. This palace was built in the second half of the 17th century by Ginés de Cabrera Bethencourt (1650-1722).
It is one of the most important architectural elements of the artistic heritage of the Canary Islands.
This building, also known in the municipality of La Oliva as the Casa de la Marquesa, is undoubtedly the most representative building in the area.
You can visit the interior of the house with a beautiful courtyard and learn more about the history of this place.
Location: here
Opening Hours: 10AM–6PM (close on Sunday and Monday)
Official website: here
Admission: 3€
---
9. Playa de Jarubio, one of our favorite beach in Fuerteventura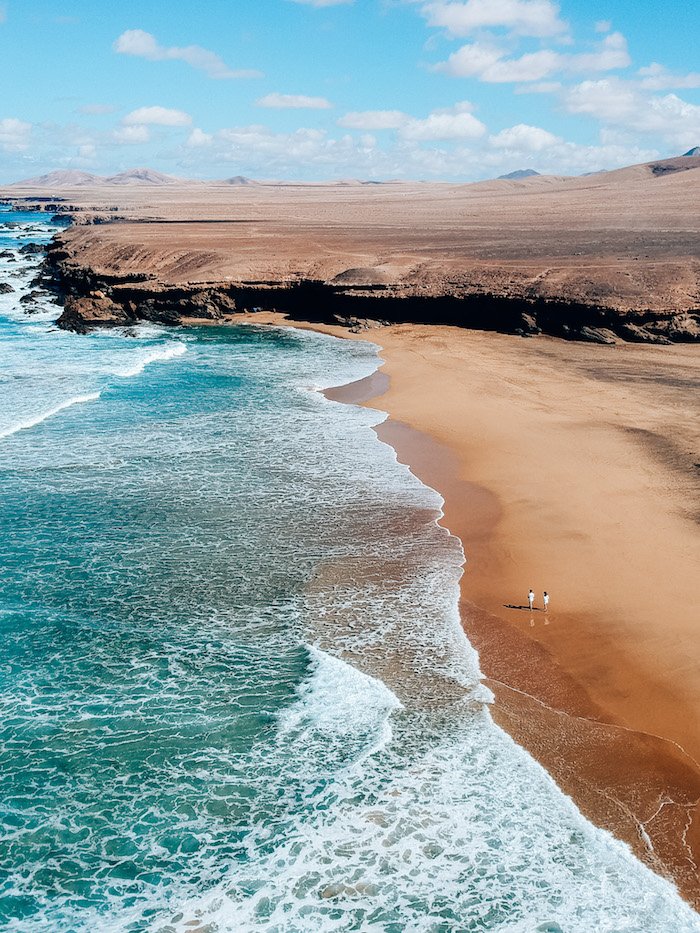 Getting to Playa de Jarubio is not an easy journey. With our Fiat 500 we took a good 40min driving through a pretty awful road. The way to get there wasn't pleasant at all, let us tell you!
We thought we lost a tyre many times. But we didn't want to give up. We knew that often the best places are not the one with an easy access. And oh boy! We weren't disappointed after arriving there. Totally worth the horrible drive!
Jarubio is for us one of the most stunning beaches in Fuerteventura. And there are many beaches on the island. Here, you will most likely have the entire beach to yourself. We flew the drone just to show you how beautiful this place is (see photo above).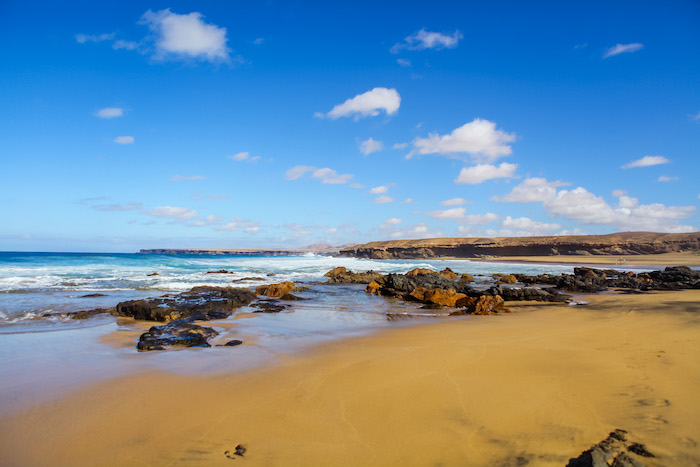 Bring water and some food, and you can spend one of the best day in Fuerteventura. When you are at the main beach, you can walk to your left and cross a few rocks. There you have a smaller beach which is more protected. Much better to swim when there are big waves in Fuerteventura.
From there you can also admire the entire west coast of the island, which is the most beautiful part of Fuerteventura. We made a reel on instagram here about Playa Jarubio.
There is a small parking once you reach Playa Jarubio.
Location of Playa Jarubio: here
---
10. Check Puertito de los Molinos, a small fishing village in Fuerteventura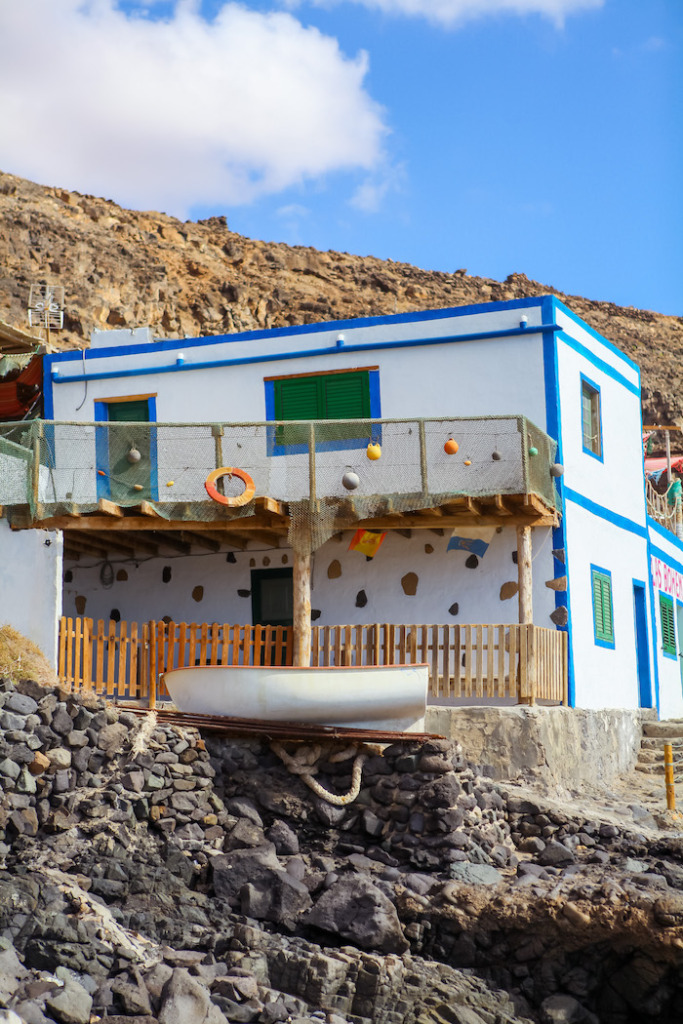 Puertito de los Molinos is a small and charming fishing village with a pebble beach and two restaurants. At the parking lot, you will see many ducks under a small bridge. What a nice welcome to this village.
We absolutely loved walking through the quaint streets of the village. We brought our sandwiches, and found a perfect spot by the beach to watch local surfers while having our lunch. A perfect moment in Fuerteventura!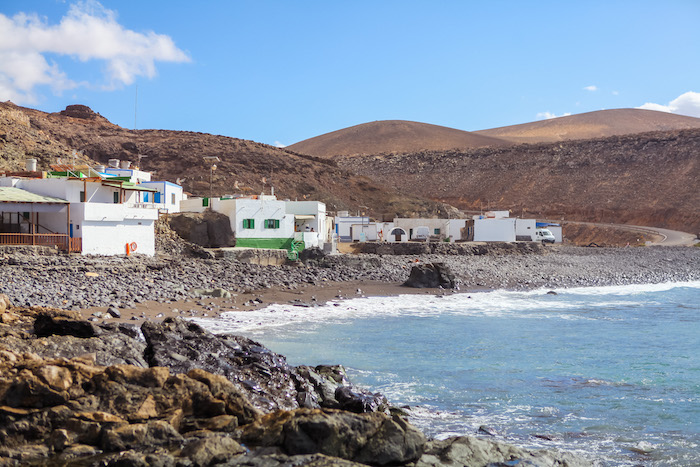 We then enjoyed a coffee at one of the restaurant, just enjoying the sound of the waves against the pebbles.
To get there, the good news is that the road is paved, which is a rare thing in most places in this guide to Fuerteventura. However, if you want to head there directly from Playa Jarubio don't follow Google map itinerary.
According to Google map there is a way to get there in just a few minutes drive by the coast from Playa Jarubio. We started to head there but got almost completely stuck in the sandy road.
So unless you have a 4×4, head back to the main road first and head towards Puertito de los Molinos via the paved road.
Location: here
---
11. Betancuria, one of the best towns to visit in Fuerteventura
Let's head more center of the island, our first stop is Betancuria. This former capital of Fuerteventura, is truly unmissable. This little village in the mountain was founded in the 19th century by Jean IV de Béthencourt, a French explorer. This place is a real delight!
Around the Santa Maria church, small alleys cascade down the hill, in the middle of traditional white houses. From the top of the village, the view of the palm grove that surrounds the town is spectacular.
Start by visiting the Church-Cathedral of Santa Maria de Betancuria, then stroll through the alleys of Casco Antiguo. You can also visit the Sacred Art Museum and then take a detour to the San Diego Hermitage.
Location: here
---
12. Museo del Queso Majorero, the cheese museum of Fuerteventura
The Museo del Queso Majorero is located near Betancuria. The museum offers a beautiful garden and great view of Fuerteventura from its rooftop.
Spread over more than 500 m² with explanatory panels translated into several languages, the museum introduces visitors to the history of Fuerteventura's breeding and cheese-making culture, with particular emphasis on the Majorera goat and its natural habitat.
To be honest, we did not like the museum that much. I think we were too eager to get to the tasting part. Indeed, the museum also has a restaurants where you can taste some of their cheeses.
Make sure to also check out their cactus garden at the back of the museum. Of course not as impressive as the Cactus Garden in Lanzarote, but we took some pretty nice shots there.
There is also a small shops with local produce.
Location: here
Opening Hours: 9:30AM–5:30PM
Admission: Adult: 4€ / Children 2.5€
Website: here
---
13. Ajuy Caves, a special place in Fuerteventura
A few kilometers from Betancuria on the west coast of the island, Ajuy is one of the prettiest villages on the island. With its white houses and black sand, it is beautiful.
The village however, is mostly known for its magnificent cliffs, formed by two ravines just nearby. To get there, plan a short hike of about two hours, just to admire the view.
Before arriving at the caves, you will pass in front of a fossilized dune dating back more than 5 million years! The path will allow you to see the white cliffs falling into the dark blue water of the Mediterranean, a sublime spectacle.
Location: here
---
14. Astronomical viewpoint Sicasumbre, the best place to watch the stars in Fuerteventura
A little bit more south of Ajuy you will reach one of the most unique viewpoints on the island. This is the best astronomical vantage point on the island, set up here thanks to the area's low light pollution, making it the perfect place to gaze at the stars.
There are even information panels that will help you identify the constellations and stands so fans can set up their own telescopes and photographic equipment.
If you don't go there at night, go there during the day, the views are fantastic too! This is what we did…
Location: here
---
15. Puerto del Rosario, the main city of Fuerteventura
Before continuing our visit more south of Fuerteventura, let's explore the east coast of the island.
First let's focus on the capital of Fuerteventura, Puerto del Rosario. The city counts almost 30,000 inhabitants.
This is where the airport of Fuerteventura is located. If you arrive late in the island by plane, and do not want to head straight to one of the main tourist resort, you can decide to spend your first night here.
Some parts of the town are actually quite charming with many white houses right by the sea. The city has many hotels and shopping centers. It makes it a comfortable anchor point to start your vacation and visit Fuerteventura.
As the location is quite central, it is easy to visit the north and the south of the island.
Location: here
---
16. Salt Museum Salinas del Carmen
While you are exploring the east coast of the island, make a stop at the Salt Museum Salinas del Carmen.
There you can visit a small village with a dozen houses around the only active salt marshes on the island. Apparently they were built in 1910 and since then the sea salt is extracted with the traditional method directly for the nearby restaurants.
If you are interested to know more about the whole process, you can learn about it at the Salt Museum, which is right next door.
Otherwise, the panoramic view of the colorful houses of the salineros that welcome you with a smile and the contrast of the white mountains of salt and the black mountains of the island are already worth it.
You can also see a whale skeleton on display by the sea.
Before leaving, there is a small beach and one of the best fresh fish restaurants in the area: Los Caracolitos (here)
Location of the museum: here
Website: here
---
17. Oasis Wildlife Fuerteventura, one of the best things to do with kids
The only zoological park in Fuerteventura, it is also the only park in the Canary Islands with African elephants and hippos. Visiting the Oasis Park means treating yourself to a beautiful, unique experience.
The park was launched in 1985, starting with the flora part.
At the time, ornamental plants from all over the world were offered. The fauna then found its place. A natural habitat had to be created, especially to deal with environmental threats.
The Oasis Park started with a few small animals, like parrots or kangaroos.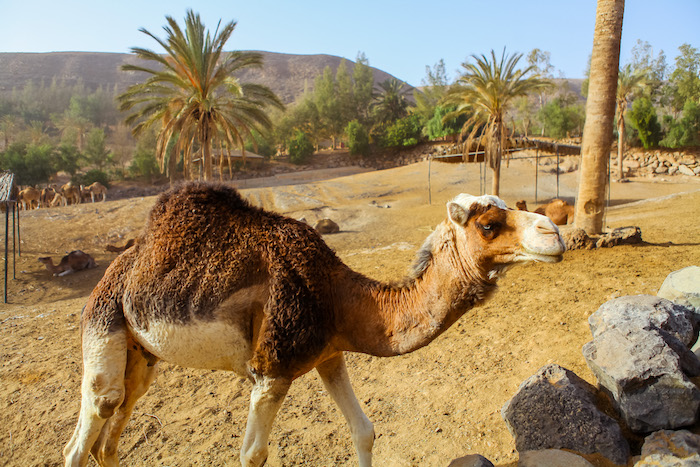 Today, visiting the Oasis Park, allows you to discover giraffes, elephants or even hippos. We actually spent 5 hours inside this beautiful park as there are many shows as well. We really had a great time there.
Visiting Oasis Wildlife Fuerteventura is a great option on a windy day for instance. The area is more protected, allowing you to enjoy a wonderful day.
READ: we wrote a full guide about Oasis Park here.
Location: here
Admission: Adults: 35 EUR / Children: 20.5 EUR (you can pre-purchase your ticket here)
Website: here
Opening hours: 9AM – 5PM (closed on Monday)
---
18. La Pared, our favorite beach for surfing!
Whether you are a surfer or not, La Pared should not be missing on your list of things to do in Fuerteventura. This beach is easily accessible by a paved road.
This place has become a surf mecca for having some of the best waves on the island, as well as one of the most beautiful beach.
Location: here
READ: BEST SURF SPOTS IN THE CANARY ISLANDS
---
19. Costa Calma, a great place to stay during your trip in Fuerteventura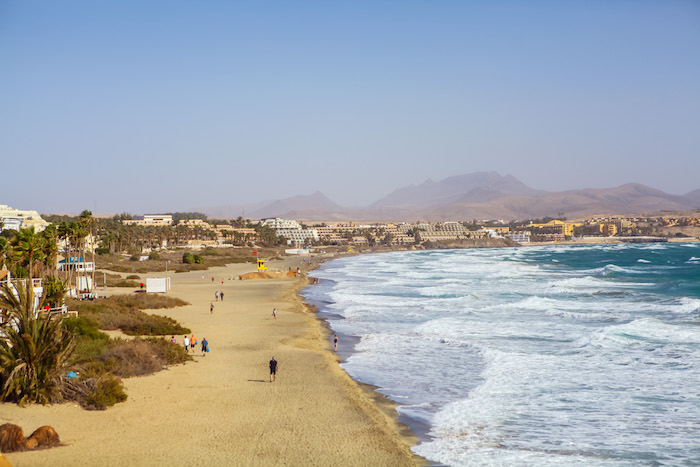 During our trip to Fuerteventura we first stayed in the north at Corralejo which was perfect to explore most part of the island. We then spent another 10 days in the south at Costa Calma. A perfect place to relax with its 2km long beautiful beach.
The town of Costa Calma is very convenient with a few restaurants, supermarkets, shops, car rental agency. It's a great location to combine beach days and exploration of Fuerteventura. You can also join the exceptional surf and yoga camp of Rapa Nui (website: here)
We joined their camp for a few days, and this was definitely the highlight of our trip in Fuerteventura. We went everyday to the surf spot of La Pared and received outstanding instructions from the surf coaches.
Our surf skills improved dramatically after a few days surfing with them. We can only highly recommend them.
Location of Costa Calma: here
In Costa Calma we stayed in a wonderful hotel directly by the sea. We could admire the sunrise every day before heading to Rapa Nui surf camp. Check out R2 Maryvent Beach Apartments Costa Calma here. One of the best hotel in Costa Calma.
Here is the list of the top 10 beaches in Fuerteventura.
---
20. Playa de Sotavento, the most famous spot for Kitesurfers in Fuerteventura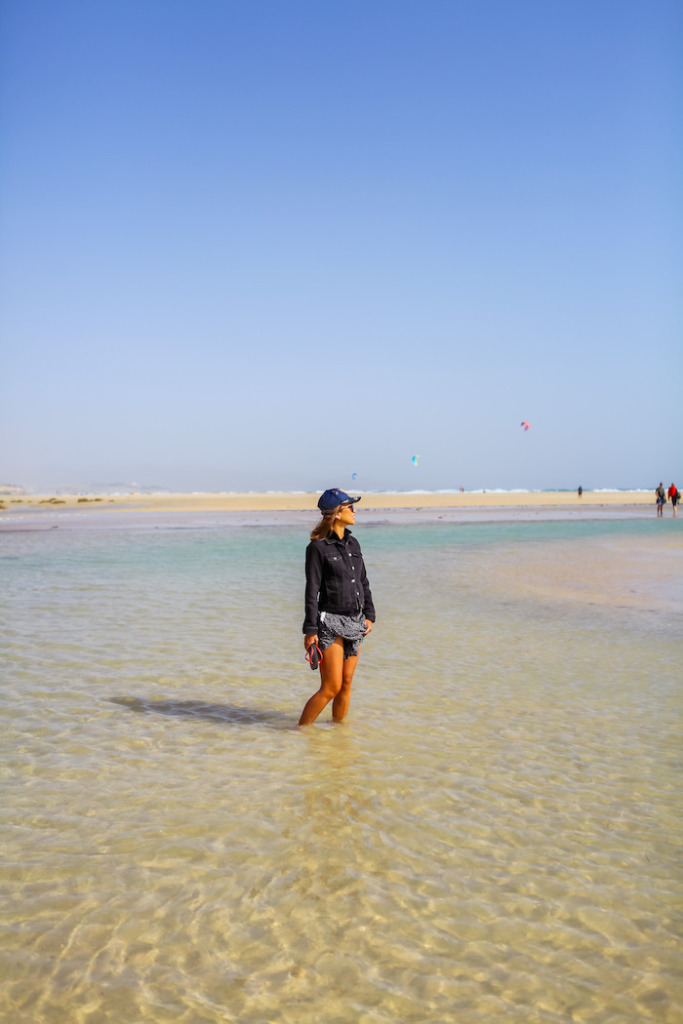 From Costa Calma you can easily visit Playa de Sotavento. This is another must-see in Fuerteventura. You can either walk there from Costa Calma by the coast. It will take you a little less than 1 hour, or drive there in just a few minutes.
Fuerteventura is characterised by the beauty of its sandy beaches. Sotavento is one of the most stunning beaches on the island. It is simply spectacular since it extends over 10 kilometers.
A dune barrier almost 300 meters long leads to the formation of a huge lagoon creating an ideal playground for the practice of windsurfing or kitesurfing. The day we went there, we probably saw more than 100 kitesurfers inside this beautiful lagoon.
Don't miss to check out Sotavento if you are exploring the south of Fuerteventura. It is one of the most impressive beach on the island.
Location: here
Learning how to kitesurf in Sotavento is the perfect place due to it's protected lagoon with shallow water. We highly recommend joining Rene Egli for kitesurf lesson or renting kite gears, this is an institution in Fuerteventura.
You can even stay at their hotel right by the beach. Check out their website here.
---
21. Visit the beautiful town of Morro Jable in the south of Fuerteventura

Morro Jable is another great spot to stay in Fuerteventura. As it more south than other resorts area, it usually gets sunnier and warmer than the rest of the island. There are many shops, great restaurants and beautiful hotels.
The main attraction at Morro Jable is Playa del Matorral. Another awesome beach in Fuerteventura.
From Morro Jable you get a ferry to get to Gran Canaria (which we did), but it is also the started point to explore THE BEST beach in Fuerteventura: COFETE. See next to know everything about Cofete.
Location of Morro Jable: here
---
22. Cofete, the indisputable best beach in Fuerteventura (well even in the Canary Islands in our opinion)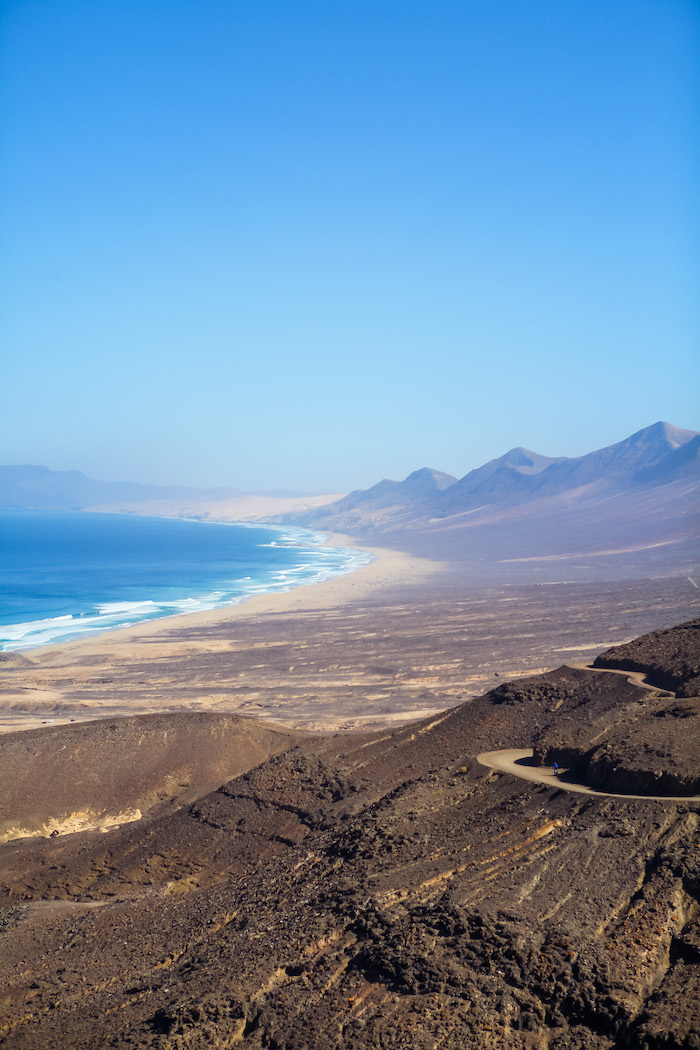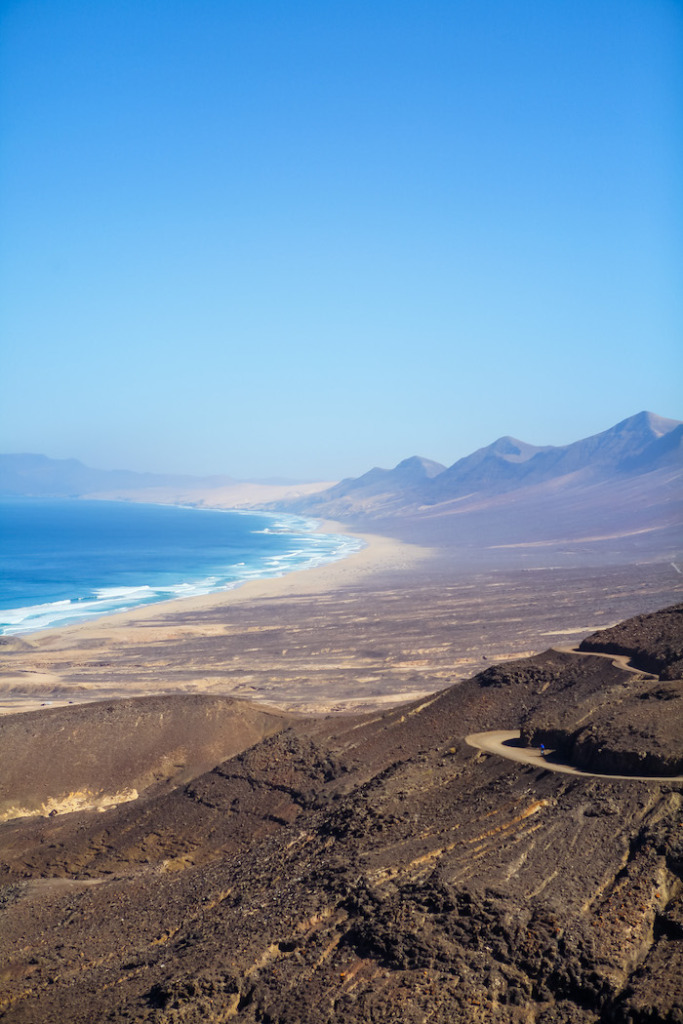 Imagine a village lost at the end of the world, facing the ocean, nestled at the foot of an immense mountain range. Welcome to Cofete, one of the most magical places in Fuerteventura and the Canary Islands.
After about 1 hour driving through a very bad road, you will discover a sumptuous panorama on the beach and the Pico de la Zarza, the highest mountain of the island which rises to 807 meters above sea level.
This panorama is absolutely unforgettable. There are no words to describe the beauty of this place.
The fact that not more people are aware about this place exist in the Canary Islands is very astonishing. Well, we had no clue about this place before going to Fuerteventura.
Even some people who came to Fuerteventura did not even go to Cofete, what a shame really. It's an absolute must-see in Fuerteventura. We can't stress that enough!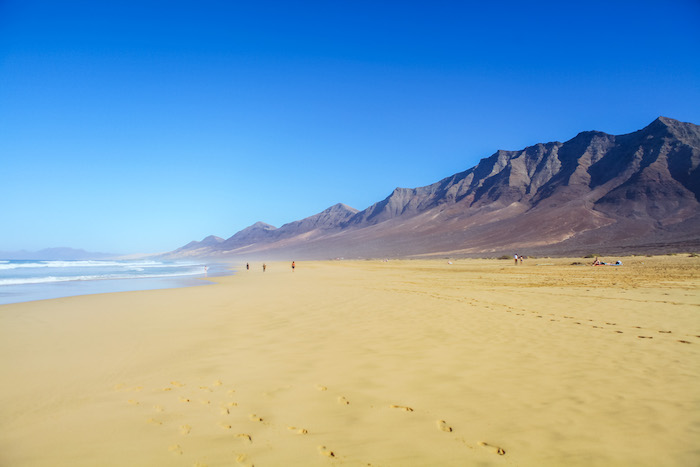 How to get to Cofete?
We made it there we our little Fiat 500, I guess we were very lucky again, as we don't recommend anyone to drive there with such a small car.
If you don't want to risk it, no worries we fully understand, in that case you can get there with a special 4×4 bus from Morro Jable or join a Jeep excursion here.
Once you reach this very special beach, you can take a long walk to discover this 12 kilometer long beach. Be careful though, swimming or surfing are strongly discouraged, the ocean is raging and the currents very dangerous.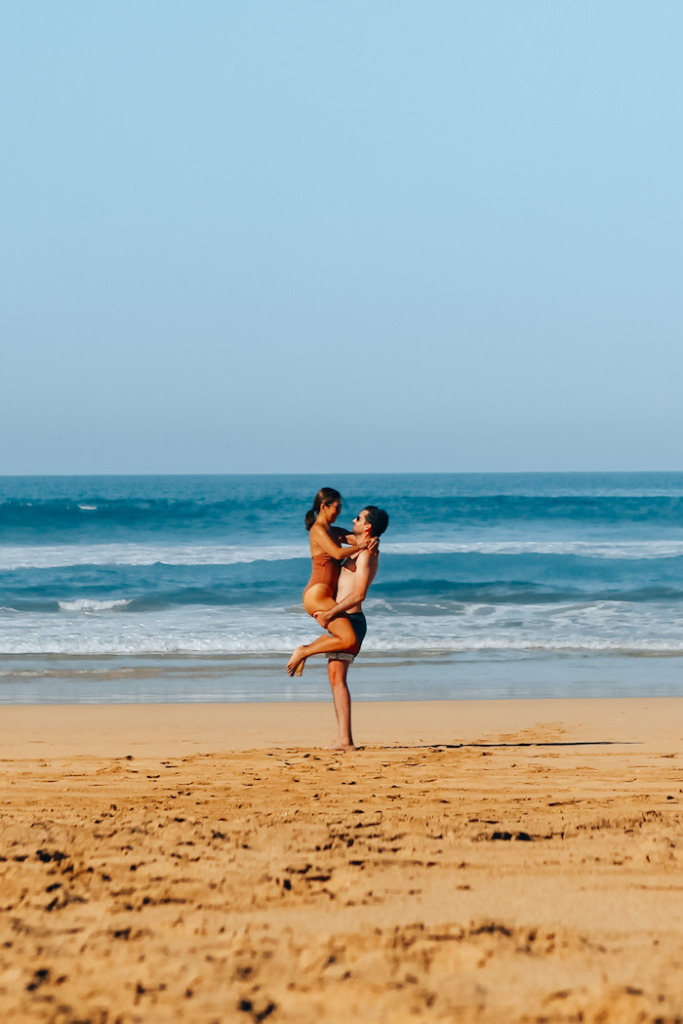 There is a small restaurant at the village just before reaching the beach in case you didn't bring your own lunch. During your trip to Fuerteventura, dedicate 1 full day to visit Cofete, it's really worth it.
Location: here
READ: FULL GUIDE TO DISCOVER COFETE IN FUERTETEVENTURA
---
23. Check out Villa Winter, a place with so much mysteries and legends
From the beach of Cofete, you will see this isolated house in the middle of the mountain, called Casa Winter. There is only 1 house, you will spot it straight away. So far so good…
The villa was built in 1937 by Gustav Winter, a German engineer who lived in Fuerteventura for fifteen years. However, this place is full of mysteries and legends. Indeed, it was apparently a hideout for the Nazis !!?
This is the main legend around this house: it would have served as a base for SS submarines, which would have used its tower as a beacon. But not only: it is famous for hiding tunnels in the mountains and in its basements.
Besides, you will also find a bunker and a room resembling a very scary old hospital.
The most astonishing legend about Casa Winter is that after the second world war ended, some Nazis came to Villa Winter for a plastic surgery in order to change their face before fleeing to South America so that no one will find them. Some also says that Hitler visited this place during the war and brought people from concentration camps to work on the extension of the villa.
If you like this kind of legends, you can actually visit the villa.
Location: here
Website: here
Opening hours: 10AM–2PM and 3PM–5PM
Admission fee: there is no entry fee, but a donation box.
---
24. Check out the Lighthouse at punta de Jandia
On your way back from Cofete, you can make a little detour to Faro punta de Jandia. There you will see a nice lighthouse. You will feel at the end of the world.
This is a perfect spot to watch the waves and chill in Fuerteventura. On low tide there are nice pools in the rocks for swimming.
There is also a small village nearby with a few restaurants. There is another beach right in front of the village called Playa el Puertito, usually a great place for swimming.
Location: here
---
25. Go on a dolphins and whales watching tour from Morro Jable
To finish your holiday in style, hop on one of the boat at Morro Jable and go check out the many dolphins and whales in the Canary Islands. Seeing these animals in their wild habitat is something unique and unforgettable.
Everytime we have the opportunity to join such trip we are always so excited. We never get bored of seeing dolphins jumping out of the water.
To experience this, we recommend joining this tour here.
---
Best Activities in Fuerteventura
1. Surfing
Fuerteventura is one of the best islands in the Canaries for surfing. It has been one of the best surfing destinations in the Atlantic for many years! With about thirty spots on its coasts, Fuerteventura has become one of the favorite destinations of European surfers who go there from October to May.
Fuerteventura is an ideal destination because it is not very far away from most European capitals. The spots are suitable for both beginners and experienced surfers with a high concentration of beach breaks and reefs.
Some of the best spots are:
El Hierro
Rocky point
Los Lobos
Bristol
La Pared
Flagbeach
If you are staying in the South, we highly recommend joining Rapa Nui Surf Camp. Here is their site.
---
2. Windsurf / Kitesurf
Fuerteventura is sometimes nicknamed the windy island. We stayed there quite some time, and indeed we had more windy days than calm day in general… (we wrote a full post here on the when is the best time to visit Fuerteventura). If you just like to lay down by the beach this might not be a great news. However, if you are a kitesurfers, then Fuerteventura is close to paradise.
Fuerteventura is the ideal place to practice kitesurfing all year round, although experts recommend especially the months of May to August, since the wind conditions are better at this time.
Some of the best spots for kitesurfing are:
Corralejo
Plage El Burro
El Cotillo
Sotavento
---
3. Kayaking and snorkeling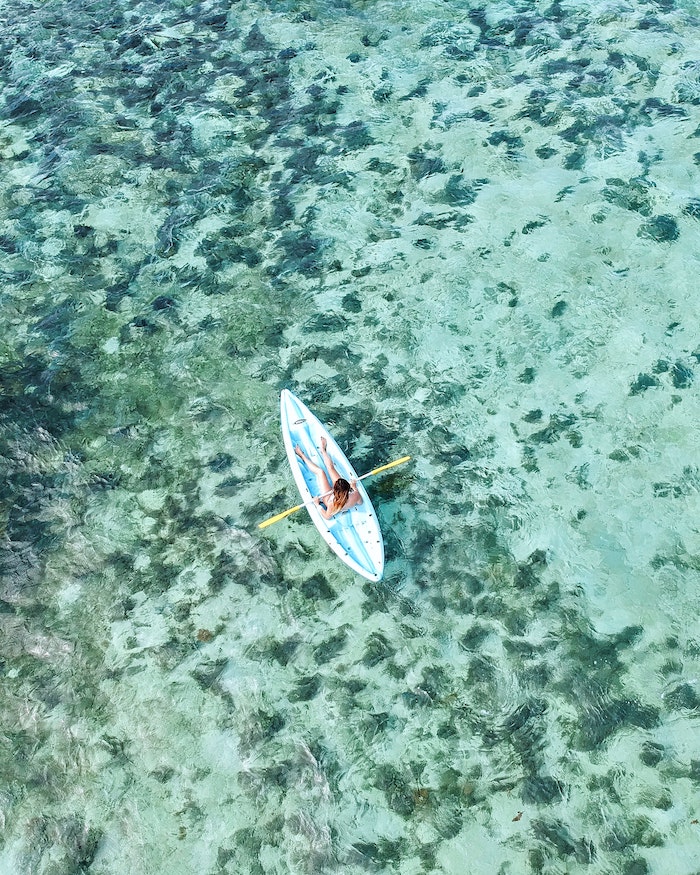 The cost of Fuerteventura is absolutely stunning. One of the best way to explore its beauty is to go on a kayak excursion. At the mid point, you will be able to go snorkelling to admire the rich sea of the Canary Islands.
If you like this activity, we recommend to join this tour.
READ: we listed the 8 best outdoor activities in Fuerteventura here.
---
Where to stay in Fuerteventura?
There are many places to choose from when it comes to finding a place to stay in Fuerteventura. It may depends on the type to activities you want to do during your stay, or the time of the year you are visiting the island. It may also be based on your budget.
Vacation rentals, all-inclusive hotels, seaside villas with swimming pools… there is something for everyone in Fuerteventura!
However we recommend to choose amongst the following 3 locations:
Corralejo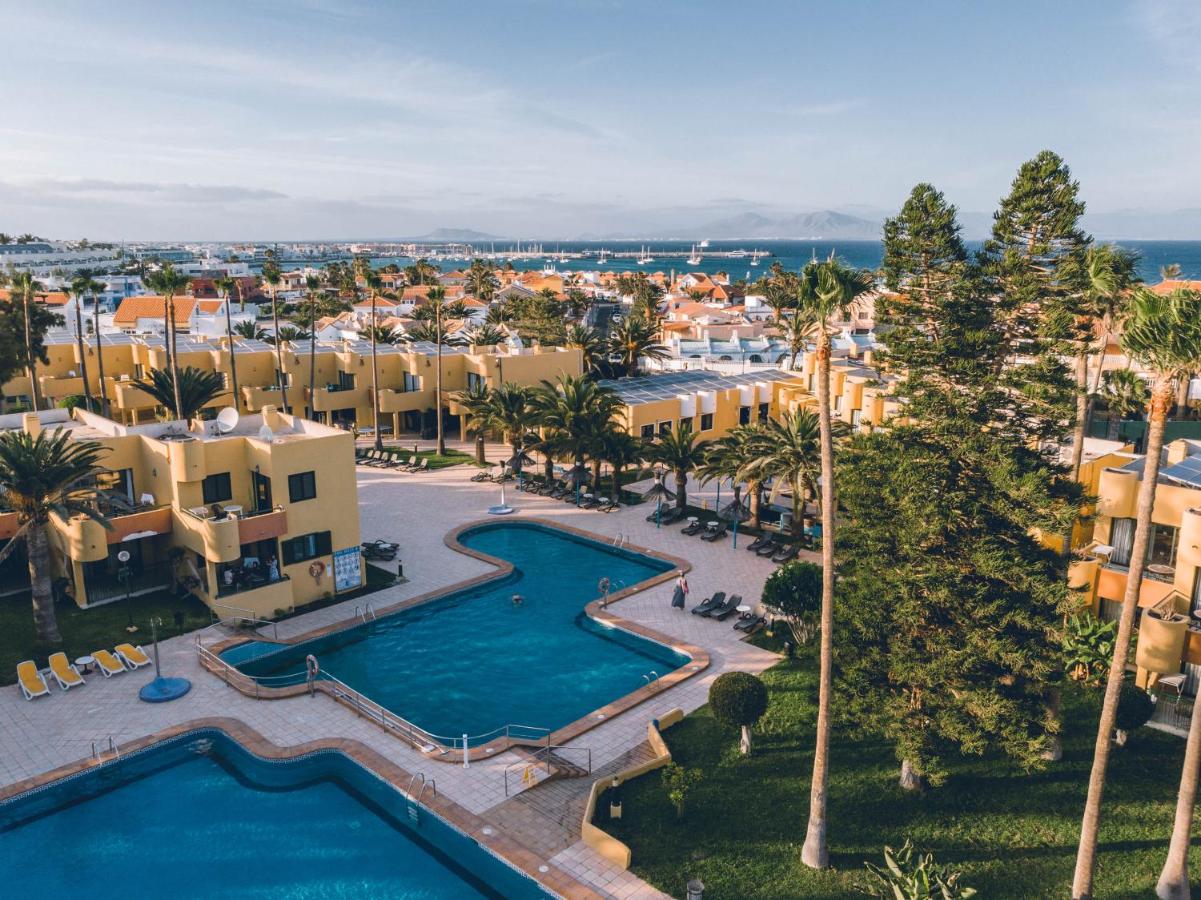 Best if you like more actions during your holidays. Plenty of bars, restaurants, a very young crowd, surf school, boat trip to Los Lobos, perfect beaches etc. There are so many things to do.
However, it may not be the most romantic gateway. We stayed at Atlantic Garden Beach Mate hotel. The location was perfect near the main beach and right next to a supermarket. The place was clean and modern. Check it out here.
Costa Calma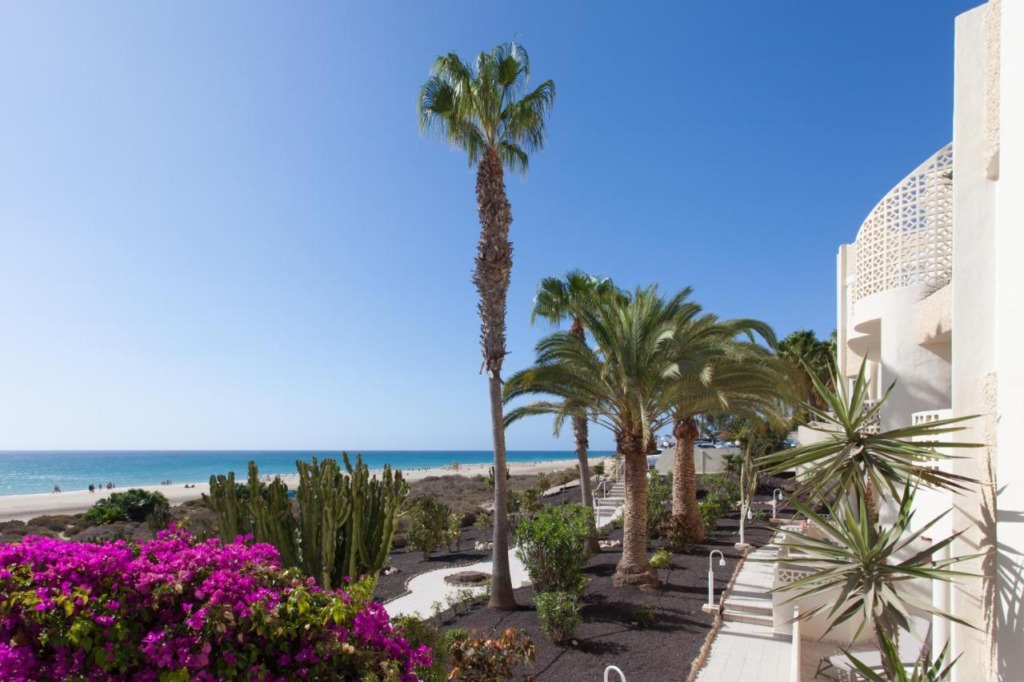 If you are couple, this is probably the best place to stay. Costa Calma is much quieter than Corralejo but there are also a few restaurants, cafes and bars.
From there you can easily explore Morro Jable, Cofete and many other attractions in Fuerteventura. We probably stayed in the best hotel in Costa Calma. It's called R2 Maryvent Beach Apartments Costa Calma. We had a fantastic sea view apartment. You can check it here
Morro Jable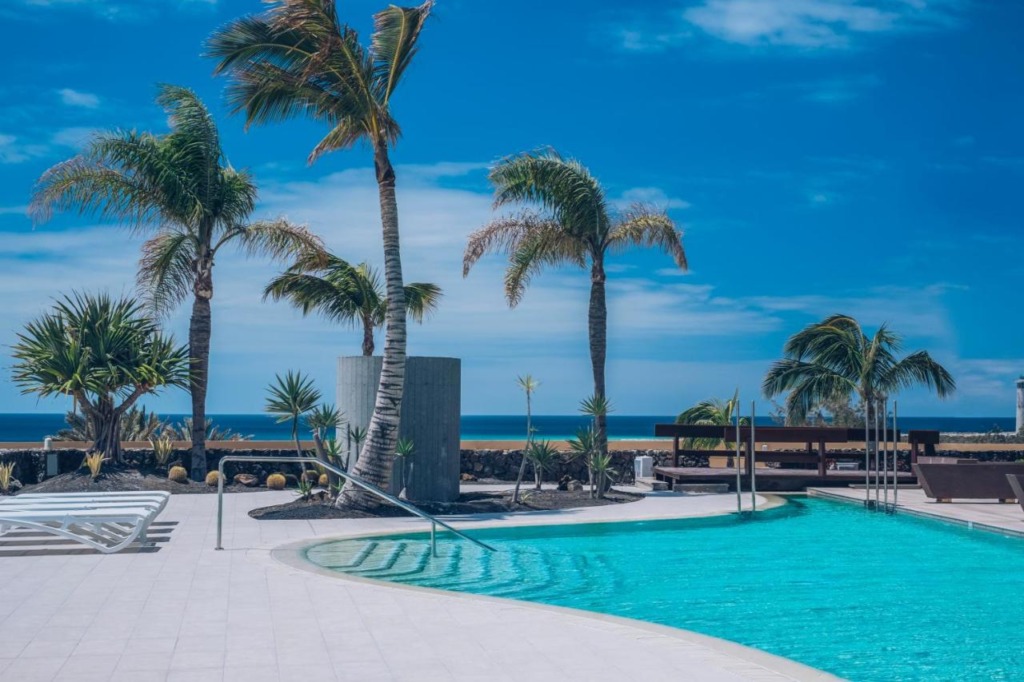 This is probably the most convenient place for families or retirees. You will find all you need in Morro Jable and it's mostly flat, which makes it very easy to walk around.
In Spain we love the Iberostar chain hotel. We only had fantastic experience in their hotels. At Morro Jable they have a stunning palace facing the sea. It's beautiful. You can book it here.
READ: BEST PLACES TO STAY IN FUERTEVENTURA, FULL GUIDE
---
How to get to Fuerteventura?
The easiest way is by plane! Plane tickets between the island and the major cities in Europe are generally very affordable. Easyjet has many great offers, however book early as during peak seasons the prices are going much higher. Compare the best prices here.
If you are visiting multiple Canary Islands, then you can easily take the ferry between each of them. We started our journey in Lanzarote and then we took the ferry to Fuerteventura, which is just a 30min ride. Use Direct Ferry for booking your ferry, you can compare the price amongst all ferry companies. Check it out here.
READ: OUR FULL GUIDE FOR VISITING THE CANARY ISLANDS
Once you reach the Canary Islands, it is highly recommended to rent a car. To get the cheaper rate we used Rentalcars.com. Check it out here for the best deals. However, we suggest that you rent a better car in order to tame some dirt tracks all around Fuerteventura 🙂
---
Best time to visit Fuerteventura?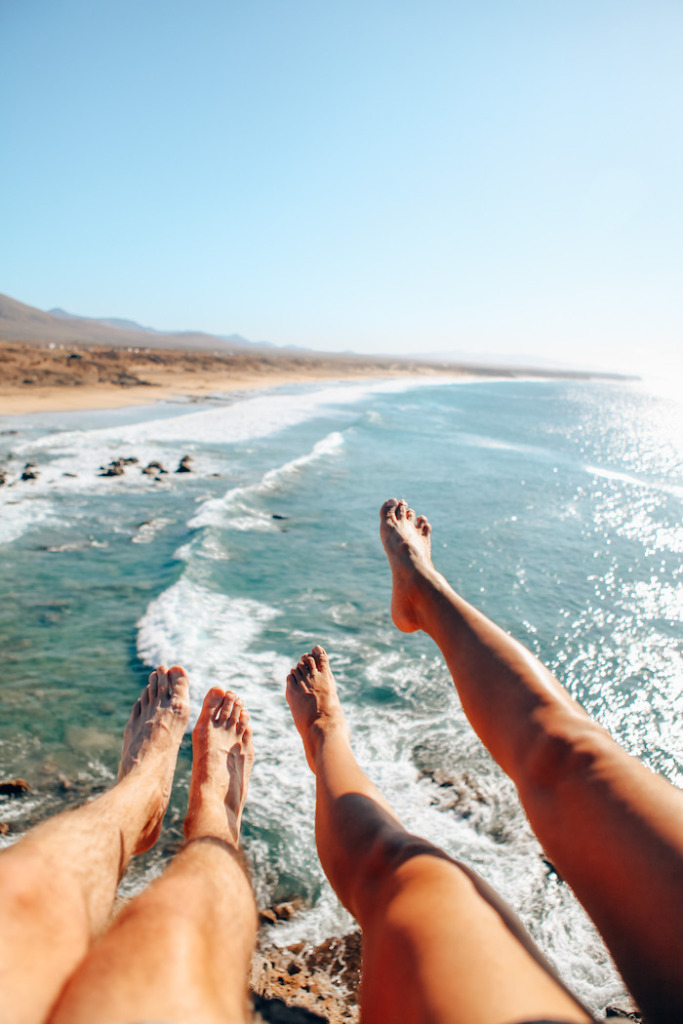 The Canary archipelago is famous for its perfect weather all year round.
However, despite what you might think, the summer months are not necessarily the best to go to Fuerteventura. The sun is very strong and it is very windy. Therefore we recommend going there in spring and autumn, or in winter if you like surfing.
READ: Full guide on the best time to travel to Fuerteventura
---
In conclusion about the best things to do in Fuerteventura
Fuerteventura is an island most famous for its spectacular beaches. And it did not disappoint! Its coastline is dotted with huge beaches of yellow or white sand of great beauty. In some places you may even feel in the Caribbean with the turquoise color of its water. Yet we are in Europe, a few hours flight from the mainland.
To book your flights to Fuerteventura, we recommend Skyscanner to find the best rates. Click here to found out more.
Among the stops not to be missed in Fuerteventura, Cofete top the list for us. In the north of the island, the coast near El Cotillo is a true paradise. Finally, the Isla de Lobos is also a very beautiful memory of our trip to Fuerteventura.
However, when we went hiking the volcano Calderón Hondo, this is where the landscapes was the most beautiful.
Fuerteventura, although a bit lesser known than Lanzarote, is absolutely beautiful.
If you have any question about Fuerteventura, feel free to leave a comment below.
All our posts about the Canary Islands can be found here.
HAPPY TRAVELS!
---
Related Posts
25 BEST THINGS TO SEE IN LANZAROTE
10 BEST BEACHES IN FUERTEVENTURA
FUL GUIDE TO CORRALEJO DUNES NATURAL PARK
VISIT EL COTILLO A COASTAL VILLAGE IN FUERTEVENTURA
COFETE, the best beach in Fuerteventura
HIKING CALDERON HONDO in Fuerteventura
BEST PLACES to stay in Fuerteventura
8 BEST THINGS TO DO IN CORRALEJO, Fuerteventura
8 BEST ACTIVITES in Fuerteventura
BEST TIME TO TRAVEL TO FUERTEVENTURA