WHAT TO DO IN GINZA? WHAT IS GINZA FAMOUS FOR? WHERE TO EAT IN GINZA?
Nicknamed "the Japanese Champs-Élysées", Ginza is known to be Tokyo's luxury district, concentrating the most exclusive world brand boutiques, renowned restaurants, cafes and nightclubs.
Ginza is one of the most famous districts in Tokyo! If you are visiting the capital, then this is a must.
We also recommend combining your visit of Ginza with the exciting Tsukiji Market.
"Ginza, the Japanese Champs-Élysées"
A stroll in Ginza will give you the opportunity to visit the most prestigious brands such as Dior, Cartier, Louis Vuitton, Mont Blanc, Chanel, Prada, Burberry, Printemps, Chaumet, Hermès, Bvlgari, or even Apple.
Chuo-dori, Ginza's main avenue, is closed to traffic and reserved for pedestrians every weekend and public holiday!
READ: DISCOVER TOKYO'S BEST NEIGHBORHOODS HERE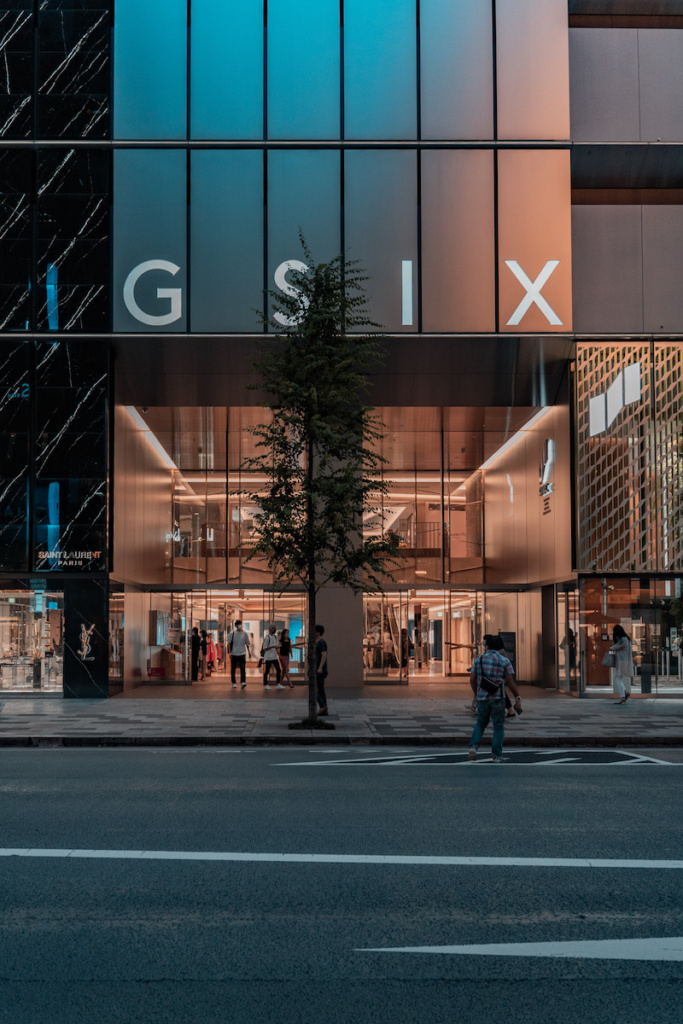 After Shibuya, Shinjuku, Harajuku, Akihabara or Shimokitazawa, Ginza is another district not to be missed when visiting Tokyo!
This is the most luxurious area in Tokyo and the best place to go shopping! So if you are into fashion, Ginza should be on your bucket list already! Ginza is also one of the best places to stay during a trip to Tokyo.
In this post, we listed the best things to see and do in Ginza, Tokyo.
Here is what you can expect during a visit to Ginza:
---
WHAT TO DO IN GINZA?
1. Go shopping, of course!
Most people visit Ginza for shopping!
Women will appreciate the cosmetics on sale at Shiseido (7 Chome-8-10 Ginza), fashion enthusiasts will be in heaven at the largest Uniqlo store in the world spanning 12 floors (6 Chome-9-5 Ginza).
To enjoy Japanese products at the best price, go to Laox, a duty-free store (Ginza Yamato Building 1-3F, 7-9-17 Ginza), but remember to bring your passport!
Children will be delighted to go to Ginza Hakuhinkan, the largest toy store in Japan (8-8-11 Ginza).
Not to be missed in particular is the century-old Ito-ya paper mill (2 Chome-7-15 Ginza). It offers a large selection of unique postcards that you can even write and send on the spot.
The shop also offers more than 1,200 kinds of pens and pencils, customizable notebooks, a wide variety of Japanese papers, and travel items.
---
2. Stroll along Ginza Gasuto-dori
Gasuto-dori is one of Ginza's best-known streets, always crowded with bars and restaurants. A place to visit at least once to feel the unique atmosphere of the neighborhood.
---
3. Treat yourself at Ladurée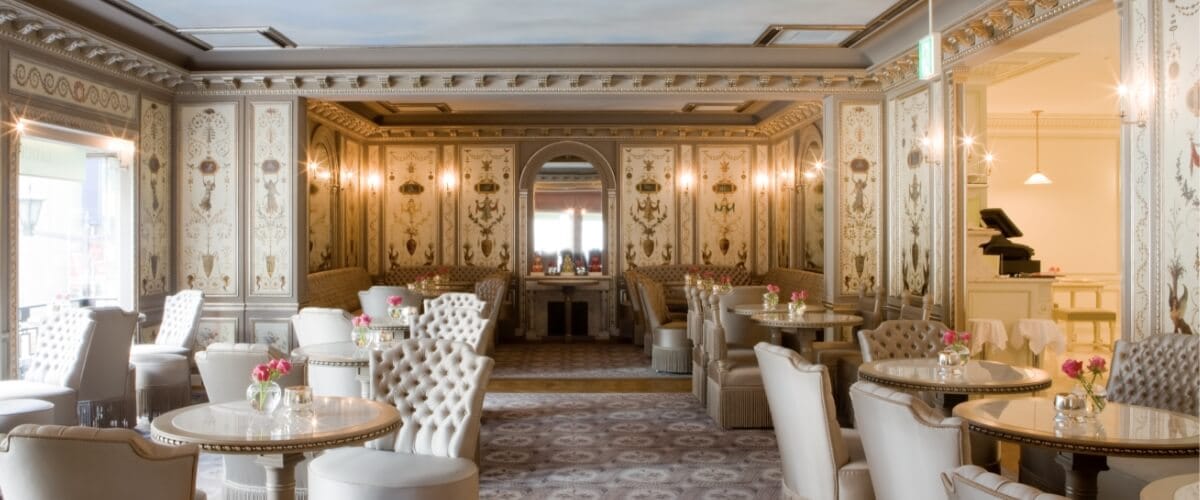 Indulge yourself at Ladurée to savor classic macaroons that have made the house famous or small pastries, each more tempting than the next.
In addition, the place offers a breathtaking view of Ginza and its central crossroads.
---
4. Or why not enjoying an afternoon tea at Bvlgari
If you want to treat yourself in Tokyo, then head to Bvlgari for an amazing afternoon tea.
The 14 varied small dishes are presented like jewels in three boxes. From small Italian-inspired desserts to mini burgers and sandwiches for savory lovers, all accompanied by homemade jam.
It's an amazing experience which you will for sure enjoy!
Location: here
---
5. Eat amazing sushi at Sushi no Midori
Head to Sushi no Midori, an excellent place to eat fresh sushi at a reasonable price.
The specialty of the establishment is an eel nigiri so long that it is impossible to eat in one bite.
This is one of the most famous sushi places in Ginza, do check it out.
---
6. Enjoy a delicious cup of coffee at BONGEN COFFEE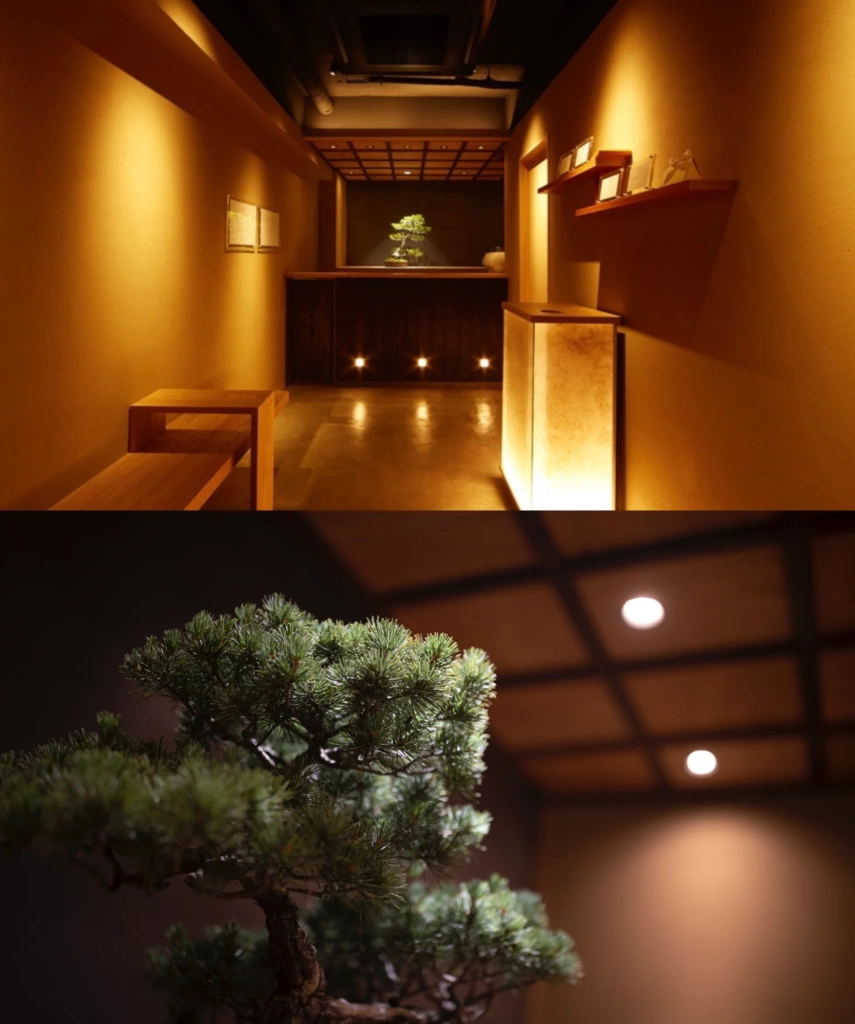 For those who have been reading our blog for a while (first of all thanks a lot), you would know that we are constantly chasing for the best coffee! Our daily cuppa is very important to us!
Ginza will not disappoint with its many cafes.
However, one place stands out! This is BONGEN COFFEE! Their roasted coffee is absolutely delicious, such an art!
A visit of BONGEN COFFEE is a must for coffee lovers out there!
---
7. Visit Kabuki-za Theater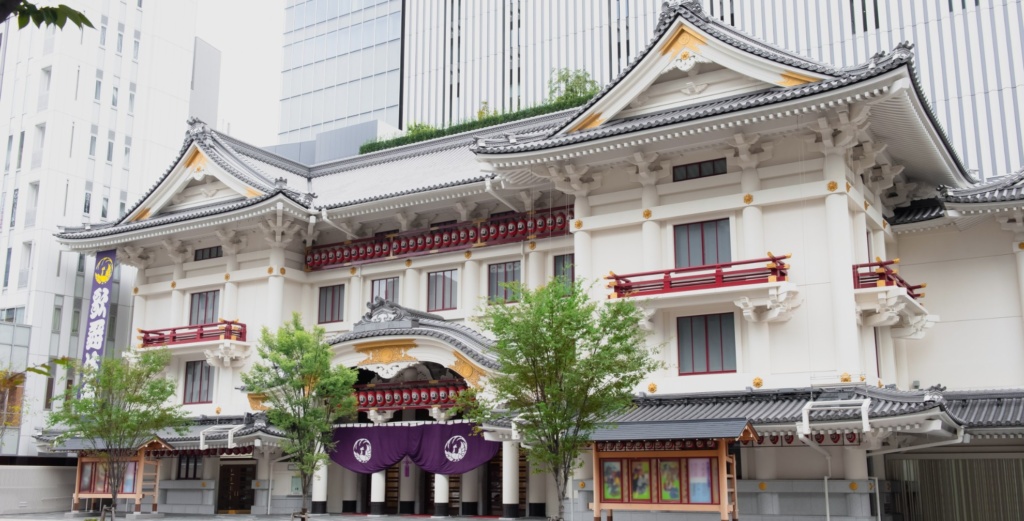 Originally built in 1899 and renovated between 2010 and 2013, this theater where kabuki plays (theatrical genre born in the 17th century) are performed is accessible to non-Japanese thanks to a subtitling system and voice guide.
The theater also has an open garden on the fifth floor, a pleasant space to enjoy the sun.
If the weather is not suitable, you can always visit the gallery where costumes and accessories are exhibited, attend conferences or demonstrations, and have your photo taken wearing a stage costume.
Guided tours are also possible which will inform you about the history of the place and this art.
---
8. Take a break at Hama-Rikyû garden
Green lung in the center of the megalopolis, with an area of 25 hectares, this traditional garden is bordered by Tokyo Bay which supplies its ponds with salt water, causing them to vary in level with the tides.
A pretty tea house located on an island in the center of the park allows you to fully enjoy the landscape.
Location: here
---
9. Visit Tsukiji Market, one of the best things to see in Tokyo!
During our first trip to Tokyo, our visit to the Tsukiji market was one of the highlights of our trip. We ate some of the best sushis in Tokyo there! But be careful, we are talking about the OUTER-MARKET!
Indeed, the main INNER WHOLESALE MARKET was closed in 2018. From 1935 to the end of 2018, Tsukiji Wholesale Market (Tsukiji Fish Market) was the most famous and largest fish market IN THE WORLD!
The indoor section of the market has since moved to nearby Toyosu, but the outdoor market is still in the same location and bustling with activity.
Located on the edge of Tokyo Bay and accessible on foot from Ginza, the market is a maze of streets more fascinating than ever. Feast on fresh sushi for breakfast at nearby restaurants or pick up unique souvenirs, ranging from seaweed to sushi knives to handmade ceramics.
READ: FULL GUIDE FOR A VISIT TO TSUKIJI MARKET
---
10. Have fun at a luxurious karaoke in Ginza
The most famous Japanese entertainment: karaoke.
Rather than an ordinary establishments where you often find yourself confined to a small room, why not let yourself be tempted at least once by a spacious and sumptuous place?
It is even possible to eat on site and if you are tired of karaoke, you can start a game of billiards or darts. An "all you can drink" package is offered with karaoke. Fun guaranteed!
---
11. Enjoy the most delicious ramen in Tokyo in Kagari
Yes, there are ramen everywhere in Tokyo! But in Ginza there is Kagari Ramen!
For many, this place is considered the best ramen restaurant in Tokyo! This small restaurant hidden in a small alley is one of the most famous.
It is distinguished by superior quality ingredients and careful presentation. Given the quality of the cuisine, be ready to wait for about 30min before you can enjoy a delicious bowl of Ramen at Kagari.
---
12. Check the view at Ginza Six Rooftop (free)!
Ginza Six is a skyscraper with a luxurious shopping center, inaugurated in 2017 in the heart of the Ginza district in Tokyo. The highlight of the visit is on the roof terrace, laid out as an oasis of greenery, for a break in the open air and in peace.
Covering 4,000 m², it is the largest terrace space in the district.
This shopping center was designed by architect Yoshio Taniguchi (to whom we owe the Sea Life Park Aquarium in Tokyo and the renovation of the Museum of Modern Art in New York).
With its 360 degree views, you can contemplate Tokyo Tower and even the SkyTree from the terrace!
BOOK: If you like architecture, why not join this architecture tour of Ginza? >> MORE INFO HERE <<
---
13. Have a casual dinner at Yūrakuchō
Yūrakuchō is a commercial district near Ginza, which at first glance may seem uninteresting.
However, check out Gado-shita (literally "under the beam"), an alley of restaurants nestled under the metro of the JR Yamanote line! Gado-shita is also called Yakitori Alley.
There are izakayas and Sanchoku Inshokugai, a very good place to eat seafood!
We love this place!
Location: here
---
14. Near Ginza, make sure to visit the Imperial Palace in Tokyo!
Although it is only possible to visit the interior of the Imperial Palace on January 2nd and during the Emperor's birthday, a walk around the park is very pleasant!
The Imperial Palace is surrounded by parks like Hibiya Park where we had admired the fall colors and Kitanomaru Park, a vast green space to the east of the palace.
---
15. Visit the art aquarium Ginza Museum! It's absolutely stunning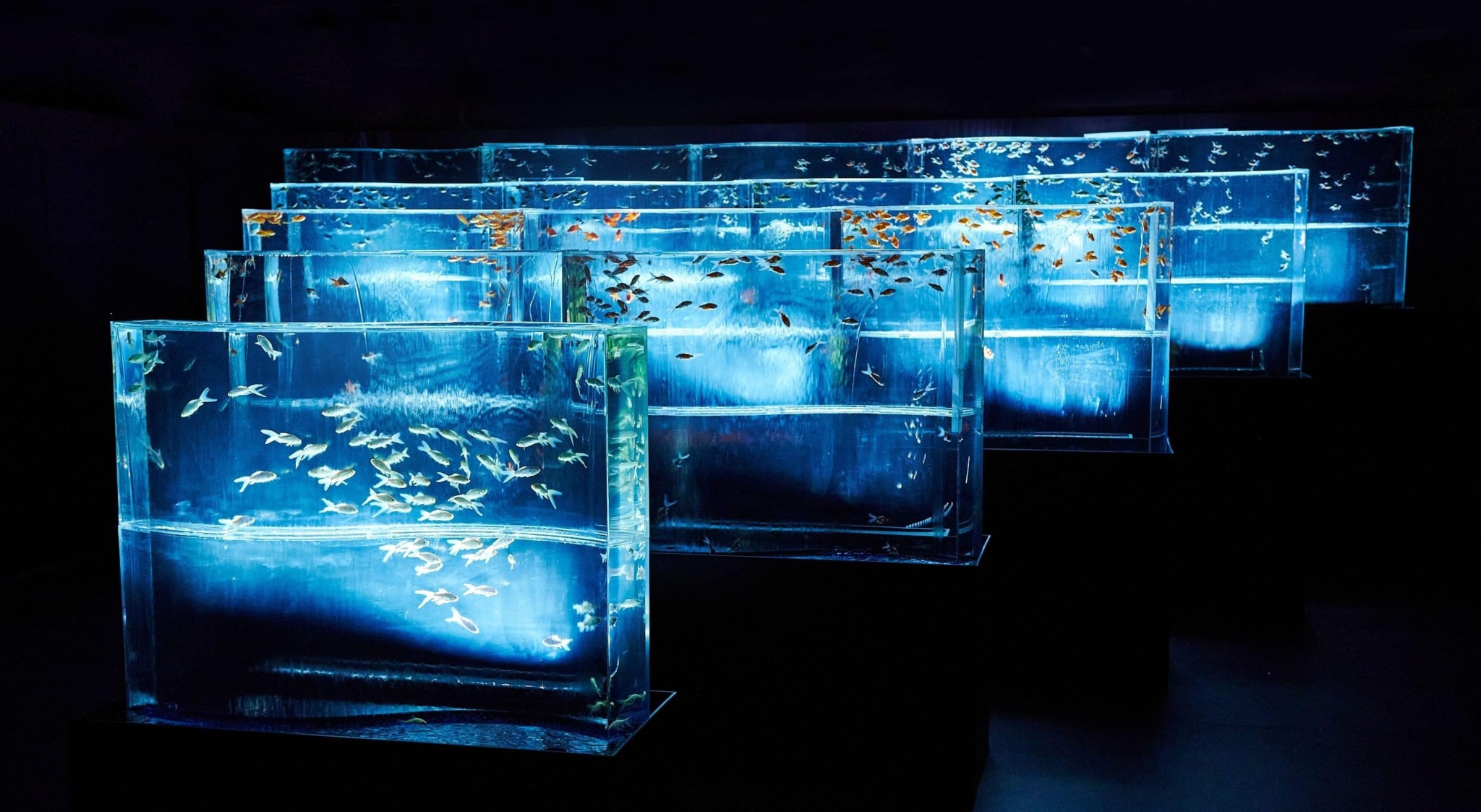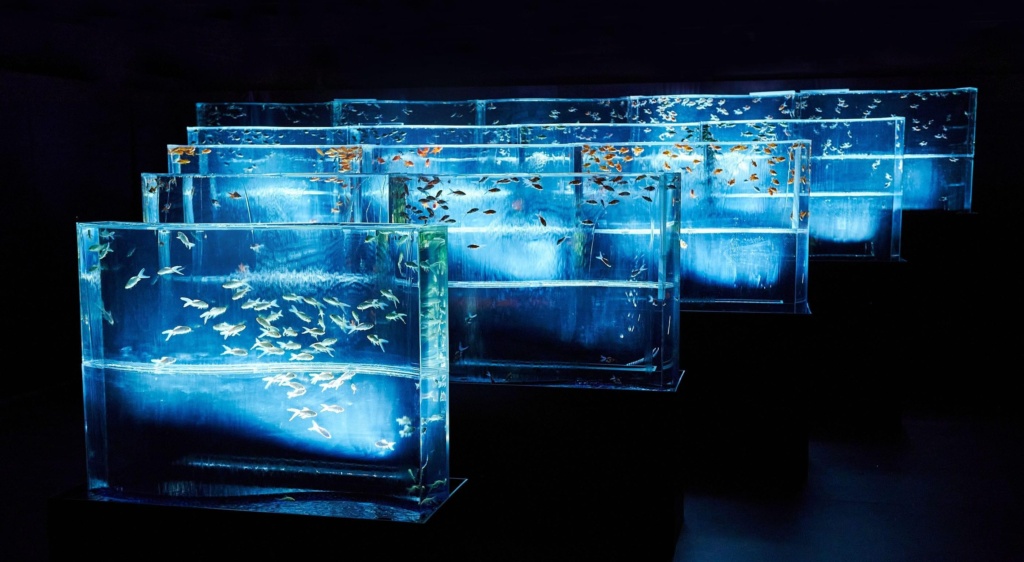 This museum is a beautiful combination of art and animals.
A great place to see some extraordinary goldfish presented in a very clever and artsy way.
It's unlike anything you've been to before.
The whole visit can be completed in about 1h. There are only several rooms.
---
Where to stay in Ginza?
Ginza is one of the best places to stay in Tokyo due to its strategic location and great connection to pretty much anywhere in Tokyo! You will also be within walking distance to Tsukiji Outer Market and the Imperial Palace, 2 important sights not to be missed during a visit of Tokyo!
Here is our favorite hotels in this part of Tokyo:
The Royal Park Canvas Ginza Corridor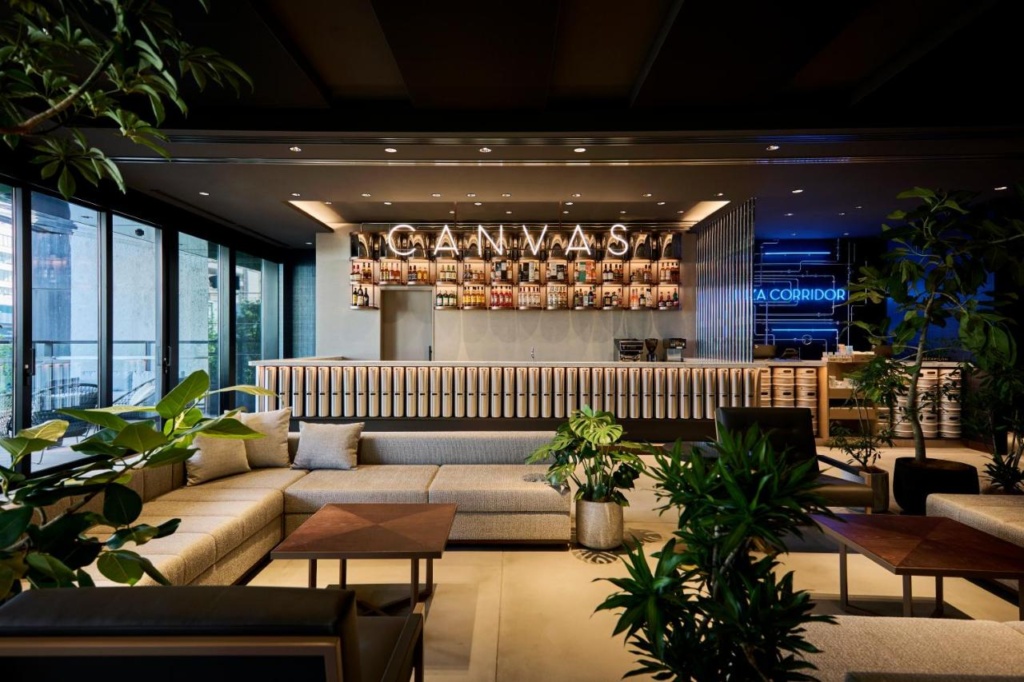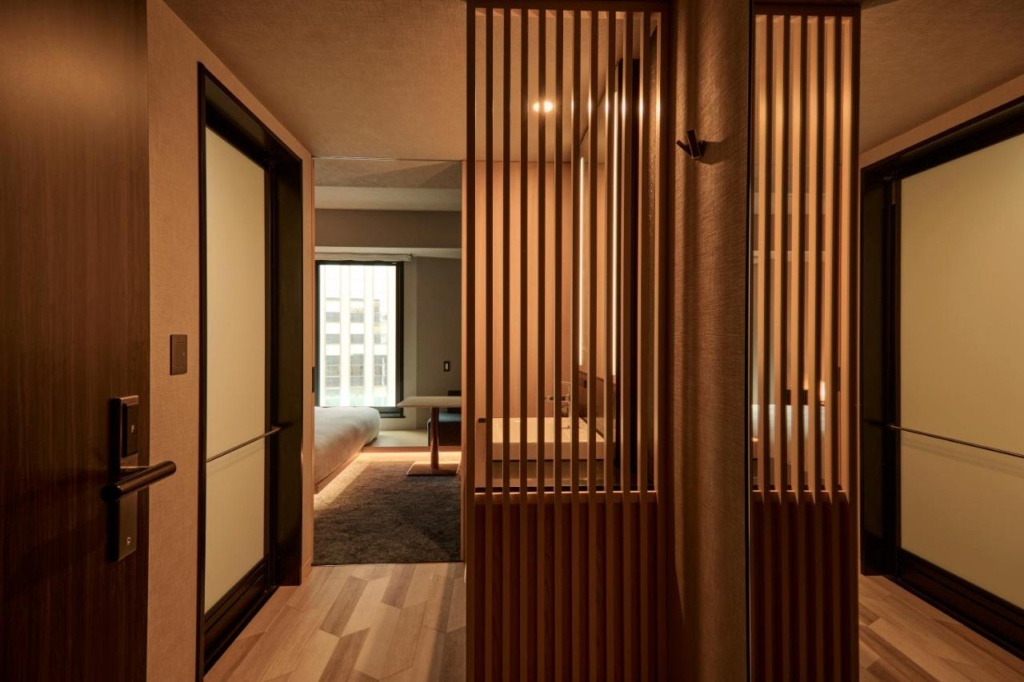 The Royal Park Canvas Ginza Corridor is very well located, just a few metres away from the Ginza shopping strips and several subway entrances.
The rooms are super clean, spacious room, with cool projector and bluetooth speakers. It has everything you need to make your stay in Ginza memorable!
>> BOOK HERE <<
---
MUJI HOTEL GINZA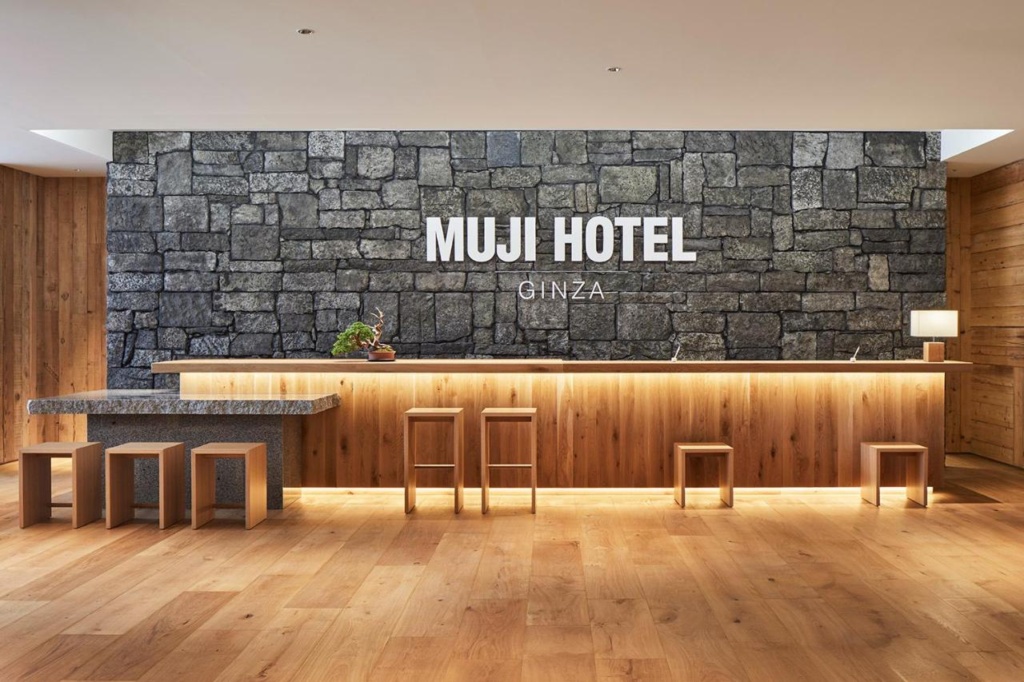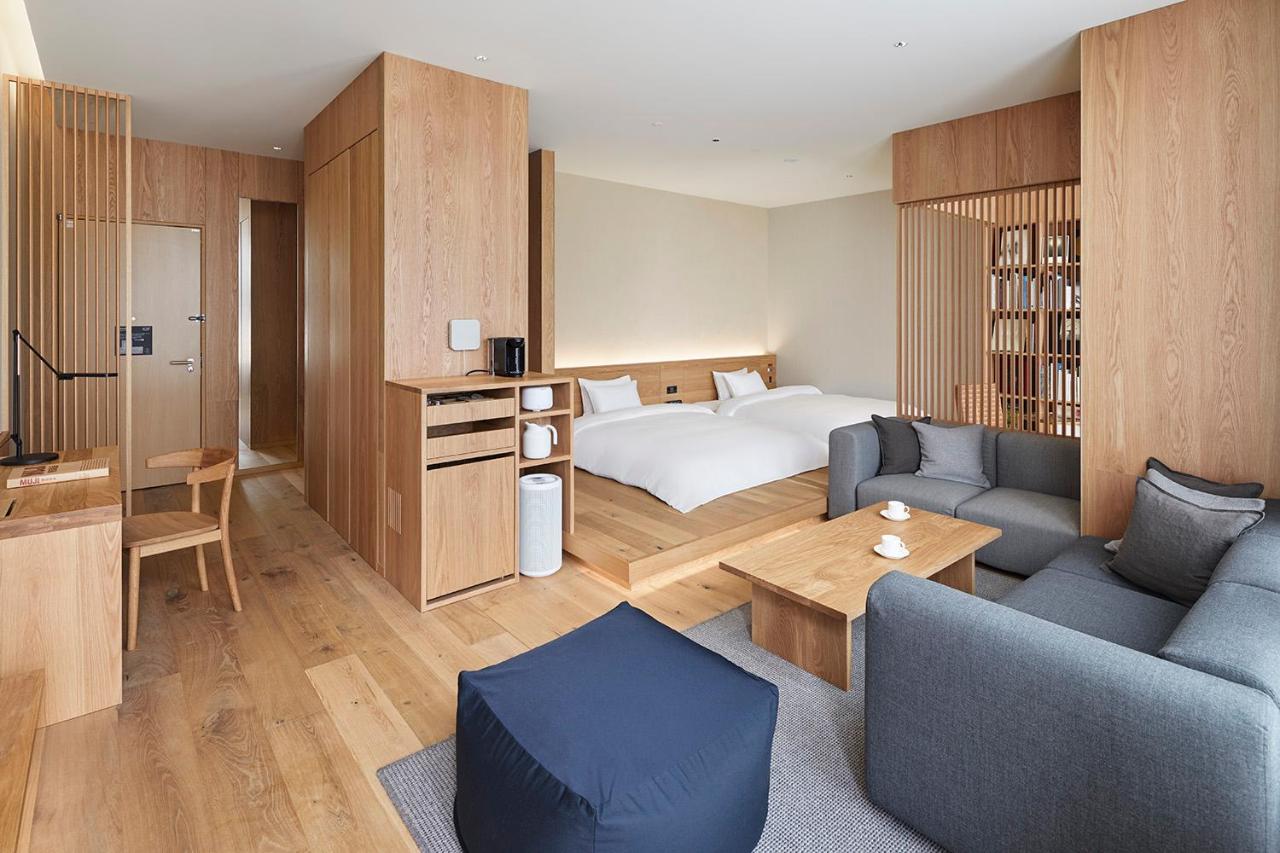 MUJI HOTEL??! WHAAAAT! Yes this is happening! So, if like us you are huuuuge fan of Muji shop, then you will love everything about this hotel!
We would even say that this one of our favorite hotels in Tokyo!
>> CHECK IT OUT HERE <<
---
Hotel GrandBach Tokyo Ginza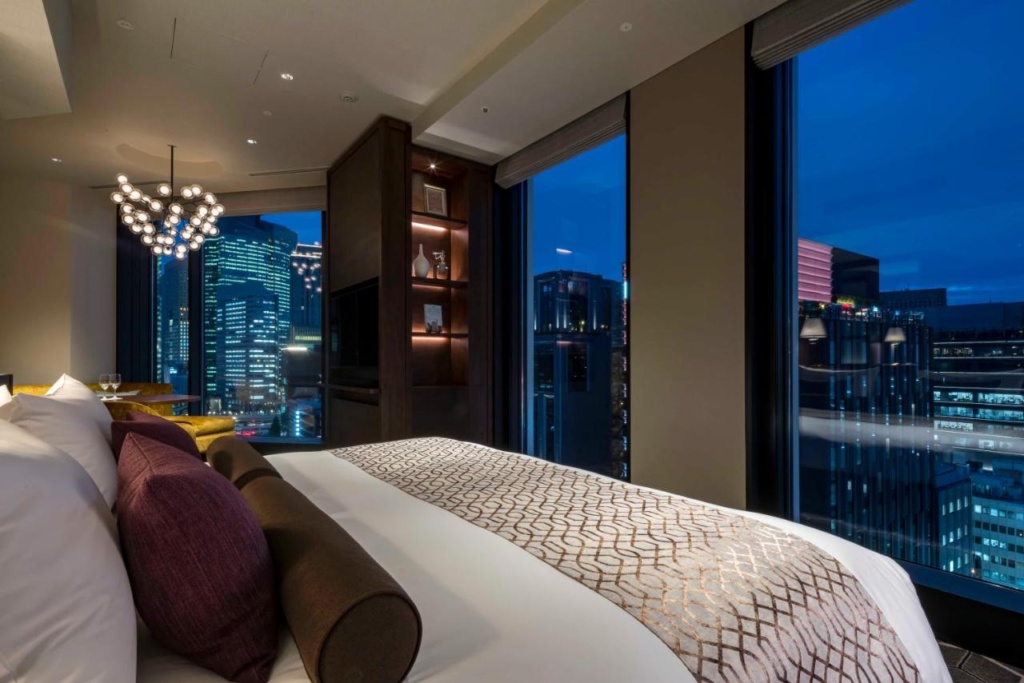 Spacious room, amazing view, luxurious feel, this hotel has one of the best value for money in the area!
Hotel GrandBach Tokyo Ginza is just a few minutes walk to the famous Tsukiji Market!
READ: WHERE TO STAY IN TOKYO – BEST AREAS AND HOTELS !
---
How to get to Ginza?
You can easily reach Ginza from pretty much anywhere in Tokyo.
The lines of the metro that pass through Ginza are the Ginza Line (G09 Ginza – Tokyo Metro), the Hibiya Line (H08 Ginza – Tokyo Metro), the Marunouchi Line (M16 Ginza – Tokyo Metro), the Yurakucho Line (Y19 Ginza-itchome – Tokyo Metro) and the Asakusa Line (A11 Higashiginza – Toei).
---
So, is Ginza worth a visit?
Ginza is THE shopping place in Tokyo. So indeed, it all depends on what you want to see during your visit of Tokyo.
1 main reason for us to go to Ginza is to visit the Tsukiji Market! One of our favorite places to explore in Tokyo. Usually we would always make a stop in Ginza afterwards for a good coffee.
However, if your time is limited, we would rather recommend a visit to Shinjuku or Akihabara, which for us are more memorable during a trip to Tokyo!
---
Related posts
30 AWESOME THINGS TO DO IN TOKYO
13 BEST DISTRICTS TO VISIT IN TOKYO
10 BEST THINGS TO SEE IN MONZEN-NAKACHO IN TOKYO
15 BEST THINGS TO SEE IN ASAKUSA (SENSO-JI)
CHECK OUT THE INCREDIBLE SHINJUKU DISTRICT!
INCREDIBLE THINGS TO SEE IN AKIHABARA
15 AWESOME THINGS TO SEE IN HARAJUKU
BEST THINGS TO SEE IN KOENJI IN TOKYO
EXPLORE KAGURAZAKA, THE LITTLE PARIS OF TOKYO
DISCOVER TSUKIJI OUTER MARKET IN TOKYO
15 BEST THINGS TO SEE IN HAKONE (NEAR MT. FUJI)
BEST THINGS TO SEE IN NIKKO NEAR TOKYO
GUIDE FOR A VISIT TO NARAI-JUKU