Mokpo, is located in the extreme southwest of Korea. Mokpo is a city surrounded by the sea. It is also a city of sailors with it's many harbors. For Koreans, Mokpo is mostly known as the departure city to take the ferry to Jeju. (If you are taking the ferry to Jeju, read this post)
Although not very touristy, Mokpo has plenty of great things to see. Count 2 days for visiting all the main sights.
Mokpo has for instance an excellent Maritime Museum where shipwrecks from the 11th and 14th centuries are on display as well as multiple treasures from shipwrecks. You can also soak up the city with a stroll through Yudalsan Mountain. Or take a cable car to cross the city and the sea with many islands on display.
A bit of history about Mokpo…
Mokpo served as a major harbor during the Japanese Occupation (1910–1945), due to its location along the sea routes between Japan and China. The large number of islands surrounding Mokpo also served as a protective barrier, making the city less vulnerable. During the occupation, large residential areas were built to accommodate the Japanese colonists, which are now the city's historic districts.
The end of World War II and Korea's independence in 1945 were responsible for the city slowly losing its position as a host to major government organizations and wartime industries. This led to a reduction in the size of Mokpo, which is currently a mid-sized city of the Honam region and count roughly 200,000 inhabitants.
If you stop to Mokpo during a trip to South Korea, you will want to go for a trip at sea to see some of the surrounding islands. There is an archipelago which is part of the Dadohae Maritime National Park with more than 1,700 islands. The vast majority of these islands are uninhabited and are only small islets. On the larger ones, you will meet fishing communities who have practiced traditional fishing for centuries. There are a few ferries from Mokpo to travel to some of these islands.
We stopped to Mokpo, as we decided to take the ferry to go to Jeju Island. We were pleasantly surprised by the city and what it has to offer. Mokpo is definitely a place which we would want to go back and explore more of the surrounding islands and the coast in the southern part of Korea.
---
How to get to Mokpo?
By Car
Count about 5h to get to Mokpo by car from Seoul (including 1 hour to get out of Seoul because of the traffic). After leaving Seoul, the way to get to Mokpo is very easy. You will pass near Taean, which we highly recommend to visit if you have time (full post here).
By KTX
Mokpo is well connected to Seoul via KTX. From Seoul there are about 8 trains going to Mokpo every day. The journey takes about 2.5 hours. The departure is from Seoul Station.
It is very convenient to travel to Mokpo by train. Mokpo is the last stop of the Honam Rail Line.
One of the most significant benefits of opting for a train during your exploration of South Korea is that departures and arrivals are at the central stations, so you don't have to spend your time and money on transfers.
In the next part of this post, we describe the best things to see in Mokpo. Enjoy the trip!
---
1. Take the Cable Car in Mokpo
This is the main attraction in Mokpo. The cable car opened in 2019. Mokpo Marine Cable Car, is actually the longest (3.23 kilometers) and highest (155 meters from the ground) cable car in Korea. It crosses Yudalsan Mountain and the sea to reach Gohado Island.
Mokpo Marine Cable Car offers an amazing view of the city of Mokpo, and the surrounding natural beauties. We absolutely loved the experience. We did it during the day, but we heard that at night it is even more beautiful, especially to see the amazing Mokpo Bridge all lighten up.
There are 3 stations to get in and out the Cable Car. 1 is located in the city, 1 on top of Yudalsan Mountain and the last one on Gohado island, the final stop. One third of gondolas have a glass bottom which allows you to get the extra thrills when taking the Cable Car. There is an extra charge if you want to hop on one of the glass gondola.
Operating Hours
[March-October] Sunday-Thursday 09:00-22:00 / Friday-Saturday 09:00-23:00
[November-February] Sunday-Thursday 09:00-21:00 / Friday-Saturday 09:00-22:00
* Last admission 1 hr before closing
Parking Facilities

Bukhang Platform – 400 parking spaces (including bus parking lot). This is the parking located in the city right next to the entrance of the Cable Car. So if you stay in Mokpo, head to Bukhang Platform first.
Gohado Island Platform – 500 parking spaces (including bus parking lot). This is located at the final stop on Gohado island. You can also choose to drive there first and cross the beautiful Mokpo Bridge. However, starting your journey at Bukhang would be more convenient.
Parkings are free for the first 3 hours.
Admission Fees
[Standard Cabin]
Adults – Round trip 22,000 won / One-way 18,000 won
Children – Round trip 16,000 won / One-way 12,000 won
[Crystal Cabin with glass bottom]
Adults – Round trip 27,000 won / One-way 21,000 won
Children – Round trip 21,000 won / One-way 15,000 won
Website: www.mmcablecar.com
---
2. Visit Gatbawi Rocks
Nature can sometimes mold unique and strange shapes. Eroded by water and wind, these two rocks are shaped like traditional Korean hats called gat. There are a few legends about these 2 rocks.
This is how the legends go…
A long time ago, there was a young salt merchant who lived with his sick father. Even though he was poor, he was a kind man who would do anything to help his sick father. He worked as a farmer for a rich estate away from his home to save money to cure his father. He did his job well, but in the end, his master didn't pay him…
When he returned home after a month, he found his father dead. He regretted having been foolish not to care for his father for a month. What he could do at least was try to give his father a proper burial. Unfortunately, while moving his father's body, he dropped the coffin into the sea by mistake. He felt awful about his father's sudden underwater burial.
To make amends, he remained at the spot wearing a gat (this traditional Korean hat) until his death. Sometime after his death, two rocks rose from this spot and they were called Gatbawi (bawi means rock). People have called the bigger rock "father rock" and the small one "son rock".
There is also another legend which says that Gatwabi Rocks is when Buddha and Arahan, one his disciples who attained Nirvana, traveled across Yeongsangang River and rested at this place. They continued their journey, leaving their hats behind. It is said that their hats became the rocks which are also knowns as Monk Rocks.
Whatever the true story is, we highly recommend a visit of the Gatwabi rocks (갓바위 문화타운). They are the main attractions in Mokpo. The rocks are located by the water and accessible with a wooden bridge. It is a very nice place, which we enjoyed a lot during sunset.
---
3. Hike Yudalsan Mountain
A walk up to the two peaks of Yudal Mountain is a great experience if you are visiting Mokpo. It allows you to have a beautiful view of the city but also the surrounding sea and the many islands. The hike is relatively easy. It takes around 1 hour to get to the tallest peak. From there you have the perfect 360 degrees view. On the way up, there are lots of places to stop to take nice photos or take a rest. Some people would even get a picnic in some areas.
We especially enjoyed the few pavilions and temples on the way.
Another way to get to the top, is to take the Mokpo Marine Cable Car, and make a stop at the middle station. From there, you only need to take a few stairs to reach to the peak.
---
4. Stroll on Peace Square and watch the musical fountain
For a pleasant walk along the sea, and especially during sunset, head to Peace Square. It is a popular spot for people living in Mokpo. Families head there with their kids who can enjoy a nice bicycle ride, people jog there, walk their dog etc. Overall we enjoyed strolling along the plaza's paths, which stretches out along the coastline. The view of the river is really nice.
Peace Square is also called Pyeonghwa Plaza in order to commemorate the winning of "Nobel Prize" by the former president, Kim Dae-jung, in 2000.
As part of Peace Square, you can also enjoy the musical water fountain every night at 8pm. The show is really nice, it involves music and lights. Between songs you can even send personalized messages.
---
5. Mokpo Maritime Museum
Mokpo Maritime Museum was one of our favorite activity in Mokpo. Since we love boats and sea, we are always keen to learn more about it. This museum is located next to Mokpo harbour. Through your exploration, you learn all about the history of Korean fishing over the centuries. We discover the traditional fishing villages, but also the techniques specific to the country and many other things. Perhaps the most impressive that can be seen here are the shipwrecks that trace the evolution of buildings from the Goryeo dynasty to the present day. Quite impressive.
After the visit, the rest hall and its large windows open their arms to the sea for visitors. Ancient vessels rest just a short distance away from their modern counterparts, giving tourists an idea of what the ships exhibited in the museum might have been used for in daily life.
However, what we didn't like is that most of the descriptions are in Korean. There was a guide during our visit who explained us some of the exhibits, but otherwise we had to use Google Translate to read some of the description. Nevertheless, we still recommend visiting Mokpo Maritime Museum, we enjoyed it.
Opening hours: 9:00am – 6:00pm (closed on Monday)
Address: 136, Namnong-ro, Mokpo-si, Jeollanam-do / 전라남도 목포시 남농로 136 (용해동)
Admission: Free
Website (in English): https://www.seamuse.go.kr
---
6. Take a boat tour to visit the surrounding islands
Hongdo and Henkgando islands
By taking the ferry from Mokpo, you can travel to the islands of Hongdo or Henkgando. It is a very nice to experience life on the islands animated by fishermen. On these islands, fishing traditions have stayed for centuries.
Gohado Island
Gohado Island is located just 2km apart from Mokpo. It is accessible with the Cable Car or you can also drive there as it is connected by the famous Mokpo Bridge.
Gohado Island, was located in a strategic location during the Japanese invasion of Korean in 1592. The island served as a defending ground against the Japanese successfully led by the well known Admiral Yi-Sun. To commemorate this, there is a monument for Admiral Yi Sun-sin.
From Gohado you can admire Mokpo harbor, and the beautiful Yudalsan Mountain.
Finally, make sure to head to Coffee Panache, located in a very modern building. It looks like a few containers piled up in a random fashion and bright orange colors. Another very cool cafe in Korea.
Oedaldo island
Oedaldo island is also called the Island of love. It is located 6km west of Mokpo. It's preserved nature and clean sea makes it a favorite spot for locals and tourists visiting Mokpo. It has beautiful view of surrounding islands, fine sandy beach, and it's one of the best spot to watch sunset in Mokpo.
Children can have fun playing in the water, parents can enjoy a relaxing time. Lovers can experience a beautiful promenade overlooking the open beach. Boasting a pristine beach and beautiful natural environment, "Oedaldo Island of Love", which was selected as the "Best 30 Islands to Rest in Korea," by the Ministry of Land, Transport and Maritime Affairs, is a must-see in Mokpo.
---
7. Admire Mokpo Bridge
If you are travelling to Mokpo, and you enjoy photography, you will not be disappointed. One of the most impressive sight is the famous Mokpo Bridge. Beautiful during the day and even more impressive at night. Taking a photo of the Mokpo Bridge would certainly be one of the highlight of your trip to Mokpo.
The bridge is an architectural marvel and made us feel a bit like San Francisco.
Mokpo Bridge was built in 2012. It connects Mokpo to Gohado Island with a total length of 4km.

---
8. Visit the Dongmyeong-dong fish market
Like any good port city, Mokpo also has an amazing fish market. Opened in 1908 as the Dongmyeong-dong Fish Market, this covered market sells fresh, dried and fermented fish and seafood. The best way to visit it is in the early morning, when the merchants set up their stands. After that the aisles fill up really fast.
The market is open every day except the first Sunday of the month. There are more than 125 stalls.
The most popular fish in the Southwest but also in Jeju, is the Cutlassfish. It is caught widely in the Yellow sea and southern areas. Cutlassfish is a very long fish of around 1m in length but very thin. Its taste is really delicious. Make sure to give it a try if you have the chance. The grilled cutlassfish is the most popular. Some stalls also serves it as sashimi.
Another popular fish is the Yellow croaker. This is a much smaller fish but rich in protein. It is usually serve in soup, braised or steamed.
There are a few fish markets in Mokpo, however Dongmyeong-dong, is the oldest one and most traditional.
---
9. Visit Mokpo Modern history museum
Housed in the former Japanese consulate this museum has interesting displays about the history of Mokpo. It's a good place to start your visit to Mokpo as it covers the history of some other attractions and the view from the gardens give a good overview of the town.
Make sure to visit the former WWII bomb shelters at the rear of the building.
Mokpo Modern history Museum is the oldest building in Mokpo among modern buildings. It retained its exact shape from its original construction. Now it is a National Historic Site. It has opened as a history museum in February 2014.
10. Try the local food, it's delicious
If you like to eat, you must try Mokpo's top 9 dishes: sebal nakji (octopus dish), hongeo samhap (skate and pork sashimi with kimchi), kkotge muchim (crab salad), mineo hoe ( raw croaker), galchi jorim (steamed swordfish), byeongeo hoe (pampus argenteus) & jjim (large steamed castagnole), junchi muchim (spicy herring salad), and ureokganguk (dried scorpion fish soup) .
The best place to taste these dishes is undoubtedly the Jayoo market in Mokpo. This market offers all the typical dishes of Mokpo, fresh seafood but also textiles at low prices.
Before leaving Mokpo, we advise you to stop at the Colombang bakery near the station to taste some very good breads. This bakery (ranked the top 5 bakeries in Korea), is famous for its cheesy cream breads and shrimp baguettes.
---
Where to stay in Mokpo?
Hanok Hotel Yongsanjae (the most stunning one)
Hanok Hotel Yongsanjae, is undoubtedly the most stunning hotel in Mokpo. It is build like a Hanok, the traditional Korean architecture, but is very modern and very well equipped. So you will have all your modern comfort but in a traditional setting. We absolutely loved this place. However, Hanok Hotel Yongsanjae, is not located exactly in Mokpo. It's a bit on the outskirt of the city. If you do not mind driving a bit, then we highly recommend a stay here. You can book a room at Hanok Hotel Yongsanjae here.
Gallery Family Hotel (the most artistic one)
Gallery Family Hotel is a gorgeous place located right in the middle of the city, but surrounded by a nice garden. It is the most artistic ones, as it has many paintings and scultures all around the hotel. It looks like a gallery. The rooms are really comfortable and modern. It also has free parking. This hotel is not very big and only has a few rooms, hence it gets fully booked very quickly. You can check it out here.
38th Street Guesthouse (the most convenient one)
This hotel has certainly the best value for money and by far the best location if you are taking the ferry to Jeju. It located just a few minutes walk from the main harbor. The rooms are really charming in wooden design. There is also a free breakfast in the morning, simple but good enough to start the day. We also recommend staying at 38th Street Guesthouse if you are in Mokpo. You can book it here.
---
---
Other things to do near Mokpo?
Namhae
Namhae is Korea's fifth largest island and is famous for its slower pace of life, beautiful sea and stunning nature. It is completely underrated and not yet very touristic. Which makes it the perfect destination for your next adventure in Korea.
We had such a fabulous time on the island. Namhae is a hidden gem in South Korea.
Boseong Green Tea Plantation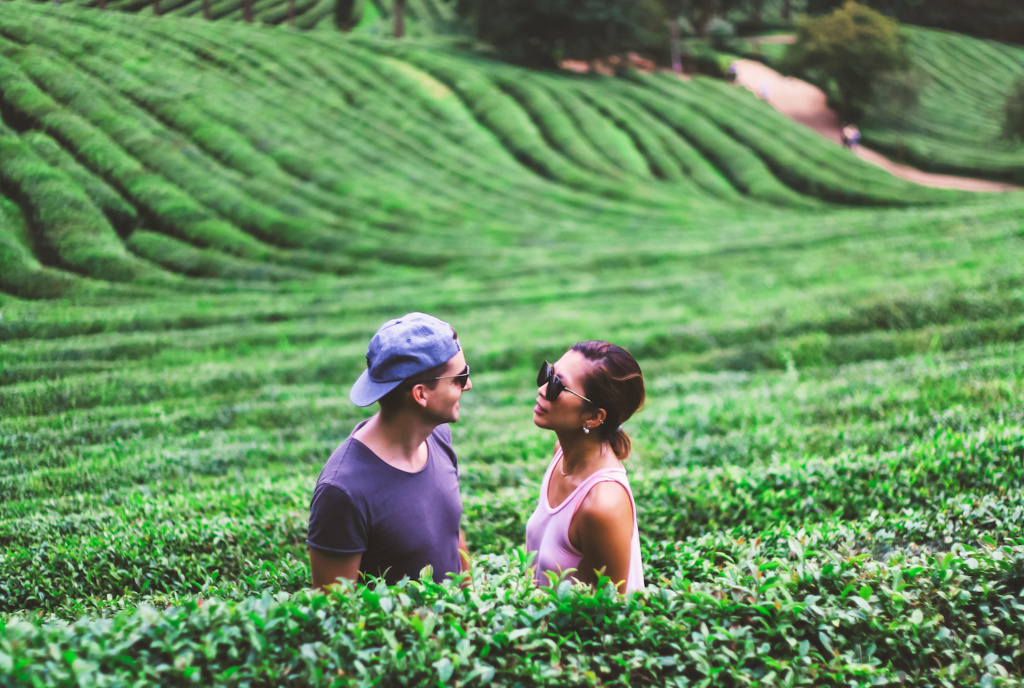 Among the best things to see in South Korea, Boseong Green Tea Plantation is one of the site which impressed us the most. This county in the southern region of Korea is indeed known to be home to award-winning green tea plantations.
During our stay in South Korea, Boseong was clearly 1 of our most memorable trip.
Geoje
Geoje is a gorgeous island in the southern part of South Korea. It consists of many large and small islands with a blue coastline and charming landscapes. The island is connected to Busan by an 8.2 km long bridge and a tunnel under the sea which makes it very convenient to travel there.
Geoje is actually the 2nd biggest island in Korea after Jeju. The island is ideal for discovering Korean nature as there are many trails through the mountains. In spring, some places turn pink when the azaleas are in bloom, offering a superb scenery. Geoje also has very pleasant beaches for swimming, some with fine sand, others with pebbles.
Our trip to Geoje was actually one of our most memorable one in South Korea. We truly love this place.
Check out the full post here for more information
Taking the ferry to Jeju
While taking a flight to Jeju island is the fastest way to get there (see best prices here), going there by ferry has the advantage that you can take your own car with you on the ferry and save a lot of money on the car rental. It's also a more pleasant way to travel to Jeju, as you can admire the beautiful sea on the way there. It's also a good time to embrace slow travel (to book your ferry, click here).
READ: HOW TO TAKE THE FERRY FROM MOKPO TO JEJU
---
In conclusion about Mokpo
If it wasn't to take the ferry to Jeju, we wouldn't have known about Mokpo. However, we were pleasantly surprised with what the city has to offer.
The highlight of our visit to Mokpo, was certainly taking the Cable Car and visiting the Gatwabi Rocks. But there are many other great places to visit as described in this post.
We lived in Seoul for 3 years and loved exploring all these beautiful places in Korea. There are many posts about Korea in this blog, you can find them all here.
HAPPY TRAVELING !
---
Links to related articles
HIKING THE HALLASAN in Jeju, your full guide: here
UDO ISLAND, Jeju's sister island: here
GEOJE our favorite destination in Korea: here
NAMHAE the hidden gem of Korea: here
BOSEONG GREEN TEA PLANTATION: here
JEJU the best island in Korea: here
HAMDEOK BEACH, our favorite spot in Jeju: here
BUSAN: 30 awesome things to see: here
WOLJEONGRI a beautiful beach in Jeju: here
SEOPJIKOJI to admire the rugged coastline in Jeju: here
TAKING THE FERRY TO JEJU: here
SOUTH KOREA, best things to do: here