WHAT TO SEE ON OEDO ISLAND? HOW TO GET TO OEDO ISLAND? WHERE TO TAKE THE FERRY TO OEDO ISLAND? IS OEDO ISLAND WORTH A VISIT?
Oedo Island, officially called Oedo Botania, (in Korean: 외도 보타니아) is a botanical maritime garden located on a small rocky island, 4km from the coast of Geoje Island (check out our full post about Geoje here).
It takes about 20min by boat from Gujora after passing the island of Naedo. Oedo is also accessible by boat from other areas of Geoje.
In 1969, Lee Chang-Ho was the first to arrive on this island to escape bad weather as he was fishing. Since then, he and his wife have created this tourist attracting with all their heart and soul for 30 years.
The garden, covers an area of ​​264 km², filled with camellias and other exotic plants such as cactus and palm trees.
If you plan a visit to the southern area of Korea, make sure to stop to Oedo Botania. The island is worth a visit and is often combined with a visit of one of the natural wonder of Korea, Haegeunmgang Rock.
We truly enjoyed our visit to Oedo Island, and spent a pleasant afternoon on the boat and on the island. This is one of the top thing to see in the southern area of Korea.
Here is a glimpse of what to expect during a visit to Oedo Island:
---
1. History of Oedo Island
After unsuccessfully trying to grow tangerines on this rocky island, a Korean couple, Lee Chang-Ho and Choi Ho-Suk, decided in the early 1970s to transform this place with rare plants. The couple spent 30 years shaping a garden, tirelessly.
The mild temperatures and the abundance of water gradually helped transform Oedo Island into an paradise garden. The 740 varieties of plants are reminiscent of Mediterranean vegetation.
Open to the general public since April 1995, it very quickly won the hearts of Koreans. Today, nearly one in five citizens have visited this beautiful tourist site near Geoje!
---
2. What you'll find on Oedo Island?
As you arrive on the Island, follow the signs all the way uphill and start your visit. Quickly, you'll realize that Oedo Botania is a plants paradise. Along the 1.3 km long hiking trail, you'll see rare plant species arranged according to different themes in the garden.
Our first impression was that we felt like in the French Riviera, walking around Nice or Cannes. The weather was beautiful, the park full of flowers.
Venus Garden, which looks like a miniature of Versailles, houses twelve sculptures as well as western-style gardens. From the observatory you have a breathtaking view of the bright blue sea and Haegeumgang Island, which you can enjoy with a relaxing cup of coffee or tea.
In addition to a café, there is also a snack bar with many different delicacies.
At the Plant and Flower Complex, next to the theme park, there are camellias and different kinds of rare flowers that come from all over the world. The Sculpture Park will bring you back to the candor of childhood, because it has sculptures of traditional Korean folk games.
At the Stairway to Heaven is a fantastic place to take great photo. The place features on a very popular Korean drama, which made this island and particularly this spot very popular.
Walking on these stairs will make you feel like you are in heaven as the Chinese Juniper Tree Belt is well organized with its tapestries. You will be surrounded there are many kinds of flowers and trees all along the stairs.
---
3. How to get to Oedo Island?
To get to Oedo you need to take a ferry.
Excursions starts from various places in Geoje. You can check out all information here. There are many departures every day. We advise to book in advance during peak season, either online or by visiting the departure office ahead of time.
We took the boat from Gujora and reserved our tickets online a day before. The time on the island is limited so that everyone can enjoy a pleasant visit. Be sure to be back at the pier in Oedo on time otherwise you will miss your return boat.
VISIT OEDO FROM BUSAN: If you stay in Busan, and would like to go on a day trip to Geoje and visit Oedo island, you can simply book your trip online here.
READ: 30 AWESOME THINGS TO SEE IN BUSAN
---
4. Check out Geoje Haegeumgang rock near Oedo Island
On the way to Oedo Botania, your boat will normally stop at Haegeumgang (거제도 해금강). At least make sure to book a trip which includes Haegeumgang as it is one of the most impressive natural beauty of Geoje.
Haegeumgang consists of majestic cliffs of strange shapes and natural cave. The only way to visit this island is by boat. This is considered the second most famous landmark in Geoje and has been protected since 1971.
The boat will take you very close to the cliffs to admire the rocks. Haegeumgang is also referred to by the Korea as "diamond of the sea". It faces the Windy Hill and Oedo Island on the other side.
For those who went to Thailand before to visit the "James Bond" island, it does look a bit similar.
---
5. Other things to see in Geoje near Oedo Island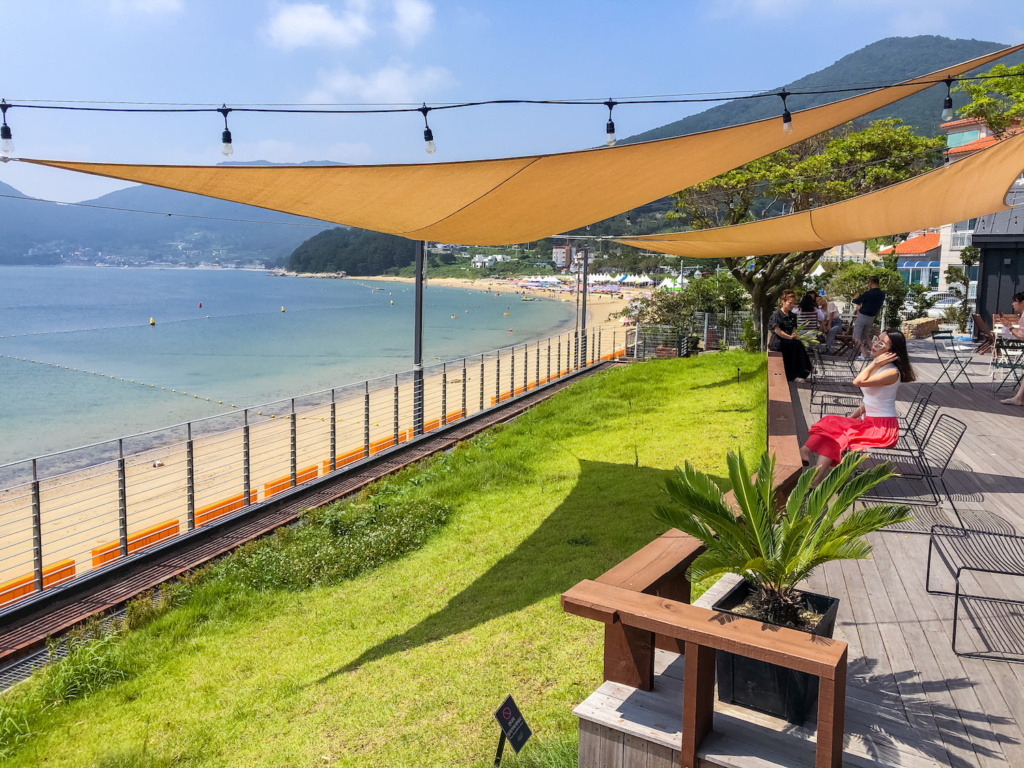 Geoje is one of our favorite islands in Korea. We had such an amazing time and would want to go back anytime. There are many things to see in Geoje, here is our take on the must-sees. You can also check out our full post about Geoje here.
Oedo Nursery cafe (외도 널서리) in Gujora Beach: The cafe is simply stunning, right by the beach, with many amazing plants all around. A visit at night is even more magical (instagram).
Gujora Beach: our favorite beach in Geoje. Clean water, long stretch of white sand and amazing sunset. What's not to like in Gujora Beach? Make sure to also visit the small village and the harbour. You can also find great seafood in Gujora (official website).
Geoje Windy Hill: This is one of the most visited places in Geoje and should not be missed if you plan to visit the island. Windy Hill is located in the small fishing village of Dojangpo. It became famous as many Korean dramas were filmed there.
Go island hopping: Geoje is surrounded by many beautiful island. Besides Oedo Botania, we recommend to visit Jisimdo Island for its beautiful camellias and Naedo Island for its magnificent rocky landscape.
Go on a sailing trip: at Geoje Yacht Academy located in Jisepohang harbour, you can book a sailing trip + snorkelling or fishing to visit the beautiful coast of Geoje. Check our Geoje Yacht Academy website here.
---
6. Where to stay in Geoje near Oedo Island?
If your main intention is to visit Oedo Botania Island while in Geoje, we recommend to stay in Gujora. From there you can easily take the ferry to Oedo Island. From Gujora you will also be conveniently located to visit the main attraction of Geoje.
Geojedo Blue Beach Pension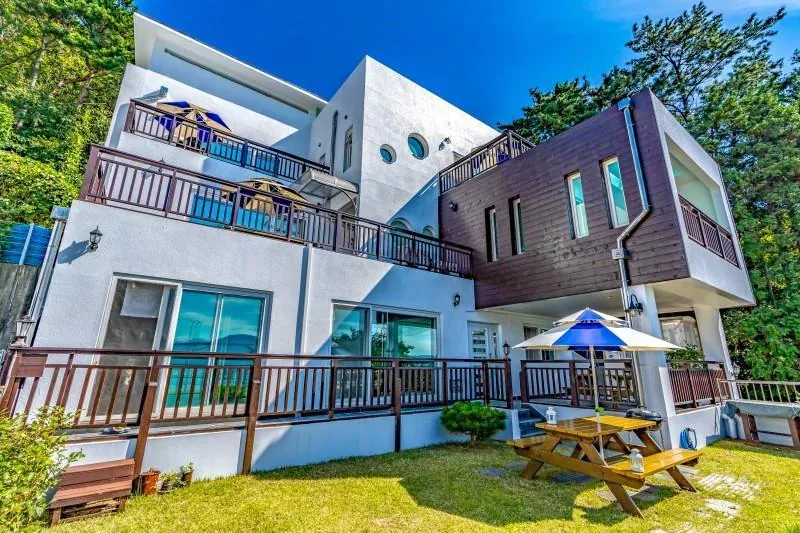 Geojedo Blue Beach Pension is a stunning pension near Gujora Beach. This place is perfectly located for a trip to Geoje! Check it out here.
---
Geojedo Yujahyanggi Pension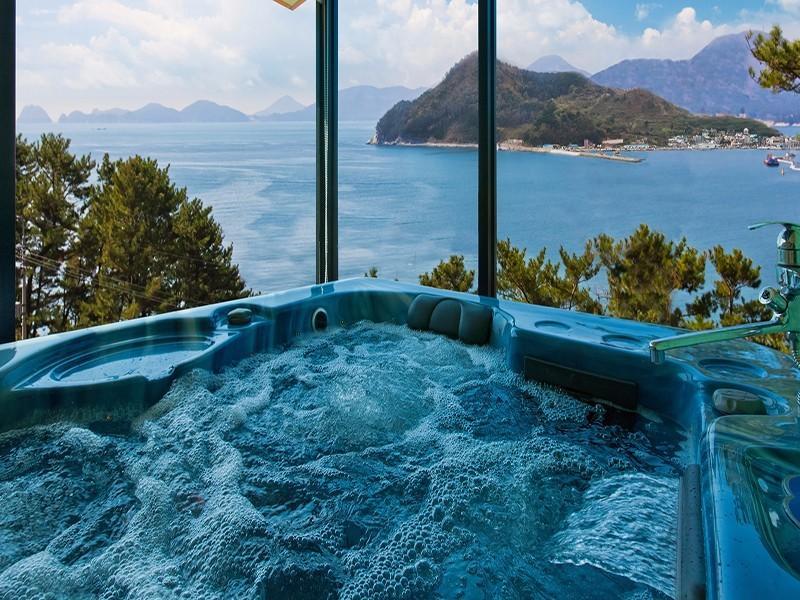 Fancy a room with a full sea view, then search no longer, Geojedo Yujahyanggi Pension is one of the best hotels in the area! Just look a the view! And on top of that, some rooms have their own private jacuzzi! What a dream! BOOK HERE NOW!
---
Hotel Riviera Geoje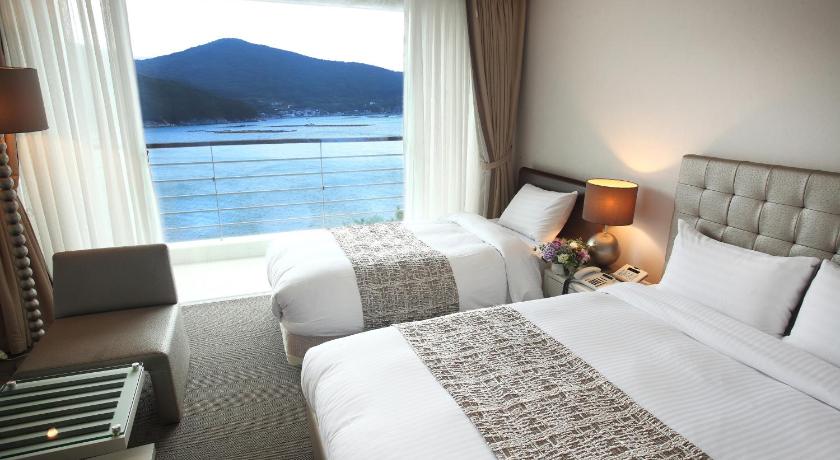 If you are looking for a hotel with full amenities, we are talking about hot spring bath, a gym, restaurants etc, then Hotel Riviera Geoje is one of the best places to stay in Geoje. Besides, you can also choose a room with full sea view! This place is very popular so booking in advance is recommended. CHECK IT OUT HERE
---
In conclusion about the best a visit to Oedo Island
Oedo Botania Island is truly an amazing sight. We did not have any expectations, but were pleasantly surprised by the beauty of the place. The island and the garden itself are extremely well maintained. We can't recommend enough a trip to Oedo Island.
If you decide to visit the southern part of South Korea, make sure to explore more of Geoje.
You can also combine your trip to the Southern part of Korea with Boseong Green Tea Plantation, check out our post here and the best kept secret island of Korea, Namhae, check it out here.
We love to hear from you. Leave a comment if you found the information useful or if you have any question.
---
Related Posts
99 BEST THINGS TO SEE IN SOUTH KOREA
21 AWESOME THINGS TO SEE IN SEOUL
30 INCREDIBLE THINGS TO SEE IN JEJU
VISIT YANGYANG ON THE EAST OF KOREA