WHAT TO DO IN GAMCHEON CULTURE VILLAGE IN BUSAN? IS GAMCHEON WORTH A VISIT? HOW LONG TO VISIT GAMCHEON?
Gamcheon Culture Village is one of Busan's top attractions. This former slum is now converted into a cultural village filled with street art, cafes, and cute boutiques. Thousands of visitors walk through its narrow streets every day. Gamcheon Culture Village's location on the hillside offers a nice panorama over its colorful roofs and an unobstructed view of the bay of Busan.
"Gamcheon in Busan in a multicolored village"
This multicolored village is a real treat for the eyes and brings us back into a rather childish and dreamy world where even the Little Prince has found his place
In this post, we listed the best things to do in Gamcheon Culture Village. Enjoy your visit!
A bit of history about Gamcheon Culture Village
Gamcheon was born in the 1920s and 1930s, but it was not until the mid-twentieth century that it really took off. To escape the Korean War (1950-1953), many refugees fled to Busan, the only area of the peninsula still under South Korean control. Some of them gathered in Gamcheon and built dozens of makeshift houses.
In the decades that followed, and despite the end of the conflict, the village of Gamcheon remained one of the poorest areas of Busan. In an effort to counter this, the city decided in 2007 to embark on a major renovation project and then called on artists to transform the district into a real cultural and tourist center. It was following this major work, which began in 2009, that Gamcheon became the colorful village that we know today.
Gachmeon Cultural Village has many nicknames: the "Santorini of Korea" or the "Machu Picchu of Korea" etc. Indeed, this district made up of small colored houses, whose shape reminded us of Lego, offers a vibrant landscape. It is a must-see sight during a visit to Busan.
So what to do in Gamcheon Culture Village in Busan?
---
What to see in Gamcheon Culture Village, Busan?
1. Get lost in the streets of Gamcheon Culture Village
Gamcheon Culture Village only became a tourist spot recently as before its restoration project it was considered one of the poorest neighborhoods in Korea.
The Miro Miro restoration project completely transformed the streets of the district into a huge open art gallery. Artistic works are therefore to be discovered throughout the whole village. Our recommendation is to simply get lost in the streets of Gamcheon. The village is full of hidden surprising and colorful artwork.
Be prepared, as there could be lots of stairs to climb.
---
2. Go on a treasure hunt and win a prize
Want to add a little challenge to your visit?
To make the most of your trip, go to the Village Information Center and get a map of Gamcheon Culture Village. For 2,000 won, it will guide you to visit the highlights of Gamcheon and follow a route that will take you to discover all the little secrets of the neighborhood and its works of art. A treasure hunt is even offered by collecting as many stamps as possible. A prize will be offered to the winner.
A mind-blowing spectacle awaits you in its maze of alleys.
---
3. Take lots of awesome photos
With the theme "Dreaming of Busan Machu Picchu", Gamcheon Culture Village displays one of the most beautiful street art in South Korea.
You can see the Message of Hope, signed by renowned lyricist Jin Yeongseop. Your walk will also take you past the Gamcheon-King Jongsun. Then perform some musical notes in the Gamcheon sound Woo Jing. Take a few minutes break for a photo shoot, near the statues of the Little Prince and the fox overlooking the whole village. At the same time, enjoy a captivating view of Gamnae 2-ro Street. As you continue your journey, you will step over the colorful stairs on the way to Cheondeoksu Well.
At some popular spots, you might have to queue to take a photo. But it's worth the wait!
---
4. Learn about the history of Gamcheon Culture Village
To learn more about the history of Gamcheon, stop by the Little Museum, which invites you to go through the ancient times lived by the people of Gamcheon. As a testimonial, residents exhibited more than 70 old-fashioned household items there. This attraction reveals the different stages that led to the artistic transformation of the village. A pleasant visit overall!
---
5. Enjoy the view from cute cafes
Need a break during you visit? Take advantage of the many cute cafes at Gamcheon Culture Village. Like the rest of South Korea, Gamcheon has its share of coffees, each more original and attractive than the last. Stop by the Coffee It House (커피 잇집) for a breathtaking view of the neighborhood, or the Gamnae Cafe (감내 카페) to admire its beautifully painted walls.
If you are looking for a snack, indulge in the street food. There are many street foods in Gamcheon. Our favorite? The "dragon's breath", small cereal balls that produce steam. So much fun!
---
6. Shop at unique boutiques
The alleys of Gamcheon Culture Village are home to a number of small shops, often run by locals.
If you want to take an original souvenir, you can create your own souvenir at the SOUVENIR SHOP! The boutique offers you the option of painting a miniature version of Gamcheon house or creating a souvenir of your choice, to make sure you take home a truly personalized souvenir.
Another great shot is the Love Locks shop! As the name of the store suggests, it is possible to buy a padlock and hang it on the roof of the place, to leave a memory with your loved one.
There are many other cute shops in Gamcheon Culture Village.
---
7. Visit a doll museum
The museum run by Ray blends perfectly with the colorful Gamcheon Culture Village. This doll fan traveled the world for 17 years to create this collection that can be found in his small museum, the Grand Budapest Doll Hotel. Located right next to the Love Locks shop, this unique place is definitely worth a look!
---
8. Send a letter to your future-self
At the Sky Ridge Observatory, you can enjoy an impressive view of the village. But the most unique part, is that you can write a letter to your future-self. Indeed, you can post a letter that will be sent a year later! Letters can be sent internationally and stamps can be purchased on-site, so don't hesitate to send some positive words to your future-self! We loved this experience and are still waiting for our letter 🙂
---
9. Rent a Hanbok or school uniform from the 70′
Upon entering Gamcheon Culture Village, many places in the village offer hanbok rentals, the traditional Korean dress. One of these shops, Hanbok House, even offers a discount if you grab a coffee there.
But if you want to have a unique experience, you can also rent school uniforms from the 70s. A shop located at the entrance of the village offers hanboks and uniforms for hire. Renting a uniform or Hanbok is a common thing in Korea. It makes your photos even more memorable and it's a lot of fun!
---
10. Climb the 148 stairs to see the stars
This 148-step staircase has been nicknamed by locals "the Steps to the Stars" because its difficult climb made them dizzy and see the stars. So don"t rush up the hill – take a few breaks and take pictures of the neighborhood while ascending the steep stairs. This place is called the "148 Stairs", simply.
---
How to get to Gamcheon Culture Village?
The village is easily accessible by public transport. Take the subway line 1 to Toseongdong station. Coming to exit 8, take the local bus n°s2 or 2-2 located just in front of the hospital. The route ends near the Village Information Center. You can easily spot the entrance of the village from the bus.
---
Useful information about Gamcheon Culture Village
The village of Gamcheon remains accessible the whole day. However, don't forget that people still live there. Show respect when walking the alleys, stay quiet and be polite to the locals.
Stores and restaurants remain open from 9 a.m. to 6 p.m. from March to December. Closed at 5 p.m. from December to February.
As there are many stairs in Gamcheon, it is advisable to wear comfortable shoes.
---
Other things to visit in Busan near Gamcheon Culture Village
BIFF Square
BIFF Square has helped to make Busan an international cultural city. Indeed, this square hosts the Busan International Film Festival (BIFF) – considered the most important in Asia – and has developed as the cultural center of the city, with its many cinemas, theaters and, like Hollywood, handprints of renowned artists on the floor.
This is also the place to be for some amazing street food, and feast on ssiat hotteok, one of Busan's specialties.
---
Jaglachi Market
This market is one of the major landmarks in Busan and the largest fish market in South Korea.
Easily accessible by public transportation, you really have to go and see this market located on the edge of the port. It is huge, so be ready to see lots of fish.
It is best to go early in the morning, as this it the time when the market is most active. Koreans like to have breakfast in the market, with fish of course. You can also go there for lunch, there is a large hall with several food stalls on the upper floor of the indoor building with a great view of the sea and port.
---
Huinnyeoul Culture Village
Although not mentioned in most guidebooks, Huinnyeoul Culture Village is one of our favorite places in Busan. This coastal village is full of colors, gorgeous cafés facing the sea, and many colorful houses with beachy vibes.
Huinnyeoul village is directly by the sea, whereas Gamcheong is on the side of a mountain.
This coastside village is super beautiful not only due to the ocean scenery but also because it has a ton of beautiful murals, that make perfect Instagram shots! They have a small museum to introduce all the movies and dramas that were filmed here, so a must-visit if you are in Busan !
---
Best hotels near Gamcheon Culture Village
If you wish to focus more on the city of Busan and see Jagalchi Fish Market, BIFF, Oryukdo, Taejongdae and of course Gamcheon Culture Village etc. then we recommend staying at Seomyeon shopping district.
IBIS Hotel in Seomyeon
For first-time travelers to Busan who wish to maximize their time visiting the city, then we recommend a stay at Ibis Hotel located very near Seomyeon the most entertaining area of Busan. From there you can easily reach Jagalchi Market or Gamcheon Village.
The hotel has good value for money and serves a delicious breakfast. You can book here.
---
Lotte Hotel Busan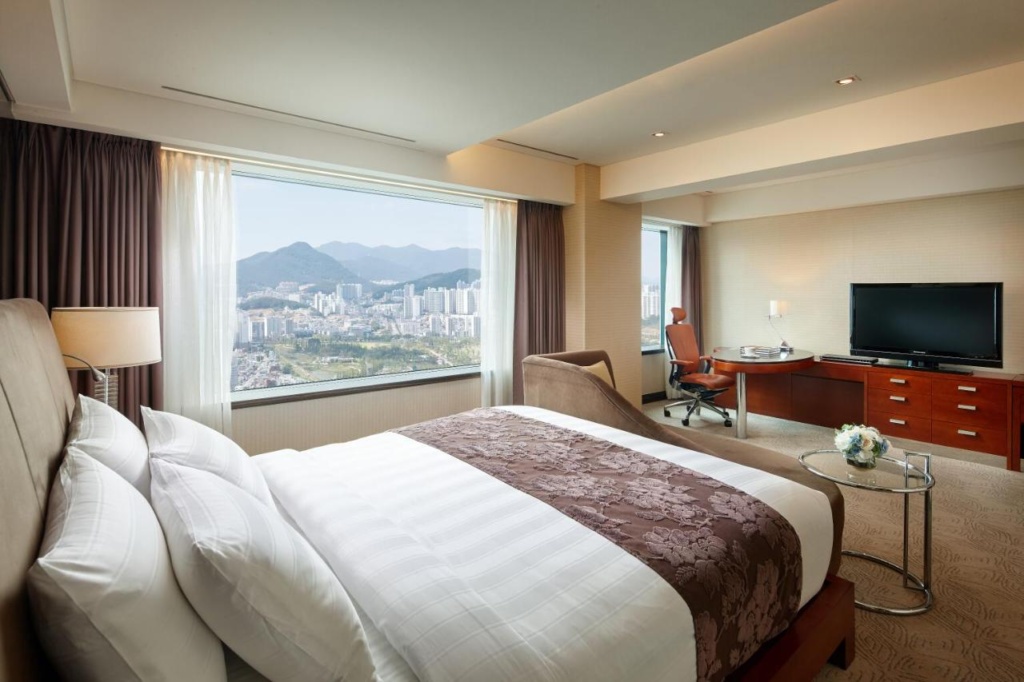 This hotel has an excellent location. It's perfect for shopping, there are duty free shops, casino and Lotte mall all connected. You can also try various selections of food at the underground food avenue. Lottel Hotel Busan is at the heart of everything.
You can also enjoy the rooftop pool with a great view of the city.
---
IN CONCLUSION – IS GAMCHEON CULTURE VILLAGE IN BUSAN WORTH A VISIT?
We were really delighted about our visit to Gamcheon Culture Village. This village is one of a kind in South Korea. It reminded us of Ihwa Mural Village in Seoul, but much bigger.
For more information about Busan, check out our full post here. We listed the best activities in the city.
So what do you think of this list of best things to do in Gamcheon Culture Village?
Do you have other activities to recommend?
For more posts related to South Korea, check out this link here.
---
Related posts
BEST THINGS TO DO IN SOUTH KOREA
DISCOVER JAGALCHI MARKET IN BUSAN
VISIT HAEUNDAE THE MOST FAMOUS BEACH IN BUSAN
BE AMAZED AT HAEDONG YONGGUNGSA THE MOST BEAUTIFUL TEMPLE IN KOREA
WHEN IS THE BEST TIME TO VISIT SOUTH KOREA?