WHAT TO DO IN HAEUNDAE BEACH IN BUSAN? WHAT IS HAEUNDAE BEACH FAMOUS FOR? IS IT WORTH VISITING HAEUNDAE BEACH?
Haeundae Beach (해운대해수욕장) is Busan's most popular beach along with Gwangali and Songjeong Beach. It is about 1.5 km long and almost 30 to 50m wide.
Its blue waters perfect for a swim and white sand make Haeundae the perfect location to spend the hot summer days in South Korea. Whenever we visit Busan, Haeundae is simply a must!
---
WHY VISITING HAEUNDAE BEACH IN BUSAN?
Haeundae is one of the most beautiful beaches in Korea! It is certainly the most popular one…
At nightfall, it is a festive atmosphere that animates the beach and its surroundings as many artists (singers, magicians, stuntmen) come to perform to the delight of its visitors.
There are many nice hotels in Haeundae, which makes it the best place to stay in Busan!
Haeundae offer many other attractions such as the Blue Line, the Aquarium, Dongbaek Island etc.
---
HERE IS A SHORT GLIMPLSE OF WHAT TO EXPECT DURING A VISIT TO HAEUNDAE BEACH IN BUSAN:
---
WHAT IS COVERED IN THIS ARTICLE?
---
GUIDE TO HAEUNDAE BEACH IN BUSAN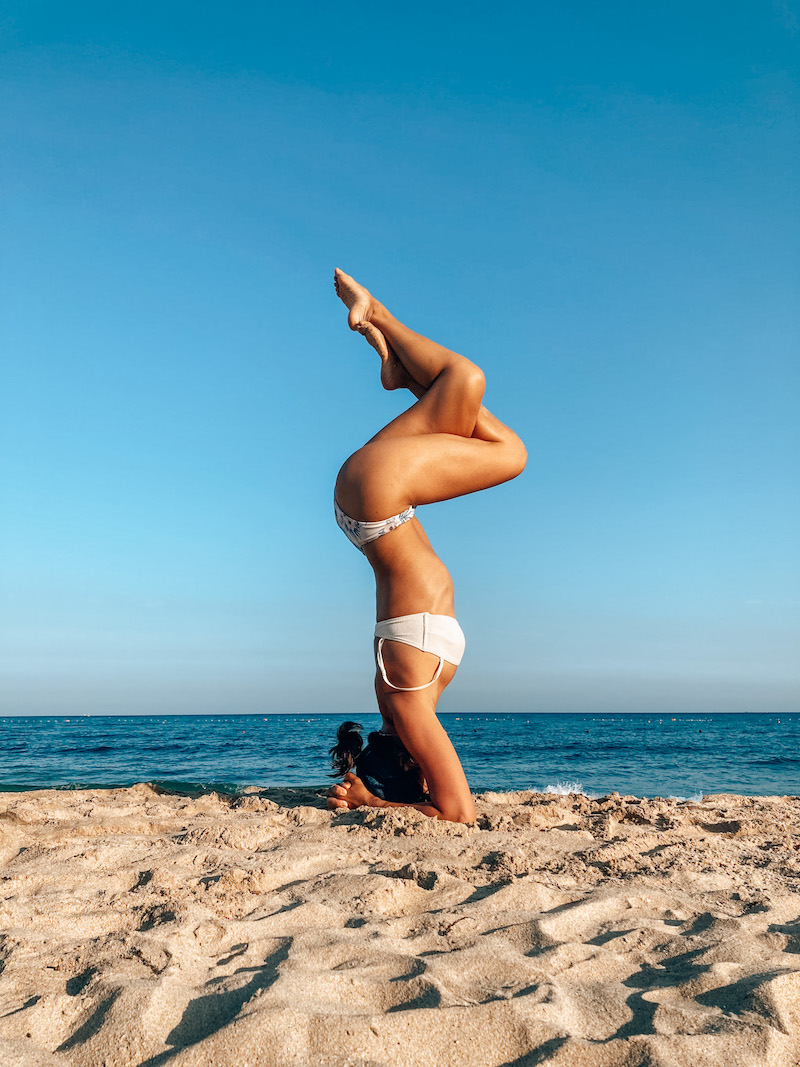 ---
ABOUT HAEUNDAE BEACH IN BUSAN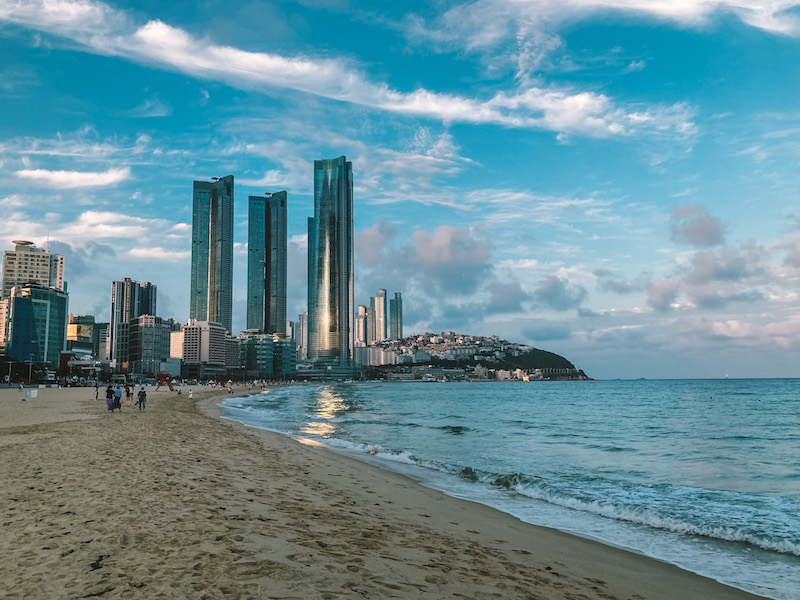 During the 9th century, the beach was referred to as "Haen", which literally meant "sea and clouds" thanks to an illustrious poet named Choi Chi-Won.
Apparently, a glimpse at this beach allowed him to build a lodge on the top of Dongbaek Island. The latter currently houses many commemorative objects dedicated to the renowned artist.
---
BEST THINGS TO DO IN HAEUNDAE BEACH IN BUSAN?
1. Check out the shows at night on Haeundae Beach
Haeundae Beach is frequently home to many singers and musicians, who offer free shows throughout its promenade.
Besides musicians, you can have your portrait taken by one of the painters and drawers, check out the young student dancers putting on a great show, or be amazed by the magicians. Koreans love these activities and don't hesitate to join in and cheer on showmen.
We love it too 🙂
---
2. Haeundae Sand Sculpture Festival
The Haeundae Sand Sculpture Festival in Busan will amaze you with its incredible sculptures! This festival is a competition that usually takes place in late May or early June. Follow the route and see all the works of art made with sand, some works are really worth a look.
For more info on the Haeundae Sand Sculpture Festival, check out their official site here.
---
3. Dongbaek Island
By walking more west from Haeundae Beach, right behind the famous Westin Chosun Busan Hotel, you can reach the beautiful Dongbaek Island. You do not need to take a boat to reach Dongbaek, it is directly linked to Haeundae.
Off the southern coast where camellias grow, there are many islands that bear the name Dongbaek, "camellia". Among them, Dongbaek Island in Busan is probably the most famous one.
On Dongbaek Island in Busan you can admire camellias and fir trees. At the top of the island stands the statue and memorial of Chiwon Choi (BC 57 ~ AC 935), the great scholar and man of letters of Silla. The city of Busan has declared Dongbaek Island Memorial Site Number 46.
Dongbaek Island is very pleasant for a walk in the shade of the trees. Continue the walk to its lighthouse and Nurimaru APEC House where important government meetings are held. You will meet many Korean families, walkers, and joggers along the way.
---
4. Go on catamaran tour
As we absolutely love boats, we were so excited when we heard we could go on a boat tour in Busan. The catamaran started near Haeundae Beach, which was really convenient. The tour was absolutely stunning.
The Catamaran tour last for 1 hour. You can enjoy the view of the majestic Gwangandaegyo Bridge, also called Diamond Bridge, Gwangalli Beach, and Haeundae Beach, and simply have a relaxing time on the water. There are free drinks on the boat for you to enjoy.
We picked the timing just before sunset, and it was absolutely fabulous. We highly recommend this tour if you are in Busan.
The departure is from Suyeong Bay Yachting Center, which is just a few minutes' ride from Haeundae. You can book your tour directly here. Booking in advance is recommended as this attraction is very popular in Busan…
---
5. Busan Aquarium is one of the best things to do in Haeundae
Kids will be very happy with a trip to the Sealife Aquarium in Busan, located in Haeundae Beach. The site contains more than 35,000 marine animals. It spreads with 3 underground levels, each containing nearly 250 aquatic species.
In addition, a walk through a glass tunnel invites you to contemplate the depths of the sea. Overall the Busan Sealife aquarium is a pleasant experience. It is a great attraction on a rainy day.
>> BOOK YOUR TICKET HERE FOR A DISCOUNT
---
6. Haeundae Sky Capsule, is another fun things to do in Haeundae in Busan!
This activity is a must do in Haeundae, Busan. Head west from Haeundae beach and at walking distance you can reach Haeundae Blue Line Park Sky Capsule Station.
Those mini train full of colors, can bring you from Haeundae to Cheongsapo fishing village along a beautiful coastal rail line. From Cheongsapo you can continue by foot all the way to Songjeong beach, the best surf spot in Busan.
The ride on the Sky Capsule last for about 30 min. The capsule only goes 5 to 10 kilometers per hour.
Operation Hours
Low season & Winter season (November ~ April): 09.30 – 18.00
Peak Season ( May ~ June / September ~ October): 09.30 – 20.00
Extreme Peak Season (July ~ August): 09.30 – 22.00
Price
For 2 people One way trip: KRW 30,000
For 2 people Round trip: KRW 55,000
Website: Blueline
Another option is to take the Beach Train, which starts at the same station. The Beach train is also a very nice way to discover the coast of Busan. The advantage of taking the train is that you can get directly to Songjeong Beach.
On the way make sure to stop by Cheongsapo Daridol observatory. This is a skywalk, which means a transparent glass platform above a cliff. The entrance is free. The only thing you need to do, is to wear some sort of slippers to avoid damaging the glass. The view from Cheongsapo Daridol Skywalk is stunning. Simply close your eyes and feel the sea breeze and the sound of the waves underneath your feet.
---
7. Haeundae Street food
From Haeundae beach, you can easily access the famous Haeundae market (해운대시장) which is full of restaurants and street food. A dinner or lunch at the Haeundae Market is a must during your stay in Busan. The market stalls sell most of the traditional Korean street food with obviously more seafood being so close to the sea.
The main food to try is the famous Busan fish cakes, fritters, tteokbokki and pancakes. The menu is especially easy to navigate for foreign tourists, as signs above the stalls display names and prices in English.
At night we also went to a Kalguksu place toward the end of the market. The food was so delicious and so fresh. Kalguksu are traditional Korean noodles served most of the time with seafood. It comes in a huge bowl to share, so yummy !
---
8. Bay 101
The Bay 101 is not far from Dongbaek Island. It is now a trendy spot at the foot of the luxurious skyscrapers of Marine City. Cafes and restaurants attract the trendy youth of Busan. The marina and the Yacht Club are also in the surrounding area.
After our catamaran tour, we enjoyed some delicious fish and chips and beer right by the sea. Such a lovely evening.
If you are a fan of cinema, do not miss the Haeundae Cinema Route, 500 meters away.
---
9. Take a stroll along Haeundae Cinema Street
Busan is Korea's movie capital and also a central movie place for the whole of Asia. This is mainly thanks to the annual Busan International Film Festival (BIFF). Busan citizen are very proud of this title of movie capital. The city also made extra effort to promote cinema for visitors coming to Busan.
Cinema Street is a seafront walkway by Marine City in Haeundae, where you can enjoy the peaceful sea breeze and at the same time view the many film-related sculptures and images. It is also a great time to take photos with the trick-eye images painted on the ground and check out the vintage film posters of some of the most famous Korean Movies.
Cinema Street, 91, Marine city 1-ro, Haeundae-gu, Busan, South Korea
---
10. Check out some amazing cafes
Like everywhere in Korea the coffee scene is simply amazing. Haeundae is famous for having beautiful cafes facing the sea. Some of our favorites are Edge 993 (Instagram here). The view from the Sky Capsule and Haeundae Beach is simply stunning. They also serve simple brunch food.
The newest cafe which is trending at the moment is Rendeja-Vous. Not only this is one of the best coffees we had in Busan, but the setting and atmosphere are also so unique. The cafe has a full view of Haeundae Beach, a must-see if you are in Haeundae. Check out their Instagram here.
Aslan is our last recommendation for the best cafes in Haeundae. This gorgeous and stylish cafe is also known for its great bakery. If the weather is nice, make sure to check out their rooftop and chill up there with your perfect cuppa (Instagram here)
---
WHAT ELSE TO DO NEAR HAEUNDAE?
Songjeong Beach, the best spot for surfing in Busan
Songjeong is a lovely beach located near Haeundae. You can access it by taking the Beach Train or Sky Capsule (+20min walk along the coast) or by a short taxi or bus ride.
Songjeong is the surfer paradise in Busan. There are many surf shops along the beach and is one of the most popular places for surfing in Korea.
>> READ: BEST SPOTS TO SURF IN KOREA
---
Haedong Yonggungsa Temple
Known as the most beautiful temple in South Korea, Haedong Yonggungsa Temple should be on everyone's bucket list of things to see in Busan.
The temple is directly facing the sea, and surrounded by mountains. This setting is gorgeous. Haedong Yonggungsa is just a short bus ride or short taxi ride from Haeundae, which makes it very convenient to visit if you are staying in Haeundae.
>> READ: FULL GUIDE ABOUT HAEDONG YONGGUNSA TEMPLE
---
Cheongsapo Daritdol Skywalk
After your journey on the Sky Capsule, you will get off at Cheongsapo station. From there continue your journey on foot along the coast and you will be able to reach Cheongsapo Daritdol Observatory. This skywalk opened in August 2017 and is located at the end of the beautiful Cheongsapo fishing village in Haeundae. This is a great place to observe the sea and it's free 🙂
---
BEST PLACES TO STAY IN HAEUNDAE?
If you travel to Busan we highly recommend a stay in Haeundae. Not only you can enjoy the best beach in South Korea, you will also be located near some of the main attractions in Busan.
Here are our favorite hotel in Haeundae:
Shilla Stay Haeunda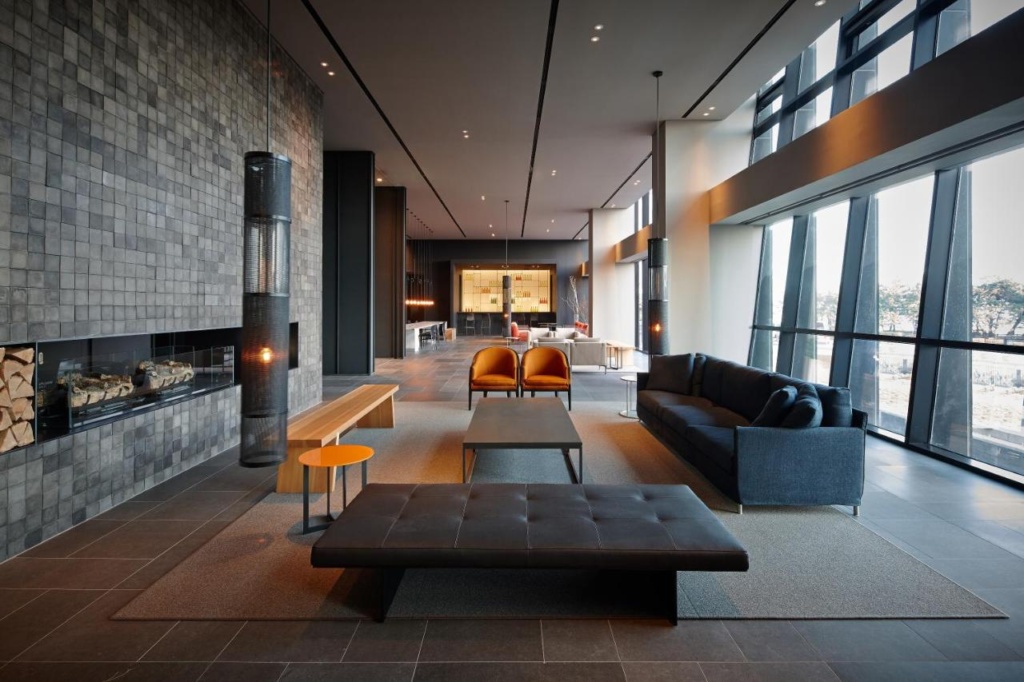 In terms of location, value for money, and quality of the facilities, our favorite hotel in Busan is Shilla Stay located in Haeundae. Directly facing the most famous beach in Korea, the view from the room or the rooftop pool is absolutely stunning.
You can also enjoy a delicious buffet breakfast every morning. The hotel also has different restaurants on the first floor with Japanese food, Korean food, and a bar serving all kinds of draft beer. Overall we highly recommend staying here if you go to Busan. You can book here directly.
---
Paradise Hotel Haeundae
For the ultimate luxury experience by the beach, we love the Paradise Hotel in Haeundae. This hotel is pricier than Shilla Stay, but it's a really gorgeous place. We especially love the pool, directly facing the sea. We felt just like in Bali for a moment 🙂
Besides, Paradise Hotel also has a casino with a fair amount of slot machines, blackjack tables and roulettes. For more details on Paradise Hotel Busan, you can check out this link.
---
Fairfield by Marriot in Haeundae
For a more affordable option in Haeundae, we recommend a stay at Fairfield by Marriot. The hotel is in the prime location of Haeundae, just a few minutes from the beach. The rooms are very neat and clean. This hotel doesn't have a pool, so if you do not intend to relax by a pool during your stay in Busan, then we highly recommend Fairfield by Marriot. You can book here.
---
HOW TO GET FROM BUSAN TRAIN STATION TO HAEUNDAE?
Haeundae Station (line 2, exit 3/5). 5 mins walk. (around 50 mins by subway from Busan Station).
Take Bus #1003 from the bus stop in front of Busan Station (same side), about 50m straight from exit 10 of Busan Subway Station to Haeundae Beach. 45 mins.
Taxi from Busan Station, 40 mins.
---
OTHER IMPORTANT INFORMATION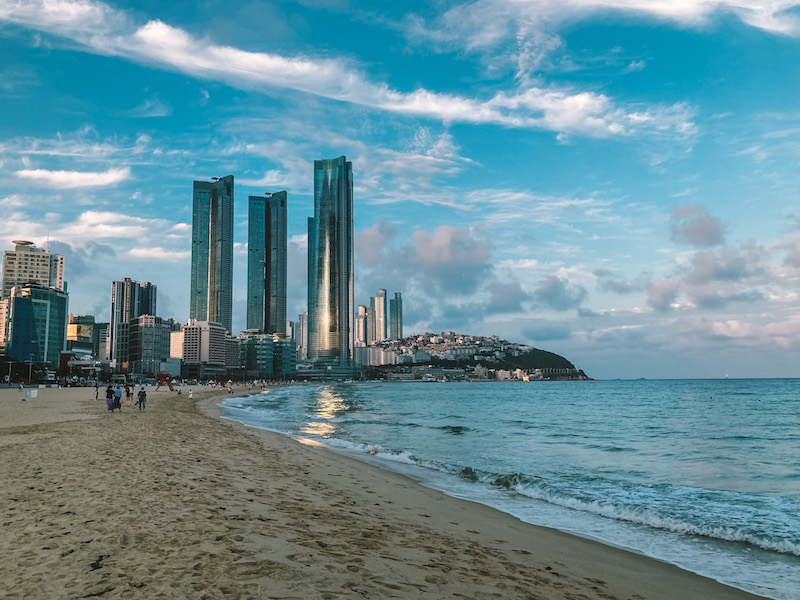 The maximum occupancy of the beach is estimated at 120,000 people.
If you have a car, there are many of parking around the beach.
Facilities such as toilets, shower rooms, and benches are available along the beach.
During the summer you can also rent beach stuff right on the beach such as beach tents, umbrellas, life jackets and other useful accessories. During the day there is also a rescue team and constant police patrol for your safety.
---
OTHER BEST BEACHES IN SOUTH KOREA
Taean on the west coast
Taean located on the west coast of South Korea is a national park which counts many great beaches. One of the most famous Beaches is Mongsanpo Beach, especially famous for camping all year round. Mallipo is another nice beach famous for surfing and sometimes referred to as the California of South Korea.
Our favorite beach in Taean is actually a less known one which we discovered by chance. The beach is called Sambong Beach. This is a spectacular beach full of natural beauty. On the day we went there, we were the only one on the beach which stretches a few kilometers. We went there for sunset, we will probably never forget the beautiful moments we had there.
To discover more about Taean, check out our full post here.
---
Gangneung on the east coast
Gangneung is a maritime city with several cultural and historical treasures located on the east coast. In fact the east coast of South Korea is well known for having some of the most beautiful beaches in the country. We particularly enjoy Jukdo Beach for surfing although it is not the most beautiful one.
Gyeongpodae Beach and Naksan Beach are our favourite ones on the east coast near Gangneung.
To find out more about Gangneung we wrote a full post here, check it out.
---
Hamdeok Beach in Jeju
We visited many beaches in Korea, but Hamdeok in Jeju stood out for us. The colors of the waters, this particular emerald shade, made us fall in love with Hamdeok instantly. Ever since we went there for the first time, Hamdeok became our #1 visited places in Jeju right after landing at the airport.
There is always something to do in Hamdeok: concerts, sporting events, nightlife, the beach is very popular with locals and foreigners. Hotels, restaurants and cafes are numerous in this part of the island, it is easy to practice some water activities such as kayaking and sometimes surfing. You can check the best spots to surf in South Korea here. And of course, the place is ideal for camping with family or friends.
Here is our full post about Hamdeok Beach.
READ: 25 MOST BEAUTIFUL BEACHES IN SOUTH KOREA
---
FINAL THOUGHTS – HAEUNDAE BEACH IN BUSAN
Haeundae Beach is Busan's and even South Korea's most famous beach. Therefore it is a place not to be missed during your trip to South Korea.
People flock to Haeundae Beach every summer as it is an ideal swimming destination with clear water, white sand and stretches for about 1.5 km. Haeundae is the perfect setting for a summer vacation.
If you are planning to visit Busan in the near future and have any questions that this post does not answer, please send them to us by adding a comment below. We respond quickly to the various comments posted on the blog!
We compiled the list of 25 best beaches in South Korea here. Check it out for more awesome time in Korea.
For more posts related to South Korea, check out this link here.
---
READ ALSO
BUSAN: 30 awesome things to visit: here
JAGALCHI FISH MARKET in Busan: here
GAMCHEON CULTURE VILLAGE: here
SOUTH KOREA: best things to do in South Korea: here
25 BEST BEACHES in Korea: here
TAEAN: amazing national park on the west coast of Korea: here
NAMHAE: the hidden gem of South Korea on the south coast: here
WHEN? Best time to visit South Korea: here
SEOUL: Full guide for the best things to do in the city: here
JEJU: All you need to know before you go to Jeju: here
ADVENTURES: top adventures within 1h from Seoul: here