WHAT TO SEE AT IHWA MURAL VILLAGE? HOW TO GET TO IHWA MURAL VILLAGE? BEST CAFES IN IHWA MURAL VILLAGE IN SEOUL?
Today, let's explore Ihwa Mural Village in Seoul, one of our favorite places to visit in the South Korean capital.
Ihwa Mural Village is a unique place in Seoul, completely devoted to Street Art. Located next to Naksan Park and not far from one of the largest art schools in Seoul, the walls of Ihwa village have been completely taken over by artists over the years.
Ihwa Mural Village is devoted to Street Art.
Street Art in Seoul is filled with joy and color. Everything is fresh, delicate and so cute, a real pleasure for the eyes. And we must admit that despite the dozens of visitors who roam the place, we would love to live in such a cute neighborhood.
First a bit of history:

Ihwa Mural Village (이화 벽화 마을) is located at Ihwa-dong, Jongno, in Seoul. This is one of Seoul's oldest neighborhoods on Mount Naksan.
Located on a hill, Ihwa Mural Village is also known as "Moon Village". In the past, people who couldn't afford to live on the "flat" or in central Seoul would pack their bags in this neighborhood. It was much cheaper than the rest of Seoul.
The village also hosted refugees after the end of the war in the 1950s as well as many people working in the textile industries in the surrounding area. However, in the 1980s and 1990s, as other areas of Seoul prospered and developed with the construction of skyscrapers, Ihwa Mural Village sadly became empty.
This is why a public art project has been launched to give a "second life" to the village.
Ihwa is actually a village that was meant to disappear. But a project implemented at the instigation of the Ministry of Culture, Sports and Tourism change the destiny of this place. The "Ihwa-dong Naksan Project" began in 2006 and took place over approximately 6 months.
More than 70 artists have made their contribution and have thus created unique, varied works of all kinds: paintings, sculptures, installations, etc. Artists who were supported by some locals as well as university students who volunteered.
They decided to rehabilitate this place to an art place and encourage visitors to come and discover this almost abandoned place before that.
Another example of a village turned into an open-air museum is Gamcheon Culture Village in Busan.
HERE IS A GLIMPSE OF IHWA MURAL VILLAGE IN SEOUL?
---
How to get to Ihwa Mural Village?
Ihwa Mural village is located east of Seoul's 2 Grand Palaces. To get to Ihwa Mural Village, take the Subway line 4 and stop at Hyehwa station exit 2, head to Naksan-gil towards Naksan park.
The above photo shows the map of the village with the main sights.
Address:
110-510 7-9 Naksan 3-gil, Jongno-gu, Seoul
Access to Iowa Mural Village is free!
ACTIVITY: JOIN SEOUL CITY WALL AND IHWA MURAL VILLAGE EVENING WALKING TOUR
---
What to do and see in Ihwa Mural Village?
1. Check out Street arts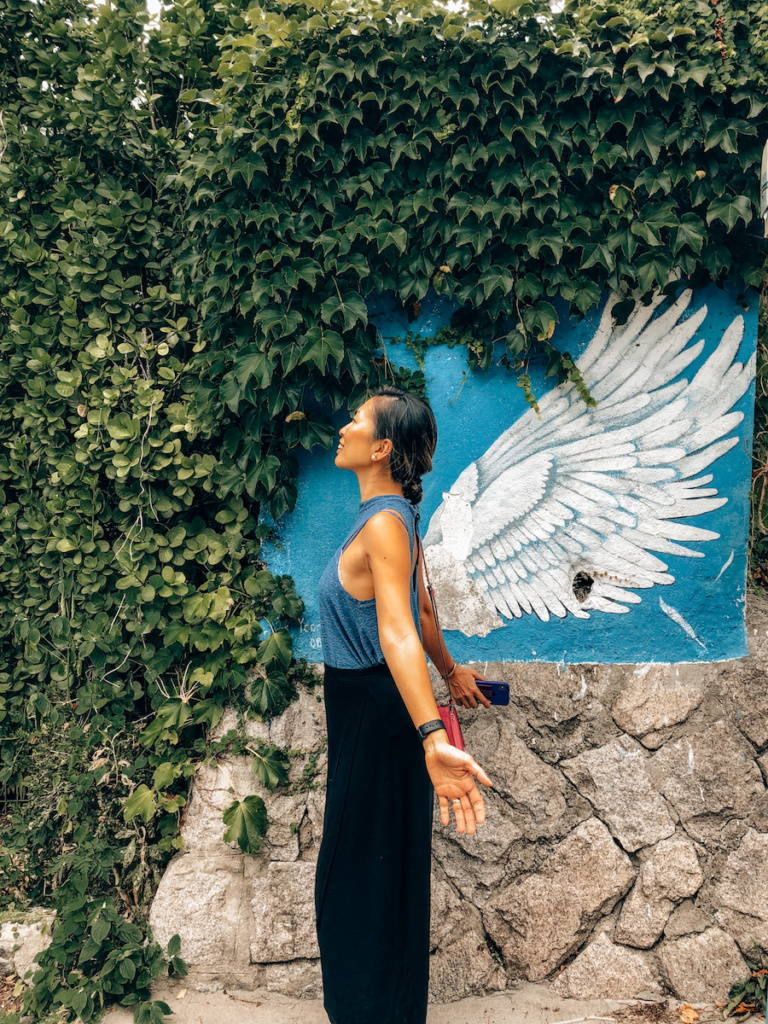 Located on the top of a hill in Seoul, the village of Ihwa recently benefited from an initiative by the city's tourism office to revive economic activity in this area. Ihwa was unknown to tourists and in constant decline.
Therefore, they called on artists to decorate the walls of the village with beautiful works of street art, each more colorful and original than the others.
Don't hesitate to take a walk through this labyrinth of alleys to go on a street art hunt and take some great photos! But be careful, there are quite a few stairs to climb to get there.
Comfortable shoes are highly recommended to walk all these streets that climb and climb these sometimes little steep stairs without losing your good mood.
We walk through these maze of streets like a "treasure hunt", happy to discover here and there works of art that forms a colorful and dynamic landscape.
Ihwa Mural Village is a place of frequent media coverage. You may have seen him before on the 2 Days and 1 Night entertainment show or in a scene from the drama Rooftop Prince, to name a few!
The success of this project nevertheless required some adjustments between visitors and locals…
---
Be respectful of the people living in the village…
The transformations carried out in the streets have attracted many tourists. This sudden influx of visitors caused inconveniences such as noise, graffiti and waste, which affected residents, making them nostalgic for their old village.
This is why, a year after the start of the project, many works were withdrawn at their request (sadly…).
However, in 2013, new artists were coming back to continue to brighten up and "decorate" the streets by adding new elements. Since then, relations between residents and tourists have improved. Posters everywhere remind visitors that people live there and that their privacy should be respected and not disturbed.
When you enter Ihwa Mural Village, you will find signage showing you the places to discover, which should not be missed. During your stay in Seoul, let yourself be tempted by this surprising walk. Half a day is enough to visit everything.
Since the renovation, the village has seen the opening of art galleries and cafes that can make your visit even more exciting.
---
2. Visit cute coffee shops at Ihwa Mural Village in Seoul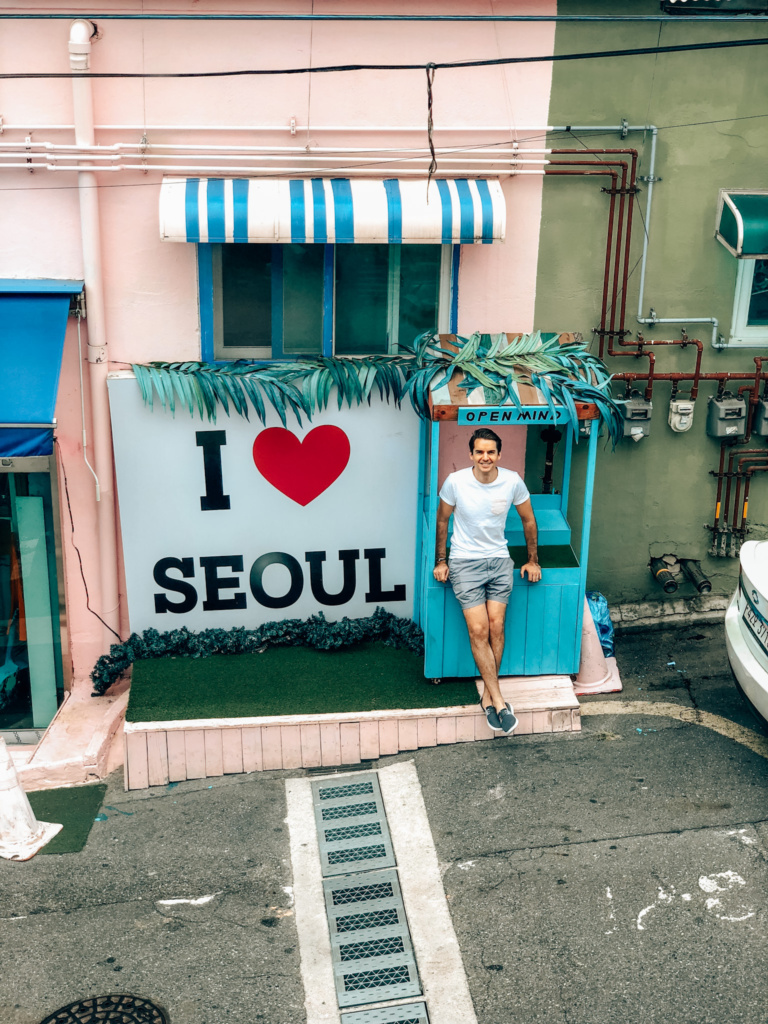 Many cute and bohemian cafes opened their doors after the Ihwa Mural Village Project was over.
We particularly liked the Cafe Gaeppul which offers a breathtaking view of Seoul. Cafe Travel is another great coffee shop located at Ihwa Mural Village.
However, there are very few restaurants in this area. For food, we recommend heading to the nearby Daehangno district. You will find everything from Korean to European restaurants, and also many cafes. You can even go shopping with its many small shops.
---
3. Explore Naksan Mountain
Make your way all the way up to the top of the village to reach Naksan mountain and it's a wonderful view of Seoul. There you can relax and share the rest areas with locals, walk along the walls, and enjoy the gorgeous nature which Seoul has to offer.
---
4. Visit Marronnier Park
In the center of the Marronnier Park, there is a symbolic chestnut tree and in the neighborhood all kinds of cultural centers for outdoor events, sculpture exhibitions and art centers.
The area around Marronnier Park began to develop in 1975, when Seoul National University moved further and some 50 small theaters and 500 cafes that concentrated in this area made this place an area to meet and relax.
The park is especially busy on weekends when the crowds gather there for various cultural events. Bands of orchestras and singers, as well as dance groups and actors meet there and give performances on site.
The park has a large number of trees and benches on which to sit and rest, which makes it an ideal place for relaxation and peaceful walks. The Marronnier Park is a part of Daehangno, which we mentioned earlier in this post.
---
Where to stay near Ihwa Mural Village?
Glue Hotel is the perfect stay near Ihwa Mural Village. Walking distance to the village but also other main sights such as Changdeokgung Palace, Bukchon Village or Insadong.
Most rooms offer a beautiful panorama of Seoul. There is even a rooftop where you can enjoy a nice drink during sunset. A great place which we recommend if you stay in Seoul. You can book here.
---
Other things to do near Ihwa Mural Village?
1. Insadong
Insadong is one of our favorite neighborhoods in Seoul,. If you travel to South Korea, visiting Insadong is a must.
It is located just a few bus stops or subway stations from Namdaemun.
Insadong is an important place where old traditional and precious objects are exposed. The district is composed of a main street, Insadong-Gil, which connects many alleys with Hanok (traditional Korean houses), where many galleries, restaurants, cafes, and traditional tea rooms are located.
READ: BEST THINGS TO SEE IN INSADONG
---
2. Ikseon-Dong
Ikseon-Dong is a district slightly east of Insadong. It's a neighborhood with the cutest little alleys with many Hanoks, trendy boutiques, amazing cafes, and great restaurants. Some call Ikseon-Dong the hipster place of Seoul. It is certainly one of the trendiest and most up-and-coming neighborhoods in Seoul. We simply love it!
READ: DISCOVER IKSEON-DONG THE CUTEST AREA OF SEOUL
---
3. Dongdaemun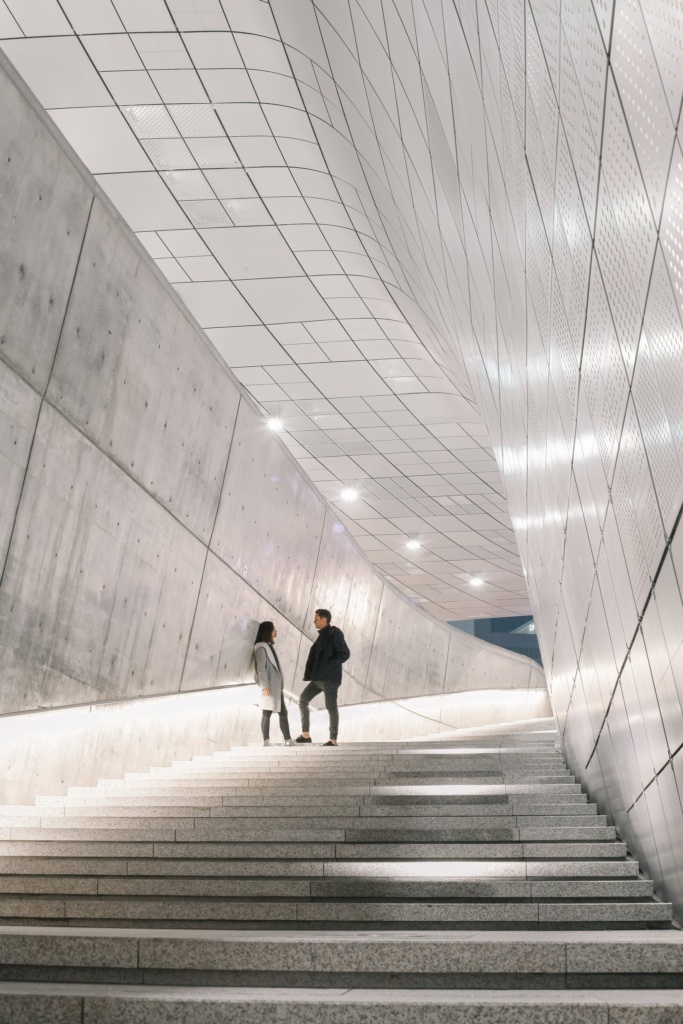 A lot of the must-see places are history-oriented, but there is one that is totally future-oriented, I named: the Dongdaemun Design Plaza. Whether you are passionate about architecture, or modern art, or simply have an appetite for futuristic environments, this totally unique and exhilarating place is a must-see!
Designed by female architect Zaha Hadid, this temple of design and entertainment is an excellent example of the country's rapid economic development. Placed in the center of the popular district of Dongdaemun, it seems straight from the future.
This huge egg-shaped complex houses many constantly updated temporary exhibition rooms, boutiques, and cafes, as well as a Concept Store dedicated to design. But the main interest of the DDP is to walk there and, for architecture lovers, to take some great photos. On the outside, this gigantic metallic UFO would almost make us dizzy, on the inside, the pristine white and the spiral staircases make us feel like we have embarked on a real space station.
---
In conclusion – is Ihwa Mural Village worth a visit?
Ihwa has become a must-see in Seoul over the last few years. Those unique alleys full of street-art are definitely worth a visit.
We recommend a visit to Ihwa Mural Village if you are in Seoul. You will enjoy it.
We lived in Seoul for 3 years and loved exploring all these beautiful places in Korea. We wrote many posts about Korea, you can find them all here.
HAPPY TRAVELING!
Photo credit: © Seoul Metropolitan Government/Penta Press
---
READ ALSO
INSADONG: one of our favorite area in Seoul: here
MULLAE ART VILLAGE, the newest trendy place in Seoul: here
GAMCHEON CULTURE VILLAHE: here
IKSEON-DONG: the cutest part of Seoul: here
NAMSANGOL: Hanok village: here
NAMSAN TOWER the icon of Seoul: here
SOUTH KOREA: some of the most amazing things to do in South Korea: here
SEOUL: best things to do in the capital: here
WEATHER: best time to visit Seoul: here
EUNPYEONG: beautiful Hanok village near Seoul: here
JINGWANSA: one of the most famous temples in Seoul: here