WHAT TO DO IN WOLMIDO? IS WOLMIDO WORTH A VISIT? HOW TO GET TO WOLMIDO?
Wolmido Island (월미도) is located in Incheon and it's a perfect place to escape the busy Seoul. Many people go there during the weekend because of its proximity to Seoul and its easy access. Many cafes and seafood restaurants can be found along the coast. There are approximately 50 seafood restaurants in the same street.
Enjoy a visit to Wolmido near Seoul
Among the many points of interest in Incheon, the island of Wolmido is our favorite sight to enjoy the fresh air from the ocean, delicious seafood restaurants but also go on a beautiful cruise during sunset. There are many other things to do in Wolmido, which we invite you to discover in our blog below.
The name Wolmido in Korean comes from the shape of the island which resembles a crescent moon.
Incheon is a city in South Korea best known for its airport connecting to Seoul. However, there are many things to do and see in Incheon which are very exciting (new blog post coming up soon about Incheon 🙂 ).
Incheon offers a superb coastline and beautiful sandy beaches, where it is possible to swim during the summer but also to admire stunning sunsets! You can check out our video here when we went sailing in Incheon, or another video when we went longboarding along Incheon coastline during sunset.
So here the list of things to do in Wolmido island.
---
How to get to Wolmido Island?
Wolmido Island is located about 1h drive from Seoul and 1km from the coast of Incheon. A few years ago, a new highway was built to connect Wolmido Island to the mainland.
By Car
Count about 1h to get to Wolmido by car. There are many parking spaces around the main attractions of Wolmido, so it is relatively convenient to get there by car.
By public transportation
Take the subway to Incheon Station (line 1, exit 1). It takes about 1h from Seoul Station and no line transfer is required.
From Incheon Station exit 1, take local bus 2, 10, 23 or 45 and get off at Wolmido City Tour Stop (for bus #2/10/23, 13 mins) or Wolmi Theme Park/Wolmi Culture Street Stop (for bus #45, 17 mins).
You can also take a taxi from Incheon Station, it will take approximately 10 to 15mins.
Address:
36, Wolmimunhwa-ro, Jung-gu, Incheon (인천광역시 중구 월미문화로 36 (북성동1가))
Other information
Access: free
Website: http://wolmi-do.co.kr/
---
What to do in Wolmido Island?
1. Visit Wolmido cultural street
Wolmido cultural street is the main strip of Wolmido facing the sea. It is a beautiful place to take a pleasant afternoon walk and breathing the fresh sea breeze from Incheon. Wolmido cultureal street is a pedestrian street. It is a very popular place especially during summer to escape the heat of Seoul.
---
2. Wolmido Amusement Park
Don't expect Disneyland-like park, as it is pretty small, but Wolmido Amusement Park is nevertheless a lot of fun! We actually went on the Ferry Wheel, which we've never done before together. We actually loved it, and it was a great way to see Wolmido from above with a great panorama on Incheon.
The Vikking boat and a 70-meter-high Hyper Shoot Drop seem to be the favorite attraction in Wolmido Amusement Park. There are many other attractions for kids and adults such as 4D rides. The entrance to the park is free, however you need to pay for each attraction separately. The prices are really affordable though.
Wolmido Amusement park opened in 1992 and was remodeled in 2009. The theme park has made appearances in several variety shows like "We Got Married," "Two Days and One Night," "Running Man," and many more.
---
3. Enjoy some fresh Seafood on Wolmido Island
Apparently there are over 50 seafood restaurants in Wolmido Island. We had no idea which one to go to, but decided to enter 1 of them which had a great view on the ocean from the 2nd floor. We opted for one of our favorite dish in Korea: seafood Kalguksu. Yummy!
Kalguksu is a noodle soup dish, normally not spicy. The noodles are handmade knife-cut. They have a flat shape and bouncy texture. We love it.
When the dish arrived, it was served in a huge bowl with plenty of fresh seafood inside. It was really delicious. It was only KRW 20,000 for both of us… So cheap. And the view from our seat was the best!
---
4. Feed the birds in Wolmido
The first thing that impressed us when we visited Wolmido, was the number of birds flying right by the main strip. We later realized, that locals buy crackers to feed the birds. The scenes were beautiful, with the kids feeding the hundreds of birds flying right in front of us, overlooking the blue ocean. For a moment we felt like in California 🙂
---
5. Go on a cruise
At the main pier in Wolmido, located on the main strip, you can depart for a short cruise to visit the area near Incheon. The cruise last about 1.5 hours and includes a performance on the boat. You can also board at night to see the some fireworks show from the boat.
The company and the boat is called "New Cosmos". The boat is relatively new and can have more than 600 people onboard.
There is a restaurant and performance hall on the first floor, and a coffee shop, VIP room, and performance hall on the second floor.
The 3rd floor's deck also has a performance hall and an outdoor terrace with a panoramic view of Incheon's sea. From the observation deck on the 3rd floor, you can see flocks of seagulls gathering around the boat.
During the Wolmido cruise, you can enjoy the Gyeongin Ara Waterway, the West Sea, Yeongjong Daegyo Bridge, and various performances onboard.
Joining New Cosmos cruise is a good way to explore Incheon and it's surroundings.
Website: http://www.wolmidocruise.com/
Main Phone: 032-765-1171
e-mail: cho9480@hanmail.net
---
6. Check out Wolmido Lighthouse and Wolmido Breakwater
At sunset, head to Wolmido Lighthouse. This is a pleasant walk on a wooden deck, surrounded by the beautiful sea.
---
7. Get a good coffee and enjoy the moment
Like anywhere else in Korea, nice cafes are a very important part of the culture. Hence, Wolmido also has many great cafes, some with nice rooftops facing the sea. We decided to stop at a random one, as they had seats right by the sea on the Main Street. We felt like having a coffee in a terrace in Paris. It was such a pleasant afternoon.
---
Where to stay in Wolmido Island?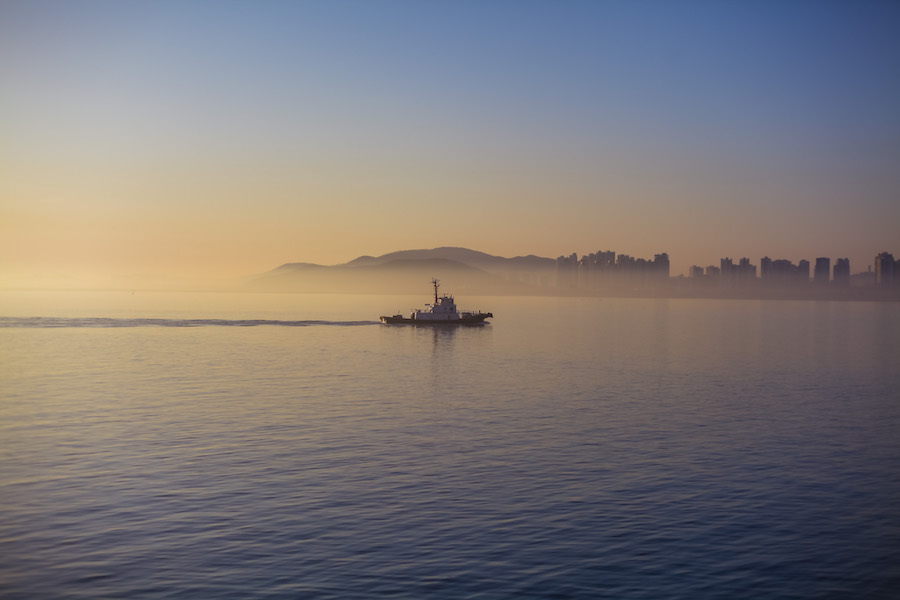 Do you like rooftop pools overlooking the sea? If yes, search no longer we found the perfect hotel for you: Hotel Wolmido
Not only the great pool is facing the sea, but most of the rooms as well. On top of that, Hotel Wolmido offers a restaurant, free private parking, a bar and a shared lounge. All rooms are equipped with air conditioning, a flat-screen TV with satellite channels and the hotel serves a buffet for breakfast. You can book here.
---
Other things to do near Wolmido Island?
1. China Town
Not far from Wolmido Island, we recommend a visit to China Town.
The only official Chinatown in Korea, Incheon Chinatown was established in 1883. Indeed, the area was known at the time for its stores selling products imported from China. Unsurprisingly, you will find in this area many Chinese restaurants, small shops selling products of all kinds and cafes.
Apart from the great Chinese restaurants and strolling around the area, we recommend to visit Jjajjangmyeon Museum (짜장면박물관), Samgukji Mural Street (삼국지 벽화거리) and Uiseondang Temples (의선당).
---
2. Check out other islands and beaches
There are many great islands easily reachable near Incheon.
Muuido Island is perfect for a day out. Head to Hanagae Beach, the largest shore on Muuido Island, with a kilometer-long sandy beach. From Muuido you can also walk to Silmido during low tide and So-Muuido in the south via a walking bridge. Check out our full post here here.
Seonjaedo is another beautiful island located southwest of Seoul. If you head there at low tide around 10am, the water will reveal a path which will lead you to Mokseom Island. Mokseom island is a tiny island, only accessible at low tide.
Not far from Incheon International Airport, Eurwangni Beach is one of the most representative beaches on the West Coast. In addition to its magnificent view and white sand, the shallow waters of the beach allow children to swim safely.
---
Sindo, Sido and Modo Islands
Sindo (신도), Sido (시도) and Modo (모도) islands are the perfect gateway from the busy city life of Seoul. Located off the coast of Incheon, these 3 islands are easily accessible by ferry. All 3 islands are connected by a bridge which makes it easy to visit them all within a day.
Expect sandy beaches, relaxing coastal road, mountains and delicious seafood on these 3 islands. Make sure to explore Sugi Beach and Baemikkumi Sculpture Park, the highlights of the 3 islands.
The biggest island is Sindo: 16.1 km long, 6.92 km² of land located 14 km northwest of Incheon.
To find out more about Sindo, Sido and Modo islands, check out our full post here.
---
Ganghwado island, one of the most unique island in Korea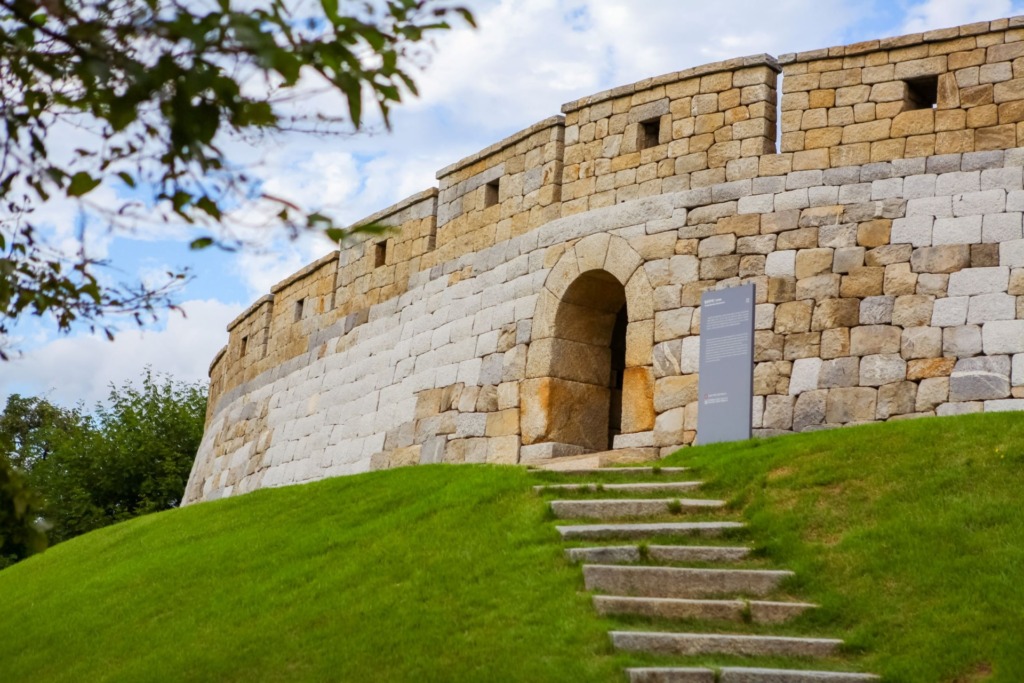 On Ganghwado, located just 1 hour from Seoul, you can see thousands year old dolmens, fortresses, beautiful temples and so much more history. Of course you can also enjoy the beach at Dongmak beach and explore one of the most amazing cafe, called Joyang Bangjik. We wrote a full guide about Ganghwado here.
---
Songwol-dong Fairy Tale Village
If you are visiting Wolmido, we recommend to also a stop at Songwol-dong Fairy Tale Village in Incheon.
Songwol-dong Fairy Tale Village is located right next to Chinatown. It is actually a residential area where the walls are decorated with paintings in a "fairytale" style. The village is fun and full of colors. There are so many spots to take fun photos. It really is the perfect place to take a walk while observing the different fairytale characters.
Songwol-dong Fairy Tale Village also has many cafes and restaurants.
---
In conclusion – Is Wolmido worth a visit?
Wolmido is a fun place to relax for an afternoon. We particularly love the pedestrian strip right by the sea. Looking out at the ocean, with many seagulls flying around, we felt just like in California.
Visiting Wolmido is a great gateway from Seoul. We recommend other great gateway here, make sure to check them out.
We lived in Seoul for 3 years and loved exploring all these beautiful places in Korea. There are many posts about Korea in this blog, you can find them all here.
HAPPY TRAVELING !
---
Read Also
OUTDOOR CAFES in Korea: here
INCREDIBLE ADVENTURES just outside Seoul: here
JEONJU an amazing Hanok village: here
BEST SURFING SPOTS in Korea: here
JEJU: the best island escape from Seoul: here
BEST DAY TRIPS FROM SEOUL: escape the city for a day: here
GANGNEUNG: a gorgeous place on the east coast of Korea: here
SOUTH KOREA: some of the most amazing things to do in South Korea: here
SEOUL: best things to do in the capital: here
WEATHER: best time to visit Seoul: here