WHAT TO SEE IN HONGDAE? WHAT IS HONGDAE FAMOUS FOR? IS HONGDAE WORTH A VISIT?
When it comes to vibrant neighborhoods in Seoul, Hongdae stands out as a creative and energetic hub that pulsates with youthful energy.
Located near Hongik University, this district offers an exciting blend of art, music, shopping, and nightlife, making it a must-visit destination for travelers seeking a unique and vibrant experience in Seoul.
"Hongdae is the Young & Fun districts of Seoul!"
In fact, Hongdae is one of our favorite neighborhoods in Seoul. This is also the place we stayed while living in South Korea.
Hongdae is known for being the student district and one of the party areas in Seoul.
It has a unique atmosphere. Between arts and street food, bars, clubs, music, and cool museums, the visit to this picturesque place reveals a dynamic and alternative culture.
In this post, we've listed our take on the top 10 things to do in Hongdae. Check it out while you are in Korea.
Hongik University played a central role in the development of the Hongdae
Hongik University, Hongik Daehakgyo in Korean, abbreviated to Hongdae, is located in the heart of Hongdae.
The university not only gave its name to the area, but also participated in the construction of its identity. Open since 1946, it specializes in fine arts, design and architecture. Quite naturally, the streets which surround the university were influenced by it. Independence and creativity invaded Hongdae…
Arts
In the 1990s, the phenomenon intensified thanks to the installation of artists who mingled with students, attracted by cheaper rents than in the rest of Seoul. The population transforms the streets of Hongdae into an open-air gallery by covering the walls with street arts around the university in particular.
As galleries with a bohemian or design atmosphere developed, art markets were also organized regularly. The most famous of them, the Free Market, is held every Saturday between March and November and gives pride to student works.
Independent Music and party area
Hongdae has established itself over the years as the birthplace of independent Korean music. Played in the street, this music can also be heard in concert halls. The student population has made these structures and local bars an unconditional place to party. Karaoke clubs add to this landscape of festive places.
At all hours of the day and night, Korean street food displays its delicious treasures. Whole fried octopus, typically Korean tteokbokki, pancakes, ice cream etc. For many visitors, these specialties are already a good reason to make a visit into Hongdae.
This video will show you a glimpse of what Hongdae is all about:
So here are the top 10 things to see in Hongdae, one of the best neighborhood in Seoul.
---
What to do in Hongdae?
1. Stroll at the beautiful Gyeongui Line Forest Park
The Gyeongui Line Forest Park which was on old Railway turned into a park crossing the city.
The best part is in Hongdae (which is called Yeontral Park). It is located near Hongik University.
It offers a peaceful retreat where you can relax, have a picnic, or enjoy a leisurely stroll amidst beautiful landscapes. The old railway is now surrounded by great cafes and restaurants.
Local artists also perform in Gyeongui Line Forest Park over the weekend. It is the perfect place to hang out and enjoy the vibe of what Hongdae is all about. An artistic area, young and trendy.
In autumn enjoy a romantic stroll with all the golden ginkgo trees and red maple leafs. If you have a dog, it is also a great area to walk with your dog with plenty of green spaces.
To get there, stop at Hongik University metro station, the park starts right from the exit.
---
2. Visit the impressive Ewha Women University
Ewha University is a beautiful campus worth a visit. The university is open since 1886 to allow women to study
The university has a good reputation and also allows international exchanges attracting students from all over the world. With no less than 73 buildings, the campus is really impressive and the architecture is stunning.
Especially the impressive staircase in the middle of the 2 main buildings. Such a cool design and a good spot for your Instagram shot!
It is possible to walk around the campus without being a student, and even going inside the building is allowed. Access is completely free.
---
3. Discover beautiful and unique Cafes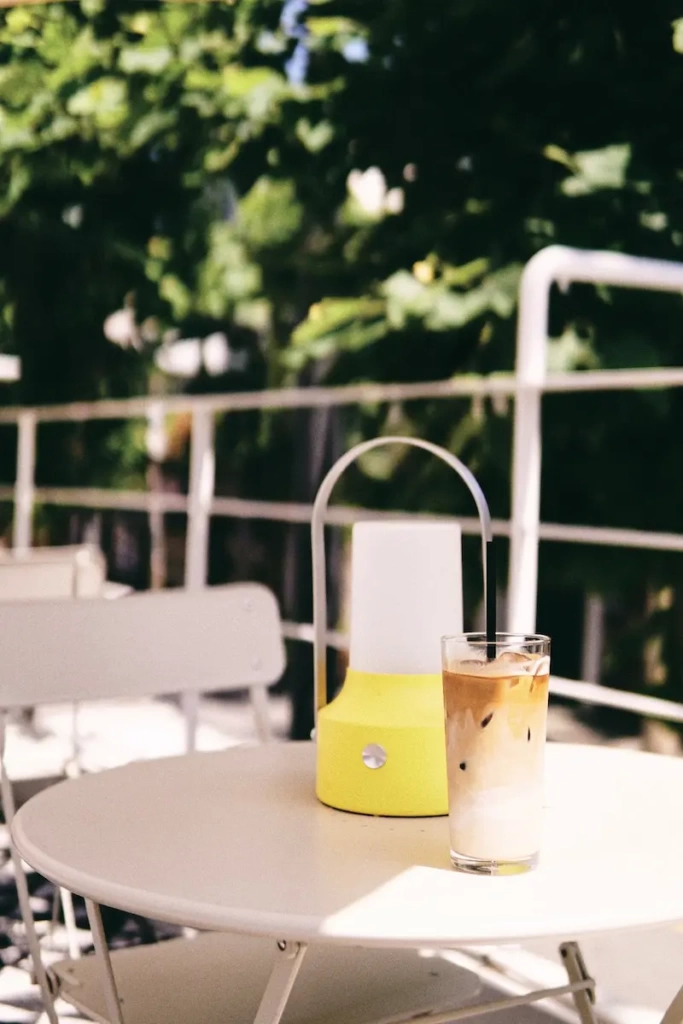 In Hongdae, like many other places in Seoul, there are many unique, themed, and beautiful cafes. The recently opened Harry Potter café, the Yeonnam café which takes you into a world made of cartoons, or many cafes with animals such as sheep, cats, dogs, raccoon, etc., all are great.
There is one street in particular which we like a lot to get our cuppa, it is in Seongmisan-ro. This pedestrian area is filled with great cafes, bakeries, rooftops etc. We particularly like Cafe Layered, check it out here.
You can walk around Seongmisan-ro in the small alleys to find hidden cafes, like the picture above.
READ ALSO:
MOST INCREDIBLE CAFES IN SOUTH KOREA
BEST OUTDOOR CAFES IN SEOUL
---
4. Enjoy some delicious food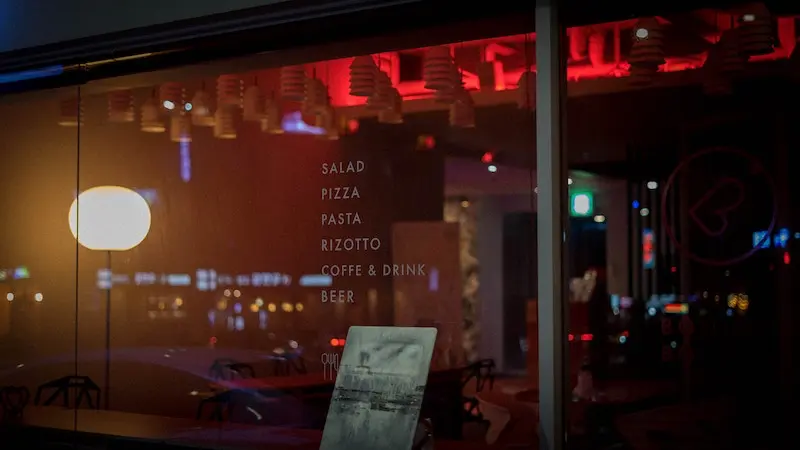 There are so many restaurants and street foods in Hongdae, so making a choice on where to go can sometimes be difficult. No visit to Hongdae is complete without savoring its delectable food offerings.
However, there is 1 area in particular which we always enjoy exploring and trying out new restaurant: Yeonnam-dong.
Yeonnam-dong is filled with many cute restaurants with a great variety of cuisines.
The area is full of many alleys, making you feel like you are in a maze. Getting lost in Yeonnam-dong at night can be really romantic. There is one restaurant in particular which is very famous especially for Brunch, it's Grain, we talked about it here.
The lively atmosphere, delicious aromas, and diverse flavors make the food scene in Hongdae an irresistible culinary adventure.
---
5. Check out street performances
Listening to street music in Hongdae is one of the best things to do in Seoul!
Hongdae is renowned for its indie music scene, with numerous live clubs offering a platform for emerging local bands and artists.
The district's vibrant nightlife comes alive as you step into these intimate venues, where you can experience the raw talent and passion of Seoul's underground music culture.
From rock and punk to jazz and hip-hop, there's a diverse range of genres to suit every musical taste. Join the energetic crowd, immerse yourself in the live performances, and witness the future stars of Korean music unfold their talent before your eyes.
For street artists check out the back entry of H&M on Eoulmadang-ro and Hongik university street. You can see amazing performances such as the video above.
---
6. Admire cool street art all around Hongdae
One of the most captivating aspects of Hongdae is its vibrant street art scene.
As you wander through the district's narrow alleys and colorful streets, you'll be greeted by an array of mesmerizing murals, graffiti, and art installations.
All along the street wall of Hongdae – small narrow alley (Wausan-go 22-gil) which follows the walls of Hongik University from the main entrance to Dongmak-ro 19 gil- you can find the best street arts in Seoul.
This street art in Hongdae is shown in murals with brilliant designs and expressions with strong political tones.
What is most fascinating about Hongdae's street art is that it is always changing. An original painting or a passionate slogan could disappear and be replaced at any time by something as impressive!
To get there: Take Exit 9 from Hongik University (line 2), continue straight on Yanghwa-ro and turn left onto Hongik-ro. Follow the road to the main door of Hongik University in Wausan-ro.
In addition, if you want to support local artists, we recommend that you go to the Hongdae Free Market (19-3, Wausan-ro 21-gil, Mapo-gu) active every Saturday between March and November. This local market offers handmade items ranging from the bracelet to the wallet, children's games and self-portraits…
Take your time to explore the various art-filled corners, snap photos with the captivating street art, and witness the dynamic creativity that thrives in Hongdae.
---
7. Go shopping!
Shopping in Korea is a must! You will find unique and super trendy items at very low prices in Hongdael.
Start exploring Hongik Unversity Street. There you will find many shops, restaurants, cinemas etc.
For something more unique with local brands and local artists (which we liked a lot more) head to Hongdae Street. The street is filled with many cute shops selling all sorts of items. You can also grab a bite at one the many street food stalls or restaurants.
For those looking for unique handmade crafts, fashion items, and accessories, the Hongdae Free Market is a treasure trove. Held every Saturday, this open-air market showcases the creativity and entrepreneurial spirit of local artists and designers. Browse through stalls selling handmade jewelry, clothing, artworks, and other delightful trinkets.
---
8. Be brave, and try some amazing street food
Beside Myeongdong, Hongdae is probably one of the best place to try some amazing Korean street food.
Korean street food is a must if you stroll the streets of Hongdae. You will find everything!
The classics: Odeng 오뎅 (fish pancakes), tteokbokki (떡복이), Sundae (순대), Kimbap (김밥), Dak-kkochi 닭 꼬치 (chicken or pork kebabs).
The most greedy: Hotteok (호떡), Bbobkki 뽑기 (Korean sweets), Gyeran-Ppang 계란 빵 (bread stuffed with egg), Bungeo-Ppang 붕어빵 (Brioche in the shape of fish, filled with red bean paste).
Just enjoy, it is simply delicious.
---
9. Party all night long in Hongdae
If you want to discover Hongdae "by night", you absolutely have to check out bars, Karaoke or night clubs.
For a cold beer, here is a good address: CRAFT HANS. If you want to enjoy a more classic atmosphere: 만만한 포차 (manmanhanpocha). Bars offer a wide choice of spirits but above all will offer you Korea's flagship alcohol: soju. You will find different kinds, peach flavor, grape flavor, grapefruit etc. The atmosphere of these bars are very unique in Korea, we always had a good time.
A proper Korean evening always goes on with karaoke, called noraebang (노래방).
In South Korea, karaoke is set up in small private rooms where you can go wild with your friends. Of course, most of the songs are in Korean and will require you to read Hangeul (the Korean alphabet). However, karaokes also offer world famous songs, from Chinese, French, Japanese, Indonesian and English.
To finish the night, check out the nightclubs in Hongdae, which is well known for its amazing party until early morning. Check out NB1, NB2 or Cocoon, the most famous ones.
---
10. Relax at the beautiful Haneul Park
When you need a break from the bustling city vibes, head to the serene green spaces of Hongdae.
Haneul Park, also known as the "Sky Park," provides breathtaking panoramic views of the city.
Climb up the hilltop and take in the mesmerizing sunset or soak in the romantic atmosphere under the starry night sky. This park offer an escape from the urban chaos and a chance to reconnect with nature in the heart of Hongdae.
---
Conclusion about the best things to do in Hongdae in Seoul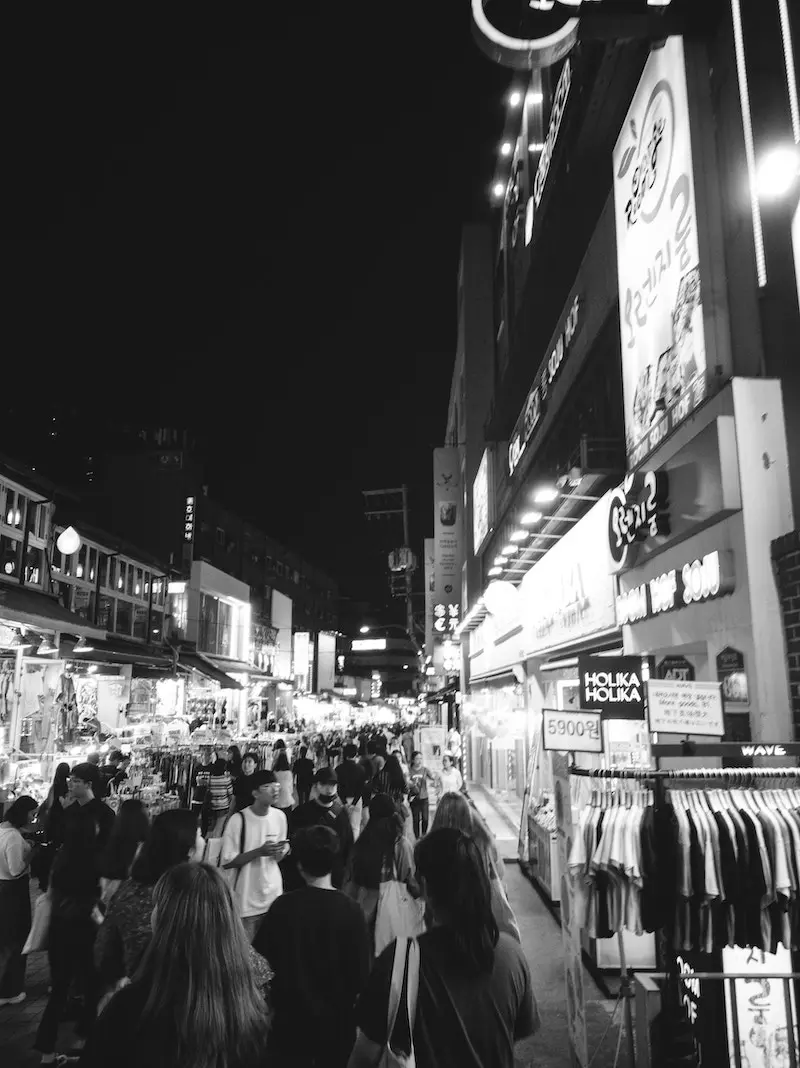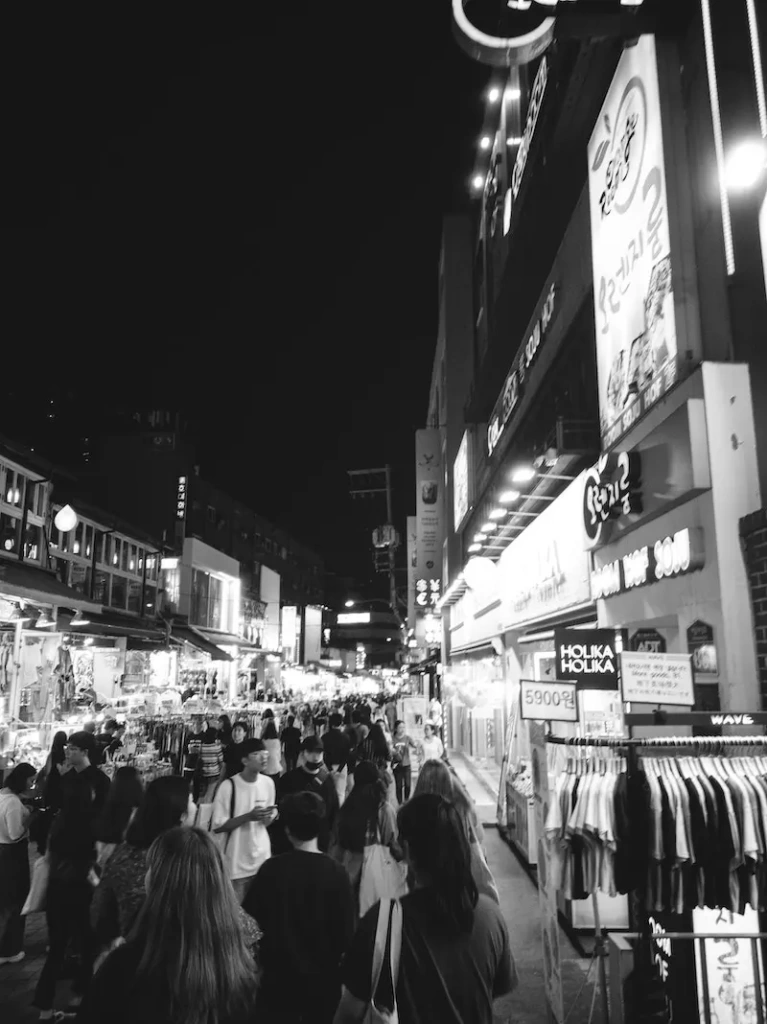 Hongdae is a fantstatic neighborood, very unique in Seoul, full of students, artists, local shops and great vibe overall.
Hongdae embodies the youthful spirit and artistic soul of Seoul, making it a captivating destination for travelers seeking a vibrant and creative experience.
From immersing yourself in the street art scene to discovering indie music, shopping at the Free Market, indulging in delicious street food, and finding tranquility in the green spaces, Hongdae offers a myriad of unforgettable experiences.
Embrace the energetic atmosphere, mingle with local artists, and let the district's vibrant charm leave an indelible mark on your Seoul itinerary. Whether you're an art enthusiast, a music lover, a foodie, or simply a curious traveler,
Hongdae promises to ignite your senses and offer an enriching journey through the heart of Seoul's cultural scene.
Check out more articles about South Korea and Seoul here.
---
Related Posts
BEST THINGS TO DO IN GANGNAM, SEOUL
EXPLORE IKSEON DONG THE CUTEST PLACE IN SEOUL
MOST INCREDIBLE CAFES IN SOUTH KOREA
BEST DAY TRIPS FROM SOUTH KOREA
CHECK OUT INSADONG, ONE OF OUR FAVORITE AREAS IN SEOUL