WHAT TO SEE IN MONZEN-NAKACHO? WHERE TO EAT IN MONZEN-NAKACHO? IS MONZEN-NAKACHO WORTH VISITING IN TOKYO?
After our shopping spree in Ginza and our venture into Tsukiji outer market for some of the best seafood in town, we headed to Monzen-Nakacho, one of the most charming neighborhood in Tokyo and just a few stops by subway from Tsukiji.
We had no idea what to expect at Monzen Nakacho, but we completely fell in love with this beautiful and traditional area of Tokyo. In fact, Monzen Nakacho was the historic home of Sumo in Japan, before moving to Ryogoku further west.
But what we liked the most in Monzen Nakacho is its charming old buildings, beautiful temples, the many restaurants and its beautiful river crossing the neighborhood.
In this post we listed the 10 best things to see in Monzen Nakacho.
In Monzen Nakacho you can wander through the neighborhood and discover its peaceful and traditional atmosphere. At night Monzen Nakacho becomes even more beautiful with its many great restaurants and izakayas everywhere as well as its illuminated temples.
Check out some beautiful impressions of Monzen Nakacho in Tokyo:
Here are the best things to see in Monzen Nakacho:
---
1. START YOUR VISIT AT TOMIOKA HACHIMANGU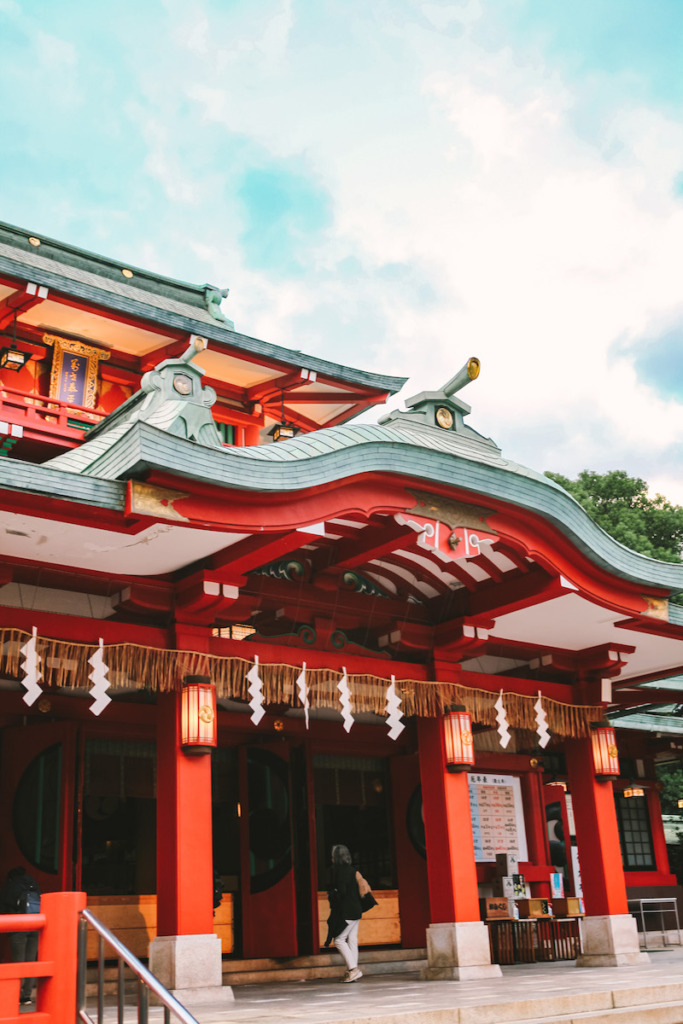 Tomioka Hachimangu, is the largest Hachiman shrine in Tokyo, dedicated to the worship of the god Hachiman, the god of martial arts and war.
Although also related to sumo where there is a stele with the names of sumo wrestlers from the 1st great champion Shiganosuke to the 68th, Asashoryu.
But above all, one of the main services of the shrine is to offer protection against road accident. The Japanese bring their recently purchased vehicle to ask for the blessing of the shrine.
Location: here
---
2. NEXT, HEAD TO FUKAGAWA FUDOSON TEMPLE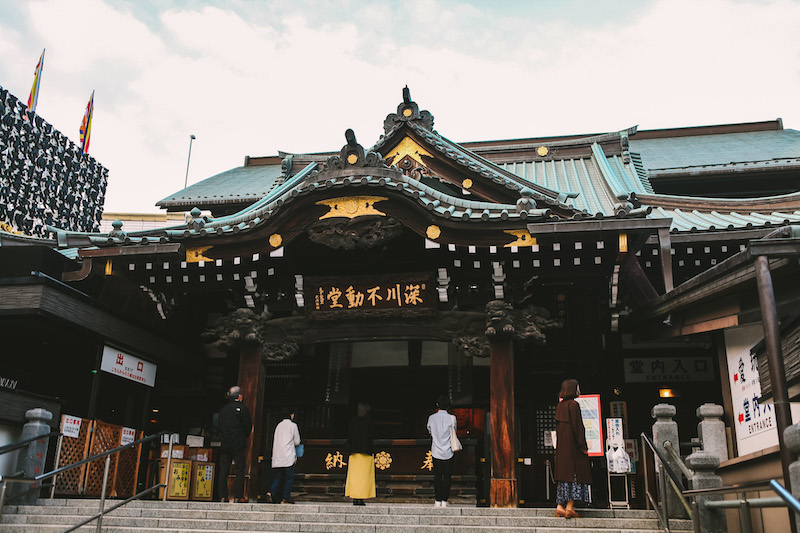 Not far from Tomioka Hachimangu is the beautiful Fukagawa Fudoson temple.
The temple was founded at the beginning of the 18th century with the wave of prosperity when the city of Edo became the capital of Japan. This prosperity is still felt inside the temple with its golden ornaments and especially the richness of the main hall.
The new main hall right beside the old temple offers a striking contrast, modern and cubic building covered with Buddhist characters (see 3rd photo)
Location: here
---
3. FROM THE TEMPLE, WALK STRAIGHT TO TOMIOKA STREET
This is one of our favorite streets in Monzen Nakacho, it is full of cute shops and restaurants. When you turn back you can see the temple in the background. This is exactly what we love about Monzen Nakacho.
In Tomioka Street you can make a stop at Monz Cafe, one of the most famous bakery and coffee shops in the area.
Location: here
---
4. CHECK OUT EITAIJI TEMPLE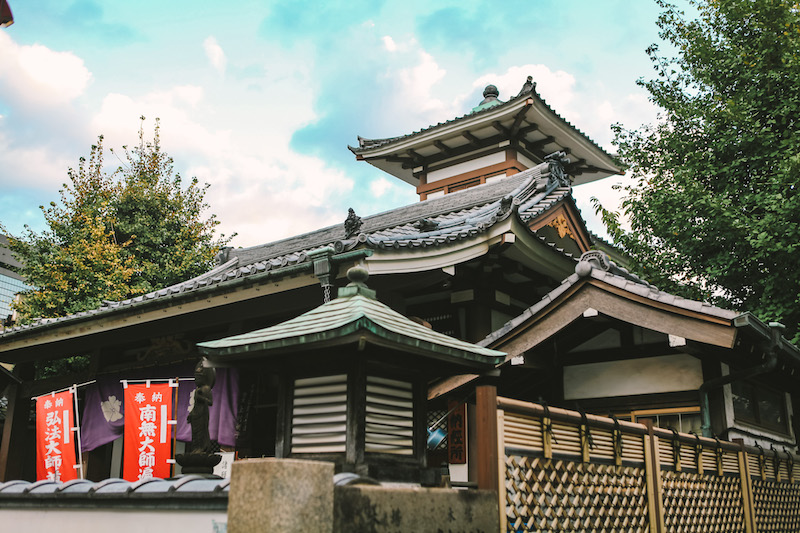 About half way through Tomioka Street, you will see on your left (if you are coming from the temple), a cute wooden temple. This is Eitaji, a beautiful buddhist temple, established in 1627.
Here, Japanese express their gratitude to the famous Kobo Daishi.
In 921, Emperor Daigo gave Monk Kukai the posthumous name of "Kobo Daishi" (Great Teacher who spread the Law). A Mausoleum was established for Kobo Daishi. And when the Mausoleum was opened they Daishi, who seemed to be in meditation, in a state identical to the one he had when he was alive. From this story was born the belief that Daishi continues to live, in a state of enlightenment, in Okunoin, where he prays for peace and watches over the happiness of men.
Location: here
---
5. VISIT TATSUMI-SHINDO, aka. IZAKAYA STREET
This narrow allow counts no less than 30 tiny izakaya bars in various styles and atmospheres. If you want to have a drink and some food at night, consider Tatsumi-Shindo. At least walk through the alley, as this is the kind of street we like the most in Tokyo.
Location: here
---
6. A BIT FURTHER AWAY, YOU CAN VISIT FUKAGAWA EDO MUSEUM
If you have enough time, then we highly recommend a visit of the Fukagawa Edo Museum. Here an entire Edo district has been rebuilt, making you feel that you traveled back in time around the 1840s.
At Fukagawa Edo Museum, you can learn a lot about the history of Japan. It is a gorgeous museum, not well known in Tokyo, but really worth it.
Location: here
Admission Fee: 400 YEN
Opening hours: 9:00-17:00
Website: here
---
7. EXPLORE FUKAGAWA ENMA-DO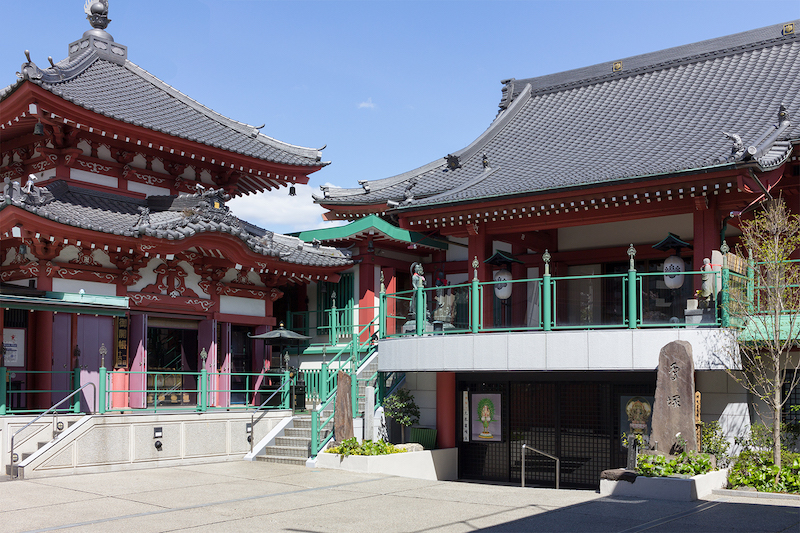 At the crossroads of Monzen Nakacho station there is small temple dedicated to the god representing the judge of death. Established in 1629, it was officially called Kentai-san Hojo-in. However, it soon became known as Fukagawa Enma-do.
Wth its small main hall adorned with a gold Buddha image and various paintings of King Enma O, this temple is worth a visit. The entrance is free.
Location: here
---
8. VISIT THE RIVER, PARTICULARLY BEAUTIFUL DURING CHERRY BLOSSOM SEASON
Walk to Kokufune Bridge, for the best panorama of the river crossing Monzen Nakacho.
During cherry blossom season, the canal area right next to the resort is a very popular spot for hanami parties or just taking a walk under the beautiful cherry blossom trees.
Lots of people in kimonos take the opportunity for a few pictures by the canal. It is even possible to pay for a short boat ride under the cherry blossom trees.
Location: here
---
9. EAT A TRADITIONAL MEAL AT FUKAGAWAJUKU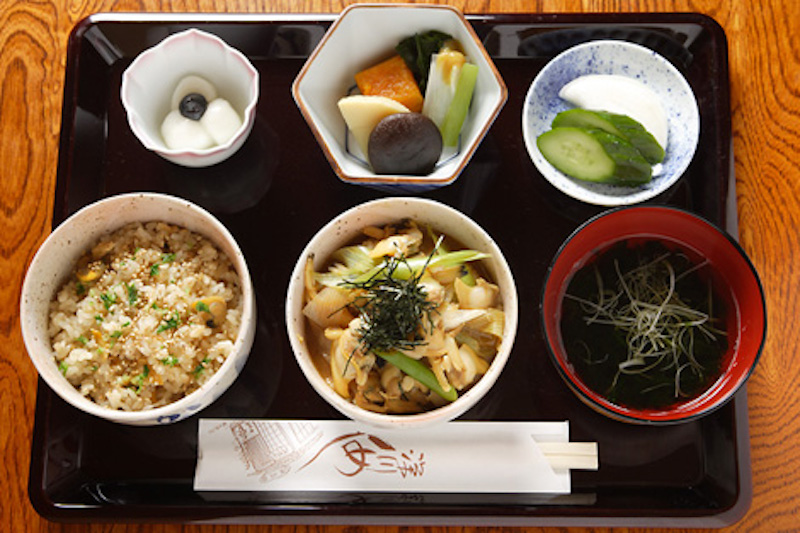 Fukagawajuku is one of the most famous restaurant in this area. There are actually 2 branches within Monzen-nakacho.
At this restaurant you can eat the local dish: Fukagawa-meshi, steamed rice with clams. A local favorite particularly appreciated by fishermen in the Edo period.
Inside Fukagawajuku, you will find a very warm wooden atmosphere, typical Japanese style. We highly recommend checking-out this place if you are visiting Monzen Nakacho.
Location 1: here / Location 2: here
---
10. RELAX AT KIYOSUMI GARDENS
Kiyosumi is a gorgeous and peaceful Japanese garden in the middle of Tokyo and just a few minutes walk from Monzen Nakacho.
At Kiyosumi gardens you walk around a beautiful pond and enjoy a tea at a tea house. You can easily spend more than 1 hour simply walking though the garden. The good thing, is that this place is rarely crowded. You can even spot beautiful cherry trees during the blossom season.
The entrance fee is ¥150 per adult.
Location: here
---
OTHER THINGS TO SEE NEAR MONZEN-NAKACHO
TSUKIJI FISH MARKET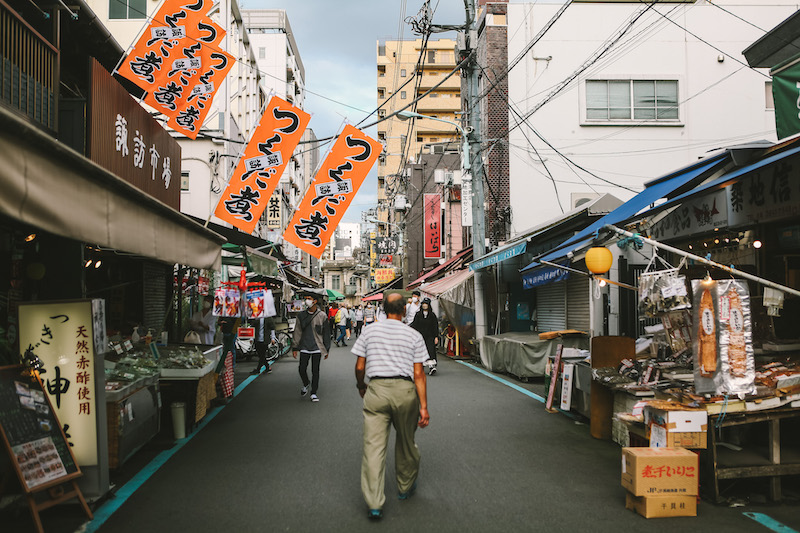 Just a few subway stops away from Monzen Nakacho, you can reach Tsukiji Fish Market, one of our favorite places to visit during a trip to Tokyo.
Although the indoor market (which was the largest fish market in the world) closed in 2018, the outdoor market remained open. Within the bustling and colorful Outer Market, you'll find historic alleyways filled with an array of shops and small eateries at very reasonable price.
Most of Tokyo's neighborhoods are very modern. However Tsukiji kept its vintage atmosphere full of charm.
Location: here
READ: THE BEST THINGS TO SEE IN TSUKIJI OUTER FISH MARKET IN TOKYO
---
GINZA
Nicknamed "the Japanese Champs-Élysées", Ginza is known to be Tokyo's luxury district, concentrating the world's most exclusive brand boutiques, renowned restaurants, cafes and nightclubs.
If you want to go shopping after your explorations of Tsukiji market, it's the perfect time. Ginza is just a short walk away from the market.
Location: here
READ: 15 BEST THINGS TO SEE IN GINZA
---
HOW TO GET TO MONZEN NAKACHO?
Take the Oedo Line or Tozai Line and stop at Monzen-Nakacho Station. Various buses also stops at Monzen-Nakacho, such as bus 22, 10 or 33 depending on where you are coming from.
---
IN CONCLUSION ABOUT MONZEN NAKACHO IN TOKYO
Although Monzen Nakacho is not as recommended as other parts of Tokyo, we actually fell in love with this area. This neighborhood kept its authenticity and is full charms at every corners.
If you are visiting Ginza and Tsukiji fish market, then why not adding a stop at Monzen-Nakacho, since it's just a short subway ride away. You won't regret it.
We hope that you found this post useful. If you have any questions, feel free to write a comment below.
For more posts about Japan click here.
---
Related Posts
13 BEST DISTRICTS TO VISIT IN TOKYO: here
DISCOVER TSUKIJI OUTER FISH MARKET IN TOKYO: here
EXPLORE KAGURAZAKA, THE LITTLE PARIS OF TOKYO: here
TOP THINGS TO DO IN SHIBUYA, TOKYO: here
BEST THINGS TO SEE IN KYOTO: here
15 BEST THINGS TO SEE IN HAKONE (NEAR MT. FUJI): here
VISIT LAKE YAMANAKA NEAR MT. FUJI: here
15 INCREDIBLE THINGS TO SEE AT LAKE KAWAGUCHI: here
12 AWESOME THINGS TO SEE IN LAKE TOYA, HOKKAIDO: here
VISITING FURANO IN HOKKAIDO DURING WINTER: here
OBUSE, A BEAUTIFUL TOWN IN JAPAN WORTH A VISIT: here
18 AWESOME THINGS TO SEE IN NOBORIBETSU ONSEN: here
FULL GUIDE FOR VISITING HAKUBA IN JAPAN: here