WHAT TO SEE IN KAGURAZAKA? WHERE TO EAT IN KAGURAZAKA? IS KAGURAZAKA WORTH VISITING IN TOKYO?
Kagurazaka is a small district located at the eastern end of Shinjuku on the border with the district of Chiyoda in Tokyo. Kagurazaka has the reputation of being the French quarter of Tokyo. Indeed, it is home to many french shops and restaurants.
But Kagurazaka is also known for being one of the Geisha district of Tokyo (still active today). The typical Yokocho alleys of Kagurazaka still bear witness to its feudal past linked to the Geishas.
We highly recommend a visit of this beautiful and charming neighbourhood of Tokyo. In this post we listed all you need to know about a visit to Kagurazaka.
ENJOY YOUR VISIT!
In an ever-changing Tokyo, the few remnants of the past are sadly being destroyed to make way for new steel and glass structures. However, there is a place in the heart of Tokyo where tradition is still valued. Welcome to Kagurazaka.
Today, Kagurazaka is a place of relaxation where you can discover a mixture of temples, cafes, new fashion stores, lots of great restaurants and explore many traditional streets. We love spending time in this great and traditional neighbourhood of Tokyo.
Check out some beautiful impressions of Kagurazaka in Tokyo:
---
A BIT OF HISTORY ABOUT KAGURAZAKA
During the Edo period (1603-1868), this relatively small area was located just outside the outer moat of Edo Castle and quickly established itself as an entertainment district with many geisha houses and restaurants. Some of these establishments have survived the many changes and tragedies the city has experienced over the past four hundred years.
Today Kagurazaka is also known as the "Little Paris" of Tokyo. Indeed until 2012, the Franco-Japanese High School was located in Kagurazaka. All the Franco-Japanese and children of French expatriates in the capital have therefore been there! Since 2012, the school has been moved to Takinogawa, much further north, in a much larger area.
However, Kagurazaka kept its french touch with its cobbled streets, chic boutiques, French restaurants etc.
But strolling through the quiet alleys, you will also find traces of the neighborhood's geisha heritage: elegant traditional restaurants (ryotei) and kimono shops rub shoulders with modern Michelin-starred establishments and minimalist galleries. With a bit of luck, you might come across the last few remaining geishas Today, there are only about twenty geishas left in this district, which had nearly 600 in the 1930s.
HERE ARE THE 10 BEST THINGS TO SEE IN KAGURAZAKA:
---
1. START YOUR VISIT AT ZENKOKU-JI TEMPLE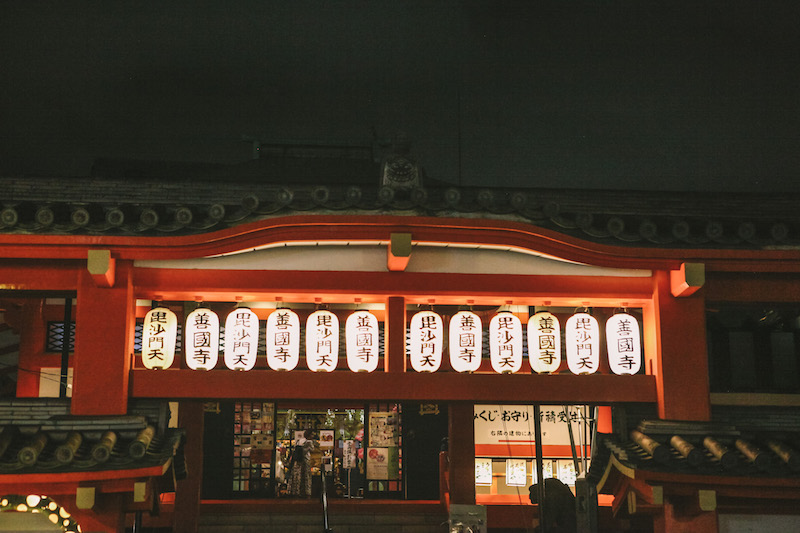 This temple was built in 1595 by the first shogun Tokugawa Ieyasu, then moved from Shinjuku Ward to its current location 200 years later.
The sharp red temple is located at the top of hill on the main avenue of Kagurazaka Hill.
Japanese come here to make their wish come true. So why not start your visit with this temple to make a wish.
Location: here
---
2. NEXT, HEAD TO HYOGO YOKOCHO ALLEY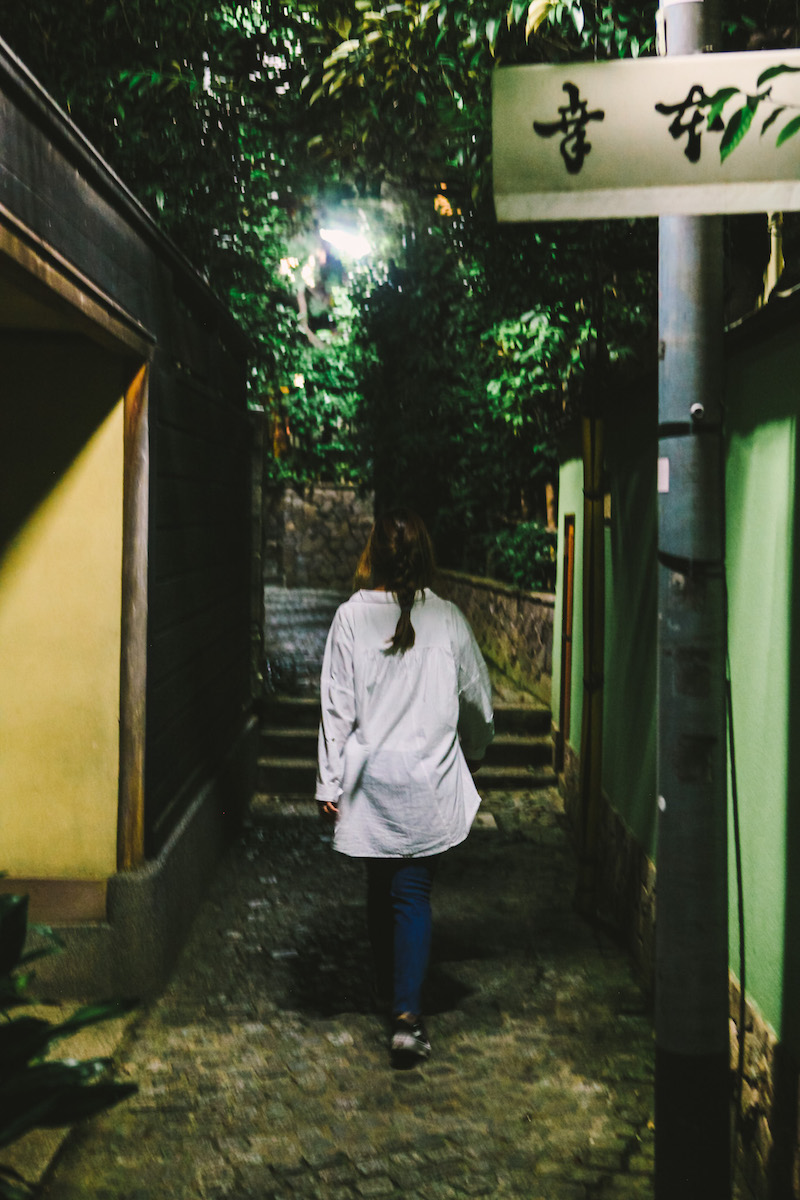 Kagurazaka's narrow lanes are a reminder that it was once an entertainment district. Upscale traditional restaurants called "ryotei" feature discreet signs and an entrance hidden by a traditional Japanese curtain (noren).
Kagurazaka is actually one of Tokyo's six still-functioning hanamachi (geisha quarters). This cultural tradition can be guessed in the maze of small cobbled streets in the neighborhood known as yokocho.
Hyogo Yokocho alleys retain the atmosphere of the Edo period (1603-1867) with their cobblestone streets and black lacquered wooden walls. Behind these walls that once hid grand samurai houses, today you are more likely to find trendy restaurants and elegant apartments. Hyogo Yokocho alleys are one of the best things to see in Kagurazaka.
Location: here
---
3. NEXT, WANDER THROUGH "HIDE AND SEEK" ALLEY AT KAKURENBO YOKOCHO
From Kagurazaka-dori Street, turn into the first alley that goes to the right. By taking the Kagurazaka-naka-dôri, you enter the Kakurenbo yokochō subdivision, or in English Hide and Seek Alley.
It is a maze of narrow, pedestrian streets, lined with typical houses and restaurants. This place is a strong reminiscent of the old districts of Kyoto and is undoubtedly, despite its small size, one of the most traditional places which remains in Tokyo.
It really is a miniature Gion (for those who visited Kyoto – full guide for Kyoto here)
We love getting lost in the many alleys in this area. Especially at night, with the dim light on the streets. The atmosphere is so unique to Tokyo. This is one of the best things to see in Kagurazaka.
Location: here
---
4. CHECK OUT GEISHA SHINDO ALLEY
The Geisha Shindo Alley, is another beautiful and narrow street in the district of Kagurazaka in Tokyo. It is said that the name comes from the fact that geisha used it as an escape from the crowded main street when moving to a restaurant, as the alley runs parallel from the main road.
However, unlike hide-and-seek alley and Hyogo alley, it has a modern style stone pavement, so it is somewhat less atmospheric.
Location: here
---
5. EXPLORE KAGURAZAKA MAIN STREET
On weekends, Kagurazaka's main street is closed to traffic, so you can wander the area from Iidabashi Station to Akagi-jinja Shrine. Along the way, take the time to stop at a café and the many trendy boutiques.
Make sure to venture inside the small streets as well, there you will find Michelin-starred kaiseiki restaurants, French patisseries and Italian pizzerias where a relaxed atmosphere reigns.
Shop for silky kimono, traditional cosmetics, handmade ceramics or rare vinyl records.
Location: here
---
6. EAT AT ONE OF THE MANY FRENCH RESTAURANTS IN KAGURAZAKA
Wandering through Kagurazaka, you will notice the many French restaurants there. Here are our favorite ones:
---
7. CHECK OUT CANAL CAFE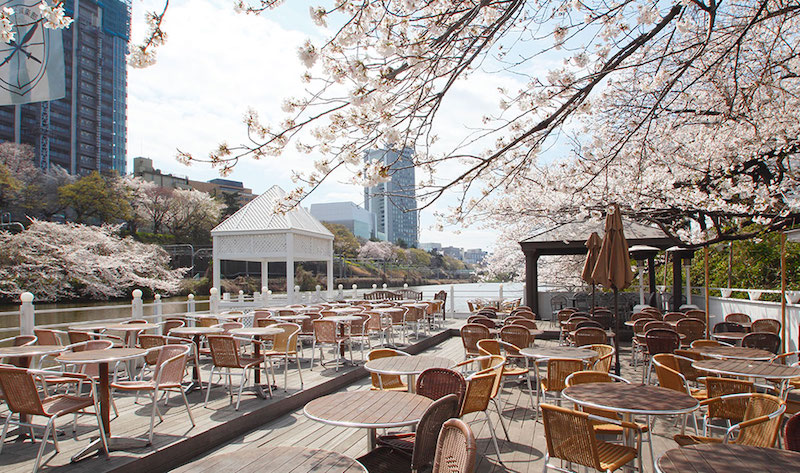 At the foot of Kagurazaka Hill, towards Iidabashi station, the Canal Café is worth a visit and one of the best things to see in Kagurazaka.
Located below the canal (formerly the moat of the Tokugawa castle), this cafe sets up its large terraces by the water when the weather. is nice. This place is quite unique in Tokyo.
A break at the Canal Cafe on a sunny day will almost make you forget you are in Japan, even though the cherry blossoms will be there in the spring to remind you of it.
Location: here
Website: here
---
8. RELAX AT KOISHIKAWA KORAKUEN GARDENS
Just a few minutes walk from Kagurazaka, you can visit Koishikawa Korakuen Gardens. Dreamed up by the Mito branch of the Tokugawa family at the start of the Edo period, the walk around the main pond is magnificent in all seasons and particularly in the fall for the contemplation of the red leaves of the maple trees.
Location: here
---
9. VISIT THE STUNNING TOKYO DAIJINGU TEMPLE
At night this is one of our favorite temple to visit in Tokyo: the Tokyo Daijingu Temple. This temple is located south from the river crossing Kagurazaka district.
This is one of Tokyo's most elegant shrine. This small picturesque shrine tucked away on a small road is one of Tokyo five major shrines.
Tokyo Daijingu and is very popular for young men and women wishing for successful marriage to visit and pray for good fortune. A lovely shrine, well worth a visit!
Location: here
---
10. VISIT AKAGI SHRINE
At the northwest end of the district, A little further up the Kagurazaka hill you will find a unique temple: Akagi Jinja.
Akagi Jinja was founded in 1300, but was completely renovated by the contemporary architect Kengo Kuma. Since 2010, the public can visit this Shinto shrine with its modern design combining wood and glass.
Location: here
---
OTHER THINGS TO SEE NEAR KAGURAZAKA
AMEYOKO SHOPPING STREET
Ameyoko is a popular shopping street, connecting the south exit of Ueno Station to Okachimachi Station on the JR Yamanote Line in the heart of Tokyo.
It is actually the contraction of Ameya Yokocho, literally "the alley of the candy shops". Today, there are food market stalls as well as various clothing and everyday goods stores.
It's a great street to visit if you are in Tokyo. Make sure to check out Marishiten Tokudaiji Temple in the same area.
To get there from Kagurazaka, simply take the Odeo Line from Lidabashi Station to Ueno-okachimachi Station.
Location: here
---
IMPERIAL PALACE
The Imperial Palace of Tokyo is located in the district of Chiyoda, right in the heart of Tokyo. Surrounded by its original moat, the complex houses the Emperor's current residence called Kokyo, as well as several parks, only some of which are open to the public.
A visit of the Imperial Palace while in Tokyo is a must!
At the beginning of the eponymous era, Emperor Meiji ordered the transfer of the capital from Kyoto to Tokyo; the imperial family then took up residence there.
To get there from Kagurazaka, simply take the Tozai Line from Lidabashi Station to Takebashi Station. From there you can walk to the imperial palace.
Location: here
---
HOW TO GET TO KAGURAZAKA?
As the neighborhood is actually concentrated around Kagurazaka-dori Street, it is possible to get there from either end of this road. To the northwest, the Kagurazaka station is a stopover on the Tozai line.
While in the southeast is Iidabashi station through which many lines pass, including:
JR lines: Chuo, Chuo-Sobu, Nikko-Kinugawa, Sazanami, Wakashio;
Tokyo Metro lines: Namboku, Oedo, Tozai, Yurakucho.
This second station is much easier to access and more friendly than Kagurazaka station.
---
IN CONCLUSION ABOUT THE BEST THINGS TO SEE IN KAGURAZAKA
If you are visiting Tokyo, we highly recommend spending an evening in Kagurazaka district to explore its traditional streets, its beautiful temple and great french restaurants.
This is actually one of our favorite neighbourhood in Tokyo. We love the traditional atmosphere and getting lost in the maze of little alleys full of restaurants.
We hope that you found this post useful. If you have any questions, feel free to write a comment below.
For more posts about Japan click here.
---
Related Posts
13 BEST DISTRICTS TO VISIT IN TOKYO: here
DISCOVER TSUKIJI OUTER FISH MARKET IN TOKYO: here
EXPLORE MONZEN-NAKACHO, A CHARMING NEIGHBORHOOD IN TOKYO: here
FUN THINGS TO SEE IN SHINJUKU: here
TOP THINGS TO DO IN SHIBUYA, TOKYO: here
15 INCREDIBLE THINGS TO SEE AT LAKE KAWAGUCHI: here
10 BEST THINGS TO SEE AROUND LAKE YAMANAKA: here
15 BEST THINGS TO SEE IN HAKONE (NEAR MT. FUJI): here
6 BEST SKI RESORTS IN HOKKAIDO: here
VISITING FURANO IN HOKKAIDO DURING WINTER: here
20 BEST THINGS TO SEE IN OTARU, HOKKAIDO, JAPAN: here
WHAT TO DO IN NISEKO, HOKKAIDO: here
OBUSE, A BEAUTIFUL TOWN IN JAPAN WORTH A VISIT: here
18 AWESOME THINGS TO SEE IN NOBORIBETSU ONSEN: here
FULL GUIDE FOR VISITING HAKUBA IN JAPAN: here