IS UDAWALAWE WORTH VISITING? YALA VS. UDAWALAWE? WHAT IS THE PRICE TO VISIT UDAWALAWE?
Udawalawe National Park is one of the best places to go on a safari in Sri Lanka! There, you are guaranteed to see many elephants, but also many other animals. Visiting Udawalawe is one of of the best things to do in Sri Lanka!
Out of 26 parks and reserves in Sri Lanka, Udawalawe occupies a special place. Here, the forest has given way to large expanses of dry land, reminiscent of the African savannah. For many years, slash-and-burn agriculture was practiced here, leading to its deforestation.
However, in the 1960s, a huge reservoir lake of more than 3,000 hectares was developed in the area. It immediately attracted abundant wildlife, especially elephants. This is how Udawalawe started.
In this post we listed all you need to know about your visit to Udawalawe. How to get to Udawalawe? How long to stay there? Where to stay near Udawalawe? How to book a safari in Udawalawe?
In order to protect the animals, the Sri Lankan State created the Udawalawe National Park in 1972. The population of elephants, inhabiting the 30,000 hectares, is estimated at nearly 500. These are not the only animals which you can observe in the national park. Indeed, there are about forty species of mammals and nearly 250 species of birds!
Udawalawe Park is one of the largest parks in Sri Lanka with 30.8 hectares.
Here is a glimpse of what Udawalawe looks like:
---
OUR RECOMMENDATIONS FOR VISITING UDAWALAWE NATIONAL PARK
The best time to visit Udawalawe Park
The two best times of day to go on a game drive in the park are early morning or late afternoon.
Afternoon tours tend to be less busy and you can watch the beautiful sunset inside the park. Our guide insisted to go on a morning safari, however we didn't feel like waking up super early as the Safari starts at 6:30am. So we went in the afternoon instead. We actually loved it and saw plenty of animals. So both options are ok in our opinion.
The park can be visited throughout the entire year, but you will have better conditions by coming during one of the two dry seasons: in February/March or between May and September. April, October and November are often very rainy.
What to bring during the safari?
Hat
Sunglasses
Suncream
Mosquito repellent
Bottle of water
The duration of a visit to Udawalawe Park
The safari usually lasts for 2 to 3 hours.
---
WHAT TO SEE DURING A SAFARI IN UDAWALAWE?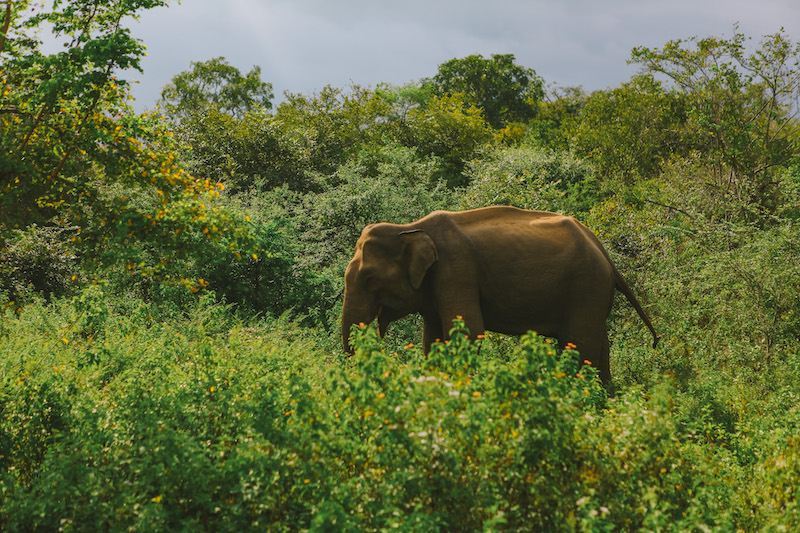 A diverse fauna
It is often to observe elephants that people go on a safari in Udawalawe. The park being relatively small and the number of elephants relatively high, you are sure to meet them during a safari in Udawalawe.
Elephants are not the only inhabitants of the place. In Udawalawe Park, you will also encounter:
Deer with a spotted coat: this is a species specific to Asia, for which there are still enough wooded areas here.
Leopard: about twenty of them are present in the park, often hidden among the tall grass. It is very rare to see them in Udawalawe. For seeing Leopard, the best chances are in Yala National Park.
River buffalo: they can be seen regularly coming to drink at the edge of the Walawe River.
Sloth: especially visible in early summer, when they come to feast on berries.
Crocodile: wild and impressive species that can be seen near water points.
The park is also a paradise for birdwatchers, as more than 250 species of birds fly over it. The peacocks and their colorful plumage feature prominently, along with the egret, the bee-eater, the sea eagle or the lapwing. They are accompanied in the sky by a multitude of large multicolored butterflies.
A refuge for abandoned elephants
Elephants do not always live in harmony with the people living in their territories. If they venture into cultivated areas, the owners are led to scare them away. In the panic, it happens that the little ones are injured or separated from the others and become vulnerable.
Others are orphaned by poaching.
In order to come to their aid, the Udawalawe Park has set up a transit point within its enclosure.
The baby elephants are treated there before being released. The Elephant Transit Home is open to visitors, especially at feeding time. Four times a day, visitors can see them being bottle-fed from a specially set-up platform.
---
HOW MUCH DOES IT COST TO DO A SAFAR IN UDAWALAWE PARK?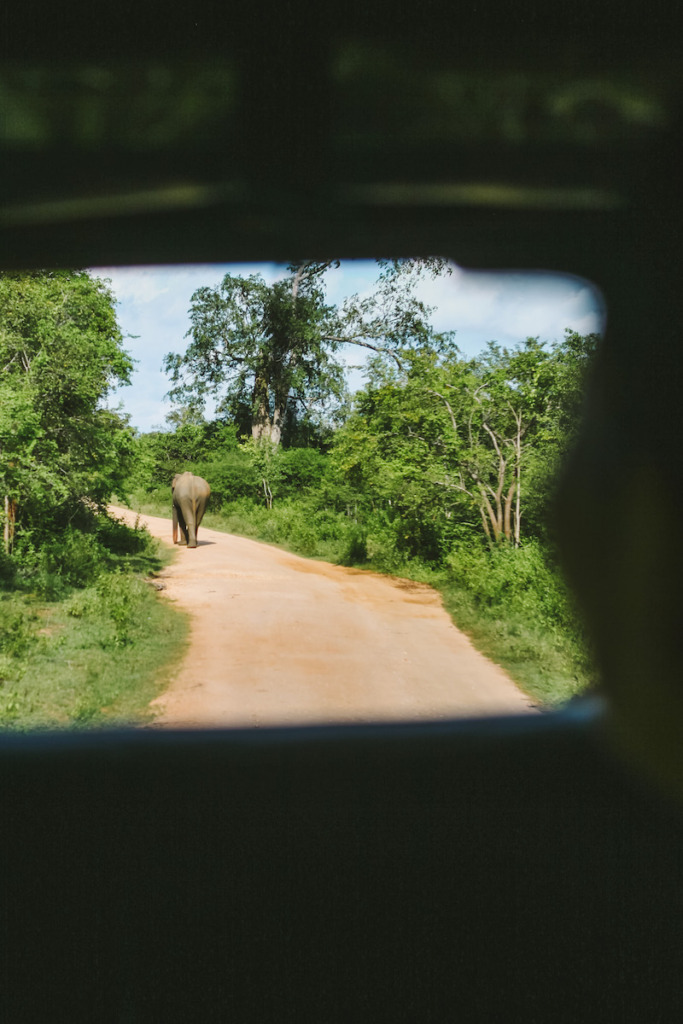 National Park Entrance Fee
The entrance is actually changing every now and then. The actual price is displayed at the entrance. Note that this price is not always included in the Safari tour which you book. Make sure to check beforehand to avoid any surprises…
At the time we went there, the entrance price was 14 € for adults, 7 € for children from 6 to 12 years old and free for children.
Price for a standard safari tour
On top of the entrance price, you need to pay for a Jeep at the entrance of the park:
For a 3 hours tour, the safari starts at 6:30am in the morning, or around 2-3 pm in the afternoon (more flexible in the afternoon as less people). Count around 30 € per person. This does not include the entrance fee of the park.
For a whole day: (picnic in the park included). Departure at 6 am from your hotel. Count around 100 € per person.
Note that all prices for these services include guide in English to help you spot the animals.
Is it highly recommended to book a safari tour in advance, especially if you are going in the morning. For cheaper price, at 25 € per person, you can book online here. Most hotels can also help you book your safari, but you will have to pay a little premium.
---
HOW TO GET TO UDAWALAWE NATIONAL PARK?
With a driver
As we were staying in Weligama, we took a driver. It took us 2 hours to reach Udawalawe National Park. The driver went with us during the Safari (we didn't have to pay extra). After we finished the Safari, our driver dropped us in Ella where we spent a few nights. We found this option to be very practical. You can book your driver here.
It is also possible to simply do book a day trip from Weligama or Ella with a private driver.
Public Bus
By bus, whether from the center or the south, take a bus in the direction of Thanamalwila. Along the way, ask to stop near the park entrance. The bus to Udawalawe do not run on a daily basis, and are not as frequent as other route, so make sure to check in advance about the timing.
---
UDAWALAWE PARK OPENING HOURS
The park is open daily, 6 a.m. to 6:30 p.m., with last entry at 4:30 p.m.
---
WHERE TO STAY NEAR UDAWALAWE NATIONAL PARK?
There are many nice options around the National Park. Here is a list of the most recommended hotels in Udawalawe National Park:
Jungle Paradise
This is a stunning place to stay near Udawalawe. Great value for money. From Jungle Paradise you can easily reach the National Park to start your Safari. Book here.
---
Mango Tree House
Mango Tree House is a fantastic hotel with lovely hosts. They can organise the Safari for you, so you don't have to worry about anything. The rooms are very cozy with beautiful outdoor showers. Check it out here.
---
UDAWALAWE VS. YALA
If you are planning a trip to Sri Lanka and want to go on a safari in the south of the country. You will inevitably ask yourself: is it better to choose Yala or in Udawalawe?
Having chosen Udawalawe, you already know our answer. The reasons for that are quite simple.
After discussing with many people we met during our travel in Sri Lanka, we always got a similar feedback. Yala is one of the most beautiful parks in the country, with exceptional wildlife and even leopards, but it is really overcrowded.
In Udawalawe, the chances of seeing leopards are close to 0, but the elephants are there in big number and above all there aren't that many people. At least during our safari in the afternoon, we only crossed a few other jeeps. And we loved it!
Yala welcomes several hundred jeeps every day. And only a very small part of Yala National Park is explored by jeeps on most safaris. Guides and travelers told us that there were traffic jams in the park, with sometimes unprofessional behavior from the guides (chasing animals in cars, disturbing wildlife, etc.).
In short, after hearing that, we felt much more comfortable going to Udawalawe.
---
WHAT ELSE TO SEE NEAR UDAWALAWE?
Near Udawalawe you can visit the stunning south coast of Sri Lanka with its countless stunning beaches but also many other interesting sights. Here are a few of the highlights in the south of Sri Lanka:
VISIT THE COLONIAL TOWN OF GALLE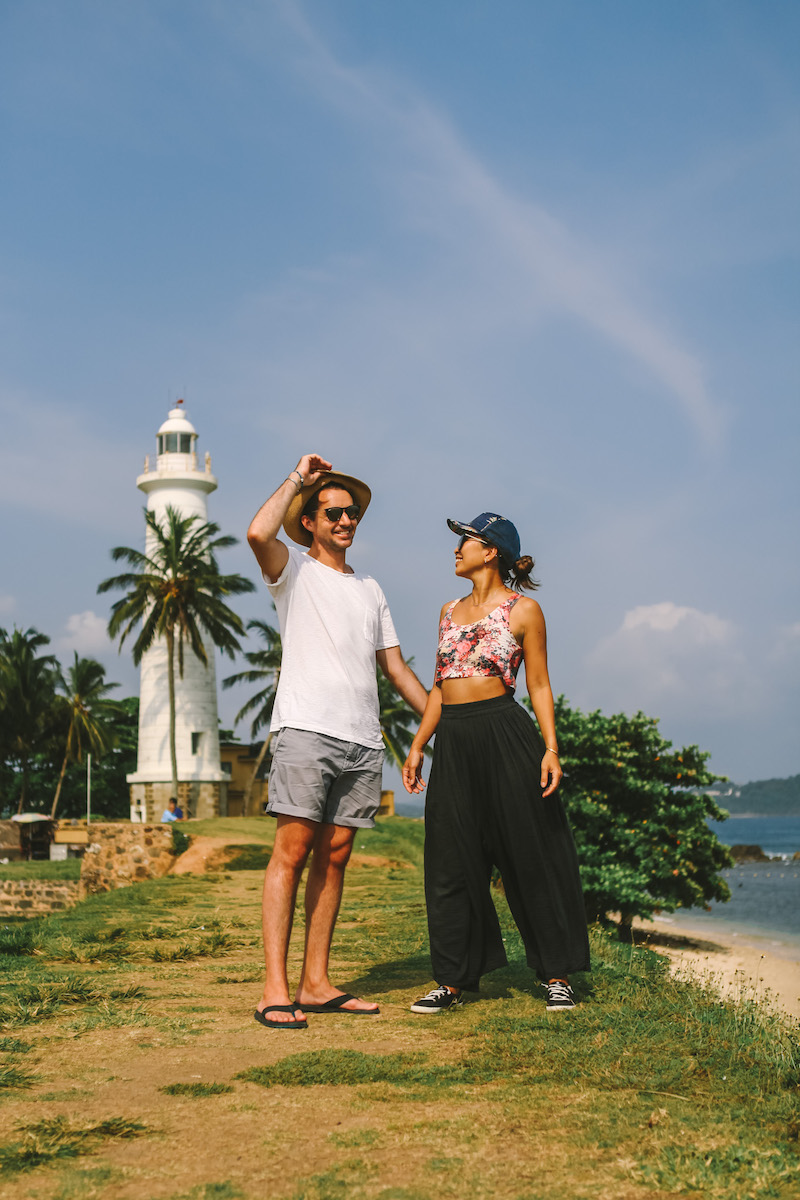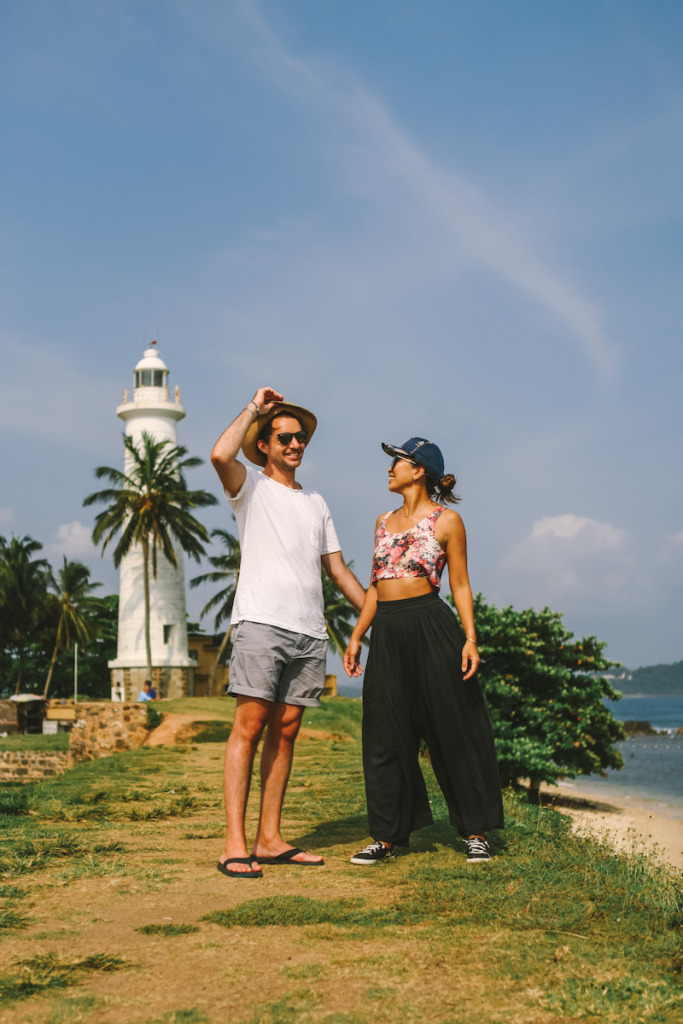 With its colonial style and its ramparts topped with bastions and a lighthouse, Galle contrasts with all the other cities of Sri Lanka: it was actually built by Portuguese, the Dutch and the English succeeding one another. Since 1988, it has been listed as a UNESCO World Heritage Site!
We absolutely loved our visit of Galle, full of contrasts, mixing European colonial style with Sri Lankan culture. Most of the main things to see in Galle, are located inside the Galle Fort, which is a part of the city surrounded by ramparts.
Location of Galle Fort: here
READ: 15 INCREDIBLE THINGS TO SEE IN GALLE
---
CHECK OUT THE STILT FISHERMEN AT KOGGALA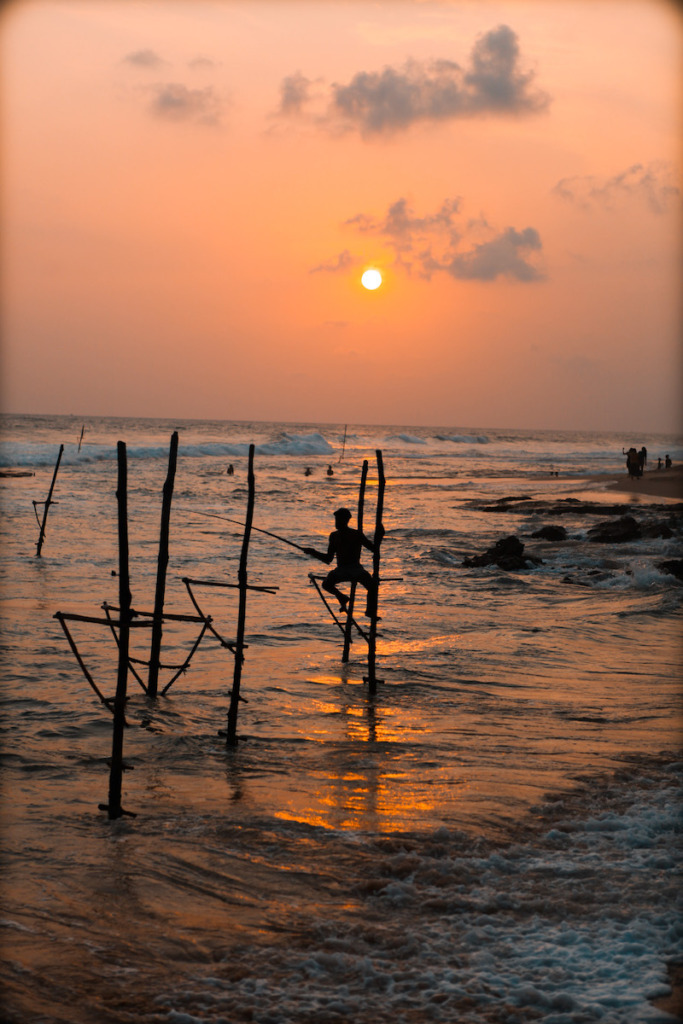 Head to Koggala to see something unique to Sri Lanka and the Galle Region: The stilt fishermen.
This is one of the best things to see in the south of Sri Lanka. At dawn or dusk, the fishermen, installed on large wooden poles, are catching fish above the water. You will see them mostly in the Galle region. As the waves are quite strong in this area, the fishermen came up with a different way of fishing for many years.
This tradition still exists today and it's unique to Sri Lanka and this region.
Location: here
---
TAKE ONE OF THE MOST INSTAGRAMMABLE SHOTS AT THE SWING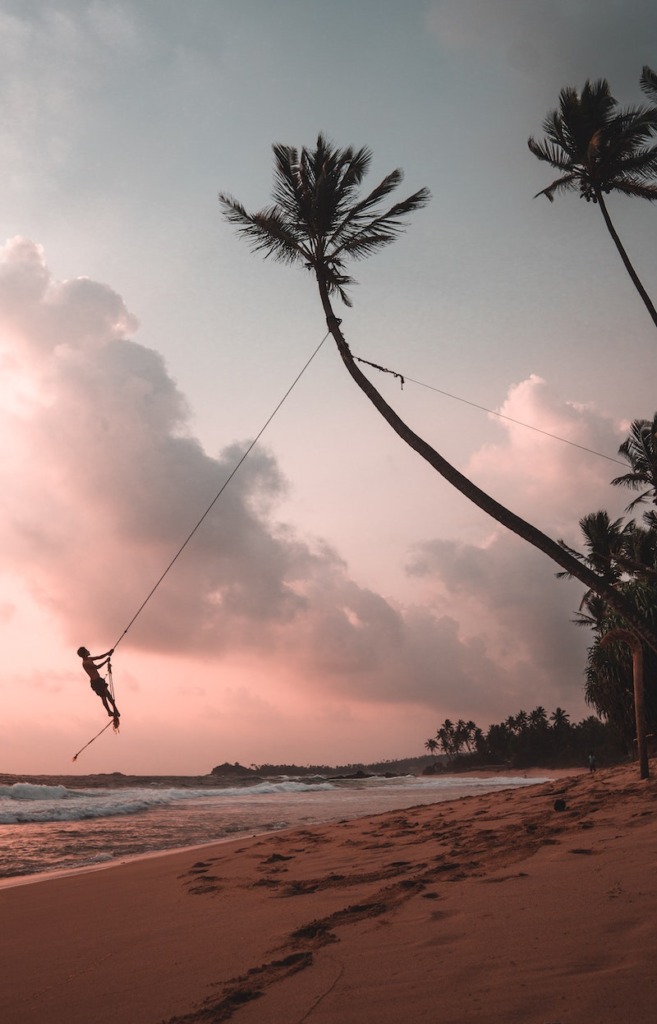 This place was made famous thanks to instagram. Here you can take a beautiful shot at sunset on a swing hang to a coconut tree.
The palm tree rope swing is located on Dalawella Beach. Today, it is one of the best things to see when traveling to Sri Lanka. This place is right in front of the Pearly's Dream cabana a chill place for a drink and food with a super friendly owner.
Location: here
---
SURF IN WELIGAMA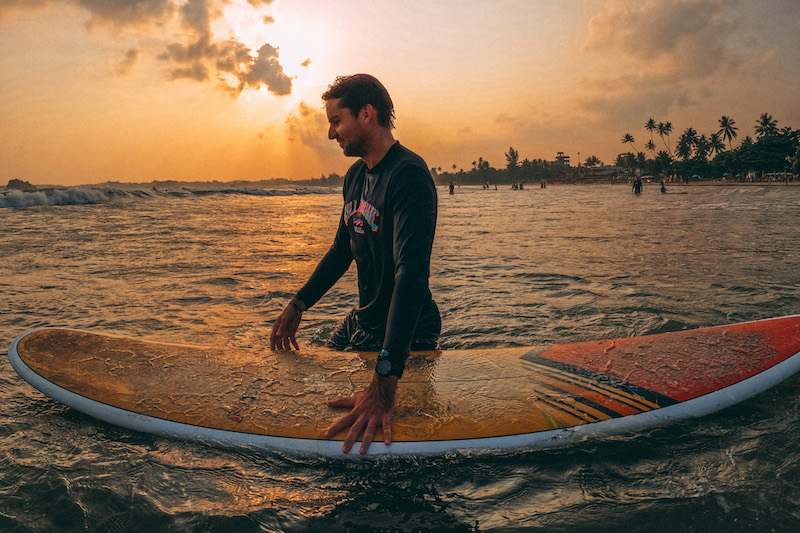 Weligama is a well known beach for beginners and intermediate surfers. This beach break is actually beautiful and a great place to learn surfing. There are many surf camps around Weligama.
During our stay in the south, we actually decided to stay in Weligama in a fantastic hotel by the beach: The Weligama Bay Resort. We highly recommend this place if you are staying in the south. Check it out here.
We chose Weligama not only for surfing, but because there are many cafes around, great restaurant and co-working spaces such as the Outpost. We used to hang out there a lot as they serve amazing food and awesome cocktails at night on their rooftop. Actually in the recent years, Weligama has become one of the hotspots for Digital Nomads (READ: 15 BEST CITIES FOR DIGITAL NOMADS).
Location: here
Weligama is one of our favorite places in Sri Lanka. Here we wrote the 10 best things do in Weligama.
---
GO WHALES WATCHING IN MIRISSA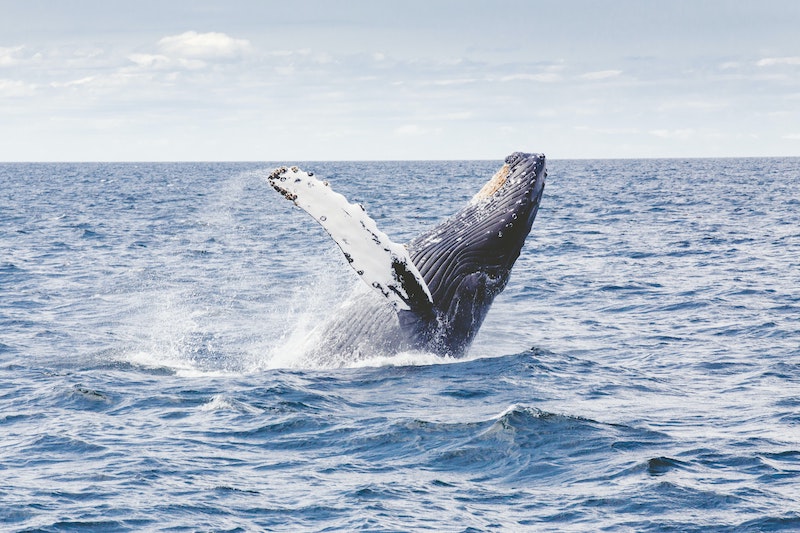 Beyond its great beach and hipster vibe, Mirissa is above all one of the few places where you can observe blue whales.
There are many companies offering whale watching tour all around Mirissa. You can also book your tour online here. The guides are usually very good and provide lots of explanations about the whales. In his approach, there is a real desire to educate the public and get them to understand whales a bit better.
You have to go offshore to see these blue giants. The chances of seeing whales are usually very high. But as always with mother nature, things are unpredictables, and there is always a possibility of not seeing them. However, if you get a chance to see a whale in the wild, this is an unforgettable experience and one of the best things to see in the south of Sri Lanka!
READ: 14 BEST THINGS TO SEE IN MIRISSA
For other things to visit in the south of Sri Lanka you can read this post: 20 BEST THINGS TO SEE IN THE SOUTH OF SRI LANKA
---
OUR FEEDBACK – IS UDAWALAWE NATIONAL PARK WORTH VISITING?
Udawalawe has a very particular landscape, a little air of "savannah" in Sri Lanka. It is very different to the rest of the country.
The Safari in Udawalawe is one of our highlights during our trip to Sri Lanka. We were particularly lucky, from the beginning of our safari and we were able to see many animals.
A magnificent flight of birds above the buffaloes bathing in the lake. Not far from there, crocodiles patiently waiting for their breakfast. Many lizards crossed the road in front of our jeep for our greatest pleasure.
But our most beautiful memory will remain all the elephants we saw. It's so beautiful to see these animals in the wild.
Udawalawe Park is one of the best things to see in Sri Lanka.
---
Related Posts
20 BEST THINGS TO SEE IN THE SOUTH OF SRI LANKA: here
A VISIT THE BEAUTIFUL TEA PLANTATION AT LIPTON'S SEAT NEAR ELLA: here
FULL GUIDE FOR HIKING LITTLE ADAM'S PEAK: here
20 AWESOME THINGS TO SEE IN ELLA: here
ELLA-KANDY, THE MOST EPIC TRAIN RIDE IN SRI LANKA: here
10 AWESOME THINGS TO SEE IN KANDY: here
FULL GUIDE FOR VISITING THE NINE ARCHES BRIDGE: here
10 BEST THINGS TO DO IN WELIGAMA: here
14 AWESOME THINGS TO SEE IN MIRISSA: here
15 THINGS TO SEE IN GALLE: here
KANDY ROYAL BOTANICAL GARDEN: here
15 BEST PLACES FOR DIGITAL NOMADS: here