In this post we share with you our favorite parks in Seoul, for a beautiful escape in the nature during all seasons.
Seoul is an urban jungle. Concrete, homes, shops and skyscrapers are stretched out over an area of approximately 605 km2. Yet in the midst of this ocean of buildings and vehicles hide some unexpected pieces of gorgeous nature: parks scattered across the city.
Whether they are tucked away in the bend of a street, perched on top of a mountain, or along the Han River, each offers its share of activities and secrets to discover.
In Seoul's parks, you can relax in the nature, see animals, visit museums, have a picnic, or just lie on a mat and chill. It can also be an amazing way to socialize with people or watch herds of Koreans having fun with their families and friends.
---
1. Namsan Park
Namsan Park is one of the most easily accessible parks in Seoul that every visitor must see when coming to the city. This park is located on the mountainside of Namsan. Here you can take a walk through beautiful paths that run around the mountain. At the top of Namsan, you can visit the famous Namsan Tower. The paths to reach the peak are fairly easy to navigate and well maintained. Although reaching the top of the mountain can take up to an hour, you will surely enjoy the gorgeous walk and view of the city.
We wrote a full post about Namsan Park here, check it out if you plan to visit.
---
2. Yeouido Park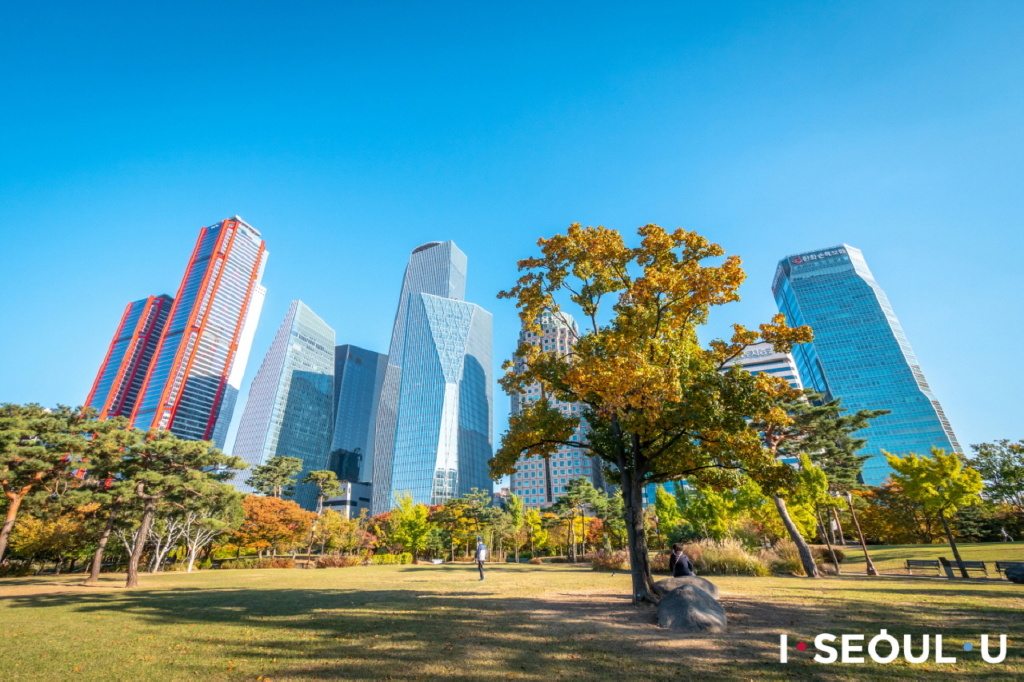 This Park is one of Seoul's most popular parks.
Yeouido is known to house the political, audiovisual, financial and banking world. However, when it comes to Yeouido Park, it is the most accessible park with public transportation.
In spring, visiting this park can amaze you with the popular Yeouido Cherry Blossom Festival. Also, it can be a great opportunity for you to set up a camp here. Most Koreans would place mats and tents here and order deliveries to the park. It's amazing that you can get any type of delivery food in an outdoor park! It is one of Korean favorite activities in spring and fall.
Don't miss watching the sunset at Yeouido Park, it is a breathtaking sight.
---
3. Ttukseom Park
Ttukseom Park is our personal favorite park in Seoul.
If like us, you enjoy water sports this is the ultimate place to go in Seoul. Windsurf, Foil, Kiteboard, wakeboard, waterski, paddle boat, SUP, you can do pretty much anything. Here you can book your SUP rental + lesson.
On top of that, Ttukseom has one of the biggest skatepark in Seoul. In winter you can enjoy sledding on fake snow, and in summer there is also one of the biggest outdoor swimming pool.
But that's not it, Ttukseom park also offers crickets, basketball courts, flowers parks, water fountains and so much more. If you are staying in Seoul, make sure to check out this awesome park.
---
4. Seoul Forest
It is said that Seoul Forest took its inspiration from New York Central Park. Seoul Forest is also on the top of our list of best parks in Seoul.
You can easily spend a day there without getting bored, as there is so much to see. For instance, take a tour of the greenhouses that house insects, plants and butterflies; discover the deer enclosure; take advantage of the tennis courts and table tennis; rent a bike; ride your scooter at the skatepark; or simply have a picnic near the lake.
Seoul Forest is a beautiful place in Seoul, which we highly recommend to visit. Beside the park itself, also check out the very cute neighborhood behind the park, filled with great cafes, restaurants and shops. We love this area!
We wrote a full post about Seoul Forest here for more details.
---
5. Haneul Park
This park used to be a dumping ground, but now the whole site has been decorated in a beautiful way to overcome its shameful past. Haneul park aims to stay natural and harness natural wind energy with five large wind turbines. It also contains some man-made art structures.
Haneul Park is most beautiful in October, when waves of golden grass from Eulalia fill the fields and the other flowers add beauty to the park in different shades of pink. There are several photo areas. Be sure to capture yourself on one of the benches that surround the edge of the park to see a perfect Seoul view especially at sunset.
Before heading to the park, keep in mind that there are no shops up there, so it's always a good idea to pack some drinks and snacks.
---
6. Ichon Hangang Park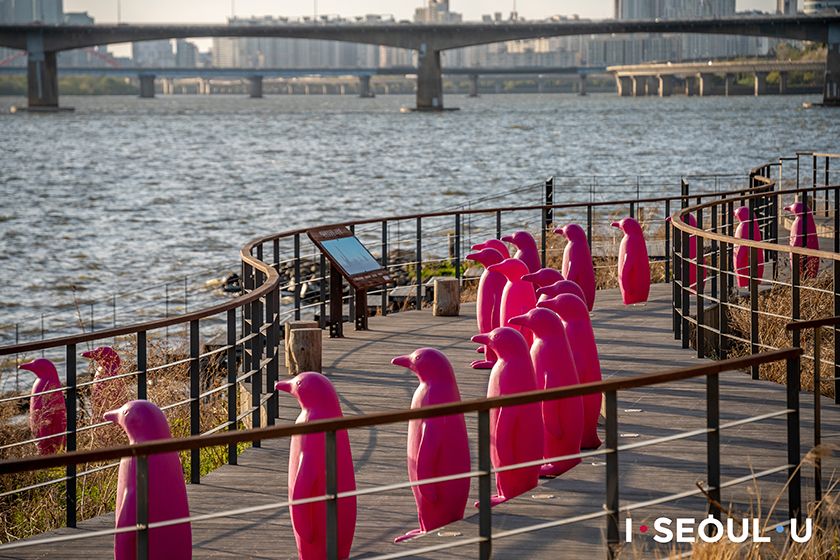 Ichon Hangang Park is located on the north bank of the Han River, between the Jungrangcheon and Wonhyo bridges.
Within the park you will find the "Teen Square", the "X-Game Center", a rollerblading track, basketball courts as well as a tennis court. In addition, there is are many art pieces along the park, like the famous pink penguins.
There are plenty of other things to see and enjoy such as the nature discovery center, water sports, the football course and Nodleseom Island.
We usually go to Ichon park to enjoy wakesurfing at SEVEN Ski center. For more ideas on activities during summer in Seoul, check out this post.
---
7. Olympic Park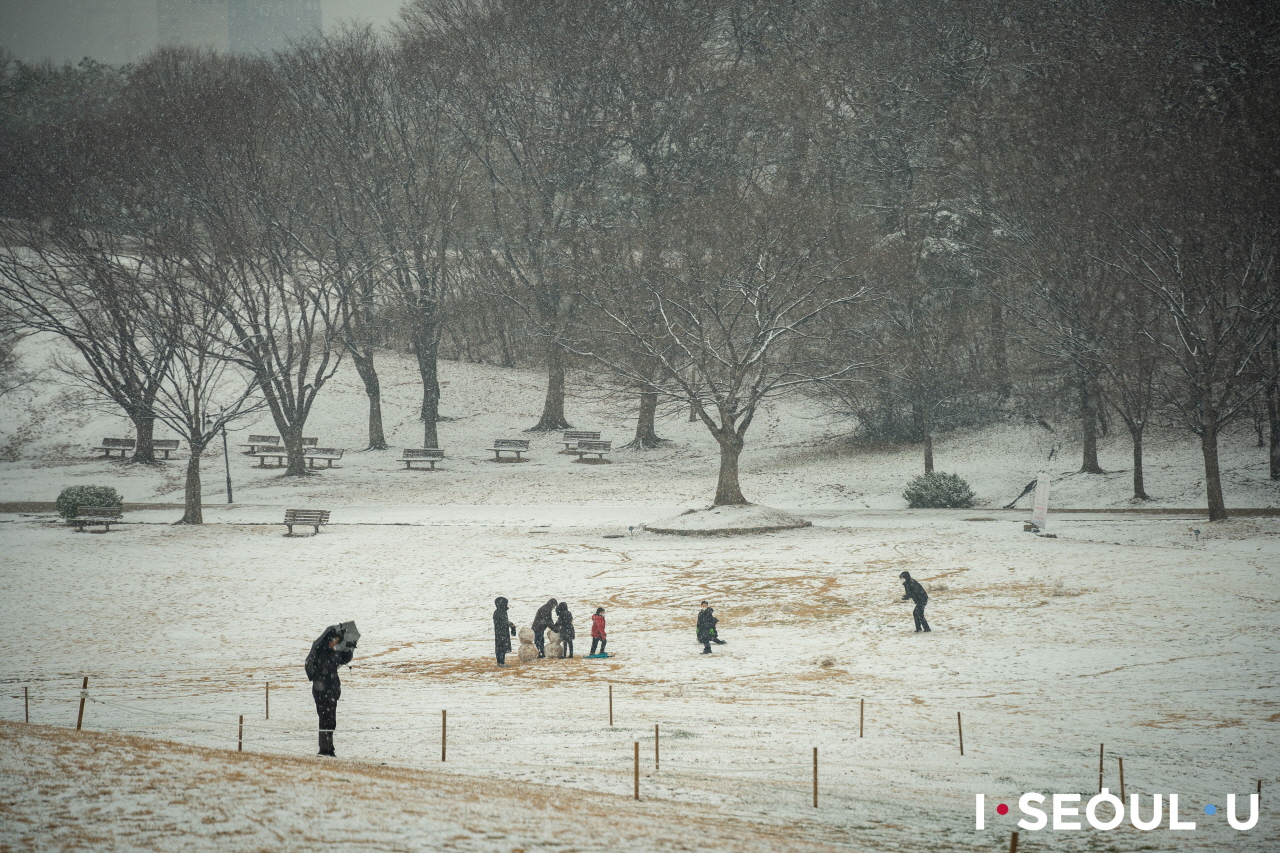 The Olympic Park is an icon of the Seoul 1988 Olympic Games. This beautiful park contains an abundance of sculptures and other permanent works of art on display in memory of this global sporting event. While inside the park, you can also find the fascinating Mongchontoseong, which is an ancient earthen rampart dating back to the kingdom of Baekje. In addition, it can be an amazing opportunity to have a wonderful inline skating or cycling experience.
Several gymnasiums and sizeable plazas in the park are some of Seoul's most popular venues for sporting events and music concerts. With 1,421,494 m² of floor space, this magnificent park combines an beautiful natural environment with various art exhibitions and makes it a magnificent and privileged place to shoot films, photographs and television shows.
---
8. Gyeongchun Line Forest Park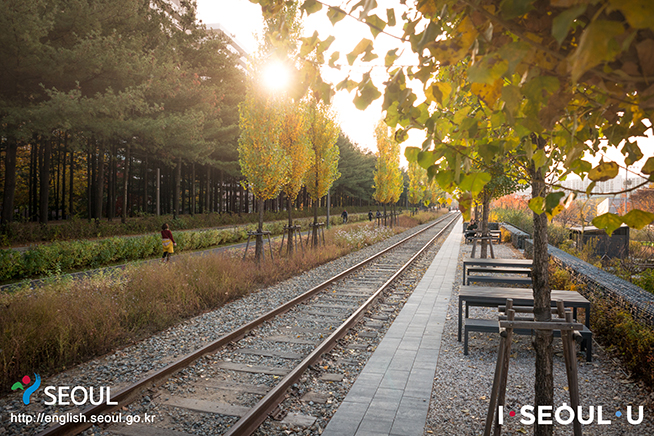 Gyeongchun Line Forest Park is another one of our favorite parks in Seoul. This one is a bit different than the others. Indeed, it used to be a railway line crossing the city. But it went through major restoration to become a natural park. The area is now really picturesque. It is a pleasant way to enjoy a walk in the city but feel like you are in a forest. There is also the Jungnangcheon Stream which flows under the railway.
Several additions were also made to the railway so that its pedestrian paths, elevators and observatories would connect to the foot paths and bike trails that run along the stream.
---
9. Banpo Park
Banpo Park is one of the best place to see the city at night. It is also the most popular park to hang out at night and enjoy food and drinks with your friends.
At Banpo Park there are many convenient stores selling all sorts of food and drinks as well as fireworks and other fun things. For a full Korean experience, order Chi-maek, which means Korean fried chicken and beer. This is the best place to view the beautiful two-tier Banpo Bridge, which is a famous place to enjoy the Moonlight Rainbow Fountain.
---
10. Yongsan Family Park
Yongsan Family Park is adjacent to the National Museum of Korea. The park provides a lively and charming place to cool off after taking exhibits at the National Museum of Korea. Here there are picnic chairs, tables and a huge space to spread out a mat to relax.
There are many convenience stores in the park to buy all sorts of snacks and beverages. Yongsan Family Park also contains a beautiful garden and a gorgeous pond with artificial waterfall and plenty of flowers. Visiting this park on a beautiful day is one of our favorite things to do in Seoul.
---
Conclusion
As Seoul can be a very busy city, it is nice to enjoy some of its beautiful natural parks. We especially enjoy hanging at the Han River in on of the Hangang River Parks such as Ttukseom or Ichon park.
We wrote many others posts about Korea and Seoul, you can check them all here.
Leave a comment if you found the information useful or if you have any question.
Photo by Seoul Metropolitan Government/Penta Press
---
Links to related articles
SEOUL FOREST, one of our favorite park in Seoul: here
NAMSANGOL a beautiful Hanok Village in Seoul here
SEOUL: Full guide for the best things to do in the city: here
SOUTH KOREA: best things to do in South Korea: here
JEJU the Hawaii of Asia: here
ADVENTURES: top adventures within 1h from Seoul: here
EAST COAST: best things to do near Gangneung: here
SUMMER in Korea, best activities: here
EUNPYEONG Hanok Village: here
NAMDAEMUN MARKET in Seoul: here
IHWA Mural village in Seoul: here
IKSEON-DONG the cutest area of Seoul: here
SEOULLO 7017 urban architecture: here