El Cotillo, in Fuerteventura, is one of the most beautiful coastal villages of the Canary Islands. However, it remains a secret for most visitors. Among its treasures you will find its marvellous coves of white sand, charming village with great restaurants, and ideal beaches for surfing. Of course, it also has historical monuments for those who are more into the cultural aspects.
In this guide, we listed all you need to know to prepare your visit to El Cotillo.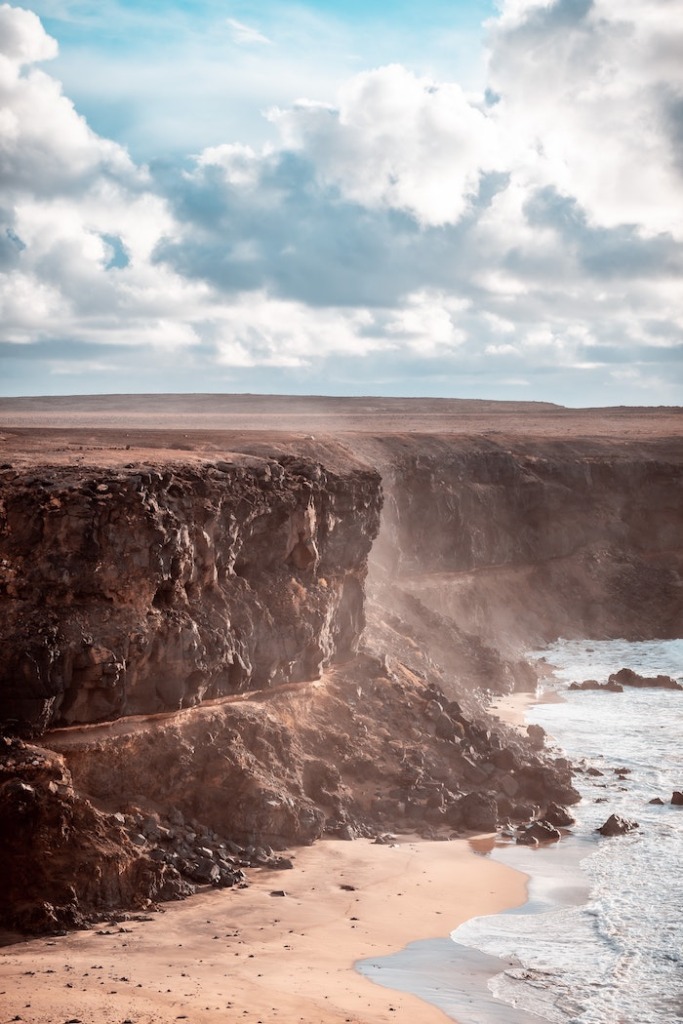 El Cotillo is a small village of fishing tradition and of great charm, full of tranquility, not as overcrowded as the main resorts of Corralejo. For this reason, El Cotillo is also a nice place to stay during your holiday in Fuerteventura if you want something more quiet.
---
Explore the village of El Cotillo
Wandering through the village is one of the best things to do in El Cotillo besides its amazing beaches. You can see how it has preserved its fishing tradition over the years: from its small harbor filled with colourful boats, to the wharf filled with seafood restaurants.
Every day, the fishermen unload the fishes freshly caught, which are then prepared by the many restaurants. Make sure to check out one of them during your visit to El Cotillo.
As for the traditional dishes of El Cotillo, the puchero canario (Canarian stew) and papas arrugadas with mojo sauce are very popular. Our personal favorite is the grilled grouper served with the Canary potatoes.
What is also interesting to see in the El Cotillo, are all the white houses with blue doors. There are also many murals with maritime design that transform El Cotillo into an open-air museum.
---
Visit the beautiful beaches of El Cotillo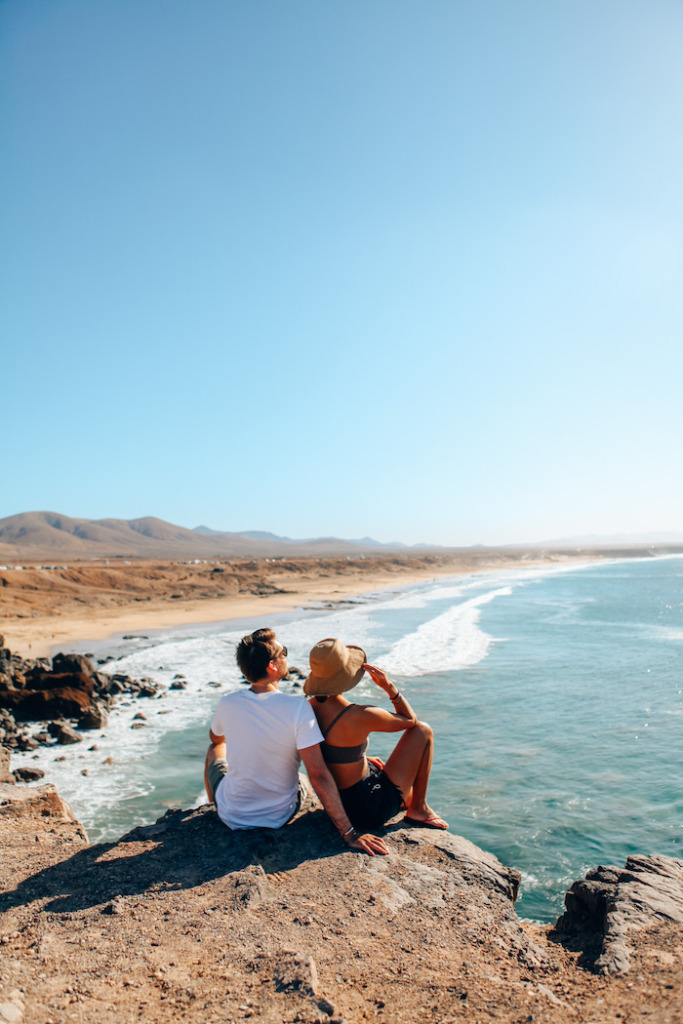 One of the best-known beaches in El Cotillo is Piedra Playa, also known as Aljibe de la Cueva beach. Its waves make it popular with water sports enthusiasts such as surfing and kitesurfing. The access is somewhat difficult, but it is worth it to enjoy this beautiful beach (one of our favorite in Fuerteventura).
BOOK: surf lessons in El Cotillo
If you are looking for a real natural paradise, there is a group of coves called Los Lagos with white sand and crystal clear waters, which allows you to snorkel. They are very calm waters, since there is a natural reef that surrounds them and protects them from the waves.
The same goes for Los Charcos, which is another set of coves, but this time with the added attraction that from there you can see the Tostón lighthouse. Finally, El Caletón is also ideal for scuba diving thanks to its varied marine life. However, it is best to go at high tide so that the volcanic rocks do not make it difficult to enter the sea.
Finally, next to Los Lagos is La Concha Beach, one of the most famous beaches in El Cotillo. Its sand is extremely fine, its water completely transparent and its location is privileged due to its proximity to several restaurants where you can taste the local gastronomy. Other beaches that can be enjoyed in El Cotillo are Águila and Escaleras beaches.
READ: 10 best beaches in Fuerteventura
---
Historical places to visit in El Cotillo
One of the most famous monuments in El Cotillo is the Tostón lighthouse (location). It was built in the 19th century to mark the Strait of Bocaina, which is the strait between the islands of Fuerteventura and Lanzarote. It is still in operation and houses the traditional fishing museum (website). For a good sunset, this place is perfect, as it combines the sea, the coves and the lighthouse in one panoramic view.
The Tostón Castle (location), which bears the same name, was built in the 18th century to protect the city from attacks from North Africa, English and the French. Indeed, the island of Fuerteventura was a strategic point for the trade in cereals, livestock and cochineal. This fortress is a large-diameter circular tower made of gray lava stone.
Finally, you can also see the Nuestra Señora del Buen Viaje Church (location), which is the patron saint of El Cotillo. It is a small 17th century sanctuary whose virgin takes part in two processions during the year. In one of them, the Virgin is transported in decorated boats while remembering those who died at sea.
---
WHERE TO STAY IN EL COTILLO?
In El Cotillo you will find quieter places compared to Corralejo. Staying in El Cotillo is also a great location and good starting point to visit Fuerteventura. Here are a few recommended hotels based on our explorations:
Cotillo House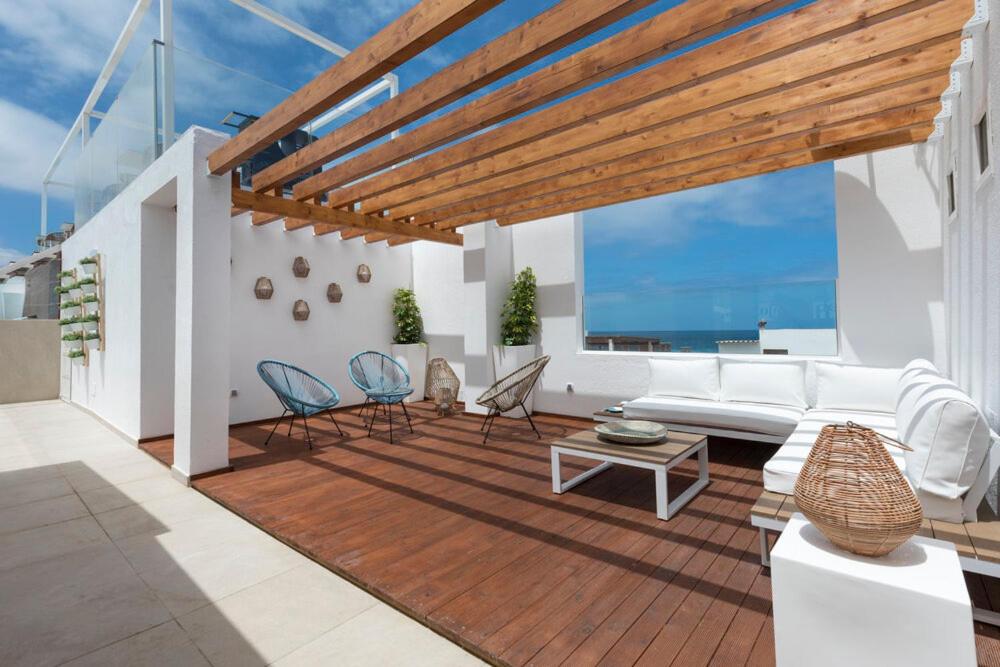 If you want a modern yet cosy place to stay with an amazing rooftop pool, then without a doubt Cotillo House is the place for you. Besides, the hotel is located just a few minutes walk from the beach. In 1 word: PERFECT ! Check it out here.
El Hotelito del Cotillo
For the most charming boutique hotel in El Cotillo, book a stay at El Hotelito del Cotillo. This cute place is located just a few minutes from the beach. If you are looking for a place to disconnect and relax, this is it! Check out more photos here.
READ: BEST PLACES TO STAY IN FUERTEVENTURA, FULL GUIDE
---
In conclusion about El Cotillo
El Cotillo is a perfect destination to enjoy the tranquility, the beautiful coves and its rich gastronomy. Without a doubt, a place that everyone should discover on a trip to the Canary Islands.
If you are preparing for your trip to Fuerteventura, you can check out our full guide here. We listed the 25 best things to do on the island.
All our posts about the Canary Islands can be found here.
HAPPY TRAVELS!
---
Related Posts
BEST THINGS to see in Fuerteventura: here
OASIS PARK in Fuerteventura: here
COFETE, the best beach in Fuerteventura: here
HIKING CALDERON HONDO in Fuerteventura: here
BEST HIKES in Fuerteventura: here
BEST PLACES to stay in Fuerteventura: here
OASIS PARK in Fuerteventura: here
DISCOVER CORRALEJO NATURAL PARK: here
THINGS TO DO in Corralejo: here
BEST TIME to visit Fuerteventura: here
BEST BEACHES in Fuerteventura: here
25 BEST THINGS to see in Lanzarote: here
10 REASONS WHY YOU SHOULD VISIT FUERTEVENTURA: here