IS GARACHICO WORTH VISITING? IS GARACHICO NICE? WHAT TO SEE IN GARACHICO?
Garachico is a charming seaside village located in the north of Tenerife. It is one of the best places to visit in Tenerife.
Garachico was the main port of Tenerife until an immense volcanic eruption in 1706 destroyed the town almost entirely. Near the port, you can see the castle of San Miguel dating from the 16th century which is the only building to survive the lava flow.
"Garachico, a charming seaside village in Tenerife"
Since the eruption, the village has been rebuilt with a traditional architecture of the Canary Islands, which makes Garachico one of the best places to visit in Tenerife.
For more info about Tenerife, you can also read the 25 BEST THINGS TO SEE IN TENERIFE.
Are you planning a trip to Tenerife and wonder if you should add Garachico to your list of things to see? The clear is answer is YES, you should! This is clearly one of the prettiest town in Tenerife.
A glimpse of what Garachico in Tenerife looks like:
Here you will find top things to do, places to visit, tourist attractions, great ideas and important information, which will help you make your visit to Garachico memorable!
---
Best things to see in Garachico?
1. Start with the sculpture of Puerta sin Puerta
The first thing we saw in Garachico was these modern structure right by the coast. They were located right next to where we parked (here is the parking).
This work of art is in fact composed of two parts: two minimalist doors in Carrara marble. It was made by a Japanese artist, Kan Yasuda, who lived in Italy precisely near the Carrara marble quarries. An amusing story surrounds this work.
Originally, it wasn't supposed to be here. The sculpture should have been installed in Santa Cruz, but the mayor refused.
The work remained packed for more than a year before a new location was found for it. Today, these two doors echo the door of the old port destroyed by the lava flow of 1706. This the sculpture has finally found a meaningful place to be installed.
---
2. San Miguel Castle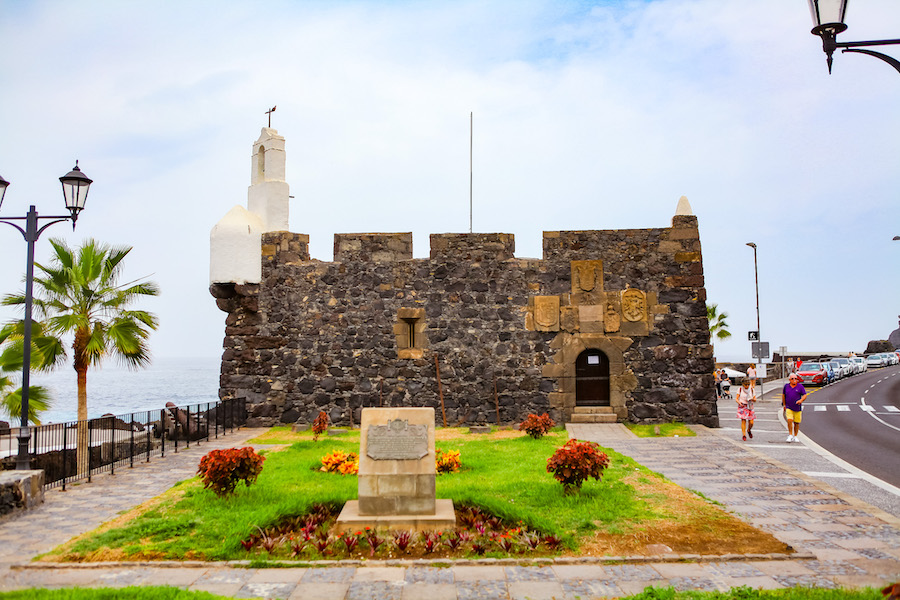 Right by the sea when you continue your walk from Puerta sin Puerta, you will immediately see the Castle of San Miguel (1577), a fine example of defensive architecture on the island of Tenerife.
After the conquest in order to defend population groups against attacks by pirates and corsairs, small castles such as San Miguel were built in Tenerife.
Pirates such as the famous Francis Drake attacked the island of Tenerife in order to steal wine for their journeys to the Strait of Magellan and the coasts of Peru.
San Miguel Castle was built by the sea, to prevent attacks on Garachico and to protect ships on the American route, the voyage to the Indies. It is very well preserved and gives a very picturesque touch to the coastal promenade of Garachico.
---
3. Natural pools of El Caletón, one of the best things to see in Garachico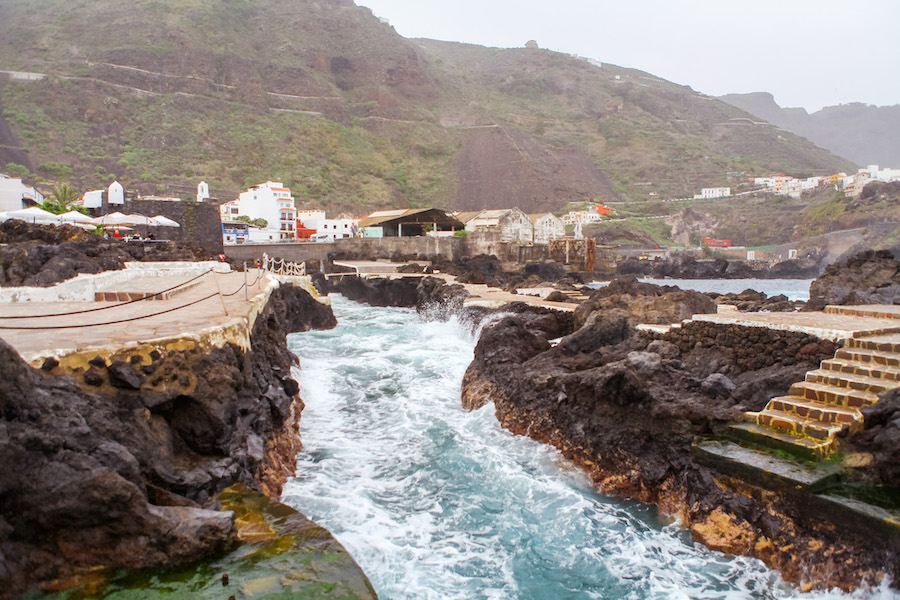 In summer, it is one of the best places to visit in Garachico, where you can cool off in a truly authentic setting. Behind the castle of San Miguel are the natural pools of Garachico, El Caletón.
Take one of the paths located on either side of the castle to reach this set of natural pools formed inside volcanic lava flows. When the tide rises, they fill with water, making them the most characteristic bathing area in the municipality.
Location: here
---
4. Check out Roque de Garachico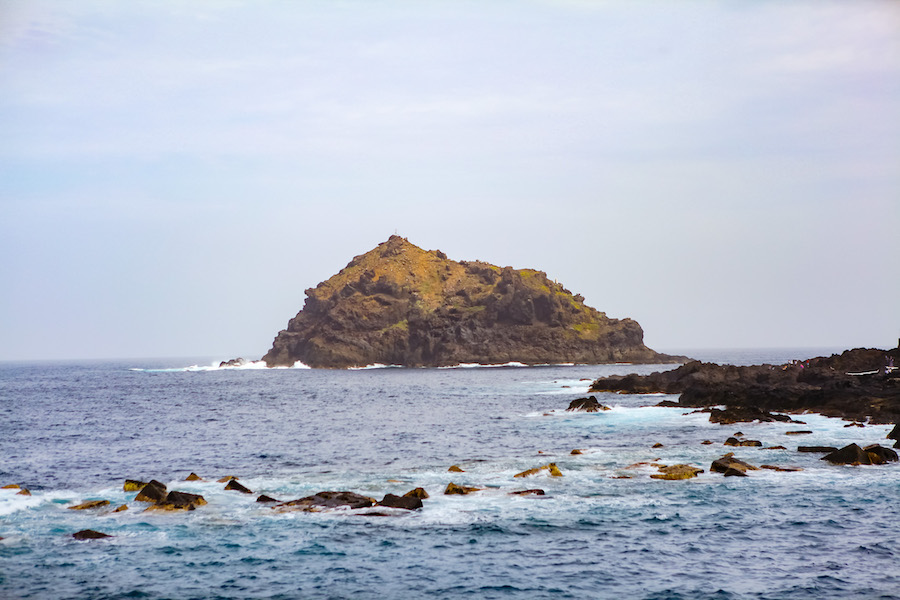 Less than 300 meters off Garachico, you can also admire the Roque de Garachico. Only a few species inhabit this small island.
From the natural pool you have the perfect view to Roque de Garachico. On the day we visited Garachico the sea was really rough. It was actually beautiful to see huge waves crushing against this small island.
---
5. Tobacco Arturo, the old cigar factory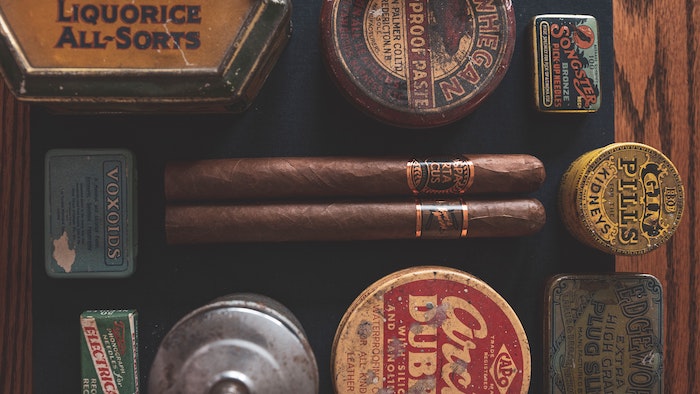 This museum and shop presents the manufacture of Canarian cigars, a know-how transmitted by emigrants from the Americas. The short visit is free. However, like Cuban cigars, Canarian cigars are not cheap.
Location: here
---
6. Plaza de la Libertad
Continue your visit of Garachico at the Plaza de la Libertad, the heart of the town. Around this square, you will find some of the oldest and most interesting buildings in Garachico.
The former convent of San Francisco de Asís, now Casa de la Cultura, the town hall de Garachico, the old Casa-Palacio de los Condes de La Gomera, Iglesia Nuestra Seńora de Los Angeles and the Iglesia Matriz de Santa Ana, the most important religious building in Garachico.
In the center of the Plaza de la Libertad there is a small kiosk with a café where you can have enjoy a coffee and small treats. For us we opted for a barraquito, this traditional Canarian coffee with liquor and lemon inside. A must try!
Location: here
---
7. Church of Santa Ana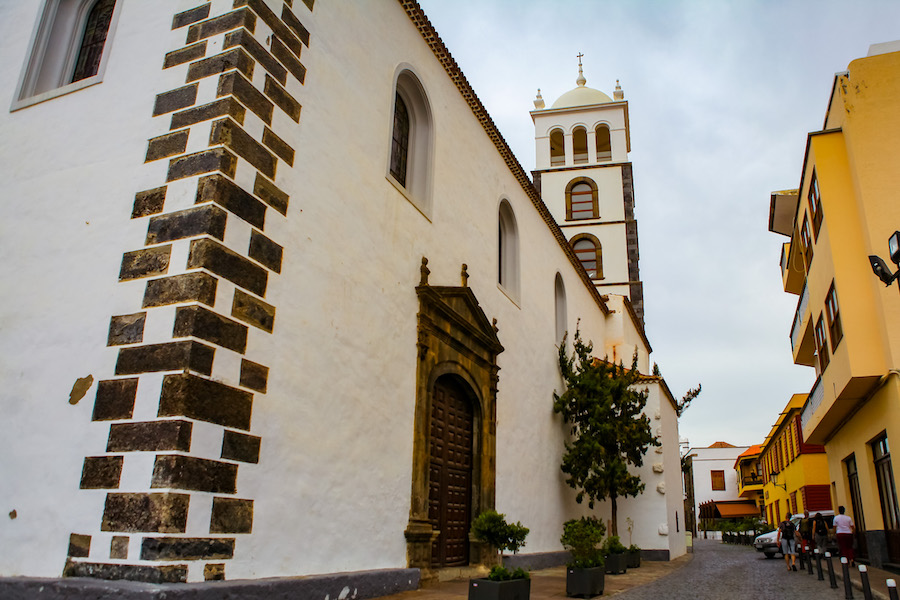 The Iglesia Matriz de Santa Ana is the largest and most important church in the municipality. It is also one of the most characteristic examples of religious architecture on the island.
On the main altar we find the figures of Santa Anna and Santa Joachim, parents of the Blessed Virgin Mary and grandparents of Jesus Christ.
The eruption of 1706 badly damaged the church. However its original foundations were used for its reconstruction.
Location: here
---
8. The Puerta de Tierra
Puerta de Tierra is perhaps the most important place to visit in Garachico. Today it is a park which is worth a visit. However, this area commemorates the old entrance and exit gate for the trade of goods before the eruption in 1706. It is therefore very symbolic.
Inside the Parque de la Puerta de Tierra, there is a small garden, a grape press and a bust of Rafael Alberti. The Spanish poet visited Garachico in 1991. Today a small "Poets' Corner" was created in his honor.
Location: here
---
9. Hermitage of San Roque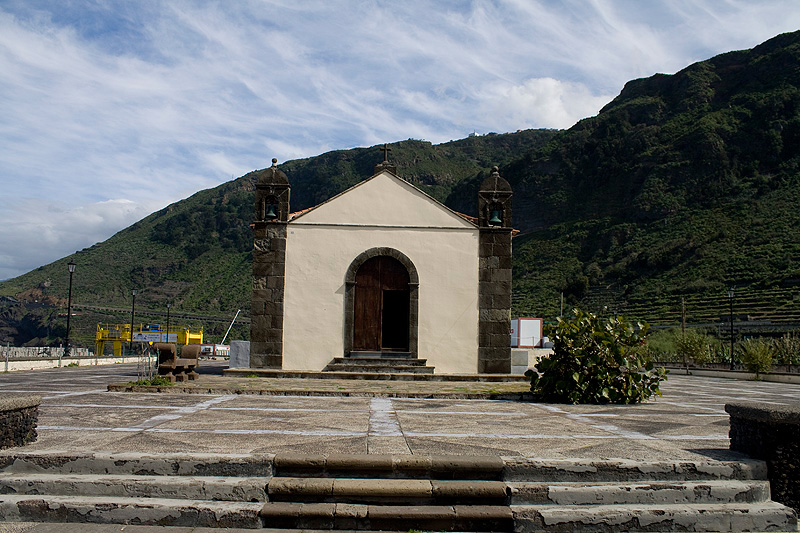 San Roque's devotees built this hermitage in the early 17th century, right after the volcano struck Garachico.
Every year on August 16, the Feast of San Roque is celebrated and the exterior of this small hermitage is filled with flags of different colors. The festivities are in honor of Garachico's patron saint, San Roque.
Location: here
Website: here
---
10. Monument of the Wine Mutiny
The last thing to see in Garachico is the Wine Mutiny Momument "Motín del Vino". It refers to the "spill of wine". Indeed, in 1666, the winemakers of Tenerife were very upset against the abuses of the English monopoly on the exploitation of wine.
Tired of this situation, the winemakers raided the cellars of Villa de Garachico and broke the barrels. A river of wine then flowed through the city.
The sculpture shows a man carrying a wine barrel in his arms, his right foot resting on another wine barrel which appears to be broken. Below the figure is the prow of a ship and below it is written "One night in 1666, torrents of wine flowed in Garachico".
Location: here
Website: here
---
How to visit Garachico?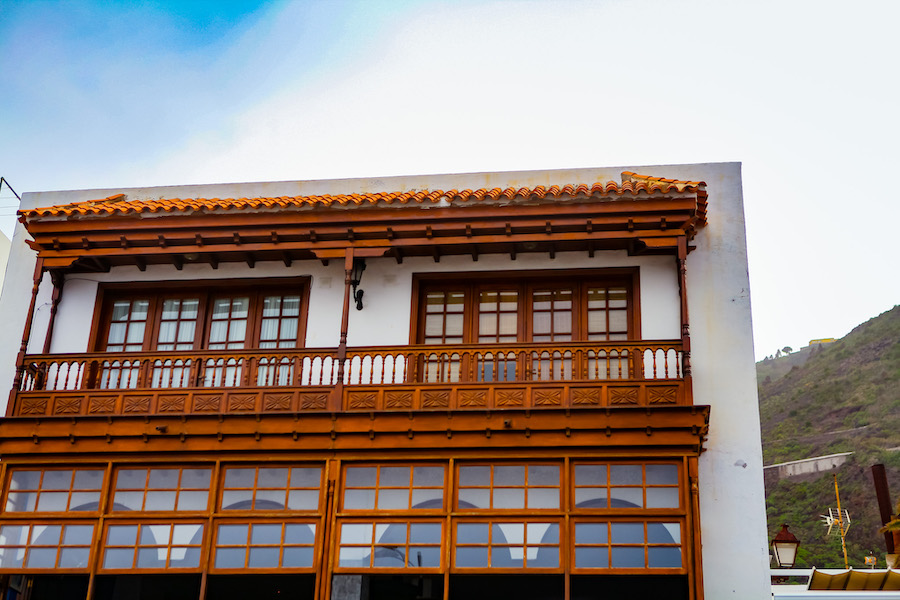 Garachico can be visited in a couple of hours. Although if you want to swim in the natural pools, then you can easily spend a day in this town.
Garachico is a very colorful place. On foot you will discover beautiful houses with their wooden balconies and Canarian pine windows… most of them are very well preserved. The colonial architecture is one of the interesting aspects of Garachico.
It is not difficult to find most places, without a map.
READ: BEST TIME TO VISIT TENERIFE
---
How to get to Garachico?
Getting to Garachico is easy especially if you are staying in Puerto de la Cruz.
By car from Puerto de la Cruz you can first make a short stop at the Mirador de San Pedro, one of our favorite viewpoints in the north of the island. It is located in the municipality of Los Realejos, about 7 kilometers from Puerto de la Cruz.
After this short stop, continue by car to Garachico, located about 25 kilometers from Puerto de la Cruz. Along the road you will find different signs indicating the direction of Icod de los Vinos, a municipality located just before Garachico and home to the famous "Drago Milenario".
READ: 25 BEST THINGS TO SEE IN PUERTO DE LA CRUZ
---
Where to stay in Garachico?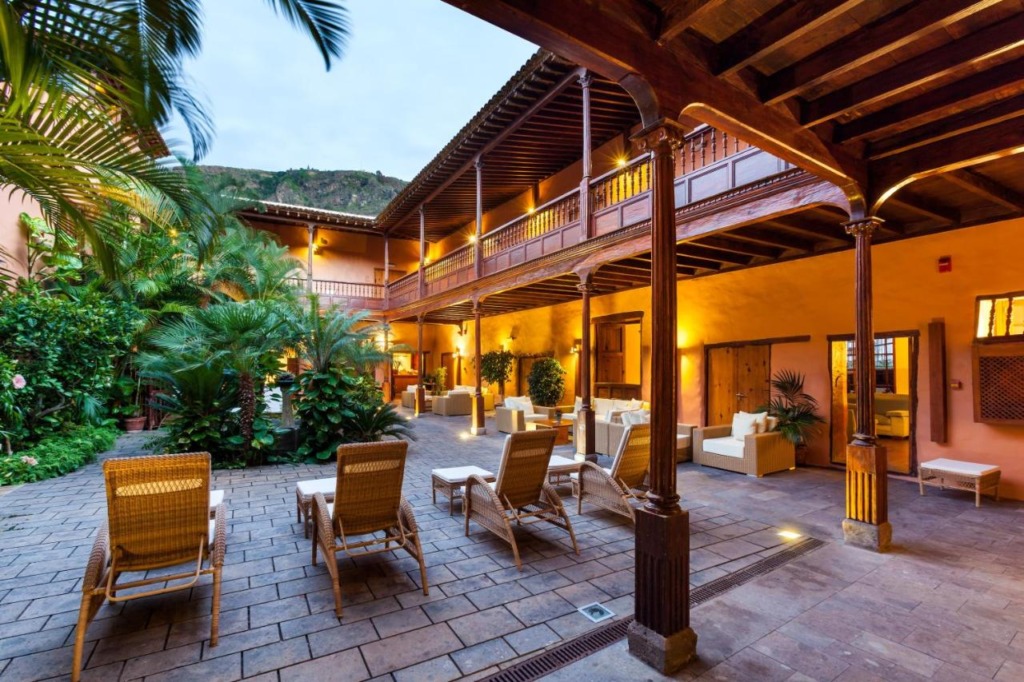 If you are looking for a place which feels more traditional and less touristy, Garachico would be a great choice. From there you can easily access Puerto de la Cruz if you want to reach a bigger city.
The good thing about Garachico, is that the town has a few hidden gem when it comes to hotel. Our favorite hotel in Garachico and perhaps in the whole of Tenerife is located in Plaza de la Libertad. This place is called Hotel La Quinta Roja The Senses Collection. This building is a restored 16th-century mansion.
It used to be the home of the Marquis of Quinta Roja. Even if you do not stay in Garachico for a night, we still recommend that you take a look at this gorgeous place. More information here.
Another hotel which we fell in love with while in Garachico is Hotel San Roque. This hotel is set in beautiful 18th-century villa. It has an outdoor swimming pool, terrace and ocean views. More info here.
READ: TOP 10 HOTELS IN TENERIFE
---
Best restaurants in Garachico?
Tasca Restaurante Los Pinos
This is one of the best and most well known restaurants in Garachico! It is also our favorite places to eat seafood! This rustic and traditional restaurant offer a fresh menu with daily specials! The prices are also very reasonable!
Location: here
---
El Rebojo | Bocados de Mar y Vinos
This is a beautiful restaurant in the heart of Garachico! An absolute pleasure for your palate too, as the food is delicious. From starters to Main course, everything is impressive, creative and made with love! Check it out in Garachico.
Location: here
Menu: here
---
Restaurante La Almena de San Miguel
Fancy a beautiful sea view while enjoying a delicious meal in Garachico! Then head to Restaurante La Almena de San Miguel, one of the best restaurants in Garachico!
Location: here
---
---
Final thoughts – Is Garachico worth a visit?
The town and port of Garachico, founded by Cristóbal de Ponte of Genoa in 1496, is a must-see in Tenerife. In 1980, King Juan Carlos I awarded the city the Gold Medal of Fine Arts for paying particular attention to its artistic and historical heritage and for having maintained its streets, squares and gardens so well.
Garachico was also declared a Place of Cultural Interest, with the category of "Historic Site", by the Regional Government of the Canary Islands in March 1994. Unesco is also studying the possibility of declaring it a World Cultural Heritage Site.
So make sure to add Garachico to your itinerary when visiting Tenerife.
For more information on the best things to do and see in Tenerife, check out this post: 25 AWESOME THINGS TO DO AND SEE IN TENERIFE
Tenerife is a great destination to travel to. No wonder, why it is one of the most popular islands in the Canary!
If you have any question about Tenerife, feel free to leave a comment below.
All our posts about the Canary Islands can be found here.
HAPPY TRAVELS!
---
Related Posts
25 AWESOME THINGS TO DO IN FUERTEVENTURA
AWESOME THINGS TO DO IN PUERTO DE LA CRUZ, TENERIFE
DISCOVER MASCA, THE MOST REMOTE VILLAGE IN TENERIFE
FULL GUIDE TO HIKE AT MOUNT TEIDE
EXPLORE SAN CRISTÓBAL DE LA LAGUNA IN TENERIFE
COSTA ADEJE, ONE OF THE BEST PLACES TO STAY IN TENERIFE
VISIT THE IMPRESSIVE LANDSCAPE AT LOS GIGANTES IN TENERIFE
GARACHICO, ONE OF THE PRETTIEST TOWNS IN TENERIFE
TOP 8 REASONS WHY YOU SHOULD VISIT TENERIFE