Ganghwado, also called Ganghwa island (강화도 in Korean) is Korea's fifth largest island located 1 hour from Seoul. Ganghwado has amazing prehistoric remains which makes the island very unique. Among its very rich heritage, you can visit many dolmens (part of the UNESCO world cultural heritage), many fortresses which were used to protect Korea from foreign invasions, stunning temples, a very cute Anglican church and so much more.
On Ganghwado, you can also taste many food specialties including Ganghwa ginseng and turnip. There are also many farms with fresh fruits and vegetables as well as lots of seafood of course.
Some other highlights of Ganghwado inlcudes the visit of Jeondongsa temple (one of our favorite temple in Korea). You can also visit Joyang Textile cafe one of the most incredible cafe we ever visited in Korea. You can also go all the way north of the island where you can see North Korea from very close (the border is just 1.8 kilometeres away). Of course, it is impossible to miss Dongmak beach, one of the best beach on Ganghwado.
We describe all you need to know for your visit to Ganghwado in this post. Enjoy the reading and enjoy your trip to this great island!
Let's start with the best things to see on the island:
---
1. Visit Jeondeungsa temple
One of the highlight during our visit on Ganghwado, was our visit to Jeondeungsa (전등사), an ancient temple located on Mt. Jeongjoksan. The temple is located in the middle of a beautiful forest. Besides the peaceful atmosphere of the temple and the gorgeous location, you can enjoy a stunning view of the island. Watching sunrise in Jeondeungsa is famous all over Korea.
To get there you will need to hike up (for about 20 ~ 30min) via a path inside the forest. The admission fee is 4,000w per person. During your visit you can see many different pavilions and halls and enjoy a nice walk in the nature. The temple is renowned for its magnificent architecture, especially with its main building, Daeungbojeon Hall decorated with sculptures.
Inside the building, you can see a statue of Buddha above which there is a beautifully crafted glass roof. On the columns of the hall, soldiers who fought against the French navy had written their names in prayer to Buddha.
RELAX AT JUKRIMDAWON TEA HOUSE INSIDE THE TEMPLE
Once you finish your visit of Jeondeungsa, make sure to enjoy a coffee or tea and a small Korean snack at one of our favorite tea house on the island, located right in the middle of the temple in a magnificent setting. You can't miss this place. We stayed there for a few hours just enjoying the peaceful atmosphere of the temple, the fresh breeze from the mountain and listening to the relaxing music played outside the cafe. A perfect moment on Ganghwado!
HISTORY OF JEONDEUNGSA
Founded in the 4th century, it is one of Korea's oldest temples. Originally known as the Jinjongsa Temple during the Goryeo dynasty, it was renamed Jeondeugsa in 1282. Despite the "repression" of Buddhism during the Joseon Dynasty, it never lost its prominent position. The monk Adohwasang of the Goguryeo era is known as the founder of the temple. This temple was later renamed under its current name following a donation of a jade lamp by Queen Jeonhwa during the reign of King Chungnyeol (reign: 1274 ~ 1308).
THE LEGEND OF JEONDEUNGSA
Under the roof of Daeungbojeon Hall are pillars decorated with statues representing in particular a naked woman with a face inspiring fear.
Legend says that the master carpenter responsible for the work fell under the spell of an employee of a tavern in the neighboring village. Completely in love, he trusted her with all his money so that they could settle down together after the temple was finally built. However, the woman decided to run away to live with another man. The architect fell ill for a while before recovering to be able to finally finish the work.
In revenge, he sculpted the woman on the columns of the main hall in order to make her bear the full weight of the temple's roof on her shoulders.
MORE INFORMATION ABOUT JEONDEUNGSA
Address: 37-41, Jeondeungsa-ro, Gilsang-myeon, Ganghwa-gun, Incheon-si (인천광역시 강화군 길상면 전등사로 37-41)
Admission fee: 4,000w for adults / 3000w for teenagers / 1,500w for kids
Website: http://www.jeondeungsa.org/
TEMPLE STAY PROGRAM IN JEONDEUNGSA
If you read more some of posts about Korea (all posts here), you may know that we always recommend doing a Temple Stay if you visit this country (more info here on Temple Stay). Temple Stay allows you to spend a night in the temple and share the monks life. It is a really nice experience if you come to Korea. If you have to pick 1 temple during your time in Korea, we highly recommend Jeondeungsa Temple as it is for us one of the most beautiful temple we visited in Korea. To book, check out this link.
---
2. Relax at Dongmak Beach
When you think about visiting an island, obviously you think about going to the beach! Well, if you want to go to Gangwhado to unwind and relax from the busy city life of Seoul, then head to Dongmak Beach (강화 동막해변), the most popular beach on the island.
To be very upfront, it is not the most beautiful beach near Seoul. We much prefer Sugi Beach on Sido Island (full post here), or the beaches on Muuido (more info here). However, it is nice enough to stop for an afternoon and enjoy some sun.
What we liked the most about Dongmak Beach was to watch the sunset. It's the perfect spot on Ganghwado. There are some restaurants right behind Dongmak Beach, which also makes it convenient. There are plenty of parking spots nearby if you drove with your car.
---
3. Enjoy a cup of coffee at the gorgeous Dore Dore Garden Cafe
Dore Dore (Mahogani Ganghwa Branch – instagram here) is actually much more than just a coffee shop. It's a gorgeous garden full of camellias and comprised of 3 coffee shops. All of them in a beautiful setting surrounded by nature. A trip to Ganghwado without stopping at Dore Dore wouldn't be complete.
When you enter the park, enjoy a nice stroll through the garden. If you look out you can even see the sea not very far away. Take your time to explore the different part of the garden. Then you can choose which coffee shops to by your coffee from out of the 3 stunning places. Then pick a spot in the garden and enjoy your cup of coffee with you yummy dessert!
If like us you like exploring new coffee shops in Korea, check out this post for the best outdoor cafes in Seoul and this one of the most incredible cafes all around South Korea.
Address: 1864-18 Haeannam-ro, Hwado-myeon, Ganghwa-gun, Incheon
---
4. Visit Yeonmijeong Pavilion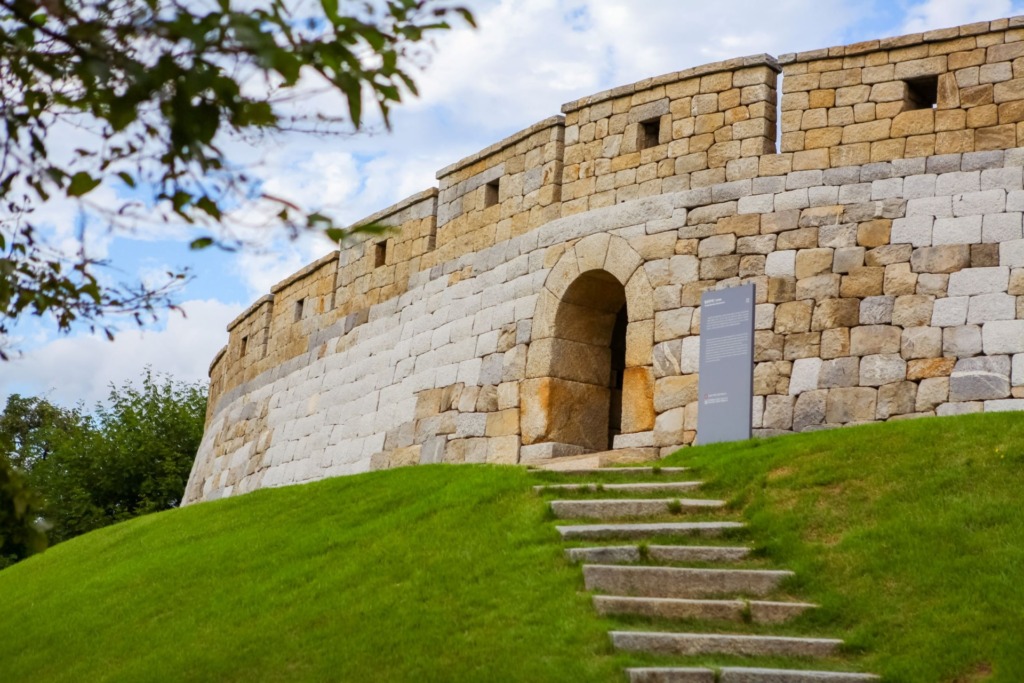 The Yeonmijeong Pavilion (연미정), was named Incheon Tangible Cultural Property No. 24 in 1995. While its date of construction is unknown, this pavilion was damaged and renovated several times after the Japanese Invasion of 1592, the Chinese Invasion of 1636 and the Korean War of 1950.
The impressive part from Yeonmijeong is that you can see North Korea from very close, which is just a few kilometers away. The pavilion itself is also very nice. You can seat at the top of the hill to enjoy the great sea view.
The admission to Yeonmijeong is free.
Address: 242 Wolgot-ri, Ganghwa-eup, Ganghwa-gun, Incheon
---
5. Visit the ancient Ganghwado Dolmen
Did you know? There are more than 30,000 dolmens in South Korea, or nearly 40% of the dolmens listed on the planet! Impressive right!?
Dolmen are stone tombs dating from prehistoric times in Korea. In Ganghwado remains some of the main dolmens in South Korea along with the Gochang dolmen and the Hwasun dolmen. Each of these sites is home to several hundred dolmens, which is unique in the world both for their density but also for the diversity and shape of the dolmens.
The remains of dolmen of Gochang, Hwasun and Ganghwa were classified as World Heritage by Unesco in 2000 because of their contribution to research concerning the constructions of societies in the Bronze Age, the process of formation of dolmen cultures but also as evidence of cultural exchanges during the prehistoric age in Northeast Asia. The presence of quarries, which bear witness to the construction process of dolmens, is an important element for research on the evolution of dolmens and their history.
150 dolmens remain in Ganghwa. The representative Ganghwa dolmen is called 'Bugeulli Jiseokmyo', it is located in Bugeun-ri. It is a table-shaped dolmen made of two supporting stones and the stone serving as a roof.
Address: 330-2 Bugeun-ri Hajeom-myeon Ganghwa-gun Incheon
---
6. Check out the very cute Anglican Church
This is the first time we saw such a cute church in Korea and here is why:
In 1889, Charles John Cofre was consecrated at Westminster Cathedral as the first Anglican Bishop of Korea. He then led a mission to Korea bringing with him doctors, nurses and nun. He first arrived at Incheon Port following a long journey through Singapore and Hong Kong. The mission first carried out medical services in Incheon and then moved to a humble house on the seaside near of Ganghwado. After seven years Corfe thought it was time to build an Anglican church in Korea.
Corfe hired the same carpenter who remodeled Gyeongbokgung Palace to design his church. The carpenter wanted 100-year old Korean red pines from Baekdusan Mountain. They brought the pines into a raft and took them down the Amnokgang River, through the Yellow Sea and then to Ganghwado. The transport took as long as six months, and another six months was needed to dry the trees.
The layout of the cathedral resembled Noah's ark. The main gate symbolized the head of the ship. The construction is an interesting mix of western architectural styles with the Korean Hanok Style. The church opened in 1900. The building is recognized by many as a masterpiece with a perfect harmony between Korean and western cultures. We honestly fell in love with this gorgeous building.
Ganghwa Anglican Church is a must-see in Ganghwado.
Address: 10, Gwancheong-gil 27beon-gil Ganghwa-eup, Ganghwa-gun, Incheon
---
7. Visit one of the most awesome coffee shops in Korea: Joyang Bangjik
Alright, as you know already, Korea has tones of amazing coffee shops. In fact Korea has more coffee shops per capita than any other country in the world! Crazy right!?
If we were to make a list of top 10 most impressive coffee shops in Korea, then Joyang Bangjik (조양방직) would for sure be on this list. It's the kind of place which you "must see to believe". The photos in this post can hardly describe how incredible this coffee shop is!
Joyang Bangjik is actually a very old textile factory transforrmed into a very cool cafe! Ganghwa was a city of textiles with more than 4,000 workers in the 70′. Founded in 1933, Joyang Textile was one of the most important factory in the region.
However, like most traditional textile factories, it went bankrupt after the development of more modern machines. 1 by 1 all factories closed down and workers left Ganghwado.
However, someone had the brilliant idea to preserve Joyang Bangjik and turned this place to a fantastic work of art. As soon as you enter this place you can feel the history of Korea and Ganghwa textile industry. Many of machines and buildings remained as it is. This place is rather huge, spreading over 990㎡ ! It took us almost 1 hour to discover the whole place before we could even sit down and enjoy our coffee still amazed by the magic of this place.
We also compiled the list of the most incredible cafes in South Korea here. Check it out!
Address: 12 Hyangnamu-gil 5beon-gil, Ganghwa-eup, Ganghwa-gun, Incheon
Instagram: here
---
8. Discover Oepo Fishing Village and Oepo Fish Market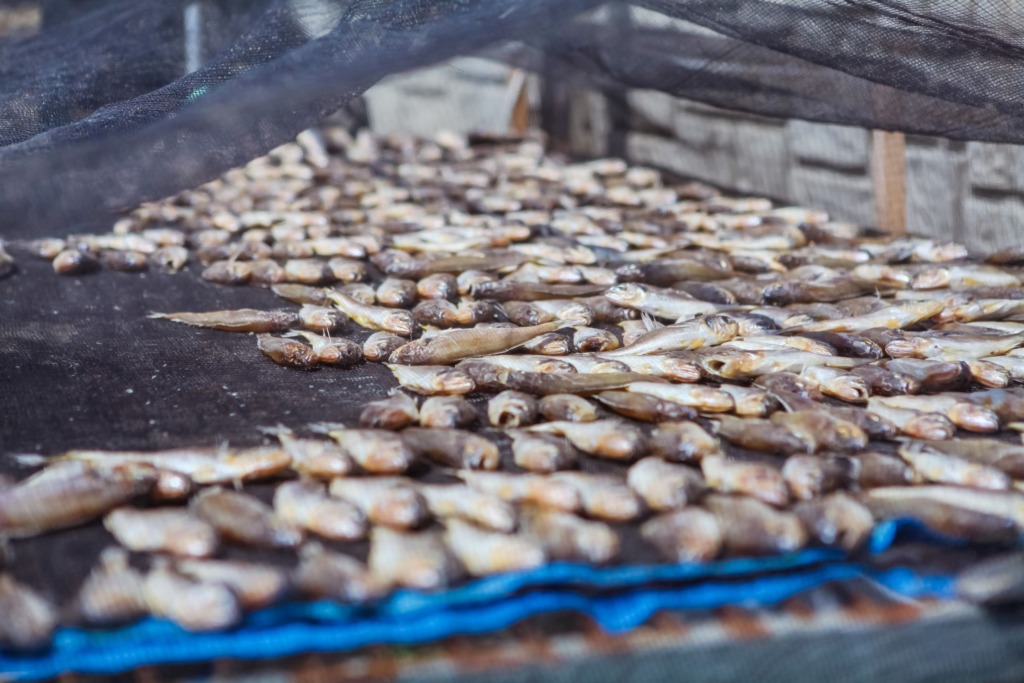 On our way to Seongmodo, another island accessible by a bridge from Ganghwado, we stopped by Oepo village and decided to visit the fish market.
We usually love visiting these kind of traditional places in Korea. We simply enjoy the atmosphere of an old town with its traditions and usually vibrant markets. Likewise, if you ever go to Busan, make sure to visit Jaglachi Market.
Oepo is of course much smaller than Jagalchi Market, but it's a great stop in Ganghwado to see how locals live on the island. You can also buy some fresh seafood sashimi style, and eat just behind the markets. This seemed to be a great tradition with locals.
There is a very big parking lot right in front of the fish market, so it's very convenient if you come by car.
Address: 899-2 Haeanseo-ro Naega-myeon Ganghwa-gun Incheon.
---
9. Visit Bomunsa Temple on Seongmodo island
If you decide to spend the night on Ganghwado, then continue your visit to the neighboring island of Seongmodo. You can easily get there by crossing the bridge a little further north from Oepo fishing village. The main attraction of Seongmodo is the impressive temple of Bomunsa.
Bomunsa Temple s said to have been built by Queen Seondeok of the Silla dynasty in 635. When you enter Bomunsa Temple, the first thing you see is the ancient Chinese juniper tree that is 600 years old. Behind this tree there is a natural cave called Seokguramja, transformed to a buddhist hall.
Another must-see at Bomunsa Temple is the Sitting Buddha Statue and the Nunsseop Rock. From Nunsseop Rock you can admire the beautiful West Sea.
To get to the temple from the parking lot there is a steep climb. Be prepared and bring enough water.
Admission fee: 2000w per adult
Address: 44, Samsannam-ro 828beon-gil, Samsan-myeon, Ganghwa-gun, Incheon
---
10. Check out North Korea from Ganghwa Peace Observatory
Ganghwa Peace Observatory (강화평화전망대), located in the north of the Civilian Passage Restriction Line in Ganghwado, was restricted for military equipment until September 2008. It now reopen for public.
This site provides historical information about the Korean War (1950-1953) and its aftermath through various picture galleries, but also offers the chance to see a beautiful natural environment and part of North Korea while watching through the high performance telescope.
It is actually very impressive to see how close is North Korea, just a few kilometers from us. There is a special atmosphere to imagine other people living on the other side of the border completely closed off to the rest of the world.
When driving to Ganghwa Peace observatory you will need to pass through some military gate. They took our personal details and gave us pass to access this zone. This already made the visit so special, feeling that we entered a military zone…
Address: 797, Jeonmang-daero, Yangsa-myeon, Ganghwa-gun, Incheon-si
Website: www.ghss.or.kr (Korean only)
---
11. Visit some of the fortresses all around Ganghwado
Due to its location, Ganghwado was used a place to defend Korean from foreign invasions. As such, it is possible to see many fortresses built along the island's coastline.
While drive around Ganghwado you will see signs indicating the location of a fortress. You can normally park your car right in front of it.
The first fortress we saw was Huae Dondae Fortress, it was next to our lunch place on the southern part of the island. The fort is not very big, but the view to the sea is fantastic.
Another popular fort is Deokjinjin. This one is much bigger and better restored. We also enjoyed taking a look at this place. The military fortress was recognized as outer lying post of strategic importance in terms of securing the command of Ganghwa strait. The fortress was constructed in 1656 during the reign of King Hyojong of Joseon dynasty.
Gwangseongbo Fortress is another interesting sight in Ganghwado. The fortress was built in 1656. Later in 1745 it was completely remodeled into a castle with gates. During the American invasion in 1871, Gwangseongbo was the place of a fierce battle with the Americans.
You will see many other fortresses around the island, however these are the main ones which we spotted.
---
12. Have some fun at Ganghwa Seaside Resort Luge
If you are getting a bit tired of visiting historical sights, then take a break for some adrenaline rush at the Ganghwa Seaside Resort Luge (강화 씨사이드 리조트).
First you need to take a gondola to reach the top of the hill, which already gives you a very nice view of the island. Then head down with a luge. Ganghwa Seaside Resort Luge is well known to have one of the best luge track in South Korea.
Although it may sound a bit scary to get down a mountain with a luge, the experience is actually very fun and suitable for all ages. You can also choose a different level of difficulty for your track down.
Address: 4-15, Seondu-ri, Gilsang-myeon, Ganghwa-gun, Incheon, Republic of Korea (or 인천광역시 강화군 길상면 선두리 4-15).
Opening time: from 10am-5pm from November-February and 10am-6pm from March-October.
Book your discounted ticket (available during weekday): here
---
13. Visit Goryeogung palace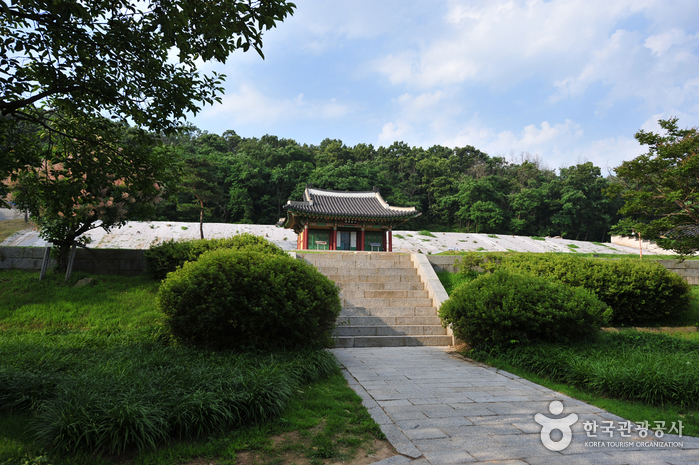 The site of Goryeogung Palace on Ganghwado Island is the site of the royal palace where citizens of the Goryeo dynasty (918-1392) resisted the Mongol invasion for 39 years. In June 1232, King Gojong moved the capital to Ganghwa for its beauty but also for its advantages in terms of war strategy.
The construction of the royal palace was completed in 1234. After the signing of the peace treaty with the Mongolian armed forces in May 1270, the capital was moved again to Gaeseong (which to this day is located in North Korea under the name of Gaeseong), and the Royal Palace of Ganghwa was subsequently destroyed.
During the Joseon Dynasty (1392-1897), Haenggung (King's Temporary Palace) was built on the same site as Goryeo Palace. During Byeongjahoran in 1637 (Chinese invasion), the palace was conquered by the forces of the Ching dynasty of China. After that, Ganghwa Yusubu (the office of the governor of Ganghwa) was built on the site of the palace. Today, the only structures that remain intact are the Dongheon Main Office (built in 1638) and the Ibangcheong Administrative Office (built in 1654). The palace and its annexes were restored in 1977.
Address: 394, Ganghwa-daero, Ganghwa-gun, Incheon
Website: here
Photo provided by the Korea Tourism Organization (link here)
---
14. Walk in the middle of rice fields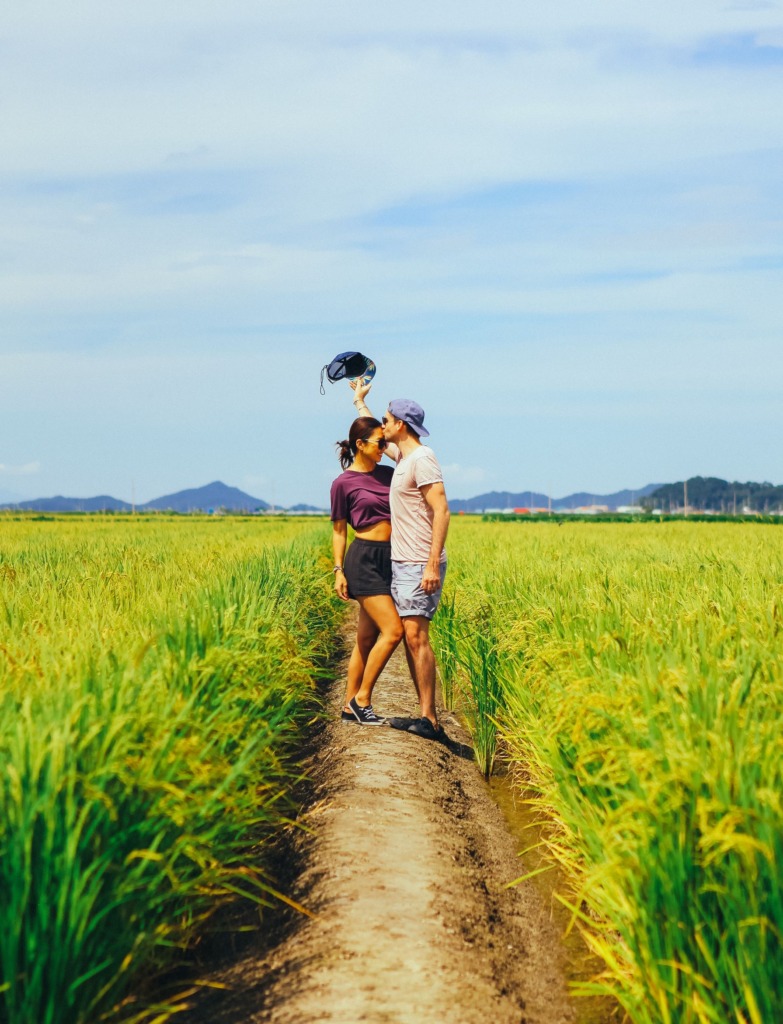 Ganghwado like most part of South Korea's country side, is covered with rice fields. Driving through the island, we found so many gorgeous places full of rice fields and with the mountains one side and the sea on the other side. Simply stunning! At one point we decided to stop our car and just enjoy a walk in in the middle of the fields. This simple thing, was actually was one of our best memories during our trip to Ganghwado. It was very enjoyable and we had lots of fun taking many photos.
---
15. Hike Manisan Mountain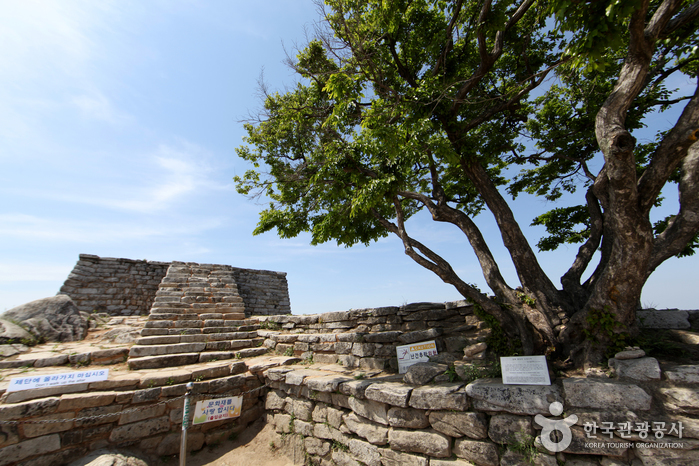 Manisan (마니산 (강화) is the highest mountain on Ganghwado with a height of 468m. At the top of this mountain you can see the impressive Chamseongdan altar supposedly used to honor celestial ancestors. Put on good walking shoes and start the climb which takes about 1 hour. There are 918 stone steps which you need conquer.
During the 1988 Paralympics in South Korea the torch was lit at the top of the mountain. At the top you will have a beautiful view of the west sea and Jeongsusa Temple. A great way to finish your visit to Ganghwado.
Address to the starting point: 18, Manisan-ro 675beon-gil, Ganghwa-gun, Incheon
Photo provided by the Korea Tourism Organization (link here)
---
History of Ganghwado
Knowing the history of the island, will make your trip even more exciting.
DID YOU KNOW?
The Korean peninsula started to be inhabited by human at the same time as the rest of the world, meaning thousands of years ago during the Neolithic era. This can be observed in Ganghwa which has some of the oldest remains of this period. Indeed, archaeologists found dolmens (as explained earlier in this post) which is estimated to date from the Neolithic era about 8,000 years BC. These dolmens are all classified as a UNESCO World Heritage Site since 2000.
GANGHWADO A TRIP FROM NEOLITHIC TO THE PRESENT DAY
Discover this island during a trip to South Korea will transport you in the history of the country. The land of the morning calm from the Neolithic era to the present day. Ganghwado is not only an island with Neolithic remains, but the island has been a strategic location to prevent invasion from foreign troops. This island is a key point because of its location at the entrance of the Han River, which crosses Seoul. It is therefore a perfect outpost for the security of the city and as a result, many fortifications have been built there over the centuries.
During the 19th century, Western nations made several attempts to enter Korea via the Han River, but they were always blocked by the fortresses and protective barriers on Ganghwa Island.
Even today, the island, which seems to live in peace like the rest of the South Korean peninsula, is a strategic hotspot. Indeed, the north of the island is only 1.8 kilometers away from the border with North Korea.
---
How to get to Ganghwado?
Ganghwado is accessible via a Bridge from the mainland, so you do not need to cross with a ferry. There are actually 2 bridges going to the island, one in the south and one more north.
GETTING THERE BY CAR
By far the easiest way to get to Ganghwado and to explore the island. Without traffic it takes a little more than 1 hour to reach the island. There is usually a bit of traffic crossing the bridge but after that it is very easy to drive on the island. There are also parking lots everywhere and the roads aren't too narrow compared to other islands in Korea.
PUBLIC TRANSPORTATION
It is also possible to take public transports to get to Ganghwado. From Seoul Station take bus M6117 until Hangangno near Gimpo and from there you can hop on bus #96 or #3000 depending on where you want to go on the island. Once you reach the island, there are a few public buses which can bring you to the main sights. To get to Ganghwado from Seoul, count at least 2 hours. We also saw a few taxis on the islands, so it should be possible to get them with Kakao Taxi app too.
JOIN A TOUR
If you don't want to bother with the organization of your trip to Ganghwado, you can join a day tour organized by Trazy. The tour departs from Myeong-dong and include some of the main sights: Jeondeungsa temple, Chojijin Fortress, the luge ride and a visit to a local blueberry farm. You can book the tour here.
Klook also offers day tour to Ganghwado with similar activities as Trazy. You can check it out here and compare the prices.
---
How long to stay on Ganghwado?
We recommend to spend at least 1 night on the island to see most of the main sights. If you stay 2 nights then you can spend some time at the beach or add the hike to Manisan mountain. All and all it's perfect for a weekend trip if you are staying in Seoul.
Going for a day trip will give you some impressions of the island, but it will be difficult to squeeze most sights without rushing too much. If you plan to visit the incredible Joyang Bangjik coffee shop (which is a must on Ganghwado) it will already take 1~2 hours.
You can also go there a few times for a day targeting different sights. For example focus first on the southern part of the island, to see Dore Dore Coffee shop, some fortresses, Dongmak beach, Jeondeungsa and Oepo Fish Market. During another day trip focus on the northern part of the island with Joyang Bangjik cafe, Yeonmijeong Pavilion, Gangwha Peace observatory, Ganghwa Dolmen and Ganghwa Anglican Church.
---
Where to stay on Ganghwado?
There are many options in Ganghwado, from the family style resort, to pension or even camping/glamping. Everything is possible.
We listed a few recommendations below, based on different budget and what kind of experience you want to have if you stay in Ganghwado.
Ganghwado Dowoojae Pension – the most modern one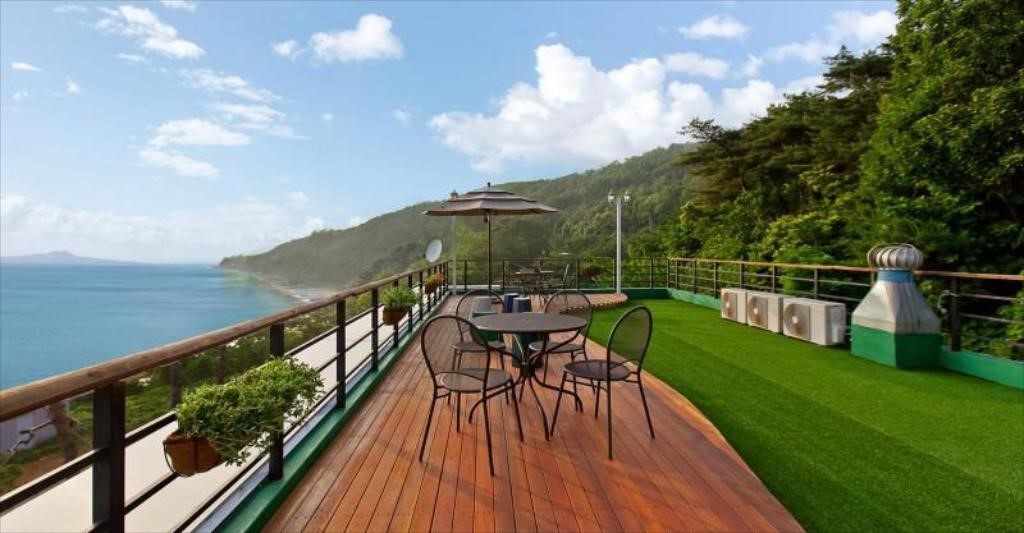 In terms of location, value for money and quality of the facilities, our favorite hotel in Ganghwado is Dowoojae Pension. The hotel is located right by the sea, in one of the best part of the island, on the South West. From the terrace you can admire the gorgeous sunset. The hotel is fairly new and modern and the price is relatively affordable for what you get.
If this place is still available during your stay in Ganghwado, don't hesitate, this place is our top recommendation!
Gangwado Nuri Pension C – best for families
If you are traveling with kids, then you may want to stay at Ganghwado Nuri Pension C, which has a pretty big swimming pool with fun slides. Each room is located in a windmill, which makes the whole experience very fun. Ganghwado Nuri Pension C is also conveniently located on the southern part of the island. Check it out here.
Gwanghawdo Toad's Clayhouse Pension- the most unique one
This round shaped pension is made out of clay. Located on a hill, the pension is overlooking the whole island. The pension is very unique and really cute. The funny part is that you are only 1h away from one of the biggest metropolitan area in the world, but you can sleep in such an authentic place. You will feel completely disconnected from the city if you stay in Gwanghawdo Toad's Clayhouse Pension. For more information, check it out here.
---
Other things to see near Ganghwado
MUUIDO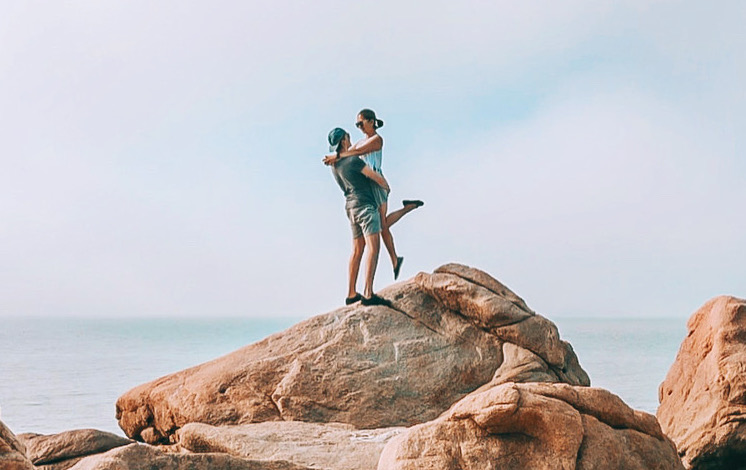 If you are looking for a beachside escape near Seoul, search no longer, Muuido is the perfect island gateway. Muuido is located on the west coast near Incheon Airport. The island is well known for day trip from Seoul or weekend gateway to enjoy the various beaches, seafood, and many other activities on the island.
Here is our full post about Muuido
WOLMIDO
Wolmido Island (월미도) is located in Incheon and it's a perfect place to escape the busy Seoul. Many people go there during the weekend because of its proximity to Seoul and its easy access. Many cafes and seafood restaurants can be found along the coast. There are approximately 50 seafood restaurants in the same street.
We wrote a full guide about Wolmido here.
SINDO, SIDO AND MODO ISLANDS
Sindo (신도), Sido (시도) and Modo (모도) islands are the perfect gateway from the busy city life of Seoul. Located off the coast of Incheon, these 3 islands are easily accessible by ferry. All 3 islands are then connected by a bridge which makes it easy to visit them all within a day.
Expect sandy beaches, relaxing coastal road, mountains and delicious seafood on these 3 islands. Make sure to explore Sugi Beach and Baemikkumi Sculpture Park, the highlights of the 3 islands.
Here is our complete guide for visiting Sindo, Sido and Modo island.
---
In conclusion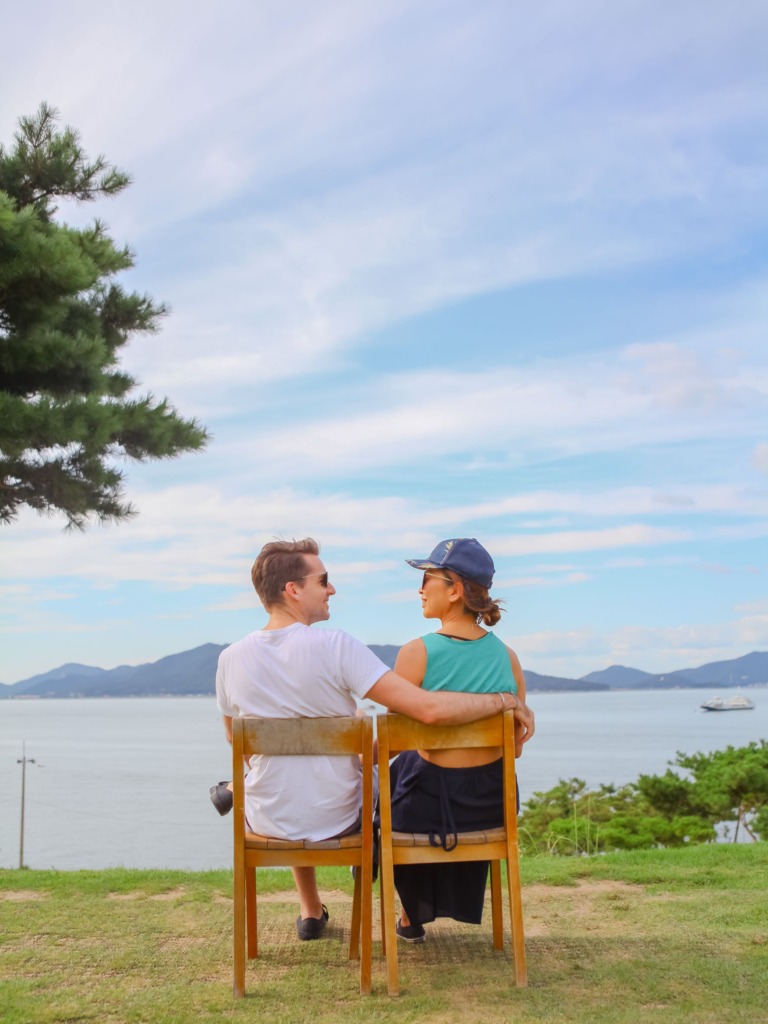 Ganghwa Island or Ganghwado, is a very interesting place to visit in South Korea.
On this island, you will then be able to explore the history of the Korean peninsula, from prehistoric times to the present era, and better understand this special situation of fragile "peace" with North Korea.
You will be able to admire the Dolmens, visit beautiful temples, enjoy some relaxing time at the beach, and see many fortresses witness of the island's important past.
We lived in Korea for 3 years and wrote many posts about things to do in this country. You can check them all here.
---
Related posts
SOUTH KOREA: best things to do in South Korea: here
HAEDONG YONGGUNGSA, the most beautiful temple in Korea: here
TAEAN: amazing national park on the west coast of Korea: here
SEOUL: Full guide for the best things to do in the city: here
JEJU: All you need to know before you go to Jeju: here
ADVENTURES: top adventures within 1h from Seoul: here
EAST COAST: best things to do near Gangneung: here
BOSEONG: best green tea planation in Korea: her