WHAT TO SEE IN NIKKO? IS NIKKO WORTH A VISIT? HOW TO GET TO NIKKO FROM TOKYO? HOW MANY DAYS TO VISIT NIKKO?
Nikko is one of the best places to visit in Japan! During our road trip through Japan, Nikko was one of our favorite destinations!
"NIKKO HAS SEVERAL UNESCO WORLD HERITAGE SITES"
Nikko is a charming town located 120km north of Tokyo. It is a very popular place amongst Japanese and tourists from all around the world! Nikko is characterized first by a rich history with several UNESCO World Heritage Sites!
The nature is also magnificent with mountains surrounding the region and superb waterfalls flowing into the famous Lake Chuzenji.
In this post we describe all you need to know for a trip to Nikko!
This small town, whose temples and shrines are listed as UNESCO World Heritage Sites, is especially popular during autumn.
It is indeed one of the favorite places for Japanese to go and observe the autumn colors. They even have a specific term for it, "momijigari", the act of chasing the Japanese red maples leafs.
Here is a glimpse of what to expect during a trip to Nikko:
---
WHAT TO SEE IN NIKKO?
1. Start your visit at Toshogu, one of the most beautiful temple in Japan!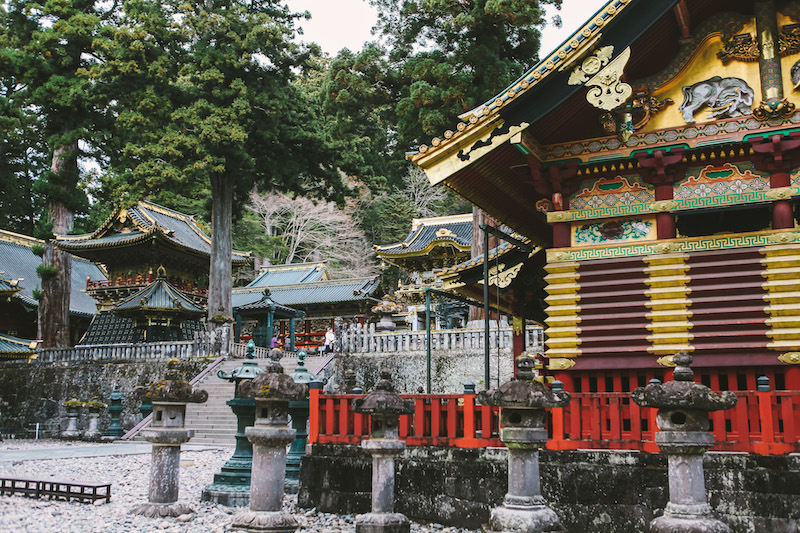 This Shinto shrine was built over 400 years ago and contains the ashes of one of Japan's most influential shoguns: Shogun Tokugawa Ieyasu.
The Tokugawa are a highly respected family in Japan. They initiated the famous Edo period with a closing of the borders but at the same time with an important cultural development within the country.
The Toshogu temple is therefore one of the best things to see in Nikko
Toshogu is located within the Nikko National Park. Many other temples are located within walking distance to each other inside the National Park. Which makes it very easy to visit one of the main parts of Nikko.
The park is listed as a UNESCO World Heritage Site and you'll quickly understand why.
Location: here
Entrance fee: ¥1300
Website: here
---
2. Continue your visit of Nikko at Taiyuin mausoleum
The advantage of this temple is that there aren't as many visitors as in Toshogu. You can then enjoy a visit in peace and soak up the atmosphere of the place much better. We particularly liked that this place is completely surrounded by nature.
Just like the Toshogu, there are quite a few things to see at Taiyuin and a lot of detail in the different structures, doors, statues that make up this temple. So take your time to fully enjoy your visit!
Taiyuin is one of our favorite places within the National Park!
Location: here
Website: here
---
3. Make a stop at Futarasan on the way to Taiyuin

It is also a Shinto shrine which was built to the glory of 3 Shinto deities: Ōkuninushi, Takiribime and Ajisukitakahikone. Each of his deities actually corresponds to a mountain in the Nikko region.
You can go there right after your visit to the Toshogu Shrine. As you leave, you turn right and you will see a beautiful path dotted with lanterns. Go straight ahead and you are there.
The entry is free.
Location: here
Website: here
---
4. Visit Rin-no-ji Temple and Treasure House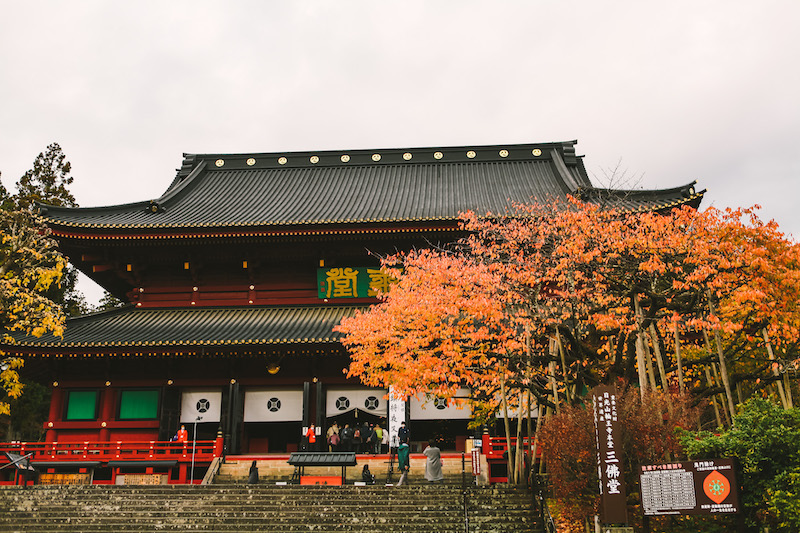 Rin-no-ji is another interesting temple in the same area. It is attached to a garden which is a beautiful example of Japanese landscaping and attention to detail.
It is also one of the best places to visit during the autumn foliage.
The surroundings are also really enjoyable. Here we recommend taking a guide if you want to know more about the history of these temples. Otherwise it might not be as interesting! BOOK YOUR GUIDED TOUR HERE.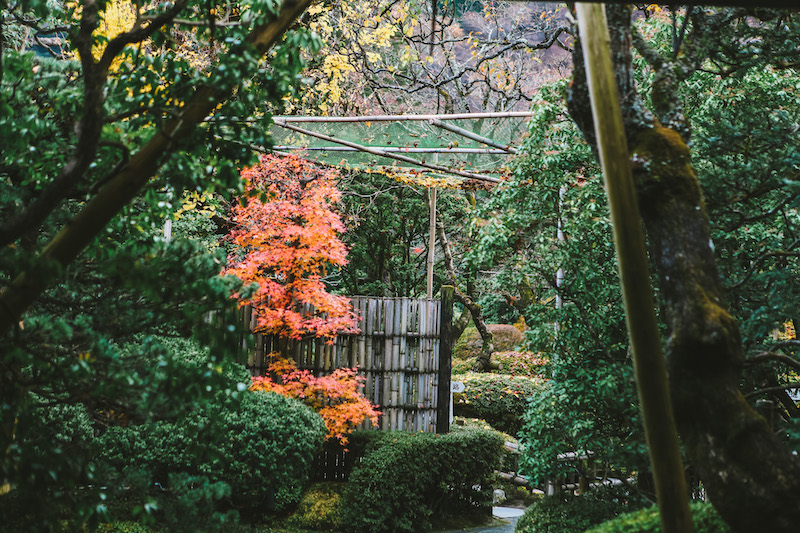 If you are coming from Tokyo, you can also book a private day trip up to 10 person.
Location: here
Website: here
---
5. Next check out Shinkyo Bridge, one of the symbols of Nikko!
You cannot miss it, you will see Shinkyo bridge when you go to the temples of Nikko which we have just mentioned.
Shinkyo Bridge is considered a sacred monument by the Japanese. Legend has it that it was originally snakes that crossed the Daiya River that eventually turned into a bridge.
In 1636, the Shinkyo bridge was repaired and nicely lacquered to give it its current red color.
Shinkyo Bridge is one of the best things to see in Nikko!
Location: here
Website: here
Admission fees: 300 yen
---
6. Time for lunch? Try the famous and delicious tofu roll: YUBA!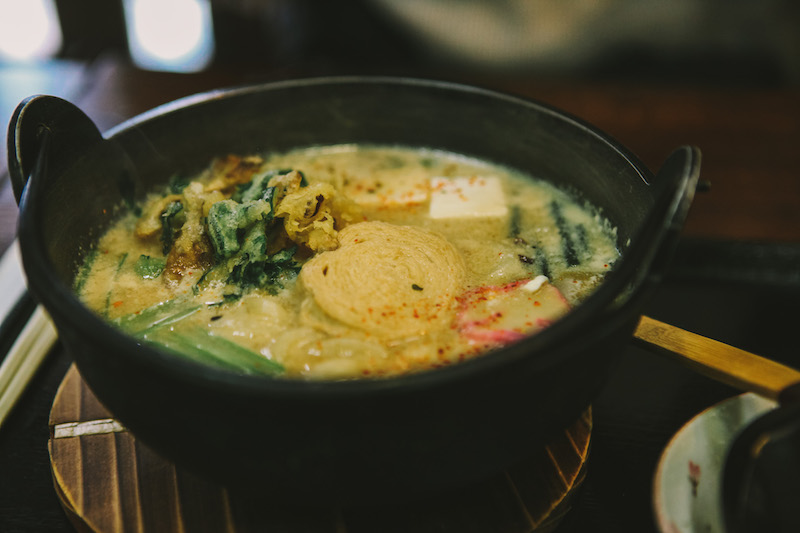 Shinkyo Bridge is located on the main street in Nikko. You will find many restaurants around.
There is 1 dish which you should absolutely try when visiting Nikko, it is called Yuba! It is a dish made from tofu skin. This dish comes from the vegetarian Buddhist cuisine. And it may not sounds that amazing, but it truly is!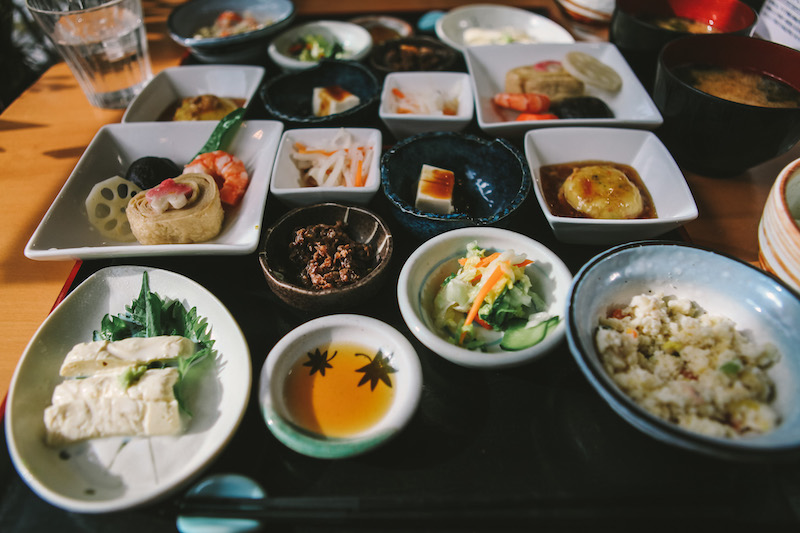 You can find it in most restaurants in Nikko. However, a few of them are more famous than the others… Nikko Yuba ZEN is one of them (location / website). Nikko Yuba ZEN is just a few minutes walk from Shinkyo Bridge.
---
7. After lunch head to Nikko Tamozawa Imperial Villa Memorial Park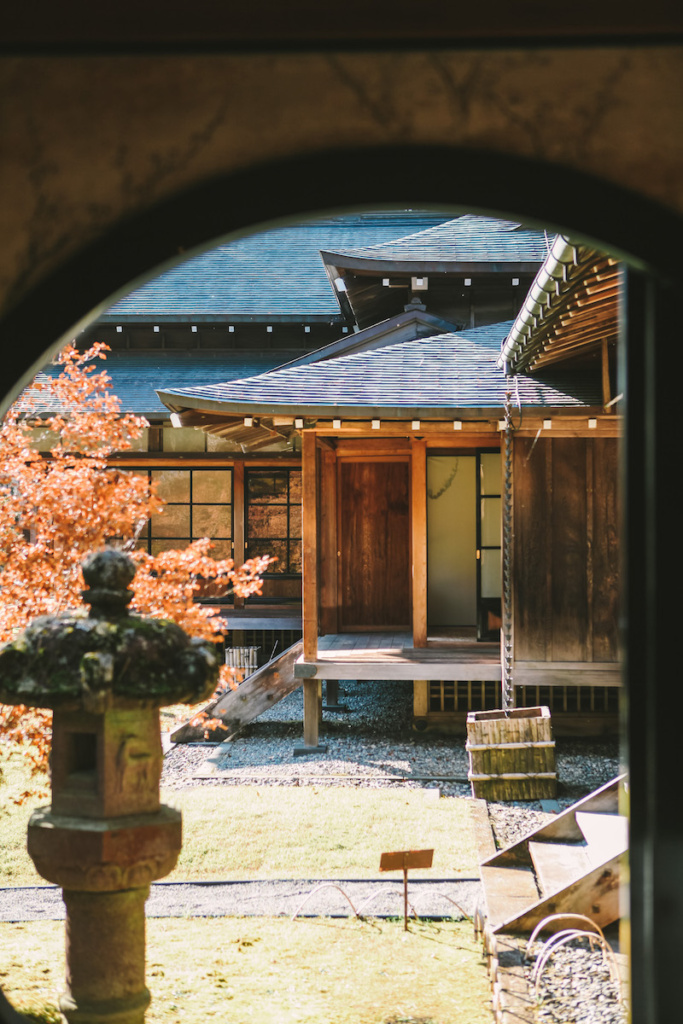 Tamozawa Imperial Villa Memorial Park is one of the best things to see in Nikko!
This used to be the residence of the Japanese Emperor! Built in 1899, it was occupied until 1947 and thus housed three generations of Emperors, including Taisho.
There are no less than than 106 rooms in this sprawling vacation property, which overlook an aesthetically pleasing Japanese garden with 400 years old cherry tree!
If you visit Nikko during autumn, you will be amazed by the beauty of this place!
Be ready though, it took us nearly 2 hours to visit it all! But absolutely worth every minutes of it! Tamozawa Imperial Villa Memorial Park is one of the best things to see in Nikko.
Location: here
Website: here
Admission fee: Adults 600 yen. Children 300 yen
---
8. Last stop of the day: Kanmangafuchi Abyss
If you are visiting Nikko on a day trip from Tokyo, then Kanmangafuchi Abyss would probably be the last thing you can squeeze before taking your train back to Tokyo.
Kanmangafuchi Abyss is one of the most famous places in Nikko and certainly one of the most instagrammables.
Along a river, Kanmangafuchi Abyss is a very calm place, famous for its many Jizo statues lined up next to each other. It is even said that it is impossible to count them twice in a row and come up with the same number.
Some are in good condition, others a little less…
For us Kanmangafuchi Abyss is absolutely unmissable during a trip to Nikko! The calm atmosphere, far from the tourists of the national park is really enjoyable.
If you are staying for 2 days or even 3 days, which we highly recommend, then check out the rest of this post.
Location: here
Website: here
Admission fees: Free
---
9. Be amazed at Kegon Waterfalls!
You already had a wonderful first day in Nikko, but your second will even be more impressive!
Head to Kegon Falls first thing in the morning to catch the perfect light!
Kegon Waterfalls are the largest and most impressive waterfalls in the region. The falls are located in the mountainous part of Nikko! It is a very popular place to visit in Nikko! Probably the most impressive one…
Kegon Waterfalls are nearly 100 meters high and 7 meters wide!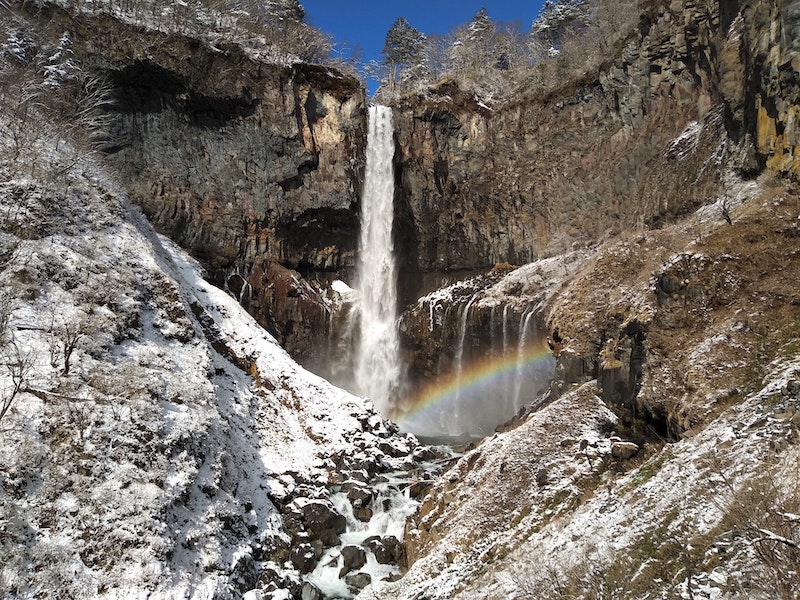 While many travelers to Nikko rightly take advantage of the national park and its sublime temples and shrines, the area also offers an elevated plateau 20 kilometers west of the heart of the city, organized around Lake Chuzenji.
A few steps away is the great Kegon waterfall, often cited by the Japanese as the most beautiful in the country…
It would be a pity to miss it, and hence staying at least 2 days would make a lot of sense!
To get there, you will have to take a bus up the mountain via the Irohazaka road. Besides the main stop at the large parking lot of Chuzenji-onsen, it may be interesting to get off at Akechi-daira to take the cable car for one of the best viewpoints in the area! (location of the cable car / website)
There are plenty of restaurants and cafes around Kegon Waterfalls.
Kegon Waterfalls is one of the best things to see in Nikko!
Location: here
Website: here
Admission: free
---
10. Explore Lake Chuzenji
Lake Chuzenji is the main source of fresh water in the region.
It was formed by the melting of the eternal snows of the mountains that surround it. This source of fresh water has allowed the development of agriculture throughout the region.
Rice, cereals, vegetables and seasonal fruits are grown there. You can also catch good fish in Lake Chuzenji which are sold grilled in several stalls in the area. Super delicious!
To walk there, you will find a small trail that runs along the northern part of the lake. You can simply walk to Chuzenji Lake from Kegon Waterfalls. It's not far at all. You may be lucky to even come across some monkeys that live in the surrounding forests.
Depending on which time of the year you are visiting Nikko, various activities can be offered on the Lake.
You can also visit the stunning Italian Embassy Villa Memorial Park located by the lake.
Location: here
---
11. Next, visit the beautiful Ryuzu Falls
As the first day of visit was more spiritual in Nikko, the 2nd day is much more nature oriented.
Next in your itinerary is the stunning Ryuzu Falls.
If you continue your walk around the lake you will reach Ryuzu Waterfalls! There are not as impressive as Kegon Waterfalls, but if you go there during the peak of Autumn, the colors are simply stunning! It's a very scenic place actually.
The best place to see the falls is via the little restaurant/shop right in front of the parking lot.
Ryuzu Waterfalls is one of the best things to see in Nikko.
Location: here
Admission: free
---
12. If you have enough time, we recommend a stunning hike from Ryuzu Falls to Yudaki Falls
If you have sufficient time and you like hiking, then this is probably one of the best trails in Nikko! The trail starts from Ryuzu Waterfalls all the way to another stunning waterfalls: Yudaki
You will cross the impressive Senjogahara Marshland! The area is particularly beautiful from Spring to Late Summer.
It is said that Senjogahara was named after the myth that it was the battlefield where the gods of Mt. Nantai and Mt. Akagi fought.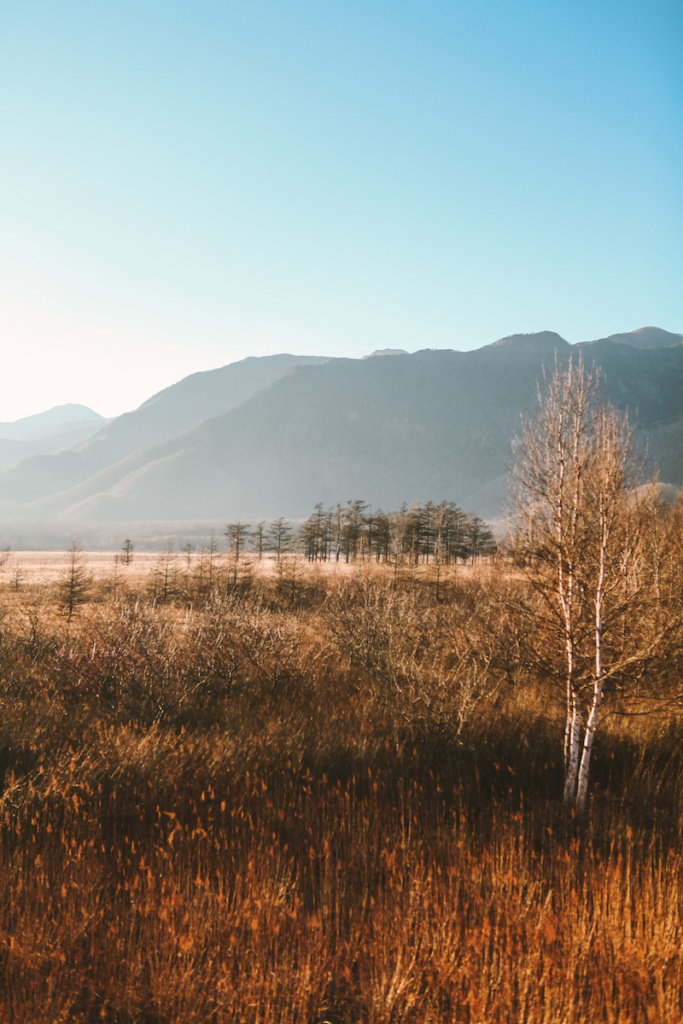 The hike is well marked and relatively flat. So quite easy. However it takes about 3 hours to complete 1 way. You can take the public bus on the way back.
Location: here
Website: here
---
13. Visit Yudaki Falls one of the best things to see in Nikko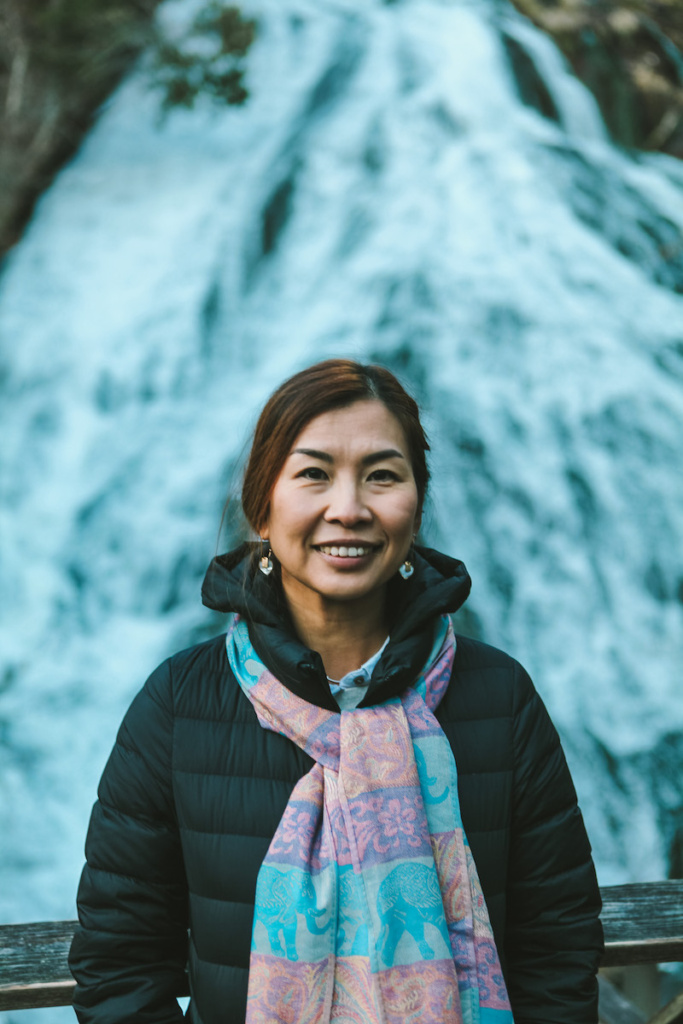 Yutaki is located at the southern end of Lake Yunoko after crossing Senjogahara Marshland.
A platform provides a great view of the spectacular waterfall. Yudaki is 70 meters high and spread like a magnificent sail over the 110 meter cliff.
This place is quite unique and absolutely worth a visit!
Location: here
Admission: free
---
14. Relax at an Onsen in Yumoto
Right opposite Yudaki Falls, on the nothern part of Lake Yunoko, you will reach a small onsen town!
After all these adventures, it's time to relax, isn't? There are many hotels with onsen facilities at Yumoto.
Our favorite one: Kyukamura Nikko-Yumoto.
The milky-white sulfur springs have been popular for many years, as they are said to be effective in improving neuralgia such as diabetes and rheumatoid arthritis, as well as beautifying the skin.
The footbath "Anyo no Yu" is also available for free, so why not stop by to soothe the fatigue of your trip?
If you visit Nikko in winter, Yumoto even has a ski resorts.
Location: here
---
15. Back in Nikko town, there is another waterfall worth checking out: Kirifuri Falls
The falls is not as impressive as Kegon or Yudaki, but the walk to get there is very scenic, especially in Autumn!
You'll be able to see lots of maple leaves in their full bright colors. There are a couple of tables and benches near the entrance of the walk which are perfect for a little picnic/meal.
Location: here
Website: here
---
16. Have fun at Edo Wonderland near Nikko
If you love the old classic Japan, this is a fantastic place to go.
Edo Wonderland is a japanese cultural theme park. The park showcase the culture of Edo period. You can experience some fun activities and try some delicious food.
The park offers Ninja show, Magistrate theater, fire fighter museum etc. Truly inspirational.
Plan to spend at least 3-4 hours as this place is rather huge! It's a great place to visit with kids!
Location: here
Website: here
>> SAVE MONEY AND TIME – BUY YOUR TICKETS HERE <<
---
17. Take the old Nostalgic Steam Train!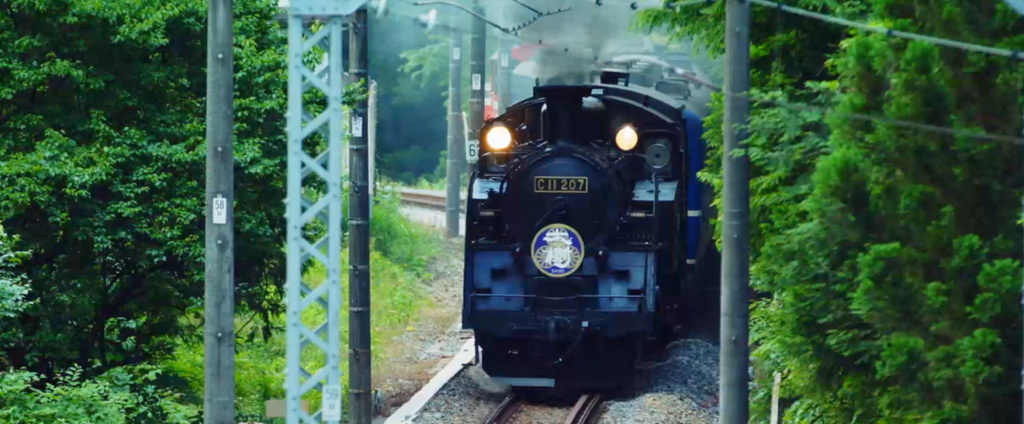 Taking a Steam train in Japan is such a unique experience. In the Nikko area you can travel with the SL Taiju Train. A Steam Train operated by Tobu Railway running between Shimo-Imaichi Station and Kinugawa-Onsen Station near Nikko.
This is a special sightseeing train, usually only running during weekends! .
Taking this Steam Train will give you plenty of opportunities for memorable photos!
More information on the steam train here.
---
18. Final stop in this beautiful trip: Tobu World Square
Tobu World Square is a theme park that reproduced famous buildings from around the world on a 1/25 scale.
A total of 102 buildings, including 47 World Heritage Sites, are exhibited together with 7 cm tall dolls. It is divided into six areas, including modern Japan, America, and Europe.
You can take pictures from a small doll's point of view, or you can take mysterious trick pictures with a giant, and it's fun to discover your own way of playing.
Tobu World Square is one of the best things to see around Nikko.
Location: here
Website: here
Admission: Adult 2,800 yen and Children 1,400 yen
---
Where to stay in Nikko?
We recommend staying either close to Nikko National Park or close to Kegon Waterfalls by Chuzenji Lake.
Best hotels near Nikko National Park:
Nikko Tokinoyuu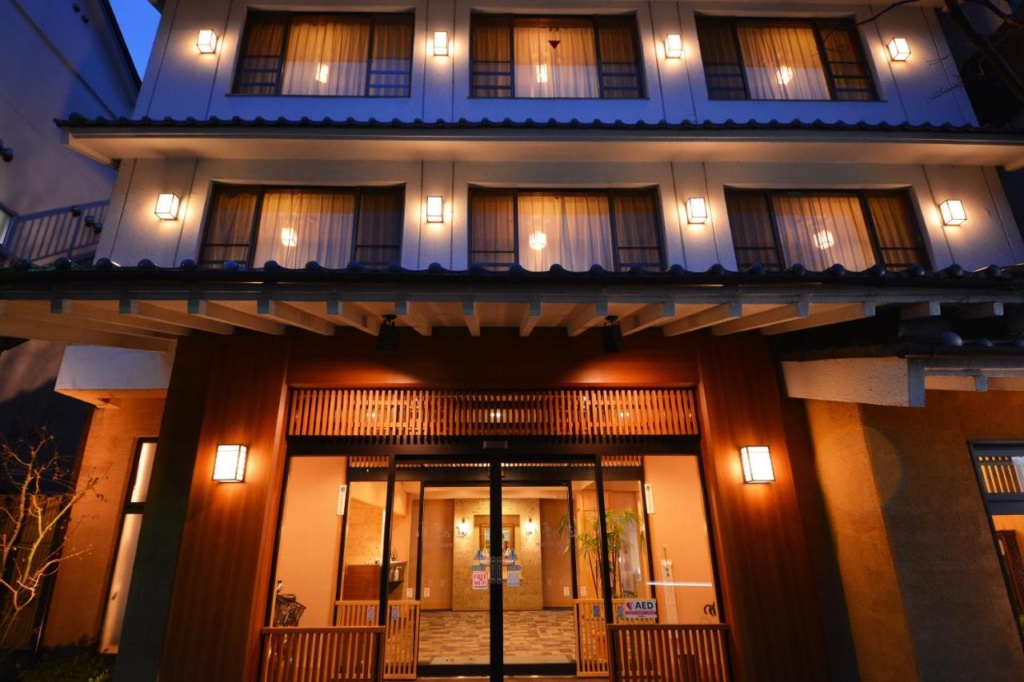 This hotel is perfectly located right besides Shinkyo Bridge. Meaning you can visit the National Park, the Bridge, the Imperial Palace and even Kanmangafuchi Abyss on foot! There are also plenty of restaurants around the hotel.
Nikko Tokinoyuu is a traditional japanese inn (Ryokan) which offers its own onsen!
This place is often full due to its proximity to everything and good value for money, hence check the availability here right away!
---
Nikko Station Hotel – 2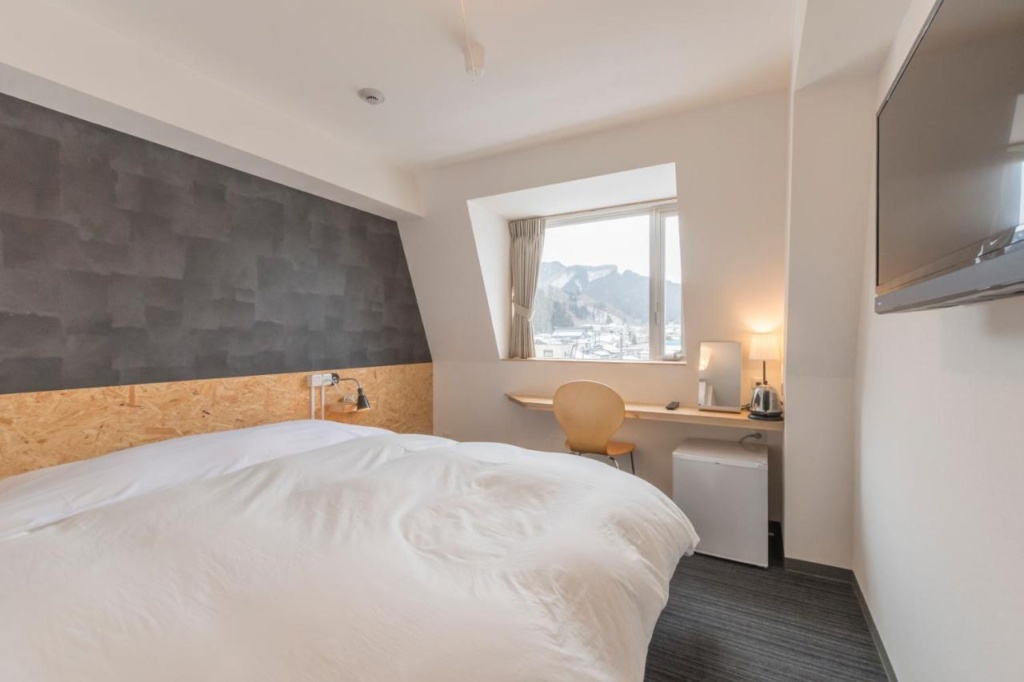 The advantage of this hotel is that it is located right beside the train station in case you take the train from Tokyo!
If you are on a budget, but still want comfort and convenience due to its proximity to the main sights in Nikko, Nikko Station Hotel -2 is a great choice! You won't be disappointed.
---
By Lake Chuzenji, the Ritz Carlton is certainly the most stunning places to stay in Nikko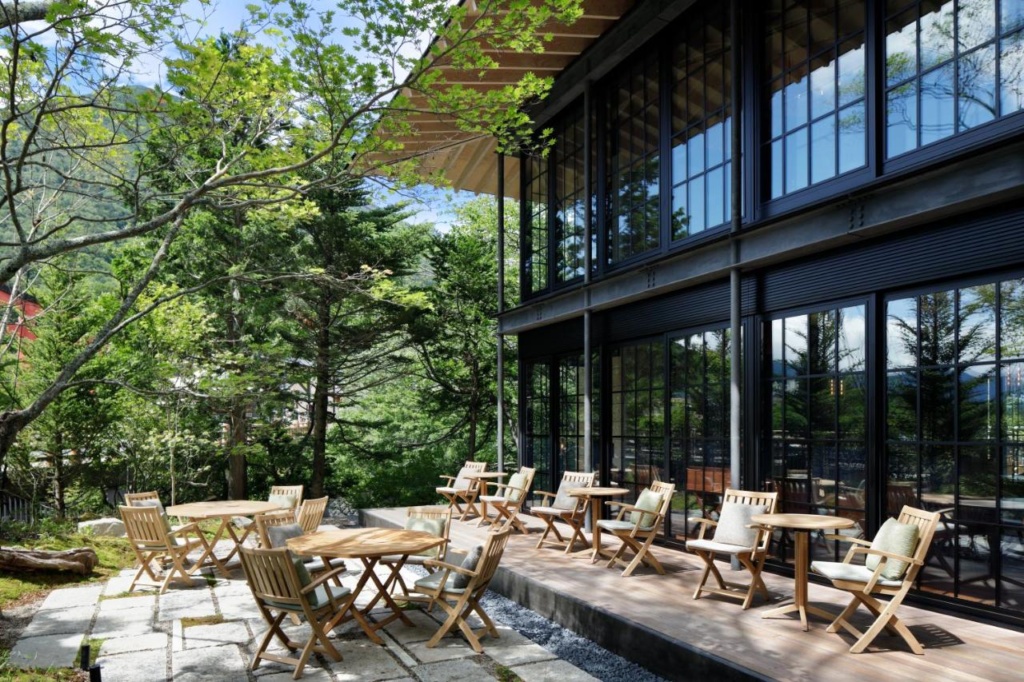 If you want to get pampered and stay in one of the most stunning hotels in Japan, then Ritz Carlton Nikko is for you!
This hotel is simply fantastic! It's close to perfection even. The view, the spa, restaurants, services etc. everything is impeccable!
---
Useful information about Nikko
How to get to Nikko?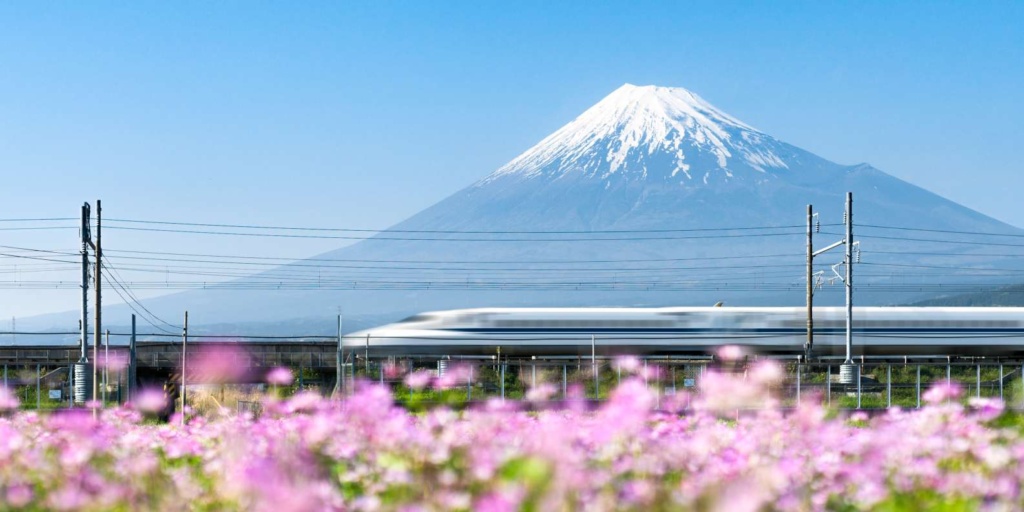 Getting to Nikko by car:
If you have a car in Japan, then it's a no brainer! Getting there from Tokyo is relatively easy. You can get there in a little over 2 hours!
As Nikko is quite spread with Nikko National park on one side and Kegon Waterfalls on the other side, having a car will make your visit more efficient.
To rent a car, we always use Nippon Rent-a-Car in Japan! Always reliable, competitive rates, english service! Search no longer!
Getting to Nikko by train:
The train is one of the best way to get to Nikko (from Tokyo). We recommend the Tobu Skytree line (rapid section). The journey takes about 2 hours. If you travel to Japan, make sure to buy your JR PASS >> BEST PRICE HERE <<
Join a tour group or take a private driver (ideal for group of people:
Join a 1 day bus tour which will take you to the main sights of Nikko: BOOK HERE
Get your own private tour: BOOK HERE
---
How to get around in Nikko?
If you do no have a car, we highly recommend to buy the NIKKO PASS!
Nikko Pass allows you to access most sights and take the bus around Nikko including the train from Tokyo! The pass is valid for up to 4 days. You will save a lot of money with the Nikko Pass.
---
How many days to visit Nikko?
As already mentioned earlier, Nikko can be visited on day trip from Tokyo. However, you will have to skip some interesting parts of Nikko such as Kegon Waterfalls…
The minimum stay should be 2 fulls days. We actually recommend 3 days to see it all.
---
When is the best time to visit Nikko?
Autumn is undeniably the best time to visit Nikko. The colors from the fall foliage will simply amaze you! However Spring and even Summer are also pleasant!
---
Related posts
GUIDE FOR A VISIT TO NARAI-JUKU
BEST THINGS TO SEE IN SHIRAKAWA-GO AND GOKAYAMA
HIKE ALONG NAKASENDO [TRAVEL GUIDE]
GUIDE TO TSUMAGO ALONG NAKASENDO
15 BEST THINGS TO SEE IN HAKONE NEAR MT. FUJI
15 INCREDIBLE THINGS TO SEE AT LAKE KAWAGUCHI
OBUSE, A BEAUTIFUL TOWN IN JAPAN WORTH A VISIT
10 BEST THINGS TO SEE IN MATSUMOTO