WHAT TO SEE IN TSUKIJI MARKET IN TOKYO? DID THE MAIN TSUKIJI MARKET CLOSED? WHAT ELSE CAN I SEE IN TSUKIJI MARKET?
Hello Tsukiji! The former site of Tokyo's iconic seafood market is well worth an early morning departure and remains a must-see for any seafood lover.
---
HIGHLIGHTS ABOUT A VISIT TO TSUKIJI OUTER MARKET
You will find some of the best sushi in Tokyo
We are talking about the Outer Market! the main INNER WHOLESALE MARKET was closed in 2018
Come early to see the market in full life!
Tsukiji market remains one of the best things to see in Tokyo
Nearby you can combine your visit with Ginza
---
HERE IS A TEASER ABOUT TSUKIJI OUTER MARKET:
---
The Ultimate Guide about Tsukiji Outer Market
---
HISTORY OF TSUKIJI INNER MARKET
In 1923, the Great Kanto Earthquake largely devastated Tokyo, destroying the Nihonbashi Fish Market. This disaster led to its move to Tsukiji, where the market opened in 1935. The area grew and became a prosperous neighborhood. You can still get an idea of ​​the history of the district, thanks in particular to several buildings that are more than 80 years old.
Just imagine a huge market, the largest in the world when it comes to fish and seafood. Add to the scene enormous tuna steaks weighing more than 100 kilos, hundreds of Japanese shouting and haggling and thousands of visitors tasting the various fish specialties. This is what Tsukiji market looked like.
However, because it became too popular over the years, Tsukiji market started to feel way too small…
In 2018, the fish market moved to Toyosu. You can go there to watch the tuna auction from the visitor passages or the observation deck, or to fill your stomach in about forty restaurants and cafes. Also browse the Middle Seafood Wholesale Market where more than 70 shops sell everything from miso and dried seaweed to Japanese knives and souvenirs. Don't miss the magnificent view of Odaiba and Tokyo Bay from the verdant lawn of the rooftop garden.
---
VISITING TSUKIJI OUTER MARKET
Today, only Tsukiji Outer Market can be visited. However, it remained a very exciting place to visit in Tokyo. For us, one of the most exciting in fact! It's the perfect place to immerse yourself in Japanese cuisine.
Within the bustling and colorful Outer Market, you'll find historic alleyways filled with a colorful array of shops and small eateries at very reasonable price. Most of Tokyo's neighborhoods are very modern. However Tsukiji kept its vintage atmosphere full of charm.
---
WHAT TO SEE IN TSUKIJI MARKET?
1. WANDER IN THE MANY ALLEYS OF THE MARKET
The things we like the most when visiting Tsukiji outer market is simply to get lost in the many alleys of the market. Don't hesitate to even venture yourself in the smallest alleys. You will see very small restaurants serving sushis, or small shops selling some of the best Japanese knives you can find!
---
2. EAT A LOT OF SEAFOOD
In Tsukiji market you will find countless number of sushi restaurants and street food stalls. You can eat all kind of fresh seafood around the market. Grilled seafood, sashimi, fried! It's like an open air buffet!
Our absolute favorite are uni (of course!) or oysters! Oysters sold in the market are pretty big and very affordable. Just writing about it makes us want to go back there and order a dozen of them…
There are so many great restaurants around Tsukiji market that it's impossible to recommend one over another. Just go with the flow, and pick one that you like.
On the weekend, there are also bars installed outside, when you can drink some sake. The atmosphere is really cool!
---
3. BUY HIGH-END JAPANESE KNIVES AND KITCHENWARE
Did you know Japanese knives are considered the best in the world?
The blades of Japanese knives are made with a superior quality steel: steel-sand. This has a high carbon content (0.8 to 1.5%) which gives it remarkable hardness and resistance. Japanese steel also contains other elements such as: chromium to resist corrosion; cobalt to withstand high temperatures; nickel to make it harder and shinier; tungsten to resist wear etc.
Japanese knives are also arguably the sharpest in the world. To make the blades, artisans use traditional Japanese manufacturing methods. Indeed, the Japanese knife is designed in the same way as the famous Samurai Katana sword. Moreover, this kitchen utensil finds its origin with this Japanese sword. It benefits from the know-how of the best blacksmiths in the country who wanted to refine their technique by making a simple sword increasingly sharp.
---
4. VISIT ENSHOJI SHRINE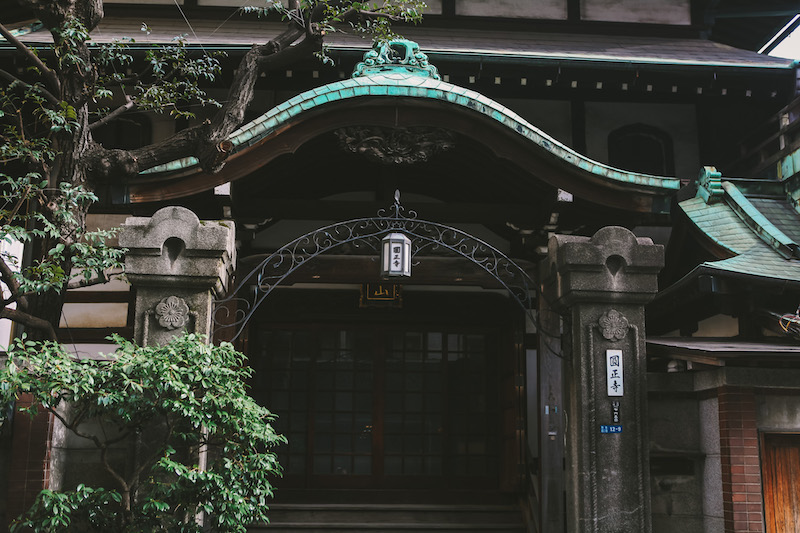 Within the market don't miss to check out Enshoji Shrine. The beautiful wooden architecture of the temple is not be missed within the market. There are a few other temples within the market but Enshoji is certainly the most spectacular ones.
Location: here
---
5. VISIT 築地本願寺 中央区, A LARGE BUDDHIST TEMPLE RIGHT BESIDE THE MARKET
This Large Buddhist Temple sits right across the street from Tsukiji Fish Market. It is pretty fascinating to see such a huge temple with a very different architecture from any other temples and very different from the rest of Tsukiji area.
When seeing the building we thought it was a library, museum or a government building. But then we realized that it was such a large buddhist temple.
You can actually walk inside for free. We recommend that you stop by if you are visiting the area.
Location: here
---
6. COMBINE YOUR VISIT OF TSUKIJI MARKET WITH GINZA
Nicknamed "the Japanese Champs-Élysées", Ginza is known to be Tokyo's luxury district, concentrating the world's most exclusive brand boutiques, renowned restaurants, cafes and nightclubs.
If you want to go shopping after your explorations of Tsukiji market, it's the perfect time. Ginza is just a short walk away from the market.
READ: 15 BEST THINGS TO DO IN GINZA
---
7. JOIN A GUIDED TOUR OF THE TSUKIJI OUTER MARKET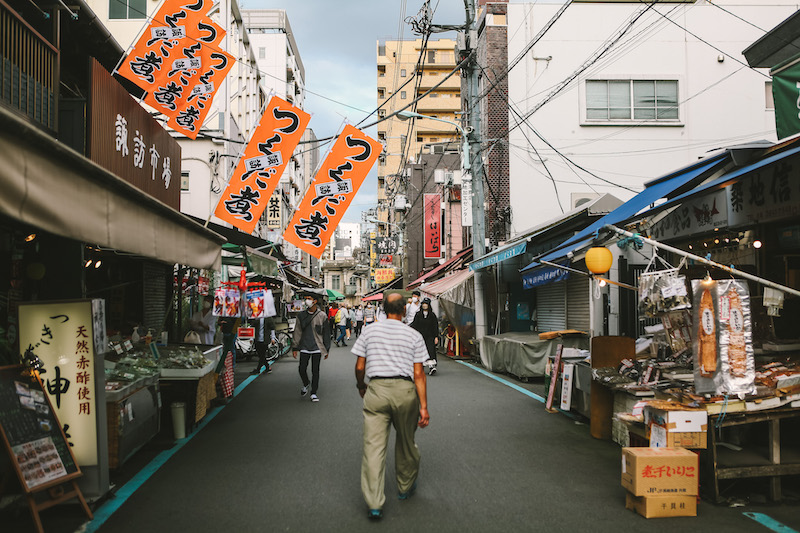 For the best experience of the famous outer area of the Tsukiji Fish Market in Tokyo consider joining on a guided tour. You will learn about the culinary culture of Tokyo and what the top chefs do on their daily visits to the market. The guide will also introduce you to a variety of traditional Japanese foods as you explore the market.
For more information about a guided tour of Tsukiji market in Tokyo, click here.
---
OUR TIPS FOR VISITING TSUKIJI MARKET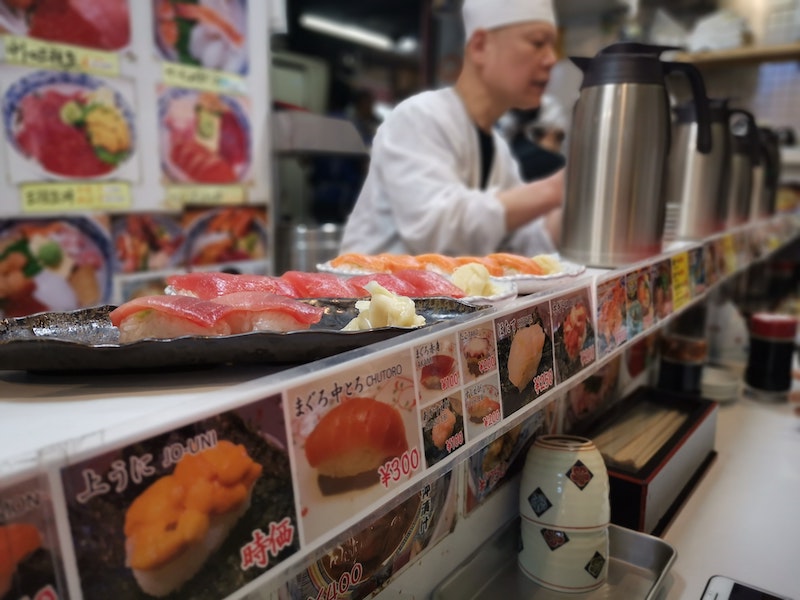 Here are some tips to help you get the most out of your visit to Tokyo's Tsukiji Market.
1. GO BEFORE 3PM!
Most shops and restaurants in Tsukiji are closed after 3PM. It would be a shame if you go there and can't try any of the seafood restaurants or street food. Some also closes on Wednesday or on Sunday. If you have a particular restaurants in mind, make sure to check out there opening hours before you go.
---
2. MORNING IS THE BEST TIME TO VISIT TSUKIJI
The market is most bustling in the morning. Actually many Japanese would even have their breakfast there. So if you want to see the market when it's most alive, head there first thing in the morning!
---
3. RESPECT TSUKIJI ETIQUETTE
Most of this is common sense, and these tips apply to most markets or stores in Japan:
Be aware of your surroundings. This is a working market and you don't want to stop locals from shopping at their local businesses.
Ask permission before photographing property or people. Even if you don't speak Japanese and they don't speak English, sign language usually does the trick.
Avoid perfume or cologne as it can interfere with other people's sense of smell and taste. This also applies to general dining etiquette in Japan.
Travel light. Leave suitcases or large backpacks at your hotel or in a station locker, as this place can get crowded.
Make sure you have cash on hand as not all food stalls accept credit cards
---
HOW TO GET TO TSUKIJI MARKET?
Tsukiji Market is located in the heart of central Tokyo, near the upscale Ginza district, charming Hamarikyu Garden, and bustling Shimbashi.
If you have time, we recommend combining your visit to Tsukiji with a visit of Ginza, home to some of Tokyo's best shops.
It's a short and pleasant walk from Ginza to Tsukiji, but if you're coming from another part of town, here are the most common transport options to Tsukiji Market:
If you are traveling by public transport, the nearest station is the Toei Oedo Line Tsukiji Shijo Station.
Also nearby, the second closest station is Tokyo Metro Hibiya Line. Tsukiji station.
Of course, you can also walk or take a taxi, depending on your point of origin. We usually stops at Ginza and walk to the market.
---
VISIT OF TOYOSU NEW WHOLESALE MARKET
Now that wholesale operations have shifted from historic Tsukiji to modern Toyosu, many travelers are wondering whether they should visit Tsukiji, Toyosu, or both.
It's not a simple answer, but we recommend focusing on Tsukiji, especially if you only want (or have time) to visit one. Other than its location being a bit out of the way, modern Toyosu Market lacks the old-fashioned vibe of Tsukiji.
The new Toyosu Market complex will attract market-goers and also has many restaurants. However, please note that it is not possible to independently enter the active market itself and market activities can primarily be viewed from observation decks surrounded by glass.
---
IN CONCLUSION ABOUT TSUKIJI MARKET IN TOKYO
Even though the main indoor wholesale market closed in 2018, we still highly recommend a visit of Tsukiji Outer Market. The atmosphere is lively and still very traditional. The food is outstanding with so many options when it comes to seafood.
And the good thing, is that you can combine your visit with a shopping spree in Ginza, Tokyo's most famous shopping area. Besides the contrast between the 2 places is very unique, one being still very traditional and the other one super modern and very upscale!
We hope that you found this post useful. If you have any questions, feel free to write a comment below.
For more posts about Japan click here.
---
Related Posts
13 BEST DISTRICTS TO VISIT IN TOKYO
10 BEST THINGS TO SEE IN MONZEN-NAKACHO IN TOKYO
EXPLORE KAGURAZAKA, THE LITTLE PARIS OF TOKYO
HARAJUKA, THE COSPLAY AREA OF TOKYO
15 BEST THINGS TO SEE IN HAKONE (NEAR MT. FUJI)
TOP THINGS TO DO IN SHIBUYA, TOKYO
VISIT LAKE YAMANAKA NEAR MT. FUJI
20 BEST THINGS TO SEE IN OTARU, HOKKAIDO, JAPAN
WHAT TO DO IN NISEKO, HOKKAIDO
OBUSE, A BEAUTIFUL TOWN IN JAPAN WORTH A VISIT
FULL GUIDE FOR VISITING HAKUBA IN JAPAN