WHAT TO SEE IN SHINJUKU? WHAT IS SHINJUKU KNOWN FOR? WHERE TO STAY IN SHINJUKU? WHAT TO DO AT NIGHT IN SHINJUKU?
Shinjuku is one of most exciting districts to visit in Tokyo! If you are planning a trip to Tokyo, make sure to visit Shinjuku at night!
Shinjuku is centered around the busiest train station in the world. It combines one of the largest business districts in Tokyo with a huge shopping and entertainment area! It is also in Shinjuku that you will experience the best nightlife in Tokyo!
"Shinjuku is Tokyo's most exciting district!"
Shinjuku is divided into several colorful districts (including Kabukicho, Okubo and Takadanobaba) and notably houses one of Tokyo's largest parks, the Shinjuku Gyoen.
In this post we described the best things to do in Shinjuku! Enjoy your visit.
READ: DISCOVER TOKYO'S BEST NEIGHBORHOODS HERE
After Shibuya, Harajuku, Akihabara or Shimokitazawa, Shinjuku is another district not to be missed when visiting Tokyo!
There are indeed plenty of things to do there, especially at night. It is also a great place to stay in Tokyo due to its strategic location.
Shinjuku station is also one of the busiest stations in Tokyo. You can therefore move around the city and its surrounding areas quite easily.
Here is what you can expect during a visit of Shinjuku:
---
WHAT TO DO IN SHINJUKU?
1. Check out the view at the top of the government building
Tokyo Metropolitan Government Building is one of Shinjuku's main attractions, and for good reason: there is a free observatory at the top!
Tokyo City Hall is a unique place to discover a breathtaking view of Tokyo.
With a little luck, you can even see Mount Fuji from afar! Pretty cool, right!?
The building is particularly impressive with its double towers of 51 floors each. Both towers offer free viewing. Both offer an impressive view!
Upstairs you will find a huge open hall with a 360° view of Tokyo. You can even observe the huge Yoyogi Park, where the must-see Meiji-jingū is located (more info on that here).
---
2. Discover Omoide Yokocho, our favorite area in Tokyo!
It's quite likely that you will have a total crush on Omoide Yokocho! We love this area!
Omoide Yokocho consists of small narrow streets where you will find many izakayas. Omoide Yokocho is the kind of typical streets that many visitors to Japan are looking for.
Again the atmosphere is most famous at night.
Omoide Yokocho is not that big. It only takes a few minutes to walk through these small alleys. But do not hesitate to sit down at one of the many restaurants to enjoy some food and drinks!
It is then that you will feel the great atmosphere of Omoide Yokocho.
If you are a foodie, then check out this FOOD TOUR organized by a local guide. You will then experience some hidden gems in Shinjuku only known by true locals…
Location: here
---
3. Next, have a drink at Golden Gai

Golden Gai is Omoide Yokocho's big sister. While Omoide Yokocho is more popular for its izakayas, Golden Gai is more famous for its small bars.
Golden Gai is one of the best things to see in Shinjuku!
Similar to Omoide Yokocho expects lots of small narrow alleys full of tiny bars open at night. Each place has a limited capacity of a maximum of 10 seats sometimes less.
Due to their limited capacity many of the bars are reserved for regulars. But don't get discouraged, you will find a bar that will accept you!
Another option which we highly recommend when visiting Golden Gai is to take a local guide. Then you won't have to worry about being rejected from certain bars. >> BOOK YOUR LOCAL GUIDE HERE <<
Location: here
---
4. Discover Kabukicho in Shinjuku
At night, Shinjuku is full of lights! Although Kabukicho is the most famous red light district in Tokyo, it remains a great place to discover in Tokyo!
Kabukicho is not dangerous. What we like in Kabukicho is all the neon lights on the buildings everywhere. It's a great place to take photos at night.
Don't miss the famous red sign at the entrance of Kabukicho.
There are also many great restaurants on the side alleys of Kabukicho.
Location: here
---
5. Spot Godzilla in Shinjuku
Another very popular activity in Shinjuku is to look for the statue of Godzilla.
You have all seen the movie and there is a replica of this big lizard in Kabukicho. To find it, you just have to go to the Gracery hotel in Shinjuku and the big beast is above this building.
If you are residents of the hotel, you can even get very close to Godzilla's head. But if you don't live there, here's a little tip. You can still see Godzilla's head up close by going for a drink at Café Bonjour which is on the 8th floor of this building.
Location: here
---
6. Enjoy a shopping spree in Shinjuku
This area of ​​Tokyo has huge stores.
The Lumine 1 and Lumine 2 shopping malls surrounding the train station include over 200 stores and restaurants.
Nearby are the major local brands specializing in electronics (Bic Camera, Yodobashi Camera) or temples of luxury (Isetan). There is something for every everyone! Have fun…
---
7. Get some fresh air at Shinjuku gyoen
If there is one place not to be missed in Shinjuku, is Shinjuku gyoen.
First of all, this park is absolutely magnificent and brings together different areas with very specific themes (Japanese gardens, French gardens, etc.).
Secondly it offers some greenery and fresh air in the middle of this urban jungle!
One important thing to note. It opens at 9am and closes at 6pm so don't go too late.
Location: here
---
8. Visit Shin-Okubo, the Korean town in Tokyo
Still in Shinjuku, head towards Shin-Okubo, the Korean district of Tokyo.
As we lived in Korea for almost 4 years, we can't live without kimchi for too long! So knowing there is a Korean Town in Tokyo we had to go check it out!
You will see that even if you stay in Tokyo, the atmosphere changes completely in Shin-Okubo. Everything becomes Korean, all restaurants serve delicious Korean food and things are written in Korean everywhere!
Hence, we highly recommend a visit of Shin-Okubo if you are visiting the Shinjuku area.
Location: here
---
9. Time for more cultural things to see: visit the beautiful SOMPO Museum of Art
The museum is on the 42nd floor of the Sompo Japan Building.
Sompo museum brings together 230 works by the Japanese painter Seiji Togo (early 20th century).
It is also possible to admire in particular the famous painting by Van Gogh 'the sunflowers' and several paintings by Gauguin and Cézanne.
---
10. Visit Shinjuku with a go-kart!
Wanna have a memorable and unforgettable moment in Tokyo? Take a go-kart tour on the streets of Shinjuku dressed like Mario kart!
This is one of the most popular activities in Shinjuku! It's only in Tokyo where you can drive a go kart in the middle of the city! How crazy is that!? Welcome to Japan…
---
11. Have a drink at the famous Park Hyatt Hotel in Shinjuku
You have all seen the superb film Lost In Translation by the talented Sofia Coppola. And if not, what are you waiting for?
Watching this movie will definitely make you want to visit Tokyo even more!
Going back to the movie, several scenes from Lost In Translation are shot in a nice bar with a Jazzy vibe and stunning views of Tokyo (see above video).
This bar is actually called the New York Bar and it is part of the equally superb Park Hyatt hotel which is located not far from Shinjuku station.
It is true that the bar is quite expensive but even if you are not a fan of Lost In Translation, it is definitely worth a visit.
---
12. Visit Hanazono Shrine
No that popular with tourists, the Hanazono Shinto Shrine deserves however a visit.
Hanazono is particularly beautiful at night. With all the lights at the temple, this place is actually stunning! You can come there around 9 p.m. after having dinner, before going to browse the streets of the Golden Gai located just a few meters away.
Location: here
---
13. Get lost at Shinjuku Train Station, the busiest train station in the world!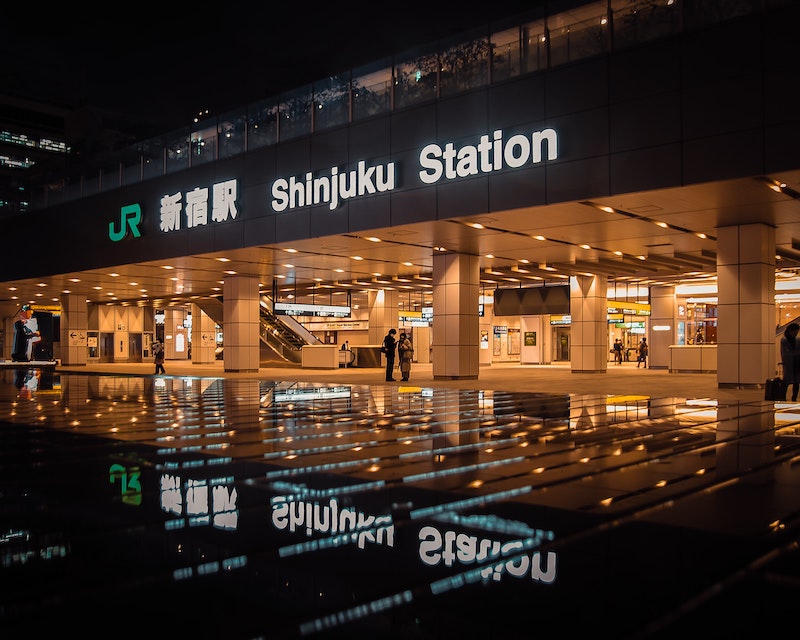 Shinjuku station is the busiest station in the world with more than 4 million travelers passing through Shinjuku every day! That's really insane by the way!
Shinjuku station is actually subject to many urban legends, like people disappearing in a particular tunnel… Or people being lost for a few days inside the station. Well believe it or not, it's up to you.
This station is indeed very large with well over 200 platforms! Actually a trip to Tokyo wouldn't be complete without getting a bit lost in Shinjuku station!
Location: here
---
14. Explore Kagurazaka, Tokyo's french district
Kagurazaka is a small district located at the eastern end of Shinjuku on the border with the district of Chiyoda in Tokyo. Kagurazaka has the reputation of being the French quarter of Tokyo. Indeed, it is home to many french shops and restaurants.
But Kagurazaka is also known for being one of the Geisha district of Tokyo (still active today). The typical Yokocho alleys of Kagurazaka still bear witness to its feudal past linked to the Geishas.
We highly recommend a visit of this beautiful and charming neighbourhood of Tokyo. In this post we listed all you need to know about a visit to Kagurazaka.
READ: 10 AWESOME THINGS TO DO IN KAGURAZAKA, THE FRENCH DISTRICT OF TOKYO
---
15. Visit Shinjuku's Samourai museum
Visit the museum to admire an ample collection of samurai armor.
Calligraphy and sword lessons are offered as well as the possibility of wearing a samurai costume.
A fun experience in Shinjuku!
---
Where to stay in Shinjuku?
Shinjuku is one of the best places to stay in Tokyo due to it's strategic location and great connection to pretty much anywhere in Tokyo and the rest of Japan!
Here is our favorite hotels in Shinjuku:
ONSEN RYOKAN YUEN SHINJUKU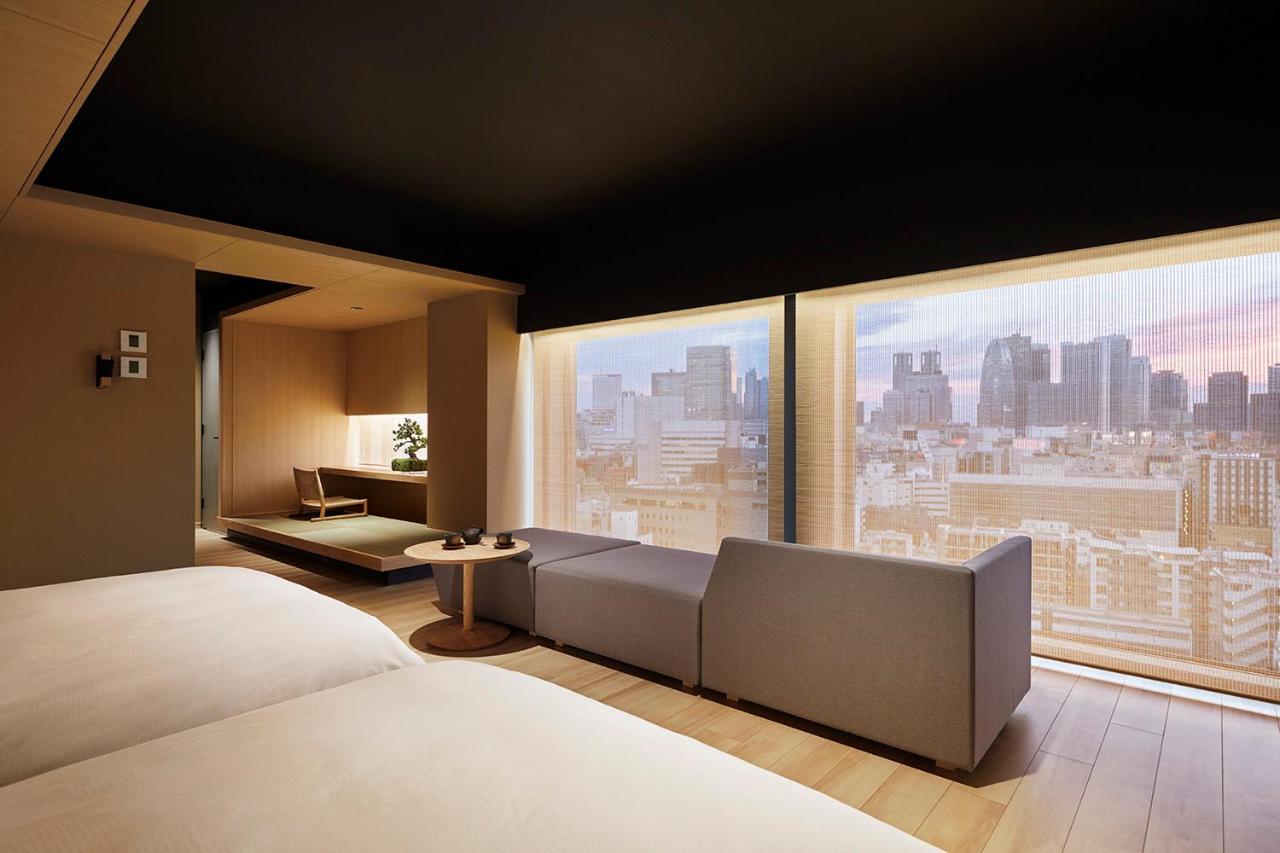 ONSEN RYOKAN YUEN SHINJUKU is our hidden gem in Shinjuku! Here you can experience the traditional Japanese architecture and design combine with the luxury of having an onsen on the rooftop, right in the middle of Shinjuku!
If you want to combine the frenzy of the city with the Japanese comfort and luxury, this place is for you. Surprisingly, ONSEN RYOKAN YUEN SHINJUKU holds the best value for money in the area!
>> BOOK HERE <<
---
Hyatt Regency Tokyo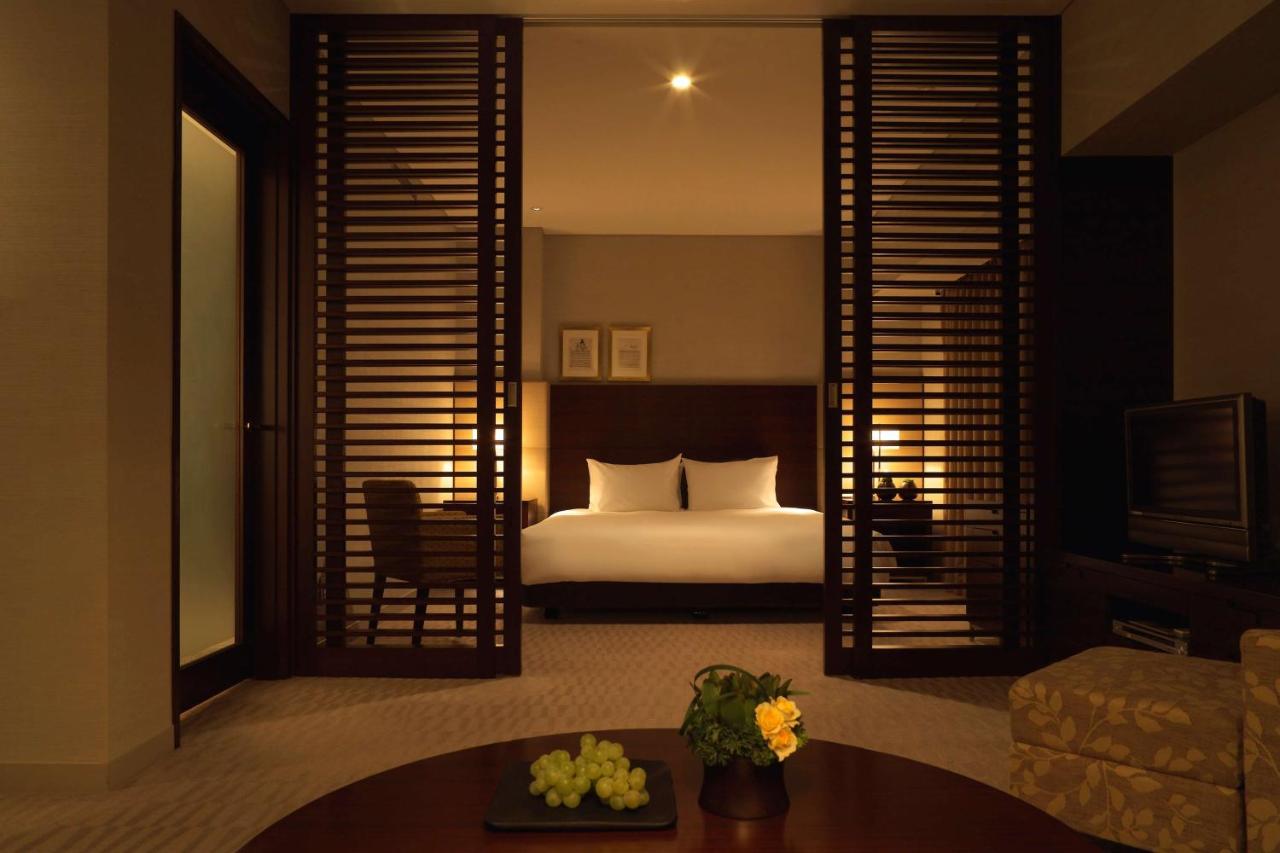 If you are looking at something more modern and slightly more western, then we highly recommend the stunning Hyatt Regency Tokyo. 100% satisfaction guaranteed at this place, the service is top notch!
>> BOOK HERE <<
---
Capsule Hotel Anshin Oyado Shinjuku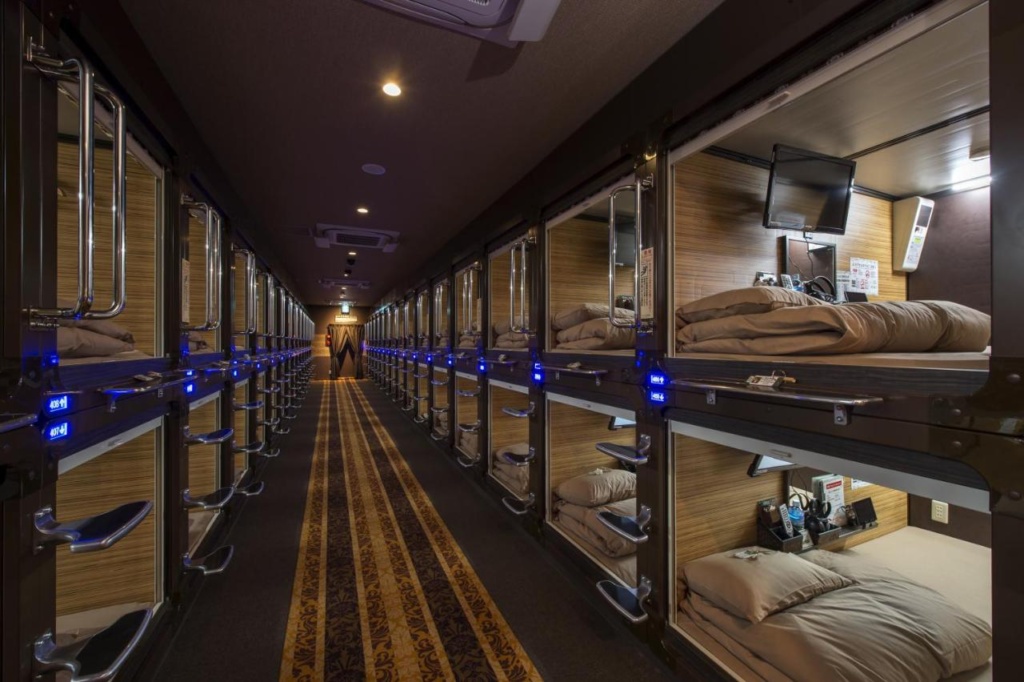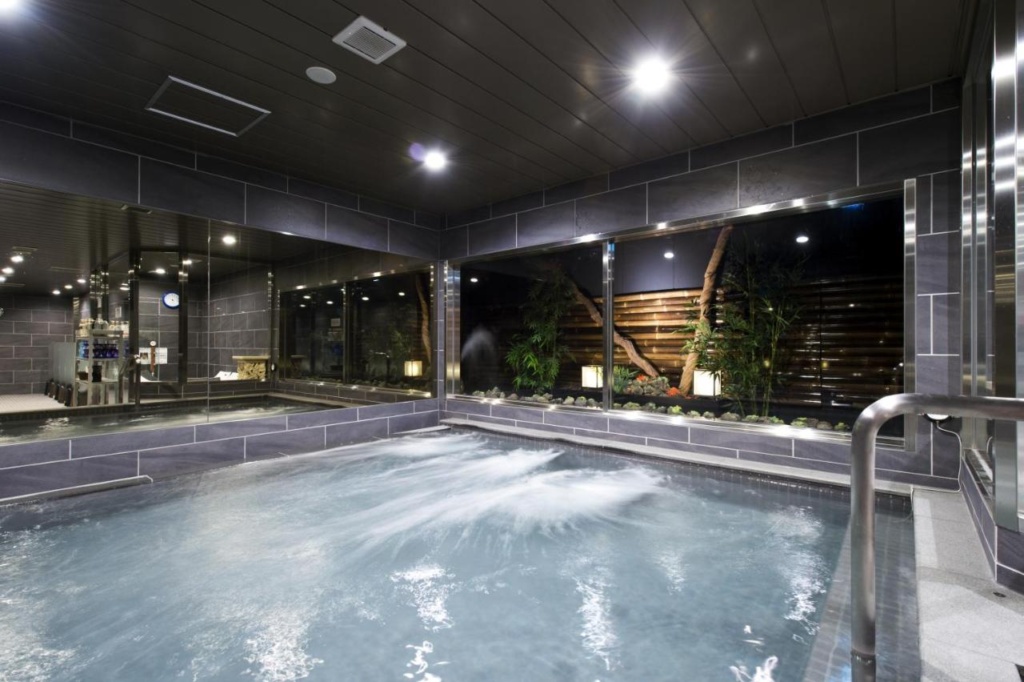 Ever thought of staying in a capsule hotel during your trip to Tokyo! This is unique in Japan and will make your stay unforgettable. Don't think of Capsule Hotels as Hostel or anything like it.
In Capsule hotels privacy and full comfort is key! We actually slept like baby! Capsule Hotel Anshin Oyado Shinjuku is one of the best capsule hotels in Shinjuku.
READ: WHERE TO STAY IN TOKYO – BEST AREAS AND HOTELS !
---
How to get to Shinjuku?
The Shinjuku area is easily accessible by train, subway or bus from pretty much anywhere in Tokyo!
By train, take the JR Yamanote Line or, from Tokyo Station, the JR Chuo/Sobu Line.
Subway lines that pass through Shinjuku are Marunouchi Line (M08 – Tokyo Metro), Oedo Line (E01/E27 – Toei), Shinjuku Line (S01/S02 – Toei) and Fukutoshin Line (F13 – Tokyo Metro) .
If you are arriving from Narita Airport, the NEX (Narita Express) train also connects to JR Shinjuku Station.
---
So, is Shinjuku worth a visit?
Not only Shinjuku is worth a visit, it is also a must-see in Tokyo!
This is the heart of Tokyo. In Shinjuku you will feel the vibration of the city! Go there at night and you will be amazed by all the lights, the people everywhere, the countless restaurants and the small alleys such as Golden Gai and Omoide Yokocho
Shinjuku, together with Harajuku, Shimokitazawa, Akihabara, Koenji and Monzen Nakacho are some of our favorite areas in Tokyo!
---
Related posts
30 AWESOME THINGS TO DO IN TOKYO
13 BEST DISTRICTS TO VISIT IN TOKYO
10 BEST THINGS TO SEE IN MONZEN-NAKACHO IN TOKYO
INCREDIBLE THINGS TO SEE IN AKIHABARA
DISCOVER MEIJI SHRINE AND YOYOGI PARK IN TOKYO
15 AWESOME THINGS TO SEE IN HARAJUKU
BEST THINGS TO SEE IN KOENJI IN TOKYO
EXPLORE KAGURAZAKA, THE LITTLE PARIS OF TOKYO
DISCOVER TSUKIJI OUTER MARKET IN TOKYO
15 BEST THINGS TO SEE IN ASAKUSA (SENSO-JI)
15 BEST THINGS TO SEE IN HAKONE (NEAR MT. FUJI)
BEST THINGS TO SEE IN NIKKO NEAR TOKYO
GUIDE FOR A VISIT TO NARAI-JUKU