What to see in Mullae? Where is Mullae? Any good restaurants or cafes in Mullae? Why is this area becoming so trendy? In this post we will tell you all about Mullae Art Village, also called Mullae-dong (문래동 예술촌).
Seoul is a gigantic city, composed of many different neighborhoods. You surely know some of them such as Hongdae, Myeongdong, Gangnam, Insadong, or even the cute villages of Ikseon-Dong or Ihwa Mural Village. These are unmissable places when visiting Seoul. But have you heard yet of the latest trendy area of Mullae? This up and coming neighborhood is not yet in most guide books.
This unique place, which spreads over a few streets, brings together industries, street art, artisans, cafes, restaurants and trendy bars.
Check out the best things to see in Mullae Art Village in this post.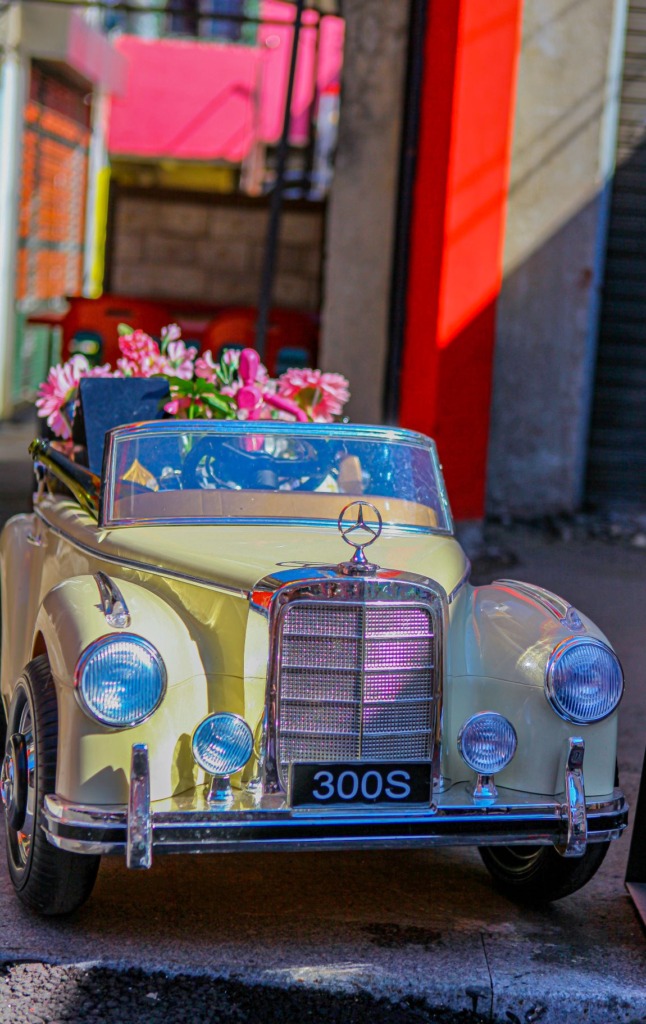 A bit of history about Mullae Art Village
Mullae was originally an industrial complex, not so welcoming, perhaps even a bit creepy…
However, young artists started to settled in Mullae to benefit from the very low rent in Seoul. Mullae then started to gradually become a trendy place full of street arts. Rents then went up, causing many small businesses to close. They are now gradually being replaced by trendy restaurants, galleries and cafes.
Even though many industrial business closed, many still remain. This is what makes Mullae so unique. It's a perfect blend of industrial streets mixed with arts, trendy cafes and restaurants. You will hear both the sound of steel machineries and the music coming from restaurants.
That's why we absolutely fell in love in Mullae and highly recommend to add this neighborhood to your to-do list, during your visit of Seoul.
So, what to do in Mullae?
---
1. Get lost in the streets of Mullae Art Village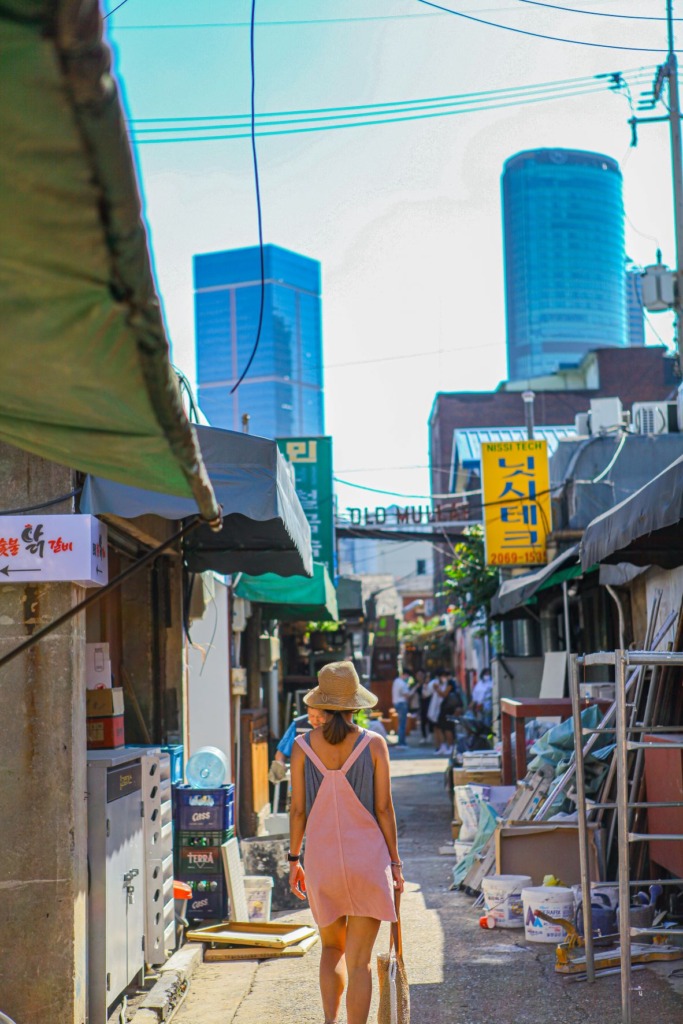 The best way to explore Mullae Art Village, is to simply get lost in the street maze. Do not hesitate to even venture into very small alleys, you will be surprised to discover some pieces of street arts or even very small hidden bars.
You can visit Mullae at any time of the day, however the best time to go there is later afternoon, around 4-5pm. Most bars only open during that time. However, you can still enjoy a coffee or lunch/brunch during the day.
During your visit you will appreciate this mix of culture: on one side you have the workers making loud sound working on the steel and on the other side tourists walking around and checking out new cafes and restaurants. It's very unique! These kind of unexpected places is what we love about Seoul. Even after 3 years in this city, we still discover new areas, which is always super exciting!
---
2. Check out Old Mullae
The most popular place in Mullae is probably a place called Old Mullae. This is a stylish bar/cafe/restaurant which is becoming very popular in Seoul.
This is the first place we visited in Mullae, as we were very hungry and wanted to get some food. We ordered the huge fish and chips platter! And it was so so so good! One of the best fish and chips we had in our lives. They also serve other kind of platters to share including a very nice cheese platter.
Old Mullae is also famous for it's beers, they serve all kinds of beers from all around the world. However, you can also go there to simply enjoy a coffee and admire this great place! Big thumbs up to Old Mullae. We love this place!
MORE INFO:
Location: here
Website: here
---
3. Enjoy a coffee and dessert at Rust Bakery
We discovered Rust Bakery by walking to a random street in Mullae. When we entered the street, we could sense the fresh smell of baked breads and desserts. We couldn't resist, and although we had a pretty big meal at Old Mullae, we decided to treat ourselves with a small dessert and 2 lattes at Rusk Bakery.
We really like the atmosphere at Rust Bakery which is located in a former industrial building. The whole kitchen is completely open, hence the very nice smell of fresh baked breads spreading everywhere. They also have a small rooftop, which is pleasant if the weather is not too hot or too cold. The quality of their coffee and the cake is also great. Check out their Instagram for more photos of their cakes, you probably won't resist either….
MORE INFO:
Location: here
Website: here
Instagram: here
---
4. Check out WAVES, a fantastic Hawaiian restaurant
Waves in Mullae Art Village, is another must-see in this neighborhood. You can check it out for dinner and also have sip a great cocktails with it. The building was previously a steel factory.
The place will make you feel like you are in Hawaii, with many plants, surfboards and its Aloha vibe all around the restaurants. In terms of food, we absolutely loved the pineapple shrimps.
Make sure to check it out if you visit Mullae, this restaurant is really unique and one of the most hipster place in the area.
MORE INFO:
Location: here
Instagram: here
---
5. Have a drink on the rooftop of Beervana
Beervana offers high quality beers. They also have one of the best rooftops in Mullae. It was one of the best place to enjoy a drink in the evening.
MORE INFO:
Location: here
Instagram: here
---
6. Have a drink at the fancy hotel 707
Unlike its name, Hotel 707 is not a hotel, but a super trendy cafe which looks like a hotel. This place is a great mix of chic and elegant design with a tropical touch. Hotel 707 is one of the most instagrammable cafe in Mullae. The cafe also offer light finger foods and afternoon tea set.
Check out Hotel 707 in Mullae, it's worth to at least have a look inside.
MORE INFO:
Location: here
Instagram: here
---
7. Check out some art galleries
Many artists have open their art galleries over the years in Mullae. We discovered a few, which we really liked. One of them is called Art Field, they display many paintings from local artists (more info here).
If you like photography, head to Photo Cultural Space Azit. They have very interesting photography of Korean daily life.
Space Nine is another great gallery displaying all kinds of arts in a rather dark settings (more info here).
---
How to get to Mullae Art Village?
Mullae is located south of the Han River, between Gimpo and Gangnam. Opposite the River you have the area of Mapo.
It is very easy to get to Mullae, probably the easiest way to get there is by subway: Take Line 2 and exit at Mullae Station. From there it's a short walk to the main area of Mullae. There are also many buses which reach Mullae.
---
Other things to visit near Mullae Art Village
Seonyudo Island
You can combine a visit to Mullae with Seonyudo park (선유도공원). Seonyudo park is actually an island on the Han River. The Yanghwadaegyo Bridge that connects Dangsan-dong and Hapjeong-dong passes over Seonyudo. It is a very nice place to hangout in Seoul, where you can also get a very nice view of the city and its skyscrapers.
This magnificent park has been divided into several thematic gardens, including the Garden of Green Pillars, the Garden of Time, a greenhouse and a lot more.
All in all, this eco-friendly park can be perfect for couples and families to have wonderful memories and have an unforgettable time together.
---
Hongdae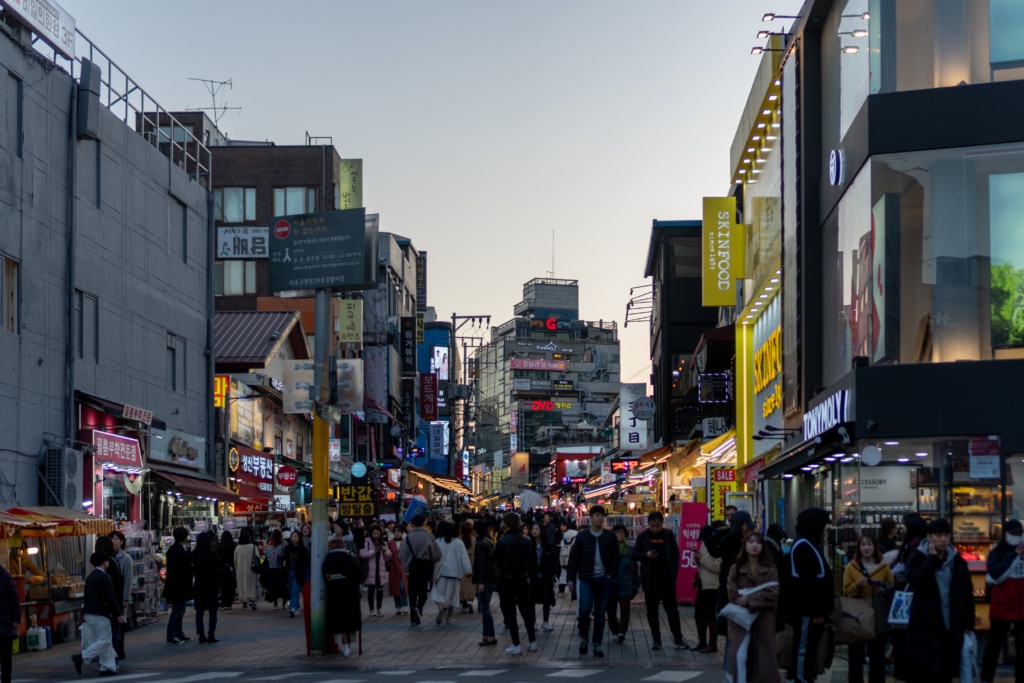 Hongdae is one of our favorite neighborhood in Seoul.
It is known for being the student district and one of the party area in Seoul. It has a unique atmosphere in the Korean capital. Between arts and street food, bars, discos, music and original museums, the visit of this picturesque place reveals a dynamic and alternative culture. It is therefore a must-see while you visit Seoul. We wrote a full post about the best things to do in Hongdae here.
To get to Hongdae from Mullae Art Village, take the Subway Line 2 to Hongik University.
---
Visit Haneul Park accross the Han River
This park used to be a dumping ground, but now the whole site has been decorated in a beautiful way to overcome its shameful past. Haneul park aims to stay natural and harness natural wind energy with five large wind turbines. It also contains some man-made art structures.
Haneul Park is most beautiful in October, when waves of golden grass from Eulalia fill the fields and the other flowers add beauty to the park in different shades of pink. There are several photo areas. Be sure to capture yourself on one of the benches that surround the edge of the park to see a perfect Seoul view especially at sunset.
If you are interested about other great parks in Seoul, check out this post. We listed the best parks in Seoul.
---
In conclusion about Mullae Art Village
Mullae Art Village is a fantastic place to discover in Seoul. All these kind of neighborhoods all around the city is what makes Seoul so special. It is why we never get bored in Seoul. There is always new places to discover.
We lived in Seoul for 3 years, and wrote over 100 posts about things to do in South Korea. Check them all out here.
---
Related posts
SOUTH KOREA: best things to do in South Korea: here
BEST BRUNCH in Seoul: here
BEST OUTDOOR CAFES in Seoul: here
HONGDAE one of our favorite are in Seoul: here
JEONJU: the cutest hanok village in Korea: here
IHWA MURAL VILLAGE: a visit off the beaten path in Seoul: here
KSEON-DONG: the cutest neighborhood of Seoul: here
INSADONG: a must-see area of Seoul: here
HAEUNDAE: the most famous beach in South Korea: here