WHAT TO SEE AT NAMSANGOL HANOK VILLAGE IN SEOUL? HOW TO GET TO NAMSANGOL? IS NAMSANGOL HANOK VILLAGE WORTH IT?
Namsangol Hanok village is located in the north side of Namsan in Seoul. It is the perfect place to discover more about the history of the Joseon period. Namsangol is famous for its preservation of Hanoks. These are traditional Korean houses.
Five of these Hanoks in Namsangol were located in separate villages and then later brought back together to form the Namsangol in 1998.
Namsangol is famous for its preservation of Hanoks
The objective was to develop the Namsangol Hanok village as a cultural garden in the middle of Seoul. It shows the lifestyles of Koreans in ancient times from farmers to kings.
We highly recommend a visit to Namsangol Hanok Village. This is one of the best things to see in Seoul.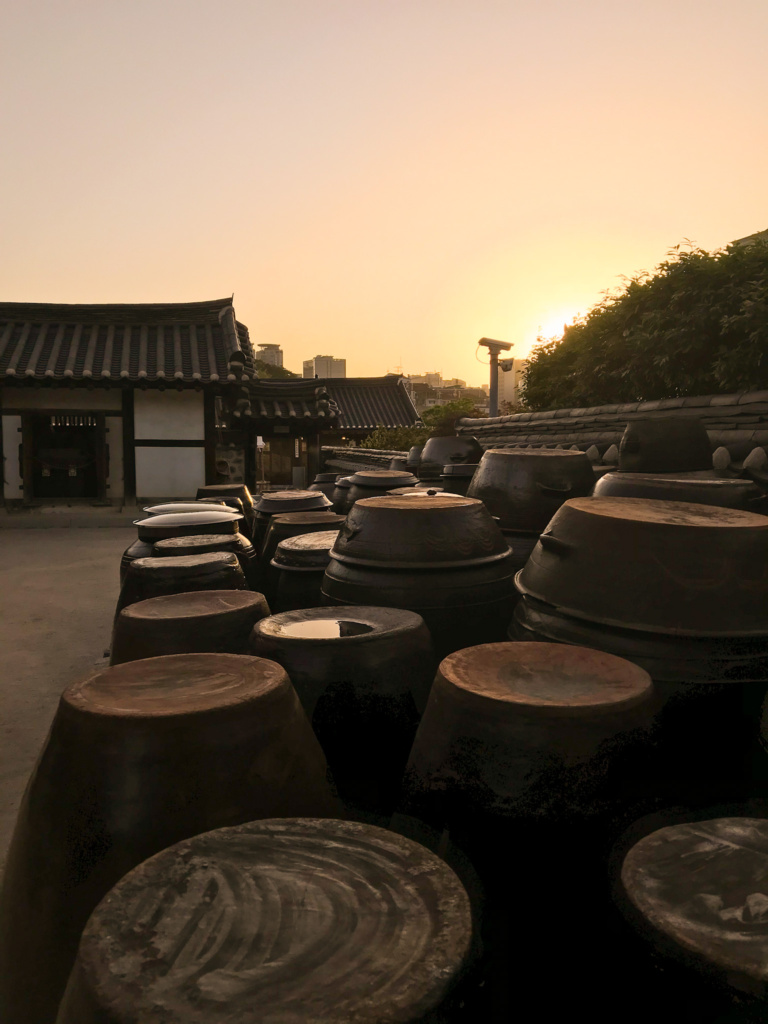 Hanok houses are a source of fascination for all tourists who visit South Korea. At least for us, we found the architecture so beautiful and couldn't wait to visit more of these Hanok when we arrived in Seoul.
With their wooden construction, underfloor heating system, historic furniture, and beautiful fireplaces, they are simply exceptional.
Here is a glimpse of what Namsangol Hanok Village looks like:
---
How to get to Namsangol Hanok Village?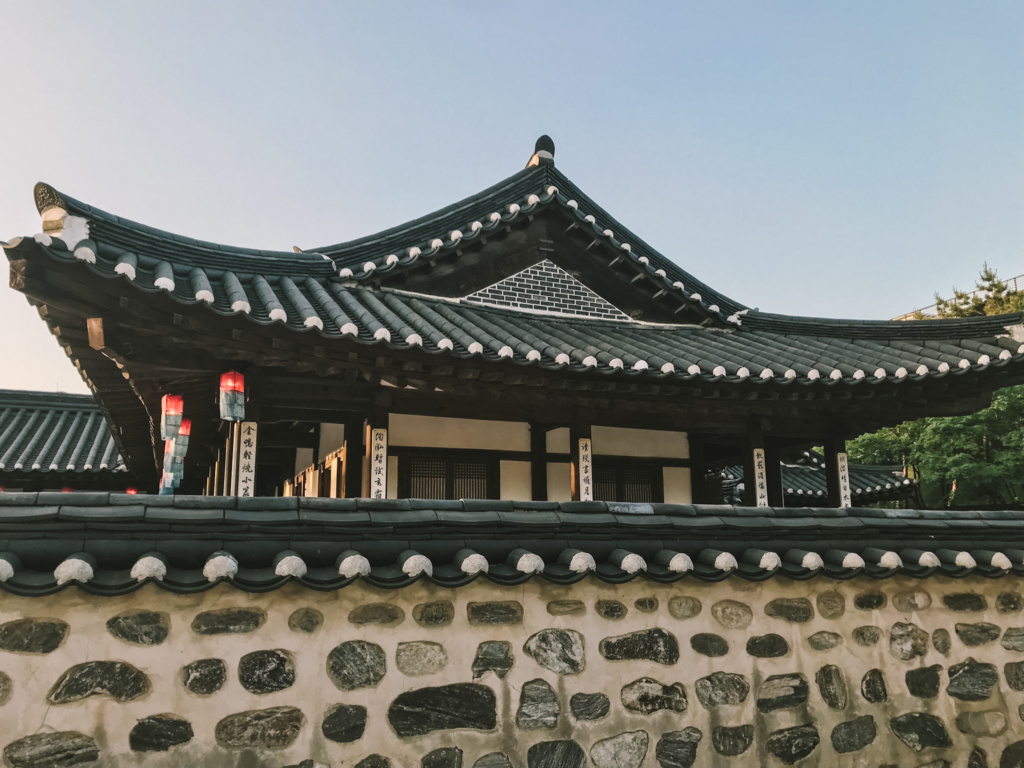 Namsangol is located in the Pil-dong district in Jung-gu, Seoul.
Address: 04626 28, Toegye-ro 34-gil, Jung-gu, Seoul
Opening Hours:
Nov. ~ Mar. – 09:00 ~ 18:00
Apr. ~ Oct. – 09:00 ~ 19:00
Jun. ~ Aug. – 09:00 ~ 20:00
Admission: Free
Website: here
Location: here
---
Get there by subway:
The best way to get to Namsangol is by subway. Take line 3 or 4 to Chungmuro station and take exit 3 or 4. It's only a 1-minute walk from there.
---
What to see in Namsangol Hanok Village?
1. Visit beautiful Hanoks
Namsangolis full of gorgeous restored Hanoks.
Namsangol was the first thing we visited when we arrived in South Korea for the very first time. At that time we knew nothing about South Korea. Our hotel actually recommended a visit to Namsangol, which was a really good idea!
The restored Hanoks are simply gorgeous. It is also possible to see inside with their original pieces of furniture. We took so many pictures there, as we were so amazed by the beauty of the village.
For some reason, Namsangol is often overlooked by tourists in Korea who would rather head to Bukchon village. However, we can't recommend enough Namsangol. There are more things to do than just visiting Hanoks actually.
---
2. Check the restored Pavilion
These well-preserved hanoks are not the only attractions in Namsangol. There is a restored pavilion from ancient times, a performing arts stage to show small plays on everyday life, a pond for nature lovers, and a time capsule. Yes, a time capsule!
Among the many options, the Namsangol Hanok Village was chosen as the site of the capsule. It contains 600 items of current Seoul life and cultural history, as a way to mark Seoul's 600th anniversary.
The Seoul Millennium Time Capsule is scheduled to open on November 29, 2,394. Who knows what changes would be happening in Seoul by then, and what the buried objects would seem like after all these years? What a great idea though! We would love to be there for the opening of the time capsule in the year 2,394!
---
3. Rent a Hanbok (traditional Korean dress)
Namsangol Hanok Village offers a variety of programs, all of which give visitors a glimpse into Korean culture from the past and present.
For example, for those who love fashion, especially vintage fashion, Hanbok-wearing is a must. Hanbok is the traditional dress of Koreans. Usually, it consists of a short jacket called Jeogori and a long, floor-hugging skirt called Chima.
Additionally, the culturally rich aspects of these garments have led to their worldwide fame, with many designers also incorporating Hanbok motifs into their work. The program includes wearing Hanboks and taking photos. A great way to remember your visit to South Korea.
---
4. Discover Hanji at Namsangol Hanok Village in Seoul
Hanji is a traditional Korean paper. It is also a fun activity at Namsangol Hanok Village. Taking Origami to another level, this paper has super powers of flexibility. Hanji is a paper that can be made and folded into different shapes and sizes.
In addition, tourists also learn to fold Hanji into dolls, lamps, or anything to their liking. You can also practice Korean writing on Hanji. Finally, for those looking for an active, exciting, and challenging activity, we suggest playing Yutnori, a traditional Korean board game.
---
5. Participate at many other events organized in Namsangol
A wide variety of interactive workshops is a huge plus for those visiting Namsangol Hanok Village. There is something for everyone. For example, learning traditional martial arts, watching taekwondo performances, mastering archery skills, or drawing folk paintings with colored pencils.
Namsangol also organizes night markets, tea ceremonies and so much more. You can check out their site here for more information on the various events held in Namsangol website here.
Photo credit: © Seoul Metropolitan Government/Penta Press
---
Where to stay nearby?
Oriens Hotel & Residences Myeongdong
Since Namsangol is located near Myeongdong, the shopping district of Seoul, we recommend staying near this area. It is within walking distance of Namsangol. The Oriens Hotel & Residences Myeongdong, is perfectly located.
The rooms are clean and fully equipped even with a small kitchen. The perfect place to stay near Myeongdong and most touristy places. You can book here.
---
Best Restaurants near Namsangol Hanok Village
Right by the entrance of the Namsangol Hanok Village, there is a restaurant called Korea House (location). They offer delicious Korean food with traditional performances in a gorgeous setting. It was the perfect way to finish our visit to Namsangol.
The traditional Korean food of the Korea House inherits the recipes of the royal cuisine of the Joseon period that make you feel comfortable with a mild and light taste.
Just as they presented seasonal specialties from all over the country to the king, the experts on royal cuisine carefully selected fresh ingredients to cook and serve.
---
Name: Korea House
Address: 10 Toegye-ro 36-gil, Pil-dong, Jung-gu
Opening hours:
Lunch at 11:30 a.m.-3:30 p.m. / Last order at 2:30 p.m.
Dinner at 5:00 p.m.-10:00 p.m. / Last order at 9:00 p.m.
Website: here
We highly recommend a visit to Korea House for a unique Korean experience.
---
In conclusion – Is Namsangol Hanok Village worth a visit?
Namsangol Hanok Village is often given a miss, particularly by foreign tourists for the more popular Bukchon Village or Insadon. However, a trip to Namsangol Hanok Village, within easy walking distance from Myeongdong Station will prove to be rewarding one for its scenic surroundings and cultural heritage.
Another fantastic village in the north of Seoul is Eunpyeong Hanok Village. It is located by the Bukhansan and right next to one of the most famous temples in Korea: Jingwansa
We lived in Seoul for 3 years and loved exploring all these beautiful places in Korea. We wrote many posts about Korea, you can find them all here.
HAPPY TRAVELING!
---
Read Also
NASMAN TOWER the icon of Seoul: here
INSADONG: one of our favorite areas in Seoul: here
SOUTH KOREA: some of the most amazing things to do in South Korea: here
SEOUL: best things to do in the capital: here
WEATHER: best time to visit Seoul: here
EUNPYEONG: beautiful Hanok village near Seoul: here
JINGWANSA: one of the most famous temples in Seoul: here