WHAT TO SEE IN KARUIZAWA? WHERE TO STAY IN KARUIZAWA? BEST TIME TO VISIT KARUIZAWA?
Karuizawa is one of the best places to visit in Japan! During our road trip through Japan, our visit of Karuizawa was one of the most memorable places we visited!
"Karuizawa is one of John Lennon and his wife Yoko Ono's favorite places in Japan!"
Karuizawa is the summer retreat of many Tokyoites, who have a second home on the beautiful plateau there, situated at 1,000 meters above sea level in the Nagano prefecture.
The fame of Karuizawa began at the beginning of the Meiji era (1868-1912), when the legendary Nakasendo road was built- one of the legendary routes from Tokyo to Kyoto.
Travelers enjoyed the pure air of Karuizawa mountains.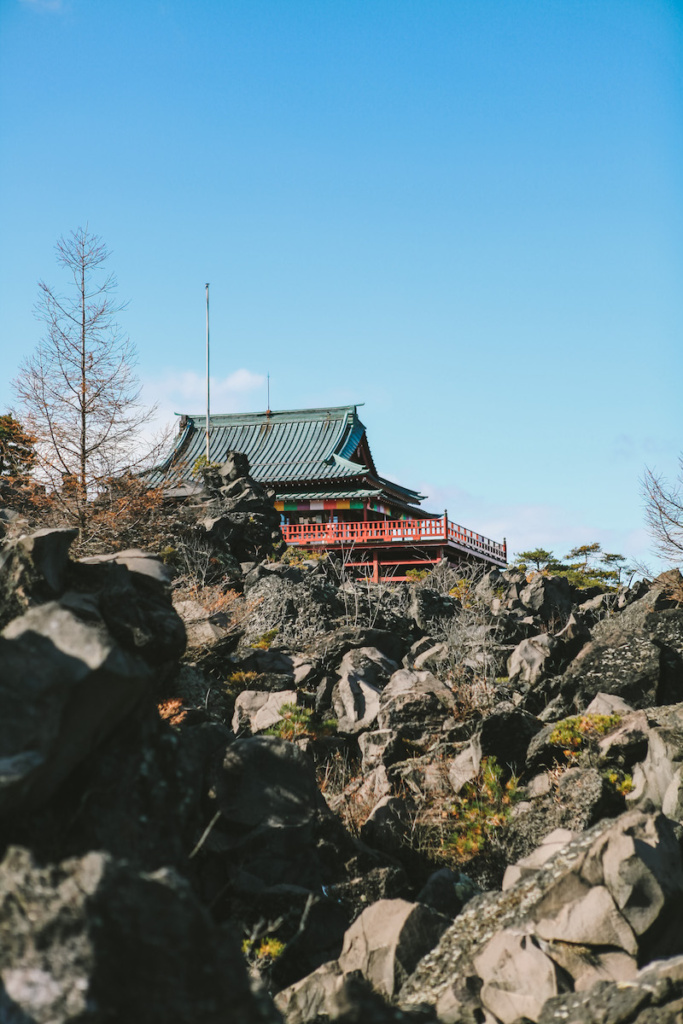 In Karuizawa you will discover the magnificent Japanese Nature, with waterfalls, mountains and volcanoes, gorgeous forest, bird parks, onsen and lot more which we invite you to discover in this post!
Although very popular with Japanese, Karuizawa is not well known to many travelers who would rather go to Matsumoto or Takayama, on the other side of Nagano prefecture. Despite, Karuizawa being only 1h15 from Tokyo by shinkansen!
Karuizawa is famous for its nature and its autumn colors, which are at their peak at the end of October.
Here is a glimpse of what to expect during a trip to Karuizawa:
---
WHAT TO SEE IN KARUIZAWA?
1. Start your visit at Kumoba Pond
The best place in Karuizawa to admire the autumn colors is at the Kumoba pond. This place is often visited by the Japanese Emperor!
The reflection of the glowing trees on the calm water, barely disturbed by a few drifting ducks, is absolutely stunning.
Kumoba pond is one of the best things to see in Karuizawa.
Location: here
---
2. Continue your visit of Karuizawa on foot to the old Ginza Street
This is Karuizawa main shopping street. It is full of restaurants, local shops, boutiques and a lot more!
The street follow the legendary Nakasendo ancient route, which was used during the Edo period by Samouraïs, Merchants and other travelers who walked to Kyoto via the mountain road.
We wrote many posts about Nakasendo, we recommend to check them out:
NARAI-JUKU, A BEAUTIFUL POST TOWN ALONG NAKASENDO
TSUMAGO, A MUST SEE IN NAKASENDO
MAGOME OUR FAVORITE VILLAGE ALONG NAKASENDO
HIKE BETWEEN TSUMAGO AND MAGOME – AN UNFORGETTABLE EXPERIENCE
You can easily walk from Kumoba Pond to the Old Ginza Street located here.
Sawamura is one of our favorite restaurant right before Old Ginza Street. If you want western food during your stay in Karuizawa, this is the place to go! Sawamura website.
Lastly you can also visit the fun Trick Eyed Museum (more info here).
---
3. Walk all the way to Karuizawa Shaw Memorial Church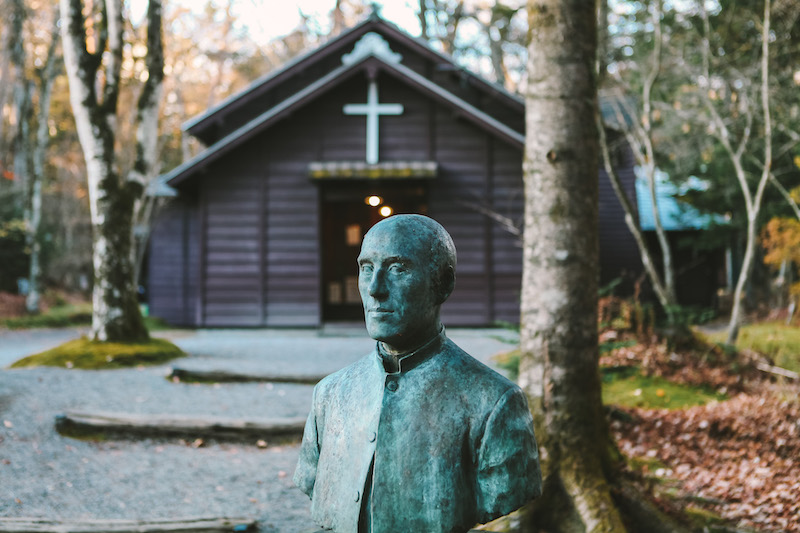 At the end of Ginza Street, you will reach a very cute church: Shaw Memorial Church.
Testimonies of this cosmopolitan past of Karuizawa, several churches are to be discovered in the city. In particular the Catholic Church of Saint-Paul, near Ginza Avenue, built in 1935 by Father Ward and designed by the architect Antonin Raymond. Its all-wood interior is unmissable (location: here).
Further away, a five-minute walk, is Shaw Memorial Chapel. It is located near the place where the young Canadian missionary, one of the very first to appreciate Karuizawa, had built his cottage in 1888.
For Alexander Croft Shaw, the station was a veritable "open-air hospital", thanks to its pure air.
Location: here
Activity: Book a half-day guided tour of Karuizawa
---
4. Visit Mampei Hotel, John Lennon and Yoko Ono's favorite hotel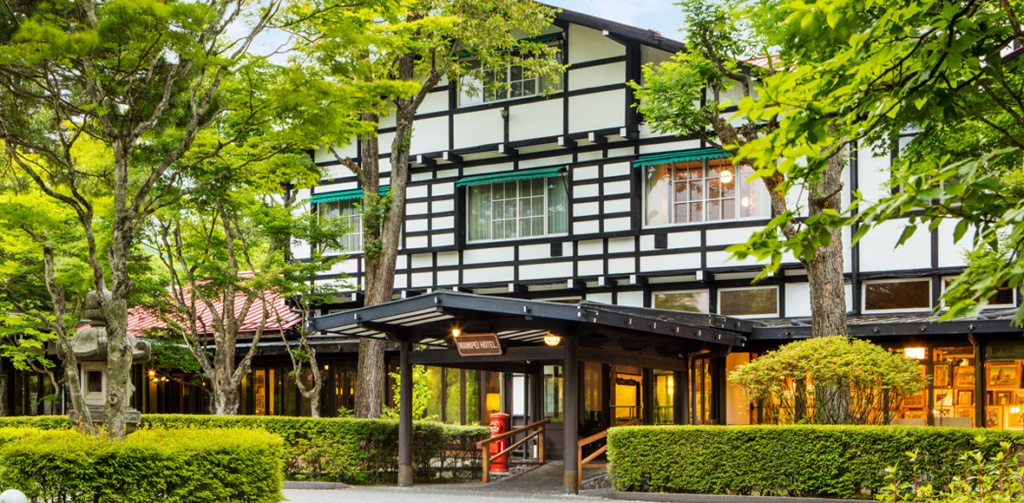 Opened in 1894, the hotel is a classic and prestigious Karuizawa establishment with an easily recognizable facade, which is a visit point in itself.
It is also known as the place of residence of John Lennon for four summers in a row, from 1976 to 1979. With Dean and Yoko, the family enjoyed long bike rides on the plateau, in the middle of nature and second homes.
Location: here
Website: here
---
5. Go shopping at Karuizawa Prince Shopping Plaza
This huge mall near the south exit of Karuizawa Station is home to 240 stores. It is a very famous mall in Japan partly open air with a huge park, a lake and walking paths offering views of Mount Asama.
The shopping centre is part of the Prince Grand Resort Karuizawa which houses wedding venues, golf courses, ski slopes and a large food court.
Location: here
---
6. On the other side of town visit Harunire Terrace, one of the best things to see in Karuizawa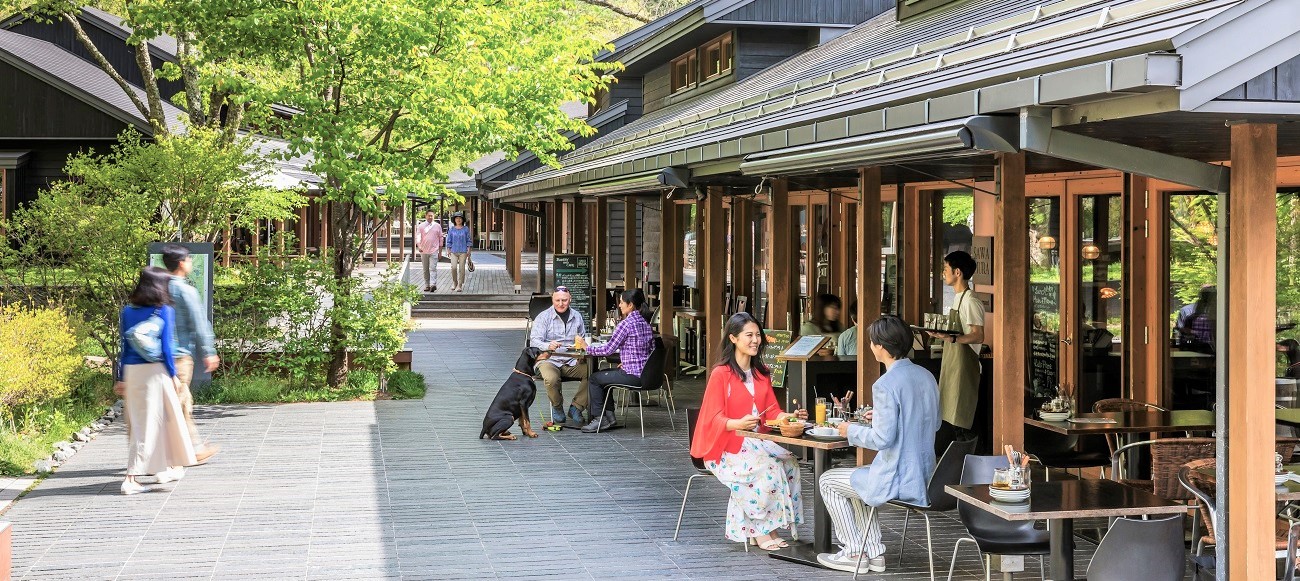 Located in the forest to the west of the old town, Harunire Terrace is one of our favorite place to spend the afternoon in Karuizawa. There you can enjoy a great cafe seating outside on the beautiful wooden deck!
It is located in the beautiful Naka-Karuizawa district.
Location: here
Website: here
---
7. Near Harunire Terrace make sure to visit Karuizawa Kogen Church
For Japanese couples, getting married at Kogen Church is such a privilege.
All year round, the newlyweds in traditional dress go there for photo shoots in nature. The small church was originally a small conference and debate hall, "Hoshino Yugaku-do" opened in 1921 by the Japanese evangelist Uchimura Kanzo.
The pacifist Japanese elite met there before the Second World War.
Do check it out, it's absolutely beautiful!
Location: here
---
8. Relax at the very famous Tonbo-no-yu onsen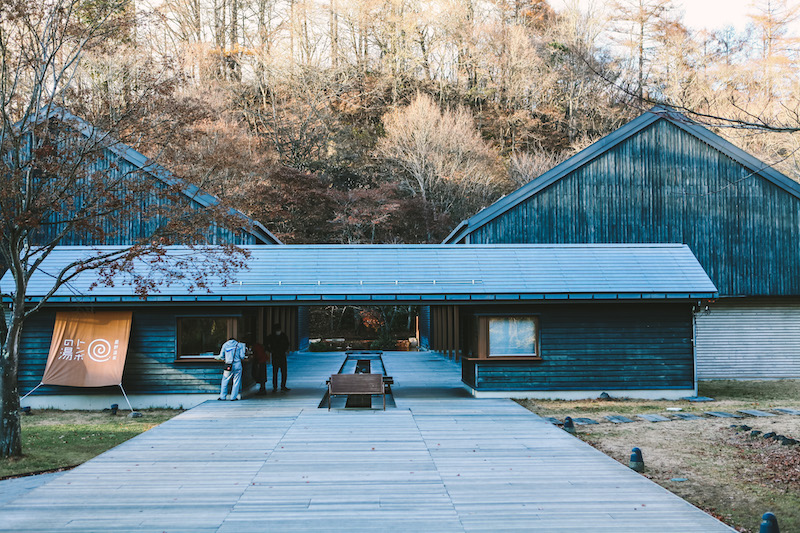 We tried many many many onsen in Japan, however Tonbo-no-yu is definitely one of the most amazing one! The architectural design, and the overall ambience inside and outside the building is just spectacular.
During night time, this place can get pretty busy but somehow everything is still really well organised. There are outdoor and indoor bath.
This is definitely a must visit spot for anyone traveling to Karuizawa.
Tonbo-no-yu is not far from Harunire Terrace, a 5 to 10min walk will get you there. There are also a few restaurants around.
Location: here
Website: here
---
9. Continue your visit at the beautiful Picchio Natural Park!
If you are a nature lover this place is for you! At Picchio Natural Park you can enjoy various activities such as Bird Watching, you can observe giant flying squirrels, stargazing, night safari and a lot more!
Picchio is located near Tonbo-no-yu onsen.
If you are traveling with kids, this could be a very activity. They also have english translation.
Location: here
Website: here
Activity: book a flying squirrels observation tour here
---
10. Visit the Shiraito Falls, one of the main attractions in Karuizawa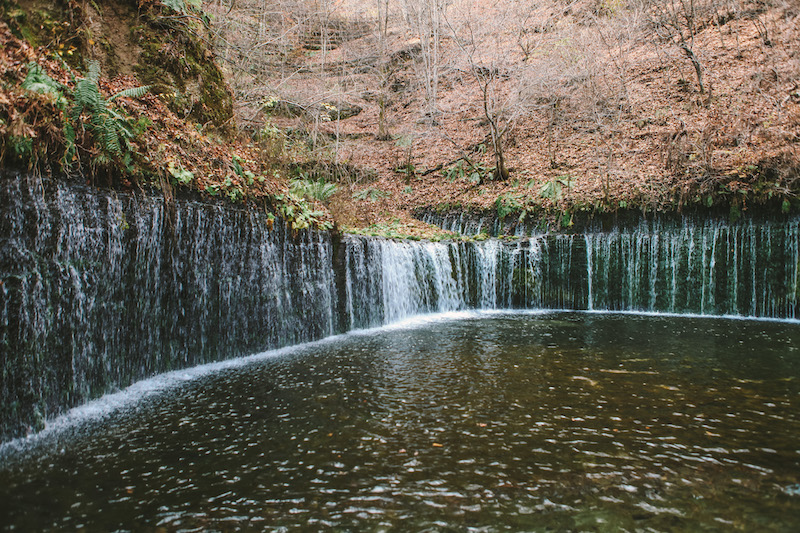 With a height of 20 meters and a length of 200 meters, the Shiraito Falls are truly magical!
This is probably our favorite place in Karuizawa! We've never seen anything like this before…
The water seems to come from under the ground, it's rather disturbing…
If you do not have car, then you will have to take a bus to get there, as the Shiraito Falls are a bit outside Karuizawa.
Location: here
Website: here
Activity: book a guided walking tour around Shiraito Falls
---
11. Visit the Historical Mikasa Hotel
The Mikasa Hotel was built in 1906 and designated Important Cultural Property in 1980.
Many important and famous people from all around the world stayed here. It was called "Karuizawa's Rokumeikan" (A Rokumeikan was a popular building for social events/diplomats in Tokyo). A dinner party would be held in this western style building almost every evening.
During autumn, Mikasa Hotel is a lovely hotel to visit for its flaming colour.
The hotel can be seen on the way to the Shiraito Falls.
Location: here
Website: here
---
12. Visit Onioshidashi Volcanic Park, one of the most impressive things to see in Karuizawa!
For us, a visit of Onioshidashi Volcanic Park is unmissable if you are in Karuizawa! This is probably the most unique park we visited (a bit like Timanfaya in Lanzarote, for those who have been there).
If you've been reading our blog posts about Japan (all here), you would know by now that the nature in Japan is absolutely beautiful. Onioshidashi Volcanic Park is another very good example for that!
Located below the Asama Volcano, this volcanic park transports you into a different world. A sort of Lunar Landscape!
All that punctuated with temples and altars in a sharp red color!
The view from the park is also stunning!
All and all, don't hesitate, pay a visit to Onioshidashi Volcanic Park in Karuizawa.
Location: here
Website: here
---
13. Visit the Sezon Museum of Modern Art
Among the many museums of Karuizawa, the Sezon Modern Art museum surprises with the richness of its collections, presented very elegantly in the natural setting of the museum!
Their contemporary art collection is quite remarkable, and their seasonal exhibition is quite uniquely curated, you wouldn't be disappointed. (If you like contemporary – modern art).
Location: here
Website: here
---
14. Hike on the Usui Pass
Continuing along Ginza Avenue from Karuizawa, following the old Nakasendo towards Tokyo, is the Usui Pass, on the border of Nagano and Gunma prefectures.
A famous natural getaway especially during the fall foliage. It offers magnificent panoramas of the surroundings and Mount Asama.
There is also the Kumano sanctuary which is worth a visit.
Location: here
---
15. In Winter enjoy Karuizawa Snow Resort!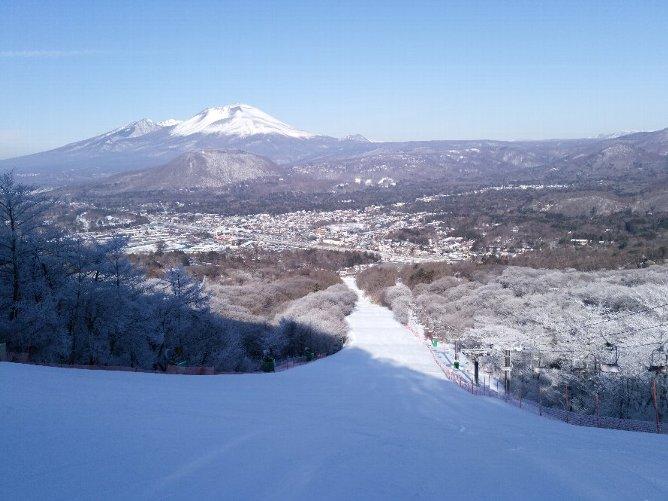 Not far from Karuizawa Prince Shopping Plaza, you can find the Karuizawa Snow Resort perfect for skiing in winter. The resort is not that big, but it is still very fun!
You can even take ski lessons. More info here.
Location: here
Website: here
---
16. Karuizawa is one of the best places in Japan to play golf!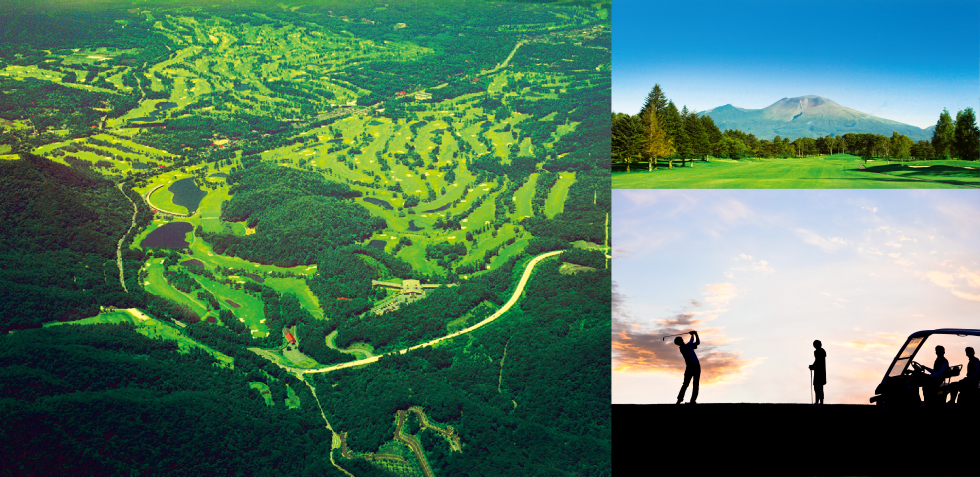 With the many greeneries around Karuizawa, comfortable climate, and easy location to reach from Tokyo, it make Karuizawa an ideal golf location!
In fact there are more than a dozen golf courses in Karuizawa!
Man require membership, however there are a few public ones!
---
Where to stay in Karuizawa?
Karuizawa Prince Hotel West
If you are looking at 100% convenience during your stay in Karuizawa, search no longer. Karuizawa Prince Hotel West, is one of the most popular places to stay in Karuizawa due to its located. Next to the biggest shopping malls, near golf courses, walking distance to the ski resorts etc.
On top of that it has all the facilities you can expect, such as pool and onsen!
---
Indigo Hotel – Karuizawa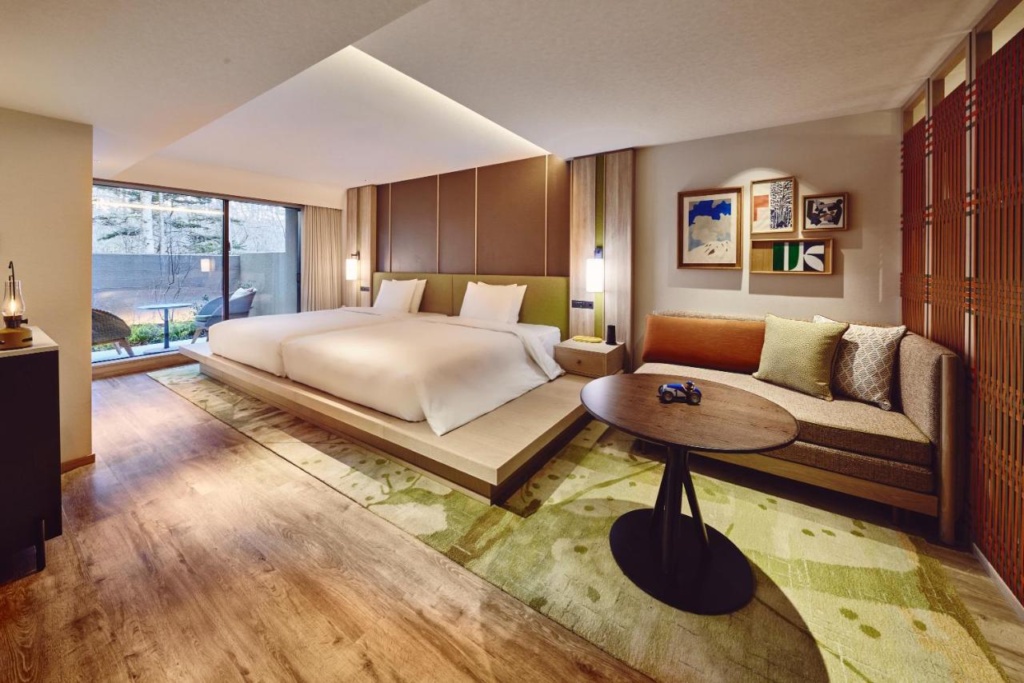 Hotel Indigo is actually our favorite hotel in Karuizawa. This place is rather new and very modern. We loved the bedroom with very comfortable bed and spacious room!
There is also a delicious italian restaurant attached to the hotel!
A great place to stay in Karuizawa. – CHECK AVAILABILITY NOW
---
Sora Hotel – Karuizawa
If your bugdet is limited, then head to Sora Hotel. This place offers one of the best value for money with comfortable rooms, common kitchen and great service!
---
Useful information about Takayama
How to get to Karuizawa?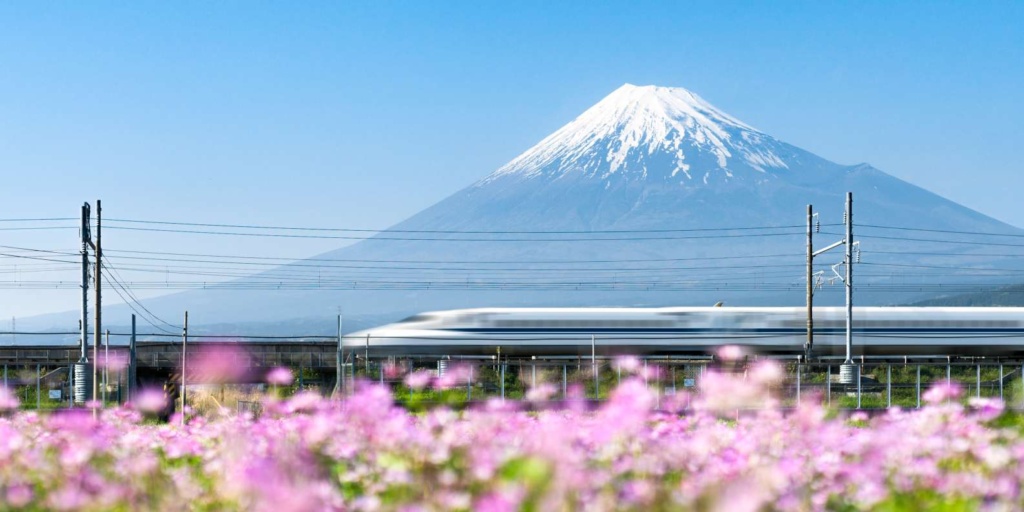 Getting to Karuizawa by car:
If you have a car in Japan, then it's a no brainer! Getting there from Tokyo is relatively easy. You can get there in a little over 2 hours!
As Karuizawa is quite spread, it will make the whole visit much more efficient!
To rent a car, we always use Nippon Rent-a-Car in Japan! Always reliable, competitive rates, english service! Search no longer!
Getting to Karuizawa by train:
The city of Karuizawa is very easy to access with its own shinkansen station: it is only about 1h15 from Tokyo station. Make sure to buy your JR pass though! You can do so here.
---
How to get around in Karuizawa?
Having a car will obviously make a lot of things much easier. However buses connected all part of town, so it's totally possible to visit Karuizawa by taking public transportation only.
Another good option, especially if you are a group of people, is to hire a guide with a large car. Check out the availability here!
---
How many days to visit Karuizawa?
We recommend 2 full days to see most of Karuizawa! 1 Day would be a bit short to see it all…
---
When is the best time to visit Karuizawa
Autumn is undeniably the best time to visit Karuizawa. The colors from the fall foliage will simply amaze you!
---
Other things to see outside Karuizawa?
Matsumoto
Matsumoto is one of Japan's prettiest cities. It is a charming place especially famous for its unique castle! But Matsumoto is also full of cute streets, nice galleries, delicious cafes and beautiful surrounding scenery. Indeed Matsumoto offers amazing views to the Japanese Alps.
Matsumoto castle, one of the best things to see in Matsumoto, is Japan's oldest wooden castle and one of four castles designated as National Treasures. The castle is often nicknamed the Crow's Castle due to its black color.
READ: FULL GUIDE FOR VISITING MATSUMOTO
---
Obuse, one of our favorite towns in Japan!
Obuse is not in most guide books, however it's a beautiful village nestled in the middle of the Japanese Alps which deserves to be visited!
If you are planning a trip in the Nagano prefecture, we highly recommend that you put Obuse on your bucket list.
It is one of the prettiest town in Japan
You can see one of the most famous painting in Japan: "The Great Wave off Kanagawa" (1831 ). Painted by Hokusai called himself "the drawing madman". Make sure to visit his museum in Obuse!
READ: BEST THINGS TO SEE IN OBUSE
---
Nagano area (Hakuba, Snow Monkey Park etc.)
There are many things to see in the Nagano region! We particularly enjoyed a visit of Togakushi, Kagami Ike and watching the Snow Monkey taking a bath in an onsen!
READ: MORE INFORMATION ABOUT THE NAGANO REGION AROUND HAKUBA
---
Related posts
GUIDE FOR A VISIT TO NARAI-JUKU
BEST THINGS TO SEE IN SHIRAKAWA-GO AND GOKAYAMA
HIKE ALONG NAKASENDO [TRAVEL GUIDE]
BEST THINGS TO SEE IN THE JAPANESE ALPS
TOP THINGS TO DO IN GINZA IN TOKYO
GUIDE TO TSUMAGO ALONG NAKASENDO
15 BEST THINGS TO SEE IN HAKONE NEAR MT. FUJI
15 INCREDIBLE THINGS TO SEE AT LAKE KAWAGUCHI
OBUSE, A BEAUTIFUL TOWN IN JAPAN WORTH A VISIT
10 BEST THINGS TO SEE IN MATSUMOTO
FULL GUIDE FOR VISITING HAKUBA IN JAPAN