WHERE TO GO AS A COUPLE IN SEOUL? MOST ROMANTIC DATES IN SEOUL? IDEA FOR CHEAP DATES IN SEOUL?
Seoul offers an array of experiences for couples seeking unforgettable dates.
If you are watching Korean Drama you may already know that Seoul offers many possibilities to enjoy a romantic moment with your loved one.
Whether you're a new couple looking to spark romance or a married couple, here are the top 20 dreamy dates in Seoul:
---
BEST DATES IN SEOUL:
1. Namsan Seoul Tower at Sunset:
Ascend the Namsan Seoul Tower just before the sun dips below the horizon.
The panoramic views of the city as it transitions from day to night are awe-inspiring. The "Locks of Love" fence, where couples attach padlocks to symbolize their eternal love, adds a touch of sentimentality to this magical date.
READ: GUIDE TO VISIT THE NAMSAN TOWER IN SEOUL
---
2. Romantic stroll at Bukchon Hanok Village:
Step back in time with a leisurely walk through the Bukchon Hanok Village.
This traditional Korean village boasts charming hanok houses and winding alleys that create an idyllic atmosphere. It's the perfect setting for a serene and intimate exploration of Korean culture.
READ: BEST THINGS TO DO IN SEOUL
---
3. Go on a night cruise on the Han River:
For a touch of romance and tranquility, take a Han River cruise. Whether during the day or under the city lights, the cruise provides an excellent opportunity to admire Seoul's iconic landmarks and bridges while enjoying each other's company.
>> BOOK YOUR NIGHT CRUISE HERE
---
4. Visit Deoksugung Palace at night:
Experience the majestic Deoksugung Palace at night for a unique and romantic experience as a couple. As the sun sets, the palace comes alive with stunning illuminations, transporting you and your partner to a time of royal splendor and elegance.
READ: FULL GUIDE FOR A VISIT AT GYEONGBOKGUNG PALACE IN SEOUL
---
5. Chill at Cheonggyecheon Stream:
Escape the city bustle and take a leisurely stroll along the Cheonggyecheon Stream in the heart of Seoul. The peaceful ambiance and lush greenery create a soothing escape within the heart of Seoul.
---
6. Have a drink at a Rooftop
So are so many amazing rooftops in Seoul where you can enjoy a nice cocktail with a breathtaking view of the city. We listed the BEST ROOFTOPS IN SEOUL here.
---
7. Enjoy a picnic at one of the parks within the city
Seoul is an urban jungle. Concrete, homes, shops and skyscrapers are stretched out over an area of approximately 605 km2. Yet in the midst of this ocean of buildings and vehicles hide some unexpected pieces of gorgeous nature: parks scattered across the city.
Whether they are tucked away in the bend of a street, perched on top of a mountain, or along the Han River, each offers its share of activities and secrets to discover.
READ: 10 BEST PARKS IN SEOUL
---
8. Get Pampered at a Spa
Indulge in some pampering and relaxation at a traditional Korean spa. You and your partner can enjoy rejuvenating treatments, followed by a dip in the rejuvenating hot springs, leaving you feeling refreshed and reconnected.
---
9. Go hiking for a sporty date!
Hiking is a very popular activity in South Korea. And the good news is that there are many opportunities to go on a hike within Seoul.
The Bukhansan is one of the best mountains in Seoul!
It is the ideal place to relax in nature while being so close to the city. Between Buddhist temples, the Bukhansanseong fortress, and the diversity of the landscapes, there are many things to see in this mountain which is beautiful in all 4 seasons.
Another great idea for a date in Seoul!
READ: FULL GUIDE FOR HIKING THE BUKHANSAN MOUNTAIN
---
10. Take some cute couple shots!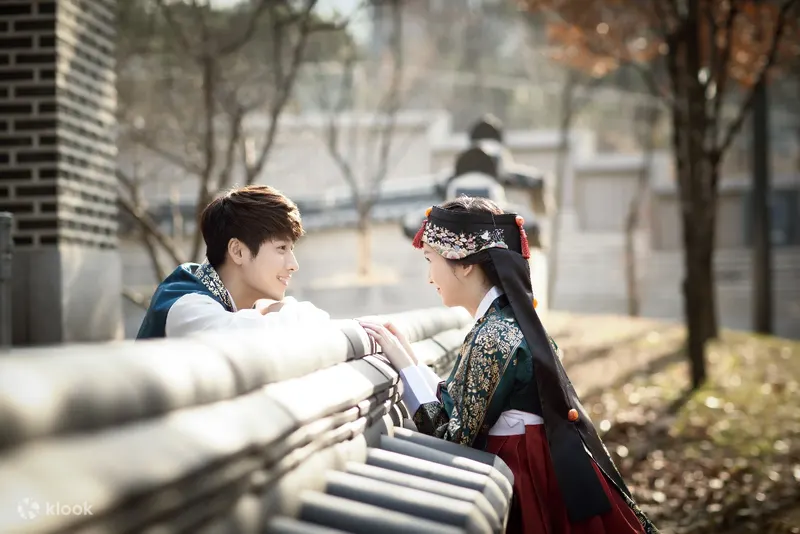 Taking some amazing photos by professionals is very common in Seoul. From outdoor or indoor photoshoots, you can choose different options. This is a really fun idea for a date in Seoul!
---
11. Compose your own perfume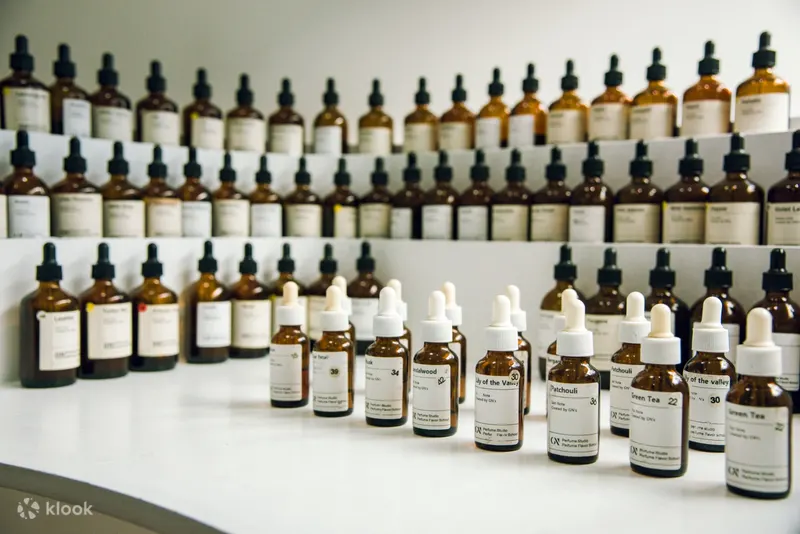 For those who would like to share an even more unique experience, Seoul has what you need. You can attend a perfume workshop. There you are offered the opportunity to create your own perfume allowing you to enjoy a sensory experience and leave with a precious and unique object; the perfect activity for a romantic outing.
>> BOOK YOUR PERFUME MAKING EXPERIENCE HERE
---
12. Make your own ring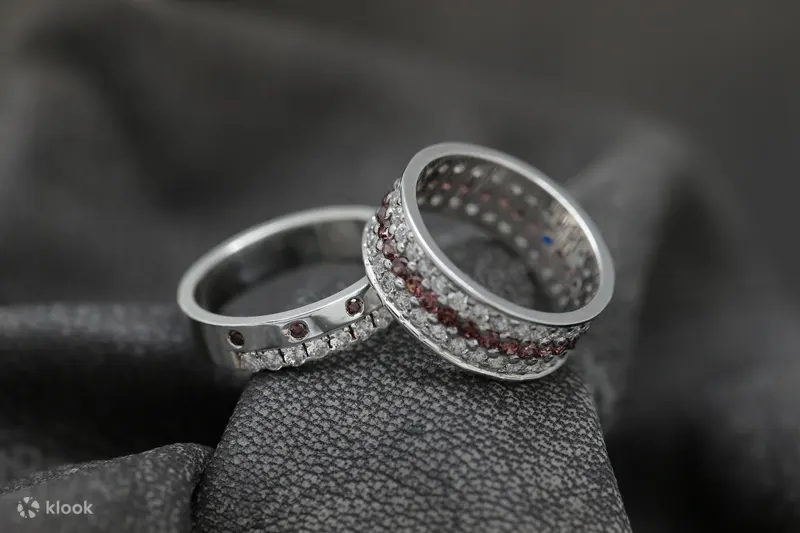 For your next date in Seoul enjoy a meaningful experience by learning how to make a ring from raw material. You can design your own rings together, which is a fun activity for couples.
---
13 For a fun date head to Lotte World!
Unleash your inner child at Lotte World, one of the world's largest indoor amusement parks. Sharing thrilling rides and games can be an exciting way to bond and create lasting memories together.
>> BUY YOUR DISCOUNTED ENTRY HERE
---
14. Cycle along the Han River
One of the most popular activities along the Han River is to rent a bicycle. There are cycling tracks all along the river. There are many places to rent bicycles at the Han River. You can enjoy a romantic date as a couple by the Han River.

---
15. Enjoy some water activities at the Han River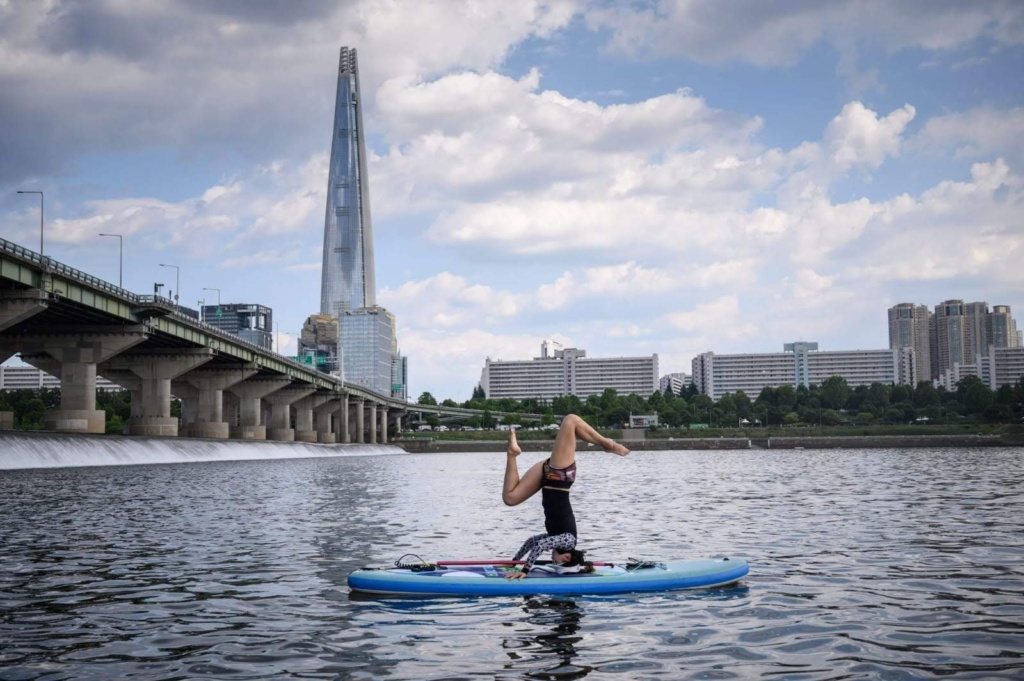 Head to Ttukseom Park along the Han River to enjoy many water sports. You can try windsurfing, kayaking and the most popular is SUP (Stand Up Paddle). It is a fun way to discover another aspect of Seoul, while cooling off during the hot summer months. We highly recommend this fun activity during Summer in South Korea. You can book a lesson here.
---
16. Go on a day trip to Nami Island for a romantic date: perfect for a date!
Visiting Nami Island is one of the best things to do in South Korea! It is the perfect romantic gateway from Seoul. We highly recommend a visit to the small and peaceful island of Nami is you are in Korea.
The island is beautiful in every season. We went there in Autumn and Summer and truly loved both of our visits. Nami Island can be very crowded with tourists over the weekend, hence if you can, we recommend a visit during weekdays.
READ: FULL GUIDE FOR VISITING NAMI ISLAND
---
17. Have a romantic time at La Petite France
La Petite France is a park that was built in July 2008 in the province of Gyeonggi. It is made up of 16 buildings where visitors can stay and discover French culture and French cuisine. Not very Korean, we know! However, the village is really cute and nestled in the mountains facing the river. It's a beautiful sight in South Korea.
READ: BEST SUMMER ACTIVITIES IN SEOUL
---
18. Check the Banpo rainbow fountain bridge at night
Banpo Rainbow Fountain Bridge in Seoul is a popular and iconic landmark known for its impressive water fountain shows at night. The bridge is located on the Banpocheon (Banpo Stream) and features a unique water fountain system that shoots water upwards in various patterns and colors, creating a mesmerizing visual display.
The fountain shows are often synchronized with music and lights, making it a popular place to date in Seoul.
---
19. Check out a live performance in Seoul
Attend a live theater performance or a concert together for a dose of culture and entertainment. This could be a really fun and unforgettable date in Seoul!
---
20. Enjoy a cooking class together
Bond over a cooking class where you can learn to make traditional Korean dishes together.
---
IN CONCLUSION ABOUT A ROMANTIC DATE IN SEOUL
There are many options for dates in Seoul, ensuring that lovebirds can find the perfect setting to kindle their romance.
Whether it's exploring historical sites, relishing culinary delights, or immersing yourselves in natural beauty, the city provides ample opportunities to create cherished memories together.
---
RELATED POSTS
BEST THINGS TO DO ON NAMI ISLAND
21 AWESOME THINGS TO DO IN SEOUL SEOUL
DISCOVER THE POCHEON ART VALLEY