Seoul vs. Busan? Choosing the best city to live in South Korea is not easy, especially since Busan is becoming more and more popular.
You want to move to South Korea but hesitate between Seoul or Busan? You wonder, if like the majority, you should move to Seoul or try something new in Busan? For many making a choice is not that easy… In this post we will try to give you some answers. Of course, it always depends on everyone's preference and what you like to do in your free time for example…
Maybe you've been to Seoul several times on vacation and want to see a different side of Korea? Or did you first discover Busan and fell in love with the city and its people? Here is a full comparison to help you make your choice.
---
Overview of Seoul and Busan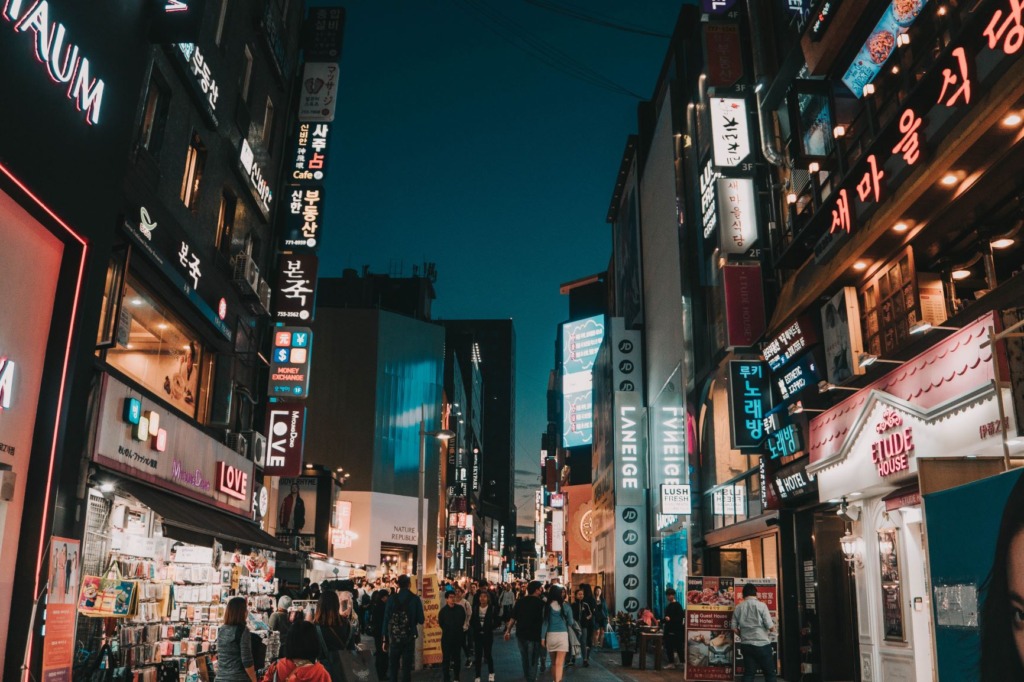 Seoul
Seoul is a a huge city of 9.86 million inhabitants, located in the north-west of the country, on the banks of the Han River. If you take into account Seoul Metropolitan area, you are looking at 25 million people! Yup, this is big, really big! This means half the Korean population live in Seoul Metropolitan area.
Seoul, is the largest city in Korea and also the capital. The city is the face of Korean modernity and is developing at fast speed every day. Open to tourism and a privileged destination for Asian tourists, it is also home to the largest Korean and international multinationals.
Today Seoul can be considered a young and ultra-modern city. The city is also the cradle of K-pop and more generally of the Korean pop wave, "hallyu".
Check out the best things to see in Seoul here.
Busan
Busan is a port city of 3.7 million people located on the south side. It is the second largest city after Seoul and also the third largest seaport in the world.
Beautiful beaches, mountainous landscape, great party scenes and world famous due to it's International Film Festival, Busan is full of charm. Busan is a must-see for lovers of the great outdoors looking for something different, away from the stress, yet still in a big city.
As foreigners are still relatively few in Busan there is a certain authenticity here that is perhaps more difficult to find in Seoul. And then, above all, there is Haeundae, the most famous sandy beach in the whole country!
Here is our ultimate guide about the best things to do in Busan
---
Climate: Seoul vs Busan
Seoul
There are 4 distinct seasons in Seoul. The temperatures can be quite extreme between Summer and Winter: -15 °C on average in winter / 30 °C on average in summer. Yup, that's quite a difference!
In summer, it is particularly hot and the air is very humid. In winter, the air is extremely dry and the freezing cold gets to your bones. Spring and autumn however, are 2 gorgeous seasons. To live in Seoul, you need to have a wardrobe suitable for each month of the year.
Busan
Overall, the weather in Busan is less extreme. It rarely goes into freezing temperature in Winter and being close to the beach in Summer makes it more bearable and less humid. Spring and Autumn are also very nice season in Busan. Like Seoul, Busan also gets a rainy season, usually early summer.
WHO IS THE WINNER?
Busan is the clear winner when it comes to climate. Imagine having beautiful sunshine all year round with stunning sea views and no freezing temperatures in winter. In Busan, you will enjoy strolling on the beach no matter the season. Tempting, isn't it?
Score:
Busan: 1
Seoul: 0
---
Getting a job: Seoul vs. Busan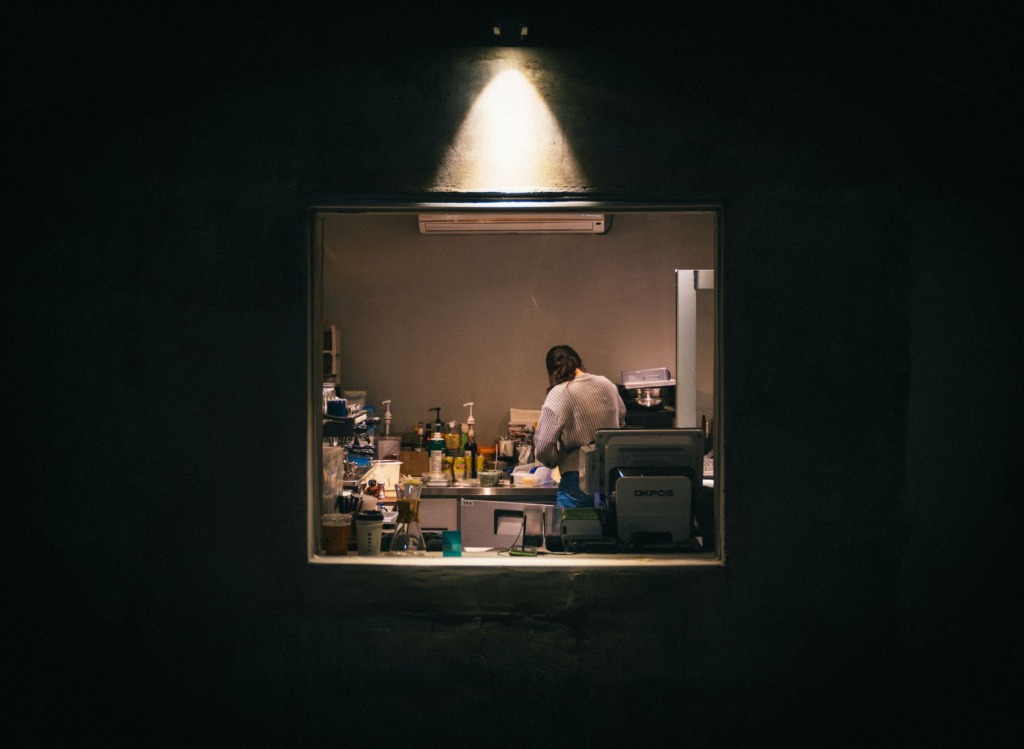 Seoul
In Seoul, the job market is large and filled with many opportunities in multiple fields. Many international companies are headquartered there, making it the number one destination for expatriates in Korea. Even without speaking Korean or without a degree it is possible to find a job in Korea. Of course, the competition with other foreigners is extreme.
Find lots of tips in our post on how to find job in Korea.
Busan
Although Busan is a big city and therefore the possibilities for work are there, it is much less easy for foreigners (except for English teachers with these online American TEFL courses). Most international businesses are based in Seoul. However, some international districts like Gwangalli or Haeundae offer some opportunities in bars and restaurants.
To work in Busan, the ideal would be to already master Korean. There are still opportunities for English speakers, but places are scarce, even if the competition is less fierce than in Seoul
WHO IS THE WINNER?
Clearly, for this one, without a doubt, Seoul! It is much easier as a foreigner to get a job in Seoul.
Score:
Busan: 1
Seoul: 1
---
Housing: Seoul vs Busan
Seoul
It is relatively easy to find accommodation in Seoul, and sometimes it is even possible to move into a furnished apartment the same day. However, rental prices tend to go up a bit more each year, which makes Seoul one of the most expensive city to live according to Mercer (full list here).
There are a few options when choosing your accommodation in Seoul, and also be aware of the very high deposit amount (sometimes up to 1 year upfront!). In our full guide on moving to Seoul, we have a full section on accommodation in South Korea.
There are many sites to find all types of accommodation in the capital. The most popular being Craigslist Seoul.
Check out our guide for the best neighborhood to live as an expat in Seoul.
Busan
It is more difficult to find an accommodation in Busan, especially if you are not onsite. There aren't many choices for foreigners online.
Unfortunately, the Craigslist site only exists for Seoul. However, while the choice is relatively limited, there are other site you can check out regularly: Korea Bridge and Just Landed.
The positive side is that rents are significantly cheaper than in Seoul and of places of better quality.
The easiest way to find a place in Busan is to go through a real estate agent who can speak English. The city's official website has listed real estate agencies offering services in English.
WHO IS THE WINNER?
We decided to select Seoul, as it is much easier to find an accommodation for foreigners.
Score:
Busan: 1
Seoul: 2
---
Transports: Seoul vs Busan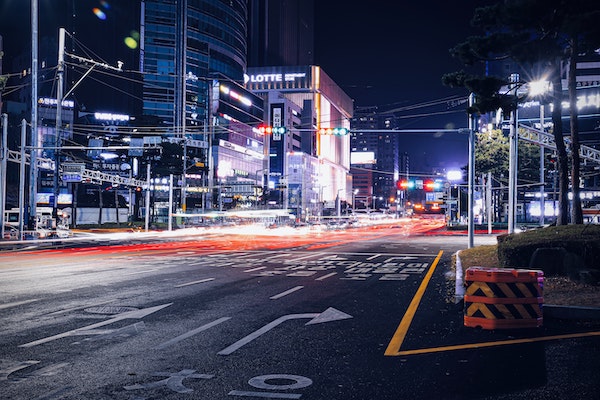 Seoul
Average subway / bus fare: 1,350 won.
Taxi: starting price 3,000 won + 1,000 won / km.
Seoul is an extremely well-connected city and the transport network extremely easy to use. In the subways, destinations are announced in Korean, English, Japanese and Chinese.
The bus system is much less obvious to understand and always crowded. As a newbie in Seoul, you will prefer using the subway at first.
There is a transport card called T-Money which is specially intended for Seoul and Gyeonggi-do districts. This makes it very convenient to pay the transportation fare (including taxi)
See the interactive Seoul subway map.
Busan
Average Subway / bus fare: 1,300 won.
Taxi: starting price 2,800 won + 700 won / km.
Busan is also a city with an excellent transportation network. The metro has 4 main lines and the stations are announced in several languages. However the journey seems to take much more time than in Seoul. Even for shorter distance, it seems to take quite some time to reach your destination. However, both the bus and subway are much less crowded than in Seoul.
The Hanaro Card is a transport card that you can only use in Busan. It is interesting as it offers discounts.
Here is the subway map for Busan.
WHO IS THE WINNER?
It's hard to decide on a winner for this one. Both city have a strong public transportation network and both are relatively cheap. So we decided on a draw ( +1 each).
Score:
Busan: 2
Seoul: 3
---
Learning Korean language: Seoul vs Busan
Seoul
It is extremely easy to take Korean lessons in Seoul. There are dozens of university language centers and private institutes scattered throughout the city.
It is also possible to take free classes at the Seoul Global Center or take advantage of the many international Meetups and cafes that take place every week in Seoul.
Busan
Fortunately, it is also possible to take Korean courses in Busan and most of the time at cheaper cost compared to Seoul. You can check the list of university language centers and private institutes in Busan.
You can also find free Korean lessons at the Busan Foreign Workers Support Center (Busan Bank Mora Branch 3F) 448, Sasang-ro, Sasang-gu, Busan.
WHO IS THE WINNER?
As both cities offer free Korean lessons to foreigner, we decided to have draw here as well (+1 for each)
Score:
Busan: 3
Seoul: 4
---
People: Seoul vs. Busan
Seoul
Generally speaking, Koreans are welcoming and very friendly. However, as there are more and more foreigners in Seoul, people are less curious and do not seek contact anymore as it was the case in the past.
In Seoul, it will be much easier to make international friends. There are lots of foreigner and many international events are held year round.
Busan
The people of Busan are very warm and especially curious about foreigners, which is still rare in Korea. However as English is less spoken than in Seoul you will therefore have to make an extra effort.
In Busan people have a different accent, considered more charming. However, if you learned Korean and are going to Busan for the first time, you may have a hard time to understand them.
We felt that people in Busan smile much more than in Seoul. It is probably due to the fact that people are less stressed and more laid back.
Lastly, in Busan people seems more open minded than in Seoul. This might sound surprising to you! As an observation, just go to the beach near Seoul and you will see most Korean completely covered up not showing any part of their body. In Busan it seems that it is much more accepted to wear a bikini at the beach. Not that people in Seoul are closed minded (no misunderstanding please), but just a comparison between both city, we always felt more freedom in Busan.
WHO IS THE WINNER?
We much prefer smiling people, a laidback attitude and a greater sense of freedom. As such we vote for Busan on this one!
Score:
Busan: 4
Seoul: 4
---
The atmosphere in the city: Seoul vs Busan
Seoul
Seoul is a city that never sleeps! Young, dynamic, modern, it is simply impossible to get bored! Between festivals, street artists and exhibitions, culture is everywhere.
However, living and working in Seoul also means being immersed in a stressful environment, crowded subways, overtime, constant noise in the city etc.. Let's be honest, in Seoul it is sometimes difficult to find peace and even more solitude, even though there are quieter areas such as parks (best parks in Seoul here).
Seoul remains a particularly festive destination and extremely popular with young people. if you are in your 20s and 30s in Seoul, you will have blast!
Busan
Busan is a large, vibrant and energetic city where life is good and well balanced. The city offers a nice climate and living environment, with less stress. In summer, many festivals take place on the beach and will delight fans of beer and water sports. So it's a party town that feels like holidays. It's easy to find peace and relax yourself, although you have all the advantage of a big city.
If you are a party animal, note that Busan has an excellent night life, whereby bars and clubs will stay open till dawn.
WHO IS THE WINNER?
This is a more personal choice, but we prefer the atmosphere of Busan. People are much more relaxed, and we simply love that the city is right by the sea. Strolling on the beach at night in Haeundae or Gwangalli, is so magical. +1 for Busan!
Score:
Busan: 5
Seoul: 4
---
Cost of living: Seoul vs Busan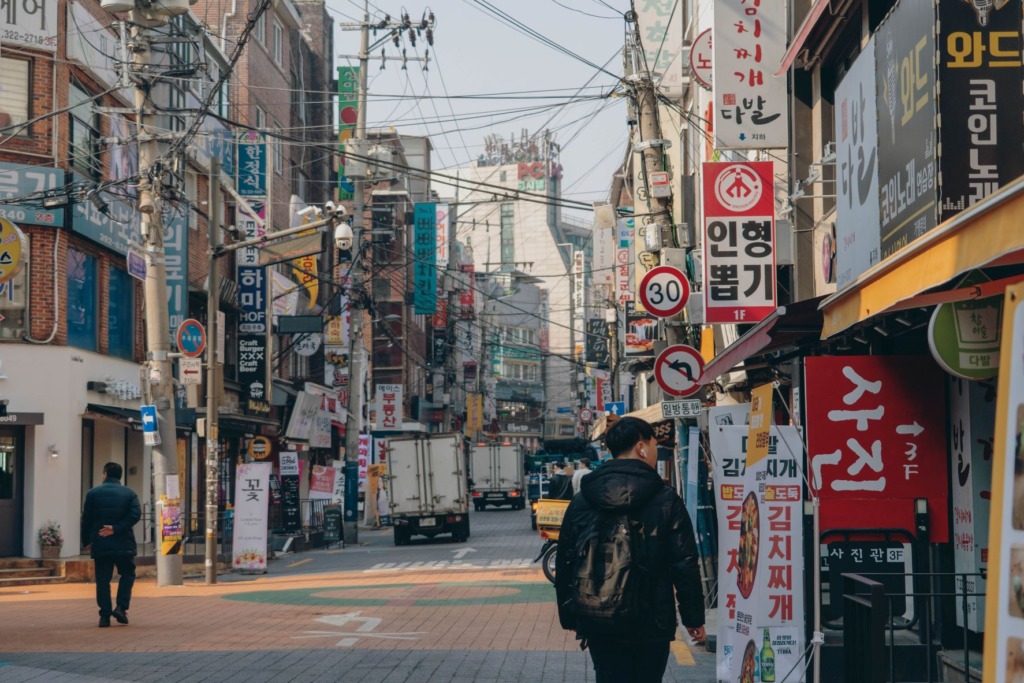 Seoul
Seoul is ranked one of the most expensive city in the world. Accommodation, food, activities, the city is not cheap. Going out for dinner in a local place would still be affordable, but going to buy your own food at the supermarket with fresh fruits and vegetables, will hit your budget. On the weekend going out for dinner and drinks, will easily exceed 100,000 won per person. Just a cup of coffee can sometimes cost up to 10,000 won in fancy cafes. Going to the cinema costs over 20,000 won per person.
For us, living 3 years in Seoul, we definitely had to watch out for our budget if we wanted to try saving some money.
Busan
Busan is a lot cheaper than Seoul, especially for transport and rent! The standard of living, like the air quality, is excellent and that could tip the scales when choosing your destination, especially if your budget is very limited.
WHO IS THE WINNER?
No question here, Busan is clearly cheaper than Seoul. So +1 for Busan!
Score:
Busan: 6
Seoul: 4
---
Tourist Attractions: Seoul vs Busan
Seoul
The Korean capital is a fascinating blend of history and modernity, also blending the culture and values of the country. Seoul will surprise you even more when we you think that it was completely wiped out after the devastating Korean War just a few decades ago.
Seoul has so much to offer. There are many attractions, such as historical sights, palaces, temples, trendy areas like Gangnam or Ikseon-Dong, museums and festivals. This vibrant city also offers a wide choices of restaurants and bars with michelin stars restaurants.
We wrote a full guide about visiting Seoul here.
Busan
There are several landmarks to visit in Busan which are absolutely stunning. Busan even has the most beautiful temple in South Korea! From sandy beaches to popular markets, including temples, parks and cultural spaces, there is something for everyone. Gamcheon Culture Village is so unique and a must-see if you visit South Korea. Jagalchi Fish Market is the larget fish market in the country. Then you also have Haeundae, the most famous beach in Korea.
Here is our full guide on the best things to see in Busan.
WHO IS THE WINNER?
Both cities offer a lot of attractions. It all comes down to what you enjoy doing the most. Busan feels more like a holiday since it's a coastal city, where you can chill by the beach and even go surfing. In Seoul, you will be more impressed by the city itself and the cultural activities. It's hard to have a winner, here, although we are definitely more beach persons. We concluded a draw on this one (+1 each)
Score:
Busan: 7
Seoul: 5
---
And the winner is… BUSAN
As mentioned earlier in the post, we love both cities. However, from what we like doing the most such as being more outdoor by the beach and in the nature, then Busan has so much more to offer in our view. People are more laidback and smiling compared to Seoul. Besides the cost of living is cheaper.
These are all the reasons why we would rather choose Busan to live compared to Seoul.
What is your opinion? Would you add any other categories to compare both cities? Please let us know by leaving a comment below.
We hope that this article was useful. We lived in Korea for 3 years, here is our full post about what it is like to live in Korea as a foreigner.
You can find over 100 articles about Korea in our website by clicking here.
---
Related posts
SOUTH KOREA: best things to do in South Korea: here
BEST NEIGHBORHOODS to live in Seoul as an expat: here
GUIDE FOR MOVING to South Korea: here
LVING IN KOREA as a foreigner: here
KOREAN CULTURE: here
PROS AND CONS of living in South Korea: here
SEOUL: must-sees in the city: here
BUSAN the most awesome things to see: here