Yangdong Village (양동마을) is located about 15km north of Gyeongju (full Gyeongju guide here). For us Yangdong is one of the most charming traditional village we visited in Korea.
Yangdong is an aristocratic village which dates back from the 15th century (Joseon period). The village has been very well preserved. It is in fact the largest traditional and most authentic village in Korea. It has been listed as a World Heritage Site of UNESCO in 2010.
You will be able to see more than 160 houses there, many of which are still inhabited. In Yangdong, you can really feel how people used to live in the past. You can find small traditional restaurants in Yangdong and small pensions as well if you want to experience the traditional Korean way of life.
Yangdong village formed a small community typical of Korea where people bear the same name thus forming an original and unitary culture. The arrangement of the houses reflects in particular the influence of the society and culture of the Joseon dynasty.
In Yangdong village, you can also visit the main house of the community, but also the wooden houses of the aristocrats, pavilions, a reading hall, a shrine, mud houses and thatched roof houses, etc…
Here is all you need to know about Yangdong village near Gyeongju. You can also check out our full guide of Gyeongju here.
---
History of Yangdong Village
The origin story and layout of Yangdong Village are representative of Korean clan villages. The village residents have continued to preserve the original spiritual legacy of the village by performing the traditional rituals and customs of upper-class families of the Joseon period until today.
In the Joseon period (1392-1910), a clan was established by a patriarch and was comprised of its descendants. The primary lineage of first-born male descendants, called the "head family," would live in the clan village, which would serve as a home base for the clan's Confucian education and ancestral rituals. The head families of Yangdong Village were established when Son So (1433-1484) of the Gyeongju Son Clan moved to this area upon his marriage to a woman from the Pungdeok Ryu Clan who lived in the village. Then, when one of Son So's daughters married Yi Beon (1463-1500) from the Yeoju Yi Clan, Yi Beon also moved into his new wife's village.
The sons of these founding patriarchs went on to achieve great accomplishments. Son Jung-don (1463-1529), a son of Son So, was a highly esteemed civil official, and his nephew Yi Eon-jeok (1491-1553), a son of Yi Beon, was one of the most prominent Confucian scholars of the Joseon period. The head families of these two lineages continue to live in Yangdong Village to this day, maintaining their family traditions. Yangdong Village is located with a mountain to the north and a river to the south.
---
How to get to Yangdong Village?
Yangdong is accessible from Gyeongju Intercity Bus Terminal by buses 200 to 208, 212 and 217 (50 min journey on average) or by taxi (25 min, approx. 24,000 won). If you are coming from KTX station, take bus 203 (90 min journey) or taxi (40 min, approx. 38,000 won).
Allow at least 2 hours to visit the village. Make sure to explore the small path which lead you over the hill to another part of the village.
Opening time: The village is open from 9 a.m. to 7 p.m. from April to September and from 9 a.m. to 6 p.m. from October to March.
Admission: Adult: 4,000 won / children: 1,500 won
Location: here
---
What to see in Yangdong Village?
To maximize your visit of Yangdong, take a map after purchasing your entry ticket. There are many houses behind some hills following small paths. Hence it is easier if you have a map.
The composition of Yangdong Village is typical of Korean clan villages, with the houses of low-class servants at the entrance to the village near the river and farm fields, and the houses of the upper-class clan members in the back of the village, protected by the mountain.
The style of buildings in Yangdong Village are typical of the Gyeongsang-do region, with elevated stone foundations and square layouts with a courtyard. Other historic places nearby Yangdong Village include Yi Eon-jeok's house called Dongnakdang, and two Confucian academies, Oksanseowon and Donggangseowon, which honor Yi Eon-jeok and Son Jung-don, respectively.
Here are some of the main houses:
1. Seobaekdang House
Start your visit by walking up the street that runs along the river. There you can already admired many houses on the hill. The view is stunning. Then turn to the left and climb towards Seobaekdang House, one of the first houses in the village built by Son So, the founder of the Son Clan. The house is also the birthplace of both Son Jung-don, the son of Son So and Yi Eon-jeok, the grandson. The house is really big, but also very elegant. With its unique structure and layout, the house is regarded as a valuable resource for the study of old houses of the early Joseon Dynasty.
2. Mucheomdang House
This house, founded in the mid-Joseon period, is the residence of the head of the family of Yi Eon-Jeok, a Confucia Scholar and government offical during the Joseon Dynasty. As an extended building or sarangchae (men's quarter) that belongs to the residences of the higher classes, the house was used for multiple purposes, such as a guest house, a resting place and a library.
3. Hyangdan House
This house, a residence in the mid-Joseon period, was built when Yi Eon-jeok (1491- 1553). It served as governor of Gyeongsang-do province during the Joseon Dynasty. Its form is quite different to the general standard for the upper-class house, consisting of haengnangchae (servants' quarters), anchae (women's quarters) and sarangchae (men's quarters) together in one area and two courtyards, which exhibit distinctive features.
4. Simsujeong Pavilion
This pavilion is said to have originally been built by the Yeogang Yi Clan in the 15th year of King Myeongjong (1560) of the Joseon Dynasty. After the pavilion was completely burned down by fire, except for the haengnangchae (servant's quarters), during the reign of King Cheoljong, it was reconstructed in its original form in 1917.
5. Gwangajeong House
Gwangajeong was the house of Ujae Son Jung-don (1463-1529), a respected government official known as a Cheongbaekri during the reign of King Seongjong and King Jungjong. This house is an excellent building with its formality and simplicity. It commands a view of the Hyeongsangang River and has spectacular scenery surrounding Gyeongju.
6. Suunjeong Pavilion
Suunjeong was built by Son Yeap, a grandson of Ujae Son Jung-don. This pavilion was named from a verse of sucheongunheo meaning "clear as water and evanescent as clouds." Compared with other pavilions, it has the best location and is considered the most magnificent view among other pavilions in Yangdong Village.
7. Get on top of the hill for the view
Yangdong, as if embedded in the valley of Mount Seolchang, also has an infinite charm. To better appreciate its originality, you have to gain height. Climb up the hills to admire the beauty of the stately homes, many of which are national treasures. Here again, the village perfectly reflects the hierarchical society of the time: the residences of the nobles are located on the heights, while the small thatched cottages are established below.
8. Eat a traditional meal in one of the traditional house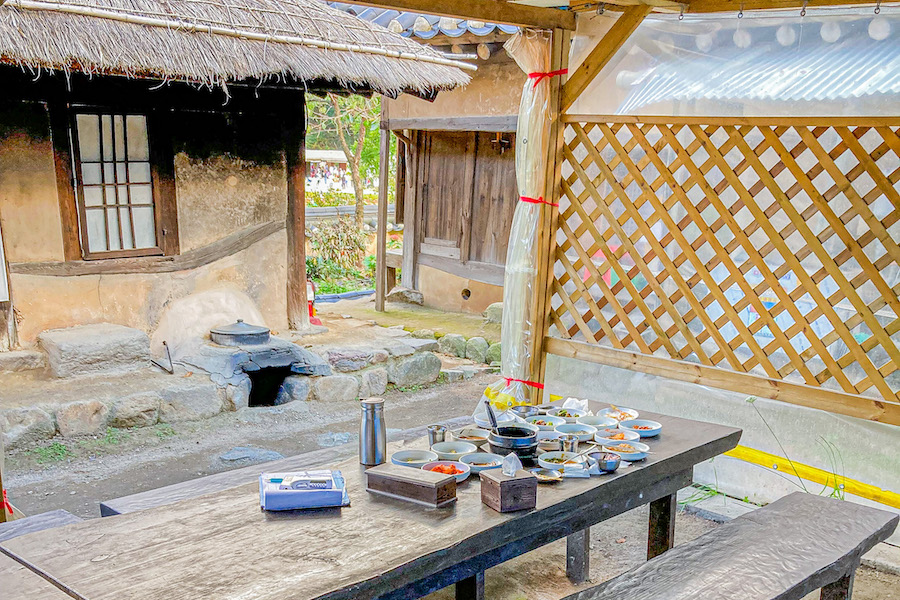 In Yangdong you can find a few very traditional restaurants. We opted for a place called Uhyang Daok. The owners, an old couple, were so so nice with us. They spoke a little english and were so interested about our stories and where we came from. They served us a delicious meal, in fact one of the best meal we had in Gyeongju. Here is the location.
---
Our Impressions of Yangdong Village
We loved Yangdong so much, that we spent quite a lot of time exploring and admiring the village just thinking what it was like to live here 500 years ago. Yangdong was one of our main highlight during our trip to Gyeongju. We would even rank this place as the nicest village in Korea!
Make sure to add Yangdong Village to your bucket list when you visit Gyeongju. Make sure to also visit Bulguksa Temple (more info here).
---
Where to stay in Gyeongju near Yangdong?
If you visit Yangdong, chances are that you will be spending at least 1 night in Gyeongju. We therefore recommend staying in a Hanok to experience this place fully.
Hanok 1st Street
Hanok 1st Street is a beautiful Hanok Hotel located near the main sights in Gyeongju. This place is absolutely stunning and would make your trip to Gyeongju complete. If you travel to Korea, experiencing staying in a Hanok is a must. You can check Hanok 1st Street here.
Gyeongju Wadamjung Hanok Pension
Gyeongju Wadamjung Hanok Pension is located close to Gyeongju Gyochon Traditional Village. In other word, one of the best place to stay in Gyeongju. On top of the great location, this Hanok is beautiful and the garden at the center makes it a magical place to stay. The other good thing about Gyeongju Wadamjung Hanok Pension, is that breakfast is included in the price. This place is often fully booked, however if it's still available during your stay, do not hesitate, book it right away. Check it out here.
Hwangnamkwan Hanok Guesthouse
Hwangnamkwan Hanok Guesthouse is located right off the main touristic street of Gyeongju. If you stay here, it will be easy to walk around the city and finding good restaurants for dinner. Therefore, we also highly recommend a stay at Hwangnamkwan Hanok Guesthouse. Book it here.
---
Related posts
GYEONGJU, the old capital of Korea: here
BULGUKSA, one of our favorite temple near Gyeongju: here
GANGNEUNG and the east coast: here
SOUTH KOREA: best things to do in South Korea: here
HAEDONG YONGGUNGSA, the most beautiful temple in Korea: here
TAEAN: amazing national park on the west coast of Korea: here
JEJU: All you need to know before you go to Jeju: here
JINGWANSA, one of the most beautiful temple: here
JEONJU Hanok Village: here
NAMSANGOL Hanok Village in Seoul: here