PLANNING A TRIP TO SAPPORO AND THINKING ABOUT VISITING MOUNT MOIWA? MOUNT MOIWA IS ONE OF THE BEST THINGS TO SEE IN SAPPORO. CHECK OUT OUR FULL GUIDE TO PREPARE FOR YOUR VISIT.
Mount Moiwa (not be confused with Moiwa near Niseko) is a 531-meter-high hill located in Sapporo in Hokkaido. A visit to Sapporo without going to the top of Mount Moiwa wouldn't be complete.
Mt. Moiwa is considered one of the best views in Japan!
Mount Moiwa is also considered one of the best night views in Japan, besides Hakodate and Mount Inasa in Nagasaki.
At Mount Moiwa you can enjoy the great natural spaces of Hokkaido. (READ: 20 BEST THINGS TO SEE IN HOKKAIDO)
In a Nutshell – Why visit Mt. Moiwa in Sapporo?
Enjoy a thrilling cable car ride
Hike through a magnificent forest
Dine at the top of the mountain
Enjoy one of the best views of Japan
And so much more which we invite you to discover in this post
---
Here are some beautiful impressions of Mount Moiwa in Sapporo:
---
When is the best time to visit Mount Moiwa in Sapporo?
VISITING MOUNT MOIWA DURING THE DAY:
By day, you can observe the details of the architecture of Sapporo (based on the American grid roads). You can also enjoy the beautiful surrounding mountains and if you are up for it, you can hike through the forest to get to the top or to go back down.
VISITING MOUNT MOIWA BY NIGHT:
By night you can admire the lights of the city, the point of view is simply magical. We actually prefer the view of the city at night, but it's hard to see the surrounding nature…
CHECK THE WEATHER BEFORE YOU GO:
Visiting Mount Moiwa on a clear day is simply stunning. However, you won't appreciate the view as much on a cloudy day… So do check out the weather forecast.
READ: 20 BEST THINGS TO SEE IN HOKKAIDO
---
How to get to Mount Moiwa from downtown Sapporo?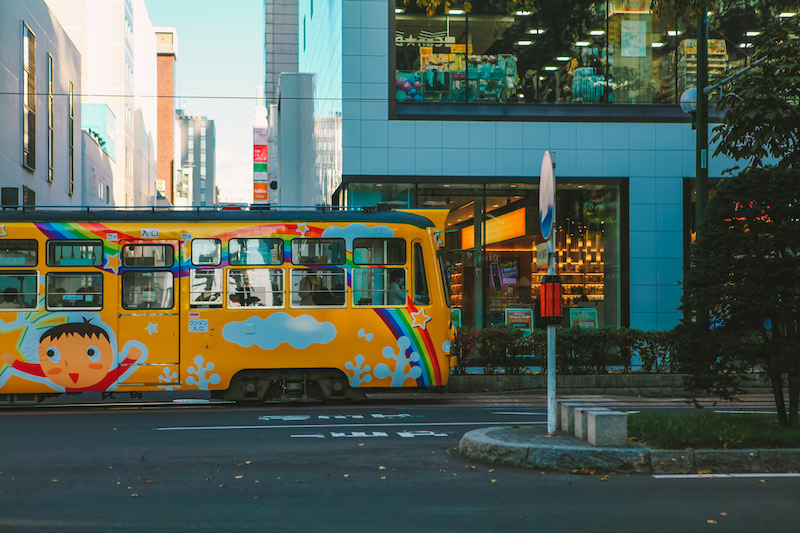 By tram
Take the tram all the way to the stop called: Ropeway Iriguchi. It takes about 25min from downtown Sapporo. Cost: 200yen. From Ropeway Iriguchi you can either walk to the cable car station (10min) or take the free shuttle bus which will get you directly to the cable car.
As for us we decided to walk there, it was very easy to find.
Taking the tram is by far the best option. You can also take the subway and then the bus, but it will take longer and it's a bit more complicated…
---
By Car
From downtown Sapporo, it takes 20 minutes to drive to the cable car station. However, you can also drive all the way to the top of Mount Moiwa. There is a free parking. However, be aware that the road is closed in winter.
---
Guide to take the cable car to the top of Mount Moiwa
Opening Hours:
Every day from 11 a.m. to 10 p.m. (from 10:30 a.m. in summer). Last ascent at 9:30 p.m.
Reduced hours on December 31 and January 1, from 11 a.m. to 5 p.m. (last boarding at 4.30 p.m.)
---
How does it work?
To get to the top, you actually need to take a cable car first, the ascent takes about 10min. You will reach a station midway (called Chufuku) with a small shop.
From Chufuku station you need to take the funicular to the last station (Sancho Station). Everything is included in the ticket, you don't need to pay twice. The funicular takes you to the top. This is the final stop 🙂
---
How much does it cost?
Adults: ¥2,100 return (yes, it's not cheap…)
Children: ¥1050
We recommend booking in advance here.
Website: here
---
What to see at the top of Mount Moiwa?
Clearly, the view at the top is breathtaking. This is one of the best things to do in Sapporo!
In the outdoor viewing deck, you can also ring a bell! It's quite fun, especially for kids.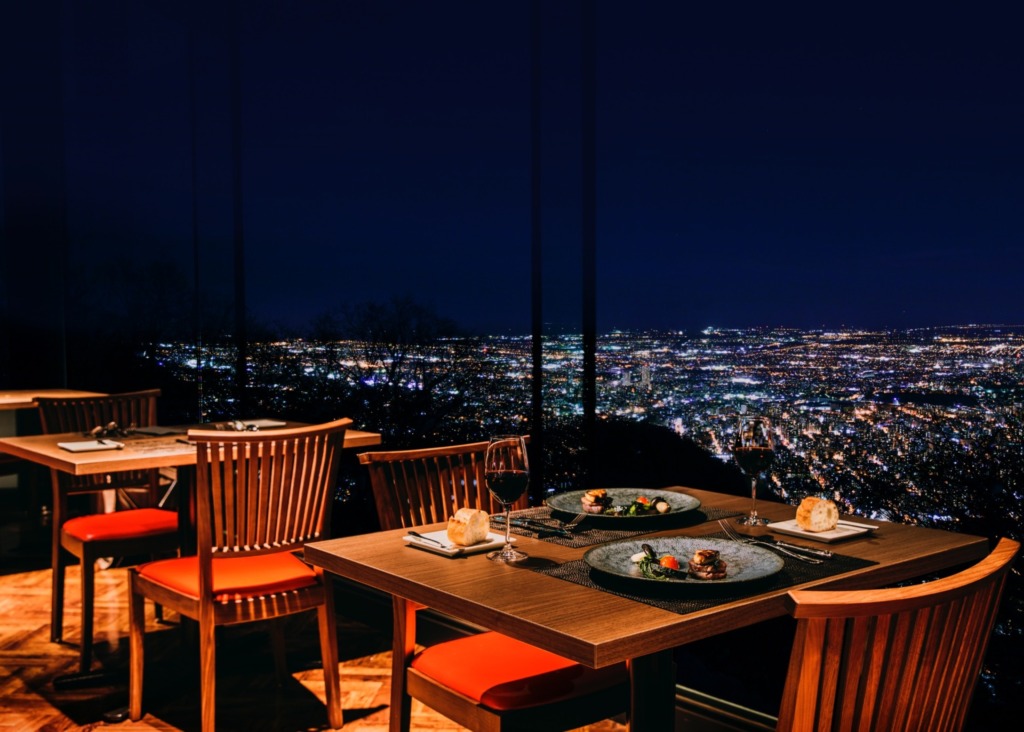 Finally, there is also a stunning restaurant with an amazing view. The restaurant is called The Jewel. If you want to have a romantic dinner, this is the one! However, booking in advance is highly recommended! Check their website for more information.
---
Hiking to the top of Mount Moiwa
Hiking enthusiasts, you can access the summit via one of the 5 paths that make up the Moiwa-yama. One of the most famous (and popular) routes starts from the base of the Moiwa ski resort and runs along a stream.
Count 2.5 kilometers of walking, or about 1 hour 15 minutes, to the summit. The longest trail is 4.5 kilometers long.
The thick forest, made up of more than a hundred species (oaks, lime trees, Judas trees, cherry trees) has been classified as a "national natural monument".
---
Skiing at Mount Moiwa in Sapporo is possible!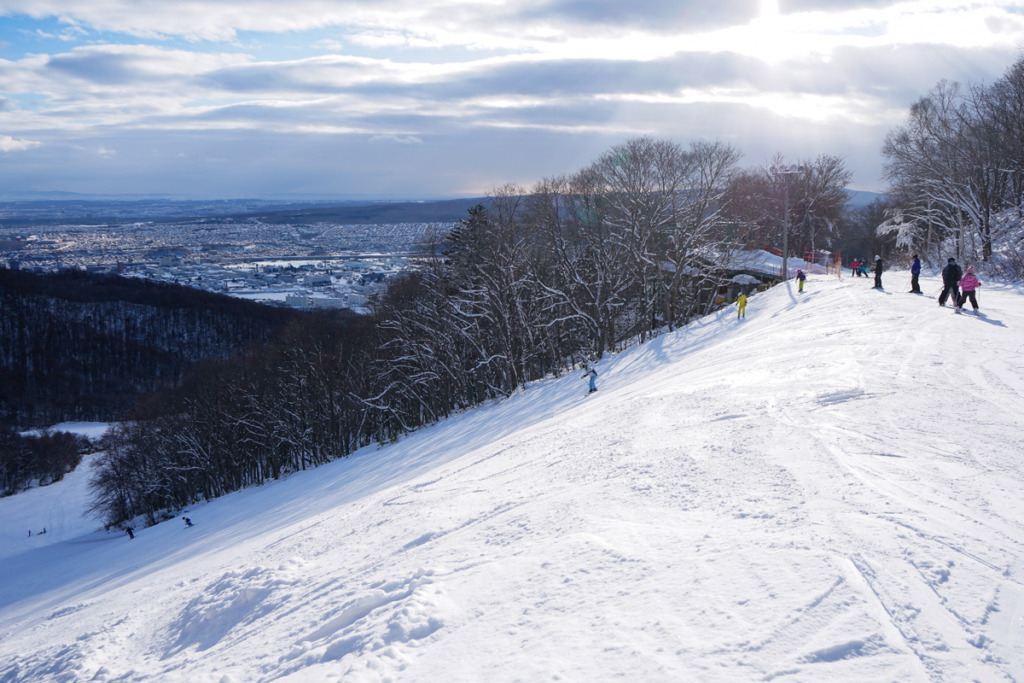 For those you want to ski near Sapporo, Mount Moiwa is one of the closest ski resorts from downtown Sapporo. Ten slopes is accessible for all levels at Mount Moiwa.
For more information on the ski resort at Mount Moiwa, check out this link.
READ: 6 BEST SKI RESORTS IN HOKKAIDO
---
How long does it take to visit Mount Moiwa?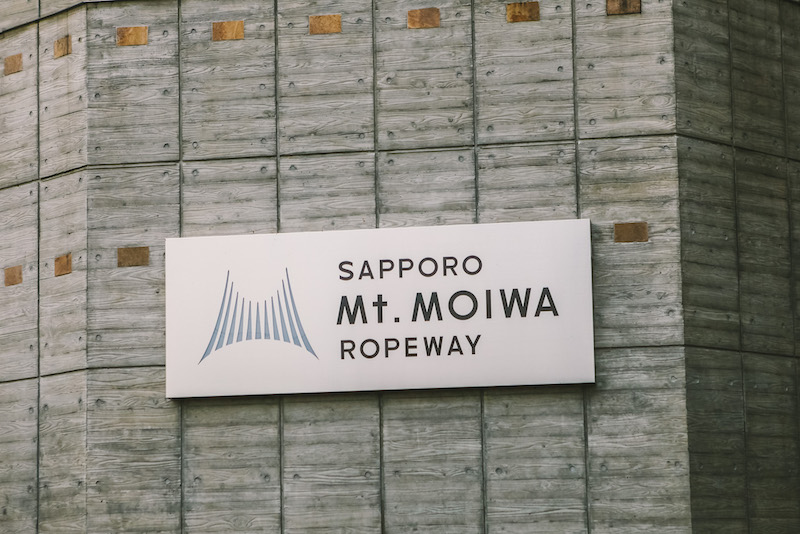 We recommend spending at least half a day visiting Mount Moiwa. If you decide to hike there, then you can even spend a full day in this beautiful area of Sapporo!
---
What else to see near Mount Moiwa?
VISIT THE BEAUTIFUL FUSHIMI INARI TEMPLE
From Mount Moiwa ropeway station you can easily get to Fushimi Inari temple by walking 10min. This is one of our favorite temples in Hokkaido and one of the best spots to take great photos in Sapporo!
The temple is easily recognizable by its many red doors, called Torii, which will offer you an amazing first sight. Do not hesitate to cross them to get to the temple while enjoying the pleasant atmosphere and landscape of the place.
---
VISIT HOKKAIDO-JINGU SHRINE AND THE BEAUTIFUL MARUYAMA PARK
Built in 1871, Hokkaido Shrine, also called Sapporo Shrine or Hokkaido-jingu, is the largest temple in the entire region.
Indeed, it is a traditional temple of more than 180,000 m². It is located in the beautiful Maruyama Park. This temple is dedicated to three Shinto deities, or kamis: Okunitama, Okuninushi, and Sukunahikona.
READ: 30 AWESOME THINGS TO SEE IN SAPPORO
---
In Conclusion – Is Mount Moiwa worth visiting in Sapporo?
Visiting Mount Moiwa was one of our favorite things to do in Sapporo. So if you wonder whether to visit Mount Moiwa or not, the answer is clearly yes, go check it out!
WHY? Well, the view is absolutely stunning. Especially the view of the city at night! Besides it is easily accessible from downtown Sapporo.
We truly enjoyed our trip to Sapporo and we hope you will too. If you have any questions to help you prepare for your trip, please feel free to leave a comment below. We usually respond within 24 hours.
For more posts related to Japan, check out this link here.
---
READ ALSO
30 INCREDIBLE THINGS TO SEE IN SAPPORO
20 BEST THINGS TO SEE IN HOKKAIDO
20 GREAT THINGS TO SEE IN OTARU
12 INCREDIBLE THINGS TO SEE IN LAKE TOYA
18 AWESOME THINGS TO SEE IN NOBORIBETSU ONSEN
16 BEST THINGS TO SEE IN JOZANKEI ONSEN
12 UNIQUE WINTER ACTIVITIES IN HOKKAIDO
VISITING FURANO IN HOKKAIDO DURING WINTER