Located in the Atlantic Ocean near Morocco, Fuerteventura is the easternmost island of the Canary Islands. The second largest island of the Canary archipelago by size, it has a population of more than 107,000 inhabitants on 62.69 km². Inhabited since the 1st millennium BC by the Guanches – the Aborigines of the Canary Islands, the island attracts more and more tourists every year.
But why? What is so attractive about Fuerteventura? You are currently planning your next trip and you wonder what is all this hype around Fuerteventura?
Well, read this post then. We listed the 10 best reasons why you should visit Fuerteventura.
READ: the 25 things to do and see in Fuerteventura
---
1. VISIT FUERTEVENTURA FOR ITS BEAUTIFUL BEACHES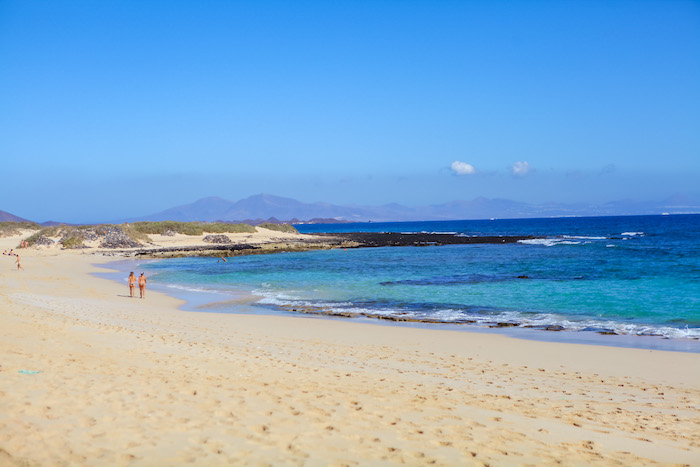 Let's start with what stunned us the most during out trip to Fuerteventura. IT'S INCREDIBLE BEACHES! As we write this post we are in Bali, but we can confidently say, that the beaches in Fuerteventura are much more stunning! YES, no kidding 🙂
The beaches of Fuerteventura are simply breathtaking, magnificent and whatever adjectives you want to give it. There is something for everyone and you will rarely come across a beach crowded with tourists.
We also discovered what for us is the most amazing beach in the world. Let us introduce you to Cofete (full article here).
Right next to the main resort of Corralejo, you can also find the incredible Corralejo Dunes Natural Park (full post here), which feels like a desert right next to turquoise water which looks like the Caribbean.
READ: 10 best beaches in Fuerteventura.
---
2. VISIT FUERTEVENTURA FOR ITS INCREDIBLE LANDSCAPE
Volcanoes, desert, incredible coastline, and beautiful beaches are only some of the attributes of Fuerteventura.
To best appreciate Fuerteventura unique landscape, you need to find a vantage point (unless you have a drone :-)). For us, one of the best place to admire the island's landscape is at the top of Calderon Hóndo Volcano. You can easily hike to the top of the crater to have one of the most stunning panorama, especially at sunset. We wrote a full guide to hike to the top of the volcano.
Another amazing spot to by amazed by Fuerteventura, is at the Mirador De Morro Velosa (here) which has been designed by the legendary Cesar Manrique (more about this artist here, who marked the history of the Canary Islands). Unfortunately the restaurants has been closed at the top for whatever reason… Nevertheless it is worth the drive to the top to check the view.
READ: Cesar Manrique's heritage in the Canary Islands
---
3. VISIT FUERTEVENTURA FOR ITS GREAT WEATHER
Admit it! You're getting tired of the rain outside the window… This is why you are planning your next holiday, isn't it?
Well you won't have this kind of problem in Fuerteventura where the sun shines almost all year round. With an average temperature of 20°C and superb blue skies in winter, it is the ideal place to refill your body with vitamin D.
However, we need to warn you. Fuerteventura is also known for its strong (sometimes unpleasant) wind… Although you can visit Fuerteventura all year round, some seasons are better than the other. So if you are flexible in your schedule, check out this post to find out about the best time of the year to visit Fuerteventura.
---
4. VISIT FUERTEVENTURA FOR ITS GREAT OUTDOOR ACTIVITIES
Fuerteventura is particularly popular with surfers and kitesurfers. Due to its wind from time to time, it attracts most the water sports lovers. Whether you are a beginner or experienced, you will find a place to practice your these type of sports all around the island.
If you are into snorkeling, kayaking, but also cycling or hiking, there is something for everyone in Fuerteventura.
READ: 8 best outdoor activities in Fuerteventura.
---
5. VISIT FUERTEVENTURA BECAUSE ITS CHEAPER THAN OTHER CANARY ISLANDS
We traveled to all the main islands in the Canaries, and we can confidently say that Fuerteventura is one of the cheapest. When it comes to hotel, restaurants, activities etc. everywhere seems to be a notch under compared to Tenerife or Lanzarote for instance.
Flights to Fuerteventura, are also usually cheaper. Check out the flights here for the best rates.
What are you waiting for? are you not on booking.com yet checking for your hotel in Fuerteventura?
---
6. VISIT FUERTEVENTURA BECAUSE ITS MUCH QUIETER THAN THE OTHER CANARY ISLANDS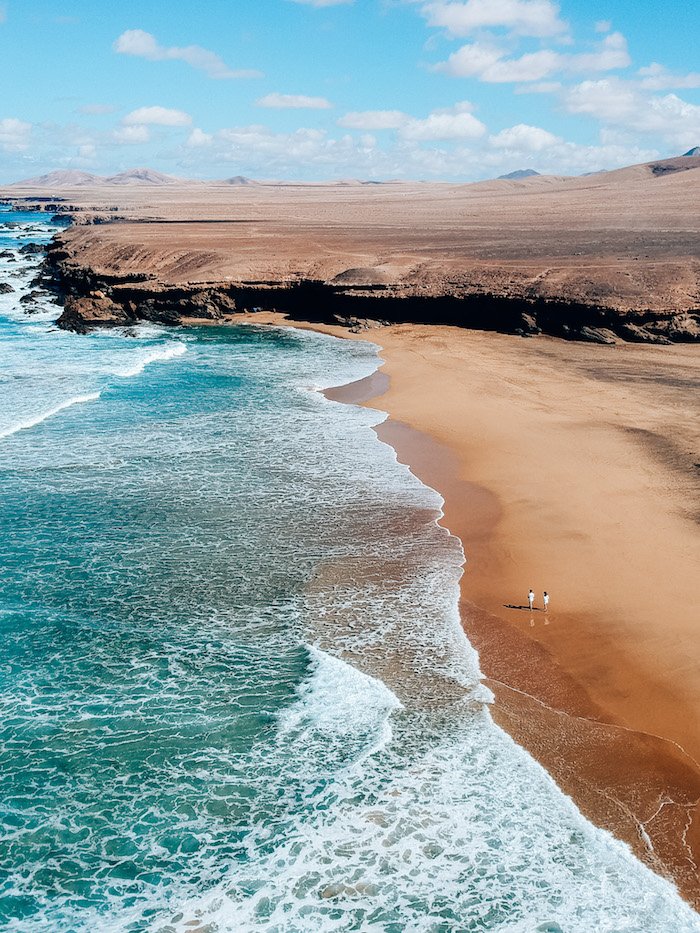 Are you dreaming of a relaxing, sunny place, without going to the other side of the world? Fuerteventura is definitely at reach if you are in Europe!
This is the ideal place to practice your yoga, join a surf camp, enjoy the beach by yourself, savour a delicious brunch at one of the many nice restaurants. All you have to do is make your choice and let yourself be carried away!
And yes! In the picture above it's us, enjoying the beach all by ourselves! PARADISE…
---
7. VISIT FUERTEVENTURA BECAUSE THERE ARE SO MANY THINGS TO DO
By now, you might have understood that we had a really good time in Fuerteventura and we hope that you will too. The good thing is that either you are a couple looking for a few romantic activities on the island, a hardcore sport lovers, single looking for partying at night or a family with young children there is something for everyone.
Corralejo is the most complete resort on the island. It is an ideal location to make it your base in Fuerteventura and explore the rest of the island from there.
Make sure to also visit Oasis Park, a beautiful and gigantic park full of animals and many rare plants. Full guide here to visit Oasis Park.
READ: 8 best things to do in Corralejo.
---
8. VISIT FUERTEVENTURA FOR ITS CULTURAL SIGHTS
Fuerteventura is mostly known for its amazing landscape and great outdoors. However, there are also many cultural sights which you can discover on the islands.
Let's start with Betancuria one of the most charming old town in the middle of the mountains of Fuerteventura. This former capital of Fuerteventura, is truly unmissable. This little village in the mountain was founded in the 19th century by Jean IV de Béthencourt, a French explorer. This place is a real delight!
You can also check out Casa de los Coroneles located right on the outskirt of La Oliva. This is one of the main historical sight in Fuerteventura. This palace was built in the second half of the 17th century by Ginés de Cabrera Bethencourt (1650-1722). It is one of the most important architectural elements of the artistic heritage of the Canary Islands.
You can also hike in the Esmeralda mountain to discover ancient drawings and writings of the natives who lived on the island a long time ago. The mountain itself has been declared a Property of Cultural Interest and is recognized as a natural monument and point of geological interest.
We told you! There is something for everyone in Fuerteventura and plenty of things to discover…
---
9. VISIT FUERTEVENTURA TO GO ON A ROAD TRIP FULL OF ADVENTURE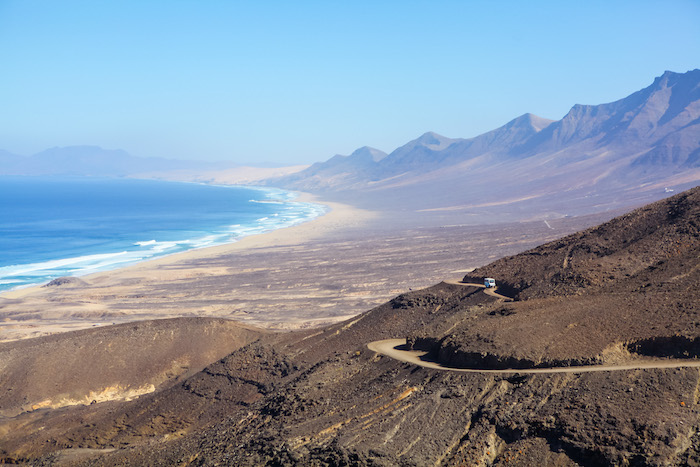 If you decide to visit Fuerteventura, renting a car is an absolute must to discover the island. Visiting the amazing beaches, or other sights was indeed beautiful, but simply driving throughout the island was one of the best memory.
Many road are still not paved, which can be a bit annoying if you don't rent the proper car (like we did with our totally inadequate Fiat 500, but we enjoyed it nevertheless), however it makes the island look wild! Which we enjoyed a lot.
Our drive to Cofete Beach, was probably the most memorable one, driving down the beach on the edge of the cliff. Truly amazing and scary at the same time! More on Cofete Beach here.
READ: OUR SELECTION OF THE BEST HIKES IN FUERTEVENTURA
---
10. VISIT FUERTEVENTURA TO DO THINGS A LITTLE DIFFERENTLY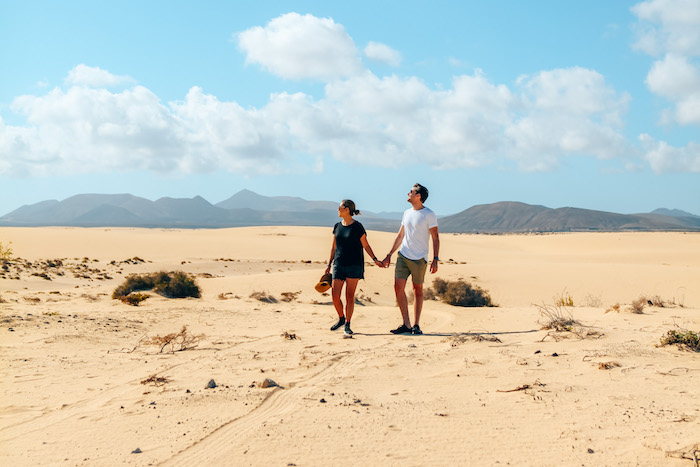 When someone says Canary Islands to you, what is the first island that comes to mind? Lanzarote? Tenerife? Gran Canaria? Indeed, for many Fuerteventura comes last, or for some they don't even know this place exist. And it's a real shame really.
What we liked about Fuerteventura, is that the island is still wild. Not many big hotels around the island, no proper road, and beaches where you will find yourself alone for miles aways!
For us Fuerteventura is the real hidden gem of the Canary Islands. And that, is a good enough reason to plan your next trip to this incredible island.
READ: 25 best things to do in Fuerteventura
---
Where to stay in Fuerteventura?
There are many places to choose from when it comes to finding a place to stay in Fuerteventura. It may depends on the type to activities you want to do during your stay, or the time of the year you are visiting the island. It may also be based on your budget.
Vacation rentals, all-inclusive hotels, seaside villas with swimming pools… there is something for everyone in Fuerteventura!
However we recommend to choose amongst the following 3 locations:
Corralejo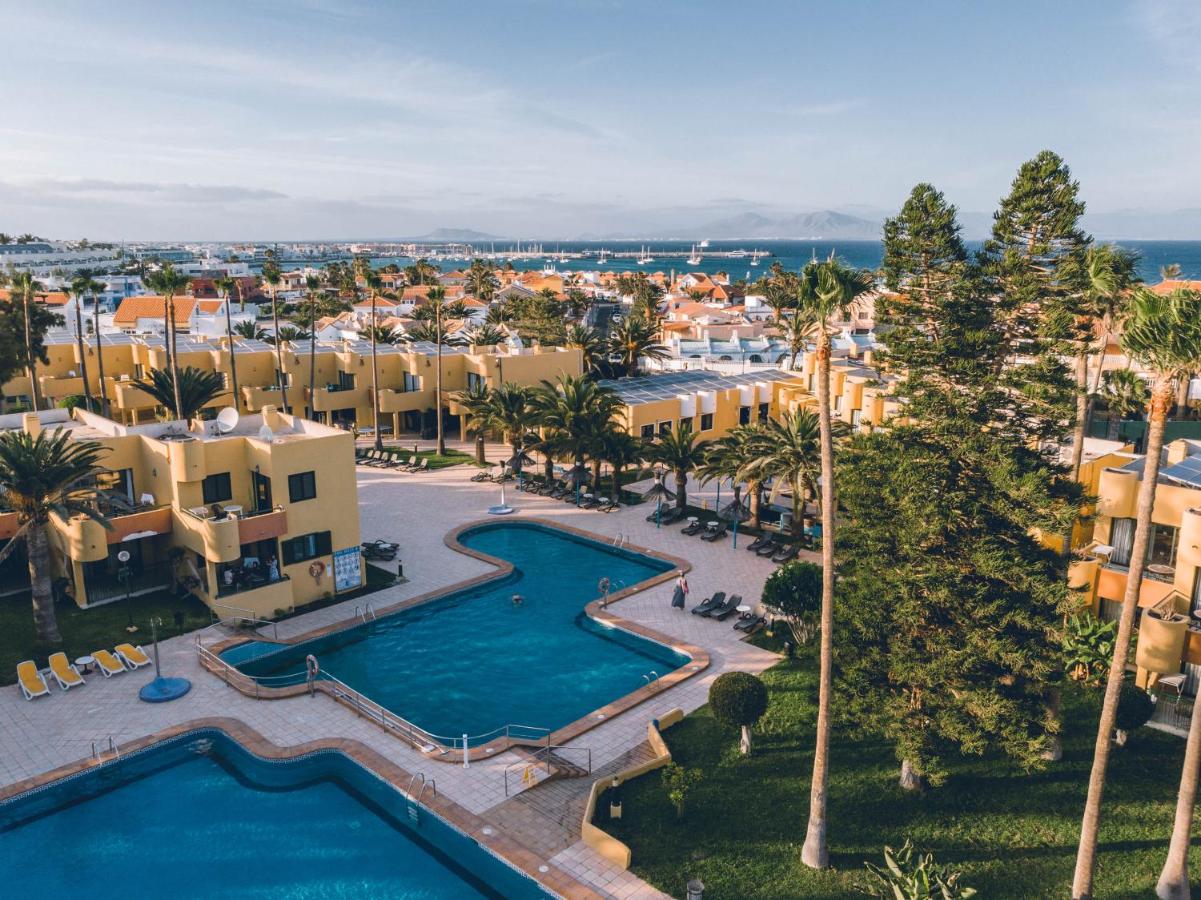 Best if you like more actions during your holidays. Plenty of bars, restaurants, a very young crowd, surf school, boat trip to Los Lobos, perfect beaches etc. There are so many things to do. However, it may not be the most romantic gateway. We stayed at Atlantic Garden Beach Mate hotel. The location was perfect near the main beach and right next to a supermarket. The place was clean and modern. Check it out here.
Costa Calma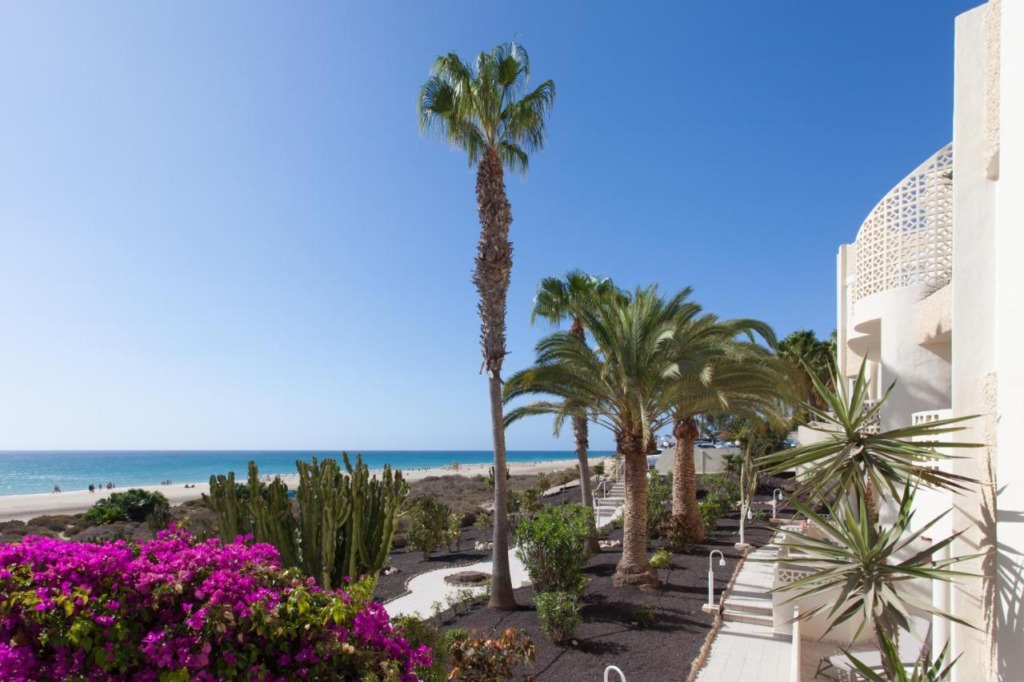 If you are couple, this is probably the best place to stay. Costa Calma is much quieter than Corralejo but there are also a few restaurants, cafes and bars. From there you can easily explore Morro Jable, Cofete and many other attractions in Fuerteventura. We probably stayed in the best hotel in Costa Calma. It's called R2 Maryvent Beach Apartments Costa Calma. We had a fantastic sea view apartment. You can check it here
Morro Jable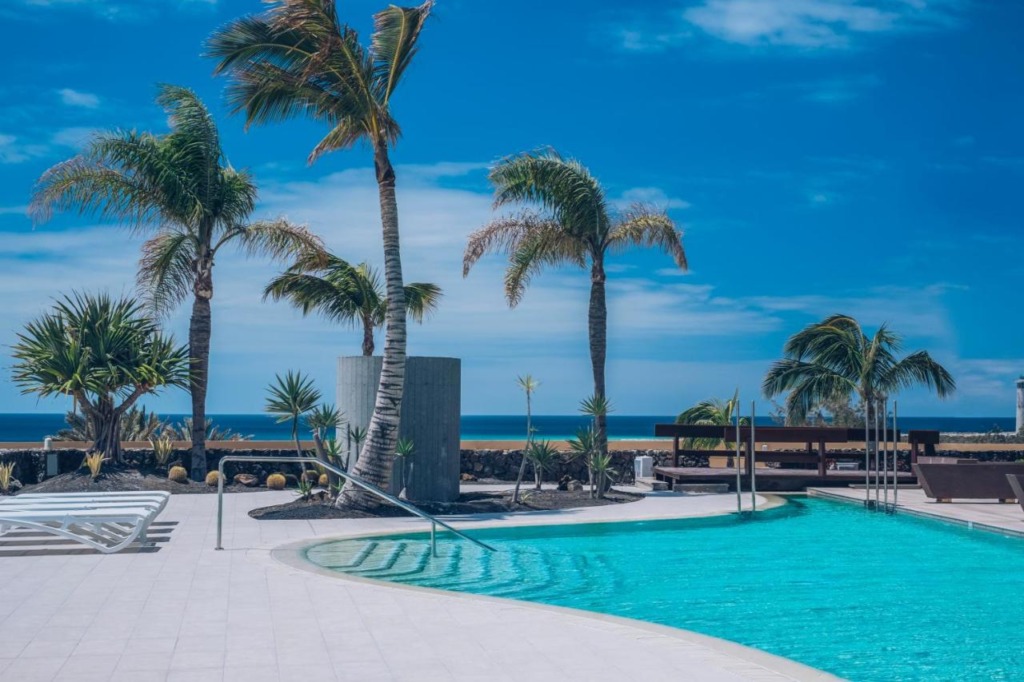 This is probably the most convenient place for families or retirees. You will find all you need in Morro Jable and it's mostly flat, which makes it very easy to walk around. In Spain we love the Iberostar chain hotel. We only had fantastic experience in their hotels. At Morro Jable they have a stunning palace facing the sea. It's beautiful. You can book it here.
READ: BEST PLACES TO STAY IN FUERTEVENTURA, FULL GUIDE
---
How to get to Fuerteventura?
The easiest way is by plane! Plane tickets between the island and the major cities in Europe are generally very affordable. Easyjet has many great offers, however book early as during peak seasons the prices are going much higher.
If you are visiting multiple Canary Islands, then you can easily take the ferry between each of them. We started our journey in Lanzarote and then we took the ferry to Fuerteventura, which is just a 30min ride. We always use Direct Ferry to book our ride. It's smooth and reliable. Check it out here.
Once you reach the Canary Islands, it is highly recommended to rent a car. To get the cheaper rate we used Rentalcars.com. Check it out here for the best deals. However, we suggest that you rent a better car in order to tame some dirt tracks all around Fuerteventura 🙂
---
All our posts about Fuerteventura
BEST THINGS to see in Fuerteventura: here
10 BEST BEACHES in Fuerteventura: here
BEST PLACES to stay in Fuerteventura: here
COFETE, the best beach in Fuerteventura: here
HIKING CALDERON HONDO in Fuerteventura: here
OASIS PARK in Fuerteventura: here
BEST HIKES in Fuerteventura: here
EL COTILLO, a charming village near Corralejo in Fuerteventura: here
CORRALEJO DUNES NATURAL PARK, full guide: here
BEST THINGS TO DO IN CORRALEJO, Fuerteventura: here
8 BEST OUTDOOR ACTIVITIES in Fuerteventura: here
BEST TIME to visit Fuerteventura: here
CESAR MANRIQUE, his heritage in the Canary Islands: here
FULL GUIDE FOR VISITING the Canary Islands: here