If you are looking for the perfect beach vibes in Korea, then head to Yangyang on the east coast. Yangyang is the Bali of South Korea, a true surf paradise and the perfect gateway if you live in Seoul.
Yangyang is located in Gangwon-do. This town is very popular for Koreans and tourists who come enjoy the beautiful sea on the east coast. Over the years, Yangyang became famous for surfing and it is now a trendy places with great cafes, restaurants, surf shops and a lot more, which you are about to discover in this post.
On the east coast, you can also check out Gangneung (full post here), another beautiful place in Korea, located south of Yangyang. If you are a surfing enthusiast, we also listed the best surf spots in Korea here.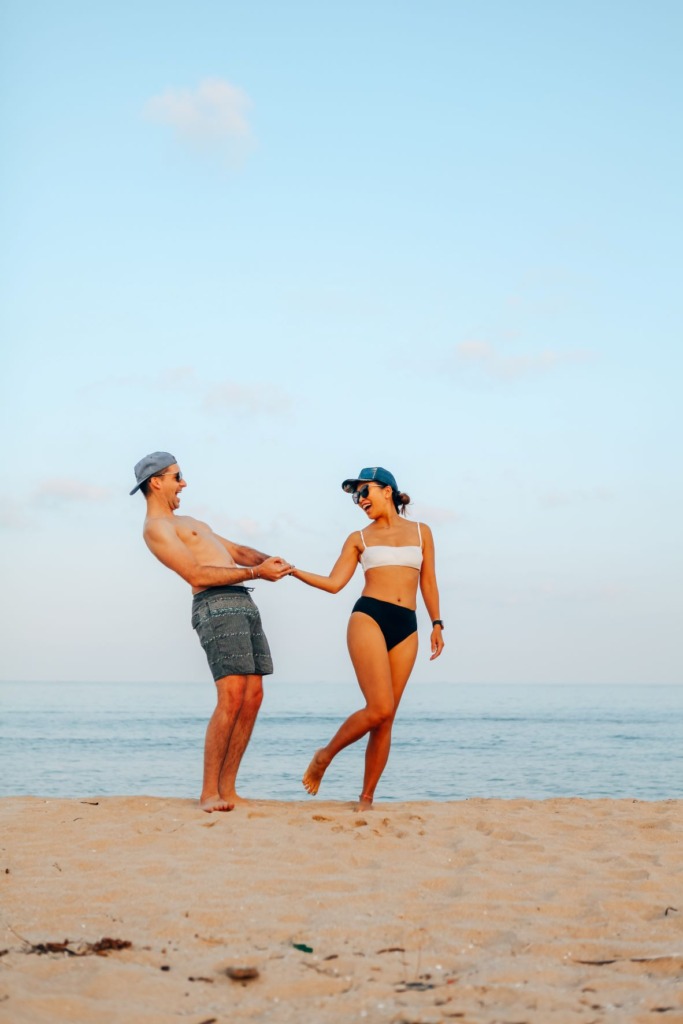 Yangyang, the Bali of South Korea…
When we moved to South Korea, we had no idea about the beautiful beaches all around the country. On the east coast is perhaps where you can find the most pristine beaches on the mainland. Of course, Jeju has some of the most stunning beaches as well. Throughout our travel in Korea, we kept discovering incredible beaches which we decided to list here, as the 25 best beaches in South Korea. Check it out!
As we both love surfing, we quickly heard about a surf paradise in Korea called Yangyang. So after the first few months living in Korea, we decided to take a trip on the east coast. We couldn't believe how beautiful the east coast is, and were wondering why no one told us about this place before. That day, the waves were pumping, so we directly went to rent surfboards in Jukdo beach, and we surfed pretty much the whole day.
In Yangyang, everything is so oriented to the surfing culture, than even the public toilet signs are shaped in surfboard:
We then realized, that South Korea, is still so unknown from the rest of the world. This was one of the reason we decided to start this blog.
Today, we are happy to list the best places to visit in Yangyang. Besides the awesome beaches, there are other things to do in Yangyang, such as visiting the gorgeous Naksansa temple.
So here you go, the 10 best things to do in Yangyang:
---
1. Jukdo Beach and Ingu Beach
Jukdo beach and Ingu beach are basically 2 beaches separated by a small hill in the middle. However, you can easily access both beaches by foot as there are several roads linking them.
For us, Jukdo and Ingu are the true heart of Yangyang. This is the place which made us feel like Bali. Cafes and restaurants right by the beach, plenty of surf shops, people walking around with their longboards, and overall an awesome and friendly vibes.
If you are visiting Yangyang, then we highly recommend to book a hotel or guesthouse in this area. It's very convenient, as you basically won't need a car once you are there.
Here we listed the best things to do in this area of Yangyang:
ENJOY SURFING
Both beaches, Jukdo and Ingu offer surf lessons and board rentals. It is one of the most popular place to surf in South Korea, so expect it to be very crowded on the weekend. If you want the beach for yourself, then head there during weekdays when the weather gets a bit colder in Autumn.
The rental shops offer board rental and all the other necessary equipment such as Wetsuit and even gloves and boots when the water gets too cold. The rental shops are open all year round, indeed the best time for surfing in Korea is during Winter (more info in this post).
In Ingu, we recommend Barrel for surf lesson and to rent your gears (website here).
ENJOY A COFFEE WITH THE BEST SEA VIEW
There are many awesome cafes in Jukdo and Ingu, here we listed some of our favorite ones:
Please Wait
Please Wait is one of the most well known cafe in Yangyang. Why? Well, because at night they usually have DJs playing great songs. Please Wait is a cafe during the day, but transforms into a great place to party by the beach at night. You can't miss it, as it is located on the main strip of Ingu Beach.
2. Mahalo Cafe
Mahalo Cafes is one of the best spot to check surfers catching waves on Jukdo Beach. On top of serving delicious cafes, Mahalo is also a hotel, with fantastic rooms with full sea view. Find out more on their website here.
GO FOR A BRUNCH
There are 2 very famous brunch places in Ingu Beach.
Fika Brunch
Fika is a very cute place which serves delicious brunch. They only have a few options, but each of them are so good! Honestly, one of the best brunch we had in South Korea and the staff is really nice. We especially enjoyed the Salmon with egg Benedict.
2. Tyler Surf Shop
Another legendary brunch place in Yangyang, is Tyler Surf Shop. The food there is so so good. However, make sure to come early, as it gets full very quickly in the morning. You may have to wait a little to get in, but it's all worth it. Check out their instagram here.
GO SHOPPING
There are few surf shops in Ingu Beach worth checking.
Schurrers
Schurrers is a beautiful surf shop, which also offers coffee and various drinks. We loved the great choices of surfboards, but also clothing for men and women. Schurrers is located near Fika Brunch. Make sure to check it out if you are in Yangyang.
2. Barrel
Barrel is not only a great surf shops, but also a fantastic surfschool. If you are looking for a very professional surf lessons in Yangyang, check out Barrel. The shop is located right by Ingu Beach. You can't really miss it.
3. Patagonia
Patagonia is a famous brand for high quality outdoor clothing. They have their own shop in Yangyang, located right beside Tyler Surf Shop Brunch place. They offer all sorts of clothes, which fits perfectly in Yangyang's surf vibe.
DO A BONFIRE ON THE BEACH
At night, one of the most popular activity on Ingu beach, is to do a bonfire. Buy the wood at any of the convenient stores nearby, and start your own fire on the beach. We spent one of the most memorable evening in South Korea when starting our own fire. We spent most of the night drinking by the beach and chatting together and meeting other people. It was such a great time.
PARTY HARD!
If you wan to party at night, then search no longer. Head to Surf Cliff on the main road along Ingu Beach. You can't miss it. Most likely there will be loud music and people dancing on the table. Yup, no kidding! Check it out if you stay in Yangyang, you will have a great time.
CHECK OUT SOME OF THE BEST RESTAURANTS
We discovered a few options in Ingu and Jukdo which are worth checking out if you stay in Yangaygn (besides brunch places).
Pibing Lounge
If you craving for pizza, search no longer. Head straight to Pibing Lounge. They offer the best pizza in town. After a full day surfing, you will be starving. We highly recommend this place.
Location: here
2. Warung Patrick
Missing South East Asia? Well we did say that Yangyang was the Bali of the Korea. So head to Warung Patrick for the best indonesian food in Korea.
Location: here
3. Poipu
Feeling like in Hawaii, well Yangyang also offers Hawaiian food at the newly open Poipu Restaurant. For those who don't know, Poipu is a famous beach in Hawaii, located on the island of Kauai (check out our post here for visiting Kauai).
Poipu has 2 branches, one in Gangneung, and 1 in Yangyang.
Location: here (Yangyang)
---
2. Surfyy Beach in Hajodae beach area
A few minutes drive from Jukdo Beach, you will reach the famous Surfyy Beach in Yangyang (located at the far end of Hajodae beach).
Surfyy Beach has been entirely designed to focus on surfing activities. At surffy beach you can take surfing lessons from specialists ranging for complete beginners to more advanced level. You can book your surf lesson here.
The place is also famous due to all the facilities built around surfing. Surfyy beach offers great lounge areas, nice cafes and bars with a perfect chill atmosphere. The beach was also the location of the famous Korean drama called 'Lovestruck in the City'.
Surfyy beach is a great location by itself, however, make sure to also check our the next 2 places below, both located on Hajodae Beach:
SINGLEFIN ALEWORKS
To see one of the most stylish restaurant in Yangyang, head to Singlefin Aleworks. This awesome place located near Surfyy Beach serves great beer and food in a trendy environment. They are most famous for their Chicago Pizza. It is a must-see if you are in Yangyang.
TANN BEACH CLUB
In Yangyang, check out THE MOST stylish place of all, newly opened in 2021: Tann Beach. This place combines hotel, restaurants, bars and often organizes event such as pool party. Tann Beach is another reason, why Yangyang just feel like being in Bali. Check out their website for more info here.
---
3. Hajodae Observatory and Skywalk
In Hajodae, we also recommend the observatory to enjoy a panoramic view of the place. The observatory allow you to walk on transparent glass above a cliff overlooking the sea.
It is possible to admire different kinds of landscapes from Hajodae Observatory. You can enjoy the view of the Eastern Sea with its emerald blue reflections and the mountains in the background with Seoraksan Mountain.
We also recommend the 'dulle-gil' Hajodae walking path along the coast between the observatory and a small resting place behind. It is a pleasant and peaceful coastal trail.
---
4. Hajodae Pavilion
Hajodae refers to the area that extends around the pavilion located on the peaks of the coastline. The site is renowned for its mountains and rocky islands, but also for its pine forests and coastal landscapes around the pavilion.
From Hajodae pavilion, you can appreciate a very particular pine tree against the backdrop of the Eastern Sea and rocky cliffs. The 200-year-old tree is featured prominently in the first verse of the national anthem.
You can enjoy a short trail along the coast on top of various cliff. It is a nice place to enjoy the beautiful sea of the east coast.
---
5. Naksansa Temple
One of the most beautiful temple in Korea, is located in Yangyang, called Naksansa or Naksan Temple.
Naksan Temple is built on a cliff with a panoramic view of the East Coast. This temple is listed among the 33 sacred places in the country housing a large statue "Bodhisattva Avalokitesvar", a statue of 16 meters high and which largely makes the reputation of the site. It is said that touching the statue at the foot of the monument makes wishes come true.
Naksansa has a history spanning 1,300 years. It was built by the great monk Ui-sang, during the reign of Munmu, 30th king of the Silla dynasty (-57 ~ 935), and counts among its monuments: a pagoda of seven floors, a bronze bell and the door of hongyaemun.
Uisangdae Pavilion, one of the most popular sight in Naksansa, sits at the edge of the cliff, where Ui-sang used to sit in meditation. This place made us feel a bit like the gorgeous Haedong Yonggungsa Temple in Busan (full post here).
The temple is relatively big and spread over different areas. Count at least 1.5 hours to complete the visit. Make sure to check out Naksan temple if you are in Yangyang, it's completely worth it.
For more info about Naksan Temple, check out our full post here.
---
6. Naksan Beach
Naksan beach, is one of the most popular beach in Yangyang but also one of the most beautiful in country. For us, it is certainly one of the most beautiful beach on the east coast. The long stretch of white sand, and pine trees is absolutely gorgeous. Whenever we visit Yangyang, we like to take a long walk on Naksan beach. It is one of the most relaxing thing to do. We also enjoy the sunset from there.
At Naksan beach, you can also enjoy various seafood restaurants and cafes.
---
7. Hyuhyuam Hermitage
Hyuhyuam Hermitage is another beautiful temple located by the sea. In English it means "Rest and Rest Again". You will quickly understand why, as this place is so relaxing.
The temple has a few large halls and big white statues, but the part we liked the most, is the small hidden beach and the path that lead to a flat rock by the water. We stayed there for quite a while just listening to the sound of the waves crushing against the cliff.
---
8. Jukdoam Temple
Between Ingu and Jukdo beach in Yangyang, there is a small mountain separating both beaches. There is actually a beautiful coastal walk built around the mountain called Jukdosan. Half way through the walk, you will see a little temple nestled by the cliff. The temple is called Jukdoam.
The temple and the coastal walk are stunning, yet not very touristy. We love walking by the sea, and this place is perfect for that. From Jukdo beach, head to your right, you will see the small mountain and the trail that will get you to Jukdoam. It's easy to find it.
---
9. Gisamun Beach
If you are driving between Jukdo beach and Surfyy beach, you will have to pass through Gisamun Beach. Although not the most popular spot in Yangyang, we enjoyed some of our best surf sessions in Gisamun. Days were the waves were much smaller in Jukdo, we found much better swell in Gisamun. So you can consider this place as an alternative surf spots to Jukdo. It also gets less crowded than other surfing spots.
There is a huge parking lot in front of the beach, with a few simple restaurants.
---
10. Relax at a Hot Spring
If you want to experience Korean Hot Springs, then head to Osaek Carbonated Hot Spring located in Seoraksan Mountain. This is one of the best hot spring in Korea. You can't really compare to the onsen in Japan but nevertheless it is also a very good experience.
Osaek Carbonated Hot Spring offers 2 options, the basic price which allows entry to the baths only and the higher option for more accesses to sauna and other rooms. The spa is connected to the Greenyard Hotel, but anyone can use the spa. To get there, you will need approximately 30-40min drive. There are also public buses going there.
Check out their website for more information here.
Address: 460-5, Osaek-ri, Seo-myeon, Yangyang-gun, Gangwon-do / 강원도 양양군 서면 대청봉길 58-12 (서면)
---
Where to stay in Yangyang?
Yangyang is quite wide with multiple beaches. Hence, there are plenty of options, which can sometimes be overwhelming. Therefore, to make the most of it, we recommend to stay at Ingu beach. There are more options there, and as everything is more concentrated in this area, you will easily find restaurants, cafes, and other convenient shops.
We listed a few recommendations below, based on different budget.
Flowbeach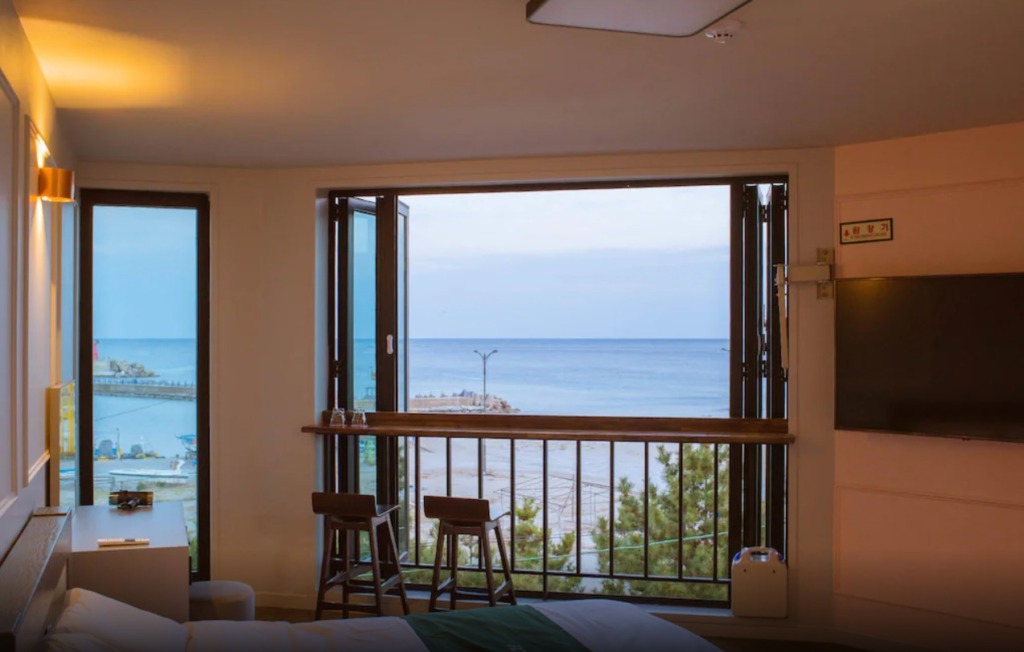 This hotel is fairly new and offer spacious rooms. All rooms are directly facing the sea. On the first floor you have a convenient store and on the rooftop a beautiful cafe. It is therefore very practical.
The owner of the place is very nice, and gave us plenty of great recommendations. In terms of value for money, this probably the best option in Yangyang. You can check it out here.
Yangyang L9
Located beside FlowBeach hotel, L9 is another great place to stay in Yangyang. Every rooms have full seaview and they all include either a private pool or private Jacuzzi. This place is very modern and must have been built just a few years ago. A stay in L9 hotel is also very nice and a convenient place in Yangyang. This place gets full very quickly, hence book early here.
Hotel Two Y in Naksan Beach
Our last recommendation, is actually at Naksan Beach. This is one of our favorite beach in South Korea, and Two-Y Hotel, is located right in front of it, with a majestic rooftop overlooking the sea. The rooms are also very modern with full sea view or mountain view. The other good thing about Two-Y hotel, is that they also serve breakfast which you can include in your room rate. Check it out here.
---
Other things to see near Yangyang
DAEGWALLYEONG SHEEP FARM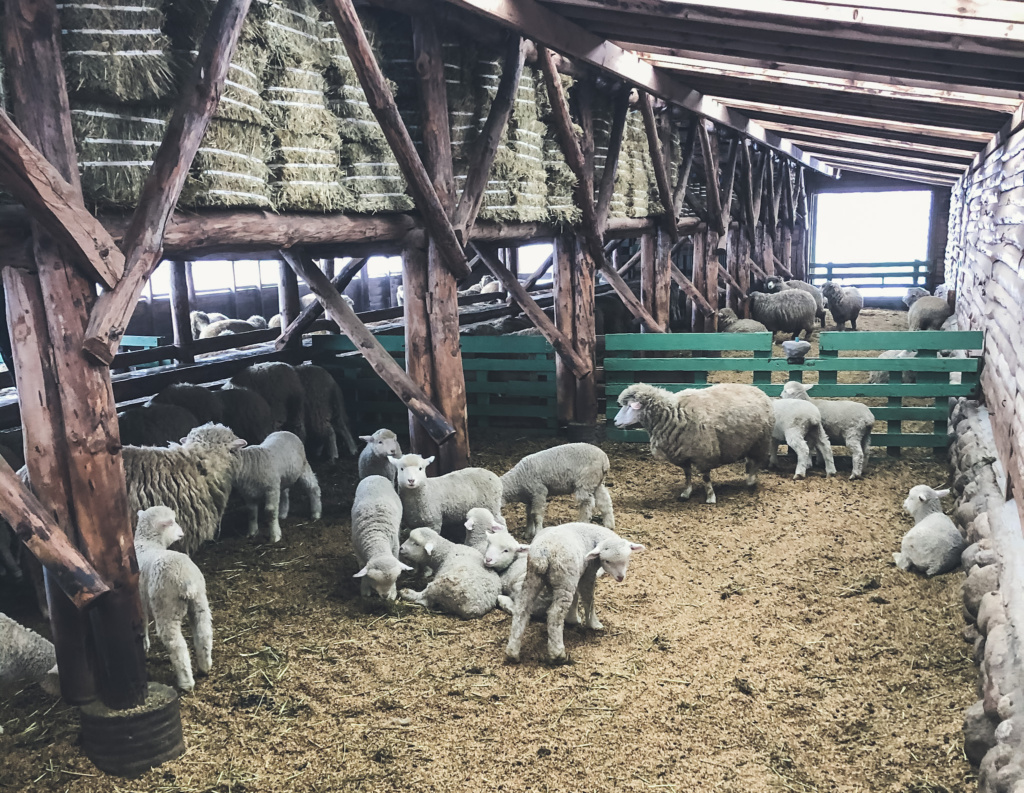 Daegwallyeong Sheep farm is a great place to visit with your family. This is a huge park full of sheeps. It it located more inland near Seoraksan mountain (full guide for visiting Seoraksan Mountain). To get there from Yangyang, the best is to drive with your own car. It takes about 40min.
Daegwallyeong is sometimes called the Alps of Korea. We visited Daegwallyeong in Winter during a snow storm and it sure did a bit like the Alps. We absolutely loved it. The farm is open all year round. It is also nice a trip during other seaons.
We wrote a full post about Daegwallyeong Sheep farm here.
GO SKIING OR SNOWBOARDING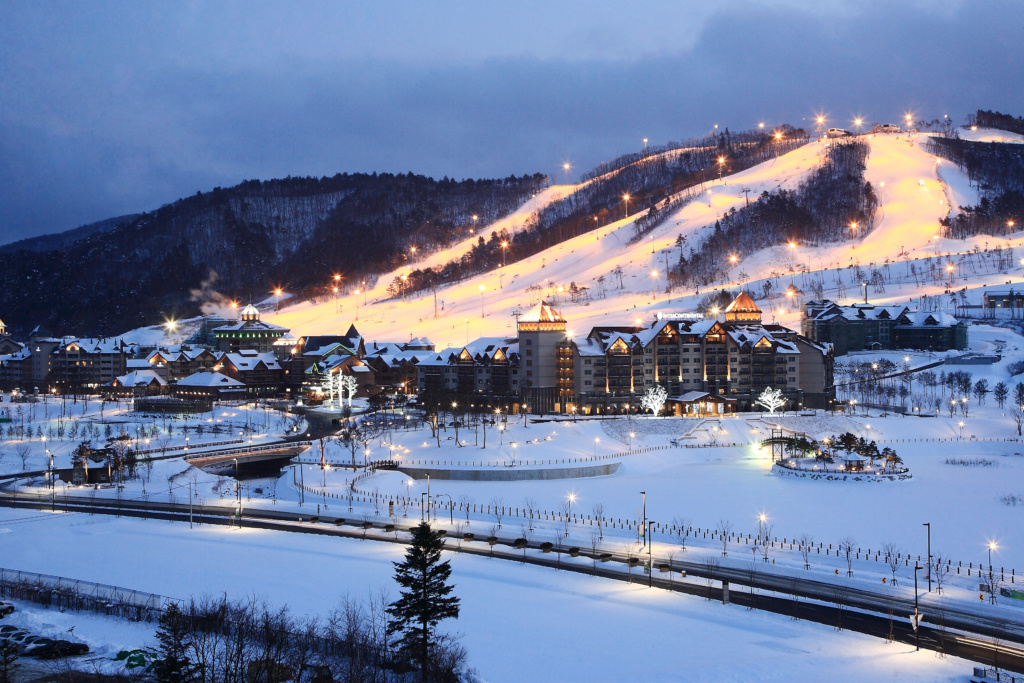 Most of the best ski resorts in Korea, are located near the east coast. Indeed, it is one of the only country in the world, where in the morning you can go snowboarding and afternoon surfing in the sea. There are many ski resorts in Korea, we listed the best ones here.
We wrote a full guide about Wolmido here.
SOKCHO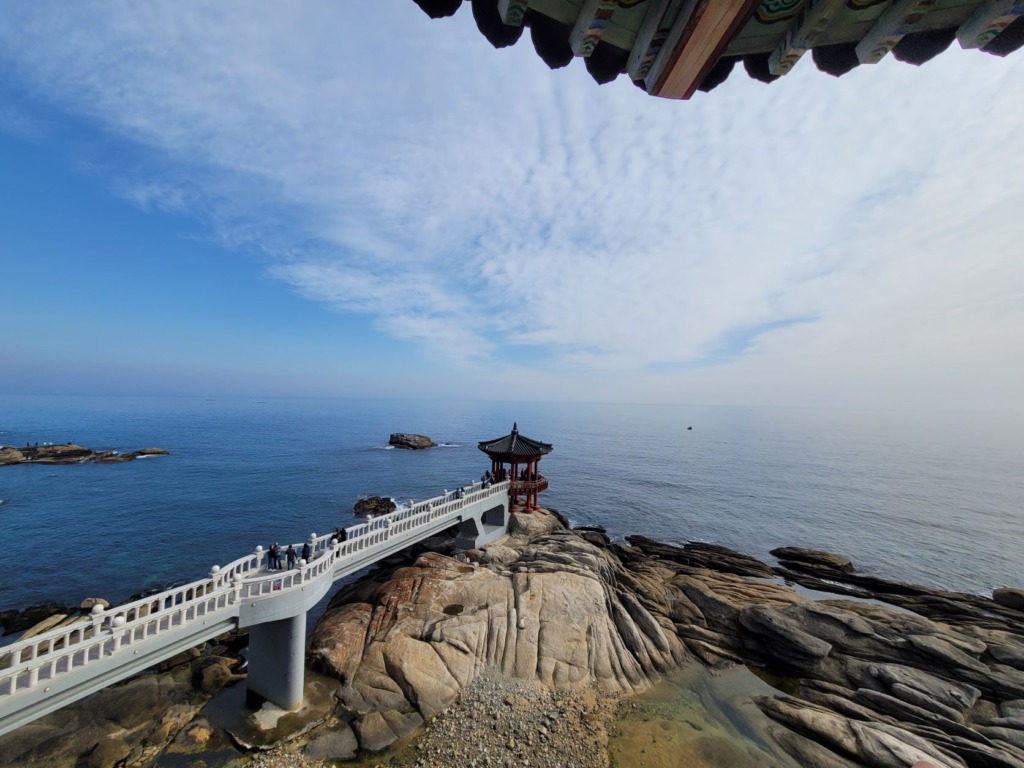 Sokcho is a coastal town north of Yangyang, just a few minutes drive. This town is famous for its great seafood, beautiful beach, its lake, Yeonggeumjeong Pavilion (as shown in the photo above) and lots of other activities. Sokcho also attracts many tourists every year and is absolutely worth a visit.
---
In conclusion about Yangyang
Yangyang is without a doubt one of the best beach gateway in Korea. If you are a surfer you won't be disappointed. Of course do not expect perfect waves like in Bali, but Yangyang is still a great spot.
Besides surfing, you can also feel the great vibes and meet friendly locals.
If you are visiting Yangyang, please share your experience with us by leaving a comment below. We would love to hear from you.
We lived in Korea for 3 years and wrote many posts about things to do in this country. You can check them all here.
---
Related posts
BEST SURF SPOTS in Korea: here
SOUTH KOREA: best things to do in South Korea: here
NAKSAN TEMPLE on the east coast of Korea: here
HAEDONG YONGGUNGSA, the most beautiful temple in Korea: here
TAEAN: amazing national park on the west coast of Korea: here
JEJU: All you need to know before you go to Jeju: here
ADVENTURES: top adventures within 1h from Seoul: here
EAST COAST: best things to do near Gangneung: here
BEST BEACHES in Korea: here