WHAT TO SEE AT SEOPJIKOJI? HOW LONG DOES IT TAKE TO HIKE SEOPJIKOJI IN JEJU?
Seopjikoji is a gorgeous trail along the coast of Jeju. It is one of the best spots to admire the rugged coastline of Jeju and see some natural wonders that the island has plenty to offer (more info here about the best things to see in Jeju).
Seopjikoji is a gorgeous trail along the coast of Jeju
Seopjikoji is located on the east side of Jeju Island. Seopji means "a narrow piece of land" in the local dialect, and koji means "a promontory".
Seopjikoji is was formed by volcanic activities. It looks like a small island attached to Jeju by a very small strip of land. It is on this piece of land that the Jeju Aquaplanet is located, one of the largest aquariums in Asia (you can get your discounted ticket here).
The shoreline is covered with volcanic red rocks and pebbles, and many of the rocks are of strange and spectacular shapes.
In Seopjikoji you can also discover what makes the reputation and the pride of the island: the Haenyeo. They are women freedivers. With their experiences (some are over 80 years old!), their knowledge of the sea and marine animals, they are able to fish for long hours without oxygen masks.
In this post we describe the main things to see in Seopjikoji, enjoy the reading!
---
Essential information about Seopjikoji?
In Korean Seopjikoji is written: 섭지코지
Address: 261, Seopjikoji-ro, Seongsan-eup, Seogwipo-si, Jeju-do
---
Getting there
By bus: Unfortunately, there aren't any bus stations nearby. hence, the best way is to get a taxi if you do not rent a car in Jeju.
By car: the best way to travel to Jeju is by car. You can rent a car easily directly from the airport. We recommend using Trazy to rent a cheaper car (exclusively for foreigners). Check it out here. Just make sure to have your international driving license when driving in Korea.
There are many parking spaces just before starting the trail.
---
Entrance Fee
Free
---
Duration
If you want to hike all around Seopjikoji then it's 6 km and would take you more than 2 hours. However, most people turn back halfway after reaching the Lighthouse. The hike is very easy and suitable for beginners.
---
What to bring
This place can be quite windy, hence bring a small jacket to keep you warm.
---
What to see in Seopjikoji?
1. Walk along the amazing rugged coastline
The trail starts from the parking lot. As often in South Korea, the path is well marked so you can simply follow it all the way around the peninsula.
Very quickly, the first rock formations appear below the path. Black rocks with rugged shapes, of volcanic origin, which are very typical of the island. Some are really amazing, like the one you find from the first few meters, the shape of which is reminiscent of a turtle.
As the coastline of Seopjikoji was formed by a volcanic eruption, volcanic rock is present everywhere on the edges of the coast. You can get close to it and even climb on it.
On the way, you will also pass by a distinctive pile of stones that form a square. It was from here that, during the Joseon period, smoke signals were emitted, which were used to communicate over long distances. There were several on the island, making it possible to relay messages and quickly notify if the enemy was approaching.
---
2. Enjoy the perfect view of Seongsan Ilchulbong Peak
If there is one image to remember from Jeju, it's the view of Seongsan Ilchulbong. This volcanic Rocky Mountain, formed thousands of years ago by underwater eruptions, is one of the symbols of Jeju.
Its position – in the east – has earned it its name, which literally means "the peak of sunrise that looks like a fortress". Not only it is possible to climb there to discover its pristine crater 600 meters in diameter, but it is even strongly recommended to do it at dawn to admire the rising sun.
From Seopjikoji, you can simply admire the beauty of this iconic mountain of Jeju.
---
3. Try horse riding
Seopjikoji is also known for its horses that you can admire grazing on the grass but also for its fields of rapeseed flowers. It makes this trail even more beautiful and relaxing.
---
4. Check out the Candy house
We then approached a strange little house decorated with sweets. It is actually a coffee shop and museum. Unfortunately, it is quite an ugly building. It was even close when we got there, so we couldn't even visit what was inside.
A few years ago this building looked like a church. It had served as a backdrop for a few films and dramas. They kept the structure and made it into a café that is reminiscent of the Hansel and Gretel tale.
---
5. Walk all the way up the Lighthouse
Halfway through the walk, you will see the coastal lighthouse. It is built on a hill to protect it from the gusts of wind that can blow very hard on the island. Next to the lighthouse, you can observe the Seonbawi Rock. Rock is formed by volcanic lava. This is where the magma was ejected from during the eruption.
Most people would then turn back after the lighthouse. However, you can continue and go around the entire island, which we did.
---
6. Go to one of the most stunning cafes in Jeju
The reason we decided to continue, is that we could see a very modern building a bit further from the lighthouse. It looked like a glass house. We then learned that the architect is the renowned Tadao Ando, ​​whose concrete architecture was designed to blend in with the surroundings. From the cafe the view of Seongsan Ilchulbong peak is stunning.
This place also hosts a museum (Genius Loci and Bonte Museum), the experience is surely extraordinary.
After stopping at this beautiful architectural wonder, we continued our walk around the island. We had a wonderful time in Seopjikoji…
---
Where to stay in Seopjikoji?
Phoenix Seopjikoji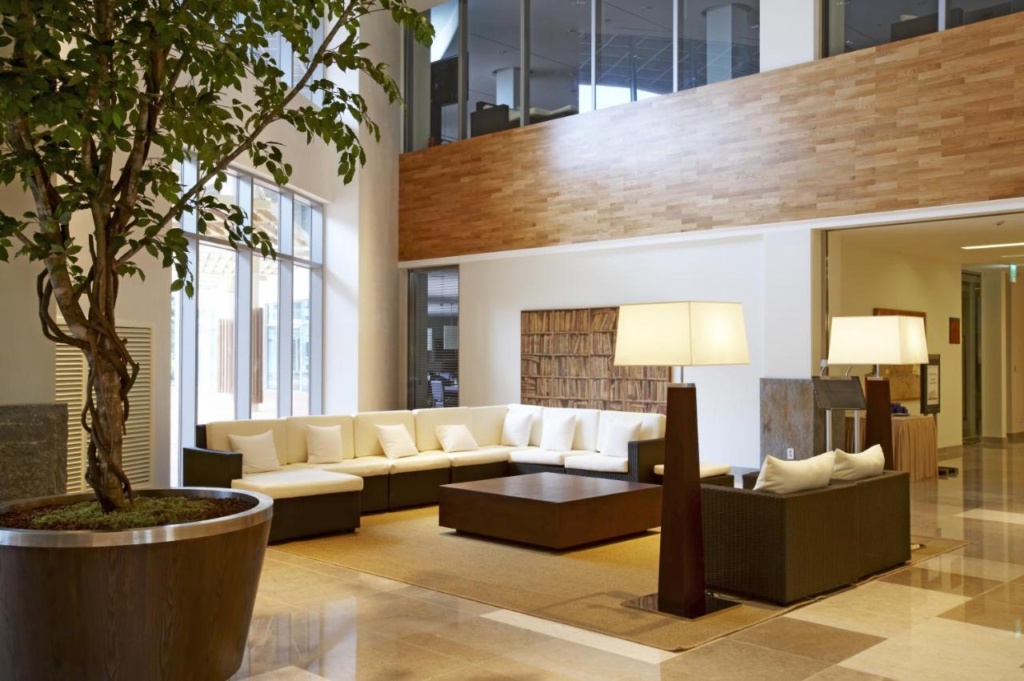 One of the best hotel in Seopjikoji is Phoenix Seopjikoji Hotel. This very modern hotel offers great amenities, such as indoor and outdoor swimming pools, sauna, massage, and restaurants.
It is also perfectly located as it is surrounded by the ocean, with beautiful trails starting right from the hotel. Check it out here.
---
Other things to do near Seopjikoji
1. Hike to top of Seongsan Ilchulbong Peak
Seongsan Ilchulbong is clearly one of the must-see places on Jeju Island. This volcanic cone is located in the east of the island. Like Mount Hallasan (which we will talk about later in this post), Seongsan Ilchulbong is a UNESCO World Heritage Site.
It is surely one of the most beautiful places on Jeju Island. The best place to admire this Volcano is to hike around Seopjikoji. There a beautiful trail along the coast with a superb view on Seongsan Ilchulbong.
The hike on top of the Volcano is actually very short but mostly stairs. Its altitude is only 182 meters. At the top, you will see the crater and the sea in the background if the weather is good. Simply gorgeous!
---
2. Visit Udo Island
Udo Island is very close to Jeju. It takes less than 15 minutes by ferry to get there. It is located east of Jeju and the ferry departs from Seongsan. There is a ferry every 30 minutes. The best way to visit the island is to rent a cute electric motorcycle or buggy. You can then easily stop all around the island.
Our day on Udo Island, was perhaps our best memory of our trip to Jeju. We had so much fun that day. The weather was perfect and the island was stunning.
We highly recommend this cute and preserved island, count 3 to 4 hours to visit. You can check out our full post here.
---
3. Manjanggul Lava Tunnel
Manjanggul Cave is one of the major natural sites to explore in Jeju. This gigantic cave was formed by lava. Manjanggul cave stretches for a distance of about 13 km. It is one of the longest lava tunnels in the world.
It is also designated as a natural monument. Having been discovered in 1947, and then partially visited in 1976, part of the site has now been classified as a UNESCO World Heritage Site since October 9, 2015. 
Manjanggul cave is only a few minute's drive from Jeju Maze Park. Hence it's the perfect combo for a half-day visit on Jeju Island. 
Full post about Manjanggul Cave here.
---
In conclusion – Is Seopjikoji in Jeju worth visiting?
For a pleasant, easy, and beautiful hike along the rugged coastline of Jeju, Seopjikoji is the perfect place.
It is actually one of the best things to see in Jeju! While living in South Korea for 3 years, We enjoyed our long walk by the coast looking at the sea!
So yes, a visit to Seopjikoji is absolutely worth it!
Make sure to check out our other recommendations about Jeju, here.
---
Read Also
MOST AWESOME THINGS TO DO IN JEJU
EXPLORE UDO, JEJU'S SISTER ISLAND
HIKE THE TOP OF HALLASAN MOUNTAIN IN JEJU
VISIT THE BEAUTIFUL HALLIM PARK
CHILL AT HAMDEOK BEACH THE MOST BEAUTIFUL BEACH ON THE ISLAND
ULTIMATE GUIDE FOR OLLE GIL TRAIL AROUND JEJU
VISIT MANJJANGUL CAVE, THE LARGEST LAVA TUNNEL IN THE WORLD!