WHAT TO SEE IN KOENJI? IS KOENJI WORTH A VISIT? WHAT IS KOENJI FAMOUS FOR? WHERE TO EAT IN KOENJI?
To the west of Tokyo, in the district of Suganami (杉並区), less than 10 minutes from the bubbling district of Shinjuku you will reach the district of Koenji (高円寺).
Non-conformist district, huge underground culture, with a very dynamic urban life and a super chill atmosphere. Koenji is an essential place that will satisfy the hipster in you 😉
"Koenji, the underground district of Tokyo"
On a trip to Tokyo, you cannot escape, and rightly so, the frenzy of the Japanese metropolis and its emblematic districts.
The very trendy Shibuya, the traditional Asakusa, the exuberant Roppongi, the electrifying Shinjuku or even the flashy Ginza… Tokyo offers many different faces. This is what makes this city so fascinating!
So, after familiarizing yourself with the most well known districts of Tokyo, hop on the Chuo Line and take a 10-minute jump from Shinjuku to THE hipster district of Tokyo: Koenji.
A district that can be discovered on foot and which is full of vintage shops, bars, izakaya and alternative music concert halls.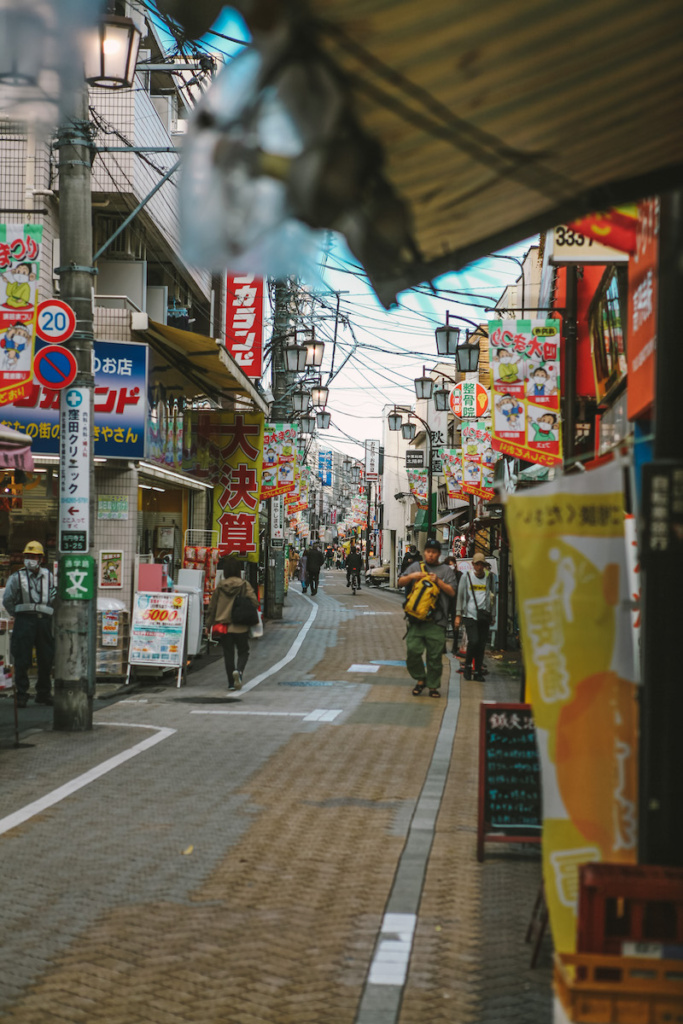 Koenji is the birthplace of the underground culture in Tokyo.
This preserved neighborhood does not seek to attract too much attention. It's rather low key!
This is perhaps the secret of its unique atmosphere.
Especially since Koenji is also one of the bastions of street art culture in Tokyo, which is driven by the Koenji Mural Project, which highlights Japanese street art and graffiti artists whose works decorate the walls of the neighborhood.
Here is a glimpse of what to expect during a visit of Koenji:
---
WHAT IS KOENJI FAMOUS FOR?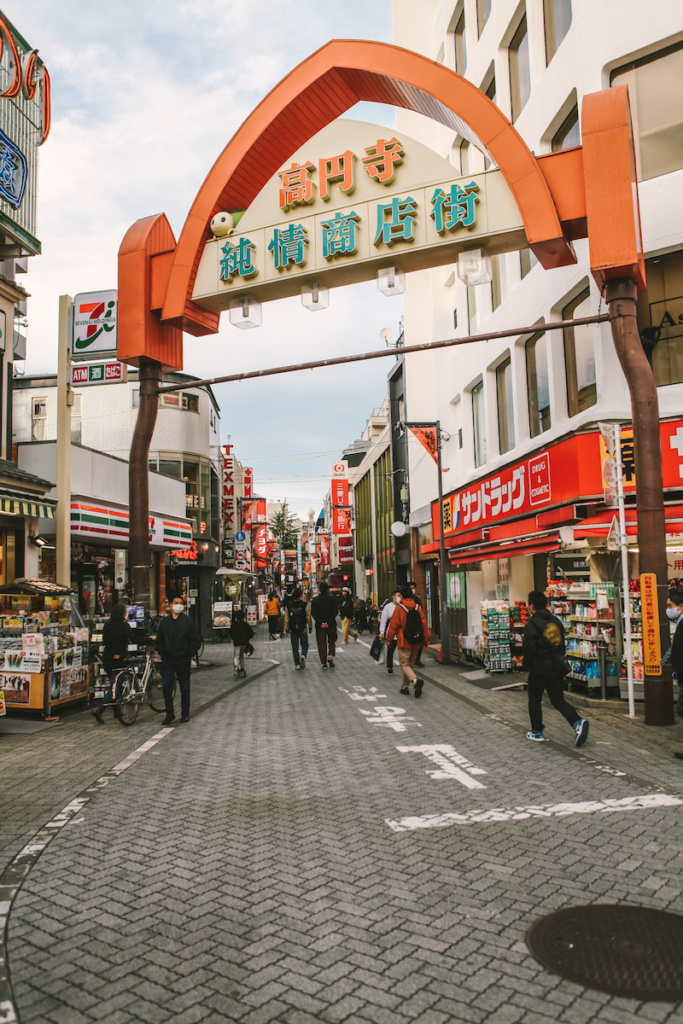 Koenji is the birthplace of Tokyo's cultural and underground scene.
Historically, this district was born from the radical Japanese student movements of the 1960s. The division of the district dates from the post-war period.
The population density increased with the great construction boom that took place in the 1980s.
The district expanded and eventually absorbed the neighboring town of Mabashi, which was between Koenji and Asagaya.
Rather calm and popular, Koenji today attracts, with its neighbor Kichijoji, families of young Japanese in search of a bohemian atmosphere and a lower cost of living than in the heart of Tokyo.
The neighborhood is nevertheless surprising on many levels. Lovers of retro, trendy or less conventional looks, you will be served at Koenji which turns out to be an impressive theater of clothing and hair styles where eccentricity rubs shoulders with punk or old school style.
>> Why not discovering this part of Tokyo with a local guide? Check it out here!<<
---
WHAT TO SEE IN KOENJI?
1. Check out the world famous Tokyo Koenji Awa Odori
We cannot talk about Koenji without mentioning the greatest Matsuri in all of Tokyo: Koenji Awa Odori.
This unmissable event in Tokyo's summer life takes place every year at the end of August.
More than 10,000 dancers and musicians from Tokyo's most renowned dance schools set the neighborhood streets on fire with their crazy energy.
---
2. Explore the Gado Shita, the unmissable "Yakitori Street" in Koenji
"Yakitori street" called Gado Shita, is one of the streets parallel to the train line from JR Koenji station.
The abundance of street food type restaurants attracts many people to the neighborhood who find themselves along these narrow streets to taste cold beers and yakitori, these famous chicken skewers.
We recommend to check out Taisho, one of the most famous Yakitori restaurants in the area! Especially for the prices charged: from 90 yen per skewer, you will have a hard time finding anything more affordable. (location)
For those who want to taste other types of cuisine, Koenji, like all areas of Tokyo, is dotted with many quality restaurants, each more delicious than the other!
A word of advice: take a walk and get lost in the many small alleys around Yakitoru street.
---
3. Koenji is a vintage paradise! So go shopping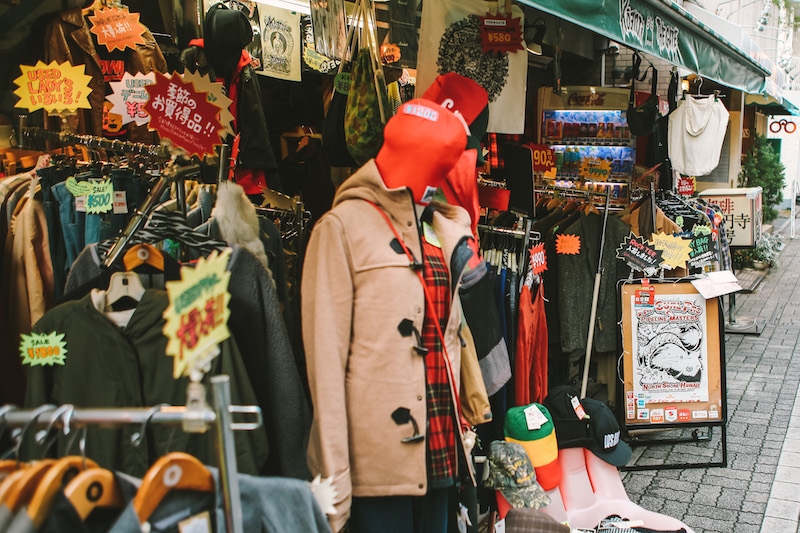 There is no shortage of shopping streets with a cozy atmosphere: Koenji Junjo, Koenji Pal or Koenji Look.
By taking the shotengai passage, which is at the north exit of the JR station, take your time to browse through the many vintage shops full of clothes, vintage objects, jewelry, shoes or bags.
In the small alleys on either side of the main streets there are still other vintage stores that are full of treasures.
Tokyo is a paradise for second-hand clothes fans. In Harajuku or Shimokitazawa, two other trendy districts of the capital, you will surely find what you are looking for.
But the place where you will have the most choice and the best price is undoubtedly Koenji.
Here are some of our favorite shops:
Fizz
For a country-folk look, Fizz is the place to go. Their collection of cowboy boots and patchwork dresses is impressive. The perfect outfit for the Coachella festival (or any other bohemian festivity) is bound to be found here!
Location: here
Kiki 2
The cutest shop in Koenji! The decor is crazy.
Entering this store is like being transported to another world. Even if it doesn't match your style of dress, the store is definitely worth a look.
Location: here
Umber
With its bobo style and sharp decor, Umber stands out from its competitors. Here you will find a wide selection of jeans, leather bags and embroidered and light dresses for the summer.
Location: here
Small Change
The Small change store is located under the shopping arcades, very close to the metro exit. They have a wide selection of flowery dresses, pretty costume, jewelry, accessories, bags and vintage accessories of all colors! A must in Koenji!
Location: here
---
4. Walk the entire Koenji street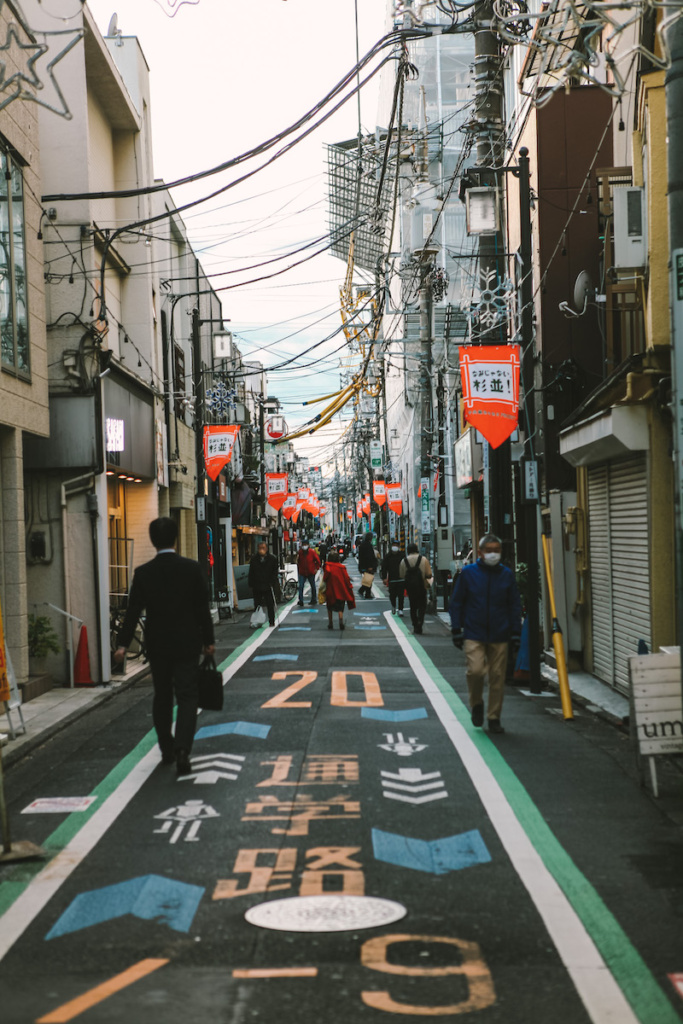 Kôenji Street has several entrances that lead to the northern and southern part of the area.
Kôenji Street is a long, almost endless corridor, which passes under the Kôenji rails to the next Asagaya station.
It is one of the most charming places in the neighbourhood that you cannot miss. There are bookstores, a few other small discreet artisans, small restaurants and bars that open in the evening.
---
5. Enjoy the music scene in Koenji!
After this frantic shopping session, time to take a break. Go to one of the many bars in Koenji.
Chances are you'll sit next to a band of musicians, their arms fully tattooed, sharing a local craft beer.
Because Koenji is not only a temple of vintage, the district is also illustrated by a very dynamic music scene. There are no less than a dozen concert and live music venues: UFO Club, Kôenji Cave, 20000 Den-Atsu, Kôenji High; there are as many rooms as there are styles of music: punk, rock, metal, J-Pop…
Enjoy the night away in Koenji! You gonna love it.
---
6. You would rather have a good coffee? No worries Koenji got you covered
Stop at Coffee Amp The Roaster in Shin-Kôenji, a very nice cafe with a wide choice of coffees.
Their coffee is also roasted on site by the friendly owners! We love this place. A good place to chill and meet with the trendy locals.
Another great place we recommend: Hattifnat. Do you have children? They will love it! You do not have any? You will love it too!
Everything about this cafe is cute and charming. The childish paintings on the walls, the drinks, the whole atmosphere… they also serve lunch and some dessert. Do check it out.
---
7. Time for the more spiritual stuff. Visit a few Shrines in Koenji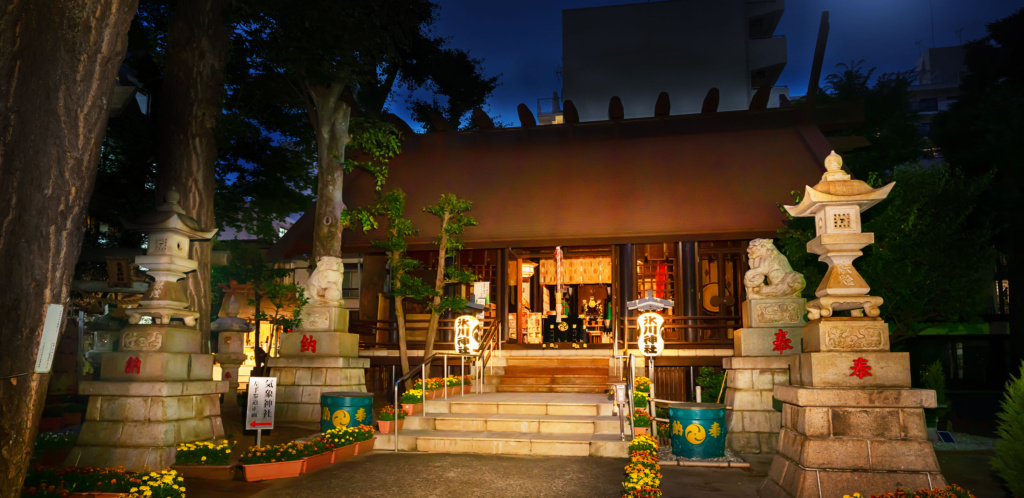 The temples in Koenji are another charming asset of this district. In particular to the south of the station.
You have to venture into the alleys of this suburb of Tokyo to discover some beautiful shrines. To the south-east, three small temples are aligned in the same street:
Saisho-ji,
Shoji,
and Sotai-in.
A street further north, the Chozen-ji is another great shrine to visit with its beautiful collection of unusual statues at its entrance. People come to pray at this temple to avoid any dental pain… So if like us you hate going to the dentist, stop by for a little prayer 🙂
Going up closer to the station, the Shukuhozan-Koenji temple is certainly the most beautiful, with perfectly trimmed trees and a superb carved wooden pediment under the roof of its main pavilion. It is to this temple that the district of Koenji owes its name.
Last but not least, Kōenji Hikawa Shrine. Another wonderful spiritual place in the middle of Koenji district in Tokyo.
---
8. Other great places to eat in Koenji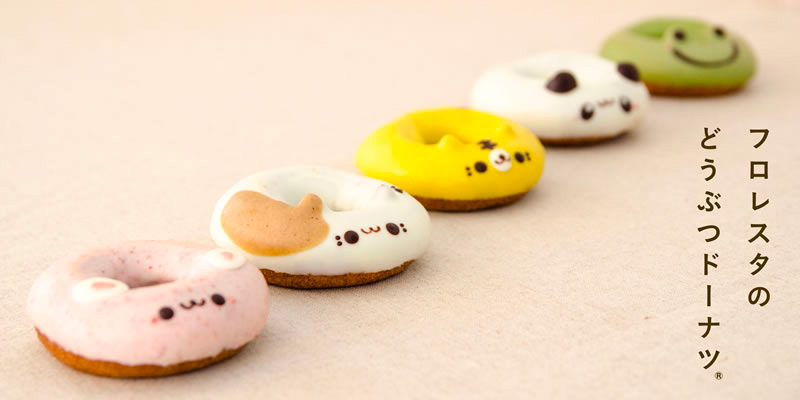 Floresta donuts
This is cutest place in Koenji! At Floresta they serve super healthy donuts cooked with natural, organic and local products, and above all, way too cute.
Sesame flavored, pumpkin flavored, Strawberry, Matchat etc, . These are very Instagrammable.
---
Porayaare
If you are vegetarian, then search no longer, Poreyare is the best vegetarian restaurant in the area!
This is a small cozy café run by an adorable old gentleman who will try to put you at ease using the few English words he knows. An all-wood decor, flowers on all the tables, and Japanese variety in the background… This place is perfect for relaxing and enjoying healthly food.
---
R-za Dokushokan Cafe
The place is super retro, vintage and has a comfy vibe.
The second floor is for people coming alone or to work in pure silence and the third floor is to enjoy with friends. The main selling point at R-za Dokushokan Cafe is the aesthetic.
---
Where to stay in Koenji?
illi Nakano
illi Nakano is a little gem located in the heart of Nakano right next to Koenji. The hotel is situated in front of Nakano Broadway which offer a massive choice of restaurant and bars. If you are a group of people, we highly recommend this place!
>> CHECK IT OUT <<
---
How to get to Koenji?
Koenji Station can be reached from Tokyo Station or Shinjuku by taking the JR Chuo Line express train. Travel time is approximately 20 minutes from Tokyo Station and 10 minutes from Shinjuku.
You can also reach the heart of Koenji in 15 minutes on foot by getting off at Shin-Koenji Station of the Marunouchi Subway Line.
Enjoy your visit!
---
Related posts
15 INCREDIBLE THINGS TO SEE IN AKIHABARA
30 AWESOME THINGS TO DO IN TOKYO
10 BEST THINGS TO SEE IN MONZEN-NAKACHO IN TOKYO
15 BEST THINGS TO DO IN HARAJUKU
15 BEST THINGS TO SEE IN SHIBUYA
DISCOVER SHIMOKITAZAWA, TOKYO'S HIPSTER AREA
EXPLORE KAGURAZAKA, THE LITTLE PARIS OF TOKYO
TOP THINGS TO DO IN GINZA IN TOKYO
DISCOVER TSUKIJI OUTER MARKET IN TOKYO
15 BEST THINGS TO SEE IN HAKONE (NEAR MT. FUJI)
BEST THINGS TO SEE IN NIKKO NEAR TOKYO
15 BEST THINGS TO SEE IN ASAKUSA (SENSO-JI)