WHAT TO DO IN YOKOHAMA? WHAT IS YOKOHAMA FAMOUS FOR? IS YOKOHAMA WORTH A VISIT? HOW MANZ DAYS TO VISIT YOKOHAMA?
Yokohama is the capital of Kanagawa Prefecture. It is Japan's second largest city with 3.7 million inhabitants.
Yokohama is located 40 kilometers south from Tokyo. It is easily accessible by train from the capital.
Developed from the second half of the 19th century for international exchanges, Yokohama has many tourist and cultural assets. Yokohama is one of the best things to visit in Japan!
"Yokohama, Japan's 2nd largest city"
The city offers an incredible range of tourist and gastronomic attractions. In this post we compiled a complete guide to make the most of your visit – you will love it!
The earliest traces of Yokohama's history date back to the Jomon period, more than 10,000 years ago. However it was from the Edo era, and more particularly during the Meiji era (1850-1860), that the city experienced rapid growth.
Walking through the city, you'll feel very relaxed thanks to its seaside atmosphere… What we like the most though in Yokohama, is China Town! One of the largest in the world! a must-see in the city.
Here is what you can expect during a visit of Yokohama:
---
WHAT TO DO IN YOKOHAMA?
1. Start your visit by the highlight of the city: China Town
China Town in Yokohama was founded in 1860 by the first immigrants from China. Today it is considered the largest Chinatown in the world with more than 600 stores and thousands of visitors a day!
Its colorful architecture makes it a very pleasant place to visit, especially at night! In this district, you can also taste typical and traditional culinary specialties.
Four magnificent main gates provide access to this lively, colorful and popular area of the city which is full of shops, restaurants and Chinese stalls, and is home to a few temples (Masobyo and Kanteibyo).
Come with an empty stomach! You won't regret it… The food in this part of town is excellent! If you like steamed dumpling (well who doesn't?!), you will find many of all kinds at the many stalls along the lively streets of Yokohama China Town!
Go there by night to enjoy China Town to the fullest!
Location: here
---
2. Visit The Landmark Tower and the Minato Mirai 21 district
Developed in the late 1980s, Minato Mirai is Yokohama's business district. It is also home to many shopping malls.
Its symbol: the Landmark tower. For a panoramic view, climb to the 69th floor for an impressive observatory (Sky Garden). Tickets can be purchased directly inside the building.
Another great thing to do in Minato Mirai is to take the new urban cable car which connects Sakuragicho station and the red brick warehouses (one-way cost: 1000 yen). This is a fun way to discover the beautiful skyline in Yokohama.
Location: here
---
3. Go on a short cruise around the harbour
After your visit of the Landmark Tower, you can go on a boat trip to admire the beautiful Yokohama Bay.
If the weather is good, this is one of the best activities in Yokohama.
>> CRUISE INFORMATION HERE <<
By the way, you can also take a ferry to go from Tokyo (Asakusa) to Yokohama (Odaiba). This is another fun way to discover Japan from a different (more info here)
---
4. Explore Hikawa Maru a ship-museum
The Hikawa Maru is a ship-museum located in Yokohama Port.
This big boat is designated as "Important National Cultural Property". Nicknamed "the Queen of the Pacific" for her wealthy clientele, the Hikawa Maru was first a cruise ship then became a hospital ship for a time and then a cargo ship.
You can visit the inside out of the boat. From the first class dining room to the smoking room, passing through the engine room and the wheelhouse, the visit of the Hikawa Maru is truly complete.
The visit easily takes more than an hour as you enjoy discovering each room and imagining scenes of life that could have taken place there.
---
5. Stroll along the dock and red brick warehouses
Take your time to stroll around the docks of Yokohama. The seafront promenade is very pleasant.
You will quickly notice the huge red brick warehouses. They were previously used for port activity. This part of town reminded us of Otaru in Hokkaido with western style buildings.
There are many events happening in this part of town. The Oktoberfest (German beer festival) or the Christmas Market for example!
Apparently it is also possible to visit the interior of the warehouses, unfortunately it was closed due to renovation when we visited.
Location: here
---
6. In the same area, visit the Cup Noodles Museum
A day of sightseeing in Yokohama wouldn't be complete without a visit to the legendary Cup Noodle Museum. Sounds weird, that there is a museum for cup noodle, but indeed this is one of the best things to do in Yokohama.
You can of course learn about the origins of Japanese cup noodle and even make your own cup with your favorite ingredients to take home.
Inside the building there is a workshop called "My Chicken Noodle" where for 500 yen you can create your perfect noodles.
Starting with customizing the packaging, then going through a series of steps to choose what to add to the noodles, and taking them home to enjoy by simply adding hot water.
It is a fun museum to visit with children, but also if you go as a couple or with friends. It is one of the most visited tourist attractions in the city, a must see for most visitors in Yokohama! And we loved it too.
---
7. Be amazed at Gundam Factory Yokohama
On the opposite side but still by the docks, we recommend a visit to the Gundam Factory. Ready to be amazed?
This is the largest moving robot in the world according to Guinness world records! This is part of the crazy Japan! The Japan that seizes to impress.
Even if you don't like Anime, we highly recommend to visit this place. Gundam for those who don't know are fighting robots from a famous Japanese anime.
And they have a whole museum dedicated to it. However, the star of the show is when this huge Robots starts to move! The show gets even better at night with all the lights!
You are still not sure? Then watch the video above.
---
8. Next: visit the Ramen Museum, one of the best things to do in Yokohama
Who doesn't like Ramen?! In Yokohama there is even a museum dedicated to Ramen!
Surely one of Yokohama's flagship activities.
Don't expect a real museum though: the only "informative" part of the ramen museum is on the ground floor and is very small. You will find a bit of history, some anecdotes, and the different ramen specialties that exist according to the regions of Japan.
The most interesting part of the Yokohama Ramen Museum is in the basement: a human-scale reproduction of a typical 1950s neighborhood.
The particularity: 9 ramen restaurants, each specializing in a recipe!
The atmosphere is really cool!
The ramen museum is quite popular. So there is the line to enter the museum, then the line to eat (sadly…).
Count 310 yen to enter the ramen museum, and around 800 yen for a bowl of ramen. Open every day from 11 a.m. (10:30 a.m. on Sunday) to 10 p.m. (10:30 p.m. on Saturday).
---
9. Check out the view at Yamate
Perched on a hill, the old district of Yamate offers a breathtaking view of the bay and its port. It is one of the best places to see in Yokohama.
At the time of international trade in the city, it is here that foreigners took up residence.
It is therefore not surprising to come across Christian churches, a Western cemetery and houses in the colonial style of the time (late 19th – early 20th century) in Yamate-Hon-Dori Street.
Moreover, the latter have been preserved, some transformed into museums, and can now be visited.
Location: here
---
10. Enjoy shopping at Motomachi
Motomachi, at the foot of Yamate Hill, is an upscale shopping district.
Composed of five streets of Japanese and Western shops, this street is one of the best spots for shopping in Yokohama.
Location: here
---
11. Find peace at Sankei-en Park
Sankei-en is a large and stunning typical Japanese garden facing Tokyo Bay, in the south of Yokohama.
Its history is rather unusual since it was created by a businessman from Yokohama, Sankei Hara (hence the name), who made his fortune in silk.
Started around 1902 for a partial opening to the public in 1906, the construction of the garden was completed almost twenty years later. The Japanese government recognized it as "scenic beauty" in 2007.
The Sankei-en is first organized around a large pond. Seventeen historic buildings, brought from all over Japan, line the garden. Several tea houses are also present in the park.
The centerpiece, a three-story pagoda, was built for Kyoto's Tômyô-ji temple in 1457 before being repatriated in 1914.
Make sure to check out Sankei-en, as this is one of the best things to see in Yokohama.
---
12. Spend a fun evening at Noge
In the evening, head to Noge district, in the heart of Yokohama.
This is where everything happens at night!
At Noge you will find many Izakayas, small Japanese bistros, and many restaurants, bars and clubs, where locals and tourists mingle to enjoy the unique atmosphere of the district.
Location: here
---
13. Go on a day trip to Kamakura and Enoshima
Kamakura is a charming coastal city located 50 kilometers south of Tokyo.
Kamakura is one of the most popular day trips from Tokyo or Yokohama. You can visit Kamakura in a day together with the island of Enoshima.
Kamakura is best known for its large seated Buddha statue, but it includes many other interesting places to visit.
The city hopes to be listed as a UNESCO World Heritage Site, in particular thanks to its Big Buddha at the Kotoku-in temple or the Tsurugaoka Hachiman-gu sanctuary. Kamakura is full of discoveries!
You can an organised day trip or personalised trip from Yokohama here.
---
14. Relax at Parc Yamashita
Yamashita is a stunning park along Yokohama Bay.
With its panoramic view of the harbor and the Minato Mirai 21 district, it serves as a great place to picnic on the lawns and enjoy the seasonal blooms.
Families and groups of friends meet there especially on weekends, in a relaxed and jovial atmosphere. Those wishing to walk can continue along the waterfront where many benches face Yokohama Bay.
Location: here
---
15. Have a blast at Cosmo World
Cosmo World is an amusement park right in the center of Minato Mirai. You can't really miss it with its giant Ferris wheel (112.5 meters).
Cosmo World is one of the best places to roam at night in Yokohama. The Giant wheel is the main attraction, however there are a couple of joy rides not to be missed as well!
There are also many restaurants. Everything is done to spend a memorable time as a family!
Entry is free, but you have to pay for each ride.
---
Where to stay in Yokohama?
In Yokohama we recommend to stay either in Chinatown which is close to most tourist attractions, in the vibrant Minato Mirai 21 or Yamate for calm but also lively atmosphere.
Here are our favorite hotels in Yokohama:
Hyatt Regency Yokohama (in Chinatown)
Hyatt Regency is one of the best hotels in Yokohama.
This fabulous hotel is located right next to Chinatown, which makes it a strategic place to stay for your visit of Yokohama.
We also loved the restaurant inside the hotel as well as the great bar!
>> BOOK HERE <<
---
Intercontinental Yokohama Pier 8 (Minato Mirai 21)
InterContinental Yokohama is located one of the piers by the bay. The view from the hotel is stunning. On 1 side you can see the beautiful Yokohama Bay, and on the other side the impressive Minato Mirai 21 skyline. Particularly amazing at night!
We love this place in Yokohama!
>> CHECK IT OUT HERE <<
---
Oakwood Suites Yokohama (Minato Mirai 21)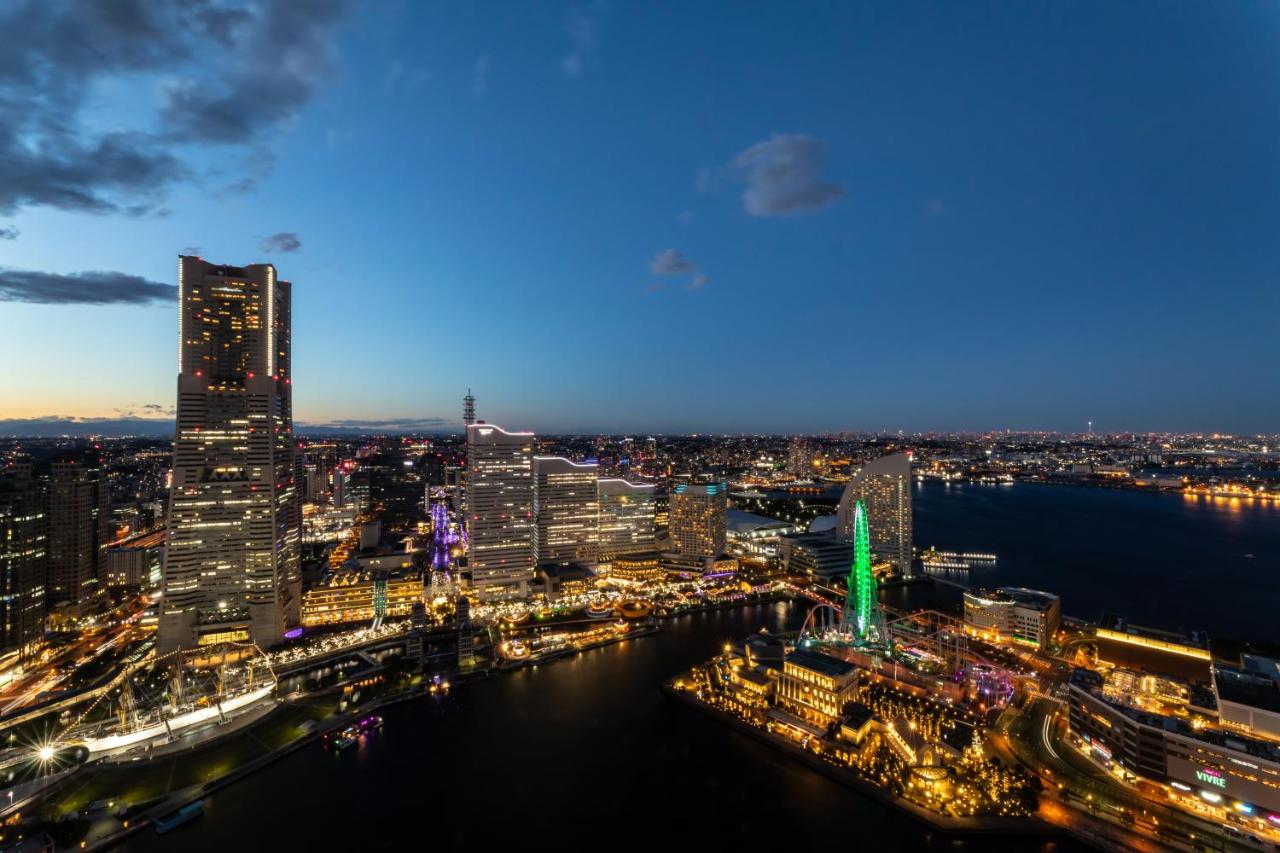 The views from Oakwood Suites Yokohama are breathtaking. On a clear day you can even see Mt. Fuji. This hotel has 51 Floor! Incredible.
Location is also great in the center of town. Access to the main tourists attractions are walking distance. Besides, the hotel has outstanding customer service. Let yourself be pampered at this place!
---
How to get to Yokohama?
From Yokohama to Tokyo and back, there is a JR train line running back and forth every few minutes throughout the day.
Remember to buy your JR Pass when traveling to Japan. As a tourist you will save a LOT of money with the pass!
From Tokyo Ueno Station, Tokyo Central Station or Shinagawa Station, you can take the JR Tokaio train line to Yokohama Central Station. It is the fastest and easiest way to get there.
You can also take the Express or Limited Express train on the Toyoko Line from Ikebukuro or Shinjuku Stations. The journey takes about 20-25 minutes.
---
How many days to visit Yokohama?
You can easily see the main highlights in a day. Most tourists would simply go on a day trip from Tokyo.
However, we recommend to spend at least 1 night in Yokohama to see it all. You can then spend more time in all museums, visit Sankei-en Park and enjoy shopping at Motomachi.
---
Is Yokohama worth a visit?
If you only have a short time in Japan, then we would rather focus on Tokyo and other cities such as Kyoto, or visiting Mt. Fuji at Lake Kawaguchi.
However, for a 15 day tour in Japan, we recommend at least a day trip to Yokohama. There are so many interesting spots to visit, such as Chinatown, which would be a pity to skip…
It is for us one of the best cities in Japan. It is a modern city, with a young and fun atmosphere, with great cultural activities and plenty of amazing restaurants & shops.
---
Related posts
10 BEST THINGS TO SEE IN MONZEN-NAKACHO IN TOKYO
CHECK OUT THE INCREDIBLE SHINJUKU DISTRICT!
INCREDIBLE THINGS TO SEE IN AKIHABARA
15 AWESOME THINGS TO SEE IN HARAJUKU
BEST THINGS TO SEE IN KOENJI IN TOKYO
EXPLORE KAGURAZAKA, THE LITTLE PARIS OF TOKYO
DISCOVER TSUKIJI OUTER MARKET IN TOKYO
BEST THINGS TO DO IN GINZA, TOKYO LUXURY DISTRICT